Here's how the new M2 MacBook Air compares to the M1 MacBook Air – MobileSyrup
While Apple's WWDC primarily focuses on new software for the Cupertino, California-based company's large catalogue of products, it didn't come as a surprise when Apple unveiled its M2-powered MacBook Air.
Several notable leakers said that they expect Apple to release a new MacBook Air in new colours before the end of the year, and, well, that came true.
The new M2-equipped MacBook Air brings with it some notable changes on the outside and inside. The device won't be available until next month, so you still have a little time to determine whether you need the new M2-equipped Air or the 2020 M1 Air would suffice.
Let's dive in and see how the 2020 MacBook Air compares to the 2022 MacBook Air.
Display and Design
If you're a fan of the wedge-shaped look of the 2020-released Air, you're out of luck. The 2022 Air looks similar to the squared-off design used in the MacBook Pro with rounded edges, and loses the slim look that the old air was synonymous with.
The M2 Air's display has also received a slight size bump, going from 13.3-inches on the old models to 13.6-inches, whereas the bezels on the M2 Air have been shrunk. Additionally, along with the bigger screen, the M2 Air also boasts a slightly higher resolution, going from 2,560 x 1,600 pixel resolution on the old Air to 2,560 x 1664 on the new model.
Additionally, the M2 Air also features a notch, similar to the Pro models, whereas the M1 Air doesn't. Both the displays support True Tone, and Wide Colour (P3, though the M2 Air can reach a peak brightness of 500 nits whereas the M1 Air is limited to 400 nits.
On the weight side of things, both the machines aren't very different. The new MacBook Air is 2.7lb (roughly 1.2kg), which only puts it at 0.1lb more than its predecessor.
Internals
While the subtle changes on the outside make a difference, the changes made on the inside make the M2 Air a laptop worth getting. While we haven't been able to get our hands on the new Air yet, MobileSyrup staff reporter Bradley Bennett was able to go hands-on with the M2 variant at WWDC 2022. According to Bennett and the specifications provided by Apple, The M2 Air's CPU is roughly 18 percent faster than the M1 and its Neural Engine is 40 percent faster.
Further, two additional GPU cores (10 in total vs. 8 in the 2020 version) provide a 35 percent improved graphics performance. Both the M1 and M2 MacBook Air don't feature an internal fan, and according to Apple, the M2 chip is up to 1.4 times faster than the M1 model.
The M1 variant maxed out at 16GB of RAM, whereas the new M2 model has up to 24GB of RAM. "I couldn't truly test out the new chip in Apple's hands-on area, but the laptop felt zippy during my brief time with it. Since the M1 series of chips have performed so admirably, I'd expect this to be an excellent computer," writes Bennett in his hands-on.
The M2 Air also supports MagSafe charging, something that its predecessor didn't, which frees up one of the two USB-C ports for accessories. The M2 Air also one-ups the M1 Air in terms of battery. The new model features a 52.6Wh lithium-polymer battery, bigger than the M1 Air's 49.9Wh lithium-polymer battery, although according to Apple, both models offer similar 15 hours of web and 18 hours of video run time.
Both models feature Touch ID, a three-mic array with directional beamforming, a headphone jack, Dolby Atmos support with Spatial Audio and two Thunderbolt/USB 4 ports.
The 2020 and 2022 released models both come in 256GB, 512GB, 1TB and 2TB storage models.
Colours and pricing
The 2020 MacBook Air starts at $1,299 in Canada and is available in Space Grey, Gold and Silver colourways, whereas the 2022 MacBook Air with an 8-Core GPU and 10-Core GPU will start at $1,499 and $1,899, respectively. In addition to Space Grey and Silver, the M2 Air will also be available in Starlight and Midnight colourways.
If you're an existing M1 Air user, upgrading to the M2 variant isn't necessarily a must. Although the new Air offers faster computing, a refreshed design, and an upgraded camera, it doesn't explicitly feature anything that the M1 variant doesn't, other than MagSafe charging of course.
If you own an older Apple laptop or haven't owned a MacBook at all, starting off with the M2 Air would feel like a solid upgrade, especially if you're going to use it for video editing work. Further, it comes in at $200 more than the M1, so that's not a huge difference when considering what the M2 chipset has to offer.
For all of the Apple news from WWDC 2022, follow this link.
Make a mess of the streets of Toronto as a raccoon in new video game 'Trash Panda' – CP24
Have you ever wondered what it would be like to experience the city as a raccoon, wreaking havoc and being enamored with garbage? Well, a new video game created by a Toronto-based filmmaker lets you do just that. The game, 'Trash Panda,' was officially released on Nov. 15 and is now available for sale.
"I started developing it over the last couple of years," Jason Leaver said in an interview on Wednesday morning with Newstalk 1010. "I thought it would take six months, but you know, I was new to this hobby that gained development. And now I've got this game that's set in Toronto – like literally Toronto."
The video game was born out of pandemic-induced curiosity. Leaver, a filmmaker by trade, said that he began to dabble in coding amid the 2021 lockdown.
Later that year, the game quickly went into its beta testing stage.
"The internet kind of named the game," he said. "It started off where I was just experimenting, I had a bunch of assets for making video games, I was just playing around, you know I had this raccoon this animated raccoon, I had this garbage bin, I thought 'alright, can I put these two together?' and I started messing about, and next thing I know I had something that kind of resembled a game and threw it online, and people really liked it and said 'I want to play this trash panda game,' and I was like 'oh, oh, there's the title.'"
The object of the game is to make "the biggest mess you can," while roaming the streets of Toronto as a raccoon. Right now, there are four neighbourhoods you can explore: Algonquin Island, Cabbagetown, the Beach, Swansea and the Water Treatment Plant. Leaver said that he'd like to add at least two more neighbourhoods, and is looking to the community for suggestions.
Instead of progressing through the game in traditional levels, 'Trash Panda' is divided up by neighbourhoods.
Leaver says that overall, it is a relatively simple game. He's gotten a lot of feedback from players who have said he's "got the right mood" with the game, whereas when children play it, they take it very seriously leaving no bin unturned.
However, raccoons have been increasingly violent in Toronto since the COVID-19 pandemic outbreak. Torontonians were warned to avoid raccoons at all costs following a surge in attacks by the animals in 2021, and increased rates of rabies in the animals.
While adorable to some, there's no doubt that raccoons are safest – and less bothersome – when making virtual messes online, like in the 'Trash Panda' video game.
"I think Toronto loves a game like this," said Leaver.
The game is available on Steam for $9.99. More information about the game can be found here.
Xbox Game Pass December Lineup Leaks Online – IGN
UPDATE: Microsoft has announced the first wave of games coming to Game Pass in December, verifying the leak detailed below.
ORIGINAL STORY: Reliable PlayStation Plus leaker billbil-kun has this time revealed the next batch of games coming to Xbox Game Pass, as well as two new games coming to the Game Pass Core library.
Game Pass saw the surprise additions of Remnant: From The Ashes and Remnant 2 overnight. Following those releases, 10 more games are due during the first half of December, starting with SteamWorld Build on December 1, according to billbil-kun's report on Dealabs.
Far Cry 6: Lost Between Worlds Screens
IGN's Twenty Questions – Guess the game!
Here's the lineup:
Remnant 2 (Cloud, Console and PC): Already available
Remnant: From The Ashes (Cloud, Console and PC): Already available
SteamWorld Build (Cloud, Console and PC): Available Day One from December 1
Far Cry 6 (Cloud, Console and PC)
World War Z: Aftermath (Cloud, Console and PC)
Goat Simulator 3 (Cloud, Console and PC)
Rise of the Tomb Raider (Cloud, Console and PC)
Against the Storm (PC)
Clone Drone in the Danger Zone (Cloud, Console and PC)
Tin Hearts (Cloud, Console and PC)
While the Iron's Hot (Cloud, Console and PC)
Spirit of the North: Enhanced Edition (Cloud, Console and PC)
The headline here is perhaps Far Cry 6, although Goat Simulator 3 and Rise of the Tomb Raider also catch the eye.
Meanwhile, billbil-kun revealed two new Game Pass Core titles, both of which arrive in December. They are Chivalry 2 and Totally Reliable Delivery Service.
Microsoft is expected to make an announcement soon.
Wesley is the UK News Editor for IGN. Find him on Twitter at @wyp100. You can reach Wesley at wesley_yinpoole@ign.com or confidentially at wyp100@proton.me.
2023 Warden's Community Service Awards presented – County of Renfrew
The Whitewater Sno-Goers Snowmobile Club received the 2023 Warden's Community Service Award in the Not-for-Profit Category. Taking part in the award presentation during the November 29 session of County Council (from left) were Councillor Dave Bennett, Township of Horton; Derek Chapman, financial coordinator and Trevor Stokes, vice-president, Whitewater Sno-Goers; County of Renfrew Warden Peter Emon; Councillor Michael Donohue, Township of Admaston/Bromley and Councillor Neil Nicholson, Township of Whitewater Region.
RELEASE DATE:
November 29, 2023
The County of Renfrew presented the 2023 Warden's Community Service Awards, honouring two individuals and a not-for-profit organization, at the November 29, 2023 session of County Council. These awards are a meaningful way to recognize and thank the recipients for their numerous community contributions.
The recipients of the individual awards were Wanda Hilts of Laurentian Valley, nominated by Kathy Frederick and Clair Cox of Laurentian Hills, nominated by Bruce Boucher and the Whitewater Sno-Goers Snowmobile Club, nominated by Derek Chapman, was recognized in the not-for-profit category.
For the past four decades, Ms. Hilts has made substantial contributions through the Alice and Fraser Recreation Centre. She was instrumental in the revival of the Laurentian Valley Alice in Winterland Carnival and assisted with the creation of the Laurentian Valley Fall Flavours Festival.
Wanda Hilts of Laurentian Valley received the 2023 Warden's Community Service Award in the Individual Category. Taking part in the award presentation during the November 29 session of County Council (from left) were Laurentian Valley 50+ Fit and Feisty executive members Kathy Frederick, Simone Burger, Cindy Schultz, Wanda Hilts and Bev Veaudry, Renfrew County Warden Peter Emon, Fit and Feisty executive members Bruce Mitton, Colleen Schutt, Randy Kitchen and Councillor Keith Watt of Laurentian Valley Township.
Her most recent endeavour was the creation of the Laurentian Valley 50+ Fit and Feisty group. This program offers daily low cost or free physical activity opportunities for Renfrew County residents aged 50-plus. In its first year, the group already has 315 members. This latest initiative addresses a gap in the rural area for organized physical activities for people over 50. The group's aim is the offer physical activity, travel culture and entertainment and offer activities to build social connections, such as the coffee connect with guest speakers on a wide range of topics.
Mr. Cox has dedicated nearly 50 years to volunteering in his community, including nearly four decades with the North Renfrew Snowmobile Association. Over the years he held many positions within the club, but most notably the grooming coordinator. In this role he has calmly led a group of 17 volunteer groomer operators. The consummate community orientated volunteer, Clair not only promotes volunteerism within the group through coordination, training and scheduling, but also by simply providing a stellar example for the rest of the organization to emulate.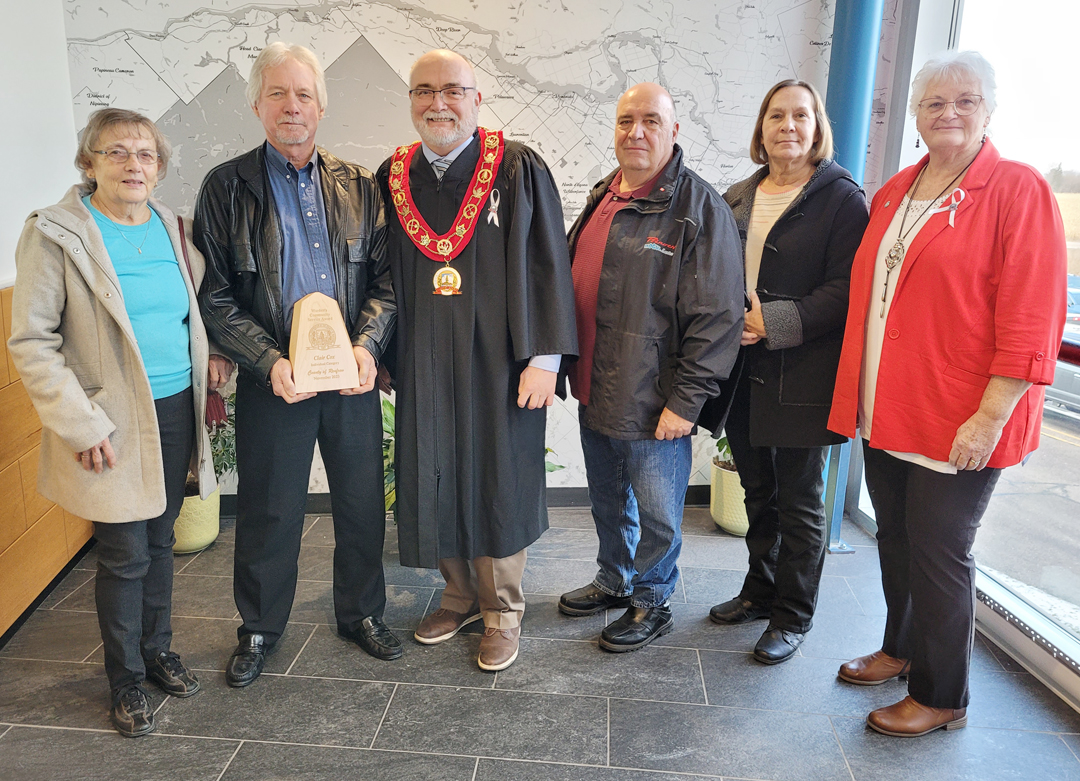 Clair Cox of Laurentian Hills received the 2023 Warden's Community Service Award in the Individual Category. Taking part in the award presentation during the November 29 session of County Council (from left) were Heather Cox, Clair Cox, County of Renfrew Warden Peter Emon, nominator Bruce Boucher, Rosalee Boucher and Councillor Ann Giardini, Township of Laurentian Hills.
Whitewater Sno-Goers Snowmobile Club, which was incorporated as a not-for-profit organization in July 1990, maintains nearly 250 kilometres of trails across four townships – Whitewater Region, Horton, Admaston/Bromley and McNab/Braeside. The Club operate two groomers with an average volunteer commitment of 770 hours annually, which assists the growth of local winter tourism.
In 2022, a volunteer began focusing grant applications and was able to secure funding to build a trail side warmup shack and a new paved ramp in Renfrew for snowmobiles/groomer to drive across O'Brien Road and not damage the millennium walking trail. The club also secured funding for a second warmup shack in Beachburg.
Following the presentation of the awards, Renfrew County Warden Peter Emon congratulated the recipients and thanked them for their numerous contributions and dedication to improving and strengthening the quality of life we all enjoy within the County of Renfrew.
"We are appreciative to the nominators for bringing these individuals and organizations to our attention," he said. "The recipients have donated countless hours to the benefit of others in the community and they are very deserving of this recognition. We are very fortunate to have them working with us and for us on different initiatives across Renfrew County," he said.
FOR MORE INFORMATION CONTACT:
Craig Kelley Chief Administrative Officer/Clerk 613-735-7288
Tina Peplinskie Media Relations Coordinator 613-735-7288