Here's how to keep track of your Monthly subscription bills
When Mississauga, Ont.-based money coach Vanessa Bowen sat down with a client last year to go through the woman's finances, the pair realized something was askew: a monthly Spotify charge had seemingly appeared out of thin air.
Did she know that she was paying for the music-streaming app? No, because she doesn't use it. Had the company somehow charged her mistakenly? Probably not, Bowen told her. Then, the woman remembered.
"She's like, 'Oh my gosh, I've been paying for my ex-boyfriend's Spotify!'" Bowen recounted. "She was spending all this money on someone who was not even in her life anymore."
Canadians are signing up for subscriptions left and right, and companies are all too happy to oblige. It's quick and easy for the buyer, and a steady flow of cash for businesses that can automatically renew the subscriptions on a regular basis. But some people forget that they've signed up at all — and then the bills start piling up.
"Maybe we use it for a couple of weeks, but then we forget about it," Bowen said. "Life gets in the way … but that charge is still hitting our credit card, still impacting our finances."
CBC News spoke with experts who shared how to stay on top of those subscription fees — and what to do when you just can't find the unsubscribe button.
'A fundamental shift in the way companies do business'
Anyone with a newspaper subscription can tell you that the model has been around for a long time.
But a 2010 wave of direct-to-consumer e-commerce brands — like Dollar Shave Club, which delivers grooming products by mail — is what started the modern subscription boom, according to Adam Levinter, the Toronto-based founder and CEO of Scriberbase and author of The Subscription Boom.
Now, it's a ubiquitous fact of life. Sure, you've probably got Netflix or Disney Plus, but you can also get a monthly mystery box filled with cosmetics, or quirky flavours of tea and coffee, or meal-kits with pre-measured ingredients — down to the teaspoon.
"The last 10 years has seen just a massive shift in more and more companies moving in this direction, not just e-commerce companies, but platform companies, software companies, services companies," Levinter said.
The UBS financial services firm predicts the global subscription market will grow to $1.5 trillion US by 2025, more than double the $650 billion US it was estimated to be worth in 2021.
One in three Canadians have cancelled their subscriptions to streaming services in the last six months, according to a survey by the Angus Reid Institute.
"This is a big fundamental shift in the way companies do business. And at the same time, it's a fundamental shift in how consumers interact with companies."
Businesses are more interested than ever in building long-term relationships with the consumers who buy their products. While it used to be up to companies to bring customers back for repeat transactions, the emphasis on subscriptions has changed that.
"In a subscription business, the onus now shifts to the customer, so the company assumes the customer is otherwise satisfied with the product or service and will continue to bill that customer in perpetuity unless the customer decides to cancel," Levinter said.
Bowen, who runs a financial coaching firm called Mintworthy Co., said the problem is that people rarely want to part ways with their subscriptions. More than 85 per cent of Canadians have at least one monthly subscription, an Angus Reid survey from October found.
But the same survey showed that one in three Canadians had cancelled a subscription in the prior six months, with half of them citing the ongoing cost of living crisis. Those who hung onto their subs might just have a tough time saying so long, Bowen said.
"Once you have a subscription in your life, even if you're not using it consistently, your mindset comes to this point of, 'Well, maybe I will need it next month or next week,'" said Bowen.
"Once you have it, it's very hard to say goodbye."
A longer goodbye
Saying goodbye can be especially tough when the company wants to make it so: the dreaded "subscription trap." A Vancouver woman told CBC's The Cost of Living last year that she was forced to cancel her credit card after a company made it exceedingly difficult to get out of a subscription.
"It would help if there was greater standardization of subscription contracts and time intervals," said Kenneth Whitehurst, the executive director of the non-profit Consumers Council of Canada, in an email to CBC News.
Cost of Living26:06Subscription traps, sending money overseas — and who will make up Canada's future labour force?
The U.S. is cracking down on companies that make customers do cartwheels to cancel subscriptions — but consumer advocates says Canada is falling behind. Plus, we'll tell you whether it's actually getting cheaper to send money overseas. We also explore Canada's options for filling labour shortages, as immigration rates keep going up and birth rates continue to drop. Are temporary foreign workers the solution or do we need something more permanent?
Whether subscriptions can be cancelled easily is a matter of opinion, usually related to whether a website is user-friendly, he added. The council doesn't get many complaints about online subscriptions, but "I think the worry for people is that they authorize term agreements with recurring payments, unwittingly."
"There need to be clearer rules around cancellation, in general, for small-value, recurring subscriptions."
A Canadian company pleaded guilty last year for trapping buyers into a monthly subscription for health and dietary supplements, and was fined $15 million following an investigation by the Competition Bureau. But the bureau isn't a regulatory equivalent to the stricter Federal Trade Commission in the U.S., as Canada's consumer market is much smaller, said Levinter.
Horror stories led the U.S. federal regulator to ramp up its enforcement measures in 2021, after several high-profile companies — from SiriusXM radio to Apple — faced lawsuits from customers who said the businesses had made subscriptions too difficult to cancel or had engaged in suspect auto-renewal practices.
That's why it's crucial that companies make it easy for customers to reach them with questions and concerns — and give them the ability to control their subscription packages, added Levinter.
"If you make it difficult for the customer to do that, you're going to end up in lots of trouble," he said.
'A black eye on the merchant'
Cutting up your credit card is a desperate measure. But most Canadians will have a more simple route to navigating unwanted subscription charges: they can ask their credit card company for a chargeback, in which a bank transfers money from the merchant's account back to the client.
"Chargebacks are a black eye on the merchant," said Levinter.
Businesses that accept Visa or Mastercard, for example, have a responsibility to keep their chargebacks below a certain threshold. If chargebacks spike up, that's bad news for the company.
"You can have your card processing shut off, meaning that as a company you won't be able to process Visa or MasterCard transactions anymore, and without the ability to process transactions, you have no business."
The process is a little bit murkier if you've made a purchase using a debit card, because a company can't protect you if you've shared your pin or somehow encouraged its unauthorized use.
Maybe you just want to cut back for the sake of your wallet. If so, tracking monthly expenses — poring over your credit card statements for an errant Spotify charge here or there — is the best way to catch money slipping through the cracks, Bowen said.
A whole host of subscription management apps have also emerged in recent years, from MySubscribe to Mint to Bobby.
But automatically renewable subscriptions are a two-way street.
"I think companies should have [the] responsibility of reminding consumers, 'Hey, your subscription is coming up, do you want to cancel?' and have an easy way to click that cancel button so that we can say 'thank you, goodbye,'" said Bowen. "It's been nice, but I'm gonna put my money to something else right now."
It's a key week for the stock market. If you're not nervous, you should be, this global strategist warns. – MarketWatch
Investors have got the jitters as a big week unfolds — several central bank meetings including the Fed, earnings from Apple and Amazon.com, and jobs data. Yikes.
Read: The Fed and the stock market are set for a showdown this week. What's at stake.
Any investor out there who isn't nervous, perhaps should recheck his gut, says our call of the day, from Standard Chartered's global head of research, Eric Robertsen.
"We do not expect an extreme economic hard landing, but we think the proverbial Goldilocks scenario is too optimistic," Robertsen told clients in a Sunday note, adding that they are "now turning cautious on risky assets."
Robertsen explains the two sides of an important market debate right now — the just-right Goldilocks crowd and the "recessionist" bears.
The former is growing confident with their view that inflation and central bank tightening is nearing a peak and any recession will be "shallow and short-lived," he explains. The reduction of that "central-bank driven left-side tail risk" matters more to markets than any slowdown, that side also says.
"A central bank pause, declining inflation, and attractive yields and valuations will prompt investors to reduce their underweight exposure and increase their allocation to risky assets, the Goldilocks camp argues," he said.
He says the varied year-to-date performance across asset classes reveals 2022's laggards are 2023's outperformers so far. "This suggests that short-covering may be a significant contributor to performance so far, rather than overwhelming faith in the Goldilocks economy.
"The outperforming sectors are distinctly pro-cyclical – which is surprising with recession themes all the rage," he says, noting that "ominous message about the health of the labor market" from tech job cuts.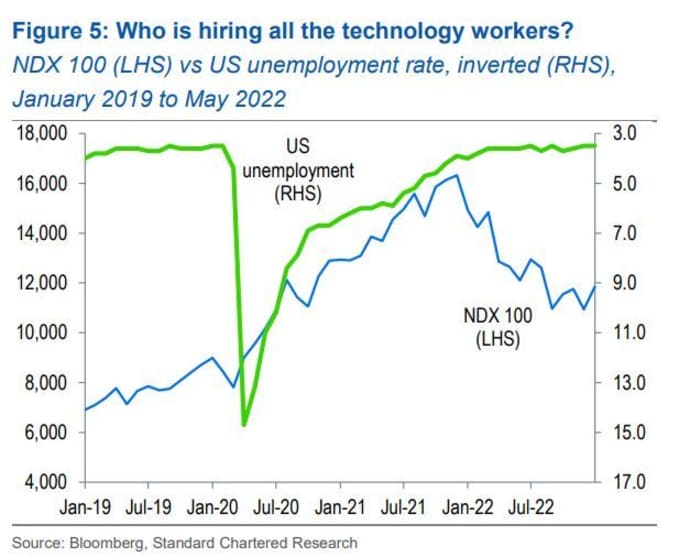 On the other side, the bears say investors are overstating a decline in volatility and understating economic risks, writes Robertsen, who is on board here, hence his caution on riskier assets. The so-called fear gauge, the CBOE Volatility Index, or VIX
VIX,
+6.75%
didn't register new highs last year when stocks tumbled, leading some to say it was a broken indicator.
"Real-time indicators are showing a loss of economic momentum, while others – such as the U.S. labor market – have yet to reflect growing economic headwinds," he said. "Underlying the bear case is the view that we have yet to feel the full cumulative impact of the most aggressive monetary tightening cycle in decades."
He says "volatility measures have fallen too far and the improvement in risky assets is due for a pause." The catalyst for this pause could be any number of things: aggressive rate cuts priced into the U.S. money-market curve that will be unwound, a too-tight move from the European Central Bank or even an actual tightening from Bank of Japan, for example, said Robertsen.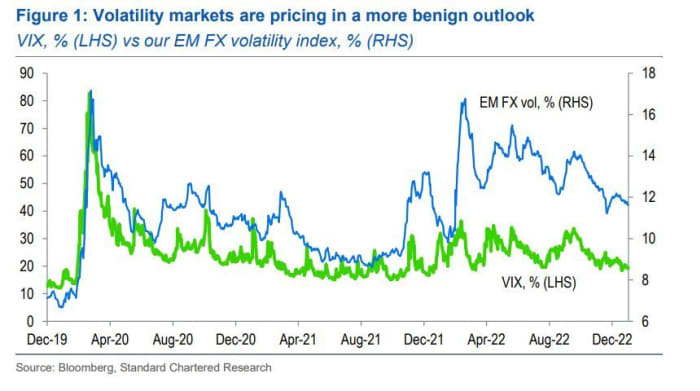 Risk assets may also struggle with the Fed's message this week if it fails to reassure the rate-hiking cycle is complete, says Robertse,n who expects the central bank will push back on "aggressive easing priced into the money-market curve."
Read: Wall Street's 'fear gauge' flashes warning that stocks might be headed off a cliff
The markets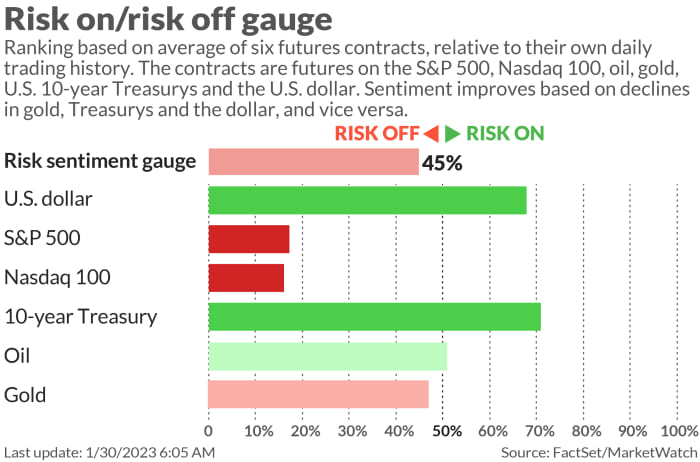 Stock futures
ES00,
-0.81%
YM00,
-0.47%
have trimmed losses, but all are down, led by those for the Nasdaq-100
NQ00,
-1.15%.
Bond yields
TMUBMUSD10Y,
3.551%
TMUBMUSD02Y,
4.256%
creeping up and oil
CL.1,
-1.87%
pulling back. The China CSI
000300,
+0.47%
rose slightly as the market reopened after a week off. The Hang Seng
HSI,
-2.73%
slumped 2.7% as Alibaba fell (more in buzz) and Taiwan's index
SET,
-0.00%
surged 3.7% as Taiwan Semi
2330,
+7.95%
soared.
For more market updates plus actionable trade ideas for stocks, options and crypto, subscribe to MarketDiem by Investor's Business Daily. Also check out MarketWatch's Live blog for up-to-the-minute markets updates.
The buzz
The A-listers of earnings are lining up this week, with not just Apple
AAPL,
+1.37%
and Amazon.com
AMZN,
+3.04%,
but Alphabet's Google
GOOGL,
+1.90%,
Meta
META,
+3.01%,
Starbucks
SBUX,
+0.24%,
McDonald's
MCD,
-0.82%,
Caterpillar
CAT,
+0.92%
and Ford
F,
+2.71%
as well.
Read: Could Big Tech layoffs keep growing? Apple, Amazon, Facebook and Google may give hints in biggest week of earnings.
Alibaba shares
BABA,
-1.82%
9988,
-7.08%
are tracking a slump in Hong Kong amid speculation the company will shift headquarters to Singapore. Alibaba dismissed the rumors. And shares of Baidu are bucking a weaker landscape for tech, with reports the China tech group is developing its own AI search engine.
Russia's invasion of Ukraine will lead to lower oil and gas demand and a move to greener sources, says BP
BP,
+0.19%
The data calendar is quiet for Monday, but the week is busy with updates on the housing market, manufacturing, unit labor costs and nonfarm payrolls.
A 25-basis point hike is forecast from the Fed this week, while a 50-basis point cut is expected from the ECB and Bank of England, which could narrowing the differential between the two sides.
Financial News is launching its first Twenty Most Influential in Crypto, recognizing the top executives making waves in the crypto and blockchain industry.
Best of the web
A short seller report has now wiped $72 billion in value from companies of the world's number-eight billionaire.
Who gives the best retirement advice? Suze Orman and Dave Ramsey or economists?
Rio Tinto is looking for a lost radioactive capsule the size of a coin in Western Australia.
We are 'greening' ourselves to extinction, says this Dutch academic.
The tickers
These were the top-searched tickers on MarketWatch as of 6 a.m. Eastern:
Ticker
Security name
TSLA,
+11.00%
Tesla
GME,
+14.04%
GameStop
LCID,
+43.00%
Lucid Group I
APE,
+7.26%
AMC Entertainment Holdings preferred shares
BBBY,
+1.19%
Bed Bath & Beyond
AMC,
+4.36%
AMC Entertainment Holdings
NIO,
+4.44%
NIO
MULN,
+2.44%
Mullen Automotive
AAPL,
+1.37%
Apple
AMZN,
+3.04%
Amazon
Random reads
Ain't no greased pole greasy enough for Philadelphia Eagles fans celebrating that NFC win over the San Francisco 49ers.
But lighting up the Empire State Building in Eagles green was a step too far, some New Yorkers were fuming.
Boris Johnson says Russian President Vladimir Putin threatened to take him out as the war in Ukraine began.
Need to Know starts early and is updated until the opening bell, but sign up here to get it delivered once to your email box. The emailed version will be sent out at about 7:30 a.m. Eastern.
Listen to the Best New Ideas in Money podcast with MarketWatch reporter Charles Passy and economist Stephanie Kelton
Why the golden age of flying is never coming back — and it might not be a bad thing – Yahoo News Canada
From pricey parking to pat downs at security and long lineups everywhere you turn, air travel these days can be unpleasant.
"I get on a plane now at least once a month and to me, it's like riding on a bus in the sky. Herd me on, sit me down, get me off. They've taken away the lure of the travel," said Susan Barnes, 75, of Halfmoon Bay, B.C., who has been a frequent flyer for more than half a century.
Barnes, who was a flight attendant in the 1960s and '70s, says she remembers when flying was like a Mad Men cocktail party in the sky. She jetted around the globe pouring free champagne for passengers flying CP Air, a carrier that operated until 1986 when it was taken over by Pacific Western Airlines (PWA) and then, Canadian Airlines.
Barnes said her job was to provide top notch treatment to every passenger, even those sitting in economy. That meant handing out hot towels before and after every meal. Breakfast, lunch and dinner were served on real china, with silverware and cloth napkins — then out came coffee, tea and a fruit basket.
"We were treating these people as if they were in a first-class establishment. We just happened to be in the air," Barnes said.
Barnes and other retired CP Air, Canadian and Air Canada flight attendants interviewed by the Cost of Living described flying back then as "a pleasure."
It's a far cry from the experience thousands of Canadians had with airlines this past holiday season. Staff shortages, weather issues and computer outages resulted in lost baggage, cancelled flights and stranded passengers who are now battling air carriers for compensation.
This, along with a summer of major travel disruptions due to COVID-19 labour shortages, has the federal government promising to overhaul Canada's airline passenger bill of rights.
If you've been caught in that tangled web of travel chaos, you may be asking yourself what happened. Experts say it comes down to costs, and competition — and that we're unlikely to ever return to that golden age of flying.
Keeping prices competitive meant airlines had to be more ruthless about the bottom line, said Fred Lazar, an associate professor of economics at York University.
"Here's a fare, it gets you a seat from A to B. Anything else costs more."
Carrier competition
What most Canadians remember as the golden age of flying was the era when commercial aviation was regulated, explained Lazar. It was a time when airlines didn't have to cut costs to stay competitive, because the federal government didn't allow them to compete with one another.
"So it was essentially the government saying this is where you can fly, when you can fly and these are the prices."
Up until 1986, the two big players were private carrier CP Air and government-owned Air Canada (formerly Trans-Canada Airlines), said Lazar, and the government did not allow much overlap on routes.
In the absence of competition, experts say Canadian carriers were guaranteed to attract customers and make money, which meant they could afford to offer perks on their flights to passengers.
According to Julie LeBlond Parker, who started as a flight attendant for CP Air in 1968, airlines also invested in their staff. She received extensive training in "decorum" and "finesse" before taking to the sky.
"The service was based on old European service. It was a very high standard," said LeBlond Parker, who now lives in South Surrey, B.C.
Domestic and international flight prices, 1959 vs. 2023
But the golden age of air travel was also out of reach for many Canadians. Fare schedules from collectors and the archives of the Canada Aviation and Space Museum reveal that throughout the 1940s, '50s and '60s, flying was incredibly expensive.
In 1950, a return flight on Trans-Canada Airlines from Vancouver to Johannesburg, South Africa, cost over $21,000 when adjusted for inflation. Flying Toronto to Vancouver in 1962 on CP Air was roughly $1,900.
With prices like that, LeBlond Parker, said the regulars on her flights were business travellers, not vacationers. Leisure travellers were usually newlyweds, couples and families embarking on a once-in-a-lifetime trip.
"What was really amazing about it is that they all dressed up. They probably got a new outfit just to fly because it was special. It was a very special thing."
Goodbye blankets, hello bargains
Barry Prentice, the director of the Transport Institute at the University of Manitoba, said Canadians saw a "tremendous drop" in airfares south of the border when the U.S. deregulated its airlines in 1978.
"They went from $700 to $200, or something. And everybody in Canada was sitting there, you know, wondering, 'well, why don't we have that?'"
WATCH | Is air travel broken?
Prentice said the Canadian government followed the U.S., loosening its grip on the airline industry throughout the 1980s and '90s. During that time, Air Canada became privatized and more carriers entered the Canadian market. As competition ramped up, airfares went down.
But that's not the only reason flying became cheaper, explained Prentice.
Advances in aviation technology meant planes became more fuel efficient and larger, which increased air cargo and passenger capacity. Prentice said that — along with the 1980s oil glut, brought down the price per seat.
Even when crude prices rebounded, legacy airlines like Air Canada couldn't go back to charging passengers as much for flights as they did before deregulation because they were up against the à la carte pricing model of no-frills carriers, said Lazar.
"Many people said, 'We didn't have to pay for bags, we got food for free, we didn't have to pay for earphones," Lazar said.
"Well now, in the lowest-fare categories, you do, because the airlines want to compete with the ultra low-cost carriers. And that's the only way they can do it."
Lazar, who has also worked as a consultant for Qantas, Air Canada and Porter Airlines, said stripping away the luxuries and packing more seats on planes is a "major contributing factor to making flying in economy much less comfortable and attractive, yet much more affordable."
Snafus at security
While Canadians often blame airlines for a lousy flying experience, chaos at airport security and gates can also contribute to the overall unpleasantness of air travel. Experts say that's because airports aren't designed for the realities of today's travel.
Between 1973 and 2008, Anthony Wade-Cooper was a flight attendant for CP Air, Canadian and Air Canada. He says before 9/11, he could make it from the check-in counter to the gate in 20 minutes.
"It was just so different. You just walked into the airport and you got on a flight," he said Wade-Cooper, who is now retired in a town called Mooloolaba on Australia's Sunshine Coast.
Nowadays, airlines ask passengers flying domestic to arrive at the airport two hours in advance and Wade-Cooper said he often spends most of that time standing in a queue.
Security snafus are also a result of a steady increase in air travel over the last decade — peaking in 2019 with nearly 163 million passengers passing through Canadian airports, according to Statistics Canada.
According to Lazar, most airports were not built for a post-9/11 world where every traveller has to take off their belt and shoes. There are also design problems when passengers arrive at gates. Lazar says some airports are designed like malls — a lot of shops and restaurants but not a lot of seating.
"There's no place to sit. You know, if you have long delays, where are you going to go?"
But what we get in exchange for fewer perks and busier airports, said Prentice, are cheaper flights — and that means more people than ever can afford to fly. Which he thinks is a "really good thing."
"More families can travel and, over time, families have split up wider and wider. My grandchildren are in Montreal and I'm in Winnipeg and I wouldn't see them very often if it weren't for air travel."
If you're wondering if there's a way to get back a bit of the elegance or at least the enjoyment of flying, Lazar said you can't expect to pay rock bottom prices.
He said the only way back to the golden age of travel is to fly first class or rent a private jet.
"Otherwise, just accept the fact that air travel is really the same as travelling on a bus. Except it gets you from A to B much more quickly."
Stock futures are little changed ahead of busy week of earnings, Fed meeting – CNBC
Stock futures were modestly lower on Sunday evening as investors geared up for a week of key corporate earnings and a possible interest rate hike from the Federal Reserve.
Futures tied to the Dow Jones Industrial Average slipped 56 points, or about 0.2%. S&P 500 futures ticked down 0.2%, and Nasdaq 100 futures edged lower by 0.2%.
Wall Street is coming off a winning week as the stock market's January rally continued. The Nasdaq Composite gained 4.3% for the week, while the S&P 500 and Dow added 2.5% and 1.8%, respectively.
There are several tests this week for this 2023 rally. A busy stretch of corporate earnings season includes reports from McDonald's and General Motors on Tuesday followed by tech giants Apple, Meta Platforms, Amazon and Alphabet later in the week.
The Federal Open Market Committee meets on Tuesday and Wednesday, when the Fed is expected to hike rates by one-quarter of a percentage point. Investors will be looking for clues about how much higher the central bank will take rates in the fight against inflation.
"Inflation has shocked the Fed to the upside; they need to be cautious not to inadvertently lower rates too early. Don't buy into this gobbledygook about a couple of rate cuts being priced into December. For now, the Fed is only around to help in the very unlikely event of a crash landing," David Zervos, chief market strategist at Jefferies, said in a note to clients.