Here's what you need to know about flu, COVID-19, RSV this holiday: Doctor weighs in on masks, tests, symptoms
With holiday gatherings around the corner and viral illnesses including flu and COVID-19 on the rise again, this Northwestern Medicine doctor offers tips to managing symptoms, identifying what you have, and mitigating transmission risk.
Dr. Jeremy Silver, medical director for Northwestern Medicine Kishwaukee Hospital's emergency department in DeKalb, said said it's not dramatic to think of the current illness trends as a "tripledemic," a term used to highlight the severity of ongoing seasonal illnesses. And another tricky aspect: How to tell the often respiratory-riddled symptoms apart.
Throughout Illinois, cases of flu and COVID-19 are on the rise, preempted by a fall surge of respiratory syncytial virus (RSV). According to the US Centers for Disease Control and Prevention, Illinois reports "very high" influenza rates as of Dec. 10.
"It's probably the equivalent to the peak of omicron, which hit us a bit later [in 2021]," Silver said. "So I think just generally speaking, when it's cold, the viruses tend to transmit more readily. People are inside congregating and also viruses do better in the cold than they do in the heat."
A year ago, as then-new coronavirus variant omicron hit the country, a post-holiday surge swept the region, rendering already overburdened hospitals overflowed. Doctors then asked patients to stay away from the ER unless absolutely necessary.
Now space remains an issue, and while numbers haven't quite reached crisis levels, Silver said area residents seeking treatment should prepare themselves for longer than usual wait times.
"The current situation in the region is challenging, that many hospitals including our own are holding admitted patients in the ER for extended periods of time because the burden of illnesses," Silver said. "So if you have a condition that could potentially be treated at an urgent care or primary care that might be advisable given the current situation."
In 2021, DeKalb County reported 78 flu-like illnesses at Kishwaukee Hospital's emergency department from Oct, 31 through Nov. 13, according to the DeKalb County Health Department. This year, that's more than doubled so far, with 181 reports during that same time frame in DeKalb. High rates of flu are also reported in DuPage and Kane counties, according to the respective county health departments.
As of Friday, the Illinois Department of Public Health reported 43 counties across the state were at high community transmission levels for COVID-19. That includes DeKalb, Lee, Whiteside, Winnebago and Kankakee counties in northern Illinois. Lake, McHenry, DuPage, Kane, Kendall, Ogle, Carroll are reported at medium risk. And Will, Grundy, LaSalle, Putnam and Bureau remain at low risk.
As of late Thursday, Illinois had 1,704 COVID-19 patients in the hospital, the most since Feb. 14. Of those, 223 were in intensive care units, the most since Feb. 23, and 60 were on ventilators.
The IDPH recommends indoor masking for all regardless of vaccination status in counties reporting high community transmission rates. Self-testing before socializing with a person who's immunocompromised, staying up-to-date on vaccinations and boosters, maintaining good ventilation and using precautionary measures such as discretion when in large crowds, hand-washing and staying away from others if you feel ill is also recommended.
"I think what you're starting to see now with COVID is flareups, with surges regionally as opposed to these broad based, national or continental sweeps of disease," Silver said. "You may have a COVID surge in the Midwest, but the South is seeing flu, as an example."
It's been only months since a "massive influx of RSV," as Silver called it, swept through the region. With it came more strain on the already strained healthcare systems, as pediatric nurse shortages or shortages of patient space in hospitals meant a bottleneck of cases. Kishwaukee Hospital, for example, doesn't often admit pediatric patients, Silver said.
How to tell the difference between viruses
Flu, COVID-19 and RSV are all contagious respiratory viruses, with many of the same symptoms that can be hard to distinguish.
According to the CDC, COVID-19 spreads more easily than flu.
Distinguishing between the two must be a matter of testing, as symptoms such as fever, cough, fatigue, sore throat, runny or stuffy nose and headache can be found in both infections. And with omicron and its subvariants still the primary strain in the country, COVID-19 might not often show up with a loss of taste or smell, the CDC reports.
"Flu tends to be rapid onset, high fever, you were fine when you woke up, by 3 p.m. it's over," Silver said. "COVID tends to be slow, subtle flu-like with cough or sore throat versus sometimes diarrhea or nausea."
COVID-19 tests can be found in pharmacies and retail stores throughout the area. Healthcare professionals can provide a flu test.
[ Here's how to order another round of free COVID-19 tests from federal government ]
Of the three, most people can recover from RSV in a week or two, though infections in infants and older adults can be especially serious. RSV also is the most common cause of bronchiolitis, inflammation of the small airways in the lung, and pneumonia, or lung infections, in children younger than 1, the CDC reports.
"RSV is more of an illness of very young children, fewer than 2 years, with wheezing, difficulty breathing, ow grade fevers and clear runny nose," Silver said.
According to the CDC, RSV upticks are still reported in several regions throughout the country, with some nearing seasonal peak levels.
"We're seeing a lot of flu or flu-adjacent illnesses," Silver said. "In my opinion, the nature of the viruses is dominance so the idea of a tripledemic as an onslaught of all three viruses at once is not reality. I think what's more realistic, which is what we've seen, is this scenario: COVID surges, then dips. Then the RSV epidemic, and that kind of wains, and then flu comes to the foreground."
Those who seem to suffer are often the ones who do annually, Silver said. In children especially, Silver says he's noted leapfrogging from one illness to the next.
"The very young and the very old, so the extremes of age," Silver said. "And vulnerable populations who can't really, they require society to help lift them up in order to make it through times like this."
Though it's possible to be infected with both COVID-19 and flu at the same time, it's uncommon, says the CDC.
Silvers said flu cases he's seeing now are fairly severe.
How to mitigate risk
Does vaccination seem to be playing a role in those who are getting this year's strain of flu, like the bivalent COVID-19 booster?
Yes, said Silver.
Similar to the COVID-19 vaccine's primary function, the role of vaccination against both flu and the coronavirus is meant to stave off severity: Severe symptoms, infections, risk of hospitalization and death.
"Vaccines work, the risks of vaccines are far outweighed than getting sick and having long complications such as baring fog, loss of function, loss of job, chronic fatigue, blood clots, strokes and heart attacks," Silver said. "Don't forget the flu was the big boogie man just a few years ago prior to COVID. You can't take your eye off the ball there. Vaccination not only protects you but protects the grandbaby next door. There's a safety net component there that maybe gets lost."
That also means additional steps exist to mitigate viral control, Silver said. As has been preached by healthcare professionals since the beginning of the pandemic nearly three years ago, behavioral risk mitigation is paramount, especially as indoor gatherings are likely to abound this holiday.
For all illnesses, he recommends taking the we-before-me approach, using masks, isolation and testing as a way to keep yourself and those around you healthy. Even if at first it feels like just a cold.
"Early [upper respiratory infection] symptoms – ear ache, headache, sinus congestion, runny nose, post nasal drip, dry cough, sore through, body aches, nausea, fatigue – should prompt mask wearing at minimum," Silver said.
Those with confirmed COVID-19 should isolate until symptom are gone, Silvers said. Those with flu or RSV are likely to experience infectiousness for about 10 to 14 days, Silver said.
"Because of overlap of symptoms, if you feel bad, get tested at home, frequently," Silver said.
That goes especially for those with who are older or have chronic disease like high blood pressure, kidney problems, heart or lung disease such as asthma or COPD, cancer or autoimmune disease, Silver said.
Masking up is about protecting those around you, too, Silver said.
"If you don't feel well please wear a mask so that you don't make the person next to you sick," Silver said. "If you have a fever or you're very symptomatic, I'd strongly advice not going to work and spreading it around. I'd advise people that are managers in workspaces be sensitive to this. You want your employees to come to work but not be sick at the same time."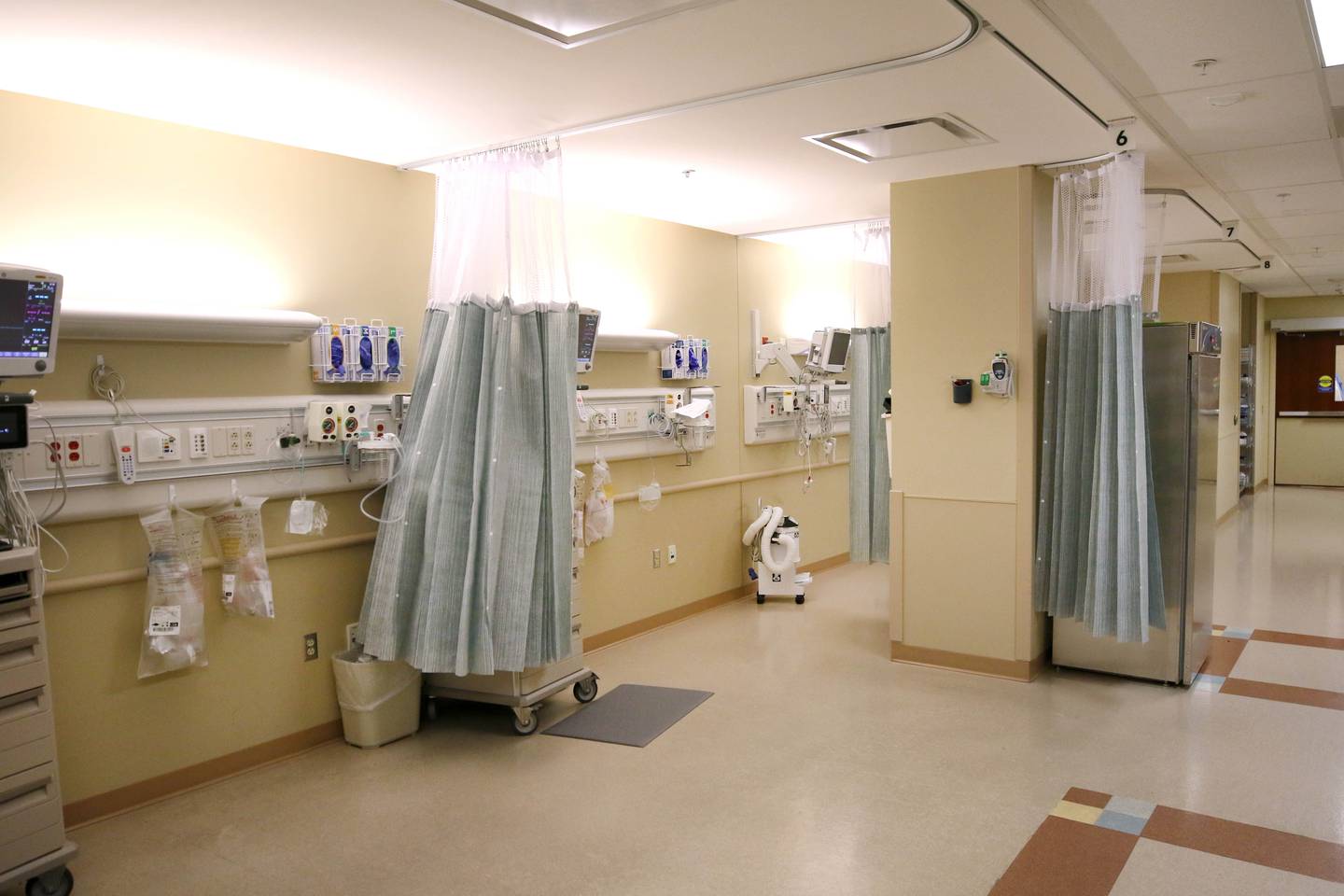 At a glance – symptom checks and treatment
RSV
No vaccine available
Recommended treatment includes fever and pain management medicine, drinking fluids and consulting a doctor
Symptoms generally show up four to six days post-exposure, according to the CDC.
Symptoms include runny nose, decreased appetite, coughing, sneezing, a fever or wheezing. Often appear in stages, not all at once
Young infants might also experience irritability, decreased activity or trouble breathing
Nearly all children will have had an RSV infection by their second birthday, according to CDC
Most infections clear within a week or two
Seek medical care if patient experiences difficult breathing, loss of fluid intake, or worsening symptoms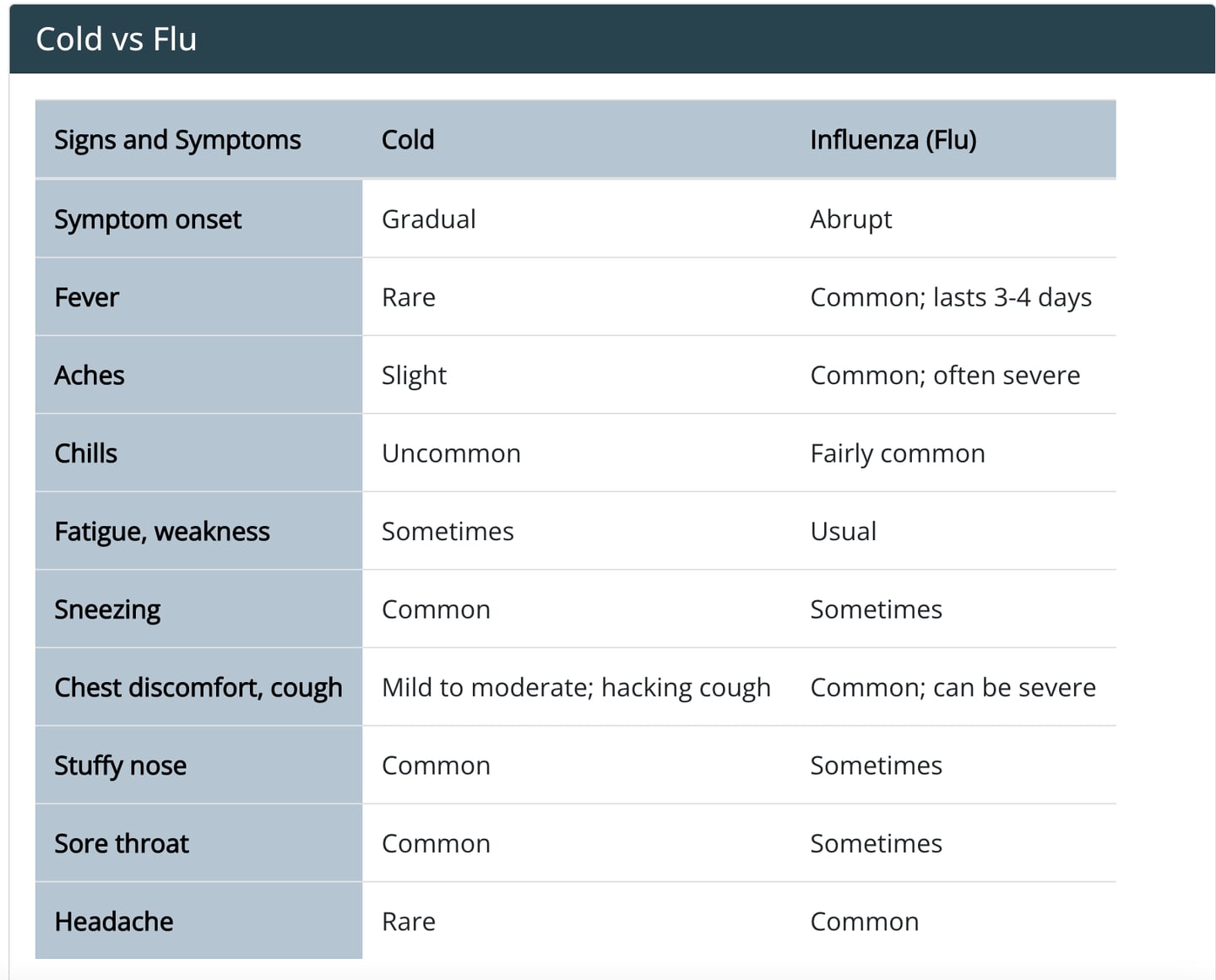 Flu
Vaccine is available, can be received as most pharmacies, doctor's offices, etc.
Symptoms start to appear between one to four days post-exposure, usually come on suddenly
Symptoms: fever (though not always), chills, cough, sore throat, runny or stuffy nose, muscle or body aches, headaches, fatigue, vomiting and diarrhea (latter is more common in children)
Recovery often within a few days or less than two weeks
moderate complications could include sinus or ear infections. Severe could include heart, brain or muscle tissue inflammation, sepsis
Treatment can include antiviral drugs, recommended to start early
Contagious from a day prior to showing symptoms to about three to four days after, according to CDC
COVID-19
Vaccine still available, can be received as most pharmacies, doctor's offices, etc. Latest vaccine will be the bivalent booster, specifically made to target omicron strains of coronavirus
Symptoms might not show up for between two to five days post-exposure, and can last up to 14 days after infection or longer if complications arise, according to the CDC.
Symptoms: Fever, chills, cough, shortness of breath, fatigue, muscle or body aches, new loss of taste or smell, sore throat, congestion or runny nose, nausea or vomiting, diarrhea
Test to determine diagnosis
Isolate until symptoms disappear once positive
Treatment can also include antiviral drugs, including Paxlovid, available through healthcare provider
Can often remain contagious longer than those with the flu.
Can begin spreading virus two to three days prior to symptoms onset, and remain contagious on average for about eight days after symptoms began, the CDC reports.
Governments seek buyer as Quebec COVID-19 vaccine manufacturer Medicago set to close
MONTREAL — The Quebec government says it's looking to find a buyer for Medicago Inc., the Quebec-based COVID-19 vaccine manufacturer that will be shut down by parent company Mitsubishi Chemical.
Quebec Economy Minister Pierre Fitzgibbon said Friday the province has had preliminary talks with potential buyers in the pharmaceutical sector to keep Medicago's expertise and skilled workforce in Quebec. He said both the Quebec and federal governments would be willing to put in money to secure a deal.
"We can't operate it ourselves; the government will not be the main shareholder," Fitzgibbon said. "But if there is a pharmaceutical company that considers it's worth continuing, we're ready to help."
Mitsubishi Chemical said Thursday it would stop marketing the Medicago-produced Covifenz vaccine, which is plant-based and was approved by Health Canada one year ago for adults aged 18 to 64.
The Japanese chemical company said it had been preparing to commercially produce the Covifenz vaccine but decided against doing so because of the "significant changes" in the COVID-19 vaccine environment. The company said it would dissolve Medicago because it is no longer "viable" to continue marketing its products.
"In light of significant changes to the COVID-19 vaccine landscape since the approval of Covifenz, and after a comprehensive review of the current global demand and market environment for COVID-19 vaccines and Medicago's challenges in transitioning to commercial-scale production, the (company) has determined that it will not pursue the commercialization of Covifenz," Mitsubishi Chemical said in a statement.
Following the announcement, Medicago issued a statement thanking its employees. "The Medicago team has pushed scientific boundaries and we know that they will continue to make incredible contributions to innovation and biopharmaceutical's sector."
Canada invested $173 million in Medicago in 2020 to support development of the Covifenz vaccine and help Medicago expand its production facility in Quebec City.
On Thursday, Innovation, Science and Industry Minister François-Philippe Champagne told reporters the federal government is in "solution mode."
"Our first order of business is really to try to find a partner who can help us preserve the jobs, preserve the technology and the intellectual property," Champagne said.
The minister acknowledged that mRNA vaccine technology for COVID-19 became dominant as it "seemed to be most effective."
But Medicago's plant-based vaccine was still "promising," Champagne said.
"Everyone agreed that the plant-based vaccine could very well help in a future pandemic," Champagne said.
Speaking to reporters on Montreal's South Shore Friday, Fitzgibbon said the company informed the province at the end of December it intended to pull the plug on Medicago.
In May 2015, Quebec and Ottawa announced loans of $60 million and $8 million, respectively, for the construction of a complex in the Quebec City region to house Medicago's activities.
"The challenge is not (getting the loan repaid), it's how we can save the jobs, save this company," Fitzgibbon said.
While Canada authorized Medicago's vaccine in February 2022, it was rejected for emergency use by the World Health Organization in March because tobacco company Philip Morris was a minority shareholder in the company, contravening a policy adopted in 2005 by the United Nations agency.
Quebec City Mayor Bruno Marchand said on Twitter he was saddened by the closure of the company.
"My thoughts are with the families who learned some very sad news," Marchand said Thursday evening. "We have to roll up our sleeves to keep all this expertise in the field of health innovation in Quebec City."
This report by The Canadian Press was first published Feb. 3, 2023.
Sidhartha Banerjee, The Canadian Press
Bird flu keeps spreading beyond birds. Scientists worry it signals a growing threat to humans, too
As a deadly form of avian influenza continues ravaging bird populations around much of the world, scientists are tracking infections among other animals — including various types of mammals more closely related to humans.
Throughout the last year, Canadian and U.S. officials detected highly pathogenic H5N1 avian flu in a range of species, from bears to foxes. In January, France's national reference laboratory announced that a cat suffered severe neurological symptoms from an infection in late 2022, with the virus showing genetic characteristics of adaptation to mammals.
Most concerning, multiple researchers said, was a large, recent outbreak on a Spanish mink farm.
Last October, farm workers began noticing a spike in deaths among the animals, with sick minks experiencing an array of dire symptoms like loss of appetite, excessive saliva, bloody snouts, tremors, and a lack of muscle control.
The culprit wound up being H5N1, marking the first known instance of this kind of avian influenza infection among farmed minks in Europe, notes a study published in Eurosurveillance this month.
"Our findings also indicate that an onward transmission of the virus to other minks may have taken place in the affected farm," the researchers wrote.
Eventually, the entire population of minks was either killed or culled — more than 50,000 animals in total.
That's a major shift, after only sporadic cases among humans and other mammals over the last decade, according to Michelle Wille, a researcher at the University of Sydney who focuses on the dynamics of wild bird viruses.
"This outbreak signals the very real potential for the emergence of mammal-to-mammal transmission," she said in email correspondence with CBC News.
It's only one farm, and notably, none of the workers — who all wore face shields, masks, and disposable overalls — got infected.
But the concern now, said Toronto-based infectious disease specialist Dr. Isaac Bogoch, is if this virus mutates in a way that allows it to become increasingly transmissible between mammals, including humans, "it could have deadly consequences."
"This is an infection that has epidemic and pandemic potential," he said. "I don't know if people recognize how big a deal this is."
Global bird populations are being ravaged by a deadly strain of avian flu, wiping out flocks of domestic poultry and killing wild birds. Some researchers warn the virus could eventually evolve to better infect humans and potentially start a future pandemic.
H5N1 has high mortality rate
Among birds, the mortality rate of this strain of highly pathogenic avian influenza can be close to 100 per cent, causing devastation to both wild bird populations and poultry farms.
It's also often deadly for other mammals, humans included.
The World Health Organization (WHO) has documented 240 cases of H5N1 avian influenza within four Western Pacific countries — including China, Cambodia, Laos, and Vietnam — over the last two decades. More than half of the infected individuals died.
Global WHO figures show more than 870 human cases were reported from 2003 to 2022, along with at least 450 deaths — a fatality rate of more than 50 per cent.
Bogoch said the reported death toll may be an overestimate, since not all infections may be detected, though it's clear people can "get very, very sick from these infections."
Most human infections also appeared to involve people having direct contact with infected birds. Real-world mink-to-mink transmission now firmly suggests H5N1 is now "poised to emerge in mammals," Wille said — and while the outbreak in Spain may be the first reported instance of mammalian spread, it may not be the last.
"A virus which has evolved on a mink farm and subsequently infects farm workers exposed to infected animals is a highly plausible route for the emergence of a virus capable of human-to-human transmission to emerge," she warned.
Louise Moncla, an assistant professor of pathobiology at the University of Pennsylvania school of veterinary medicine, explained that having an "intermediary host" is a common mechanism through which viruses adapt to new host species.
"And so what's concerning about this is that this is exactly the kind of scenario you would expect to see that could lead to this type of adaptation, that could allow these viruses to replicate better in other mammals — like us."
Surveillance, vaccines both needed
What's more reassuring is the ongoing development of influenza vaccines, giving humanity a head start on the well-known threat posed by bird flu.
Wille noted the earlier spread of H7N9, another avian influenza strain which caused hundreds of human cases in the early 2010s, prompted similar concern that the virus would acquire the mutations needed for ongoing human-to-human transmission.
"However, a very aggressive and successful poultry vaccination campaign ultimately stopped all human cases," she added.
But while several H5N1 avian influenza vaccines have been produced, including one manufactured in Canada, there's no option approved for public use in this country.
To ward off the potential threat this strain poses to human health, Bogoch said ongoing surveillance and vaccine production needs to remain top-of-mind for both policy makers and vaccine manufacturers.
Dr. Jan Hajek, an infectious diseases physician at Vancouver General Hospital, also questioned whether it's time to wind down global mink farming, given the spread of various viruses, from avian influenza to SARS-CoV-2, the virus behind COVID-19.
"We're closely related to minks and ferrets, in terms of influenza risks … if it's propagating to minks, and killing minks, it's worrisome to us," he said.
In 2021, B.C. officials announced an end to mink farming across the province, saying the farms can be reservoirs for viruses and represent an ongoing danger to public health. All mink farm operations must be shut down, with all of the pelts sold, by April 2025.
However, other provinces — and plenty of countries — do intend to keep their mink farms operating.
"Is it responsible to have these kinds of farming conditions where these types of events can occur?" questioned Moncla. "If we're going to keep having these types of farms, what can we do to make this safer?"
6,654 students facing suspension due to out-of-date immunization records
The Windsor-Essex County Health Unit (WECHU) has issued about 6,654 suspension orders to students who do not meet immunization requirements.
WECHU completed a review of all elementary student immunization records in December and more than 12,000 students received a notice.
These students were either overdue for one or more vaccines required to attend school, or their immunization records were not updated with the health unit.
"While many of these vaccines are normally administered by primary health care providers, parents and guardians of children who received their vaccines from their health care provider still need to report this information to the health unit," said a WECHU news release.
The Immunization of School Pupils Act (ISPA) (1990), Section 11, Subsections (1) and (2) requires public health units to maintain and review vaccine records for every student attending school and to enforce a school suspension for incomplete immunization information. As the next step of the ISPA enforcement process, orders were mailed out to students that do not meet this requirement.
WECHU said this is the final notice.
The suspension order notifies parents and guardians that immunization records must be updated to the WECHU by Thursday, March 16, at 6 p.m. or their child will be suspended for up to 20 days from school, starting Monday, March 20, 2023. Once parents and guardians provide the missing immunization information to the WECHU, the student is removed from the suspension list and can attend school again.
Under the ISPA , children can be exempted from immunization for medical reasons or due to conscience or religious belief.
Families can book immunization appointments with their health care provider and are reminded to update their child's immunization records online at immune.wechu.org.
Catch-up immunization clinics are also being offered at the WECHU Windsor and Leamington offices and will continue until the end of March. Families can book an appointment at a WECHU clinic by visiting wechu.org/getimmunized or by calling the WECHU at 519-960-0231.