Here's where to find Indigenous art and crafts for your holiday shopping – Toronto Star
A pop-up art market set up to sell the work of Toronto-based Indigenous artists is drawing visitors from throughout the GTA.
The Association for Native Development in the Performing and Visual Arts' Indigenous Art Market opened in early November at 1107 Queen St. E. in Toronto's Leslieville neighbourhood, with lineups of people waiting to browse a curated selection of goods made by Indigenous artists.
Curator and organizer Barb Nahwegahbow said the shop's success has established a "huge demand" for authentic Indigenous goods in Toronto. She and Marcos Arcentales set up the market and it has grown from 15 to more than 30 artists due to demand. Customers are coming from as far away as Windsor and Sudbury, she said.
The Association for Native Development in the Performing and Visual Arts is Canada's oldest Indigenous arts service organization. It funds the market, providing a space for artists to showcase and sell their work, with 100 per cent of sales going directly to the artists. It's scheduled to stay open until Dec. 24.
"It's a source of great pride and inspiration to have a place like this that showcases so much of the beauty that we create," said Nahwegahbow. "Artists are so important to our community and our culture. They're the storytellers, the dreamers, the historians, the visionaries and the truth-tellers."
Shoppers will find traditional items such as moccasins and intricate beadwork, and more contemporary designs, such as art by abstract painter Mel Bartel, jewelry from designer Warren Steven Scott and Denesee Paul's paintings on wood panels.
Whether you're holiday shopping or just looking to treat yourself, it's a great place to find Indigenous-made gifts this holiday season.
Native Arts Society
The Native Arts Society shop and gallery features art from homeless or incarcerated Indigenous artists, run by Brianna Olson Pitawanakwat and Nanook Gordon. Proceeds from their orange shirts support Toronto Indigenous Harm Reduction, a grassroots initiative started in April 2020 during the first wave of the pandemic to support people unable to access social services or living in encampments in Toronto. Visit their shop Thursday to Saturday from 1 to 7 p.m. at 115 Church St. or shop online.
Native Canadian Centre
The Native Canadian Centre of Toronto hosts an online marketplace featuring more than 20 artists from across Canada, with links to buy from the artists' websites. Artists include Wesley Havill, an artisan blacksmith who works with copper and steel; handcrafted flutes by Bryan Towers and art by Ojibwe artist Mark Seabrook.
Pacha Indigenous Art Collection
Pacha Indigenous Art Collection is an Indigenous family-owned shop run by Patricia Cajas and Marcos Arcentales from the Kichwa community of Peguche in the Andes region of Northern Ecuador. Their Toronto-based online shop aims to connect Indigenous artists from North and South America via arts and craft fairs, workshops and artist talks. Browse for gifts that include textiles, jewelry, artwork and clothing.
Wiiji'iwe Collective
Natasha Jones started Wiiji'iwe Collective to share the creativity of Indigenous artists she met while working as a teacher in the northern community of Aroland First Nation. It's a way to support artists who live in remote communities and to make their art more accessible, says Jones, who works full-time as a teacher in Halton. Jones spent six months consulting with Indigenous friends and elders before launching on Instagram. The name Wiiji'iwe, which means "going together with the people," was gifted to her by Pauline Gagnon, an elder in Aroland.
Raven Reads
Raven Reads is an Indigenous subscription box offering seasonal subscriptions for adults and children, including Indigenous literature and giftware created by Indigenous people. Every three months, subscribers receive curated Indigenous books, giftware, cultural items and educational content.
Scout
Toronto's Scout carries home decor such as pillows, napkins and blankets from Indigo Arrows and Sḵwálwen Botanicals, an Indigenous brand creating botanical skin care products.
Likely General
Discover jewelry and prints by Lindsay Lickers and bath bombs by Roots + Raven at Likely General.
Craft Ontario Shop
The Craft Ontario Shop & Gallery offers handmade items, including Indigenous-made textiles, stone carvings, jewelry, moccasins and dreamcatchers.
Wolf Moon
The Wolf Moon in Minden, Ont., stocks Indigenous-made products in its online shop, including candles from Land of Daughters, natural skin care products from Wildcraft, and jewelry from Warren Steven Scott and Inner Wolf. Shop for fine art prints by Emily Kewageshig, an Anishinaabe artist known for her art prints inspired by traditional Ojibwe Woodland artists.
Art thieves make off with sculptures from Kelowna gallery – CBC.ca
Kelowna RCMP are investigating a brazen early morning art heist at Gallery 421 in the city's South Pandosy district.
Gallery co-owner Ken Moen said two masked men took a crowbar to the front doors just before 2 a.m. Saturday and made off with almost $70,000 of Canadian fine art.
"It was a total of three minutes. They were in, they were out," he said.
"All things considered, we feel fairly lucky because they did zero vandalism. We have paintings on the walls they didn't touch. It was very targeted."
Moen said the criminals immediately ran for the most expensive, heaviest works on display at the back of the gallery: two bronze sculptures by noted Calgary area cowboy artist Vilem Zach, each weighing about 40 kilograms.
The thieves quickly loaded up a vehicle, re-entered and snatched three smaller bronze sculptures cast by Summerland's Michael Hermesh, three glass bowls blown by Jeff Holmwood, and two soapstone bear carvings from Vance Theoret.
"They knew what they were getting," Moen told CBC News.
"I think someone has a shopping list and they sent them here … somebody probably said go grab the most expensive sculptures and get in and get out."
Moen says the bronze has little value smelted down or sold as scrap. Selling the works of art will be difficult at any Canadian galleries or auction houses.
The break and enter was caught on the gallery's security cameras.
The RCMP are seeking information on two male suspects.
"One suspect is described as wearing a red bandana over his face, a grey tuque, grey sweater, black track pants with white pin stripes and white shoes. The second male suspect is described as wearing a mask over his face, a black hoodie, grey sweatpants and with black Adidas shoes," said RCMP Cst. Solana Paré.

Cold comfort: film, music, art and more to combat the winter blues – The Guardian
Letters: Art in the time of COVID – Richmond News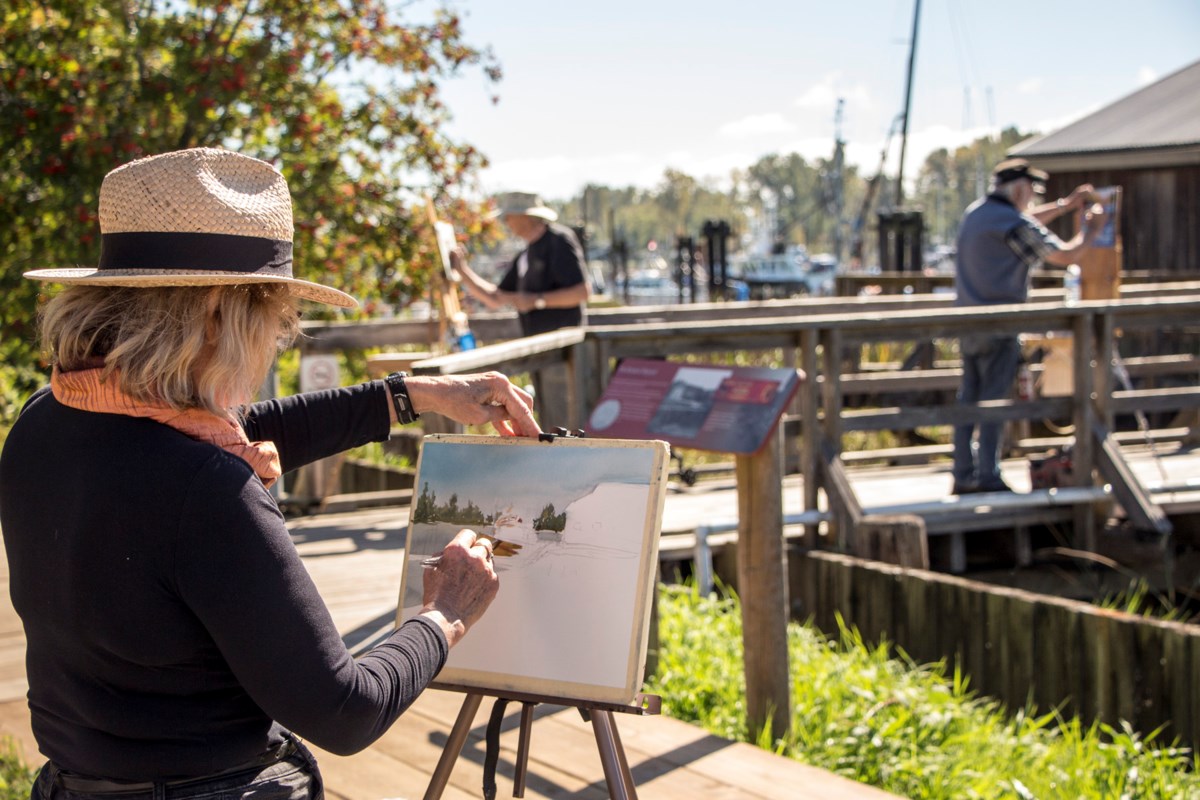 Dear Editor,
During WWII, Britain's Prime Minister Winston Churchill was asked to cut the arts programs to adequately fund the war effort, to which he responded, "Then what are we fighting for?"
Many of us feel as though these past two years have been akin to a war, or at least a battle. If you are like me, it often feels like we take a few steps forward, followed by a few more steps back, particularly as new variants, such as Delta and Omicron, rear their ugly heads.
Two years later, I don't think I am alone in feeling like I have been in the midst of a war zone, trying to keep myself, my family, my friends and my community safe during uncertain and unpredictable times.
While we collectively try to preserve and protect our physical health, we cannot lose sight of our mental wellness. At times during this pandemic, I have felt sad, scared, anxious, depressed, forlorn, hopeless, mad and defeated — often feeling more than one of these emotions at once.
Reflecting on Churchill's quote, I have come to realize that the man was onto something, and art might be a much-needed respite to our ongoing struggle. Will we solve the world's problems with a bit of paint and paper? No. Might art bring us some light and happiness in these dark, cold, Covid-laden days? Yes, I think so, and there is solid evidence to back this conviction.
Last month, I ordered some coloured pencils, crayons, and sketching paper on a whim. I hadn't done much drawing and colouring since I left elementary school, but I thought, "what the heck!"
When it came in the mail, my heart was delighted, and as I started to colour my less than realistic, stick-figured tree, my soul felt lighter and happier.
I am not claiming that art can solve our problems, but it might help keep our spirits lifted and preserve our mental health. We must hold our public officials accountable for protecting us. But we must also work together to protect our physical and mental wellness so that we can emerge from this pandemic strong and ready to continue our pursuit of a better tomorrow.
Jack Trovato (he/his)
RICHMOND