Hexo to buy Zenabis in latest tie-up in cannabis sector that's seeing a burst of M&A activity – MarketWatch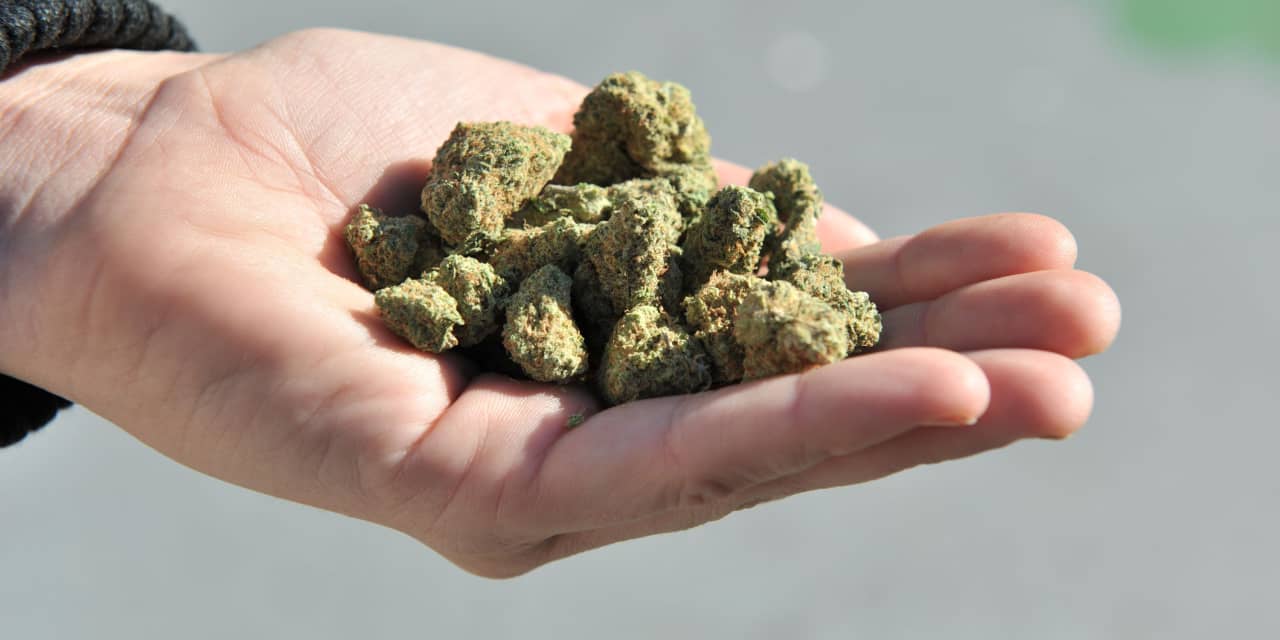 Canadian cannabis company Hexo Corp. is acquiring Zenabis Global Inc. in an all-stock deal valued at about C$235 million ($185.2 million), in the latest tie-up in a sector that has been experiencing a burst of M&A activity.
Under the terms of the deal, Ottawa-based Hexo will pay the shareholders of Vancouver-based Zenabis 0.01772 of a Hexo share
HEXO,
+22.58%
HEXO,
+22.16%
for each Zenabis share
ZBISF,
+18.25%
ZENA,
+16.13%
owned, equal to a premium of about 19% based on the 20-day volume-weighted average price of Zenabis common shares and HEXO common shares on the Toronto Stock Exchange, as of February 12, 2021.
The deal has been approved by the boards of both companies and will be put to Zenabis shareholders at a special meeting. Zenabis will face a C$6 million termination fee if the deal is called off.
Once the deal has closed, Hexo shareholders will own 87.43% of the combined company and Zenabis shareholders will hold the remaining 12.57%.
Read: Cannabis stocks nosedive as rally driven by hopes for U.S. legal reforms comes to a screeching halt
The new entity will be a top three licensed producer in Canada's legal recreational market by sales. It will also offer Hexo a foothold in the European medical cannabis market via Zenabis' local partner in Malta, with an established facility supplying pharmaceutical products to the European Union market.
The companies are expecting the deal to generate annual synergies of about C$20 million within one year of closing. Hexo will have an additional two indoor grow facilities of about 635,000 square feet, and access to a 2.1 million sq. ft. greenhouse facility, for a total of about 2.735 million sq. ft.
Read now: Aurora Cannabis stock slides as analysts weigh in on weak quarterly earnings and one downgrades to sell
"We are proceeding with this transaction because we believe it should be accretive for our shareholders, and it also positions HEXO for accelerated domestic and international growth while supporting near-term requirements for additional licensed capacity," Hexo Chief Executive and co-Founder Sebastien St-Louis said in a statement.
Jefferies analyst Owen Bennett said that while the deal shouldn't surprise, given recent moves by Hexo to consolidate its stock and looks to be accretive, "we do wonder if this has been overly driven by short termism, and from a strategic perspective it does not really get us excited."
In the Canadian market, Hexo is not acquiring any brands of value, and Zenabis's main brands are value/discount, as are Hexo's. The addition of a European presence while broadly positive, is really just a joint venture, Bennett wrote in a note.
"We think Hexo would have been much better placed looking to do something in the US. After all, it is US optionality which will be critical to maintaining current Canadian sector multiples, not Canada and Europe," he wrote.
Jefferies rates Hexo at underperform.
The deal comes after two recent transactions that made a splash., the Feb. 4 news that GW Pharmaceuticals Ltd.
GWPH,
-0.20%,
the first company to win U.S. Food and Drug Administration approval for a cannabis-based drug, is being taken over by Jazz Pharmaceuticals PLC.
JAZZ,
-0.61%
in a $7 billion deal. That came after the December announcement of a $3.9 billion reverse merger deal between Tilray Inc.
TLRY,
+19.41%
and Aphria Inc.
APHA,
+28.28%
APHA,
+27.61%,
to form the world's biggest cannabis company measured by revenue.
Read now: To profit from planned merger of Tilray and Aphria, buy Aphria, says this analyst
It also comes after a broad-based rally in the cannabis sector spurred on by the new U.S. administration with President Joe Biden viewed as in favor of reforming the U.S.'s strict cannabis laws, which continue to classify the plant as a Schedule 1 drug, alongside heroin.
That classification has hampered the development of the sector, which is confined to those states that have legalized cannabis for medical or recreational use and kept companies mostly locked out of the federally insured banking system and capital markets. A change in the law is expected to free up capital and bring many new investors to the space.
See: New York is finally expected to legalize cannabis in 2021 as Gov. Cuomo goes all in
Senate Majority Leader Chuck Schumer has pledged to make reform a key part of the current Congress. While most Canadian companies are unlikely to profit from U.S. legalization immediately, it will greatly expand the legal market and the stocks have been swept up in the euphoria.
Read now: Cannabis stocks rally after Chuck Schumer leads drive for reforms that may end federal prohibition
Shares of both companies were higher on the news. Hexo was up 14.6%, while Zenabis was up about 10%.
The Cannabis ETF
THCX,
+5.70%
was up 5% and the S&P 500
SPX,
-0.06%
was flat.
Peel and Toronto's top doctors want to be placed in lockdown level of Ontario's framework for coronavirus restrictions – CP24 Toronto's Breaking News
Toronto' top doctor is asking the province to place the city in the grey lockdown category of its framework for COVID-19 restrictions as of Monday, allowing non-essential retail stores to reopen while keeping most other businesses closed.
Medical Officer of Health Dr. Eileen de Villa shared her recommendation during a briefing at city hall on Wednesday, calling it a "modest step towards more flexibility in daily life."
If approved by the provincial government the designation would allow non-essential retail stores to reopen across the city, including those located in shopping malls.
Most stores, however, will be limited to no more than 25 per cent of their regular capacity. Grocers, convenience stores and other businesses that primarily sell food will be allowed up to 50 per cent of their regular capacity.
"Based on the data in front of us it is clear that reopening widely such as under the red category of the provincial framework is not advisable at this time given our case counts," de Villa said, noting that the number of samples that have screened positive for a variant of concern in Toronto have doubled over the last week. "Moving out of the stay-at home order is a reasonable course of action for Toronto although I will add that while there are evident reasons for a change in status there remains reasons or risks that underscore how moving back into grey status is, or will be, a delicate balance."
The province lifted its state of emergency order last month and began gradually moving regions back into its framework, with the exception of Toronto, Peel and North Bay which have remained under an extended stay-at-home order.
As part of Toronto's potential move back into the grey zone, de Villa has issued a Section 22 order that will establish a series of additional requirements for workplaces with active outbreaks, including the mandatory wearing of masks at all times by employees.
De Villa said that she has also asked the Ministry of Labour to conduct a "workplace inspection blitz" in the city.
"Returning to the province's framework represents a modest step towards more flexibility in daily life which can be taken because we all worked to limit the spread of COVID-19 but it is important that we all act in ways that do not squander these hard earned small steps forward," she told reporters. "It is a question of preserving what we have gained."
Wednesday was Toronto's 100th consecutive day under a lockdown but the recommendation made by de Villa could represent a slight loosening of restrictions for the first time since this summer.
Of course, restaurants and bars will remain takeout-only and other businesses like gyms and hair salons won't be able to reopen for at least two weeks.
Indoor gatherings of people from different households will also continue to be prohibited, though outdoor gatherings of up to 10 people will be allowed.
"I am very sympathetic to those who will not be able to reopen going into grey but I think the best way in which we can avoid that further lockdown later on, which I think everybody to a person says would be the worst case scenario, is to take these cautious steps one at a time and to follow public health advice and keep doing what we have been doing in many respects and then the day may not be too far down the road where we can do more," Mayor John Tory said during Wednesday's briefing.
Peel's top doctor has also asked for region to be kept in grey
De Villa's announcement on Wednesday afternoon came hours after Peel's Medical Officer of Health Dr. Lawrence Loh confirmed that he would also be advocating for his region to be placed under the grey lockdown category in the province's framework.
The recommendation from Loh comes despite a vocal campaign from Mississauga Bonnie Crombie to have the region moved into the red zone, which would have allowed indoor dining to resume at bars and restaurants with capacity limits.
"From five cases just two weeks ago we now have over 100 confirmed case of variants in our community and 600 that have screened positive and these numbers give me pause," Loh said earlier in the day. "Our hospitals are also seeing admissions related to spread of variants and while ICU occupancy has improved from the peak of the second wave it still remains at levels similar to what e saw in wave one in the spring of 2020. Reopening too quickly risks eliminating the gains we have made and putting lives and wellbeing at risk."
Peel's rolling-seven day average of new cases has risen from 194 at the this time last week to 213.
It also has the highest weekly incidence rate of any public health unit when adjusted for population.
Loh said that if conditions were different he would "absolutely recommend loosening measures more quickly," as he did in July but can't do so while cases are rising.
Speaking with reporters during a subsequent news conference on Wednesday afternoon, Crombie conceded that she was "extremely disappointed" by the decision but said that she understands the reasoning behind it.
Nonetheless, Crombie said that she wants the data reviewed on a weekly basis so that Peel can be moved to the red zone as soon as possible.
The province has typically said that it will not move regions to a new level in its framework until it has two weeks worth of data.
"It is extremely unfair that businesses in neighbouring regions have been allowed to reopen more fully. Think about this for just a moment if you will. If you are standing at Dundas Street at Winston Churchill Boulevard restaurants and stores on the south side of the street are open for business for in-person shopping and dining while on the north side of the street they are closed because the north side of the street is in Mississauga. That is simply unfair and also inequitable," Crombie said.
An earlier end date for vaccination campaign is 'possible', Trudeau says – CBC.ca
Prime Minister Justin Trudeau said today that Canada's vaccination campaign could wrap up before September if the country secures the necessary shots and if there's a change in dosing timelines.
U.S. President Joe Biden announced Tuesday his administration will have enough supply on hand by the end of May to vaccinate every American — two months earlier than planned.
Asked about that ambitious timeline, Trudeau said his government is confident that all Canadians who want a shot will be vaccinated by the end of September, but an earlier end date is "possible" if all goes well with deliveries and if other promising vaccine candidates are approved by the regulators at Health Canada.
"As I've been saying since this past November, we expect all Canadians to be vaccinated by the end of September, for those who want it," he said. "It's possible that those timelines can be moved forward."
He said Ottawa is focused on "bringing in more doses for more Canadians to get through this as rapidly as possible."
Possible change to dosing schedule
More Canadians could get vaccinated earlier than planned if the National Advisory Committee on Immunization (NACI) agrees to adjust the recommended interval between first and second vaccine doses — a change that some provinces, notably B.C. and Quebec, have implemented already.
"We're seeing some of the science shift, some proposals put forward which are very, very interesting, which could result in rapider timelines," Trudeau said.
Asked if he was reluctant to amend the timelines because of past supply hiccups, Trudeau said there have been "disruptions" in supply from Pfizer and Moderna "from the very beginning."
Trudeau said any comparisons between the pandemic experiences of Canada and the U.S. must recognize that there have been many more cases — and more deaths — reported south of the border.
"Obviously, the pandemic has had a very different course in the United States," Trudeau said.
On a death-per-caseload basis, however, Canada has fared worse than the U.S. because of how many seniors have died of the virus in long-term care homes in this country. About 2.5 per cent of all COVID-19 cases have resulted in death in Canada, compared to 1.8 per cent in the U.S.
Health Canada's recent approval of the AstraZeneca product will add more than 20 million shots to the country's vaccine stockpile over the next six months, but the delivery schedule for most of these shots has not yet been finalized.
One shipment of 500,000 AstraZeneca shots produced by the Serum Institute of India arrived today, but questions remain about who should have access to this product.
WATCH: Some provinces won't give AstraZeneca to seniors
Several provinces are signalling they will follow the recommendation of Canada's vaccine advisory body and not give the AstraZeneca-Oxford vaccine to seniors, creating a shift away from a high-priority group despite Health Canada's advice that the vaccine is safe and effective. 2:29
Even before Biden's announcement, the U.S. was well on its way to ending its inoculation campaign before Canada.
The U.S. is on track to fully vaccinate at least 34 per cent of the population by the end of March, while Canada hopes to vaccinate about 8 per cent on the same timeline.
After accounting for population size, the U.S. will have administered about 4.5 times more shots per capita by month's end. Canada has administered 2 million doses so far, while the U.S. is nearing 80 million.
At least 26.4 million doses — 23 million from Moderna and Pfizer combined, 1.5 million AstraZeneca doses from the Serum Institute and another 1.9 million AstraZeneca doses from COVAX, the global vaccine-sharing initiative — are set to arrive in Canada between April and June.
All told, the country is projected to have enough supply to fully vaccinate at least 16.45 million people by Canada Day. The supply is expected to grow once delivery schedules for the AstraZeneca product are confirmed.
The U.S. campaign has benefited from a robust domestic vaccine manufacturing sector and massive investments by former president Donald Trump's administration in companies like Moderna and Johnson & Johnson.
Trump also signed an executive order last December to mandate that all U.S. facilities fulfil their contractual obligations to the U.S. government before shipping products abroad — a decision that has forced Canada to rely on European plants for our shots.
Biden has maintained Trump's 'America First' approach to vaccines and his spokesperson, Jen Psaki, told reporters this week that the U.S. will not send any doses to allies like Canada or Mexico until the vaccination campaign is complete stateside.
According to the latest federal budget documents, the Public Health Agency of Canada (PHAC) has budgeted up to $5 billion for COVID-19 vaccines and other treatments, such as therapeutics.
The specific costs for each vaccine candidate are protected by confidentiality clauses in the federal government's agreements with drug makers. Canada has promised to buy more than 240 million doses of seven different vaccines if all of them are approved.
Toronto home sellers are hiking their prices – The Globe and Mail
Real estate prices are rising so quickly in Toronto, some sellers are raising their prices to keep pace.
The risky strategy reaps rewards on some occasions and alienates buyers on others.
James Warren, a real estate agent with Chestnut Park Real Estate Ltd., recently had three buyers competing for a house in the upscale enclave of Rosedale – after raising the price.
The four-bedroom house at 172 Roxborough Dr. sold for $5.625-million, or $131,000 more than the asking price of $5.494-million.
That's the same asking price set in September before a reduction to $5.25-million in October. The property remained on the market through the Christmas season, when sales and price growth was unusually robust for a month of December.
By January, the seller perceived strength in the market, Mr. Warren says, and reset the price back to $5.494-million.
"We sensed the market was starting to go up."
Mr. Warren and his partner, Christopher Killam, showed the house to three prospective buyers on different occasions and, when one offer came in, they notified the agents of the other two parties, who also rushed to the table.
Mr. Warren says the road to a sale was longer partly because of the hurdles the coronavirus pandemic threw up along the way. The homeowner first listed the house with an asking price of $5.9-million in June when the market started moving again after the spring shutdown.
Tenants were still living in the house when Mr. Warren relisted the property after Labour Day.
"The tenants were a little bit anxious about people coming in," Mr. Warren says.
There were also 44 listings above $1.8-million in the area after the Labour Day weekend, Mr. Warren says, compared with 24 to 26 in a typical fall market.
"That was a bit of a concern," he says.
The tenants moved out during the fall and when the owner cut the asking price, he also decided to offer the house for lease at $14,000 a month.
By that time the house was empty, and that can make it harder for potential buyers to imagine living there, Mr. Warren says. It helped that the photos were taken while the tenants' furniture was still there.
The owner received a strong offer to lease but by then was committed to selling.
Mr. Warren also received a few calls from house hunters who were wondering if the homeowner would accept a lower price.
"I told them, 'there's no deal here – the owner doesn't have to sell'."
So why did buyers compete for a property that they could have had for $5.250-million in the fall?
By February, the mood of buyers had changed, Mr. Warren says. Listings were tight in Rosedale and Moore Park, and buyers were keen to move on with their lives. Families with children also time their moves to synchronize with the school year, he adds.
"People have made the decision that it's time to make a move to a larger house."
Not only do parents and kids need more room for work and school under their own roof, people just crave more space. One new trend he has seen is the creation of the "Amazon room," which has come along with the rise in online shopping.
"The Amazon room is where you can have your parcels dropped off – and you don't touch them for 24 hours."
And while the comfort of their homes has become even more important to people during the pandemic, Mr. Warren says that sellers who contemplate raising their asking price may or may not be successful. He advises them to assess demand in their particular pocket and look at recent sales. Some properties are listed on an exclusive basis but he recommends listing on the Multiple Listing Service of the Toronto Regional Real Estate Board in order to draw the largest possible pool of buyers.
"You put it on the MLS and see if there's an appetite. You'll know very quickly within a day – we either got it right or we got it wrong."
He says buyers keep a keen eye on dynamics in different neighbourhoods and overpriced properties will languish.
"If you're at market value or slightly under, you will get attention," he says. "Buyers are just not going to waste their time with a seller who's not realistic or motivated."
Raising the price can be successful if there are few listings and lots of buyers in a particular neighbourhood. The Roxborough house sits next to Chorley Park.
"It was a superior location," he says. "You can't go wrong with 13 acres next door. There's only so much Rosedale real estate and it's a heritage district."
He adds that properties with a high asking price give buyers the impression that they can wait around to see if the price comes down.
"You have to create that sense of urgency. You have to look at your merchandise."
Andre Kutyan, a real estate agent with Harvey Kalles Real Estate Ltd., recently took one set of clients to see five houses in one afternoon. Four of the five were showing higher sticker prices at their relaunch in 2021 after sitting on the market in 2020.
Some homeowners, he says, appear to be looking at the latest data on sales and prices and figuring that the same trends extend to every neighbourhood and price range.
In reality, Toronto is made up of micro-markets where the dynamics change from one pocket to another. In areas where properties sit longer, he says, the price hikes are mystifying.
One of the properties Mr. Kutyan's clients considered was a North York home near Yonge Street and Steeles Avenue that was listed in September with an asking price of $2.697-million. The house languished for five months at that price until the listing was cancelled and was relisted with the price bumped up to $2.75-million.
A few streets away in the area known as Newtonbrook, they went to tour another property that has been on the market – on and off – since May, 2018.
The first asking price of $2.77-million was gradually reduced over the ensuing two years to $2.588-million in October, 2020.
The house was taken off the market for a few weeks and launched again in mid-January with an asking price of $2.748-million.
"To raise the price by almost $160,000 makes no sense," he says.
Another a little farther east arrived on the market with an asking price of $2.499-million in September, had one price bump in November, and came out at the even higher price of $2.588-million in February when it didn't find a buyer.
Mr. Kutyan took another set of clients to see houses in Don Mills and saw the pattern there too. But he says the strategy is more common north of Highway 401 in areas such as Willowdale, Newtonbrook and West Lansing. A lot of the traditional small bungalows have been replaced in recent years with infill homes, and these tend to be the properties where prices fluctuate.
Mr. Kutyan says some sellers clearly sense the overall market has improved, but he believes agents should be managing the clients' expectations.
"It's not just the sellers, it's the agents who are drinking the same Kool-Aid."
As for his clients, Mr. Kutyan says they're not tempted to make an offer immediately because they've only recently started their search. And he doesn't expect properties with price hikes to inspire competition.
"I don't think a lot of these listings are heading out the door any time soon."
At Royal Bank of Canada, senior economist Nathan Janzen and economist Claire Fan point out that higher-income households have been much less impacted by job losses during the pandemic. They are also benefiting from the era's low interest rates.
In the third quarter of 2020, household real estate assets rose $400-billion from the same quarter a year earlier – more than four times the rise in mortgage debt over the same period, the economists say.
They are predicting that the country's economy will be supported in the future by the massive savings stockpile that Canadian households, in aggregate, have accumulated over the last year.
Your house is your most valuable asset. We have a weekly Real Estate newsletter to help you stay on top of news on the housing market, mortgages, the latest closings and more. Sign up today.