Higher Inflation Will Change the Trading and Investment Landscape – DailyFX
The markets and assets that do well when price growth is cowed might not be such great investments when it is more vigorous.
Long-term inflation forecasts are elevated by recent standards, but they remain historically low

All the same, some neglected assets are likely to see renewed focus

And those long-term forecasts may be a little hopeful anyway
Trade Smarter – Sign up for the DailyFX Newsletter
Receive timely and compelling market commentary from the DailyFX team
Subscribe to Newsletter
Inflation is back. After decades of such docility that some declared it dead for good, prices are up everywhere, crushing consumers and ruining politicians' days (good luck getting anyone to vote for you when their cost of living spirals upward).
The reasons for its return are many. Covid put the global economic brakes on and smashed complex world-spanning supply chains that kept goods cheap. They've yet to be put together and, indeed, probably won't return in their pre-virus forms. Many, inured to globalization, wondered as they stared out of their locked-down windows whether the process had gone too far. Perhaps dependency on others for, say, critical medicine, had its drawbacks. Perhaps paying a little more for domestic capacity made more sense. And if that's true for medicine, what about other essentials? Well, you get the picture.
Russia's assault on Ukraine only sharpened inflation's claws, as well it might have, given the former's prominence in energy supply and the latter's key position as agricultural exporter. And, as prices rose, pay claims began to follow them and, well, here we are, with inflation still hugely above previous norms all over the world.
World Inflation Rate (%)
Source: World Bank, Macrotrends
2% Inflation Remains the Broad Target
Of course, the monetary authorities mandated to fight it haven't been idle. The United States Federal Reserve has been raising interest rates steadily since early 2022, having previously left them entirely alone for nearly two years. US borrowing costs are at their highest since 2007, and look set to rise further. Other central banks have been taking similar action.
However, getting annualized inflation back into the '2% or so' box targeted by central bankers is going to be tough. And it looks like it's going to take a major and prolonged monetary tightening to do it.
The world hasn't been used to that for decades. A more inflationary environment will change investment and trading patterns.
At the most basic and obvious level, assets offering explicit inflation protection have as you would expect come back into vogue. Bonds whose payout is guaranteed to be a set amount above the national inflation level are now eagerly sought again. Think, Treasury Inflation Protected Securities (TIPS) in the US, index-linked gilts in the United Kingdom, and so on.
Commodity markets also tend to gain (oil is a notable outperformer in inflationary times according to a study last year by Wells Fargo), as they increase in price along with the finished goods such raw material inputs are used to make.
Holding cash was a favored pre-occupation of corporations and investors in the low-inflation era. That makes far less sense now that rising prices are eroding the spending power of that cash at a much higher rate, month by month.
We can expect to see an increased appetite for other, real assets, from real estate and land through to fine art and wines. Anything but cash, essentially.
Spot Gold vs. US Dollar Index – 2022 to Date (% Change)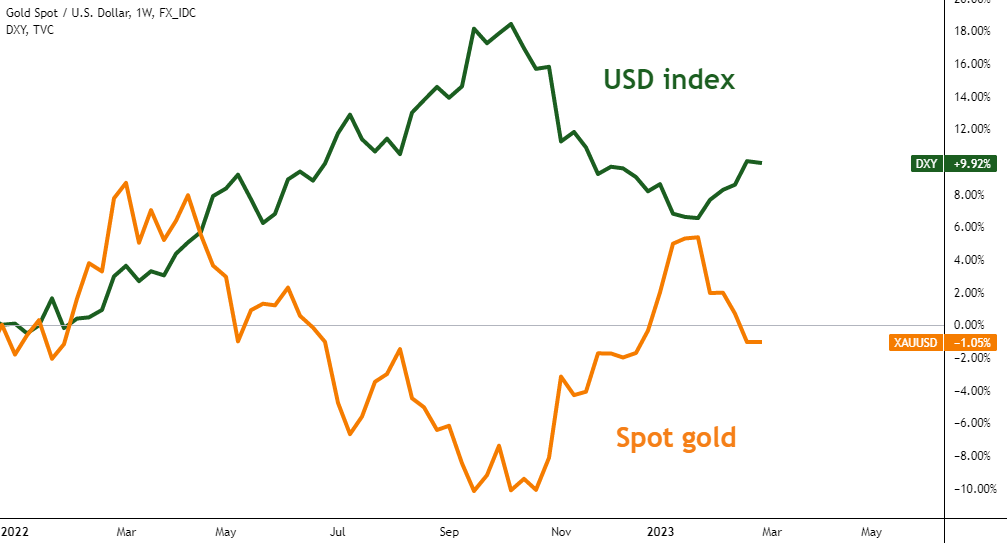 Source: TradingView
Can Gold Really Help?
Gold is often touted as a fine inflation hedge, but it pays to be cautious with the oldest asset of them all. Gold famously yields nothing, and you'd certainly have been better off holding US Dollars last year, despite inflation. As price rises spiked, investors moved out of gold and into US assets seeking the higher returns sure to come with higher interest rates.
Gold certainly has a role in an inflation-hedging portfolio, and the widespread belief that it is an effective hedge usually sees it do well when prices rise.
On the stocks front, consumer staples and real estate tend to be favored, as they're likely to see demand hold up even if prices do rise. The luxury goods sector tends to fade out as consumers focus on the essentials.
Inflation trading is subtly different from inflation investing of course. Inflation investors may well opt to hold physical gold if they fear buoyant price growth, for example, whereas inflation traders are much more likely to take positions in gold derivatives and gold indexes to take advantage of an expected increase in physical demand. An inflation trade will generally be one aimed at profiting from future price rises. Bets on a rising US Dollar against other currencies are also likely parts of an inflation trade.
It's important for traders and investors to keep inflation in perspective, however. It may be rampant now, but central bank mandates to get it down remain in place, and long-term forecasts for US inflation tend to settle around the 2-2.5% mark. That might be higher than we've been used to, perhaps, but by historical standards it's still very low. For as long as this thesis can be defended, investments are likely to be tweaked, rather than ripped apart wholesale.
Recommended by David Cottle
How to Trade Gold
Will Inflation Roll Over?
The trouble is that, for now inflation remains significantly above that point in the US. At 6.4% in January, it's still alarmingly close to forty-year highs, despite all those rate hikes. And the US authorities are doing comparatively well in the inflation fight. Eurozone prices were rising by 9.2% in the most recent data. In the UK it's 10.5%. Of course, there is a time lag between interest rates rising and prices coming back into line.
But what will make matters more interesting is if inflation fails to behave itself as markets now, perhaps wishfully, think that it will. There's also a broad consensus that, although the higher interest rates needed to fight inflation will be painful to debt-sodden economies used to very low borrowing costs, any recessions they bring will be mild. If the data don't behave as expected, and rates keep rising, expect to see inflation come more and more into vogue.
Watch the monthly data round very closely.
— by David Cottle for DailyFX
Biden issues his first veto on retirement investment resolution – CNN
President Joe Biden issued the first veto of his presidency Monday on a resolution to overturn a retirement investment rule that allows managers of retirement funds to consider the impact of climate change and other environmental, social and governance factors when picking investments.
Republican lawmakers led the push to pass the resolution through Congress, arguing the rule is "woke" policy that pushes a liberal agenda on Americans and will hurt retirees' bottom lines, while Democrats say it's not about ideology and will help investors.
The resolution, which would rescind a Department of Labor rule, passed both chambers of Congress with Democratic Sens. Joe Manchin of West Virginia and Jon Tester of Montana voting with Republicans in the Senate.
"I just signed this veto because legislation passed by the Congress would put at risk the retirement savings of individuals across the country. They couldn't take into consideration investments that wouldn't be impacted by climate, impacted by overpaying executives, and that's why I decided to veto it – it makes sense to veto it," Biden said in a video posted to social media Monday afternoon.
Biden is seen signing the veto in the video, taken in the Oval Office earlier Monday.
The veto makes good on Biden's frequent promise to veto legislation passed by the GOP-controlled House he disagrees with. Even before Republicans took control of that chamber, Biden often mentioned his ability to nix their priorities. "The good news is I'll have a veto pen," he told a group of donors in Chicago just days before November's midterm elections.
Opponents of the rule could try to override Biden's veto, but at this point it appears unlikely they could get the two-thirds majority needed in each chamber to do so.
Biden's first presidential veto reflects the reality of a changed political order in Washington with Republicans now in control of the House after they won back the chamber from Democrats in the 2022 midterm elections.
Previously, Democrats controlled both the House and the Senate. Now, the president's party only has a majority in the Senate.
Most legislation passed by the current GOP-controlled House will not be able to pass the Democratic-controlled Senate. But the resolution to overturn the investment rule only needed a simple majority to pass in the Senate. Republican lawmakers advanced it under the Congressional Review Act, which allows Congress to roll back regulations from the executive branch without needing to clear the 60-vote threshold in the Senate that is necessary for most legislation.
Opponents of the rule have argued that it politicizes retirement investments and that the Biden administration is using it as a way to promote a liberal agenda.
Republican Sen. John Barrasso of Wyoming said at a news conference earlier this year, "What's happened here is the woke and weaponized bureaucracy at the Department of Labor has come out with new regulations on retirement funds, and they want retirement funds to be invested in things that are consistent with their very liberal, left-wing agenda."
Supporters of the rule argue that it is not a mandate – it allows, but does not require, the consideration of environmental, social and governance factors in investment selection.
Senate Majority Leader Chuck Schumer said in defense of the rule that Republicans are "using the same tired attacks we've heard for a while now that this is more wokeness. … But Republicans are missing or ignoring an important point: Nothing in the (Labor Department) rule imposes a mandate."
"This isn't about ideological preference, it's about looking at the biggest picture possible for investments to minimize risk and maximize returns," he said, noting it's a narrow rule that is "literally allowing the free market to do its work."
The statement of administration policy warning that Biden would veto the measure if presented with it similarly states, "the 2022 rule is not a mandate – it does not require any fiduciary to make investment decisions based solely on ESG factors. The rule simply makes sure that retirement plan fiduciaries must engage in a risk and return analysis of their investment decisions and recognizes that these factors can be relevant to that analysis."
This story has been updated with additional developments.
Exclusive-Credit Suisse tells staff plans for investment banking to be informed later -memo – Yahoo Canada Finance
By Engen Tham and Julie Zhu
SHANGHAI/HONG KONG (Reuters) -Credit Suisse told staff its wealth assets are operationally separate from UBS for now, but once they merged clients might want to consider moving some assets to another bank if concentration was a concern, according to an internal memo.
The memo, dated Sunday and seen by Reuters, gave talking points to Credit Suisse staff for client conversations after a historic Swiss-backed acquisition of the troubled bank by UBS Group.
"For now, assets are still legally separated. Once that changes, you (clients) may of course want to consider moving some of your assets to another bank if concentration is a concern," the memo said.
That response was suggested to Credit Suisse staff if they were asked by clients what they should do if they were also a UBS client and wanted to avoid too much asset concentration, which can be a concern for wealthy customers.
In a package orchestrated by Swiss regulators on Sunday, UBS will pay 3 billion Swiss francs ($3.23 billion) for 167-year-old Credit Suisse and assume up to $5.4 billion in losses.
UBS will become the undisputed global leader in managing money for the wealthy through the takeover of its main rival, triggering some concerns about concentration risks for clients.
Credit Suisse also told staff to inform clients that plans for its investment banking business will be communicated in due course as details of its acquisition by UBS were still being worked out, according to the memo.
"We do not expect there to be any disruption to client services. We are fully focused on ensuring a smooth transition and seamless experience for our valued clients and customers," a Credit Suisse spokesperson said.
Credit Suisse is also going ahead with its annual Asia Investment Conference in Hong Kong, starting on Tuesday, the spokesperson said, adding the event, however, would now be closed to media.
In a separate memo on Sunday, the bank told employees that its day-to-day operations were unaffected after it agreed to the UBS takeover.
"Our branches and our global offices will remain open, and all colleagues are expected to and should continue to come to work," Credit Suisse said in the memo sent globally and seen by Reuters.
Reuters reported on Friday, citing sources, that a number of major banks including Societe Generale SA and Deutsche Bank AG were restricting new trades involving Credit Suisse or its securities.
Regarding counterparties having stopped business with Credit Suisse, the bank said in the client talking points memo that it believed the transaction "will help to restore confidence to the financial markets more broadly."
Market players remain concerned about the next moves at Credit Suisse and the impact on employees, investors and clients.
UBS Chairman Colm Kelleher told a media conference that it would wind down Credit Suisse's investment bank, which has thousands of employees worldwide. UBS said it expected annual cost savings of some $7 billion by 2027.
(Reporting by Engen Tham in Shgnghai and Julie Zhu in Hong Kong; Additional reporting by Scott Murdoch in Sydney; Editing by Sumeet Chatterjee, Himani Sarkar and Jamie Freed)
Enbridge: Investment Grade Company Offering 7.6% Bond (NYSE:ENB)
Author's note: All financial data in this article is presented in Canadian dollars.
Enbridge Inc. (NYSE:ENB), a North American energy transportation and distribution giant is currently finding itself near a 52-week low. Income investors may see the rising dividend yield, now at 7.1%, as a reason to scoop up shares. Interestingly, Enbridge has an extensive offering of corporate debt, and the longest dated maturity of 2083, is currently priced below par and offering a yield of greater than 7.6%. While many high yield investors may not be interested, it's important to note that Enbridge holds an investment grade credit rating, which typically offers fixed income returns of almost 200 basis points lower.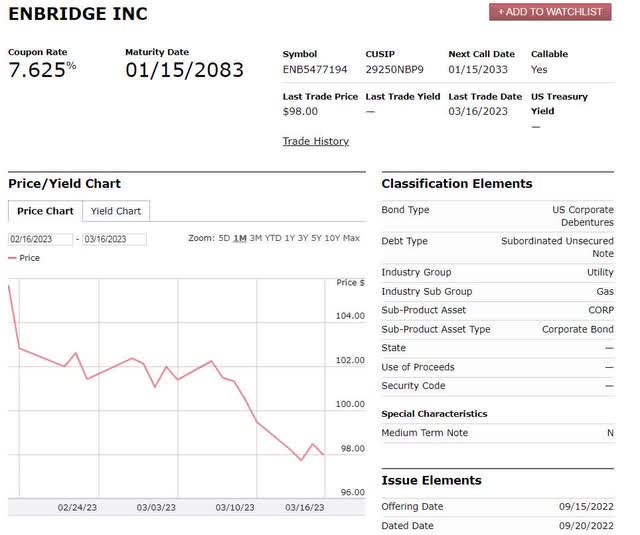 Enbridge's operation continued to grow in 2022 with revenues up $6 billion from 2021. The company's expenses outpaced revenue growth, but that was mainly due to the $3 billion write off of assets and intangibles. Had the write offs not occurred, operating income would have been higher in 2022 than in 2021, but nevertheless, the $5.2 billion in operating income was sufficient to cover the company's interest expenses.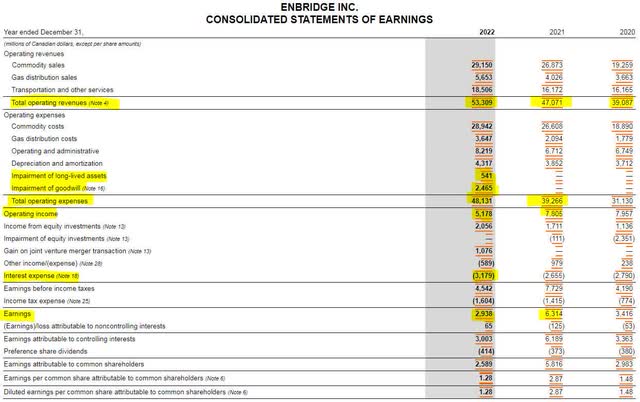 While earnings of Enbridge looked healthy last year, the balance sheet tells a slightly different story. The business increased its total debt by more than $5 billion and shareholder equity declined by $1 billion. The company did succeed in building up some cash, but its current liabilities are $8 billion higher than current assets. This working capital deficit will likely lead to new debt issuance or refinancing in the next 12 months.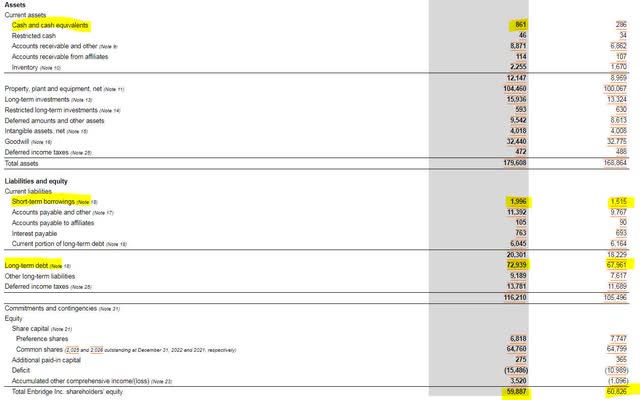 From a cash flow standpoint, debt investors need to see that Enbridge can generate the cash needed to pay down debt. In 2022, Enbridge grew operating cash flow by $2 billion and generated an impressive $6.6 billion in free cash flow. If Enbridge generated so much cash, why did debt increase in 2022? The answer lies in a combination of investing and financing activities. Enbridge invested $2 billion in investments and acquisitions that were not related to capital expenditures. On top of that, the company shelled out $7.3 billion in preferred and common share dividends, and redeemed $1 billion in preferred shares. The culmination of these activities led to the company needing to borrow more than $3 billion. (Note: I believe $2 billion in additional debt was placed on the balance sheet from other investing activities)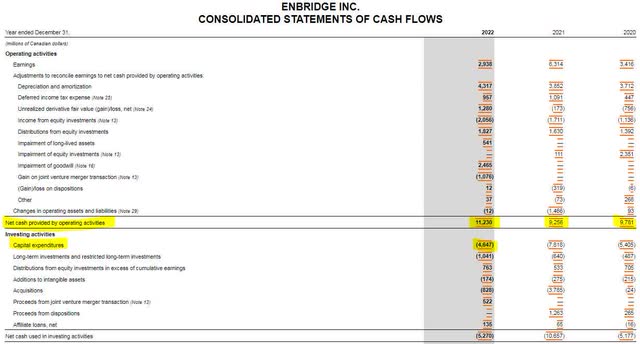 Under Enbridge's current operating structure, additional capital is needed by either borrowing or selling assets to maintain the common share dividends. While the dividends on the preferred shares are very safe, they are actually yielding less than the coupon yield on the 2083 notes. Investors in long-term debt of Enbridge are getting a safer security for more income.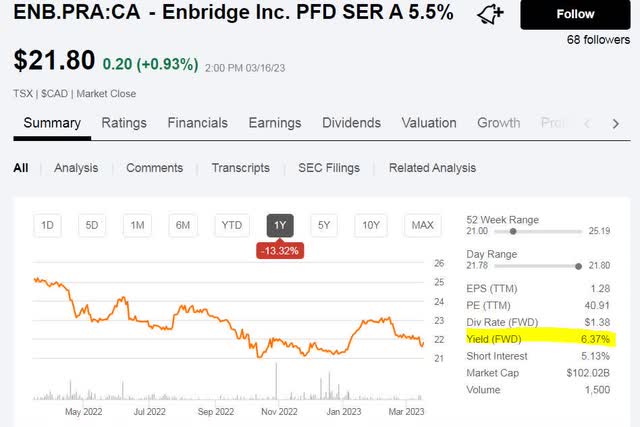 Complicating Enbridge's future further is the fact that the company has over $14 billion worth of debt maturing over the next 2 years. The need to refinance this debt in a higher interest rate market combined with a working capital deficit is going to put pressure on the dividend. Enbridge may have to choose between its existing dividend and maintaining its credit rating. Fortunately for debt holders, the company does have over $9 billion in liquidity to work with among its existing credit facilities.


Even if Enbridge is downgraded into junk territory, the company's 2083 notes are still trading at a higher return than the benchmark BB corporate yield. As in any case in life, there is a catch to what may be considered a "too good to be true" trade. These long term notes were underwritten with an automatic conversion covenant. In the event of a bankruptcy or related event of insolvency, the 2083 bonds would be automatically converted into preferred shares. This strange provision is the likely contributor behind the higher return on the notes.

While swings and uncertainties in the energy markets over the next several years could greatly change the risk landscape for Enbridge, I believe the company's strong free cash flow makes it capable of weathering bear markets. Should the company need additional cash flow, it could reduce common share dividends and not impair the value of its bonds.
Note: These notes are not available with all brokerage sites, but they have been traded in increments as low as $5,000, therefore they are available to retail holders.
CUSIP: 29250NBP9
Price: $99.00
Coupon: 7.625%
Maturity Date: 01/15/2083
Yield to Maturity: 7.63%
Credit Rating: (Moody's/S&P): Baa3/NR