Hong Kong media tycoon Jimmy Lai denied bail on fraud charge – OrilliaMatters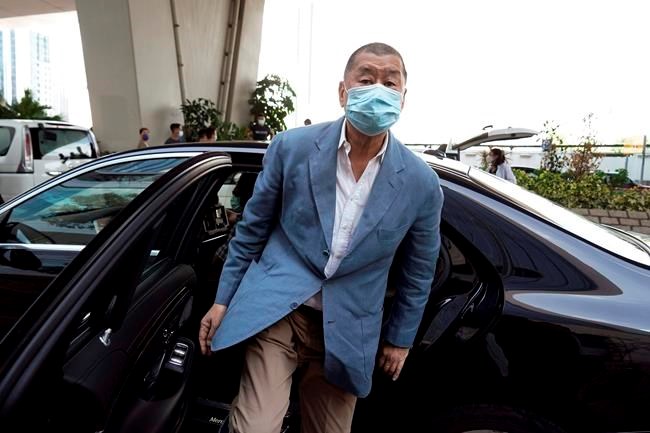 HONG KONG — Outspoken Hong Kong pro-democracy advocate and media tycoon Jimmy Lai was refused bail on Thursday on a fraud charge amid a growing crackdown on dissent in the semi-autonomous city.
Jimmy Lai of Next Digital, which publishes the Apple Daily newspaper, was among 10 people arrested Aug. 10 on what police said was suspicion of violating a national security law and collusion with a foreign country.
Lai, 73, was later released on bail but police raided his company's offices in October and took away documents.
On Wednesday, Lai and two Next Digital executives were charged with fraud over accusations that they violated lease terms for Next Digital office space.
Lai appeared in court Thursday and was denied bail. His case has been adjourned till April 16.
Hong Kong police said in a statement Wednesday that it had arrested three men on charges of fraud, without naming them. It also said that one of them had been suspected of violating the national security law, and that it was still under investigation.
Beijing imposed the national security law in response to protests in Hong Kong that began in June 2019 over a proposed extradition law and expanded to include demands for greater democracy in the former British colony.
The sweeping legislation prompted more public protests and led to complaints that Beijing is violating the autonomy promised to Hong Kong when it returned to China and damaging its status as a business centre.
Apple Daily criticized the law on its front page on July 1, calling it the "final nail in the coffin" of the territory's autonomy.
The British government had slammed Lai's August arrest and said the security law was being used to crush dissent.
The law is "being implemented in a way that undermines freedom of speech," the British government said in a report this month on the status of the 1984 agreement for Hong Kong's return to China.
"It is imperative that this freedom is fully respected," the report said.
Lai was earlier arrested in February and April on charges of taking part in unauthorized protests. He also faces charges of joining an unauthorized vigil marking the anniversary of the June 4, 1989, crackdown on pro-democracy protests in Beijing's Tiananmen Square.
Zen Soo, The Associated Press
Instagram aims to launch chronological feed option in 2022
The head of Instagram said on Wednesday he aims to launch next year a version of the app with a chronological feed, rather than one ranked algorithmically, in his first appearance before Congress where he was grilled about children's safety online.
Instagram's Adam Mosseri was the latest tech executive pressed by lawmakers to provide more transparency into their platforms' algorithms and the impact of the content they curate and recommend for users.
Instagram and its parent company Meta Platforms Inc, formerly Facebook, have come under intense scrutiny over the potential impact of their services on the mental health, body image and safety of young users, including after whistleblower Frances Haugen leaked internal documents about the company's approach to younger users.
Speaking before a Senate panel, Mosseri said the photo-sharing app had been working "for months" on the option of a feed ordered chronologically and planned to launch it in early 2022, in a significant change for the service, which uses algorithmic ranking to personalize a feed based on user preferences.
At the hearing, lawmakers pushed Mosseri for specific answers on what legislative reforms he would support around kids' online safety, including on targeted advertising. In his opening remarks, Senator Richard Blumenthal said the time for self-regulation was over.
In his testimony, Mosseri called for the creation of an industry body to determine best practices to help keep young people safe online. The body, he said, should receive input from civil society, parents, and regulators to create standards on how to verify age, design age-appropriate experiences, and build parental controls.
Mosseri said tech companies should have to adhere to standards by this proposed industry body to "earn" some of their Section 230 protections, referring to a key U.S. internet law which offers tech platforms protections from liability over content posted by users.
'TOO LITTLE, TOO LATE'
Instagram, since September, has suspended plans for a version of the app for kids, amid growing opposition to the project.
The pause followed a Wall Street Journal report that said internal documents, leaked by former Facebook employee Haugen, showed the company knew Instagram could have harmful mental health effects on teens.
Mosseri, speaking at the hearing, echoed the company's previous statements that public reporting mischaracterized the internal research. He did not commit to making permanent the pause on a kids-focused version of Instagram.
He also touted product announcements Instagram made on Tuesday on young users' safety, but Senator Marsha Blackburn called the updates "too little, too late," while Senator Blumenthal referred to the changes, including Instagram's pause on its kids app, as a "public relations tactic."
In a call after the hearing, Blackburn said she would like to see Instagram offer "today" the option for a purely chronological news feed while Blumenthal said it could be a "significant step depending on the details."
Senator Blackburn also said that her team created a fake Instagram account for a 15-year-old that defaulted to a public account, despite Instagram's changes to make new accounts for users under 16 private by default. Mosseri said this loophole had been missed on the web version of the site and would be corrected.
Instagram, like other social media sites, has rules against children under 13 joining the platform but has said it knows it has users this age. In his testimony, Mosseri called for more age verification technology at a phone level, rather than by individual tech platforms, so users have an "age-appropriate experience."
(Reporting by David Shepardson, Elizabeth Culliford and Diane Bartz; Editing by Chris Sanders, Franklin Paul, Mark Porter, Bernadette Baum and Aurora Ellis)
GB News Weighs International Expansion With Media Partners – BNN
(Bloomberg) — Conservative-leaning British television startup GB News is mulling exporting its broadcasting model to other markets provided it can shore up its domestic product, according to people familiar with the matter.
GB News launched in June with a mission to offer an alternative to what its backers described as a liberal consensus at rivals like the British Broadcasting Corp. Its debut was beset with difficulties including poor broadcast quality and on-air gaffes. The station has tried to turn things around by re-vamping its schedule, hiring new faces like former U.K. Independence Party leader Nigel Farage, and recently launching a marketing campaign.
Executives led by former Sky News Australia boss Angelos Frangopoulos are now focused on building an audience to rival that of Comcast Corp.'s Sky News, said the people, who asked not to be named because the discussions are private. They must also contend with the launch next year of talkTV by Rupert Murdoch's News Corp., which will include a show from controversial journalist Piers Morgan.
If they can overcome these issues down the line, parent company All Perspectives Ltd. is looking at how to push into countries including Germany, Italy, Spain and Poland, according to the people. That could be done with joint ventures melding its low-cost, cloud-based newsroom technology with presentation handled by local media groups, the people said. Possible partners discussed included German media conglomerate Axel Springer, they added.
Any expansion is not imminent, and a move abroad may not happen, said the people. Spokeswomen for GB News and Axel Springer declined to comment on the plans.
©2021 Bloomberg L.P.
Horizon Media, Madison Avenue's Long-Time Independent Media Shop, Sells Minority Stake – Variety
Horizon Media, one of the largest advertising companies not owned by the big publicly-traded entities that dominate the industry, intends to sell off a minority stake to investment firms, ending its decades of pursuing a purely go-it-alone strategy.
Horizon, long controlled by entrepreneur Bill Koenigsberg, said it had sold a piece of the company to Temasek, a Singapore investment firm. LionTree Advisors, an investment firm led by Aryeh Bourkoff, will also become an investor as part of the transaction. Financial terms were not disclosed, but Koenigsberg is to remain "the long-term majority shareholder" of the agency. Horizon was founded in 1989, employs 2,500 people and manages media investments valued at more than $9.5 billion
"Horizon sees more opportunity than ever before to take advantage of gaps in the marketplace and continue our significant growth in driving positive business outcomes for our clients. In evaluating the next evolution of Horizon, I wanted a world class partner who is like-minded strategically, has the same appetite for growth, understands the media, marketing, and technology landscape, is global in scale, and culturally aligned," Koenigsberg said in a statement. "I found that perfect combination in Temasek and LionTree."
Horizon is one of a handful of large firms that help advertisers allocate and invest millions of dollars in advertising, serving all the while as influential go-betweens that deal with blue-chip marketers and the media outlets they need to get the word out about their products and services. Horizon has long worked for Berkshire Hathaway's Geico, one of the nation's biggest ad spenders, along with Anheuser-Busch InBev's Corona beer and CBS. Horizon is also involved in the launch of the Hoop Dreams Classic, an event that is backed by actor Michael B. Jordan and WarnerMedia among others.
But the other media buying giants, like Magna, Omnicom Media Group and GroupM, are backed by Madison Avenue giants like Interpublic Group, Omnicom Group and WPP. Koenigsberg has, over the years, chosen to remain independent — and some clients have appreciated it.
In the past, Koenigsberg has seen his company's independence as an advantage. "Being CEO for the company for the last 30 years and having a long-term vision is an enormous competitive advantage, because when I look at my competitors — and I don't want to go back 30 years, let me go back 10 — there have probably been 100 different CEOs at my competitor agencies," he told Ad Age in 2020. "When a new one comes in, they feel the need to shake things up and leave a mark," he said, adding: "There's an inconsistency in where they're going. For me, I've had a much longer runway and an ability to drive the business forward with this long-term vision."