Hong Kong media tycoon Jimmy Lai denied bail on fraud charge – OrilliaMatters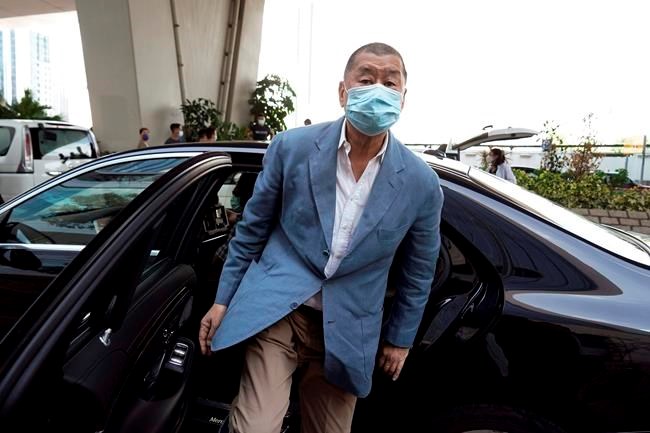 HONG KONG — Outspoken Hong Kong pro-democracy advocate and media tycoon Jimmy Lai was refused bail on Thursday on a fraud charge amid a growing crackdown on dissent in the semi-autonomous city.
Jimmy Lai of Next Digital, which publishes the Apple Daily newspaper, was among 10 people arrested Aug. 10 on what police said was suspicion of violating a national security law and collusion with a foreign country.
Lai, 73, was later released on bail but police raided his company's offices in October and took away documents.
On Wednesday, Lai and two Next Digital executives were charged with fraud over accusations that they violated lease terms for Next Digital office space.
Lai appeared in court Thursday and was denied bail. His case has been adjourned till April 16.
Hong Kong police said in a statement Wednesday that it had arrested three men on charges of fraud, without naming them. It also said that one of them had been suspected of violating the national security law, and that it was still under investigation.
Beijing imposed the national security law in response to protests in Hong Kong that began in June 2019 over a proposed extradition law and expanded to include demands for greater democracy in the former British colony.
The sweeping legislation prompted more public protests and led to complaints that Beijing is violating the autonomy promised to Hong Kong when it returned to China and damaging its status as a business centre.
Apple Daily criticized the law on its front page on July 1, calling it the "final nail in the coffin" of the territory's autonomy.
The British government had slammed Lai's August arrest and said the security law was being used to crush dissent.
The law is "being implemented in a way that undermines freedom of speech," the British government said in a report this month on the status of the 1984 agreement for Hong Kong's return to China.
"It is imperative that this freedom is fully respected," the report said.
Lai was earlier arrested in February and April on charges of taking part in unauthorized protests. He also faces charges of joining an unauthorized vigil marking the anniversary of the June 4, 1989, crackdown on pro-democracy protests in Beijing's Tiananmen Square.
Zen Soo, The Associated Press
TikTok debuts new voice after Canadian actor sues
After noticing a new female voice narrating the videos on the popular video-sharing social networking service, users of TikTok were baffled as to why. It actually turns out that the Canadian actress behind the old voice filed a lawsuit against the platform for copyright violation as her voice was apparently being used without her permission.
Bev Standing, a voice actor based in Ontario, is taking China-based ByteDance to court. TikTok's parent company has since replaced her voice with a new one, with Standing reportedly finding out over email after a tip-off from a journalist. On the matter, Standing said: "They replaced me with another voice. I am so overwhelmed by this whole thing. I'm stumbling for words because I just don't know what to say."
TikTok is said to be considering a settlement for Standing outside of the courts, but nobody knows whether or not this is true. According to legal experts, the fact TikTok now has a new voice on the popular social media app suggests they acknowledge Standing's case and potentially understand that she may have suffered as a result of the company's actions.
Thanks to the emergence of the powerful smartphone devices of today, alongside taking high-quality images for Instagram, getting lost down YouTube wormholes, and accessing popular slots like Purple Hot, people are turning to relatively new platforms like TikTok. The service has 689 million monthly active users worldwide and is one of the most downloaded apps in Apple's iOS App Store. This latest news could harm the platforms future, although many of its younger users potentially aren't aware that this type of scenario is unfolding.
For Bev Standing, the ordeal is a testing one. She wasn't informed of the voice change, there is no mention of it in TikTok's newsroom online, and the development is news to her lawyer also.
This all comes after her case was filed in a New York State court in early May after the voice actor noticed a computer-generated version of her voice had been seen and listened to around the world since 2020. Speculation is rife as to how TikTok managed to obtain the recordings but Standing believes the company acquired them from a project she took part in for the Chinese government in 2018.
The Institute of Acoustics in China reportedly promised her that all of the material she would be recording would be used solely for translation, but they eventually fell into the hands of TikTok and have since been altered and then exposed to a global audience.
According to Pina D'Agostino, an associate professor with Osgoode Hall Law School at York University and an expert in copyright law, the fact that the hugely popular social media platform has now changed Standing's voice could result in a positive outcome for the distraught voice actor. She said: "It's a positive step in the way that they are mitigating their damages. And when you're mitigating, you're acknowledging that we did something wrong, and you're trying to make things better."
When assessing social media etiquette and how both companies and users should act, this type of news can only do more harm than good. Not only does it make the company look bad, but it could have an effect on revenues and, ultimately, TikTok's reputation.
With a clear desire to move on and put this whole process behind her, Bev Standing is eager for the case to be resolved and get back to the daily work she loves and has been doing for a large part of her life. TikTok has until July 7 to respond to her claim.
Nigeria orders broadcasters not to use Twitter to gather information
Nigerian television and radio stations should not use Twitter to gather information and have to de-activate their accounts, the broadcast authority said following the move to suspend the U.S. social media giant in Africa's most populous country.
Nigeria's government on Friday said it had suspended Twitter's activities, two days after the platform removed a tweet by President Muhammadu Buhari that threatened to punish secessionists. Nigerian telecoms firms have since blocked access to Twitter.
International diplomats responded with a joint statement in support of "free expression and access to information as a pillar of democracy in Nigeria".
Buhari, who was Nigeria's military ruler in the 1980s, has previously been accused of cracking down on freedom of expression, though his government has denied such accusations.
Twitter has called its suspension "deeply concerning" and said it would work to restore access for all those in Nigeria who rely on the platform to communicate and connect with the world.
The National Broadcasting Commission, in a statement dated June 6, told broadcasters to "suspend the patronage of Twitter immediately".
"Broadcasting stations are hereby advised to de-install Twitter handles and desist from using Twitter as a source of information gathering," it said in the statement, adding that "strict compliance is enjoined".
The statement comes two days after the attorney general ordered the prosecution of those who break the rules on the ban.
The foreign minister on Monday held a closed door meeting in the capital, Abuja, with diplomats from the United States, Britain, Canada, the European Union and Ireland to discuss the ban.
It followed the statement by their diplomatic missions on Saturday in which they criticised the move.
"These measures inhibit access to information and commerce at precisely the moment when Nigeria needs to foster inclusive dialogue…. as well as share vital information in this time of the COVID-19 pandemic," they said in their statement.
Nigeria's information minister on Friday said the ban would be "indefinite" but, in a statement late on Sunday, referred to it as a "temporary suspension".
The minister did not immediately respond to phone calls and text messages on Monday seeking comment on the altered language.
(Reporting by Camillus Eboh and Abraham Achirga in Abuja; Writing by Alexis Akwagyiram; Editing by Alex Richardson)
Lisa Kudrow discusses impact of 'Friends The Reunion'
Comedic actor Lisa Kudrow is set to return to television comedy in the second season of "Feel Good", hot on the heels of appearing in "Friends: The Reunion".
The reunion of the classic sitcom "Friends" cast became a hot topic on social media and saw a surge in subscriptions for the show's platform HBO Max.
Kudrow told Reuters via Zoom she found it "a little bit mind-blowing because you don't really fully get the impact that the show had on people internationally and the personal stories that you would hear about over the years. It's really nice. I go to sleep now thinking 'Ah, I did a good thing'."
In the series "Feel Good", which is entering its second and final season, Kudrow plays the mother of Mae, a non-binary comedian who is struggling with the demons of her past while trying to keep up a relationship with girlfriend George.
The first series was critically acclaimed and Mae Martin, who based the series on her own experiences, won two Royal Television Society awards for Best Writer – Comedy and also the Breakthrough Award.
"Once I was sent the script … I loved it. I loved every episode, I loved what it was about," said Kudrow.
However, her attachment to the project meant that the "Friends" star would have to travel to the United Kingdom where most of the series was shot during the pandemic.
"I was anxious about it but then forgot it once I was there on their set with the COVID protocols. I felt perfectly safe," Kudrow said.
As the show is based on Martin's own experiences, she suffered from a lot of anxiety leading up to the launch of the first series.
Martin said she's still a little apprehensive about the second season. "It was all such an unknown with series one. I had no idea how people would feel about it … last time I was just terrified about my parents watching it but now I know they love it, that's a huge weight off so yeah I do feel a lot less freaked out."
"Feel Good" will begin streaming on Netflix on Friday.
(Reporting by Rollo Ross; Editing by Diane Craft)