Hospitalizations from COVID-19 in B.C. fall to level last seen in November – Richmond News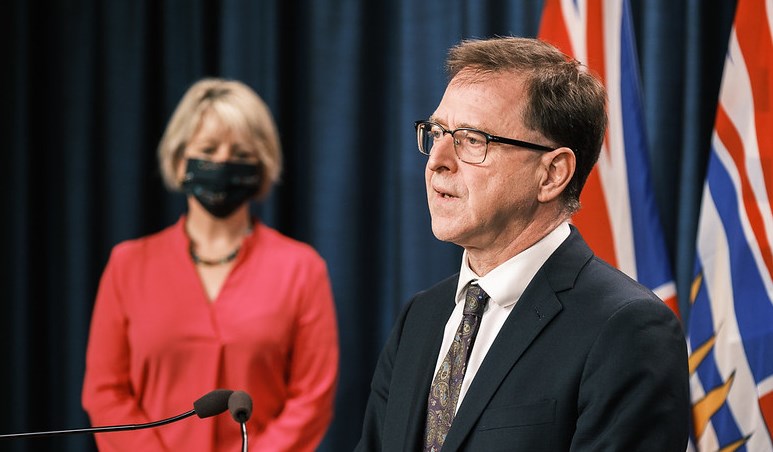 The trajectory of serious COVID-19 infections in B.C. continues to point in the right direction, as the number of hospitalizations, and intensive care unit (ICU) patients, continues to fall.
The province now has 320 people hospitalized with the virus that has spawned a global pandemic. That is nine fewer than yesterday, and the lowest total since November 30.
The number of hospital patients in ICU is similarly falling, as it is down by four overnight, to 66, which is the lowest total since November 26, according to government data.
Unfortunately 14 more people died overnight from complications related to the virus, pushing the death toll in B.C. to 1,104 since the first death was recorded on March 9.
New cases continue to pile up, with 500 people newly diagnosed with COVID-19 in the past day, and only 465 people newly diagnosed as having recovered. Testing also ramped up substantially, compared with yesterday, as 10,437 tests were given. That pushes the positive-test rate down to 4.7%, compared with 9.22% yesterday.
More than 89%, or 55,564 individuals out of the 62,412 people identified in B.C. as having contracted the virus, are deemed to have recovered.
The vast majority of the 4,345 people actively infected with the virus have been told to self-isolate, while 6,905 people are under active health monitoring from officials because they are known to have been in contact with others who have tested positive for the virus.
Here is a regional breakdown of where the 500 new cases were identified:
• 125 people in Vancouver Coastal Health (25%);
• 216 people in Fraser Health (43.2%);
• 32 in Island Health (6.4%);
• 91 in Interior Health (18.2%);
• 35 in Northern Health (7%); and
• one person who resides outside the province.
Despite fewer doses of vaccine expected to be delivered in later January than first expected, there were 5,756 vaccinations completed in the past day, for a total of 98,125 since the first dose was administered on December 16.
"We have had two new health-care facility outbreaks: at Villa Cathay in the Vancouver Coastal Health Authority, and Acropolis Manor in the Northern Health Authority," provincial health officer Bonnie Henry and Health Minister Adrian Dix said in a joint statement.
"The outbreaks at Guildford Seniors Village and Maple Ridge Seniors Village in the Fraser Health Authority, as well as Mountainview Village and Village by the Station in the Interior Health Authority, are now over."
They added that there has been one new community outbreak at the Surrey Pretrial Services Centre.
"Our COVID-19 curve is trending in the right direction, and we want to keep that going – to push our curve down, which in turn, will allow us to safely ease restrictions," they said.
The nine hospitals identified as having active COVID-19 outbreaks are:
• Burnaby Hospital in Burnaby;
• Cariboo Memorial Hospital in Williams Lake;
• Chilliwack General Hospital in Chilliwack;
• Mount St. Joseph's Hospital in Vancouver;
• Ridge Meadows Hospital in Maple Ridge;
• St. Paul's Hospital in Vancouver;
• Surrey Memorial Hospital in Surrey;
• Vancouver General Hospital in Vancouver; and
• University Hospital of Northern B.C. in Prince George.
The nine active outbreaks at seniors' living facilities in Vancouver Coastal Health are at:
• Arbutus Care Centre in Vancouver;
• Braddan Private Hospital in Vancouver;
• Fraserview Intermediate Care Lodge in Richmond;
• German Canadian Benevolent Society Home in Vancouver;
• Hilltop House in Squamish;
• Little Mountain Place in Vancouver;
• Minoru Residence in Richmond;
• Renfrew Care Centre in Vancouver;
• Sunrise of Vancouver in Vancouver; and
• Villa Cathay in Vancouver.
The 23 active outbreaks at seniors' living facilities in Fraser Health are at:
• Avalon Gardens in Langley;
• Brookside Lodge in Surrey;
• Eagle Ridge Manor in Port Moody;
• Evergreen Baptist Care Society in White Rock;
• Fleetwood Villa in Surrey;
• George Derby Centre in Burnaby;
• Good Samaritan Delta View Care Centre in Delta;
• Hilton Villa Seniors Community in Surrey;
• Kin Village in Tsawwassen;
• Kin Village West Court in Tsawwassen;
• Madison Care Centre in Coquitlam;
• Mayfair Seniors Living Care in Abbotsford;
• Menno Home in Abbotsford;
• Morgan Place Care Facility in Surrey
• Nicola Lodge in Port Coquitlam;
• Peace Arch Hospital Foundation Lodge in White Rock;
• Queen's Park Care Centre in New Westminster;
• Rideau Retirement Residence in Burnaby;
• Royal City Manor in New Westminster;
• St. Michael's Centre Extended Care in Burnaby;
• Suncreek Village in Surrey;
• The Harrison at Elim Village in Surrey; and
• Waterford Retirement Residence in Delta.
The two active outbreaks at a seniors' living facilities in Northern Health are at Jubilee Lodge in Prince George, and Acropolis Manor in Prince Rupert.
The nine active outbreaks at seniors' living facilities in Interior Health are at:
• Brocklehurst Gemstone Care Centre in Kamloops;
• Creekside Landing in Vernon;
• Heritage Retirement Residence in West Kelowna;
• Heritage Square in Vernon;
• Noric House in Vernon;
• Sunnybank Retirement Home in Oliver; and
• Williams Lake Seniors Village in Williams Lake.
In Island Health, there are two seniors' facilities with an active outbreak of COVID-19:
• Chartwell Malaspina Care Residence in Nanaimo; and
• Hart House in Victoria.
gkorstrom@biv.com
@GlenKorstrom

Canadian experts caution against temptations to comparison shop COVID-19 vaccines – Kelowna Capital News
While it's tempting to compare various aspects of AstraZeneca-Oxford's newly approved COVID-19 vaccine to others, several experts cautioned against focusing on data that is not comparable and the danger of underrating the product's ability to curb hospitalizations and deaths.
Health Canada's long-awaited announcement Friday that a third vaccine would soon be deployed came just as the provinces faced heightened scrutiny over regional immunization plans that vary by timeline, age eligibility and priority groups.
Prime Minister Justin Trudeau promised the boost to Canada's pandemic arsenal would mean "more people vaccinated, and sooner," and would be key to helping contain spread.
Nevertheless, Health Canada chief medical advisor Dr. Supriya Sharma acknowledged questions over how the public should evaluate trial results that show AstraZeneca has an efficacy of 62 per cent in preventing symptomatic cases. That's compared to the 95 per cent efficacy of the country's two other approved vaccines, from Pfizer-BioNTech and Moderna.
But Sharma stressed that all three have been shown to prevent 100 per cent of hospitalizations and deaths due to COVID-19.
"Each vaccine has unique characteristics and Health Canada's review has confirmed that the benefits of the viral vector-based vaccine, as with the other authorized vaccines, outweigh their potential risks," Sharma said.
Several medical experts including Dr. Stephen Hwang say Canadians do not have the luxury to pick-and-choose as long as COVID-19 cases continue to rage in several hot spots and strain health-care systems.
With multiple COVID-19 projections warning of a variant-fuelled third wave without tighter suppression measures, any tool that can slow the pandemic should be embraced, he argued.
"It would be important for people to be vaccinated with whichever vaccine is first available in their community to them, rather than trying to hold out for a specific vaccine," advised Hwang, who treats COVID-19 patients at St. Michael's Hospital in Toronto.
Still, Toronto resident Maria Brum couldn't help but question whether AstraZeneca was safe for her 79-year-old mother.
The vaccine was not tested on people over the age of 65. Health Canada, however, says real-world data from countries already using the product suggest it is safe and effective among older age groups, promising an update on efficacy in the age group as more data comes in.
"I personally would take that one out as an option for my mom," said Brum, who is her mother's main caregiver.
"Maybe I am wrong but, I don't know, I don't see that it's more useful. I'd like to see one that has a higher percentage of (efficacy)."
As for herself, Brum said she has allergies that she believes may put her at greater risk of adverse reactions and so she is unsure whether she can take any vaccine.
But she'd like the option of choosing, if possible, even while acknowledging that limited supply could make that unlikely.
"As a Canadian, I would like to see us all have choices, regardless of age, gender, or ability," says Brum.
"I'm going to wait where I can have more choices."
Such hesitancy could pose public health challenges to Canada reaching the vaccination coverage needed to build protective immunity against COVID-19, said Hwang.
He noted that Germany has seen a reported preference among some for the vaccine made by Germany's BioNTech with Pfizer, as well as a misconception that the AstraZeneca vaccine is inferior because of a lower efficacy rate.
Hwang says efficacy between vaccines cannot be compared because each involved completely different trials at different time periods, in different countries, with different volunteers of different age groups and varying trial designs.
"Until we have direct comparison studies where we give people one vaccine versus another and directly compare, it's very difficult to know for sure how it's going to pan out," he says.
Then there's the fact Canada's initial AstraZeneca doses will be made at the Serum Institute of India, which dubs its version CoviShield, while later packages will be produced at the drug giant's own manufacturing facilities.
Hwang acknowledges that could invite further scrutiny but says the Pune, India-based biotech firm has a "strong track record of producing vaccines."
Sharma also stressed the similarities between the two shots Friday.
"For all intents and purposes they're the same vaccine," said Sharma.
"There are some slight differences in terms of manufacturing and the places that they are manufactured are different. The analogy is a bit like the recipe – so the recipe for the vaccine is the same, but they're manufactured in different kitchens."
US urges Tanzania to embrace COVID-19 vaccines, share data – Burnaby Now
NAIROBI, Kenya — The United States praised Tanzania on Friday for finally acknowledging the resurgence of COVID-19 after claiming for months it had defeated the pandemic through prayer. But the U.S. urged the country to share infection data and accept vaccines.
"It has become clear that the virus variant has arrived in Tanzania," U.S. Ambassador Donald Wright, who is also a doctor, said in a statement. "I've been encouraged by recent statements from the Ministry of Health acknowledging COVID-19 as a public health priority in Tanzania and urging citizens to take basic precautions."
Tanzania is one of Africa's most populous countries, with some 60 million people, and during its long COVID-19 denial the director of the Africa Centers for Disease Control and Prevention warned that if the continent isn't united, "it's doomed."
High-profile deaths this month in the East African nation, including that of the vice-president of the semi-autonomous island region of Zanzibar, appeared to lead populist President John Magufuli to acknowledge publicly in the past week that COVID-19 was back.
For weeks, Tanzanians had seen a rise in death notices citing breathing difficulties and cases of what health workers called "pneumonia." But countries such as Oman reported Tanzanians arriving in their countries and testing positive for the virus.
Meanwhile, Tanzania's president openly questioned COVID-19 vaccines, without providing evidence. Tanzania is one of the very few countries in Africa that has not signed up for the global COVAX facility to provide vaccines to low- and middle-income countries. Now those vaccines have begun to arrive, in Ghana and Ivory Coast, with more on the way.
The U.S. ambassador's statement urges Tanzania to "convene its health experts and review the evidence on vaccines." He also notes "it is critical to collect and report information about testing and cases."
Tanzania last updated its number of infections last April. That number remains at 509.
Then the ambassador turned to aid: "Here in Tanzania, we dedicated $16.4 million to mitigate the COVID-19 pandemic since the first confirmed case was diagnosed in March of 2020. The United States stands ready to ramp up our efforts and we are committed to working side by side with Tanzania to defeat COVID-19."
An embassy spokesman did not immediately respond to a question about whether further aid depends on Tanzania sharing pandemic data and embracing vaccines.
Tanzania, unlike other African countries, did not lock down during the pandemic and it has promoted that to tourists and others.
In an interview with The Associated Press on Thursday, Tanzania's investment minister, Kitila Mkumbo, asserted that COVID-19 "has not been one of the major concerns of investors." He added that American investors "are waiting for the pandemic to slow down so movement can begin."
And the minister welcomed the Biden administration, saying he believed that the U.S. will once again "take global responsibility of supporting developing countries like Tanzania in many aspects, like health."
___
Follow all of AP's pandemic coverage at https://apnews.com/hub/coronavirus-pandemic, https://apnews.com/hub/coronavirus-vaccine and https://apnews.com/UnderstandingtheOutbreak
Cara Anna, The Associated Press
Vaccine centers embrace stickers and selfie stations – The Verge
The best picture I've seen this week was a selfie from my father-in-law who just got his first dose of a COVID-19 vaccine. Along with the shot, they gave him a sticker that says "I got vaccinated!"
As the vaccine rollout continues, clinics and distribution centers across the country are embracing things like stickers and even selfie stations decked out with colorful backgrounds to help people celebrate getting the shot.
The selfie stations are set up as colorful backgrounds, often with pro-vaccine messaging tiled with the name of the healthcare provider. It's good branding. And hey, if social media-friendly backgrounds helped make some trendy restaurants popular, there's no reason they couldn't work for vaccine sites too.
Added bonus — if the vaccines are being given in a healthcare setting, it gives people a designated space to take pictures without compromising other patients' privacy.
Vaccine stickers and selfies can increase confidence in vaccines. Just like "I voted" stickers were designed to remind people about Election Day, "I got vaccinated" stickers are designed to help people see the vaccination efforts unfolding in their own community.
Back in December, the Centers for Disease Control and Prevention developed stickers for healthcare workers to wear after they got vaccinated. Since they were some of the first people in the country to get vaccinated, the stickers were an easy way for workers to start conversations about the vaccines with their patients and colleagues — some of whom might be reluctant to get the vaccine.
The ready-made vaccination celebrations are also a way to dissuade people from sharing their vaccine cards on social media. Those can contain personal information, and posting photos of them can help scammers scam. A photo of your vaccinated self sporting a sticker, on the other hand, does not pose nearly as much of a privacy risk.
Stickers can serve the same purpose outside of the healthcare industry too. But also; they're super fun. Slapping on a sticker is a chance to visually celebrate in a time when there's been so little for us to enjoy. So is taking a selfie to share with the world. Sure, there are public health benefits to making vaccination visible. It's also pure joy.
How do we say thank you to the health workers and scientists for their sacrifice and service? Receive the vaccine as soon as one can to lessen their load and keep wearing a mask to protect fellow citizens. In my 80th year, I am grateful and hopeful for better days ahead. pic.twitter.com/emGDlnYL2E

— Patrick Stewart (@SirPatStew) January 22, 2021
I'm not eligible to receive the vaccine yet where I am, and I probably won't be for a long time. But after seeing so much death and suffering during the past year, it brings me nothing but hope and happiness to see the relief in people's eyes after they get their shot.
Other people have been taking their vaccine celebrations into their own hands. Not content with the official offerings, they're dressing in their best, donning sequins, and even bringing fun bandages to patch themselves up after the shot. Vaccinated people can't throw a big maskless party yet — but they can celebrate a small, momentous victory. It's fantastic.
There are still too few people vaccinated, here in the US and around the world. The rollout has been messy, and frustrating and inequitable. It still is. Governments can still do much better. But more people are getting the shot every day. In fact, Friday set vaccination records in the US and EU.
Without a doubt, that's something to celebrate.
Here's what else happened this week.
Research
The coronavirus is threatening a comeback. Here's how to stop it.
Vaccination numbers are rising, but so are coronavirus variants. The pandemic isn't over yet, but there are ways to make this next phase better than the last. (Apoorva Mandivalli / The New York Times)
Coronavirus reinfection will soon become our reality
As the virus evolves and time goes on, it's likely that we'll see more re-infections of the coronavirus. Here's how that might work. (Katherine J. Wu / The Atlantic)
Coronavirus spreads readily in gyms when people don't wear masks
A new CDC report this week looked at COVID-19 outbreaks connected to gyms. They found that indoor fitness classes that did not require people to wear masks allowed the virus to spread easily. (Amina Kahn/The Los Angeles Times)
Development
Johnson & Johnson COVID-19 vaccine backed by independent FDA committee
A single-shot vaccine got a unanimous green light from an FDA committee on Friday. The meeting came after an FDA report issued earlier this week confirmed Johnson and Johnson's conclusions about their vaccine. (Nicole Wetsman / The Verge)
Moderna ready to test version of COVID-19 vaccine aimed at worrisome variant
Moderna is preparing to test a version of their vaccine that directly targets a particular strain of the virus. The company's existing vaccine doesn't work as well against this variant, so they're developing a new version. (Damian Garde and Matthew Herper / STAT)
The growing evidence that the COVID-19 vaccines can reduce transmission, explained
When they were testing vaccines, companies looked to see if the vaccines could keep people from getting sick. And all authorized vaccines do a great job at keeping people out of the hospital and alive. But the big clinical trials weren't designed to look at how well they can keep people from passing the disease from one person to another. It's a big question, and one that researchers (and everyone else) is eager to uncover. (Kelsey Piper / Vox)
Perspectives
In every volunteer opportunity I'd ever been a part of, you made camp friends, formed quick alliances. To do so that day, when you even didn't know who had been vaccinated and who hadn't, felt aggressive and dangerous. Even holding the door open for the person behind you on the orientation tour could violate the required distance. I couldn't discreetly murmur to my shift buddy about who was trying to cut and who was about to get out of hand.
— Irin Carmon writes about her experience as a COVID vaccine site bouncer in Brooklyn for Intelligencer.
More than Numbers
To the more than 113,507,393 people worldwide who have tested positive, may your road to recovery be smooth.
To the families and friends of the 2,519,257 people who have died worldwide — 510,467 of those in the US — your loved ones are not forgotten.
Stay safe, everyone.