House Beautiful: Eclectic owners fill Central Saanich home with art – Times Colonist
"Eccentric … well, maybe I am, but never, never boring."
That's how artist Carolyn Kowalyk describes herself, and it's the same way one could describe her home, which is as colourful as the woman who lives there, surrounded by art, books and treasures she's collected on her travels.
You won't find any "Live, Laugh and Love" poster art from a big-box store in the artfully curated yet cosy home Kowalyk shares with her partner, Roy Walters.
Kowalyk believes houses should reflect the individuality, culture and history of their inhabitants, as well as showcasing what they love — which the couple's home does in spades.
"I've never lived in a boring house. I've always lived in a place with my treasures around. It makes me feel warm," she says, adding: "I'll never be bored."
There's something magical about the house, which you can sense as soon as you pull up to the driveway and hear what sounds like a river flowing, but is actually wind blowing through a nearby row of trembling aspen trees.
Then there is the house's unusual colour combination: ochre with green and blue trim. Its original colour was white with brown trim, which Kowalyk repainted soon after moving in 20 years ago with her cat.
Walters, an American scientist she met in New Zealand, joined her two years later. She jokes that it was a good thing Walters wasn't around initially, lest he object to her exterior colour choices.
The house, which has had additions over the years, is a Second World War-era home that was originally built on the site of what is now Mayfair Mall. It was moved in 1971 to its present location, down a country lane in central Saanich.
When Kowalyk moved to the three-quarters-of-an-acre property, it was overgrown, but the avid gardener immediately set to work to create an enviable garden that has colours blooming practically year-round.
Walters is also a keen gardener who grows much of the couple's vegetables and tends to the many fruit trees. From the office deck, you could reach out to pluck fruit from the top of one of six apple trees overflowing in the fall with apples. The property also boasts two pear trees and two plum trees.
The couple's 1,700-square-foot house takes full advantage of the pastoral setting. "Every room here has multiple windows looking out to gorgeous scenes, birds, changing skies," Kowalyk says.
The main living room has floor-to-ceiling windows, as does a nearby sunroom that leads to a backyard patio. The absence of window treatments allows the homeowners to fully enjoy the home's park-like setting.
Kowalyk's favourite room, though, is her light-filled work studio on the lower level, with sliding glass doors that open onto an inviting side-garden patio. While most of the flooring in the house is wood, she installed tiles in the studio for easy clean-up. And when her artist easel was not able to open fully because of the room's height restriction, Walters took out part of the floor above so the ceiling could could be lifted, even though it meant sacrificing part of his office area.
The office is where Walters' personal history is most evident, with maps and books like the The Nordic Seas. Above his computer is a wall full of photographs, including a picture of him with buddies on a long hiking excursion and a photo from his days working as a boat captain in Alaska.
Walters also loves art and commissioned New Zealand artist Cheryl Oliver to create a pottery piece of a Viking with his ship, one of many art pieces in the couple's living room.
"Cheryl made a flag for the ship, one that she thought fitted in with the colour scheme, but Roy insisted on our next trip south that she make a proper Viking flag, an Icelandic one," says Kowalyk, noting Roy has Icelandic genes.
Kowalyk, who is active in the local arts community, helped to bring Oliver as a guest artist to the Fired Up ceramic-art show in Metchosin in 2016.
Ceramic art is evident throughout the couple's home — Kowalyk has been an avid collector since the 1960s.
Along a living-room ledge is a ceramic house made by a friend, while another pottery house on the mantle is from an artist in Tasmania, Australia, and a mixed-media house sculpture on sticks with fish below takes centre stage in the dining room. The piece, called Fishhaus, is by Victoria artist Leonard Butt.
"I am an artist, so the walls are filled with my work and that of fellow artists I admire," she says.
Kowalyk's studio has paintings on the go as well, beadwork to be turned into jewelry and paper maché sculptures of houses and "chickens with attitudes," which she has returned to making in recent days.
It's no surprise that so many of her paper maché art pieces are of homes, since Kowalyk "loves houses" and calls herself a nester by nature.
Everywhere you look in the home there are art pieces and little dioramas that Kowalyk has created. In the sunroom, for instance, she has combined a beloved sailor doll once owned by her father's great aunt with heart-shaped and circular stones.
At the entrance to their bright kitchen, with open shelves full of bold-coloured Fiesta ware, there are two art pieces on each side with memorable back stories. One is a marionette-type figure called The Birdwatcher that Kowalyk purchased in Mahone Bay, NB, 40 years ago, before the internet made finding artists easy.
She knew about its artist, Kate Bird, and managed to find her "modest little house" and bought the Birdwatcher, which was adorning the artist's mantle at the time.
The other piece at the kitchen entrance is an Indian magic basket, a quilted art piece that was rescued from Christ Church Cathedral in New Zealand after a devastating earthquake in 2011.
Kowalyk had just visited a friend, who was the artist in residence there, 10 days prior to the earthquake. Her friend was standing at an upper-storey window when the quake struck and plummeted to the basement. Luckily, she survived, as did the artwork now adorning Kowalyk's wall.
"Everything has a story," says Kowalyk.
Since the COVID-19 pandemic has stopped the couple from travelling overseas, Kowalyk has found some of her more recent "must have" pieces by visiting local auctions.
"I love the hunt and having new treasures," she says.
New Art Lending Program launched in Summerside – SaltWire Network
SUMMERSIDE, P.E.I. —
A beautiful piece of art is known to stir the soul and give rise to an abundance of feelings and creativity, and for that reason it is hoped people will embrace the new art lending program in Summerside.
It is an initiative of Wyatt Heritage Properties Inc. (WHPI) in partnership with Culture Summerside and the Summerside Rotary Library.
For some time it has been an objective of WHPI and Culture Summerside, the city's arts, heritage, and culture division of the City of Summerside, to bring to the community increased accessibility to original works of art by local visual artists. Not everyone is comfortable visiting an art gallery or can afford to own original works. Now, with a swipe of a library card, people can borrow artwork to grace their living space.
"We are really excited to be a part of this important project, which makes art accessible to the public," said Rebecca Boulter, regional librarian with Summerside Rotary Library.
As part of the 2020 Summerside Arts Festival held in July, 20 local artists each created a framed five-by-seven inch original work for the new program. The artwork includes a number of mediums and subject matter. The variety will appeal to a wide spectrum of tastes. The plan is to grow the collection in the coming years.
Lori Ellis, of Wyatt Heritage Properties Inc. and Culture Summerside, is grateful for the funding support of the Department of Canadian Heritage and the City of Summerside in making the art lending program a reality.
"This is a wonderful venture that I hope the public will be inspired to embrace. As an artist myself, I know the joy that art brings to life. We are so excited to partner with the Summerside Rotary Library for it will enable the program to reach a large audience. Great partners build vibrant artistic communities."
Leading fine-art logistics specialist hasenkamp and 4ARTechnologies launch strategic cooperation to revolutionize global art handling – Canada NewsWire
The digital art market tools developed by the Swiss Art & Tech expert 4ARTechnologies are already being used by over 30,000 people in 65 countries. Now, renowned European logistics specialist hasenkamp, who handles works by Da Vinci or Gerhard Richter and serves clients like the MET in NY, is providing over a century of expertise and their own developments to define the next generation of fine-art handling services for the industry.
The immediate goal of the cooperation is to combine 4ARTechnologies' first-of-it's-kind art handling tools, including fully digital artwork passport, condition reports and process track & trace with hasenkamp's leading full-service approach and over 100 years of fine-art logistics experience.
Dr. Thomas Schneider, General Manager of hasenkamp, is enthusiastic about the partnership: "As a specialist for the logistics of high value and sensitive goods, the entire hasenkamp group always focuses on the customer. With our worldwide network, we guarantee the quality of our services and ensure the highest standards of fine-art logistics. We always serve our clients in the best possible way to meet their requirements. Through the cooperation with 4ARTechnologies, we create a further step towards transparency and security for our customers and their artworks."
"Partnerships with industry leaders like hasenkamp are key to 4ARTechnologies' success," notes Niko Kipouros, 4ARTechnologies AG Founder and CEO. "We are excited and proud to cooperate with hasenkamp, as their immense know-how and process experience are fundamental in building an integrated logistics solution that is a further step towards the standardization of a larger art market ecosystem."
4ARTechnologies AG
Dino Lewkowicz
[email protected]
Phone: +41 41 740 00 50
www.4art-technologies.com
Photo – https://mma.prnewswire.com/media/1346923/4ART_x_hasenkamp.jpg
SOURCE 4ARTechnologies AG
Irina Antonova, head of top Moscow art museum, dies at 98 – The Record (New Westminster)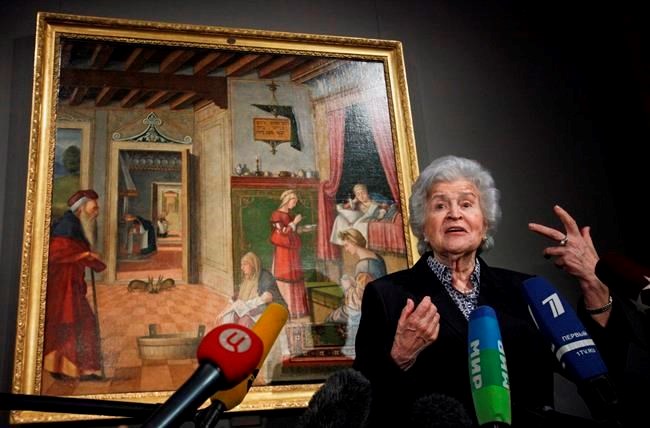 MOSCOW — Irina Antonova, a charismatic art historian who presided over one of Russia's top art museums for more than half a century, has died at 98.
The Pushkin State Museum of Fine Arts said Antonova, its president, died in Moscow on Monday. It said Tuesday that Antonova last week tested positive for coronavirus, which exacerbated her chronic heart ailments.
Antonova began working at the Pushkin museum after her graduation in 1945, and in 1961 she became its director. She held the job until 2013, when she shifted into the ceremonial post of its president. The 52-year tenure made her the world's longest-serving director of a major art museum.
As the Pushkin museum director, Antonova spearheaded major art exhibitions that saw the exchange of art treasures between the Pushkin Museum and top international art collections despite the Cold War-era tensions and constraints. Those exchanges, facilitated by her extensive personal contacts with colleagues in the museum world, brought Antonova wide acclaim worldwide.
She also was very active in promoting the museum's treasures to the public.
Antonova has received numerous Russian and foreign state awards.
Russian President Vladimir Putin sent his condolences. Kremlin spokesman Dmitry Peskov said that the president often met Antonova at the museum and "highly appraised her deep expert knowledge."
Antonova will be buried in Moscow's Novodevichy cemetery alongside her husband, who also was an art historian. Funeral ceremonies will be closed to the public amid coronavirus restrictions.
The Associated Press