How Alexei Navalny revolutionized opposition politics in Russia, before his apparent poisoning – The Conversation US
The harrowing videos of Alexei Navalny, a blogger who has captured popular frustration in Russia, screaming in agony on Aug. 20, 2020 before being removed unconscious from a plane to a waiting ambulance, demonstrate the Kremlin's increasing reliance on coercion to control dissent.
This attack is not the first Navalny has endured. In 2017, he was doused with a green antibiotic that compromised his vision. In 2019, while in jail for organizing protests, he suspected he had been poisoned. Navalny has also been wrongly convicted on charges of financial wrong-doing three times. Although he was released to prevent him from becoming a national martyr, his brother and co-defendant, Oleg, served three-and-a-half years in jail.
Throughout this period, the Kremlin worked to discredit Navalny without making him a martyr.
My book "Elections, Protest, and Authoritarian Regime Stability: Russia 2008-2020," reveals the nature of Navalny's threat to the Kremlin – one strong enough to make the claims that he has been poisoned credible.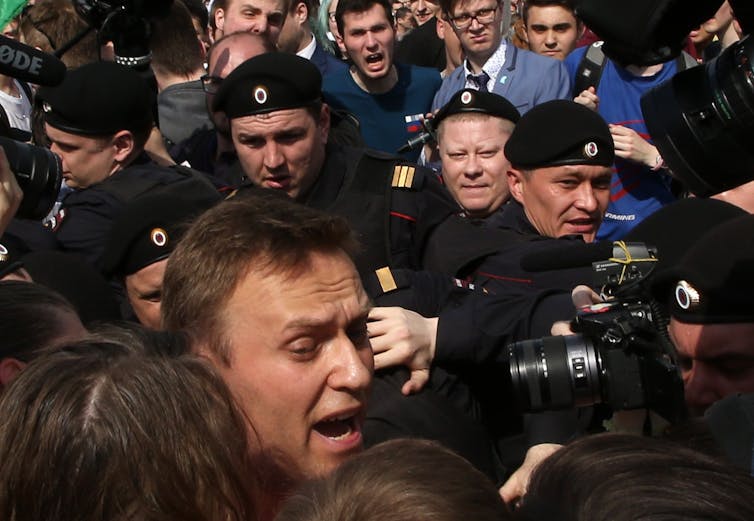 Focus on corruption
When he came onto the national stage 2010, Navalny brought a new type of opposition to Russian politics. He is in tune with popular concerns and able to find common ground across nationalist and liberal activists. He calls for removing President Vladimir Putin through elections, while articulating a new vision for Russia.
Navalny's importance is not about popularity. The Kremlin's arrests and disinformation campaigns have raised enough suspicions among voters that polling shows he would not win a national election, even in the unlikely event of a fair fight.
Instead, Navalny's challenge to Putin's regime rests on his innovative ideas and organizing strategies that have made him a force in Russian politics.
He began as a lawyer, challenging the large Russian energy companies by buying stock and thus gaining the right to attend shareholders' meetings. He used his access to defy corporate leadership and release documents to demonstrate malfeasance.
He established The Anti-Corruption Foundation – now labeled a "Foreign Agent" by the Kremlin – which collected citizens' reports of corrupt practices. His RosYama project, literally "Russian Hole," allows citizens to go online to report potholes – a widespread, chronic problem in Russia – and track the government response.
Navalny amplified his anti-corruption fight in 2011, when he labeled Putin's political party, United Russia, the "Party of Crooks and Thieves". When these efforts contributed to mass protest against electoral fraud, Navalny was at the fore. Addressing an unprecedented crowd in 2011, he said, "I see enough people here to take the Kremlin and [Government House] right now but we are peaceful people and won't do that just yet."
He joined the movement's Coordination Council and forged ties across the diverse opposition with the goal of reforming Putinism.
His canny use of social media has given thousands of Russians – both old and, especially, young – new insight and ways to protest against their government.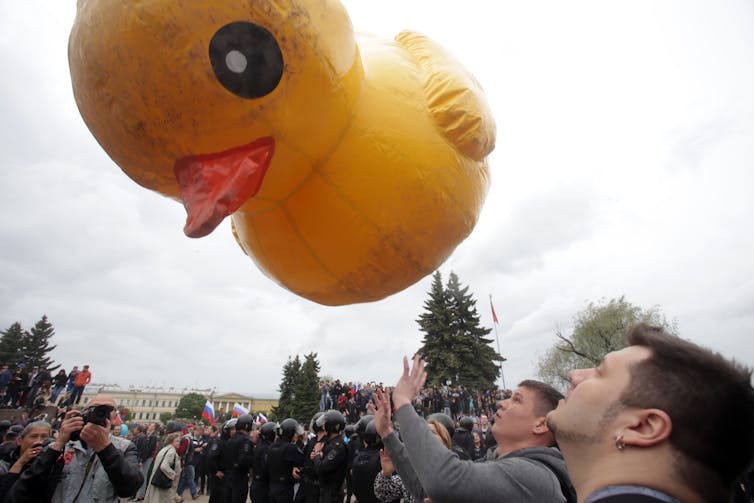 New model of opposition
Navalny drew on the resources of these protests – activists, themes, online fundraising strategies and new coalitions – to build an opposition strategy that links elections and a variety of forms of protest. He brought together an impressive team of young activists who challenge the regime at every step of the election process, from party formation to candidate registration and vote counting.
Volunteers go door-to-door or accompany candidates to meet voters on their daily commutes or in apartment courtyards. They build temporary structures, called "cubes," on busy streets, where they educate voters about policy. Campaign leaders urge activists to share online messages offline with those who do not use the internet.
New electoral technologies
When he fell ill, Navalny was campaigning on behalf of a new generation of local candidates.
By demonstrating that Russian elections are little more than performances of the state's capacity to manufacture votes, the Navalny team reveals the lack of choice and accountability in the system.
In summer 2019, this strategy led to significant protests after the regime barred almost all of the opposition candidates in Moscow's municipal elections. When the government cracked down on pro-democracy demonstrators, Navalny's team built a web-based way to identify any candidate who shared its values and urged voters to support that candidate – even if the candidate was in a party that they detested.
Recent work by political scientists Mikhail Turchenko and Grigorii Golosov demonstrate that Navalny's "Smart Vote" strategy made a real difference in Russias's 2019 local elections, helping to defeat nearly a third of Putin-aligned candidates in Moscow. Navalny's team was gearing up to do the same thing in the September 2020 vote.
[Expertise in your inbox. Sign up for The Conversation's newsletter and get expert takes on today's news, every day.]
Social media innovation
Navalny's creative use of new media is not limited to pothole repairs and voting apps. Beginning in 2006, he wrote a popular blog on the Live Journal social networking service. When the Kremlin shut down his blog in 2012, he reinvented his social media presence.
The Anti-Corruption Foundation produced a short film, "Don't Call Him Dimon," that lampooned former President and Prime Minister Dmitry Medvedev by showing his vast sneaker collection and flying a drone over his duck pond. Like ducks, sneakers became symbols of the opposition. The expose revealed the myth of Medvedev as an honest leader.
The exposes have continued on Navalny's YouTube channel. His broadcasts have probed Russian intervention in U.S. elections, the Kremlin's failure to provide COVID-19 relief and rigged Russian elections. These stories challenge the narrative presented in Russian state media, combating the regime's systematic disinformation campaign.
Inspiring a new generation
Navalny's efforts have captured the imagination of young Russians and demonstrated the effects of generational change. Following "Don't Call Him Dimon," tens of thousands of young people took to the streets, shocking a country that believed Putin's opposition was played out. Months later, they flocked to join Navalny's presidential campaign organization.
Navalny knew the dangers of being the face of opposition to the Putin regime. The day before he fell ill, he joked with young supporters that his death would do more harm to the Kremlin than his activism.
It's clear that Russians – who have taken to Twitter to urge him to hold on – don't want to test that hypothesis.
How to protect yourself from the stress of politics – Medical Xpress
We interrupt your latest binge of breaking political news, fear-provoking campaign commercials and angry posts from your favorite pundit to report that politics can be stressful.
That stress can be bad for your health. But—some good news here—you can take steps to manage it.
If the election has your heart racing and stomach churning, you have company. According to the American Psychological Association's Stress in America survey for July, 77% of Democrats and 62% of Republicans said the political climate was a significant source of stress.
A study published last September in the journal PLoS ONE hinted at the toll such stress can take: Roughly a fifth or more of 800 respondents reported losing sleep, being fatigued or suffering depression because of politics. More than 11% said politics had hurt their physical health at least a little.
That's a lot of stress-sick people, said the study's lead author, Kevin B. Smith, the Leland J. and Dorothy H. Olson Chair of Political Science at the University of Nebraska-Lincoln.
"You're talking about tens of millions of people who say, 'I'm losing sleep because of politics. I've lost a friend because of politics,'" Smith said.
Melissa DeJonckheere, an assistant professor in the department of family medicine at the University of Michigan in Ann Arbor, had similar findings in a smaller survey that questioned 14- to 24-year-olds about the 2016 presidential election. Before the election, 86% reported issues such as anxiety, fear or the feeling that things were out of their control. About a fifth reported physical problems—not being able to sleep, and even nausea.
It was a nonpartisan problem, she said. "Even people who said that they don't follow politics, or they're explicitly not interested in any of the candidates, were still having negative emotional responses to the election."
That research, published in Child and Adolescent Psychiatry and Mental Health in 2018, noted that stress in youth has been linked to cardiovascular disease, depression, substance abuse, behavioral problems and more in adolescents, plus problems in adulthood.
Smith, who has done extensive work on the biology of political behavior, said the question of whether political stress affects us differently than other types of stress hasn't been answered. But he suspects a few modern factors might be making things worse.
"We have an incredibly polarized political environment right now," he said. And thanks to smartphones and computers, we're constantly soaking in it.
"It's just omnipresent in our lives," he said. He contrasted it to the stress that comes from, say, being a football fan. He is one, and every year, "I produce a lot of stomach acid over the Dallas Cowboys' playoff chances. But the football season ends, and that stress goes away.
"The political season never ends."
Politics always comes with a degree of stress, but the many challenges the country faces in 2020 would seem to make this election more anxiety-producing than most. People of every political stripe have strong opinions about the pandemic, the economy, race relations, the Supreme Court vacancy left by Ruth Bader Ginsburg's death and any number of other issues that are important to them.
The anxiety is not always accidental. Campaigns can feed off of fear, said Dr. Robert Waldinger, a professor of psychiatry at Harvard Medical School in Boston and director of the Harvard Study of Adult Development. After all, they're trying to make voters choose sides.
Couple that with the divisions that have been fanned about how to respond to the coronavirus, he said, and "our bodies are much more in chronic fight-or-flight mode than they probably were before the pandemic."
To cope, Waldinger—who is also a Zen priest—recommends regulating your exposure to the constant stream of scary political news.
"One of my meditation teachers has a quote that I really like. She said, 'Your mind is like tofu; it tastes like whatever you marinate it in,'" he said. He stays informed by reading the newspaper in the morning, later listens to a little radio, but avoids TV entirely. "And I try my best to stay away from the news feed on my phone."
However you choose to get news, "be careful and be deliberate," Waldinger said. "And don't do it late in the day as you're wanting to settle down and sleep."
DeJonckheere said unpublished findings suggest that her young participants found relief by becoming more civically engaged.
"The youth in our study talked about taking on activist roles, volunteering, taking more classes to learn about how politics affects them," she said. She thought that could be particularly important for people who are too young to vote, because it could give them a sense of control and purpose, which can help reduce stress and improve mental health.
Finding common ground with neighbors is a good idea, Waldinger said. "I'm not going to change the minds of my neighbors who are on the other side of the divide. But they're still my neighbors." Connecting around a cause such as a walk to end hunger could benefit everybody.
And don't let political dramas divide you from family, he said. "I would say, see the culture wars as the enemy, the thing to be fended off."
Because, he said, "This moment is going to pass. We don't know what it's going to morph into, but it's not going to stay the same."
---
---
Copyright © 2020 HealthDay. All rights reserved.
Citation:
How to protect yourself from the stress of politics (2020, September 23)
retrieved 23 September 2020
from https://medicalxpress.com/news/2020-09-stress-politics.html
This document is subject to copyright. Apart from any fair dealing for the purpose of private study or research, no
part may be reproduced without the written permission. The content is provided for information purposes only.
Horgan says election will create stability, opposition calls it 'politics at its worst' – Energeticcity.ca
B.C. Premier John Horgan called a snap fall election on Monday, a move widely determined to be taking a bet he can gain a majority government despite the risk it could alienate voters by taking them to the polls during the pandemic.
Reaction from B.C.'s opposition parties to the writ being dropped was scathing.
Calling the move cynical, BC Liberal Leader Andrew Wilkinson said Horgan was putting politics before people by calling an election during the pandemic.
"For no good reason whatsoever, we're now being forced into a general election that nobody in British Columbia wants except the NDP," Wilkinson said Monday.
The NDP also passed legislation providing for fixed election dates, the next slated for October 2021, he added.
"And now (Horgan) has torn it all to shreds for his own personal interest," Wilkinson said.
The NDP leader announced the election will take place Oct. 24, with advance polls starting seven days prior.
Horgan is hoping to capitalize on his current popularity due to his handling of the pandemic, said Hamish Telford, a University of the Fraser Valley political science professor.
"I think the principal reason for holding the election now is that they are riding very high in the polls," Telford said Monday.
Horgan was ranked the country's most popular premier with an approval rating of 69 per cent, according to a poll released Monday by Maru/Blue Canada Inc.
The NDP leader said he struggled with the decision to hold an election, but emphasized it would lead to stability and certainty for the next government dealing with the pandemic in the coming year.
"We can either delay that decision and create uncertainty and instability over the next 12 months … or we can do what I believe is always the right thing and ask British Columbians what they think."
The public has been broadly supportive of the B.C. government's handing of the pandemic, particularly in the early months of the public health emergency, Telford said.
However, as winter approaches and the health crisis and economic repercussions deepen, Horgan's popularity will likely begin to slide, Telford said
"From here on in, things are going to get more difficult," he said.
This month, B.C. has been recording some of the highest daily case numbers since the start of the pandemic, and flu season is around the corner, Telford added.
"So, I think Horgan wants to go now, rather than later," he said.
Plus, the NDP leader might be anticipating, and want to avoid coinciding with, a federal election next year, Telford added.
The premier had led a minority government with a support agreement in place with the BC Green Party. But to obtain a majority, the NDP must win at least four additional seats above the 41 seats they have now, Telford said.
B.C. Green Party Leader Sonia Furstenau, new to her role as of last week, said Horgan was putting his political fortune ahead of the health and safety of British Columbians.
Premier Horgan has a stable government, said Furstenau, in a statement Monday.
"I met with him on Friday and made it clear that we were willing to continue to work together in the best interest of British Columbians," Furstenau said.
"For the next month, his ministers will be on the campaign trail instead of working with the Provincial Health Officer to manage this pandemic, which as we know changes daily."
"This is politics at its worst," she added.
Wilkinson put it down to misplaced politics saying people are worried about their jobs, kids and health due to the pandemic and that it was a time for stability, not politics.
"We've all got to wonder about the current premier, who has an ironclad deal with the Green Party to govern for another 13 months," Wilkinson said.
Horgan's move to call an election to obtain a majority government entails considerable risk, Telford said.
"The risk is that the gamble won't pay off," Telford said.
"Yes, he's riding very high in the polls, but when I look at the election map, it's difficult to see where the NDP can pick up seats that gets it to a majority."
Though it's seeking increased stability, the NDP might end up with another minority government, but this time without the guaranteed cooperation of the Greens at a time when the pandemic's impacts will be more significant, Telford added.
"It could precipitate something of a political crisis," he said.
B.C. recorded 366 new COVID-19 cases over the previous three days, Provincial Health Officer Dr. Bonnie Henry reported on Monday afternoon.
Henry acknowledged the election announcement, but stated the province's pandemic response would continue uninterrupted.
She and deputy health minister Stephen Brown will continue to be in close contact with Adrian Dix, health minister previous to the election call, and Carole James, the cabinet member not running in the election, acting as caretaker for government affairs during the election campaign, said Henry.
This will ensure ongoing management of any issues arising due to the pandemic, she added.
Work has also been done with Elections BC throughout the pandemic to prepare for safe elections, Henry said.
"The guidelines that we've come up with include how political parties and their candidates need to keep themselves, their staff and volunteers, and their community safe during the campaign," Henry said.
There will also be measures during the election process to ensure everybody remains safe, she added.
Henry said she plans to meet with B.C. Chief Electoral Officer Anton Boegman Tuesday to provide the public with more details about the COVID-19 safety election plan.
Rochelle Baker/Local Journalism Initiative/ Canada's National Observer
– Advertisement –
Community Interviews with Moose FM
---
U.S. Ambassador to Netherlands Questioned About Political Interference – The New York Times
BRUSSELS — One of President Trump's most outspoken ambassadors has found himself in a new controversy after co-hosting a fund-raiser for a populist far-right Dutch political party in the American Embassy in the Netherlands. The act appears to breach diplomatic protocol because of its involvement with domestic politics in the host nation.
The ambassador, Pete Hoekstra — whose 2017 appointment to the role drew criticism over his earlier remarks that the Netherlands had "no-go zones" of Muslim-ruled enclaves — hosted a party at the embassy on Sept. 10 along with the Forum for Democracy Party, a group that is euroskeptic, identitarian and highly critical of the impact of Islam on European and Dutch society.
A native of the Netherlands, Mr. Hoekstra, 66, has both amused and annoyed many in the country with comments that align with the views of the Forum for Democracy. A conservative former Republican congressman from Michigan who helped found the Tea Party caucus, he was appointed ambassador to the Netherlands by President Trump.
To host a political fund-raiser would, on its face, be interference in domestic politics and a violation of the 1961 Vienna Convention on Diplomatic Relations.
The State Department has not yet responded to a request for comment, though officials said that the episode was being overplayed and that the embassy engaged with many political parties.
An invitation to the event was sent out in the name of "the Forum for Democracy and Pete Hoekstra," according to the Dutch magazine De Groene Amsterdammer, which earlier reported the story. Many of the approximately 40 guests were entrepreneurs, and the invitations included contact details for the party's head of fund-raising, the magazine said.
Some Dutch lawmakers on the center-left were highly critical. Sjoerd Wiemer Sjoerdsma, the foreign-policy spokesman for Democrats 66, a liberal party in the coalition government, on Tuesday called for the Foreign Ministry to investigate whether Mr. Hoekstra had "facilitated a fund-raising event for a political party."
Sven Koopmans, the foreign-policy spokesman for Prime Minister Mark Rutte's People's Party for Freedom and Democracy, was less exercised. He noted in Parliament that Mr. Hoekstra had worked on events with other political parties, but said that if the embassy had been used for a fund-raising event for Thierry Baudet, the Forum for Democracy leader, or if Mr. Baudet had used the event for those purposes, "that would not be proper."
Mr. Hoekstra's appointment to the diplomatic role drew controversy over remarks he made in 2015 that the Netherlands had "no-go zones" of Muslim enclaves outside government control and that politicians and cars were being set on fire there because of radical Islam. He denied having made those remarks, but later conceded that he had done so and issued an apology.
Mr. Baudet, 37, founded his party in 2016 as a right-wing organization more palatable to the middle class than the Party for Freedom of Geert Wilders. Mr. Baudet has good relations with the far-right nationalist Vlaams Belang party in Flanders, and while his party holds only two out of 150 seats in Parliament, it did well in regional elections last year and is rising in opinion polls.
Mr. Baudet favors the Netherlands exiting the European Union and adding limits on immigration. He has also been highly critical of the influence of Islam, though unlike Mr. Wilders, he says he does not wish to ban the Quran.