How Art Helps to Manipulate Minds in Severance – Hyperallergic
Severance, the Apple TV sci-fi thriller set to return for a second season after premiering in February, is eerily close to our working world. In Dan Erickson's world, instead of reducing the 45-hour work week, one company, Lumon, finds it easier to operate on their staff, separating their memory between work and home.
By using the Apple font in Severance's title sequence, we are reminded that the tech company whose screens we rely on is commenting on the very facet of society it contributes to, an irony that is not lost on the production team. This is only the beginning of the show's aesthetic intentions, as through Severance's art-inspired sets, we receive hints of Lumon's great plans and subliminal manipulation of its employees.
The series opens in Lumon's offices, as Helly (Britt Lower) wakes up on a conference table, with no memory of herself. This room, with its mid-century furnishings, is based on the work of architect Eero Saarinen, and its green hues, reminiscent of Edward Hopper's "Nighthawks" (1942). Hopper's lonely city reverberates throughout Severance, with its stark fluorescent lighting and vast negative space. We understand why the Lumon employees opted for the procedure, as little about their isolating reality is worth remembering.
Some of production designer Jeremy Hindle's references are so small that if you blink, you miss them. The map made by ex-employee Petey (Yul Vazquez) features a nod to Basquiat: a crude scribble of a crowned head bearing its teeth. Like the artist who railed against society, Petey has revolted against Lumon. Despite undergoing the permanent procedure, the employees' minds hold echoes of artistic rebellion that seep into their working lives.
Lumon creates its own art history, with works that pay homage to Caravaggio and Caspar David Friedrich. Even for those unfamiliar with art history, these paintings or some reference to them exist in the peripheries of our cultural collective. By placing Kier, the company founder, at its visual center, the employees are convinced of a greater purpose.
The same propaganda that is used to inspire the workforce is used to separate them. The employees that are separated into two departments — MDR (Macro Data Refinement) and O&D (Optics and Design) — have been effectively isolated by their shared belief that the other employees are dangerous — a widely held rumor kept alive by the circulation of two versions of the same painting, where raiders wearing department lanyards tear into their victims. Much like the black paintings of Francisco Goya, these mysterious pieces evoke horror at the monstrosity humanity is capable of. In each version, the raiders wear different lanyards to incite fear in the relevant department, because Lumon understands that a workforce separated is less capable of revolt than one united.
Despite the crumbling, naïve, and manipulated minds of Lumon's employees, Severance's meticulous attention to detail offers a world not soon forgotten with carefully chosen subliminal references lurking in the murky waters of our subconscious. We can be certain that this commitment to visual world-building continues when Severance returns.
The American Minimalist artist's words have captivated readers since the first volume, Daybook, was published in 1982.
In the online exhibition Before Silence, nine contemporary Afghan artists ruminate on their plight as refugees with targets on their backs.
Yiddishland Pavilion artists Yevgeniy Fiks, Avia Moore, and others effectively question the borders that continue to define the art world.
Platform's special anniversary capsule includes 40 new artworks from the best-selling artists of the site's first year.
From Where They Stood examines the rare phenomenon of prisoners who were able to provide direct victim documentation of the Holocaust.
A janitor at the Children's Museum of Northern Nevada was reportedly residing in the museum with his family and storing handguns, ammunition, and an AK-47 in a hardware room.
This destination for modern and contemporary art showcases the vibrant arts community of the Pacific Northwest alongside galleries from around the world, open July 21 through 24.
Youth get creative at summer art camp – Lakeland TODAY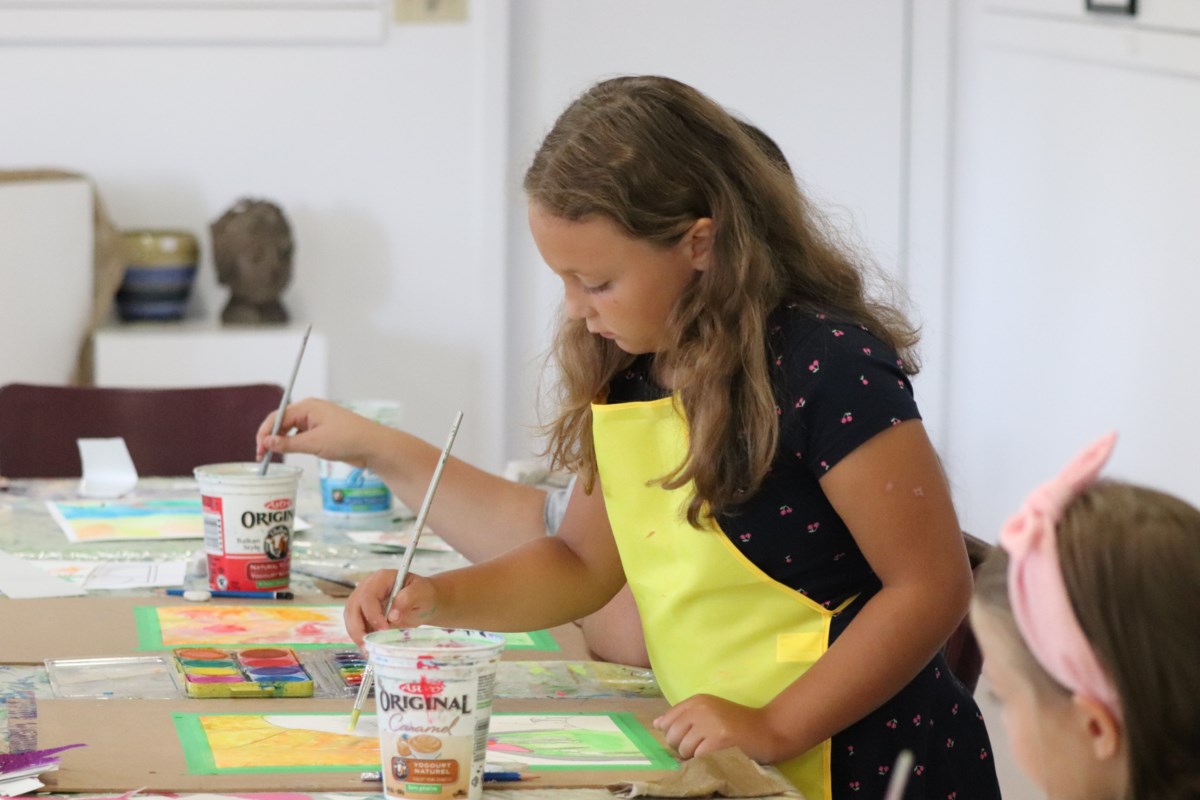 ST. PAUL – A variety of mediums were used to create unique works of art during a week-long Youth Art Camp held at the St. Paul Visual Arts Centre, last week.
Pam Bohn, the art instructor for the art camp, said the camp gives youth the chance to not only do art but form friendships.
"We also go outside to play and go to the park, and so it is also a day where they can make friends."
The art camp included acrylic painting, watercolour painting, mixed media projects, and much more.
"While I facilitate the classes, [the children] are free to create as they please," she said. "That allows those who like to do art that freedom to have different art mediums and try things that they may be unable to do at home."
Bohn said the participating youths have enjoyed the art camps, adding, "They all get excited when they come and take their [art] home to show their parents."
The Hive celebrates three new exhibitions at Art Gallery of Burlington | inHalton – insauga.com
Published August 15, 2022 at 2:41 pm
A special event celebrating three new exhibits is being hosted by the Art Gallery of Burlington.
The Hive is happening Saturday, Aug. 27, from 1 to 4 p.m. This free, all-ages event incorporates the organization, cooperation and energy of a beehive into an afternoon of art, activity, learning and fun.
The Hive will feature a special workshop led by Toronto's Clay and Paper Theatre, live arts and crafts demonstrations, a screen-printing presentation, live performance, food and drink.
The event is being held in celebration of the AGB's three new fall exhibitions:
The Future of Work, an exploration into how the pandemic has affected labour markets and our quality of life

ਨਜਰ ਨਾ ਲੱਗੇ

/Nazar na lage/Knock on wood, a vibrant and meaningful interpretation on the art of rangoli by artist Noni Kaur
Know your Place, an exhibit of cartoon-like clay sculpture that reveal the raw emotional experiences of the artist Sami Tsang
Known for work inspired by oral traditions, folk songs, poems and fables, Clay and Paper Theatre will charm participants and audiences with their original multi-disciplinary performance-based production. Guests who wish to participate with Clay and Paper Theatre should arrive early and be ready to create.
Visitors are invited to an interactive, screen-printing demonstration led by artist Jesse Purcell and are encouraged to bring any used clothing to be transformed into a bunting display to be hung in the gallery by the artist collective Works-in-Progress.
Arts Burlington will be opening its doors to guests with arts demonstrations and the Burlington Handweavers and Spinners Guild will guide guests through a natural plant-based dying demonstration, teaching attendees what they need to know to create from home.
The AGB parking lot will be free for the day. For more information, visit the AGB website.

insauga's Editorial Standards and Policies
Stay the know
Subscribe now to receive our daily email of today's top stories in your city!
advertising
'Miyo Nepin' (Good Summer) art show brings together Indigenous talent – battlefordsNOW
"[Nordstrom] contacted the artists; I contacted some. Then, she [decided] how it would look," Favel said.
"Miyo Nepin," which means Good Summer, is the theme of the show.
"We just came out of the pandemic, [so] it's a celebration of the freedom of movement, the freedom of the summer, and hopefully this freedom can stay in the future," Favel said.
He noted the theme is essentially about the freedom from health concerns, with the hope that everyone can enjoy good health again.
"It's a celebration of life and health," Favel said.
Some of the artists featured in the exhibition include Carl Thunderblanket from Sweetgrass, Meryl McMaster from Red Pheasant, Greg Tootoosis from Poundmaker, Charity Boxell from Poundmaker, and Dana Standinghorn from Sweetgrass.
The curators focused on showing pieces from artists with a substantial body of work.
Favel is particularly impressed with the calibre of the artists' projects in the show.
"We wanted to encourage, shed some light into this area of the talent that exists here," he said. "Hopefully, then, this work can keep going further, and their work can become more well-known provincially."
Favel added the artists are creating pieces of a national and international quality
"If you go to any gallery in Montreal or Toronto, you would see this is the quality of work we have here."
Favel hopes to keep putting the spotlight on many more of the Battlefords area's talented Indigenous artists going forward as well.
"In the future, like in my Performance Arts Festival, we will just keep going, and keep growing, and keep developing. That's our goal," he said.
The Miyo Nepin exhibition that features more than 20 pieces is on now through Sept. 4 at Fort Battleford.
–
Angela.Brown@pattisonmedia.com
On Twitter: @battlefordsNOW