How did Chinese media cover the Henan flood? – chinadialogue
Two hundred and two millimetres! That's how much rain fell in Zhengzhou in a single hour on 20 July, a record for mainland China.
Zhengzhou, capital of Henan province and a city of 10 million, lies in central China. It is not normally a wet place. Annual rainfall is around 600mm, only slightly more than fell on the city on that one day in July. Other parts of the province were also affected. According to official data, at least 302 people died and 55 went missing in the resulting floods province-wide. The media and official statements labelled it a "once in a thousand years" event, or in one case "once in five thousand years". Experts from the National Meteorological Centre complained these were not scientific descriptions. The language reflected the shock people were feeling.
Abroad, extreme weather events usually result in more discussions about climate change. So, with China having committed to carbon neutrality, did these floods boost awareness of climate change?
Was the climate angle missing?
In the day or two after the floods, reports mainly focussed on the flooding of tunnels on Zhengzhou's underground line 5 and Jingguang Road, where people had been trapped. Readers were also informed about the causes of such an intense cloudburst, and why the risks had not been foreseen. The media were repeating explanations provided by local and national meteorologists, focusing on the preceding weather conditions and the local terrain. No link with climate change was drawn.
International media, such as the Economist, pointed out that the climate change angle was missing from media coverage within China. But once the initial shock and concerns had eased, broader analyses appeared, which included climate change.
Some commercial media outlets adopted a climate perspective first, discussing how climate change makes extreme weather events more frequent and more intense globally. While they didn't make a specific link with the Henan floods, they did refer to how these incidents increase discussion of climate change overseas. For example, a Yicai article described how Nature magazine connected climate change and extreme precipitation events after 2018's Hurricane Florence. While Beijing News quoted a foreign meteorologist who blamed the summer's floods in western Europe on climate change. Most of the experts featured in those articles came from international research institutions, intergovernmental organisations or NGOs. Little was heard from Chinese researchers or government officials.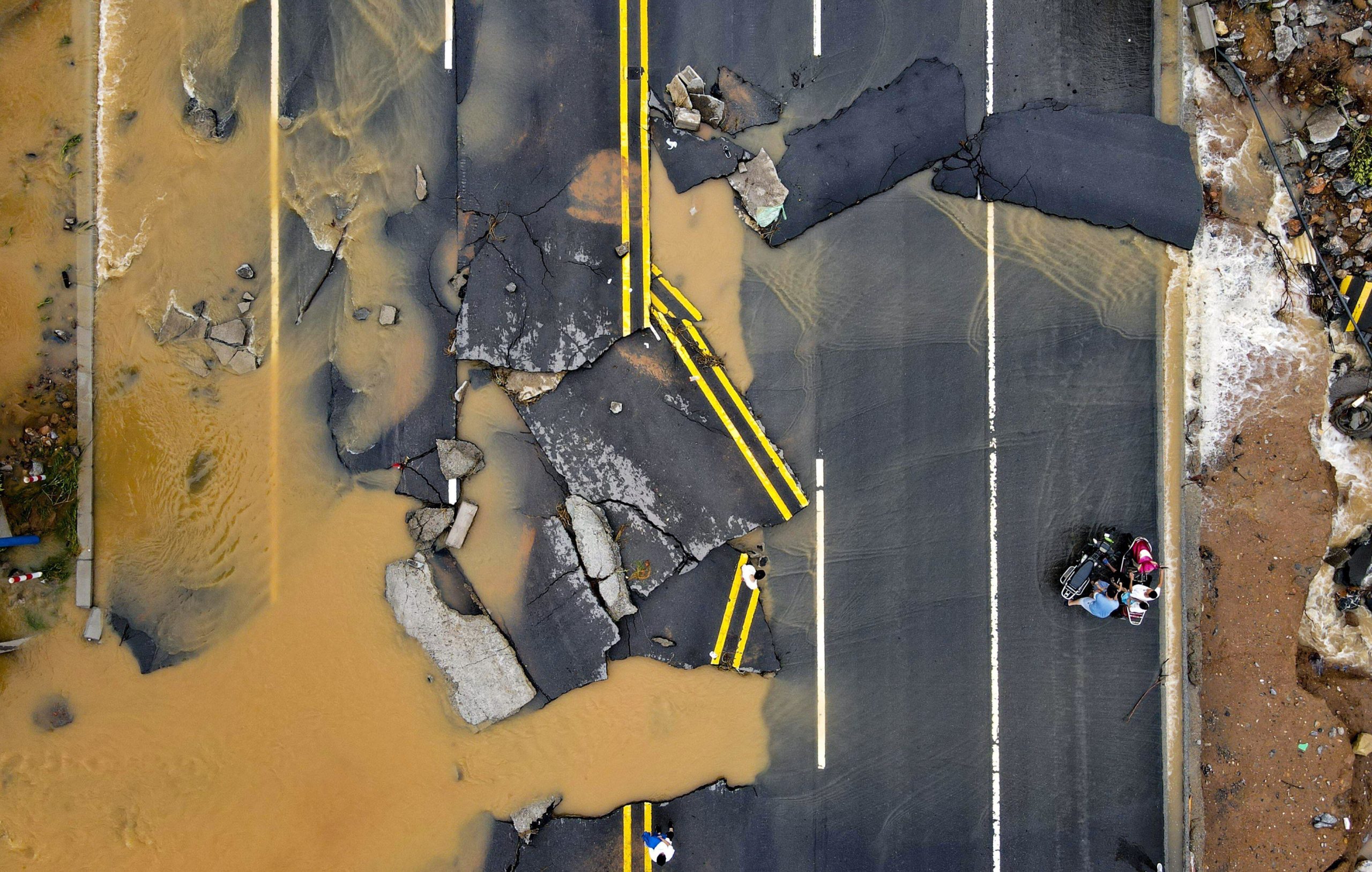 Official media outlets, managed directly by the Party and government, were a little slower. However, the close links those outlets have with official research institutions meant that reports from the China News Service and the Guangming Daily featured comments from the National Climate Centre and members of the Chinese Academy of Engineering.
So, although the climate angle did receive coverage, the flooding did not heat up the climate debate. Data from Baidu shows that searches and instances in news coverage of the term "cloudburst" rocketed after the Zhengzhou flooding and remained high for a week. But there was little change in searches for the term "climate change" – two small peaks, but remaining low.
The ignored climate goal behind carbon neutrality
The concept of carbon neutrality is now well-known in China, but is often understood as a development strategy, a trend in investment and technology, rather than what it actually is: an emissions reduction target. The point of reducing emissions is to reduce the climate risks arising from global warming, a major one being more frequent and intense extreme weather.
While it is not hard to find reports that, to varying degrees, draw the link between extreme weather events and climate change, the connection between carbon neutrality and climate change is missing. This creates a problem: carbon neutrality is generally regarded as a new "national policy", originating with central government and being propagated from the top down – to state-owned enterprises and local governments, then onwards to private firms. But while the public are aware of the policy, they are not aware of the reasons behind it, and government efforts to raise awareness of climate risks are limited.
So, shortly after the Henan floods, and with the public not yet understanding climate risks, a bizarre theory went viral: that while climate change might be bad news for Europe and the US, it would be good for China, as historically Chinese dynasties flourish in warm and wet conditions.
Authoritative publications such as the National Climate Change Assessment and the Climate Change Green Book, have emphasised that the damage done by climate change outweighs any benefits. The spread of misleading information shows that when scientific knowledge is not effectively communicated, rumours and pseudoscience fill the gap.
Achieving carbon neutrality will be a tough fight, requiring the participation of all parts of society. If we are to shift to low-carbon working and living, we need to communicate about climate risks, and why it is necessary to cut carbon emissions to reduce those risks.
Better understanding of climate risks will also help with adaptation and preparation. Climate change means more frequent and intense extreme weather events, striking at unexpected times in unexpected places. The shocking scenes in Henan were not a one-off. That same month, cloudbursts and glacier melt caused flooding in the Taklamakan Desert, the driest place in China, inundating a Sinopec exploration site. Experts have said that climate change makes it necessary to "raise awareness of disasters and change the existing understanding".
How to improve climate communications?
Increasing understanding of climate risks is a long-term undertaking. The coverage of the Henan floods points to some near-term actions we could take.
In China, wider awareness of climate risks will require the participation of state media. Not long ago, those outlets provided widespread coverage of carbon neutrality, popularising the concept across society as a whole. But the reporting on the floods shows no signs of an effort to link the intense rainfall with climate risks, or to link carbon neutrality with the reduction of those risks. That was a missed opportunity.
"Official" scientists – those working for public bodies, such as government departments, universities and research institutions – are usually the voices most trusted by the Chinese public. But in coverage of the floods, they were less visible than scientists from overseas, international bodies, or NGOs. Widening understanding of climate science needs those official scientists to be more active communicators.
Some communication techniques could also help. After the floods, Chinese scientists did mention that climate change could exacerbate extreme weather, but always stressed that there wasn't enough evidence to link climate change with this particular incident. Scientists should remain professionally cautious, but how to talk about the uncertainties of climate science?
Climate change communication experts warn that while uncertainty is the impetus that drives climate research forward, for the public it is a barrier to action. For ordinary people, the repeated emphasis of the uncertainties reduces the persuasiveness of scientific information, in turn reducing the inclination of government and the public to act.
In its handbook on climate communication, the IPCC (Intergovernmental Panel on Climate Change) suggests that when explaining links between climate change and extreme weather, scientists should emphasise established findings and consensus, and avoid overly technical language. The IPCC's recently published Sixth Assessment Report shows that, since the 1950s, rainfall has become more frequent and more intense in the vast majority of regions, and that climate change, caused by human activity, is likely to be the main cause. That is a scientific consensus worthy of emphasis.
International experience shows that using the attention generated by extreme weather events as an opportunity to talk about the underlying science can raise public understanding of climate change and its associated risks, and in turn boost emissions reductions and adaptation. This is not about taking advantage of a disaster. It is about ensuring that when the next "unthinkable" disaster occurs, our losses will not be so grave.
The author wishes to thank Wu Yunong and Jiang Mengnan for data collection and analysis.
Media Day hype, player rankings are clickbait | Pickaxe and Roll – Denver Stiffs
Ryan Blackburn shares his thoughts on the third day of player interviews for media week that included Aaron Gordon, Will Barton, Jeff Green, Austin Rivers, and Michael Porter Jr. in a stacked session. Gordon was chill, Barton was excited, Green was professional, Rivers was insightful, and Porter showed readiness to take the leap. Then, Ryan discusses the ESPN player rankings that are filtering out and what they had to say about the Nuggets and Nikola Jokić.
Hashtag Trending September 24 – European Commission Mandates USB-C; Social Media Platforms Sue Texas; Fedex's Autonomous Delivery – IT World Canada
The European Commission hopes to mandate USB-C on smartphones, Texas is being sued over a new law for social media platforms, and FedEx completes its first fully autonomous vehicle delivery.
It's all the tech news that's trending right now, welcome to Hashtag Trending! It's Friday, September 24, and I'm your host, Jori Negin-Shecter.
EU proposes mandatory USB-C on all devices, including iPhones from technology
The European Commission has announced plans to mandate a USB-C charging port on smartphones and other electronics. The goal is to reduce the number of chargers users need to buy, thus reducing electronic waste. Although it isn't directly targeted at Apple, the mandate will affect the company the most. Apple still uses its own Lighting connector for its flagship smartphones, including their recently announced iPhone 13 series. As more laptops and smartphones switch to USB-C, calls for Apple to drop the Lightning port have grown as well. Notably, the Commission's plan only targets wired charging, meaning the requirement does not apply to a device that exclusively uses wireless charging.
Texas sued over bill stopping social media companies from banning users for political views from technology
Texas is being sued by groups representing Facebook, YouTube, and Twitter over a new bill that would prevent these platforms from banning users based on their political views. The law, called House Bill 20, bars social media platforms with over 50 million monthly users in the U.S. from banning users for their viewpoints. Additionally, the law also requires social media companies to file a public suspension report biannually. The reports must detail content removal and account suspensions. Supporters say the goal of the bill is to increase transparency and ensure that users are treated fairly. Despite this, the lawsuit claims that the government cannot force the social media platforms to host content that goes against their terms of service. A law of similar nature that sought to deplatform politicians for their viewpoints was struck down this past June in Florida.
Finally, FedEx has announced that it completed its first delivery run using an autonomous truck. The route stretched 500 miles round trip between Houston and Dallas. The success of the trip signals that the delivery company in Texas will begin using more autonomous vehicles in the not so distant future. The truck, which was developed by truck maker PACCAR and autonomous driving company Aurora, uses LiDAR, radar and various other sensors to drive safely on highways. [Business Insider]
That's all the tech news that's trending right now. Hashtag Trending is a part of the ITWC Podcast network. Add us to your Alexa Flash Briefing or your Google Home daily briefing. Make sure to sign up for our Daily IT Wire Newsletter to get all the news that matters directly in your inbox every day. Also, catch the next episode of Hashtag Tendances, our weekly Hashtag Trending episode in French, which drops every Friday at 3 pm. If you have a suggestion or tip, please drop us a line in the comments or via email. Thanks for listening, I'm Jori Negin-Shecter.
Wonder Media Network's Jenny Kaplan Mulls Podcaster's Next Move – Forbes
Wonder Media Network Chief Executive Jenny Kaplan is figuring out how to turn her passion for podcasts into a business that can remain viable over the long run.
The New York-based company, which Kaplan co-founded in 2018, aims to appeal to audiences either overlooked or ignored by the mainstream media.
"We really wanted to start an organization that was a media company that was based in politics, business and culture, where women were perhaps our first core audience but where we had this big mission of amplifying underrepresented voices," Kaplan said in an interview.
Wonder Media Network makes money selling advertising and sponsorships on its line-up of 26 original shows, including Encyclopedia Wommanica, The Brown Girls Guide to Politics, and Majority 54. It also produces podcasts for corporate clients such as Microsoft
MSFT
, Pfizer
PFE
, and Spotify for a fee.
Wonder Media Network is facing the same competitive pressures for advertisers and listeners that lead to the sales in recent months of Bill Simmons' Ringer Podcast network, Wondery and Stitcher. The industry consolidation shows no signs of slowing
"As more and more people produce podcasts, discoverability gets harder," Kaplan said in an interview. "So we have been approached (about a sale) and are open to conversations. Our goal from the beginning has been to create a company that can be successful on its own and produces the kinds of shows that we want."
Kaplan declined to be more specific about a potential Wonder Media Network sale.
Unlike other podcasters, Wonder Media Network typically doesn't sell ads using pricing based on CPMs, or cost per thousand (listeners), preferring monthly or seasonal deals.
According to Kaplan, the company's approach to advertising enables it create better-produced ads that fit seamlessly with the content Wonder Media Network is creating.
"They sound better and feel better to the listeners, the hosts and the sponsors," she said.
Kaplan funded Wonder Media Network launch along with Chief Marketing Officer Shira Atkins, who also co-founded the company. New Media Ventures, a venture fund and a network of investors that backs progressive-minded companies, has also invested in Wonder Media. According to Kaplan, Wonder Media Network was cash-flow positive and profitable in less than a year and continues to make money.
Like other podcast producers, Wonder Media Network is willing to tackle complicated stories at a time when online publishers are pressuring writers to produce sensationalist clickbait content like listicles that they hope will drive traffic to their sites.
"Podcasts are getting longer and more intricate," Kaplan said. "People want to examine perspectives and different opinions in podcasting in a much longer form."
Wonder Media Network's first show was Women Belong In The House, which chronicled her mother Kathy Manning's campaign for the U.S. Congress in North Carolina and the challenges facing other female candidates seeking elected office.
Manning lost her first election in 2018 but succeeded two years later after a court-ordered redistricting made the district friendlier for Democrats. Before her victory, the seat had been in Republican hands since 1985.
"I had always been obsessed with politics and storytelling, which is why I got to journalism, to begin with, at least the storytelling side of things," Kaplan said. "And so I had this front-row seat to look at what it's like to run for office. I was obsessed with trying to figure out and diving into why there are so few women in office."