How Did The First Galaxies Form? – Worldatlas.com
The universe is filled with over a hundred billion individual galaxies. Most of the stars and planets in the universe are contained within galaxies. They come in a wide variety of shapes and sizes. Some are spiral, while some are elliptical. Like snowflakes, every galaxy is unique in its own way. Where did these giant collections of stars come from, and how did they form?
The First Stars
The first stars to form in the universe were nothing like our sun. They were gigantic, massive blue stars that emitted high amounts of energy. All the matter in the early universe was primarily in the form of hydrogen and helium. It is unlikely that the first stars had any planets, as heavier elements are needed to form worlds, and nothing heavier than lithium existed yet. However, it would not be long until these early stars exhausted their hydrogen supply and dispersed their newly fused heavy elements into space. Within every star, hydrogen is actively being fused to form helium. This process, called nuclear fusion, is rather simple. First, you have hydrogen nuclei made up of a single proton. Given high enough temperatures and pressures, these protons may be fused to form deuterium. Upon fusing together, one proton will quickly decay into a neutron, with the atomic nuclei now being composed of one proton and one neutron. Next, two deuteriums may fuse to form a single helium nucleus containing two protons and two neutrons. This process is what powers the stars, and it also puts the star in a state of equilibrium. The inward force of the star's gravity is counteracted by the energy of nuclear fusion in the star's core. Many stars will continue down the periodic table and form different elements through the Triple Alpha Process. Once we have helium nuclei, two can fuse and form a beryllium nuclei composed of four protons and four neutrons. Now a beryllium nucleus can fuse with a helium nucleus to give us the element that forms the basis for all life on Earth: carbon. During every step of this process, we also have a series of byproducts that come in the form of tiny particles, the most notable of which is the photon, which becomes the star's light.
The first stars would have been enormous, unlike anything we're familiar with in the universe today. As a result of their highly high masses, stars would have attracted each other through their mutual gravity. Inevitably, this gave rise to the first clusters of stars. Star clusters have an even stronger gravitational pull than just individual stars, and so they too will attract each other and begin the formation of the first galaxies. Today, we are familiar with many different types of galaxies, from spirals to ellipticals. However, the first galaxies wouldn't have looked like many of the galaxies we can see today, as it takes many millions to billions of years for their complex shapes to form. Instead, the first galaxies would have looked like giant blobs of stars, not unlike some small irregular galaxies we can see today. Furthermore, most galaxies would have been relatively tiny, generally containing a few million stars or less. However, the early universe was also home to a much larger number of galaxies. Because the early universe was smaller than it is now, galaxies were much closer together. For the small galaxies to eventually evolve into the gigantic ones of today, many of them would need to collide.
Colliding Galaxies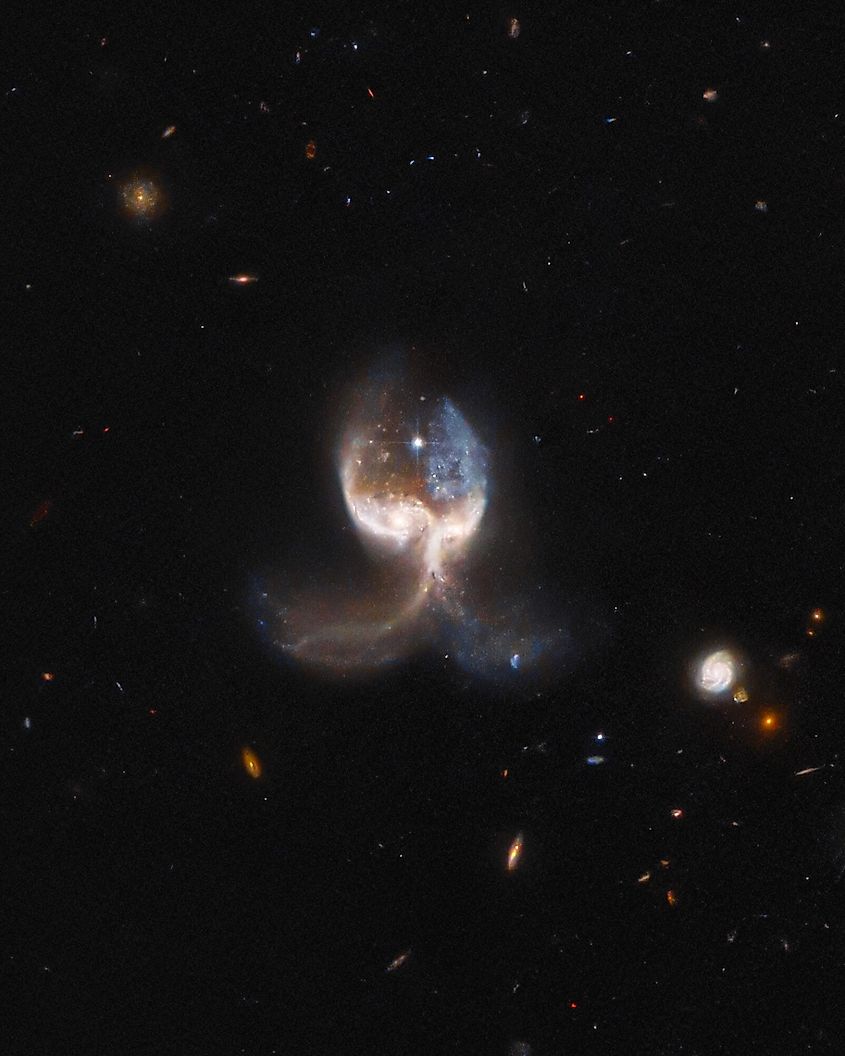 Even small galaxies have a strong gravitational pull, especially when compared to just stars or star clusters. As a result, galaxies attracted one another through their mutual gravity. Eventually, many of them began to collide and merge, increasing their relative sizes. During a typical galactic collision, stars don't actually collide with one another. Although it has and does happen, the space between individual stars is simply too vast for them to collide in large amounts. Thus, perhaps a better description of these events is not as a collision but rather as a merger. Galaxies may pass through each other multiple times in a gravitational dance that takes millions of years to unfold. Eventually, they begin to merge. During the merging process, stars won't generally collide, but stellar nurseries (called nebulae) can especially, given that they are much larger than the stars they create and contain. As this occurs, more hydrogen will clump together to form a new generation of stars. The star formation rate within merging galaxies will be very high, and by the end, the galaxy will have added millions of new stars and may even exhaust most of its star-forming material. Most of the galaxies we can see, including the Milky Way, have likely merged with many other galaxies in the past. Gravity and star clusters merging is how the first galaxies came into being.
NASA: Contact lost with spacecraft on way to test moon orbit – Hamilton Spectator
WASHINGTON (AP) — NASA said Tuesday it has lost contact with a $32.7 million spacecraft headed to the moon to test out a lopsided lunar orbit, but agency engineers are hopeful they can fix the problem.
After one successful communication and a second partial one on Monday, the space agency said it could no longer communicate with the spacecraft called Capstone. Engineers are trying to find the cause of the communications drop-off and are optimistic they can fix it, NASA spokesperson Sarah Frazier said Tuesday.
The spacecraft, which launched from New Zealand on June 28, had spent nearly a week in Earth orbit and had been successfully kick-started on its way to the moon, when contact was lost, Frazier said.
The 55-pound satellite is the size of a microwave oven and will be the first spacecraft to try out this oval orbit, which is where NASA wants to stage its Gateway outpost. Gateway would serve as a staging point for astronauts before they descend to the lunar surface.
The orbit balances the gravities of Earth and the moon and so requires little maneuvering and therefore fuel and allows the satellite — or a space station — to stay in constant contact with Earth.
SHARE:
My Thesis in 400 Words: Anne Boucher | Institute for Research on Exoplanets – News | Institute for Research on Exoplanets
Anne Boucher, an iREx student at the Université de Montréal, submitted her doctoral thesis at the end of 2021. She summarises the research project she carried out as part of her Ph.D here.
During my Ph.D, I became interested in the atmosphere of gas giant exoplanets that orbit very close to their star. Thanks to a technique called transmission spectroscopy, I studied the chemical composition of their atmosphere, which gives a lot of information on their formation and evolution mechanisms. The detailed study of these exoplanets, which we sometimes call hot Jupiters or hot sub-Saturns, provides a better understanding of the physical, chemical, and dynamical processes that govern the atmosphere of these celestial objects.
I mainly used data from the SPIRou instrument, a high-resolution spectropolarimeter that operates in the near infrared and is installed at the Canada-France-Hawaii Telescope. We first observed HD 189733 b, one of the most studied exoplanets, to build the analysis codes. By exploiting transit spectroscopy, we were able to confirm the presence of water and determine its abundance. The results obtained, consistent with previous studies, indicate that the atmosphere of HD 189733 b is relatively clear (free of clouds) and that the planet likely formed far from its star, where it is cold enough to find water in the form of ice. A strong blueshift of water absorption was observed, which could be a consequence of the presence of strong winds in the atmosphere.
Next, we studied WASP-127 b, a less massive exoplanet, but much larger than Saturn. A recent study of data from the Hubble Space Telescope (HST) and the Spitzer Space Telescope could not differentiate between two atmospheric scenarios: a low carbon-to-oxygen (C/O) ratio with little carbon monoxide (CO), or a high ratio with a lot of CO. As this ratio helps to determine how a planet was formed, we decided to use SPIRou, which makes it possible to observe a band of CO not observable with HST and Spitzer. We were able to determine that there was very little CO and a very low C/O, which has rarely been observed, but which is supported by some more realistic training scenarios that vary over time. The SPIRou data also confirmed the presence of water and suggests that, if confirmed, there could even be hydroxyl (OH): an unexpected detection since the exoplanet is so cold.
This work has allowed to develop the expertise of the Université de Montréal in high resolution near-infrared transit spectroscopy, in particular with SPIRou, allowing to explore the atmospheric conditions of hot Jupiters and sub-Saturns. This first joint analysis made on high and low resolution transmission data allowed to obtain better constraints on the atmospheric parameters. This method is proving to be a very powerful tool for the study of atmospheres and will be even more so with the revolutionary capabilities of JWST.
More information
Anne worked on her Ph.D. at the Université de Montréal between 2016 and 2022, under the supervision of David Lafrenière. Her thesis will soon be available.
Related
Nicolas Cowan, Finalist for the 2021 Relève scientifique Prize – News | Institute for Research on Exoplanets
Nicolas Cowan, Professor at McGill University and a member of both iREx and the McGill Space Institute, is one of the finalists for the Relève Scientifique du Québec 2021 Prize, an award which aims to highlight the commitment and excellence in research of a person 40 years of age or younger.
Nick has been a Professor in the Departments of Physics and Earth and Planetary Sciences at McGill University since 2015. He specialises in astrobiology and mainly studies the surface and atmosphere of exoplanets. He is particularly interested in the climate of these planets found outside of our Solar System.
The researcher mainly uses space- and ground-based telescopes to collect and analyse data which he uses to study the characteristics of various exoplanets. More specifically, the data seeks to measure the reflection of clouds, detect the presence of greenhouse gases via the infrared signature of the atmosphere, and heat transport, i.e. the winds. These data are used to create maps of the surface and the temperature of exoplanets, a method commonly referred to as exo-cartography. The study of the exoplanets' climate also allows us to learn a lot about that of our planet, Earth.
Nick's commitment to the research community is illustrated in particular by his participation in numerous NASA and Canadian Space Agency committees to promote the study of planetary climates and to contribute to the planning of future space missions to study exoplanets.
In addition to his work as a researcher, Nick is also involved in the Astronomy in Indigenous Communities program, which aims to attract Indigenous youth to pursue a career in STEM.
It is with pride that the iREx congratulates Nicolas Cowan for this distinction.
About the Relève scientifique du Québec Prize
The Relève scientifique du Québec prize is awarded to a person aged 40 or under who has distinguished themselves by the excellence of their research and who demonstrates the ability to establish and maintain constructive and lasting links with the research community. All disciplines are recognised for this award. Each year one recipient and two finalists are selected.
Related