How does Canada's COVID-19 vaccine rollout compare to other countries? – Richmond News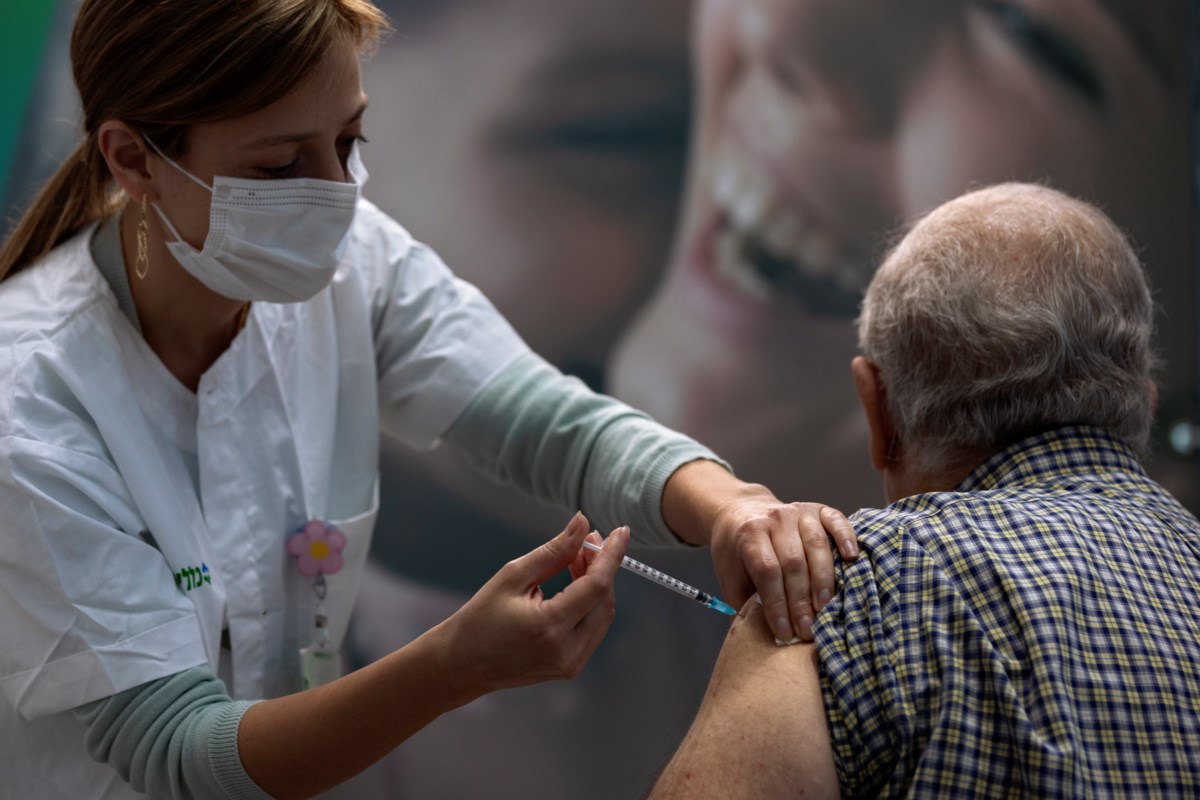 Canada's COVID-19 vaccine rollout has been slow to gather momentum since it began weeks ago, causing some to wonder how other countries have shown such promising progress with their own immunization efforts in a shorter amount of time.
Expert say it may be tempting to compare numbers and time frames from international examples, but they warn that direct country comparisons are usually "fraught with error."
Dr. Sumon Chakrabarti, an infectious diseases physician in Mississauga, Ont., says Canada's vaccination efforts — somewhere around 10th in the world in doses given per population after Wednesday — "absolutely needs to improve."
"But it's barely fair to even compare between provinces let alone other countries," he said.
Still, Chakrabarti and other experts agree there may be lessons from how other countries have approached their vaccination rollouts.
Here's a look at some of their strategies:
ISRAEL'S IMPRESSIVE PACE
Israel leads the world in vaccines administered per population, giving at least one dose to 17 per cent of its 9 million people in less than three weeks.
A Canadian vaccine tracker says Canada has given at least one shot to more than 193,000 people, or 0.52 per cent of the population as of Wednesday night, despite starting a week earlier than Israel.
Dr. Isaac Bogoch, an infectious disease expert with the University of Toronto, attributes Israel's success to massive vaccine supply and an efficiency in delivering them.
Israel, which reportedly paid a premium to secure a larger supply of Pfizer-BioNTech's vaccine, has been operating clinics nearly around the clock. But Israel's smaller and more centralized population, and its smaller geographical area, also works in its favour, Bogoch says.
"You think about Canada, the second largest country in the world, you've got cold-chain issues, you've got rural, remote, underserviced areas. It's a very big challenge to do this here," he said. "That's not to (excuse) our tardy startup. But it explains that we will have some logistical challenges that are very real."
There have been concerns raised by human rights groups over Israel's rollout, which does not include vaccinating Palestinians in the Israeli-occupied West Bank and Gaza Strip.
Bogoch says the lesson Canada can learn from Israel is "speed matters." Bogoch, who's also on Ontario's COVID vaccine task force, expects Canada's rollout to start ramping up soon, as people continue to "demand more" from the program and provinces work out initial kinks in their logistics.
"This is crisis management," he said. "We have to get vaccines as fast as humanly possible from the freezer into arms."
BRITAIN'S DEFERRED DOSES
The United Kingdom says it will experiment with delaying second doses of vaccines from Pfizer-BioNTech, Moderna and AstraZeneca, all of which require two doses for full protection, in an effort to inoculate more individuals up front.
Other countries, and even some Canadian provinces, say they may go that route as well, but experts warn not to stray too far from the recommended timelines.
In clinical trials, second doses of Pfizer-BioNTech were administered 21 days after the first, while Moderna participants had their second jab 28 days later.
Horacio Bach, an adjunct professor of infectious diseases at UBC, says there's risk in delaying second doses because unforeseen problems in pharmaceutical manufacturing or shipping could mean further delays of vaccines down the line.
And since health officials only have data from the trials to go on, Bach says it's hard to know how our immunity is impacted with one dose for a prolonged period.
"Maybe the antibodies you start to produce there disappear (while waiting for the second dose)," he said. "There's a lot of questions to answer, but we know for sure what happened in the clinical trials…. And I would stick with that."
Chakrabarti says there's an argument to be made for delaying second doses — 100 people walking around with some level of COVID immunity would be advantageous to 50 with full immunity.
He adds, however, that the time frame between doses shouldn't stretch past "a few weeks."
"I think it's the best public health approach to get as many people the first dose of vaccine as you can," he said.
ITALY'S PRETTY POP-UPS
In an effort to make the inoculation process more appealing, Italian architect Stefano Boeri has designed vaccine pavilions — gazebo-shaped structures built from wood and biodegradable fabric, with airflow and light-filled waiting rooms — that will be placed in piazzas across the country.
The structures will have a primrose logo painted on them as a symbol of rebirth and offer people a more inviting alternative to being vaccinated in a hospital or clinic setting.
Chakrabarti says it's an interesting idea, and one that may be worthwhile.
"Addressing the human side of things is definitely helpful," he said. "If you're worried about the vaccine and you see something like this, it makes it a little bit fun, makes it an occasion. As long as people are distanced, wearing masks, all public health protocols are met, I think it's a great idea."
Italy expects to reach herd immunity by vaccinating at least 40 million residents over the next 18 months. As of Wednesday, the country had vaccinated 0.51 per cent of its population since its rollout started Dec. 27.
INDONESIA'S INVERTED STRATEGY
Indonesia is set to begin its mass vaccination rollout next week, prioritizing working-class adults before seniors in an effort to reach herd immunity while reviving its economy.
While it seems like a backwards approach, Chakrabarti says it does have merit in theory. By inoculating those more likely to spread the virus, you can prevent it from reaching those more vulnerable.
One explanation for Indonesia's approach may be the vaccine they're using — made by Chinese drug company Sinovac Biotech — which wasn't tested on people over 59 in clinical trials.
Chakrabarti says fear of economic collapse may be playing a bigger role in the vaccine strategies of certain countries.
"For (Indonesia), it might make sense to concentrate on that middle part of the pyramid age," he said. "But I think with Canada it's very different."
Bogoch agrees Indonesia's approach wouldn't make sense here, where long-term care has proven the most pressing vulnerability.
"Long-term care homes are on fire, and we can extinguish that with a massive push to vaccinate everyone who lives and works there," he said. "In the Canadian setting, I like our plan of vaccinating the most vulnerable first."
This report by The Canadian Press was first published Jan. 7, 2021.
Melissa Couto Zuber, The Canadian Press
B.C. reports 500 new COVID-19 cases, 32 in Island Health – CHEK
British Columbia health officials on Wednesday reported 500 new cases of COVID-19, including 32 new cases Island Health, since their last update on Jan. 19.
Officials also reported an additional 14 deaths in the past 24 hours.
The number of confirmed cases in B.C. 62,412 while the province's death toll is now 1,104.
Of the new cases, 125 were in the Vancouver Coastal Health region, 216 new cases in the Fraser Health region, 32 in the Island Health region, 91 in the Interior Health region, 35 in the Northern Health region. There was one new case identified in an individual who does not normally reside in Canada.
There are currently 4,345 active cases in the province, 320 people in hospital — 66 of whom are in intensive care — and 6,905 people under active public health monitoring due to possible exposure to an identified case.
A total of 55,564 people in B.C. have recovered from COVID-19 while 98,125 doses of COVID-19 vaccine have been administered province-wide.
More to come
Ontario expected to decide today when students can return to class – Yahoo News Canada
Local Journalism Initiative
Local reactions to the provincial government's latest lockdown restrictions have been mixed to say the least, and moving into another nearly total shutter on small business operations has many concerned for their future. After Premier Doug Ford announced the second provincial emergency and stay-at-home orders on Jan. 12 in response to alarming surge in COVID-19 cases throughout the province, there was near immediate confusion. Timmins MPP Gilles Bisson said there was a major lack of details from the province. "A lot of people are left scratching their heads, trying to figure out exactly what this staying-at-home order is. The Premier says, 'I don't believe in curfews' but he's doing a stay-at-home order, and quite frankly a stay-at-home order is a type of curfew," Bisson told The Daily Press. The province's release read that the stay-at-home order was "requiring everyone to remain at home with exceptions for permitted purposes or activities, such as going to the grocery store or pharmacy, accessing health care services, for exercise or for work where the work cannot be done remotely." Bisson wondered why there was no stringent travel restrictions included in the plan. "I was told there was no ban on travel between regions. So, somebody can go from Timmins to Sudbury or Toronto or wherever. I was also told by the Minister of Solicitor General that if you've got to pick up your son or daughter at university and bring them back home, you can do that." He said the plan is rife with confusion and mixed messages. "The staying-at-home order needs to be clarified. Northerners are prepared to do their bit, but we need to know why government does things, based on good medical and scientific evidence, and make sure that what their orders make sense." Bisson said he's received lot of calls from constituents over the past few days, critical of the provincial orders. "They're saying, 'How come I can go into Walmart and buy something, but I can't go into my local business and buy the same thing?' They can provide the same type of security and probably better safety when it comes to COVID, than what Walmart and other large stores are doing. "People are wondering about this stay-at-home order. They're thinking this is rather ridiculous. If there's a five-person limit on meetings and gatherings, why are we putting kids on buses that have more than five people and putting them in classrooms of more than five people? A lot of people are just very confused." Bisson said he is also concerned with the recent surge in cases, but this latest approach might not be the right move. "Do we need to do something? Absolutely. But what the government needs to do is be clear about what it is they're asking us to do — and they're not doing so." Loralee Boucher, who operates a hair salon as well as a private party lounge in Downtown Timmins, is very concerned about the next few weeks until a new announcement comes from the province. Hair appointments are not considered essential at this time, which is a massive portion of her income. She has been unable to provide her services since Dec. 26. Her hair salon has been in operation for more than nine years. Her second venture, above the salon, is the Top Shelf Lounge which is a licensed rental space popular for parties and private functions, and sometimes offers live entertainment. It opened in August 2019. Boucher said it has been a brutal stretch for the lounge. "Top Shelf has had a minimum 80 per cent decrease in revenue over the holidays, compared to last year, because I wasn't able to rent it out nearly as much as I did last year," she said. In the meantime she has been applying for the various assistance programs offered by the federal government. "I applied for the $900 every two weeks, which is what they gave us, online through the government, and then I applied for the grant that they're offering, somewhere between 10 to 20 thousand," she said, still awaiting the results. She said it would be a much-needed financial boost. "I'm hoping some kind of funds become available. I own the building. So on a single income, by myself, I have two mortgages, my home and my business. I also have double the bills, two hydro bills, two gas bills, two property tax bills and I have multiple insurances, because you have to have two business insurances, health insurance, you name it; car insurance; my vehicle payment on top of that. "I need to make a minimum of $10,000 a month just to pay that." Boucher expressed frustration at the blanket approach the feds took with programs like The Canada Emergency Response Benefit (CERB). "The government treats everybody like they're the same, offering everybody just 900 bucks every two weeks. Well how do you explain that I can't pay my mortgage now, or I can't get groceries now, things like that off just a tiny amount? For some people, it's OK, but you're treating everybody equally and some people have a lot more bills than others to account for." The Canada Emergency Rent Subsidy (CERS) is a program offered to help businesses and landlords to cover part of their commercial rent or property expenses. "You can apply for a property tax rebate, but the percentage of that is not clear. I guess it's for them to decide. I know somebody applied for a hydro rebate, and they got $21." Before the pandemic, her salon was booked full nearly every day. She shudders to think about the total of her lost business. "I'm losing so much money, it's crazy." To make it sting a little more, Boucher had also recently made a major investment by adding spa facilities to her salon, including another employee, and some very pricey equipment, only to be shut down a few months later. The only current income is selling some of the hair care products online. "They said they initially closed small businesses to stop the spread of the virus, but after our initial two week shutdown, our numbers went up dramatically." She realized the blame will be on the holiday season, which is likely accurate, but that it proves some people will gather in large groups regardless of provincial orders, which essentially has nothing to do with small businesses. "Small businesses follow the rules. We don't want to get closed down. We don't want to get fines. We wear our masks. We wash our hands. For example, a salon, we're working one on one. There's no more risk going into a hair salon than there is going into a grocery store or Walmart." Boucher said the vast majority of small- to medium-sized businesses have taken the protocols very seriously, and have made the necessary adjustments to their operations in order to be able to provide services safely. "There is no reason why any small business should be shut down, if you're following protocol. If you're not following protocol, that's when you should be shut down." Boucher said she started a local Facebook group called Outside The Box where small business owners can share ideas, supports, advice on grants, and other initiatives. "It's all about helping each other. That's why I created the group in the first place." Although her online sales have been decent, it is but a small fraction of her standard income which relies on personal appointments. However, she does appreciate the support she is getting and feels a silver lining of this whole thing might be a renewed appreciation for local businesses. "The community has been very supportive. A lot of people are doing their part to support local, so that is a very positive outcome." said Boucher. Another downtown business and building owner, Matthew Poulin of Total Martial Arts Centre, is irked by the fact his business can't operate, despite the province stating that people can go out for exercise purposes. "We're actually not sure why. Based on government data, which is on their site, transmission from gyms is under 2.2 per cent and other things that are still open contributed a much higher percentage. Also the restrictions we had in place make us even safer than most gyms. Booking systems, high amount of cleaning daily, 50 per cent capacity for us is 18 people, which is extremely low for a facility of our size," he said. In the meantime, TMAC has attempted to generate some revenue by opening up some online gear sales. "Currently we're bringing back our online gym, which isn't ideal but it's something nonetheless. Also we will be selling memberships for the online gym too," said Poulin. He said he has also applied for "as many grants as possible" to keep his business afloat. "Some of our members were able to keep their accounts open with us to support the gym during this time. Really, if it wasn't for that, we would likely have to close. This second lockdown is scary but we're confident we will make it through." Andrew Autio, Local Journalism Initiative Reporter, The Daily Press
Coronavirus: Ottawa adjusts local vaccine rollout ahead of distribution slowdowns – Global News
Residents of Ottawa's long-term care homes are first in line to receive their second dose of the coronavirus vaccine while some health workers could face delays amid impending shortages of additional doses.
Anthony Di Monte, the head of Ottawa's vaccine distribution task force, said Wednesday that long-term care residents are prioritized to receive their second dose of the Pfizer-BioNTech vaccine within 21-27 days after receiving their initial jab.
Some health-care workers who have already received an initial dose could have to wait closer to 42 days before getting a second injection, Di Monte said, depending on the final allocations provided by the province.
The city's vaccine task force has to prioritize due to an impending shortfall of vaccines. The federal government confirmed on Tuesday that Canada will receive no doses of the Pfizer vaccine during the week of Jan. 25.
All doses Ottawa is receiving this week will be allocated towards providing at-risk residents with their second doses, Di Monte said.
All of Ottawa's 28 long-term care homes have received a first-round of doses, with 92 per cent of residents receiving the initial shot.
Ottawa Public Health's COVID-19 dashboard shows the city has now administered 21,951 shots from the 25,350 doses it has thus far received.
Di Monte couldn't say for sure whether the city has enough impending doses for everyone who received a first dose to receive their second, noting the Ottawa Hospital, which receives the vaccines, is "doing that math" now.
The city is also waiting for further directions from the province, expecting "clarity in the next couple days" on the available supply in Ontario.

1:55


Supply chain expert says countries can learn lessons from COVID-19 vaccine rollout disruptions



© 2021 Global News, a division of Corus Entertainment Inc.