How Foldable Displays Are Made – OneZero
Inside the future of smartphone design
The first portable mobile phone, the Motorola DynaTAC 8000X, weighed one kilogram, had to be held with two hands, took 10 hours to fully charge, had a 30-minute battery life, and cost $4,000. We've come a long way since then. The size and weight of phones have radically decreased over the years, and many form factors have rotated in and out.
Then, with the introduction of the iPhone at the turn of the last decade, mobile phones started growing in size once again. This was driven by demand for larger screens rather than technical limitations. Phones are now comfortably large, but the market for tablets hints at a demand for even larger displays. Some smartphone manufacturers have started to wonder whether we can have phones that still fit in our pockets but also have larger tablet-like displays, or further reduce the size of our current smartphone while still maintaining the display size. These ideas may sound like they defy the laws of science. How can we have something that is big and small at the same time? The solution to this riddle comes in the form of flexible displays.
In September 2019, Samsung released the Galaxy Fold, a revolutionary device that folded to a pocket-sized phone and opened to a big-screen tablet. Although not the first to feature a foldable display (the relatively unknown Royole FlexPai bagged that spot), it was the first from a major smartphone manufacturer, illustrating the industry's serious interest in this technology. The Galaxy Fold showed the world what was possible, but its legacy ended there: The $2,000 phone had some serious flaws that could not be easily overlooked.
Samsung's follow-up was the Galaxy Z Flip, released this month. It's a modern twist on the popular flip phones from the 2000s, though once again Samsung wasn't the first: The Motorola Razr, inspired by its namesake, the tremendously popular Motorola Razr V3 from 2004, was announced just a couple of months before. The Galaxy Z Flip shows an attempt to level up from the short-lived Galaxy Fold.
The Fold and Z Flip show us two form factors that flexible displays enable, but the possibilities don't end there. To imagine what else flexible displays can do, let's first understand how they are made.
How are flexible displays made?
Flexible displays use the same OLED technology found in all flagship smartphones, like the iPhone 11 Pro and OnePlus 7 Pro. In a flexible display, the main components that comprise an OLED display (anode, organic conductive layer, organic emissive layer, and cathode) are applied on a substrate. The basic working principle is that when current is passed from the cathode to the anode, the organic layers in between release energy in the form of light.
You do not need to know much about all this except that in a flexible display, these layers need to be flexible. Traditionally, the anode has been made of an inflexible material called ITO, and the substrate has been hard glass or plastic. But Samsung solved one part of this puzzle some years ago. It has been using flexible plastic substrates in its phones since 2015. Apple has been using them since the iPhone X. This is what gives the Galaxy range of phones displays that are curved on the edges and the iPhones wafer-thin bottom bezels.
The anodes in these phones, however, are still probably ITO, which only allow for a slight bend. And as you've probably figured out, the outer coverings on these phones are made of rigid glass — more specifically, Gorilla Glass, a tried and tested covering that offers scratch resistance, durability, and great aesthetics. More importantly, glass prevents water damage, which could otherwise easily destroy the organic layers. But as a result, phones with slightly flexible OLEDs are trapped in rigid, unfoldable bodies. Adding to the challenges of making a flexible display is that the manufacturing process needed to apply the many layers on the substrate must avoid using high temperature. Unlike glass, flexible plastics have a lower tolerance of high temperature.
With the introduction of Galaxy Fold, it appears that Samsung has solved additional pieces of the puzzle. It developed a flexible anode and has found ways to use flexible polymer as outer covering. And it's also shown that large-scale production of flexible displays is possible.
With the Galaxy Flip Z, Samsung has also shown that ultra-thin flexible glass, which is functionally and aesthetically superior to polymer, can also be used for the outer covering. But the authenticity of Samsung's glass is under scrutiny. Hence, we still have this piece of the puzzle unsolved. There are signs of progress here as Corning, which supplies glasses to most smartphone manufacturers, is also developing flexible glass that should be ready for mass use within a year or two. This glass should hopefully give us the same benefits as the widely used Corning Gorilla Glass. (For more on how foldable displays are made, check out Engadget's video.)
Another one of the shortcomings that still remains is the inevitable crease formed at the fold, which is an unpleasant move away from the seamless displays we are accustomed to. Add to this list the use of a mechanical hinge. Anything that repeatedly folds and unfolds on a seam causes stress that could lead to failure, and the durability of the hinges on foldable phones have yet to survive the test of time. The hinges on foldable phones are yet to survive the test of time, and this was infamously exhibited by the Galaxy Fold and the Motorola Razr. Another concern some raise is that the wait may be long for apps to take advantage of and support the features of a foldable phone, such as seamless continuity from the small screen to the big screen or splitting the screen for different purposes. But with Android officially announcing support for foldable phones, this should happen sooner than expected.
The form factor of the future
Having made many technological breakthroughs with the display, we are now more ready than ever to have foldable phones. But for now, foldable phones still rely on mechanical hinges. To have a truly foldable phone that can be rolled in any way and exhibit paper-like qualities, we must figure out a way to make all the parts inside the phone flexible as well. This includes the entire phone casing, the processors and chips, the battery, cameras, and so on. Nevertheless, we will soon see major smartphone manufacturers experiment by releasing all sorts of flexible display phones as they try to define the next-generation smartphone form factor. We also still have to figure out a way to use glass or similarly durable material as outer covering. Nevertheless, we will soon see major smartphone manufacturers experiment by releasing all sorts of flexible display phones as they try to define the next-generation smartphone form factor. Case in point: Here's a prototype from TCL with a slide-out display.
In addition to phones, wearables and TVs also stand to benefit tremendously from the innovations in flexible displays. Some of the devices that manufacturers have already showcased include watches with flexible screen straps, T-shirts and hats with embedded displays, car infotainment systems that seamlessly bend with the shape of the dashboard, and TVs that roll down to sit flush with the furniture. These are only what we know so far; there are many ideas and creations that are yet to come.
"Don't limit your thinking to simple two-plane folding phones," says Jon Honeyball, managing director of Woodleyside IT, a U.K.-based electronic equipment testing laboratory. "The underlying technology here, which is ultra-thin self-emitting light OLED panels, is way, way bigger than just this." In a few years, it won't be surprising if you can read this article on a digital paper that you can roll and toss away in your backpack. The future ahead is exciting, and with the vast resources and boundless imagination of the tech industry, the list of what is possible with flexible displays is endless. Unlike the past, the road toward the next form factor might not be a single one; it might diverge in more ways than ever before. And as customers, we stand to benefit from a plethora of choices, as well as shape them.
iOS 16 Beta 5: Battery Percentage Now Displayed in iPhone Status Bar – MacRumors
With the fifth beta of iOS 16, Apple has updated the battery icon on iPhones with Face ID to display the specific battery percentage rather than just a visual representation of battery level. The new battery indicator is available on iPhone 12 and iPhone 13 models, with the exception of the 5.4-inch ‌iPhone 12‌/13 mini. It is also available on the iPhone 11 Pro and Pro Max, XS and XS Max, and iPhone X.

Battery percent has not been present on iPhones that have ‌Face ID‌ because of the lack of space on either side of the notch that houses the TrueDepth camera hardware. The new design adds the specific battery level to the battery icon, providing a better idea of battery status at a glance.
In iOS 15 and earlier versions of iOS, the battery icon shows a visual of the battery level, but it does not provide a specific percent. To get that information, ‌iPhone‌ users need to swipe down into Control Center or swipe over to the Today center view to see the battery widget.
The battery icon changes colors based on the status of the battery, and the color of the ‌iPhone‌'s wallpaper. When charging, for example, the battery icon is green and shows a charging indicator.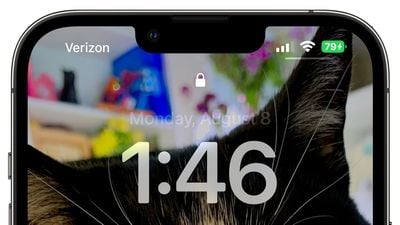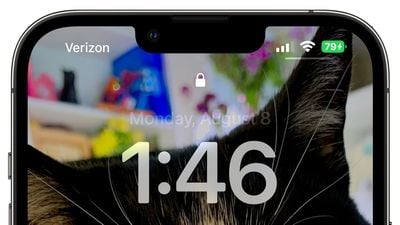 Battery percentage can be toggled on and off in the Settings app in the Battery section. The battery percentage feature appears to be available on most iPhones that have a notch, but it is not an option on the iPhone 12 mini, ‌iPhone 13‌ mini, ‌iPhone 11‌, or ‌iPhone‌ XR perhaps due to space constraints and/or display quality.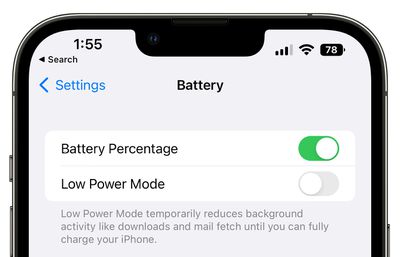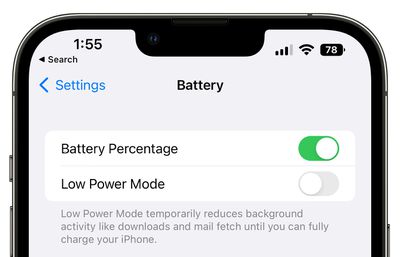 ‌iOS 16‌ beta 5 is available to developers at the current time, and Apple will be releasing a public beta in the near future.
Popular Stories
How to watch Samsung Galaxy Unpacked 2022 in Canada – MobileSyrup
Samsung will hold its next Galaxy Unpacked event today, August 10th, at 6am PT/9am ET.
As usual, we don't know exactly what will be featured there, although it's expected that we'll see the Galaxy Fold 4, Galaxy Flip 4, new Galaxy Watches and more.
Canadians interested in tuning in to the Unpacked 2022 livestream can do so via the Samsung Newsroom, Samsung's website or Samsung's YouTube channel.
It's also worth noting that to coincide with Unpacked 2022, Samsung is offering a $100 e-voucher to use towards your next purchase of any Samsung product. To claim this, you'll need to register through this site and provide some information, including your name, phone number and current device.
What are you looking forward to seeing at Unpacked 2022? Let us know in the comments.
WhatsApp to bring screenshot blocking to THESE types of messages – HT Tech
WhatsApp to now bring the ability to block screenshots to View Once messages. Know when this feature is coming.
WhatsApp is constantly adding new features to enhance the texting experience and these are coming faster than we could get used to them. Lately, the developers have focused on enhancing the privacy for users with a couple of new features. The ability to leave WhatsApp groups silently has draw a lot of attention lately. One can also choose who can see your online status going forward, and who can't. However, there is another new feature that will help those who want to share sensitive media and can't risk someone taking a screenshot of the same.
A while ago, WhatsApp rolled out the ability to send messages that can only be viewed once. The View Once feature currently only allows the media to be shown once but someone can still take a screenshot of the media, thus denying the point of the feature. Now, WhatsApp is modifying the feature, wherein it prevents the ability to take a screenshot. The feature is under development and WhatsApp hasn't revealed the date yet.
WhatsApp to block screenshot
"View Once is already an incredibly popular way to share photos or media that don't need to have a permanent digital record. Now we're enabling screenshot blocking for View Once messages for an added layer of protection. We're testing this feature now and are excited to roll it out to users soon," says WhatsApp in its official blog.
WhatsApp will also reveal more about this and several other features in the days to come via its own campaign. "To spread the word about these new layers of protection, we're also kicking off a campaign to educate people about the new features and our continued commitment to protecting your private conversations on WhatsApp. We hope people enjoy getting to use these new features and benefit from several options that help you keep your messages secure. We look forward to your feedback on what to build next," it says.
Prior to this WhatsApp, recently released the ability to transfer message backups from Android to iOS devices. The same can be done from iOS to Android as well.