How Inflation Will Affect the Price of Thanksgiving Dinner – The Atlantic
Jayson Lusk's Thanksgiving tradition, if you could call it that, is to talk with reporters about the prices of Americans' holiday groceries. The media requests "seemed to start even earlier this year than usual," Lusk, an agricultural economist at Purdue University, told me recently. "But it's a more interesting story this year."
That's because the ingredients for Thanksgiving dinner are significantly more expensive than they were 12 months ago. In this regard, they're similar to many other basic things that people buy: The prices of cars, clothing, and other everyday goods have risen substantially over the past year.
To conceptualize how inflation is affecting grocery bills, I put together a shopping list for a hypothetical Thanksgiving dinner for eight people and used data provided to me by IRI, a market-research firm, to see how much it would cost this year, last year, and in 2019. The total for my groceries—the things I'd need to make turkey, gravy, cranberry sauce, stuffing, mashed potatoes, green-bean casserole, sweet-potato casserole, and two pumpkin pies—came out to $53.93, which represents an increase of about 5 percent from 2020. The mashed potatoes and cranberry sauce had the biggest price increases; the cost of each rose roughly 9 percent.
In terms of dollars, these price changes are not enormous; this year's bill is only $2.41 higher than last year's. But as a percentage, this increase is abnormally large. In a typical year during the 2010s, Lusk said, food prices increased by about 1 percent. If the cost of my ingredients had increased at that rate from Thanksgiving 2019 to now, it would currently be about 2 percent higher than it was two years ago. Instead, it's almost 13 percent higher.
(Another bit of context: If the cost of my dinner for eight seems different from what your household is spending on your own holiday meal, that's probably because IRI's pricing data are nationwide averages from about 20,000 stores; some people will spend a lot more money on more premium groceries, and perhaps buy more food too. But whatever you're spending, the percentage increase could be similar.)
A 5 percent increase to a holiday grocery bill is not on its own going to push households into financial ruin. But Thanksgiving is just one day, and paying 5 percent more for every meal at home adds up, especially for people with less money—in 2019, according to the Department of Agriculture, the lowest-income one-fifth of households spent 36 percent of their post-tax income on food, while the highest-income fifth spent only 8 percent of theirs.
Another variable affecting this year's Thanksgiving shopping is the number of guests. My simulated feast is for eight diners, which IRI's consumer surveys indicate will be the average size of a gathering this year. Last year's average, 4.6, was lower because of the pandemic, and this year will likely have larger celebrations because the COVID-19 vaccines have lowered risk for many. Jonna Parker, a principal at IRI, told me that larger guest lists can mean more food bought across the country. "If you know you're having five extra people over, you might over-purchase to make sure that you don't run out of food," she explained. "If it's just you and your immediate family, you know how much to make."
Indeed, IRI's data show that during the first week of November, the number of pounds of my Thanksgiving foods sold nationwide increased by 7 percent compared with last year. But Parker said this also reflects a separate development: Americans have done more of their Thanksgiving shopping earlier. She thinks that after encountering shortages of food and other products throughout the pandemic, people might have secured their ingredients further in advance to make sure that they got what they wanted.
Parker said she's seen no sign of shortages of Thanksgiving ingredients, but these understandable fears exemplify a broader unease among consumers right now. In fact, the steep increase in the price of groceries looks small compared with what's happened with other goods. Since the beginning of the pandemic, the average price of gasoline has increased by roughly 38 percent, and the average price of used cars and trucks has increased by roughly 44 percent.
Americans' average wages have risen since before the pandemic, but they haven't risen enough to keep up with price increases across the economy. According to one recent analysis, when taking inflation into account, Americans' average compensation is 0.6 percent lower than it was at the end of 2019.
"Overall, it doesn't seem like a huge difference, but it adds up over time," Karen Dynan, an economics professor at Harvard University and a former assistant Treasury secretary, told me. "A lot of families are living [on] tight margins, so some are going to feel a squeeze."
Moreover, a nationwide average masks the significant variation in how Americans' pay and expenses have changed over the past two years. Some workers, particularly those who have recently switched jobs, have seen their compensation tick up, while many others haven't. And with the prices of vehicles and gas soaring, someone who recently had to buy a car to get to work will probably feel inflation more than a city dweller who takes public transportation.
According to Lusk, the price of food is being pulled upward by a mix of forces, including heightened demand for groceries as people have been making more food at home, higher prices for fertilizer and crops that feed livestock, and bad weather that has hurt yields in some parts of the country.
In the broadest sense, Dynan said, prices are rising economy-wide because of an imbalance between how much people want to buy and how much businesses are able to produce. The fact that demand, the first element in that calculus, is strong relatively soon after last year's recession is encouraging. But supply, the second element, is still being hampered by shipping delays, shortages of semiconductors and other materials, and other complications resulting from the pandemic.
"Most economists would agree that those sorts of problems are going to work themselves out," Dynan said, but "there is disagreement about how long it's going to take." Inflation could continue at a similar pace for the next few months, but beyond that is hard to predict with certainty. Still, Dynan's guess is that the increase in the price of Thanksgiving dinner will be smaller in 2022 than it was in 2021. If all goes well, Lusk will have fewer reporters to talk with this time next year.
Taliban Prime Minister Seeks Global Help to Shore Up Economy – Bloomberg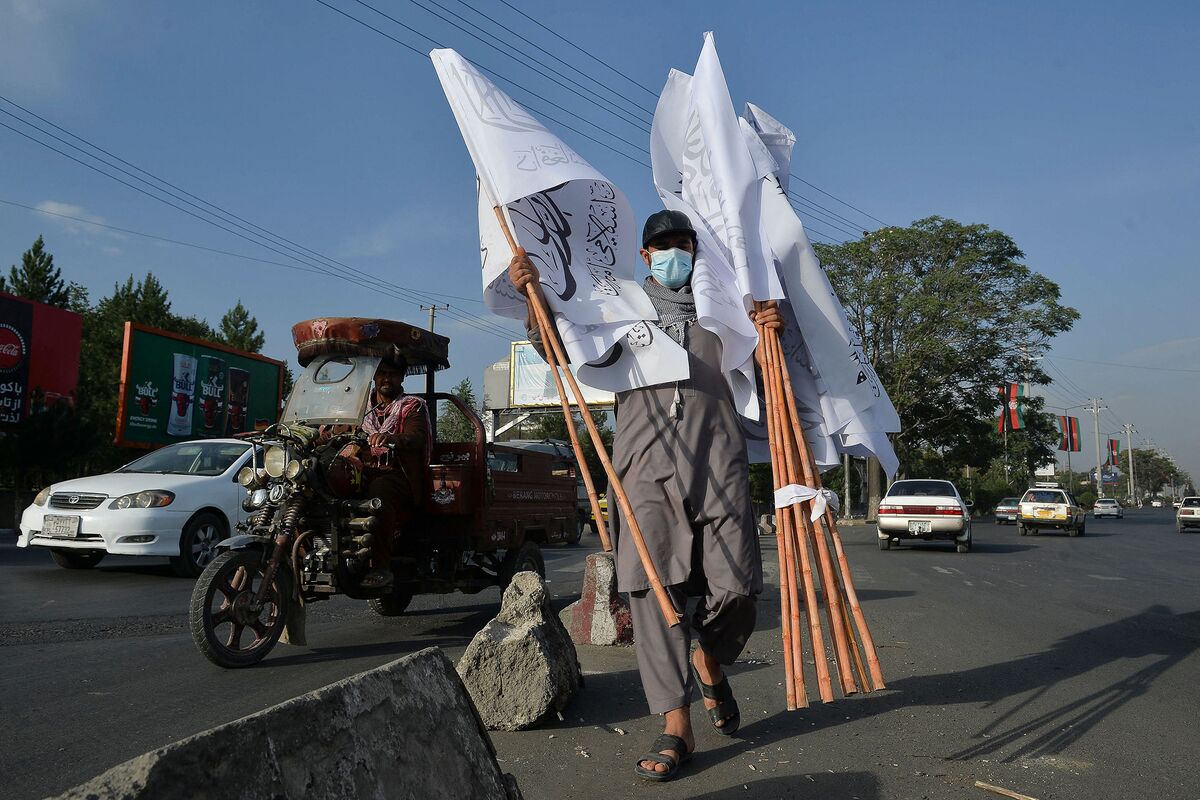 Afghanistan's Acting Prime Minister Mullah Mohammad Hassan said his interim administration has inherited a sinking economy and called on the global community to assist the country in preventing a further crisis as inflation spirals.
The former U.S.-backed government of Ashraf Ghani was corrupt and damaged the country's economic situation, Hassan said in his first national address since assuming office. "The Islamic Emirate wants good relations with all countries and economic relations with them." Only the audio portion of the speech was broadcast on television.
Afghan Economy Nears Collapse as Pressure Builds to Ease U.S. Sanctions – The New York Times
Afghanistan's economy has crashed since the Taliban seized power, plunging the country into one of the world's worst humanitarian crisis.
MAZAR-I-SHARIF, Afghanistan — Racing down the cratered highways at dawn, Mohammad Rasool knew his 9-year-old daughter was running out of time.
She had been battling pneumonia for two weeks and he had run out of cash to buy her medicine after the bank in his rural town closed. So he used his last few dollars on a taxi to Mazar-i-Sharif, a city in Afghanistan's north, and joined an unruly mob of men clambering to get inside the last functioning bank for hundreds of miles.
Then at 3 p.m., a teller yelled at the crowd to go home: There was no cash left at the bank.
"I have the money in my account, it's right there," said Mr. Rasool, 56. "What will I do now?"
Three months into the Taliban's rule, Afghanistan's economy has all but collapsed, plunging the country into one of the world's worst humanitarian crises. Millions of dollars of aid that once propped up the previous government has vanished, billions in state assets are frozen and economic sanctions have isolated the new government from the global banking system.
Now, Afghanistan faces a dire cash shortage that has crippled banks and businesses, sent food and fuel prices soaring, and triggered a devastating hunger crisis. Earlier this month, the World Health Organization warned that around 3.2 million children were likely to suffer from acute malnutrition in Afghanistan by the end of the year — one million of whom at risk of dying as temperatures drop.
No corner of Afghanistan has been left untouched.
In the capital, desperate families have hawked furniture on the side of the road in exchange for food. Across other major cities, public hospitals do not have the money to buy badly needed medical supplies or to pay doctors and nurses, some of who have left their posts. Rural clinics are overrun with feeble children, whose parents cannot afford food. Economic migrants have flocked to the Iranian and Pakistani borders.
As the country edges to the brink of collapse, the international community is scrambling to resolve a politically and legally fraught dilemma: How can it meet its humanitarian obligations without bolstering the new regime or putting money directly into the Taliban's hands?
In recent weeks, the United States and the European Union have pledged to provide $1.29 billion more in aid to Afghanistan and to Afghan refugees in neighboring countries. But aid can do only so much to fend off a humanitarian catastrophe if the economy continues to crumble, economists and aid organizations warn.
.css-1xzcza9list-style-type:disc;padding-inline-start:1em;.css-3btd0cfont-family:nyt-franklin,helvetica,arial,sans-serif;font-size:1rem;line-height:1.375rem;color:#333;margin-bottom:0.78125rem;@media (min-width:740px).css-3btd0cfont-size:1.0625rem;line-height:1.5rem;margin-bottom:0.9375rem;.css-3btd0c strongfont-weight:600;.css-3btd0c emfont-style:italic;.css-1kpebxmargin:0 auto;font-family:nyt-franklin,helvetica,arial,sans-serif;font-weight:700;font-size:1.125rem;line-height:1.3125rem;color:#121212;#NYT_BELOW_MAIN_CONTENT_REGION .css-1kpebxfont-family:nyt-cheltenham,georgia,'times new roman',times,serif;font-weight:700;font-size:1.375rem;line-height:1.625rem;@media (min-width:740px)#NYT_BELOW_MAIN_CONTENT_REGION .css-1kpebxfont-size:1.6875rem;line-height:1.875rem;@media (min-width:740px).css-1kpebxfont-size:1.25rem;line-height:1.4375rem;.css-1gtxqqvmargin-bottom:0;.css-1g3vlj0font-family:nyt-franklin,helvetica,arial,sans-serif;font-size:1rem;line-height:1.375rem;color:#333;margin-bottom:0.78125rem;@media (min-width:740px).css-1g3vlj0font-size:1.0625rem;line-height:1.5rem;margin-bottom:0.9375rem;.css-1g3vlj0 strongfont-weight:600;.css-1g3vlj0 emfont-style:italic;.css-1g3vlj0margin-bottom:0;margin-top:0.25rem;.css-19zsuqrdisplay:block;margin-bottom:0.9375rem;.css-12vbvwqbackground-color:white;border:1px solid #e2e2e2;width:calc(100% – 40px);max-width:600px;margin:1.5rem auto 1.9rem;padding:15px;box-sizing:border-box;@media (min-width:740px).css-12vbvwqpadding:20px;width:100%;.css-12vbvwq:focusoutline:1px solid #e2e2e2;#NYT_BELOW_MAIN_CONTENT_REGION .css-12vbvwqborder:none;padding:10px 0 0;border-top:2px solid #121212;.css-12vbvwq[data-truncated] .css-rdoyk0-webkit-transform:rotate(0deg);-ms-transform:rotate(0deg);transform:rotate(0deg);.css-12vbvwq[data-truncated] .css-eb027hmax-height:300px;overflow:hidden;-webkit-transition:none;transition:none;.css-12vbvwq[data-truncated] .css-5gimkt:aftercontent:'See more';.css-12vbvwq[data-truncated] .css-6mllg9opacity:1;.css-qjk116margin:0 auto;overflow:hidden;.css-qjk116 strongfont-weight:700;.css-qjk116 emfont-style:italic;.css-qjk116 acolor:#326891;-webkit-text-decoration:underline;text-decoration:underline;text-underline-offset:1px;-webkit-text-decoration-thickness:1px;text-decoration-thickness:1px;-webkit-text-decoration-color:#326891;text-decoration-color:#326891;.css-qjk116 a:visitedcolor:#326891;-webkit-text-decoration-color:#326891;text-decoration-color:#326891;.css-qjk116 a:hover-webkit-text-decoration:none;text-decoration:none;
"No humanitarian crisis scan be managed by humanitarian support only," said Abdallah Al Dardari, the United Nations Development Program's resident representative in Afghanistan. "If we lose these systems in the next few months, it will not be easy to rebuild them to serve the essential needs of the country. We are witnessing a rapid deterioration to the point of no return."
Under the previous government, foreign aid accounted for around 45 percent of the country's G.D.P. and funded 75 percent of the government's budget, including health and education services.
But after the Taliban seized power, the Biden administration froze the country's $9.5 billion in foreign reserves and stopped sending the shipments of U.S. dollars upon which Afghanistan's central bank relied.
The scale and speed of the collapse amounts to one of the largest economic shocks any country has experienced in recent history, economists say. Last month, the International Monetary Fund warned that the economy is set to contract up to 30 percent this year.
Thousands of government employees, including doctors and teachers, have gone months without pay. The wartime economy that employed millions and propped up the private sector has come sputtering to a halt.
By the middle of next year, as much as 97 percent of the Afghan population could sink below the poverty line, according to an analysis by the United Nations Development Program. Many people who were already living hand-to-mouth have been pushed over the edge.
One October morning in Mazar-i-Sharif, dozens of men gathered downtown, carrying shovels cobbled together with rough wood and rusted metal.
For years, day laborers have gathered there to pick up work digging wells, irrigating fields of cotton and grain, or doing construction around the city. The pay was modest — a couple dollars a day — but enough to buy food for their families and pay other small bills. These days, though, the men stay at the square until sunset hoping for even one day of work a week. Most cannot even afford to buy bread during lunch.
"There was work one day — and then suddenly there wasn't," said Rahmad, 46, standing in the crowd. "It was so sudden I didn't have time to plan or save money or anything."
Even before the Taliban takeover, Afghanistan's fragile economy was wracked by slow growth, corruption, deep poverty and a severe drought.
Afghanistan has long been dependent on imports for basic foods, fuel and manufactured goods, a lifeline that was severed after neighboring countries closed their borders during the Taliban's military campaign this summer. Trade disruptions have since caused shortages of crucial goods, like medicine, while the collapse of financial services has strangled traders who rely on U.S. dollars and bank loans for imports.
At the Hairatan port along the Afghanistan-Uzbekistan border, a team of workers unloaded flour bags from a shipping container into trucks, sending clouds of white specks into the air. Since August, their company has slashed its imports in half; people can no longer afford basic goods.
At the same time, the cost of doing business soared. Customs and traffic officers, who have gone unpaid for months, are asking for more in bribes, according to a manager for the company, the Bashir Navid Group.
Understand the Taliban Takeover in Afghanistan
---
Card 1 of 6
Who are the Taliban? The Taliban arose in 1994 amid the turmoil that came after the withdrawal of Soviet forces from Afghanistan in 1989. They used brutal public punishments, including floggings, amputations and mass executions, to enforce their rules. Here's more on their origin story and their record as rulers.
"Everything is disorganized," the manager, Mohammad Wazir Shirjan, 50, said. "Everyone is completely frustrated."
To avoid a complete currency collapse, the Taliban limited bank withdrawals to first $200 and then $400 a week and have appealed to China, Pakistan, Qatar and Turkey to fill its budget hole, which is billions of dollars large. So far, none have offered the financial backstop that Western donors provided to the former government.
The Taliban have also pressed the United States to release its chokehold on the country's finances or risk a famine, as well as Afghan migrants flooding into Europe in search of work.
"The humanitarian crisis we have now is the result of those frozen assets. Our people are suffering," Ahmad Wali Haqmal, a spokesperson for the Ministry of Finance, said in an interview.
In late September, the Biden administration issued two sanctions exemptions for humanitarian organizations to ease the flow of aid, and it is considering additional adjustments, according to humanitarian officials involved in those negotiations. But those exemptions do not apply to paying employees like teachers in government-run schools and doctors in state hospitals, and the decision not to include them risks the collapse of public services and a further exodus of educated professionals from the country, humanitarians say.
And the scope of the exemptions is limited in other ways. Many foreign banks that aid organizations rely on to transfer funds into Afghanistan have cut ties to Afghan banks for fear of running afoul of sanctions. And the liquidity crisis severely restrains the amount that organizations can withdraw to pay vendors or aid workers.
"The current economic restrictions and sanctions policy, if maintained and not adjusted, are on track to hurt the Afghan people — through deprivation and famine — more than the Taliban's brutalities and poor governance," said John Sifton, the Asia advocacy director at Human Rights Watch.
Already in hospitals across the country are signs of a hunger crisis that could overwhelm the fragile health care system.
In a malnutrition ward of a hospital in southern Afghanistan, Shukria, 40, sat with her 1-year-old grandson, Mahtab, his mouth craned open but body too weak to let out a cry.
For weeks, the boy's father had come home empty-handed from his mechanic shop as business dried up, and the family resorted to bread and tea for every meal. Soon his mother stopped producing milk to breastfeed, so she and Shukria supplemented his diet with milk from their family's goat. But when they ran out of cash to buy food, they sold the animal.
"I've been asking this hospital to give me work," Shukria said. "Otherwise after a week, a month, he will just end up sick and back here."
Kiana Hayeri contributed reporting from Mazar-I-Sharif, and Yaqoob Akbary from Kandahar.
Charting Global Economy: Latin America at Top of Inflation Wave – BNN
(Bloomberg) — Sign up for the New Economy Daily newsletter, follow us @economics and subscribe to our podcast.
While prices are rising all over the world, the increases are especially striking in Latin America, which has the highest inflation forecast for both this year and next.
U.S. and U.K. inflation metrics recorded multi-decade highs, while big price jumps in New Zealand led the central bank to raise interest rates for the second time in as many months. India's economy is showing signs of strengthening, while an increase in Covid-19 infections is denting business sentiment in Germany.
Here are some of the charts that appeared on Bloomberg this week on the latest developments in the global economy:
U.S.
Personal spending rose in October from a month earlier by the most since March, while a closely watched inflation measure posted the largest annual increase in three decades. The figures come as some Federal Reserve officials are advocating for a faster tapering of the central bank's asset-purchase program than initially planned.
The supply crunch that's helped drive inflation to multi-decade highs shows some signs of easing in the U.S. -– but it's still getting worse in Europe.
Applications for U.S. state unemployment benefits plunged last week to a level not seen since 1969, which if sustained would mark the next milestone in the labor market's uneven recovery. However, the larger-than-expected drop was largely explained by how the government adjusts the raw data for seasonal swings.
Europe
German business confidence took another hit in November, with a new wave of Covid-19 infections looming over the economy and rising inflationary pressures threatening to weigh on manufacturing. Expectations for the next half year also worsened.
U.K. companies reported the strongest inflation in more than two decades during November, adding to pressure on the Bank of England to lift interest rates as early as this month. IHS Markit Ltd. said 63% of purchasing managers reported increased cost burdens, driving the fastest growth in an index tracking inflation since the report started in 1998.
Asia
Singapore expects gross domestic product to expand 3% to 5% next year, a slower pace than this year as its rebound from the worst of the pandemic steadies. The first official forecast for 2022 compares with about 7% this year, the Ministry of Trade and Industry said Wednesday, reflecting the impact from easing pandemic restrictions and a stabilizing global economy.
China pulled back on its already halting progress toward meeting its U.S. trade deal targets, slowing purchases of all types of goods covered by the agreement despite calls from the Biden administration for Beijing to adhere to its commitments.
Emerging Markets
Price surges are busting through policy makers' targets in all of Latin America's major economies, with annual inflation prints this month of 6% in Chile, 10.7% in Brazil and a whopping 52% in Argentina. Consumer prices in Mexico rose 7.05% in the first half of November from a year prior, the highest in 20 years.
India's economy showed steady signs of strengthening in October as services, manufacturing and exports kept it on course to post the world's fastest growth.
World
New Zealand's central bank raised interest rates for the second time in two months and signaled it will need to tighten policy more quickly than previously expected to contain inflation.
©2021 Bloomberg L.P.