How social media is dealing with the Taliban takeover – CNN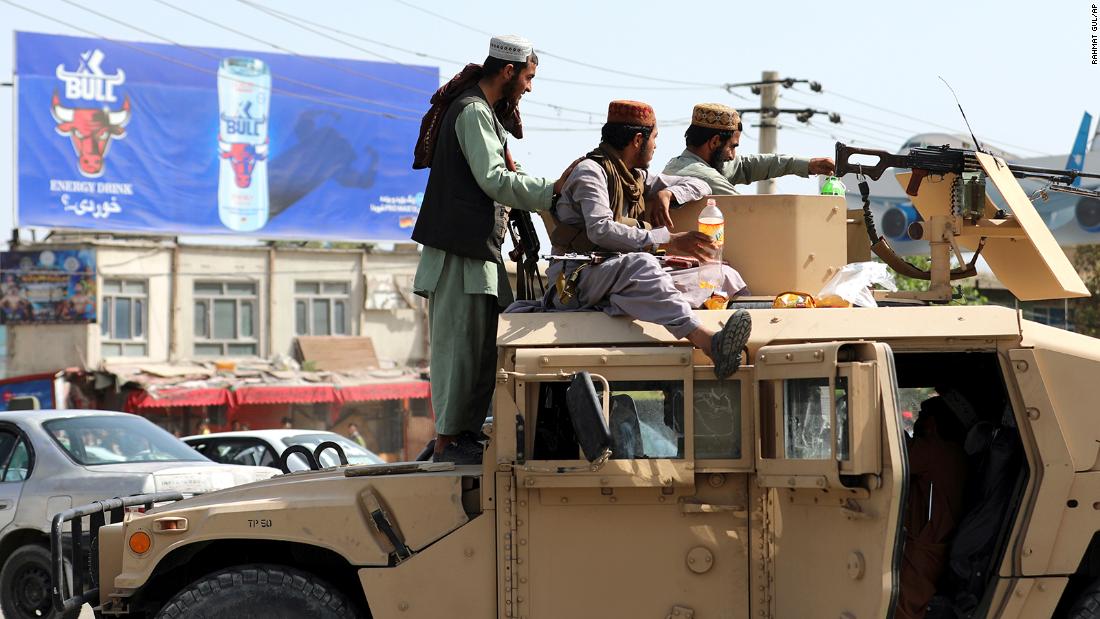 New Delhi (CNN Business)It's been two days since Kabul fell to the Taliban and social media giants are scrambling to figure out how to deal with the takeover of Afghanistan by the militants.
On Tuesday,
Facebook
(FB)
reiterated its ban on accounts praising, supporting, or representing the Taliban from its platforms, including WhatsApp and Instagram, and said that it would remove "accounts maintained by or on behalf of the Taliban."
"The Taliban is sanctioned as a terrorist organization under US law and we have banned them from our services under our Dangerous Organization policies," a company spokesperson said.
Facebook designates "
dangerous organizations
" into three tiers, with the first one being subjected to "the most extensive enforcement." Entities in tier 1 include terrorist, hate, and criminal organizations.
While the Taliban have been banned from Facebook's platforms for "
years
," the company did not reveal when exactly the restrictions were placed.
The company said it employs a "dedicated team of Afghanistan experts, who are native Dari and Pashto speakers and have knowledge of local context" tasked with identifying "emerging issues."
"Regardless of who holds power, we will take the appropriate action against accounts and content that breaks our rules," Facebook stated.
The Taliban have not been officially designated as a Foreign Terrorist Organization by the United States. However, the group was placed on a US Treasury Department list of Specially Designated Global Terrorists and a Specially Designated Nationals list.
Meanwhile, other big social media platforms were less clear about their strategy to deal with content supporting the Taliban.
A Twitter spokesperson said that people in Afghanistan are using the platform to seek help, and the company promised to "remain vigilant" in enforcing its policies, including those that ban content that glorifies violence.
YouTube said Tuesday it will "terminate" accounts run by the Afghan Taliban, clarifying its earlier remarks that suggested the group is not banned from the video platform.
Following repeated questions by CNN, YouTube said in a statement that the company "complies with all applicable sanctions and trade compliance laws, including relevant U.S. sanctions. As such, if we find an account believed to be owned and operated by the Afghan Taliban, we terminate it. Further, our policies prohibit content that incites violence."
YouTube told CNN that because the Afghan Taliban appears on the Treasury Department's sanctions list, the platform will not allow accounts controlled by the group. It had previously told CNN that it looks to the State Department's list of foreign terrorist organizations to inform its enforcement policy, but the Afghan Taliban is not named on that list.
ciValue launches Retail Media Intelligence solution – Canada NewsWire
TEL AVIV, Israel and ATLANTA, Sept. 20, 2021 /CNW/ — ciValue today announced the launch of its Retail Media Intelligence solution for retailers looking to maximize the monetization of their media assets across physical and digital channels. ciValue's Retail Media Intelligence solution enables retailers and their suppliers or other business partners, to plan, predict, and optimize their media investments with dedicated mechanisms for: insights sharing, proactive audience building, audiences onboarding to owned or external media, and impact analysis across all channels. ciValue's Retail Media Intelligence solution fits into the retailer's existing retail media ecosystem and can be deployed within 8 weeks, transforming the current business model with a self-serve platform.
The changes reshaping the retail industry have been accelerated with the pandemic and the rapid digitalization of shopping behaviours. This new omnichannel reality has created a profitability paradox requiring retailers to leverage their first-party data and media assets to retain profitability, and prompting them to redefine the way they collaborate with their brand partners. Through the use of self-serve collaborative solutions for retail media intelligence, retailers can rapidly empower a win-win-win paradigm where consumers receive the ads they want to see wherever they shop, brand partners gain the customer intelligence they need to drive better marketing experiences and grow loyalty, and retailers expand customer value.
"ciValue's Retail Media Intelligence solution is a powerful tool that enables retailers to meet their customers where they are, at the right time, and with the right content, and to share this capability with their brand partners, effectively. ciValue's Retail Media Intelligence solution builds on our proven self-serve platform that already enables Tier 1 retailers, brands and media partners globally to leverage granular insights into the preferences of their customers, to scale their personalization programs, and to reduce friction so that users can run as fast as they need, with their content and promotions," commented Beni Basel, CEO and Founder of ciValue. "In turn, this enables retailers to grow their business."
Leveraging ciValue's AI platform for customer retail DNA, the Retail Media Intelligence solution analyzes hundreds of customers' behaviours and preferences, products and sales attributes to automatically identify granular audiences and to match them with marketing objectives: retention, cross-sell, upsell, win-back. ciValue's Retail Media Intelligence solution enhances retail media networks initiatives with a smart layer for campaign, trade and digital managers to derive their decisions from data-driven insights, cut their time to plan and launch highly effective campaigns, and measure their sales performance across all channels.
ABOUT ciValue
ciValue is the customer value management company. It offers a self-serve solution to gain insights into what consumers want, align retailers and their brands partners, execute personalized offers across physical and digital channels, and serve ads that consumers want to engage with.
Already globally serving retailers from Grocery, Drug & Specialty verticals, the dedicated apps and activations delivered by the solution, help retailers and brands achieve new revenue streams, sales growth, and increase share of wallet through customer-centric merchandising and marketing.
Contact: Lee Braunstain – [email protected], +972 (0) 4 6067772
SOURCE ciValue
Social media challenge brings increase in school vandalism – CTV News Atlantic
HALIFAX —
According to digital anthropologist Giles Crouch, the TikTok social media trend known as "The Devious Licks challenge" is spreading quickly online.
"It is going down to Latin America and it worked up to Canada very quickly," said Crouch. "This is being seen all across Canada."
The challenge features some students destroying school bathroom fixtures while damaging and stealing other school property items.
"Soap dispensers coming out of the walls," said Reign Sherrington, the brother of a Halifax-area student. "I heard at Halifax West High School, they had sinks coming out of the walls."
TikTok is removing "Devious Licks" posts from its platform. Crouch said students likely think it is only a prank, not vandalism.
"This is sort of the digital age version of pulling the fire alarm from 20-plus years ago, when we were in high school," said Crouch.
The issue is serious enough, that Millwood High School sent a note home to parents.
Jenna Kedy is a student at Bay View High School.
"Our school last week sent a huge email that said they wanted people to stop breaking soap dispensers and paper towel dispensers," said Kedy. "And then I started hearing from friends and seeing videos on my TikTok feed from people at various schools around Halifax, breaking soap dispensers and breaking paper towel holders."
Crouch said young people often participate in a social media activityto join the crowd and gain peerre-enforcement.
"They are more concerned about getting social acceptance," said Crouch.
Media Beat, Sept. 20, 2021 | FYIMusicNews – FYI Music News
During the pandemic, because of measures such as mask-wearing and physical distancing, the flu virtually disappeared. But when we return to "normal" (or whatever the new normal becomes), the confluence of Covid-19 and influenza each fall and winter could become a major public-health challenge.
The question becomes, crassly: How much illness and death are we willing to accept as "normal"? – André Picard, The Globe and Mail
A Kelowna blogger who was unhappy with a breast augmentation surgery that offered uneven results learned that sounding off online can have costly consequences, according to a Supreme Court of B.C. decision posted Aug. 25.
"While internet postings in the nature of reviews of restaurants and services are the norm in today's world, defamatory comments dressed up as reviews that are not factual or do not qualify as fair comment are subject to the laws of defamation," Justice Gary Weatherill wrote. – Kathy Michaels, Global News
The Liberals are counting on voters not to notice that what distinguishes their own foreign policy is the thing that has caused the Chinese government and its network of diplomats and well-connected friends in Canada to be rather too obvious in their enthusiasm for a Liberal re-election. So enthusiastic, in fact, that they're already coming close to violating Canadian laws intended to safeguard federal elections from foreign interference.
It began on Aug. 25, when Chinese ambassador Cong Peiwu, without explicitly naming him, insinuated that Erin O'Toole was placing his party's "political interests" ahead of fruitful Canada-China relations. After an obligatory throat-clearing to the effect that it was not his intent to comment on or interfere in the election, Cong said China would oppose anyone "hyping up issues related to China or smearing China." – Terry Glavin, Ottawa Citizen
Inequality has been rising for decades, but during the stress test of the pandemic, the imbalance became grotesque. While grocery workers were battling to get within scraping distance of a living wage, Loblaws saw its 2021 first-quarter profits grow by 30 per cent over the previous year, to $313 million. Empire Co Ltd., which owns Sobeys, Safeway, Foodland, FreshCo and IGA, saw its net earnings swell 47 per cent in the first quarter, to $191.9 million. Amazon's first-quarter profits were more than triple its 2020 margins, at $8.1 billion, even as COVID-19 chewed through its warehouse workers and its delivery drivers urinated in bottles so they wouldn't miss their targets.
Last fall, the Brookings Institution produced a report contrasting the corporate and shareholder windfalls of the biggest U.S. companies with the crumbs they begrudgingly offered their frontline workers. The report noted that the two behemoths—Amazon and Walmart—took in an average of $10.7 billion in extra profit and their stock prices surged 65 per cent and 41 per cent, respectively, but their workers received an average of just $0.95 per hour and $0.63 per hour in extra pandemic pay. – Shannon Proudfoot, Maclean's
Employment rose by 90,000 in August, the third consecutive monthly increase. Gains in August were concentrated in full-time work and among women. Employment in accommodation and food services increased by 75,000. The national unemployment rate fell to 7.1%, the lowest rate since the onset of the pandemic.
Total employment has risen by 415,000 from May to August as third wave restrictions eased. All of the net gains during this three-month period were in service industries, led by cumulative gains of 211,000 in accommodation and food services. Sixty percent of net employment gains from May to August were among 15- to 24-year-olds, as the employment rate among youth by August had essentially returned to pre-pandemic levels.
With August's headline increase, total employment has rebounded to within 1% of its pre-pandemic level (cumulative losses since February 2020 stood at 156,000 or -0.8%). The employment rate in August was 60.5%, down 1.3 percentage points from the rate in February 2020. The number of employed people who worked less than half of their usual hours in August remained elevated compared to pre-pandemic levels (+29.9%), while total hours worked remained 2.6% below. Among workers who worked at least half their usual hours in August, 24% worked from home, the lowest share since the onset of the pandemic.
Some of Australia's biggest media companies have lost a bid in the high court to escape liability for defamatory third-party comments on their social media posts.
The majority found that merely facilitating and encouraging comments amounted to "participation" in the communication of defamatory material, even if the original poster was not aware of the content of later comments.
The decision is expected to have ramifications for Australian media companies, making them likely to ban comments on more posts or discouraging them from posting stories to social media. – Paul Karp, The Guardian
At first no one could explain why business was picking up at Betterment, a robo adviser aimed at newbie investors. There were about 10,000 signups in one day.
Then came the answer: A 25-year-old TikToker from Tennessee was posting videos describing how to retire a millionaire by using the platform.
His name is Austin Hankwitz, and he's managed to land one of the hottest new gigs: full-time "finfluencer." – Misyrlena Egkolfopoulou, Bloomberg
An internal report, written in October 2019, shows that in the run-up to the 2020 election, Facebook's most popular pages for Christian and Black American content were being run by Eastern European troll farms.
These pages were part of a larger network that collectively reached nearly half of all Americans, according to the report. They achieved that reach not through user choice but primarily as a result of Facebook's own platform design and engagement-hungry algorithm. – Karen Hao, MIT Technology Review
America's biggest three newspapers – the Wall Street Journal, the New York Times and USA Today – together lost more than 500,000 of print circulation between the first quarter of 2020 and the latest reported period, which covers the six months to March 2021. – William Turvill, Press Gazette
To serve a member of the Royal Family once meant to do one's duty for Queen and country.
But a month-long chase by US lawyers to find Prince Andrew and in the legalese, serve him with allegations of abuse, has brought a whole new meaning to the phrase. – Dominic Casciani, BBC News
Late last year, it quickly became evident that Hollywood's dealmaking machine of the past 30 years was broken. The pandemic had changed the way people watched feature films — with some debuting on streaming services and some in theatres — and a new approach to contracts for talent would be needed, particularly for A-listers accustomed to significant backend bonuses based on box office returns that may be diminished or eliminated altogether.
Fast-forward to September 2021: What does dealmaking actually look like? – Beatrice Verhoeven, The Wrap
The Absurdity of the Marketing Industry
For decades, the marketing industry has been notable for its addiction to bullshit and sophistry. We have now entered new territory — an era in which marketing can truly be described as dabbling in absurdism.
Welcome to "Generation Alpha", the newest idiotic generational hustle of marketing researchers.
Generation Alpha are people born between 2010 and 2024. I just checked my calendar and it seems 2024 hasn't happened yet. But that doesn't bother researchers. Understanding the values of people who can't speak yet and some who are not born yet is the disruptive innovation that makes the insights into Gen Alpha so powerful!
Listen to this horseshit about Generation Alpha from Ad Age… "they care about issues such as sustainability and social equality—but unlike previous generations, they have embraced activism from a very young age and expect brand change as a result." Are you fucking kidding me? Five-year-olds expect brand change? Fetuses care about sustainability?
There is no word to describe the idiocy of these experts. These kids are still crapping their pants and they have "embraced activism?"
Go ahead. Try to tell me you could make this shit up. Is it any wonder marketing is viewed as the clown show of the business world? – Bob Hoffman, The Ad Contrarian