How the caring economy can revive us – Corporate Knights Magazine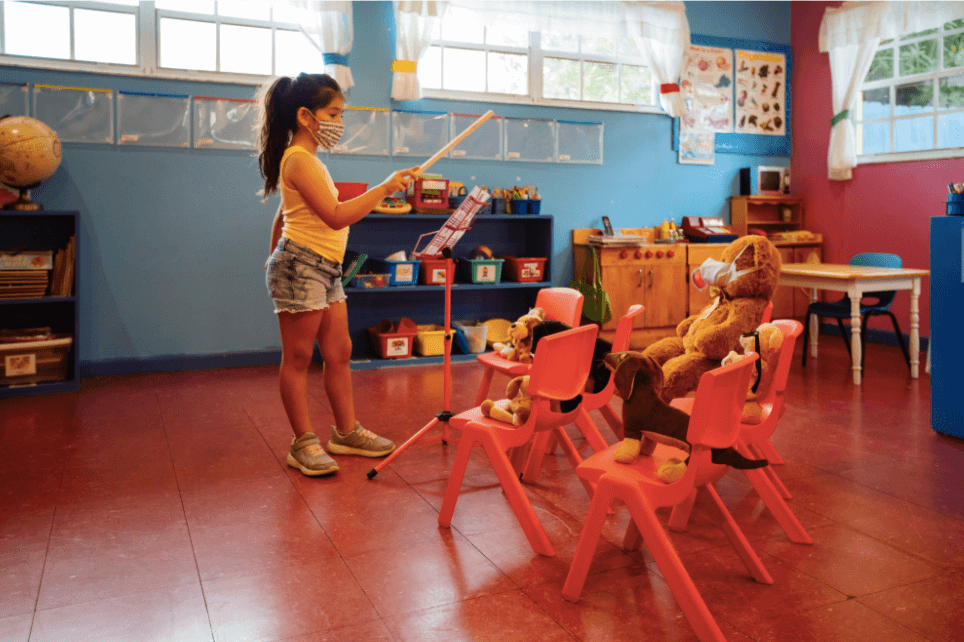 Economic policy-making has, over the past hundred years or more, stripped out caring from our understanding of what makes the economy tick. Caring – for children, for elders, for the planet – sounds to many like a distraction from the main attraction, especially during the pandemic, when what we need are jobs and robust economic growth.
But as the COVID-19 pandemic brought the global economy to a grinding halt, locking down working parents and idling activity in many sectors, it became clear that if we don't put caring back into the economy, we can't achieve economic recovery. The pandemic has revealed economic fault lines that must be addressed. We can't "get back to normal"; we need to create a better normal. And we certainly won't be able to build back better without making the caring economy a critical component of federal recovery plans.
He-cessions and she-coveries
In past recessions, downturns would most deeply affect goods-producing industries, which have historically been dominated by men. Canadian economist Armine Yalnizyan named these "he-cessions" that were then followed by "she-coveries" as women increased their participation in paid work to support household incomes. This kind of "within-family insurance" meant women provided the stopgap in hard times.
The 2020 economic crisis has taken a different path. It's become clear that the traditional "family insurance" model doesn't work in a pandemic recession. Service sectors such as retail, personal services, childcare and hospitality were among the hardest hit – sectors staffed predominantly by women. In Canada, 56% of women workers are concentrated in these occupations, compared to 17% of men. This "she-cession" has meant that in March 2020, 63% of job losses fell to women, and as the economy reopens, women's jobs are coming back at less than half the rate of men's.
Those job losses have been exacerbated by closed schools and shuttered daycare centres. Because of gendered norms about who is responsible for children, many women have had to switch from full-time to part-time work or leave jobs entirely to care for or home-school children of all ages.
In August, UN chief António Guterres cautioned that the pandemic may undo three decades of progress toward gender equality in economic opportunity. "Without a [concerted] response," he noted, "we risk losing a generation or more of gains."
Writing caring out of the economy
Feminist economists have for years pointed out that production (in the market economy for goods and services) and reproduction (in starting and maintaining families) are intimately intertwined. Unpaid work caring for children, elders and households enables the economic activities that get counted by measurements such as gross domestic product (GDP). However, in traditional economic thought and practice, women's work at home was seen as altruistic and having no "value" since it was not sold on the market the way male activities were. Though if we were to value women's unpaid work at home, it would be something like US$10.8 trillion globally each year.
Separating care work done by women from the image of the economy has been so effective that today in implicit association tests – meant to measure our preconscious cognitive biases – more than 75% of people (of all genders) associate women with family and men with careers.
Even in Canada, which professes a commitment to gender equality, women still perform nearly two times more unpaid work for households than men. That gender gap has been exacerbated by the pandemic. Though many men took on more care work during the initial lockdowns, we are learning that – as the economy reopens – their contributions are returning to pre-COVID levels, but women's remain elevated. (And, by the way, this analysis excludes non-binary and transgender people: another problematic aspect of traditional economic models is to reinforce the gender binary in our society.)
At the same time, women are putting their bodies on the line to make sure we get the food, medicine and care we need. Women – especially women of colour – make up the majority of workers in the nursing and personal-care sectors that have been essential for meeting the COVID-19 health crisis, as well as the majority of staff in grocery stores and other businesses deemed essential.
Further, a wave of bankruptcies has hit the childcare industry, with many daycare centres unable to weather the lockdowns or recoup the extra costs of social distancing, cleaning and disinfecting. Surviving centres will have reduced spots. These closures will have two impacts on women's employment: since daycare centres employ predominantly women, there will be fewer jobs, and since there will be fewer spaces for children, more women will need to leave work to care for their own families. In the U.S., Bureau of Labor Statistics data show that in September alone, 865,000 women dropped out of the workforce – four times the number of men.
There will be no "she-covery" from this recession. Instead, building back will require aggressive investments in the care economy.
Investing in care pays dividends
Often in recessions, government spending has focused on major infrastructure projects to get the economy going again. After the Great Depression, Franklin D. Roosevelt's New Deal saw the construction of dams, power stations, roads, bridges and power lines. The extraordinary success of that program has imprinted in our minds that investing in physical infrastructure is the way out. But in 2020, we need a different kind of infrastructure investment: investment in social infrastructure, primarily in the care economy.
In September's throne speech, the Trudeau government said it recognized the urgency of the challenge, noting that "Canada cannot succeed if half of the population is held back." The government pledged to make "a significant, long-term, sustained investment to create a Canada-wide early-learning and childcare system." No specifics were shared, but if a federal investment is to be meaningful, it must bring public spending on childcare up to at least 1% of GDP, which is still below levels that countries like Sweden or France invest but substantially more than is invested today. It should also come with affordable prices for parents and a living wage and benefits for the workers.
One of the arguments against investing in childcare and eldercare is that it's too expensive. But this frames the costs as an expense from today's budget rather than an investment in tomorrow's prosperity. The U.K. Women's Budget Group recently analyzed the returns that come from investing 1% of GDP in childcare versus in construction (construction jobs being those typically targeted in infrastructure investing for economic recovery). They found that the childcare investment would create 2.7 times as many jobs as a similar investment in construction, more than a third of which would be in industries outside of childcare. That's because the investment leads to direct employment in the sector as well as indirect employment in sectors that support childcare centres, including construction, in addition to jobs generated in the local economy as a result of employed workers buying more goods and services.
Of note is that the number of jobs created for men is almost the same whether you invest in childcare or construction, but the number of jobs created for women is almost four times higher in the childcare scenario (assuming the mix of women and men in the sectors doesn't change).
Of course, investing in childcare is not just about creating jobs in the short-term but also about providing safe environments for effective early-childhood learning. All the evidence suggests that higher-quality learning in preschool leads to better learning throughout the school years, reduced needs for special education, fewer high school dropouts and juvenile arrests, and higher wealth and lower need for welfare assistance in adulthood.
All to say, spending on childcare is an investment in infrastructure, not a short-term expense: infrastructure because the benefits extend beyond direct uses to support the broader community and an investment because it creates benefits that extend well into the future, improving productivity and preventing greater need.
On top of that, research suggests that government investment in childcare pays for itself quickly. In Canada, the province of Quebec implemented a low-fee childcare program accessible to all residents. The investment led to a 1.8% increase in total employment (by creating jobs and also by freeing up women to work in paid employment). For every $100 spent by the government, the province experienced returns of $104 and the federal government, $143.
A caring economy is a green economy
Devaluing caring has also had devastating effects on the environment. Caring for our planet, much as caring for our children and elders, has been framed as an expense that we can't afford when financial returns are at stake. Since caring has been relegated to the women's realm, it makes sense that there is a gender gap in environmental views, with women being more concerned about climate change and other forms of environmental degradation.
It's also true that climate change has a disproportionate impact on women around the world. Like COVID-19, climate change exacerbates existing social and economic inequalities. Climate shocks such as water shortages, heat waves and other extreme weather have increased the prevalence of gender-based violence. As families become more economically insecure, girls are also more likely to be pulled from school or forced to marry early. These impacts are taking place in the global South as well as in many marginalized communities in developing countries.
But many of the proposed green recovery plans still put construction work (such as installing solar panels or wind turbines) at the forefront. These initiatives are most assuredly needed, but it's important to keep in mind that jobs in eldercare or childcare centres are some of the greenest out there. Care economy jobs – be they in healthcare, childcare, teaching or social services – are inherently low-carbon.
Just as with care work at home, caring for the planet has been framed as in conflict with "real" economic value as measured by our GDP. Ultimately, creating a caring economy redirects our attention, instead, to the value that comes from assuring equal opportunities for people of all genders, drinking clean water, providing good jobs with livable wages, avoiding devastating wildfires, investing in our children's development, breathing clean air and saving our homes from flooding.
What is now clear is that a thriving economic recovery can be achieved only with a caring economy at its core.
Sarah Kaplan is distinguished professor and director of the Institute for Gender and the Economy at the University of Toronto's Rotman School of Management. She is the author of The 360º Corporation: From Stakeholder Trade-offs to Transformation.
How to pay for the caring economy

By CK STAFF

In 2017, the International Monetary Fund estimated that Canada's labour force could grow by more than half a million – boosting GDP by 4% in the medium-term – if women matched men in workforce participation, and much of that participation gap could be reduced through better childcare options.

A national childcare program built on lessons from Quebec would require additional federal investment of $80 billion over the next 10 years, representing 0.35% of GDP (assuming 50-50 cost-sharing with provinces and territories) annually. The cost would be offset by economic growth (2.4% higher in the medium-term) created by reducing the gender gap in workforce participation. Federal revenues would increase by 0.36% of GDP (using the 15% federal revenue ratio to GDP), if we base figures on an IMF study extrapolating from the Quebec experience.

Securing dignified eldercare as an element of universal healthcare almost certainly requires a national long-term-care insurance program, with a strong community-based and homecare component, according to the National Institute on Ageing. Setting this up will likely require federal contributions in the order of an additional quarter of 1% of GDP, assuming a matching contribution from provinces and territories. This kind of money would help bring the provinces to the table to hammer out a long-term-care insurance program that could fit within the CPP/CDPQ structures. Together, this would raise Canada's spending on publicly funded long-term care from 1.3% of GDP to 1.8%, in line with our OECD peers, which would improve and extend eldercare while taking some of the load off the 35% of Canadians who balance paid work with unpaid caregiving.

The federal contribution would be offset by higher levels of GDP (1% in the medium-term) and a reduction in health transfers based on cost savings (0.12% of GDP) resulting from hospital beds being freed up through increased long-term-care spaces and in-home-care support services, which tend to be 80% more cost-effective.

If we dovetail investments in the caring economy with an annual 1% of GDP federal investment into clean-growth areas that align with Canada's assets, this country could have a thriving economic recovery that readies us for a resilient low-carbon future. This could be financed by low-cost, long-dated sovereign bonds (issued now and put into earmarked accounts to lock in low interest rates), similar to what the EU is doing to pay for its economic recovery plans. Corporate Knights economists estimate this green-recovery investment would raise Canada's 2030 GDP levels between 5 and 10%. At the mid-range, doing so would increase federal tax revenues by 1.1% of GDP, enabling us to manage our sovereign debt loads and sustain a clean and caring economy over the coming decades. Investing in a caring and green recovery will expand, mobilize and redeploy Canada's productive capacity, enabling us to pay off the sovereign debt and sustain a clean and caring economy over the coming decades.

Building Back Better with a Clean and Caring Economy (2021–2030 annualized)

Program

Federal Government Cost (% GDP)

GDP Boost %

Federal Government Revenue Boost %/GDP (5)

Fiscally Sustainable

Childcare

0.35%

2.4%

0.36%

✓

Eldercare

0.25%

1%

0.15%

✓

Hospital Beds

-0.12%*

–

Clean Economy

1.0%

7%

1.1%

✓

Sources: Corporate Knights estimate based on Building Back Better Synthesis Report, Canadian Institute for Health Information, Caregiving and Care Receiving by Statistics Canada, Conference Board, Finance Canada, IMF, National Institute on Ageing, RBC Economics, Scotiabank Economics

*Reduction in hospital beds used by elders who are better served in nursing homes or home care will enable trimming of future health transfers.
Federal budget 2023: Canada's clean economy tax credit plan – CTV News
OTTAWA –
Serious money is heading for Canadian industries looking to reduce emissions after the federal government unveiled its answer to the U.S. Inflation Reduction Act.
The spending commitments announced in Tuesday's federal budget include tax credits for investments in clean electricity, clean-tech manufacturing, and hydrogen that together are expected to cost some $55 billion through to the 2034-35 fiscal year.
Total tax incentives amount to almost $83 billion over that timeframe when the carbon capture and storage and clean-tech investments credits announced last year are factored in, both of which saw minor boosts this round.
The government says the funding is necessary to boost clean economy spending from some $15 billion a year to the $100 billion a year needed. The spending is also needed to not fall behind as other countries roll out subsidies, most notably with the US$369 billion contained in the landmark U.S. legislation passed last year.
"In what is the most significant economic transformation since the Industrial Revolution, our friends and partners around the world, chief among them the United States, are investing heavily to build clean economies," said Deputy Prime Minister Chrystia Freeland as she introduced the budget.
Tax credits are the backbone of the effort because they are stable and efficient way to roll out government support, while leaving decision-making with the expertise of the private sector, said a senior government official in the budget lockup.
Clean electricity is the biggest focus of the credits, costing $6.3 billion over the first four years starting in 2024, and $25.7 billion through to the 2034-35 year. Notably, provincial utilities and Indigenous-owned corporations will be eligible for the credits.
The spending is meant to help spur both more generation, as well as a better-connected east-west grid to meet the expected doubling of electricity demand by 2050.
The clean electricity package is where the government has likely done enough to meet its goals, said Michael Bernstein, executive director of Clean Prosperity.
Other funding areas however, including the $11.1 billion in credits for manufacturing and $12.4 billion for carbon capture through to 2034, likely aren't enough to close the gap with what the U.S. is offering, he said.
"It really is one of those situations where your competitor has stepped up and said we are going to be providing an almost unthinkable amount of money."
Canada has opted for construction-focused project support, while the U.S. IRA covers operational costs with payments based on production volumes. It's like Canada is offering a single large cup of soda, whereas the U.S. is offering endless kiddy-cup sized refills, meaning Canada needs to offer a pretty big cup to compete, said Bernstein.
Since it's not covering operations, Canada needs to move quickly on offering the carbon pricing backstop that it's promised to develop in the budget, he said.
The so-called contracts for difference would provide certainty to industry on future carbon pricing and credits, but so far they're still in consultation, as are several other key policies.
"What surprised me was how many things are still left to be determined," said Rachel Samson, vice-president of research at the Institute for Research on Public Policy.
Along with the contacts for difference, she noted that details are scarce about how the $15 billion Canada Growth Fund will be spent.
The government announced in the budget that the fund will be administered independently by the Public Sector Pension Investment Board, with money starting to flow in the first half of the year, but didn't provide guidance on priority areas.
Samson said it was good the government isn't trying to direct the money itself, but worried that pension fund managers are too cautious to put the money in the bold projects needed.
"We need projects that are more on the cutting-edge, that are riskier."
The government also pushed down the road any commitments on biofuels such as sustainable jet fuels, which surprised Samson as Canada is currently exporting the raw wood pellet feedstock and knows companies have projects ready to go.
The budget was also notable for what wasn't in it for the oil and gas industry. While it did tweak last year's carbon capture incentives, it didn't go as far as some were pushing for, while the emissions cut-off for hydrogen production will likely exclude most carbon-capture based hydrogen projects.
"Oil and gas did not get a lot of what I think it wanted in this," said Samson.
The lack of funding comes as climate advocacy groups have pushed against support for both programs as wasteful projects that don't achieve the emission cuts needed in the near term, while also pushing against support for an industry that has reported record profits.
The government has also framed the budget as one of fiscal restraint that it hopes will allow private capital to do much of the heavy lifting to keep Canada in the running.
"Canada must either meet this historic moment, this remarkable opportunity before us, or we will be left behind as the world's democracies build the clean economy of the 21st century," said Freeland.
This report by The Canadian Press was first published March 28, 2023.
Trudeau and Freeland up the ante on a clean economy – CBC.ca
Justin Trudeau's basic argument is that Canada and the world face both historic challenges and unique opportunities — and the Liberals are better suited than the Conservatives to overcoming those challenges and seizing those opportunities.
Mind you, the two parties don't entirely agree on which issues are most deserving of attention right now. But there is no bigger challenge than climate change and the transition to a low-carbon future it requires. And Tuesday's federal budget — described by the Canadian Climate Institute as "the most consequential budget in recent history for accelerating clean growth in Canada" — could be a pivotal piece of the Liberal response.
The actual consequences of this budget will take years to measure. But in response to political and economic pressure, Trudeau's Liberals have at least significantly upped the ante.
"In our minds, there is probably no more pressing issue of economic policy than accelerating Canada's transition to a low carbon economy," a senior finance official told reporters during a briefing on Tuesday. "We cannot, as a country, afford to be left behind."
Keeping up with the neighbours
The obvious impetus for all of this is the Inflation Reduction Act recently passed in the United States. Though it was couched in terms of affordability, the American legislation was actually a massive package of subsidies for clean energy and technology.
Comparisons with President Joe Biden's signature legislation are somewhat unfair — the United States has to lean heavily on subsidies because there is no chance of Congress passing any kind of carbon-pricing policy. But the Trudeau government could not afford to ignore it.
"In what is the most significant economic transformation since the Industrial Revolution, our friends and partners around the world — chief among them the United States — are investing heavily to build clean economies and the net-zero industries of tomorrow," Finance Minister Chrystia Freeland said Tuesday.
"Today, and in the years to come, Canada must either meet this historic moment — this remarkable opportunity before us — or we will be left behind as the world's democracies build the clean economy of the 21st century."
Freeland's third budget as finance minister offers $16.4 billion in tax credits for clean tech manufacturing, clean electricity and hydrogen over the next five years, adding to the $6.7 billion in supports for clean tech investment announced last fall. Freeland also has agreed to add $500 million to the $4.1 billion in support announced last year for carbon capture, utilization and storage.
Beyond those subsidies, the government has committed billions toward a handful of potentially lucrative funds, including $15 billion for the Canada Growth Fund, $8 billion for a "net zero accelerator" and $20 billion through the Canada Infrastructure Bank.
WATCH: Provinces need to be at the table as Canada competes with U.S., Freeland says
"Message to provinces – you guys have a strong fiscal position right now," said Finance Minister Chrystia Freeland. "When it comes to supporting investments in the clean economy, provinces are going to need to be at the table too."
The Liberals also are moving to shore up the federal carbon price. Under a mechanism called "contracts for difference," companies that receive funding through the Canada Growth Fund would be eligible for compensation if the industrial carbon price fails to rise as scheduled.
In other words, if some future government pauses or outright repeals the price, it would come at a direct cost to the government.
The "backbone" of the plan, the senior official said, is funding for clean electricity — billions of dollars that will go toward cleaning and expanding Canada's grid.
"If there's one single input that is essential to the transition to a low-carbon economy in Canada, it is the availability of low cost, clean electricity," the official said.
Ideally, these actions would boost Canada's economic growth. But they also give the Liberal government a positive and forward-looking economic narrative.
The clean economy 'pyramid'
The enthusiastic technocrats in the Liberal government envision their approach as a four-level pyramid. Carbon pricing and regulation form the foundation. Atop that sit investment tax credits and "strategic finance," with "targeted programming" at the apex.
Voters probably aren't going to commit the graphic to memory but "it feels like a coherent package," said Dale Beugin, executive vice president at the Canadian Climate Institute.
"To me, that's the right way to think about this. Don't try to do the [Inflation Reduction Act] from scratch because you don't have to — you don't have to spend all that money. [But] do some things. Make sure it's as targeted as you can and aim that support at the places of comparative advantage, or where the market's not going to [act]."
Some pieces of the pyramid may prove sturdier than others. Contracts for difference will have to be carefully designed, Beugin said. Tax credits always run the risk of "free ridership" — of rewarding actions that would have happened anyway. Electrification requires working with provinces and, as Beugin notes, "federalism is always a tricky game."
The Climate Action Network also pointed out on Tuesday that one piece of the government's promised climate agenda — eliminating subsidies for fossil fuel industries this year — was conspicuously missing from the budget.
But neither the Conservatives nor the New Democrats were eager to condemn the promised new spending for clean energy and technology. Conservative Leader Pierre Poilievre repeated his condemnation of the federal carbon price, cast aspersions on the notion of contracts for difference and repeated his belief that the Trudeau government is spending altogether too much money — but he did not single out any of the government's clean economy measures for criticism.
WATCH: Poilievre says Conservatives reject the budget
Speaking ahead of the tabling of the federal budget, Pierre Poilievre urged the prime minister to cancel tax hikes and inflationary deficit spending.
Maybe that means Poilievre has found some climate policy he can support.
Both Poilievre and NDP Leader Jagmeet Singh did criticize the budget's lack of emphasis on housing. Liberals might counter they are already taking action to make housing more affordable, but it's not obvious that what they're doing is enough. If that's still the case when the next election comes, the Liberal government's chances of retaining power might be severely diminished.
The same could be said of crime or inflation, or any of the other issues that can grind away at a government's standing and leave more voters craving change.
The measures announced on Tuesday may be relatively unchallenged — and this budget may prove to be truly consequential in building the economy of Canada's future. But if the Liberals want to see this plan to fruition, there are other challenges to overcome and opportunities to seize.
EU removes Pakistan from list of high-risk countries – Al Jazeera English
Ministry of Commerce says move will ease cost and time of legal and financial transactions by Pakistani entities and individuals.
Islamabad, Pakistan – The European Union has removed Pakistan from its "list of high-risk third countries", a move that is expected to improve conditions for business activity.
In a statement announcing the news on Wednesday, Pakistan's Ministry of Commerce said the listing of Pakistan in 2018 had resulted in creating a regulatory burden affecting Pakistani companies doing business with the 27-member bloc.
"The new development would add to the comfort level of the European economic operators and is likely to ease the cost and time of legal and financial transactions by Pakistani entities and individuals in EU," the statement said.
Foreign Minister Bilawal Bhutto-Zardari said in a Twitter post that Pakistani businesses and individuals "would no longer be subjected to Enhanced Customer Due Diligence" by European legal and economic operators.
EU authorities have removed Pakistan from the List of High Risk Third Countries which have strategic deficiencies in their AML/CFT regime. Pakistani businesses & individuals would no longer be subjected to Enhanced Customer Due Diligence by European legal & economic operators.

— BilawalBhuttoZardari (@BBhuttoZardari) March 29, 2023
The high-risk third countries list includes nations that, according to the EU, do not have a robust enough regulatory and legal system to prevent financial crimes and "terrorism" financing that could pose significant threats to the financial system of the bloc.
When a country is added to the list, it is subjected to particularly enhanced scrutiny and additional measures that increase the cost of doing business.
The Pakistani entities that will no longer be subjected to enhanced EU scrutiny include credit and financial institutions, auditors, external accountants, tax advisers, notaries and independent legal professionals, among others.
Pakistan's delegation in the EU called the removal from the list a "positive step".
"In line with last year's FATF decision, the EU has decided to remove Pakistan from its list of countries with high risk regarding money laundering & financing of terrorism," it tweeted, referring to the decision by the global money laundering and financing watchdog, the Financial Action Task Force (FATF), to remove Pakistan from its list of countries under "increased monitoring" after four years.
Khaqan Najeeb, a former adviser to Ministry of Finance, hailed the EU decision as evidence of Pakistan's success in removing "strategic deficiencies" that were highlighted under the FATF listing, which can severely restrict a country's international borrowing capabilities.
"This announcement shows that the EU has accepted that weaknesses in the country's legal and regulatory systems have been upgraded and Pakistan can now prevent financial crimes and terrorist financing," he told Al Jazeera.
[embedded content]