How the Russian economy is defying and withstanding western sanctions
Since Russia first invaded Ukraine in February 2022, western media has frequently suggested that economic sanctions against the Russians are going to stifle the war effort or even bring the country to its knees.
As recently as early November, for example, the Wall Street Journal reported that "mobilization, sanctions and falling energy prices" were hurting the Russian economy and that the economic outlook "bodes poorly for Vladimir Putin's ability to fund Russia's war in Ukraine."
Credit agency Standard and Poor's so-called Global Russia Services Purchasing Managers' Index is a good example of the sort of data being used to argue that sanctions are now starting to really hurt Russia.
The data is based on information provided by Russian companies willing to talk to them. Consequently, the survey could be drawing on a distorted sample.
The impact of mobilization
Nonetheless, media coverage also contains Russian government and other Russian-sourced statistics that highlight some of the economic problems confronting the country. One example is the impact that the recent mobilization of reservists to fight in Ukraine has had on the Russian workforce.
The Russian daily Kommersant — a sort of Russian Financial Times — has reported that Russian companies have lost workers due to them either being drafted to serve in Ukraine or fleeing the country to avoid it.
According to both Kommersant and the Wall Street Journal, a third of Russian companies have reported being hit with war-related labour issues. But Kommersant also went on to report that half of the Russian companies affected were able to rapidly adapt to new circumstances.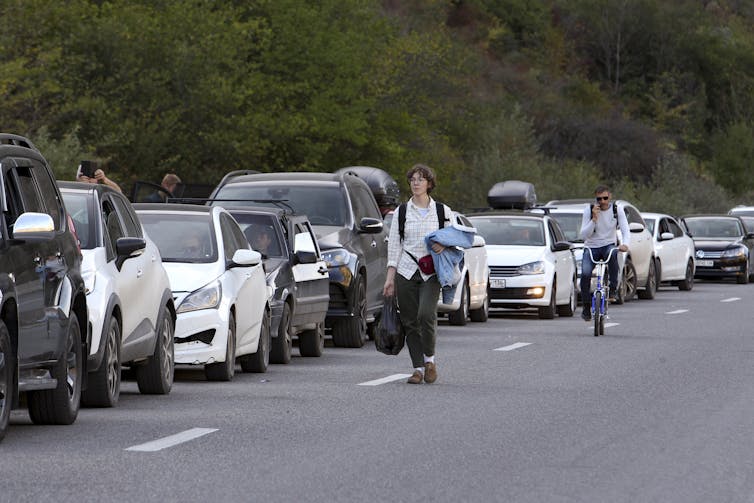 It wouldn't make much sense if Russia's economy hadn't been affected by unprecedented western sanctions and the wider burden of the war. But media coverage of western sanctions against Russia rarely mentions that western economies are also struggling, due in part to those measures — as Standard and Poor's itself recently pointed out.
Is Russia actually faring any worse? In some key areas, no.
Positive indicators
Russia's current economic situation has been helped by a bumper grain harvest this year. Russian agriculture has produced more than 150 million tonnes of grain in 2022, giving it enough to send some to Africa free of charge.
As in the West, Russians too have been facing high inflation in the double figures. But Russian pensions, the country's minimum wage and salaries are keeping pace with inflation better, in some cases, than those in the West.
There is also evidence that in recent months, the Russian inflation rate has been dropping after spring highs.
There are other positive trends and areas in which the economic picture might improve for Russia, including the replacement of western products and companies with Russian equivalents.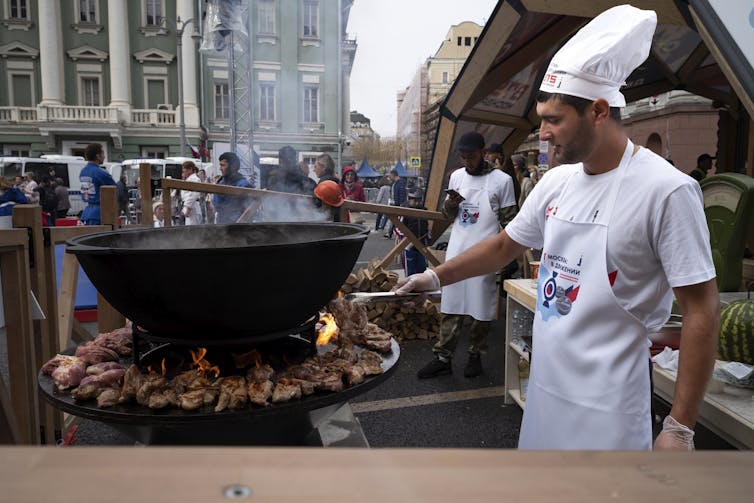 Businesses quickly replaced
Western icons like McDonald's may have pulled out of Russia, but some have been replaced. McDonald's was bought out in Russia and renamed Vkusno i tochka — meaning "tasty, full stop" in English.
As someone who recently visited Russia, I can personally vouch from recent visits to Vkusno i tochka restaurants in both Murmansk and Moscow that they're doing a brisk trade offering products that are essentially the same or very similar to McDonald's standbys.
There's been a lot of reporting in the West about how Russia is finding it difficult to obtain microchips for its weapons. What's less frequently reported is the efforts the Russian government is making to try to deal with the problem.
Russia is working on ramping up its own production of microchips, though Russian media has also pointed out it's facing an uphill struggle to be self-sufficient on this front. But even relatively easily sourced basic and older chips intended for consumer electronics can be used in the defence sector, as Russia adapts to new realities.
Many countries and companies may not be willing to adhere to sanctions on the sort of western technology that is being found in Russian weapons.
An under-estimated Russia?
The West seems to have under-estimated Russia's ability to withstand sanctions and Russian acceptance and understanding of difficult economic times.
As one Russian recently remarked to me: "We know why we're having to put up with inflation — do westerners?"
Russian support for Vladimir Putin's leadership and the war in Ukraine remains high. Anecdotal evidence from my many conversations with Russians from all walks of life in both Moscow and Murmansk in late October and early November certainly support this.
Some university-educated younger Russians opposed to the war have left the country to avoid mobilization or to continue working for western companies that have left Russia. The absence of this group leaves Russians more committed than ever to the war, given that older citizens are more likely to support it.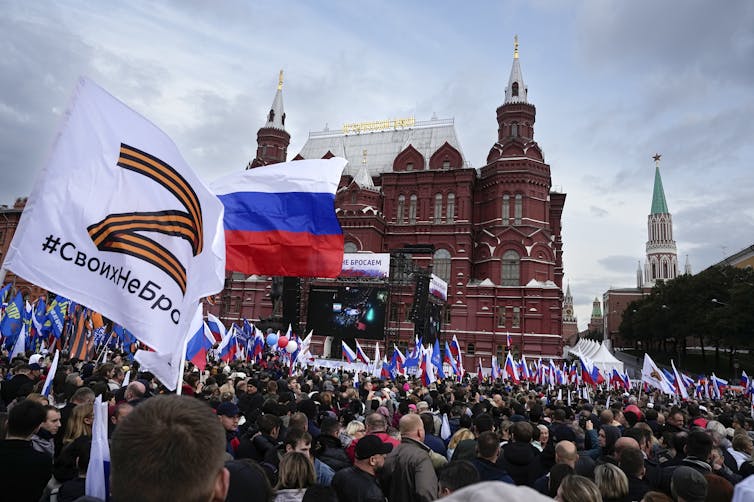 In the face of recent Ukrainian battlefield successes, many Russians are finally waking up to the seriousness of the war in Ukraine.
Four Ukrainian regions have now been nominally incorporated into Russia. The Russian government slogan "we don't abandon our own" seems to be resonating for many in Russia who view the war as being about the protection of a Russian-speaking minority in Ukraine.
Russia's population as a whole is likely able to tolerate more economic hardship, given what Russians regard as being at stake. It remains to be seen if the same can be said for populations in western Europe that are also struggling under the weight of western sanctions.
World Economy Heads for One of Its Worst Years in Three Decades – BNN Bloomberg
(Bloomberg) — The world economy is facing one of its worst years in the three decades as the energy shocks unleashed by the war in Ukraine continue to reverberate, according to Bloomberg Economics.
In a new analysis, economist Scott Johnson forecasts growth of just 2.4% in 2023. That's down from an estimated 3.2% this year and the lowest — excluding the crisis years of 2009 and 2020 — since 1993.
However, the headline figure is likely to mask diverging fortunes, with the euro area starting 2023 in recession and the US ending the year in one. By contrast, China is projected to expand more than 5%, boosted by a faster-than-expected end to its zero-tolerance Covid strategy and support for its crisis-hit property market.
Differences will also be on display when it comes to monetary policy after a year in which central banks "dashed toward restrictive territory in a pack," Johnson wrote.
"In the US, with wage gains set to keep inflation above target, we think the Fed is headed toward a terminal rate of 5%, and will stay there till 1Q24. In the euro area, meanwhile, a more rapid decline in inflation will mean a lower terminal rate and the possibility of cuts at the end of 2023."
In China, where authorities are torn between a desire to support the recovery and concern about the weakness of the currency, "limited" rate cuts are on the cards.
Read more: Global Growth Set to Slow From 3.2% in 2022 to 2.4% in 2023
©2022 Bloomberg L.P.
Securing good jobs, clean air, and a strong economy – Prime Minister of Canada
Autoworkers have been a keystone of the Canadian economy for generations. By investing in the future of the auto industry, we are not only securing good middle-class jobs, we are fighting climate change, and building an economy that works for generations to come.
Since January alone, Canada has secured several historic manufacturing deals for electric vehicles (EVs), hybrids, and batteries – deals that will create and secure thousands of good, middle-class jobs and provide the world with clean vehicles. Today, we are seeing the results of one of those deals start to roll off the line.
The Prime Minister, Justin Trudeau, was joined today by Premier of Ontario, Doug Ford, to open Canada's first full-scale EV manufacturing plant, General Motors of Canada Company's (GM) CAMI assembly plant in Ingersoll, Ontario. Starting today and going forward, the plant will build fully electric delivery vans – the BrightDrop Zevo 600 – which will help cut pollution and keep our communities healthy for our children and grandchildren.
Thanks in part to a $259 million investment from the Government of Canada, GM's CAMI assembly plant was able to retool its operations to build these electric vans. By 2025, the plant plans to manufacture 50,000 EVs per year. This investment has helped secure thousands of well-paying, high-quality jobs across GM facilities, and is helping advance the electrification of Canada's automotive sector.
The Government of Canada will continue to work to attract investment from companies around the world as we build our EV supply chain – from mining critical minerals to manufacturing batteries, and vehicles. By taking action today, we are positioning Canada as a global leader in EVs, fighting climate change, securing good jobs, and building an economy that works for all Canadians – now and into the future.
Quotes
"When we invested in GM's project to build Canada's first full-scale electric vehicle manufacturing plant in Ingersoll, we knew it would deliver results. Today, as the first BrightDrop van rolls off the line, that's exactly what we're seeing. This plant has secured good jobs for workers, it is positioning Canada as a leader on EVs, and will help cut pollution. Good jobs, clean air, and a strong economy – together, that's the future we can build."
"Today is proof that our historic investments in EV manufacturing are paying off. With the first BrightDrop vans coming off the assembly line, we're seeing the skill of Canadian workers making a huge difference as the world moves to EVs. Our government, in partnership with GM, is cementing Canada's leadership in the EV supply chain."
"This milestone represents GM at our best – fast, flexible and first in the industry. The BrightDrop Zevo is a prime example of GM's flexible Ultium EV architecture, which is allowing us to quickly launch a full range of electric vehicles for our customers. And, as of today, I am proud to call the CAMI EV Assembly team the first full-scale all-electric manufacturing team in Canada."
"This is a very exciting moment – a revolution in the way we transport people and goods. Today marks a huge day for BrightDrop, as we expand our footprint and begin producing the Zevo electric vans at scale, and a huge milestone for Canada on the road to a brighter future. Opening the CAMI plant is a major step in providing EVs at scale and delivering real results to the world's biggest brands, like DHL Express, who will be our first Canadian customer."
Quick Facts
The Government of Canada's $259 million investment supports GM's more than $2 billion project to reignite production at its Oshawa assembly plant, after operations stopped in 2019, and transform its CAMI assembly plant in Ingersoll.
The investment is being made through both the Strategic Innovation Fund and its Net Zero Accelerator Initiative.
The Government of Ontario made a matching contribution of up to $259 million toward the project.
Founded in 1918, General Motors of Canada Company (GM) is one of the largest automotive manufacturers worldwide. It is headquartered in Oshawa, Ontario, and is one of Canada's largest automotive manufacturers.
GM is planning to introduce 30 new electric vehicles by 2025, eliminate tailpipe emissions from new light-duty vehicles by 2035, and become carbon neutral in its global products and operations by 2040.
The automotive sector contributes $16 billion to Canada's gross domestic product and is one of the country's largest export industries.
The automotive sector supports the employment of nearly 500,000 Canadians.
The 2030 Emissions Reductions Plan, released in March, puts Canada on track to achieving our goal of cutting emissions by 40 to 45 per cent below 2005 levels by 2030 while continuing to build a strong economy.
To make zero-emission vehicles more affordable and accessible, the Government of Canada offers incentives of up to $5,000 off the purchase or lease of a light-duty zero-emission vehicle through the Incentives for Zero-Emission Vehicles (iZEV) Program. Since May 2019, close to 176,000 Canadians have taken advantage of this program.
Since 2015, the Government of Canada has invested $400 million in building approximately 35,000 zero-emission vehicle charging stations across the country.
Associated Links
UK's Economy To Dip Into Recession This Winter – OilPrice.com
By City A.M – Dec 05, 2022, 12:30 PM CST
The UK's recession will officially begin this winter and is likely to last for most of next year, a closely watched survey out today suggests.
S&P Global and the Chartered Institute of Procurement and Supply's (CIPS) final purchasing managers' index (PMI) measuring private sector activity in November was unchanged at 48.2, the lowest number since January 2021 when the UK was in the constrained by tough pandemic lockdowns.
The reading was below analysts' expectations but held steady from an earlier estimate. The services PMI was unchanged at 48.8. Services firms generate about two thirds of UK GDP.
The figure prompted experts to predict the forewarned recession will start during the final weeks of this year.
A recession is typically defined as two consecutive quarters of contraction. The UK economy shrank 0.2 percent over the summer.
PMI has slid this year
Source: S&P Global
Britain's PMI has now been below the 50 point threshold that separates growth and contraction for four months now, indicating consumers and businesses started cutting spending during the summer when the cost of living crisis gathered pace.
Chris Williamson, chief business economist at S&P Global Market Intelligence, said Britain is now in the teeth of the worst economic slowdown outside the Covid-19 pandemic since the financial crisis in 2008.
The economy is being spiked by the worst inflation crunch in 41 years, with prices rising 11.1 percent over the year to October.
Pay is failing to keep pace with inflation, putting households on track for the biggest living standards shock on record. The Office for Budget Responsibility reckons real incomes will fall 7.1 percent over the next two years.
That living standards squeeze is expected to drive a spending slowdown, keeping the UK in recession for at least a year. However, experts think the amount of GDP lost during the slump will be small compared to past recessions.
Businesses are being squeezed by soaring energy costs, forcing them to scale back unprofitable activity.
Gabriella Dickens, senior UK economist at consultancy Pantheon Macroeconomics, thinks businesses will have to shed workers to offset weaker spending.
"Firms will move decisively to reduce employment next year, as they are forced to consolidate costs in the face of higher financing costs and weaker demand," she said.
The pound slumped 0.34 percent against the US dollar on the news. The FTSE 100 climbed 0.24 percent.
By CityAM
More Top Reads From Oilprice.com:
City A.M
CityAM.com is the online presence of City A.M., London's first free daily business newspaper. Both platforms cover financial and business news as well as sport and…