How to play PS4 games on the PlayStation 5 – The Verge
The PlayStation 5 offers backwards compatibility for the existing PlayStation 4 lineup of games, meaning you'll be able to play almost any PS4 game you already own on the new console. Some games will also offer the option to upgrade to a proper PS5-optimized next-gen title, like Cyberpunk 2077 or Spider-Man: Miles Morales.
How to play backwards compatible PlayStation 4 games
The PS5 will be able to play nearly every PS4 game that's available through backwards compatibility. Sony also promises that some games will actually be able to take advantage of the extra power on the new console to provide a "Game Boost" for faster or smoother frame rates. That said, Sony also warns that some functionality from PS4 titles may not be available, and there may be "errors or unexpected behavior" when playing backwards compatible titles on the PS5.
Playing PlayStation 4 games off a disc (PlayStation 5 only)
The simplest way to play backwards compatible games (assuming you have a PS5 with a disc drive and a hard copy of the game) is to simply put the disc into your PS5. Some games will require an update to be installed, but beyond that, it's just plug and play.
Playing digitally purchased PlayStation 4 games (PlayStation 5 and PlayStation 5 Digital Edition)
Digitally purchased games are slightly more complex, although it'll still work similarly to downloading any other digital title. Players' existing PS4 games will continue to show up in their game libraries on the PS5, just like they currently do on the PS4. To install and play one, a player will have to select the game from their library and download it.
And unlike PS5 games (which will need to be installed directly to the internal SSD, where they can take advantage of the speed improvements Sony has made here), PS4 games can be installed and played directly from an external drive.
Sony also notes that it'll offer an option to transfer both digital downloads and save data from a PS4 to a PS5 over Wi-Fi or a LAN cable.
Saves
Players will be able to transfer game saves through a USB storage device from a PS4 to a PS5, and PS Plus subscribers will also be able to sync PS4 game saves through cloud storage.
Compatibility
Sony says that the vast majority of the PS4's 4,000-plus game catalog will work on the PS5 through backwards compatibility, with the exception of the following titles:
DWVR
Afro Samurai 2: Revenge of Kuma Volume One
TT Isle of Man – Ride on the Edge 2
Just Deal With It!
Shadow Complex Remastered
Robinson: The Journey
We Sing
Hitman Go: Definitive Edition
Shadwen
Joe's Diner
According to Sony, while PS4 games will work with the DualSense controller on the PS5, for the "best experience," it recommends using a DualShock 4 for playing PS4 games. (Players notably won't be able to use a DualShock 4 for PS5 games, however.) Other PS4 accessories — including the PlayStation VR headset and specialty racing wheels, arcade sticks, and flight sticks — will also work with the PS5.
PlayStation 5 upgrades
Some PS4 games will go a step further. Instead of just offering the option to play the existing PS4 version as it already exists, some titles will offer upgrades to a full-fledged next-gen PS5 version.
Sony notes that it'll be up to developers to decide where the upgrade is free, if it requires an additional purchase, or if it will only be available for a limited time. Some titles, like Cyberpunk 2077, have promised that players will be able to get a free upgrade to a proper next-gen version once it's available. Other titles — like EA's Madden 21 or FIFA 21 — will offer free upgrades but only for a limited time. Sony is also letting developers charge for next-gen upgrades, with the option to offer players who already own the existing PS4 version a discount.
Whatever the case is for your specific game, the process of upgrading is the same, though.
Upgrade a digital PS4 game to its PS5 version (PlayStation 5 and PlayStation 5 Digital Edition)
To upgrade a digitally owned PS4 game, you'll have to make sure you're logged in to whatever account you own the title on. Next, you'll have to find the corresponding PS5 version of that game on the PlayStation Store, where it'll have an offer to upgrade from your existing PS4 version to the new PS5 version. (Again, that offer may be free or paid, depending on what the developers decide.)
Then, simply download (or purchase and download) the new PS5 version just like you would any other game.
Upgrade a disc-based PS4 game to a PS5 version (PlayStation 5 only)
Upgrading a physical PS4 disc to its PS5 version is a little more complicated, though. Once you put the disc into your PS5, you'll have a new option on the game hub in the PS5 main menu to upgrade to the PS5 version. Like the digital option, you'll be able to either download the new PS5 version (or pay to upgrade and then download, should the game require it).
There's a big caveat here, though: while you'll have to keep the new PS5 version of the game downloaded on your hard drive to play it, it'll only work when the PS4 disc is still in your console.
Transferring saves
Transferring save data from a PS4 version to a PS5 version will depend on the developer, according to Sony. It's promising more details on how that process will work (including for its own first-party titles Spider-Man: Miles Morales and Sackboy: A Big Adventure) closer to launch.
Update October 9th, 2:30pm: Added additional details on transferring PS4 save data.
Five iPhone 12 features you won't find on any Android phones (and one Apple is missing!) – Daily Express
iPhone 12 and iPhone 12 Pro landed on shelves on Friday October 21, with those who managed to pre-order earlier this month receiving their new smartphones through the post on the same day. Apple looks like it's struggling to keep up with demand – with shipping estimates now slipping well into mid-November on most models. This could be a sign that Apple fans are flocking to the new design, reworked cameras and 5G support… or the widespread shutdowns due to the global pandemic have seriously impacted the Californian company's ability to manufacture handsets and ship them around the world at its usual scale. Who knows, it could be a bit of both.
What we do know is exactly how the iPhone 12 series stacks-up against its closest rivals from the likes of Samsung, OnePlus, Sony and Google. So, to breakdown exactly what the new iPhone has going for it – as well as what it's sorely missing – here is a list of five features that you won't find on its Android counterparts.
1) iPhone 12 features you won't find on Android: Ceramic Shield
Ceramic Shield is a new toughened glass developed with Apple and smash-proof specialists Corning. Although you'll find Corning's super-strength Gorilla Glass product, including the latest Gorilla Glass Victus (which is designed to prevent against day-to-day scuffs and scratches as much as drops) announced back in August, on a huge array of Android smartphones, the company uses a custom formulation when it works with Apple. And according to both companies, the latest result of this partnership is truly special.
Dubbed Ceramic Shield by the Apple Marketing department, the Californian company says it's tougher than any other smartphone glass available right now. Corning and Apple have infused the toughened glass with nano-ceramic crystals to improve toughness. The result? Apple says all four new iPhone 12 models are four times more likely to survive accidental drops.
2) iPhone 12 features you won't find on Android: MagSafe
Android smartphones have had wireless charging support for years… and Apple was incredibly slow to jump on the bandwagon. However, now that wireless charging is baked into every iPhone on-sale in the Apple Store, the US company is now bringing some interesting new additions to the table. MagSafe, which borrows its brand name from the trip-proof magnetic charging cables previously shipped with all MacBooks, lets the wireless charging puck snap to the back of your iPhone. This ensures the smartphone can't buzz itself out of alignment with the charging coils after a few notifications and means you'll be able to pick-up and use your iPhone when it's charging.
Of course, you can do all of that with a good ol' fashioned cable. But a charging cable isn't much good if you trip over it – it'll send your £999 iPhone 12 Pro flying across the room. That's something that won't happen with MagSafe. And more interesting than charging, Apple is already using MagSafe for a series of new accessories, including a lightweight card-holder that magnetically sticks to the back of your handset and new cases that trigger custom animations to match the colour of the accessory. Third-parties will be allowed to make their own MagSafe gadgets, so we're likely to see a truckload of interesting applications – from car charging mounts, to wallets and folios – over the coming months.
3) iPhone 12 features you won't find on Android: A14 Bionic
While most flagship Android smartphones are fuelled by the latest-and-greatest from US chipmaker Qualcomm, Apple designs its own processors. This has enabled the Californian firm to focus on what it prioritises – battery life, speed, camera – compared to a one-size-fits-all approach designed to work in devices from a wide variety of manufactures, like the Snapdragon 865. For the last few years, Apple's approach seems to have really paid off, with iPhones regularly toppling Android handsets with three times the amount of RAM during benchmark tests.
With the A14 Bionic, Apple is toppling its own MacBook Air models. The chipset inside the iPhone 12 series is the first smartphone silicon to be built on a 5-nanometer process. In a nutshell, that means all of the core components are squeezed together on a minuscule chip – allowing data to travel less distance and using less energy, which makes the smartphone faster and boost battery life, respectively. That's a (very) simplified explanation, but all you really need to know is that A14 Bionic is a true beast.
It boasts the fastest CPU and GPU by up to 50 percent compared to the fastest competing smartphone chips. A14 Bionic also includes a 16-core Neural Engine – designed to hope with AI tasks handled on the handset itself, like identifying faces in the Photos app, suggesting iOS apps throughout the day based on your habits, and more.
Apple says its A14 Bionic boasts an 80 percent increase in performance and is capable of completing 11 trillion operations per second. Android cannot match that… until the Huawei Mate 40 Pro, which will use a Huawei-designed chipset built with a 5nm process – but no access to YouTube, Google Maps or the Google Play Store, launches in the coming weeks.
4) iPhone 12 features you won't find on Android: Smart Data Mode
5G is clearly the future. This next-generation mobile signal allows super-speedy downloads and lower latency. Better yet, 5G smartphones won't lose speed when in a crowded area, like a packed football stadium, sell-out gig, or festival – something that can't be said for 4G. However, 5G can be a bit of a tax on battery life.
Most Android manufacturers have solved this issue by increasing the size of the battery cell. There's no denying it, this works pretty well. However, Apple has taken a different approach to enable it to create the "smallest and lightest" 5G smartphone on the planet – the diddy new iPhone 12 Mini, which launches in November.
Dubbed Smart Data Mode, the iPhone 12 will toggle between 4G and 5G based on how much bandwidth it thinks you need. So, if you're reading an email, or a long-form article – like this one – chances are, 4G speeds will work fine. So, Apple will quietly shift over your iPhone 12 to this slower mobile technology and conserve battery life. But, if you're about to jump on the train to start the morning commute and try to download an entire season of a show on Netflix, iPhone 12 will connect to 5G and download hours of HD content in a few minutes.
5) iPhone 12 features you won't find on Android: Dolby Vision
If you're a budding Hollywood director, the iPhone 12 is the first device on the planet that offers the ability to film and edit Dolby Vision HDR footage. Video can be shot in up to 60 frames-per-second – comfortably more than the 24fps most blockbusters are filmed at – and edited within the Photos app or iMovie. Dolby Vision grading is processed live and sustained during editing thanks to the grunt of the A14 Bionic (see above). Apple's professional-grade editing software Final Cut will be updated to support Dolby Vision HDR soon and you can already playback your latest movie with an Apple TV too.
1) Android features you won't find on the iPhone 12: High-Refresh Rate Display
A dizzying number of Android smartphones – at the same price point as the iPhone 12 and iPhone 12 Pro, as well as much cheaper – already offer a high-refresh rate OLED display. For those who don't know, until recently, most smartphone displays were 60Hz, which meant they refreshed the image 60 times each second. Doubling that to 120Hz makes system animations smoother, removes the stuttering from scrolling, makes fast-paced video games feel more responsive and much more.
Unfortunately, Apple has decided to keep the refresh rate at 60Hz across the iPhone 12 series. It's a shame as Apple is well aware of how brilliant 120Hz panels can be – the company was one of the pioneers of this technology when it introduced it to the iPad Pro range years ago. Given the shared "Pro" branding between this premium tablet and the iPhone 12 Pro, it seems odd Apple hasn't included it in the £999+ smartphone at the very least.
iPhone 12 Lineup Enables Personal Hotspot Over Faster 5GHz Wi-Fi – MacRumors
As noted by MacRumors contributor Steve Moser, and confirmed by Aaron Zollo, the iPhone 12 lineup introduces support for Personal Hotspot tethering over faster 5GHz Wi-Fi, compared to 2.4GHz Wi-Fi on previous iPhones.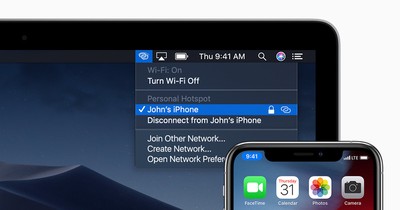 Personal Hotspot over 5GHz Wi-Fi is enabled by default on all iPhone 12 models. In the Settings > Personal Hotspot menu on these devices, there is a new "Maximize Compatibility" toggle that reverts Personal Hotspot to 2.4GHz Wi-Fi when enabled, with Apple noting that this may reduce internet performance on devices that are connected to the hotspot.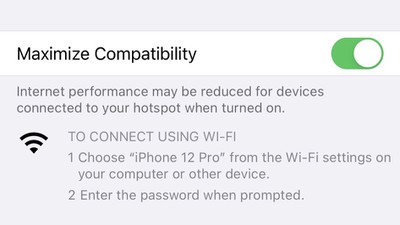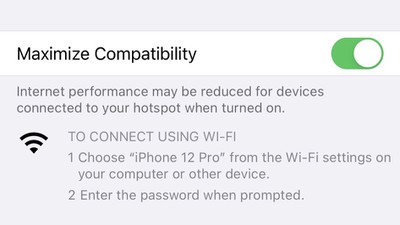 The combination of iPhone 12 models supporting higher-speed 5G networks and 5GHz Wi-Fi's higher maximum throughput paves the way for faster Personal Hotspot, but testing will have to be done to confirm the exact speed improvements. Keep in mind that while 5GHz Wi-Fi is faster than 2.4GHz Wi-Fi, it has shorter range, so Personal Hotspot speeds will vary based on the distance of a tethered device to the iPhone.
MagSafe 15W fast charging restricted to Apple 20W adapter – AppleInsider
New testing shows Apple's MagSafe charging puck does peak at 15W with iPhone 12, but only when paired with the company's 20W adapter.
The apparent restriction was discovered by Aaron Zollo of YouTube channel Zollotech. In a comprehensive evaluation of Apple's MagSafe device posted on Monday, Zollo found two Apple adapters — a new standalone 20W USB-C device and the 18W unit that came with iPhone 11 Pro handsets — achieved high rates of charge.
Measuring energy throughput with an inline digital meter revealed MagSafe hits the advertised 15W peak charging rate (up to 16W in the video) when paired with Apple's branded 20W adapter. Speeds drop to about 13W with the 18W adapter, and Zollo notes the system takes some time to ramp up to that level.
Older adapters and third-party models with high output ratings do not fare well in the test. Apple's own 96W MacBook Pro USB-C adapter eked out 10W with MagSafe, matching a high seen by Anker's PowerPort Atom PD1. Likewise, charging rates hovered between 6W and 9W when attached to Aukey's 65W adapter, Google's Pixel adapter and Samsung's Note 20 Ultra adapter.
It appears third-party devices will need to adopt a MagSafe-compatible power delivery (PD) profile to ensure fast, stable energy delivery when connected to iPhone 12 series devices.
As can be expected with any charging solution, temperature plays a significant role in potential throughput. Zollo found MagSafe significantly throttles speeds as temperatures rise, meaning actual rates are not a constant 15W even when using the 20W adapter. When heat rises, energy output decreases to protect sensitive hardware components and the battery itself. In some cases, this could prompt users to remove their iPhone from its case — including Apple-branded MagSafe models — to achieve maximum thermal efficiency.
Zollo also confirms older Qi-compatible iPhone models, like iPhone 8 Plus and iPhone 11 Pro Max, charge at about 5W with MagSafe. Apple previously said Qi devices would charge at 7.5W.