How to watch tonight's eta Aquariid meteor shower from anywhere – The Weather Network
In the early morning hours on Wednesday, we have a chance to see bright streaks across the sky, thanks to Halley's Comet and the eta Aquariid meteor shower.
Comet Halley is probably the most well-known comet in the world. It puts on a spectacular show every time it flies past our planet, but it only does so once every 75 years.
Twice each year, though, we get a reminder from 1P/Halley that it's only a matter of time before it comes back for another pass. The first such reminder arrives in the first week of May, in the form of bright streaks of light across the night sky.
This is the eta Aquariid meteor shower, which peaks on the night of May 5-6.
The radiant of the eta Aquariid meteor shower, in the hours before dawn, on May 6. Look for a lineup of Jupiter, Saturn and Mars, as well. Credit: Stellarium/Scott Sutherland
It's at this time of the year when Earth is making its first pass through the trail of dust and ice left behind by 1P/Halley, as it swings through the inner solar system and around the Sun. The peak of the meteor shower, typically seen in the morning hours of May 6, is when we cross the densest part of that stream. The planet makes a second pass through Halley's debris trail in late October, producing the Orionids meteor shower at that time.
WILL WE SEE IT?
The best time to see the eta Aquariids is in the few hours just before dawn on May 6. The radiant – the point in the sky where the meteors appear to originate from – only rises above the eastern horizon at around 3 a.m., local time.
This year is not ideal for the eta Aquariids, due to how soon dawn arrives after the radiant rises, and due to the presence of a nearly Full Moon in the sky. Fortunately, with the Moon in the southwestern part of the sky as the radiant rises in the east, its bright light will not be directly in a viewer's eyes. The light it does cast will 'wash out' the dimmest meteors from the shower, though.
Sky conditions will also be an important factor. Check your cloud forecast for the early morning, to see if your skies will be clear enough.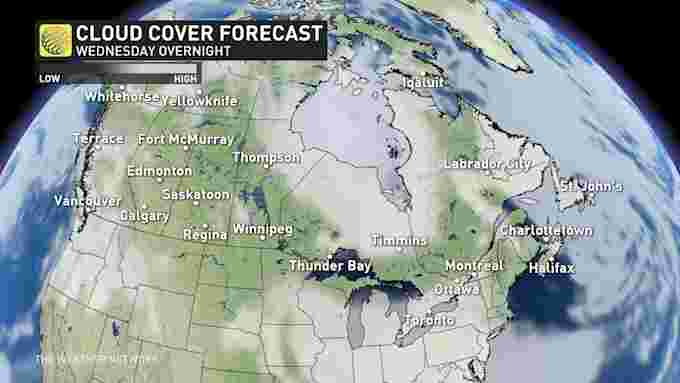 If it is cloudy where you are, thus blocking your view of the meteor shower, there are other ways to check it out.
You can see the signal meteoroids make when they plunge into the atmosphere via Meteor Radar or listen to them via the Meteor Echoes Livestream.
Astronomy Live Stream also presents nightly views of the sky over Colorado.
WHAT CAN WE SEE?
The eta Aquariids typically produce around 50 meteors per hour under ideal conditions (clear, dark sky, with the meteor shower radiant directly overhead). Most observers will likely see about half that number, so around 20-25 per hour, under this year's conditions.
The flash of a meteor is the result of one of those bits of dust or ice from the comet debris trail hitting the top of Earth's atmosphere.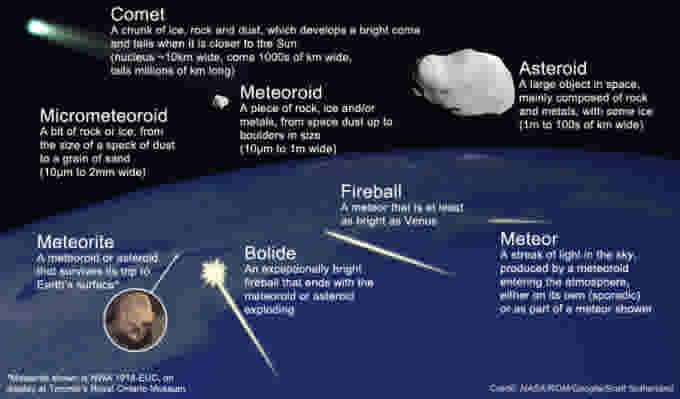 A primer on meteoroids, meteors and meteorites. Credits: Scott Sutherland/NASA JPL (Asteroids Ida & Dactyl)/NASA Earth Observatory (Blue Marble)
When a typical 'meteoroid' hits the top of the atmosphere, it is travelling around a hundred thousand kilometres per hour. It very quickly compresses the air in its path, so much so that the air heats up to glow, white-hot! This glowing is the 'meteor' that we see streaking through the air, high above the ground.
All the while, the air is pressing back on the meteoroid, causing it to slow down, and sometimes exerting enough force on the meteoroid to shatter it! Once the meteoroid slows to the point where it can no longer heat the air to the point of glowing, the meteor winks out.
This eta Aquariids meteor shower does not tend to produce bright fireballs, as the Lyrids do. The meteoroids are moving so quickly when they hit our atmosphere, however, that they can produce a phenomenon called persistent trains.
'PERSISTENT TRAINS'??
Watch below to see a persistent train from the Geminid meteor shower
When a typical cometary meteoroid hits the top of Earth's atmosphere, it is moving fast enough to produce a meteor flash (as mentioned above). The particles in the eta Aquariid stream, however, hit Earth's atmosphere travelling at nearly two and a half times faster than average!
Streaking through the air at 240,000 km/h, meteoroids from Comet Halley produce the usual brief meteor flash. They can also result in a bonus. Once the meteor goes out, a glowing trail is left behind, floating in the air, called a persistent train. Some persistent trains last for minutes after the meteor flash, while others remain visible for hours.
Since persistent trains have only rarely been recorded, scientists still aren't quite sure what causes them. Two basic ideas could explain them, though.
The first is that the meteoroids are travelling fast enough to strip electrons from the air molecules, leaving them in an ionized state. As the air molecules snatch up electrons from their surroundings, they release energy in the form of light. Since this process can take much longer than the original meteor flash, the 'train' appears fainter, and it can persist for some time after the meteor flash ends.
The other idea involves what is known as 'chemiluminescence'. Metals vaporizing off the surface of the fast-moving meteoroids can chemically react with ozone and oxygen in the air, to produce a glow.
One of these explanations may account for these 'trains', or both may cover different occurrences, at different times, and even between individual meteors. It will take more sightings of these to explain them fully.
Sources: RASC | Spaceweather
WATCH BELOW: METEORS SPOTTED FROM THE INTERNATIONAL SPACE STATION
NASA Invites Media to Launch of Mars 2020 Perseverance Rover – Stockhouse
WASHINGTON, June 3, 2020 /PRNewswire/ — Media accreditation is open for the launch of NASA's Mars 2020 Perseverance rover, designed to better understand the geology of Mars and seek signs of ancient life on the Red Planet.
The mission will use the robotic scientist, which weighs just under 2,300 pounds and is the size of a small car, to collect and store a set of rock and soil samples that could be returned to Earth by future Mars Sample Return missions. It also will test new technology to benefit future robotic and human exploration of Mars.
Perseverance will launch on a United Launch Alliance Atlas V 541 rocket from Space Launch Complex 41 at Cape Canaveral Air Force Station in Florida. The launch of Perseverance is scheduled for 9:15 a.m. EDTJuly 17 and is managed by NASA's Launch Services Program. Live coverage of the launch will air on NASA TV and the agency's website.
Due to the ongoing coronavirus (COVID-19) pandemic, NASA will be credentialing a limited number of media to cover the Mars 2020 launch from the agency's Kennedy Space Center in Florida. Due to COVID-19 safety restrictions at Kennedy and quarantine requirements, international media who would be coming from overseas will not be able to register for this launch. International media already based in the U.S. may apply.
Media accreditation deadlines are as follows:
U.S. media must apply by

4 p.m. EDT Sunday

, June 28
International media already in the U.S. must apply by

4 p.m. EDT Tuesday

, June 9
All media accreditation requests should be submitted online at:
NASA is proactively monitoring the coronavirus (COVID-19) situation as it evolves. The agency will continue to follow guidance from the Centers for Disease Control and Prevention and the agency's chief health and medical officer and communicate any updates that may impact mission planning or media access, as they become available.
For questions about accreditation, please email ksc-media-accreditat@mail.nasa.gov. For other questions, contact Kennedy's newsroom at 321-867-2468.
Reporters with special logistics requests for Kennedy, such as space for satellite trucks, trailers, tents, electrical connections, or work spaces, must contact Tiffany Fairley at tiffany.l.fairley@nasa.gov by Sunday, June 28.
The Perseverance rover was built at NASA's Jet Propulsion Laboratory in Southern California.
The Mars 2020 mission is part of NASA's larger Moon to Mars exploration approach that includes missions to the Moon as a way to prepare for human exploration of the Red Planet. Charged with landing the first woman and the next man on the Moon by 2024, NASA will establish a sustained human presence on and around the Moon by 2028 through NASA's Artemis program. Learn more at:
https://www.nasa.gov/moon2mars
View original content to download multimedia:http://www.prnewswire.com/news-releases/nasa-invites-media-to-launch-of-mars-2020-perseverance-rover-301070287.html
SOURCE NASA
Watch SpaceX launch its latest batch of Starlink satellites, including one with a sun visor – TechCrunch
SpaceX just launched its most important and historic launch ever this past weekend, flying NASA astronauts for the first time – on Wednesday, it's set to follow that up with a less significant Falcon 9 rocket launch, but one that's still vital to the company's future. This mission is the latest of SpaceX's Starlink launches, which the company is using to put up a vast network of small satellites to provide low-cost, high-bandwidth internet access to customers globally.
SpaceX's Starlink mission today has a launch window of 9:25 PM EDT (6:25 PM PDT) and includes a payload of 60 more satellites for the constellation, which already has 420 operating in low Earth orbit. The goal is ultimately to launch as many as 40,000 or of these small satellites in order to blanket the globe with connectivity that's broadly available, and that provides rock solid network consistency by handing off connections among the satellites as they make their way around the Earth.
This launch was originally scheduled to fly the week prior to SpaceX's Demo-2 crewed mission, which carried NASA astronauts Bob Behnken and Doug Hurley to the International Space Station on Saturday and Sunday, but was bumped due to a scheduling conflict with a ULA launch, and then further postponed until after the astronaut flight. It's still already the fifth batch of 60 Starlink satellites that SpaceX has flown in 2020. In total, SpaceX is hoping for up to two dozen Starlink launches in total before year's end, which will help it meet its goal of launching an initial beta service in Canada and the U.S. later this year, with a more global rollout following in 2021 or 2022.
This launch will take off from Cape Canaveral Air Force Station in Florida, and will use a Falcon 9 first stage that flew previously on four previous missions. SpaceX will attempt to recover the booster again through a controlled landing, and will also try to catch the fairing halves used to protect the satellite cargo using its 'Ms. Tree' and 'Ms. Chief' ships.
One key novel element for this flight is the test of a new technology SpaceX is hoping will help mitigate the impact of the Starlink constellation on night sky observation from Earth. Scientists have complained that Starlink is bright enough to interfere with sensitive optical instrumentation used to gather data deep space bodies and phenomena. To address that, SpaceX has designed a deployable 'visor' system which extends from Starlink satellites post-launch and attempts to block sunlight reflecting off of their communications arrays.
SpaceX has equipped one of the 60 satellites on this launch with that system, as way of testing its efficacy before making it a standard part of the Starlink satellite build going forward. Depending on results, it could become a permanent fixture on all SpaceX's Starlink spacecraft for future missions.
Should today's launch be delayed (weather is currently looking around 60% favorable for the mission), there's a backup opportunity tomorrow, June 4 at 9:03 PM EDT (6:03 PM PDT).
Why a rocket launch can't unite us right now – The Verge
At 9:30AM ET on Tuesday, three American astronauts symbolically rang the Nasdaq opening bell from space — a celebration of SpaceX's historic launch that sent astronauts into orbit three days prior. The short ceremony played out live on the Nasdaq's giant screen in Times Square, with various NASA personnel clapping as one astronaut clanged a bell on the International Space Station.
The video glowed over the same streets where, in the days and nights before, thousands of demonstrators had gathered nearby to protest systemic racism and police brutality against black Americans.
This kind of cognitive dissonance has permeated SpaceX's first passenger flight — the first time that NASA astronauts have launched from the US in nearly a decade. NASA has been waiting for this moment since the last Space Shuttle landed in 2011, and now the agency wants to celebrate. It wants the United States and the world to celebrate, too. But if the space community expects the world to care about the things we do in space, there must be an acknowledgment of how broken things are on the ground and the injustices that still exist in the United States.
That might mean passing up the chance to ring the bell on Wall Street while the economy remains in tatters. It might mean a compassionate statement from the crew addressing the people on the Earth below, instead of answering rote questions from dignitaries and press.
There are eerie echoes between this SpaceX launch and Apollo 8, as others have pointed out. That mission, the first to reach the vicinity of the Moon, launched in 1968, a year that mirrors 2020 in its apocalyptic bleakness. The assassination of Martin Luther King Jr. had sparked protests throughout the country. Space enthusiasts like to look back on that mission with rose-colored glasses, as something that served as a shining beacon of hope during a tough time for the country.
But as others have pointed out, Apollo 8 didn't fix the turmoil of the time. Just look at where we stand today. Likewise, SpaceX's launch did not unite the country or the world, though NASA certainly tried to make that claim. "This was an amazing moment of unity for the nation," NASA administrator Jim Bridenstine said during a call with the astronauts after the launch. "It was an amazing moment for the whole world to look out in the midst of the coronavirus pandemic and the challenges. We're able to have very, very special moments where we can all look at the future and say that things are going to be brighter tomorrow than they are today."
If only it were that simple. The problem that NASA and the space community doesn't often understand is that spaceflight still isn't inclusive. These launches may be fun and emotional to watch, but they don't always feel like they're for everyone. Space is still an exclusive and expensive domain, and the people who are in charge of this industry are still predominately male and white. The idea that a launch could bring the public together during a time when widespread racism and injustice are at the forefront of people's minds is naive at best.
To be fair to NASA, Bridenstine acknowledged that an important space launch couldn't "fix" the world. "Look, I think what NASA does is astonishing. It's impressive, and it does bring people together," he said. "If the expectation was that things on the ground were going to change because we launched a rocket, I think maybe the expectation might have been a little high." He then proceeded to talk about just how many people tuned into NASA and SpaceX's launch coverage over the weekend.
Those numbers are just not important right now. Yes, the launch must have been a small bright moment for people who turned their attention to a rocket soaring into space for one brief moment this weekend. But if the space community wants to really have a uniting effect on the world, it must be deeply rooted in the happenings of Earth. And the space world seems to exist in a bubble where these things just don't have an effect.
While NASA acknowledged the problems going on down on the surface throughout the SpaceX launch, the statements didn't stray much from touting the idea that this launch was a beacon of hope for the world during a difficult time. Meanwhile, the industry has mostly sheltered in its celebratory bubble. While many other major industries have issued a flurry of statements addressing the protests, the giants of the spaceflight industry remained silent.
Instead, compassionate demands for change have been left to individuals in the spaceflight world, including former astronauts.
"It is not this mission that will bring us together but the individual people following it who step forward to lock arms with people we don't know but must learn to trust," former astronaut and former NASA Administrator Charles Bolden said on Twitter.
"Today demands we take pride not only in reaching the sky, but also sustained heights of decency, truth, compassion and justice for all, now!" former astronaut Mae Jemison said on Twitter.
"America let's get our crap together," former astronaut Leland Melvin said during a Facebook video. "This is unsatisfactory. We've got to stop this. And it's going to be the good people that do nothing now that start doing something to stamp this hatred, evil, and racism out."
Even if the space industry were to come out with a unified statement, from the outside, it feels like it's more or less business as usual within the space world. NASA and space companies continue to move forward with many of the same things they had planned, such as handing out contracts for major programs, making major announcements, and launching vehicles. But the times are anything but business as usual. If the space community wants to unite people, then it must make people feel like they are part of space, and that means being conscious of where people's lives are on the ground. It means committing to fix the wrongs in our society while also building vehicles to break the bonds of gravity.
Only then will people feel like they can come together to wonder in our journey toward the stars.