How to win an election? Do the substance as well as the theatre of politics – The Conversation AU
This is an edited extract from Chris Wallace's book, How to Win an Election, NewSouth Books.
---
Leadership challenges make terrific political theatre – the kind leaders themselves want to avoid. To do so they have to do the substance and theatre of politics well enough to keep their job and win elections.
Not doing the theatre of politics well enough means no one will ever know how well they do the substance, because no one will listen or watch to find out. The public sphere, as sociologist Ari Adut puts it, is "simply a space of appearances" that is sensory, largely visual, involves distance, and of which spectatorship is the essence – in short, it is spectacle.
Further, theatre is about emotion. The prime error made by contemporary social democratic politicians is to rely on reasoned argument to sway voters. Emotion trumps reason every time. Labor relies overwhelmingly on reason and facts to carry the day, making it easy pickings for right-wingers who understand the primacy of emotion and exploit it to the hilt.
Earnest political players may scoff at the importance of politics' thespian dimension, but even cursory consideration of a few prominent examples makes the point. As with Ronald Reagan, many of Bill Clinton's speeches were banal on the page but tremendously effective, and sometimes electrifying, in the delivery. In contrast, Hillary Clinton's speeches read well on the page but tended to fall flat in the delivery. The two outstanding examples of politicians whose speeches read brilliantly and were delivered brilliantly – Winston Churchill and John F. Kennedy – put tremendous time and effort into getting both the texts of their speeches and the performance of those texts absolutely right.
Who was the last Labor leader to pull off this double?
The Shorten-Morrison contest in 2019, on the Labor side, was bad theatre. Had Bill Shorten won rather than narrowly lost the 2013 election against Malcolm Turnbull, perceptions of him might have undergone the kind of transformation Gough Whitlam's did on winning office in 1972. As opposition leader, though, Shorten's presentational problems symbolised his situation and caged him in them.
Ill-fitting suits with overly large coats made him look like a boy in a grown-up's clothes. He spoke at voters rather than with them. They appeared as passive listeners to a politician rather than feeling a fellow human being was communicating with them, seeking their trust and favour.
Compare and contrast with Bob Hawke, whose enviable ability to be only and obviously himself, in public and in private, flaws and all, made him a national phenomenon and helped Labor win four consecutive elections in 1983, 1984, 1987 and 1990.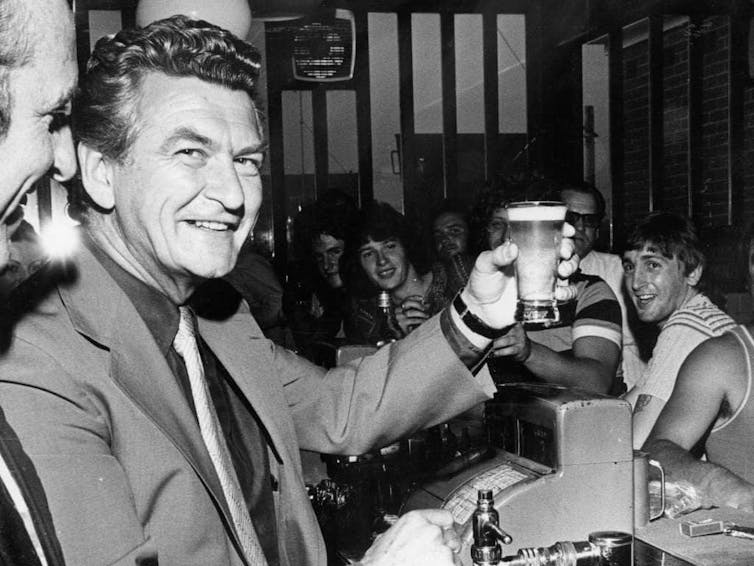 A university visit Shorten made to address a student meeting a few years ago suggested he was able to change gears if he wanted. The vice-chancellor attended. A wooden performance from Shorten ensued until one student asked an especially challenging question. Shorten electrified the meeting with the brilliance and conviction of his response, then reverted to his previous mode.
Afterwards the vice-chancellor raised the dramatic, impressive but temporary change in tenor for that one question and asked why he didn't speak that way all the time. Shorten said his office forbade it as insufficiently "leader-like".
So it did not have to be this way. Shorten could have been less wooden and more engaging, making him more credible and likeable – that is, more electable.
---


Read more:
How might Labor win in 2022? The answers can all be found in the lessons of 2019


---
Nor was it as though Scott Morrison was strong on the "trust" front himself. He had a documented record of sketchy performances in positions of responsibility, departing from two jobs under a cloud after serious governance failures – firstly, as director of the New Zealand Office of Tourism and Sport (1998-2000) and secondly in Australia under the Howard government as managing director of Tourism Australia (2004-2006).
In 2018, colleagues noted the cynicism and cunning of Morrison and his supporters in their manipulation of Peter Dutton into a leadership tilt against Turnbull, and then of Turnbull out of a prime ministership while ostensibly remaining loyal to Turnbull, with Morrison himself magically emerging from the fray as prime minister. Post-election revelations about the A$100 million "sports rorts" affair, overseen by Morrison's office in a way that bent the flow of cash to boost the government's prospects in marginal seats, reinforced concerns about his trickiness.
Nevertheless, Morrison easily bettered Shorten in the theatre of politics for the duration of the 2019 election campaign, when it really counted. Political scientist Glyn Davis, paraphrasing research by American sociologist Frederic Milton Thrasher on Chicago gang leaders in the 1920s, noted the leader "must embody those attributes the gang most values […] must be of the culture".
So it was that Morrison interacted enthusiastically with every ordinary voter in sight, left no sizzled sausage voraciously uneaten, and radiated palpable energy through the media coverage of those interactions to voters not there. Shorten and his wooden ways looked lower energy and less relatable by comparison. Relative to Shorten – and that is an important qualification – Morrison visibly connected with enough people in enough places, amplified through the media, to boost his chance of winning significantly.
Bob Hawke did the same for Labor, informed by and advancing social democratic rather than conservative values, in his four consecutive election wins from 1983. Voters want to feel, vicariously if they cannot get it directly, energy and connection.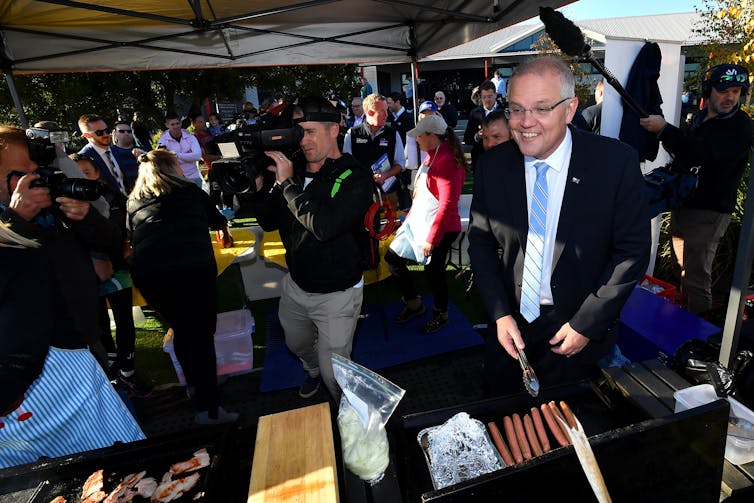 "It is often said of democratic politics," historian David Runciman pointed out astutely, "that the question voters ask of any leader is: 'Do I like this person?'
But it seems more likely the question at the back of their minds is: 'Would this person like me?'"
Morrison enthusiastically made encounters with voters appear to be all about them, conveying the impression he really liked the ordinary Australians he met on the election trail. Viewers of news reports carrying pictures of these interactions day in, day out, during the campaign were more likely to think he would like them too.
With Shorten, it too often seemed to be about him as he stayed controlled and within himself, smiling but slightly distant, looking ahead to the next person whose hand had to be shaken almost before he finished shaking the one in front of him.
Morrison's mishandling of the national crisis over the summer of 2020 – secretly going on holiday to Hawaii while the east coast was ablaze, having his office deny he was there, reluctantly returning when he was found out, failing to show compassion for affected communities and then attempting to exploit the situation for political gain through ads designed to burnish his leadership standing – revealed his true self. But he managed to devise, create and perform the "daggy dad" political persona for the five weeks of the 2019 election campaign sufficiently well to see off Shorten's prime ministerial prospects for good.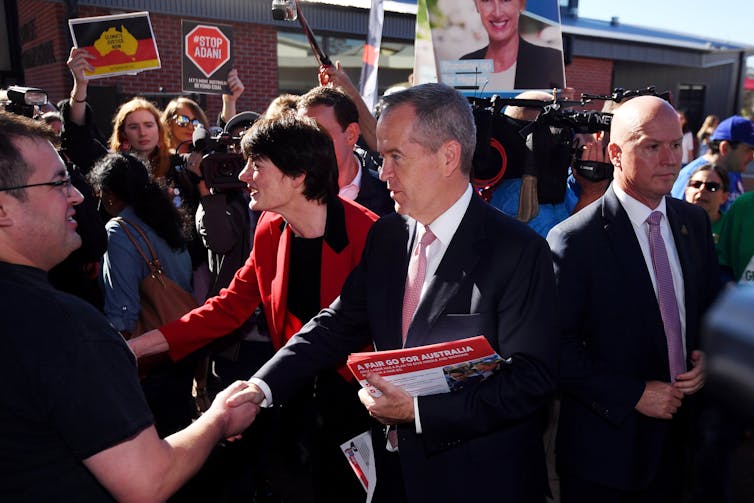 Winning the theatre of politics does not always come down to good looks, likeability or the ability to scoff sausages like a local, but it does always come down to the better performance. In his successful 1993 election campaign, Paul Keating was respected and awesomely powerful in his public arguments and interventions – so much so that his opponent, John Hewson, cracked under the media pressure orchestrated by Keating's relentless pursuit of him on policy grounds.
---


Read more:
She won't be right, mate: how the government shaped a blokey lockdown followed by a blokey recovery


---
The campaign yielded two of the most memorable images of modern Australian politics: Lorrie Graham's photograph of Keating cheekily peering over a pair of dark sunglasses on the cover of Rolling Stone magazine, and a perspiring Hewson facing Mike Willesee's forensic examination on the Nine Network's A Current Affair of the way his proposed goods and services tax would apply to the purchase of a birthday cake. Keating was cool; Hewson perspired under pressure. Keating won the substance and theatre of the campaign, the theatre powerfully coming, during the campaign, to symbolise the substance.
So successful leaders need to be able to do both, ideally in a way that enables voters to say yes when asking themselves the question: "Do I like this person and, more importantly, would they like me?" A leader who can do the substance and theatre of politics will beat a competitor who can only do the substance or theatre of politics every time.
Wirecard: the scandal spreads to German politics – Financial Times
In September 2019, Angela Merkel's top economic adviser, Lars-Hendrik Röller, met a delegation from payments group Wirecard, which at the time was still seen as one of Germany's most successful tech companies.
One of Mr Röller's visitors in the chancellery in Berlin was Burkhard Ley, a strategic adviser to Wirecard and its former chief financial officer. A year later, Mr Ley is in police custody, accused of fraud, embezzlement and market manipulation. He denies any wrongdoing.
The get-together highlighted the extraordinary access the payments group enjoyed to Germany's top decision makers until shortly before its collapse this summer — access which has shone an unforgiving light on the influence of lobbyists over German politics.
Wirecard has gone down as the most spectacular case of financial misconduct in postwar German history. But it is now fast becoming a political scandal too. Earlier this month the Bundestag decided to launch a full parliamentary inquiry into the affair, ensuring that it will continue to capture headlines well into 2021 — a year when Germans go to the polls to elect a new parliament — and potentially cast a shadow over Angela Merkel's final months as chancellor.
One key area of interest for MPs is why the authorities seemed so slow to recognise the gravity of the situation at Wirecard. The Röller-Ley meeting took place months after whistleblowers had raised serious concerns about fraud at the payments processor that triggered a police probe in Singapore. Members of the German government — including Ms Merkel herself — continued to lobby for Wirecard, despite mounting doubts about its accounting practices.
The scandal has also exposed the weaknesses of Germany's system of financial regulation, and in particular the toothlessness of its markets watchdog BaFin. Opposition MPs are still incredulous that instead of investigating the substance of the allegations against Wirecard, BaFin and criminal prosecutors in Munich went after the very journalists and short-sellers who had highlighted suspicious activities at the payment provider.
"With the knowledge we have today, this is an utterly hair-raising situation for us," a senior German official told the Financial Times, conceding that "the level of [alleged] criminality at Wirecard by far exceeded the power of my imagination". Government bodies as well as private-sector institutions such as auditors had, he said, all failed miserably.
For Germany's opposition parties, it is the political failures which are particularly egregious. Many MPs single out Olaf Scholz, finance minister and Social Democrat candidate for chancellor in next year's Bundestag elections, who oversees both BaFin and the Financial Intelligence Unit, Germany's anti-money laundering agency. The FIU has come under fire for failing to pass on dozens of Wirecard-related suspicious activity reports to the German public prosecutor's office.
"No government agencies played any role in uncovering the crime — neither BaFin, nor the FIU, nor the public prosecutor," says Florian Toncar, an MP for the pro business Free Democratic party. "The state made zero contribution to getting to the bottom of the Wirecard affair."
The Bundestag's committee of inquiry is not yet constituted, its remit still unclear. But it is already obvious what kind of questions might interest MPs.
Why, for example, did Ms Merkel lobby for Wirecard while on an official trip to China in September last year when her own finance minister was aware of continuing investigations into the company? Why did deputy finance minister Jörg Kukies visit Wirecard boss Markus Braun at his Munich headquarters last November, on the day of the chief executive's 50th birthday?
Why did BaFin appear so reluctant to investigate a company that had been generating negative headlines for months? Why were BaFin employees able to trade Wirecard shares while the agency was investigating the payments group?
And why did BaFin respond to FT articles alleging accounting fraud by banning investors from betting against the company's shares for two months, and later filing a criminal complaint against two FT journalists who had authored the reports?
Fabio De Masi, an MP from the hard-left party Die Linke, who was one of the few lawmakers to take an early interest in Wirecard, says the signal Bafin's actions sent was "just terrible". "It was a message to all critics of the company that they were spreading malicious rumours," he says. "And it was a message to German journalists to be very, very careful before you write anything negative about Wirecard."
'Fig leaf' inquiry
Wirecard was once seen as a rare German tech success story. In 2018 it replaced Commerzbank in the prestigious Dax index and a year later dreamt of taking over Deutsche Bank. But that fantasy unravelled in June when it admitted that €1.9bn in cash was missing from its accounts. Within a week Wirecard had collapsed into insolvency, and €13bn in stock market value had been wiped out.
At least seven of its former top managers are suspected of running a criminal racket that defrauded creditors of €3.2bn. Four people are in police custody and Jan Marsalek, Wirecard's fugitive former second-in-command, is on Interpol's most wanted list.
For Lisa Paus, MP and finance spokesperson for the opposition Greens, there is a pattern to this. "Wirecard is the latest in a whole series of financial scandals in Germany that BaFin failed to uncover," she says. "You need a really tough watchdog with proper investigative skills to identify fraud, and that's the opposite of what we have right now."
She cited the "Cum-Ex" fraud scheme, the controversial share trades which exploited a design flaw in Germany's tax code to rob the country's exchequer of billions of euros in revenues. Then there are the various misconduct scandals at Deutsche Bank, which were unearthed by US and UK regulators, and the Volkswagen diesel affair, which was uncovered not by German authorities but by the US Environmental Protection Agency.
Some suspect that the German authorities were motivated by a desire to shield a national tech champion from external criticism. "You have the impression the regulators said — hey, we have this model German company, . . . it's a victim of attacks by foreign hedge funds, and the FT is their tool," says Mr Toncar. "And that was a grave miscalculation."
Asked by the FT if it was true that the government and BaFin deliberately sought to protect the payments processor, Mr Scholz said there was "no evidence" of that.
He also brushed off the claim that the government could have done more to uncover wrongdoing at Wirecard — implicitly pointing the finger instead at EY, the accounting firm that gave the disgraced tech group unqualified audits for more than a decade.
Mr Scholz drew parallels between the Wirecard debacle and the Enron scandal in the US. There was not only a "gigantic accounting fraud", but in both cases, "auditors who checked the company every year failed to identify this manipulation".
That is why, he said, he was pushing for reform of the accounting industry. One finance ministry proposal would force large companies to switch auditors more frequently, and for accountancy firms to better separate their audit units from their consultancy businesses.
BaFin, too, has tried hard to fend off criticism that it failed to act. Felix Hufeld, its president, has argued that German capital markets laws left the agency no alternative but to act as it did. The authority, he told the German parliament, lacked a legal mandate to supervise Wirecard as a whole and instead oversaw only Wirecard Bank, a small subsidiary of the group.
Meanwhile, he argued, under German law BaFin did not itself have the right to launch a special audit of Wirecard's accounts. All it could do was to turn to a body called the Financial Reporting Enforcement Panel, a private sector organisation which monitors the accounting practices of listed companies on behalf of the government, and ask it to investigate Wirecard. This is what happened in mid-February 2019.
BaFin then hunkered down for a long wait. Under Germany's so-called "two-tier procedure", the regulator cannot initiate its own investigation into a company until it has received the results of a Frep probe. Yet Frep, which has only 15 employees and an annual budget of just €6m, is ill-equipped to conduct the kind of forensic investigations required to uncover fraud.
When Wirecard went bust, the Frep probe was still continuing. Only after the company's insolvency did Frep formally conclude that its financial statements were inadequate, according to a person with first-hand knowledge of the situation.
The slowness of Frep's work had far-reaching consequences. Over the summer of 2019, Wirecard was able to raise €1.4bn in new debt from external investors. While the cash was partly needed to fund the company's cash-burning operative business, prosecutors also suspect that hundreds of millions were siphoned out of the group.
In any case, critics dispute the assertion that BaFin's only option was to request a probe by Frep: they argue that the Wirecard situation was so serious that BaFin should have considered more drastic action — and that it had the option to do so.
"BaFin did not take the allegations seriously," says Rudolf Hübner, a capital markets lawyer at Quinn Emanuel Urquhart & Sullivan in Hamburg. "Commissioning Frep was just a fig leaf, as that body has neither the remit nor the resources for a forensic audit." He argues that German law provides BaFin with several options to intervene decisively to uncover accounting fraud. "The problem wasn't a lack of power," says Mr Hübner.
Just days after Wirecard filed for insolvency, the government announced sweeping changes to the way accounting is policed in Germany. It terminated its contract with Frep and promised to give BaFin more investigative and forensic powers.
"[BaFin] used the powers that it had at the time [when it commissioned a Frep probe] — but they weren't enough," Mr Scholz tells the FT. "That's why we now want to give [it] the capabilities it needs to act with more bite."
Chinese move
It is not only Mr Scholz and the finance ministry who have come under scrutiny over the Wirecard affair. Ms Merkel, too, is in the spotlight.
On September 3 last year she received a visit from a former colleague, Karl-Theodor zu Guttenberg, according to a timeline of contacts provided by the chancellery. He had once served as German defence minister, but was forced to resign in 2011 over a scandal about plagiarism in his doctoral thesis. He now works for an advisory firm, Spitzberg Partners: one of its clients was Wirecard.
Mr zu Guttenberg brought up Wirecard in his chat with the chancellor and shortly afterwards emailed her adviser Mr Röller to say Wirecard was planning to enter the Chinese market by acquiring a Chinese payments company, the Beijing-based AllScore Financial, and needed the approval of the regulator, the People's Bank of China.
A couple of days later, Ms Merkel flew off on a state visit to China, and, while there, brought up Wirecard and the planned acquisition. After the trip, Mr Röller wrote to Mr zu Guttenberg promising "further political support", according to the chancellery's timeline. Wirecard announced the acquisition of AllScore, which came with a price tag of up to €109m, in early November 2019.
Ms Merkel has defended her lobbying for Wirecard. "It's common practice, not only in Germany, to bring up the concerns of companies on foreign trips," she said in August. Wirecard was, after all, a "Dax 30 company", and at the time of the China trip she had "no knowledge" of irregularities at the payments provider.
But that argument does not wash with the opposition. "She essentially did her former cabinet colleague zu Guttenberg a favour by bringing up Wirecard during the China trip," says Mr Toncar. "And she did it without checking what was happening at the company."
Some are now calling for a sweeping reform of lobbying in Germany. "The question is: who has access to the chancellor?" says Ms Paus, the Green MP. "There doesn't seem to be any sensible criteria. No one is checking who knocks on the door and who's let in."
Mr zu Guttenberg was not the only ex-government member lobbying for Wirecard. On September 11, Klaus-Dieter Fritsche, a former chancellery official who co-ordinated the work of the German intelligence services, introduced Mr Röller to Wirecard's current and former CFOs — Alexander von Knoop and Burkhard Ley. According to the chancellery timeline, the meeting was a "getting-to-know-you session" and a chance for Wirecard to inform Mr Röller about its "business activities in the Far East".
Others were more circumspect when it came to the payments company. Mr zu Guttenberg approached the German embassy in Beijing in late 2019, asking it to help Wirecard win Chinese regulatory approval for the AllScore acquisition.
But in November of that year a financial attaché at the embassy emailed the ambassador, Clemens von Goetze, warning him not to support Wirecard "at the present time". He said it would be better to wait until the accusations of accounting fraud had been "cleared up unreservedly", according to a copy of the email seen by the FT.
"[The attaché] clearly had a better sense of what was up at Wirecard than almost everyone who was dealing with the issue at BaFin," says Mr Toncar.
Beefing up BaFin
Since early September, an army of experts from Roland Berger, a management consultancy, has been sweeping through BaFin's headquarters in Bonn.
Commissioned by the finance ministry in Berlin, they have been asked to figure out the lessons that Germany's financial watchdog needs to learn from the Wirecard affair.
Critics say BaFin was asleep at the wheel, targeting short-sellers and journalists who raised concerns about Wirecard rather than investigating the substance of the allegations they made.
One thing that is already clear is that in any future reform, BaFin will be given the power to launch its own investigations into potential balance sheet manipulations by any listed company in Germany.
However, according to people familiar with the discussions, it is increasingly unlikely that the country's two-tier regulatory system, in which Frep, the private-sector institution, played a semi-official role, will be abolished completely. Frep is likely to negotiate new arrangements, though its role will be limited to conducting routine checks of corporate annual reports to ensure they are in line with legal requirements and accounting standards.
The big change is that BaFin will have greater freedom to launch its own forensic audit of a company at any time without being required to wait for the outcome of any Frep investigation.
In addition, BaFin is considering the creation of a new internal unit better able to identify unsound banks and insurance companies. This would pay special attention to institutions that have particularly risky clients, have grown extremely fast over a short period of time or are part of a larger, complex group that faces allegations of accounting fraud.
A third focus of reform is possible changes to the way BaFin deals with information from whistleblowers. People familiar with the matter say that the authority needs to improve its capacity to analyse data and connect the dots between separate pieces of information provided by different whistleblowers.
The German finance ministry is already making progress on another key reform — restricting BaFin employees from trading in shares of companies they supervise. The revelation that many of them had been dealing in Wirecard shares in the months leading up its downfall has only added to the political scandal around the company.
Politics Briefing: Legault to address rising COVID-19 cases as Quebec, Ontario see surge – The Globe and Mail
Hello,
COVID-19 cases in the country's two biggest provinces are of great concern to health officials.
Ontario is reporting a surge in new cases of COVID-19, with nearly half of them in Toronto.
The province reported 700 new cases on Monday that included 344 in Toronto, 104 in the Peel Region, 89 in Ottawa and 56 in York Region.
As of Sunday, Quebec had reported 896 new cases of COVID-19, which amounted to its highest jump in a single day in months.
Quebec's Premier François Legault is to hold a news conference this afternoon.
Ontario and Quebec have been most affected by COVID-19 and represent close to 80 per cent of all cases in Canada.
This is the daily Politics Briefing newsletter, usually written by Chris Hannay. Kristy Kirkup is filling in today. It is available exclusively to our digital subscribers. If you're reading this on the web, subscribers can sign up for the Politics newsletter and more than 20 others on our newsletter signup page. Have any feedback? Let us know what you think.
TODAY'S HEADLINES
The Liberal government is asking Parliament to fast-track its latest COVID-19 economic recovery package. Government House leader Pablo Rodriguez proposed Monday to limit debate on the bill which establishes more flexibility to qualify for employment insurance. It would also set up three new benefits for Canadians who won't qualify for EI but are still affected by the economic crisis generated by COVID-19.
The parliamentary budget office says Veterans Affairs Canada can clear its backlog of disability benefit applications in a year if it hires nearly 400 more people. The number of pending applications for benefits reached almost 50,000 by the end of March, up from about 21,000 in March 2017 and almost half the applications were considered complete and were waiting only for decisions by the department.
The Correctional Service of Canada is suspending visits to its institutions in Quebec to reduce the risk of spreading COVID-19 in federal prisons and community correctional centres. The agency said it is also stopping inmate work releases and temporary absences except for medical and compassionate reasons and the rules apply to 16 facilities in the province of Quebec.
Warren Fernandez (contributed to The Globe and Mail)on why real news matters amid the twin pandemics of COVID-19 and fake news: "At a time when so much has been turned on its head, this much has become clear: Real news matters. The truth matters. Objectivity matters. Balance and fairness matter. In short, quality journalism matters."
Dr. Stephen Hwang (contributed to The Globe and Mail) on why it is possible to end chronic homelessness if we act now: "The pandemic has forced us to confront the consequences of having allowed homelessness to persist in our cities for far too long. Canadians living on low incomes in crowded conditions have been disproportionally affected by COVID-19. In Toronto alone, more than 500 people experiencing homelessness have been infected with the coronavirus. As case numbers rise and the colder months move us indoors, adequate shelter is more important than ever."
David Shribman (contributed to The Globe and Mail) on why the presidential debate won't be a game changer: "They will clash on Washington's response to the coronavirus. They will battle over tax rates. They will scuffle over health care, climate change, federal regulation, race, the Supreme Court and the fate of the American middle class. They will trade barbs over whether one is a business-hating socialist and the other a power-loving tyrant. But don't expect Tuesday's debate between the two men running for the U.S. presidency – Republican Donald Trump and Democrat Joe Biden – to make much of a difference to the election outcome."
The Globe Editorial Board on why the carbon tax is on trial at the Supreme Court, with the Trudeau government's green plans at stake: "As a matter of science, greenhouse gases are clearly a national concern. But as a matter of constitutional law, a federal victory at the Supreme Court is far from assured. Our Constitution, and more particularly the way it has been interpreted over 153 years by the courts, has created a highly decentralized federation."
Colby Cosh (The National Post) on the B.C. NDP and federal Greens showing sharp contrast in styles: "We have the B.C. NDP, who showed little bashfulness in perpetrating what any New Democrat would call racial and sexual discrimination in any other context, and the Greens, who are dedicated enough to democratic principles and written rules that they immediately repaired a mistaken application of them."
Got a news tip that you'd like us to look into? E-mail us at tips@globeandmail.com. Need to share documents securely? Reach out via SecureDrop
New EU Asylum Rules: Even the Bare Minimum Will Require Radical Politics – World – ReliefWeb
BY
Claudia Meier
Julian Lehmann
For the past five years, European Union leaders have tried but failed to reform the block's rules on asylum. The main bone of contention was the Dublin Regulation, in particular the rule of first entry, which specifies that the first EU member state that an asylum seeker enters is responsible for hosting them and processing their asylum claim. Because of fundamental disagreements on how to reform ​"Dublin", all other reform proposals have gathered dust on shelves in Brussels. Meanwhile, thousands of asylum seekers still languish in dangerous camps at Europe's borders.
On Wednesday, the EU Commission finally unveiled the Union's new reform ideas. On responsibility for asylum applications, they aim to replace the rules of the Dublin Regulation by – drumroll – the rules of the Dublin Regulation. In other words, the basic rules will continue to apply, with some tweaks like member state cooperation in the event of numerous asylum seekers arriving at one member's borders at the same time. Fundamentally, the proposal cements the sad truth that the EU's asylum policy has become a sinister race to the bottom on who manages to host the least asylum seekers. Even this lackluster proposal on distributing responsibility was met with immediate and fierce opposition in some member states – including by Austria's Chancellor Sebastian Kurz, who declared it dead on arrival.
But the EU has few alternatives to reform. In 2015 and 2016, when the numbers of asylum applications spiked, illiberal political parties all over Europe were swift to exploit them for political gain. And they will do so again if member states fail to break the deadlock and sensibly reform the Dublin Regulation. Indeed, the current system leads to frustration everywhere: the EU's border states like Greece will repeat their mantra of being left overburdened, while others like France or Poland will complain that most asylum seekers who end up further north should have been accommodated in the countries of their first arrival.
Given this protracted situation, the upcoming negotiations on the proposed new laws will have to address two questions: What is the bare minimum that would make a reform better than no reform? And how can the champions of this bare minimum mobilize a majority for it? We think that, above all, a new governance would have to stand the test of being a more solidary system. But reaching – and salvaging – such a compromise will require radical political action.
Call the bluff with a different resettlement option. The EU Commission proposes that states who are unwilling to host asylum seekers as part of a relocation effort ​"in times of crisis" can instead contribute to collective effort by organizing returns of asylum seekers whose claims have been rejected ("return sponsorships"). This idea could prove a slippery slope into a situation where virtually every member state wiggles out of a commitment to admit asylum seekers – a recipe for more disasters and human rights violations like the ones the world is currently witnessing in Moria, Greece. To prevent this, the EU should cap the total number of such ​"return sponsorships" to 10 percent of all asylum seekers who are being relocated in the EU. Member states that still refuse to accommodate asylum seekers could be offered the alternative to accept the equivalent of their share of recognized refugees from outside the EU. Refugees are recognized as such by the UN High Commissioner for Refugees, so that this compromise would call the bluff on the argument that redistribution creates a ​"pull factor", as well as popular claims that only the most resourceful people manage to reach the EU.
Push through a low threshold for mutual support. The pact is vague on the criteria that would trigger any new mechanism in support of an overburdened EU state. For instance, it does not define the kind of ​"crisis" that would oblige member states to support each other. To address this flaw, the EU should set a threshold for each member state, depending on its economic power. This would send a signal of serious intentions to the states at the EU's external borders. In addition, any mechanism for mutual support would have to kick in automatically. Anything else would be an invitation for anti-EU governments to blame the European Union once the numbers of asylum seekers go up.
Up the stakes for spoilers. The single most important leverage the EU has over its member states is its budget. EU leaders have just adopted a new budget for the next seven years, following a 90 hour-long summit. The ball is now in the European Parliament's court – MEPs have yet to accept the carefully hatched proposal. One of the main points of contention is budget conditionality: many parliamentarians want the EU to be able to withhold funds when a member state does not comply with the principles of democratic rule of law. The EU parliament should explicitly include systematic violations of the rights of foreigners under EU jurisdiction – including during returns procedures – as part of its definition of democratic rule of law. This would finally give the EU leverage when a member state undercuts its minimum standards on asylum. It would also help to address the perverse incentive structure of the current system in which member states are ​"rewarded" for sub-standard asylum systems, because such systems bar the returns of asylum seekers who have traveled onward to other EU states.
Hammer home the message of international credibility. The EU's current treatment of asylum seekers is harming its international standing when advocating for principles like cooperation on migration policy, democratic rule of law and human rights. In several African states, EU officials have had to deal with rebuttals and accusations of hypocrisy when trying to argue for upholding the human rights of migrants. In private, German Chancellor Merkel has shared how China's President Xi – of all people – has also confronted her with the failings of EU migration policy. A new, more humane compromise on asylum policy is a crucial step for the EU to regain some of its credibility on the international stage.
The chances are slim that the ​"pact's" proposal on the Dublin Regulation will lead to concrete reforms worth fighting for. But the moment is more promising than it has been for a long time. The numbers of asylum applications in the EU have shrunk by almost 50 percent when compared to their peak in 2015. Since then, governments should have learned that the EU cannot afford a perpetual political crisis on asylum – and asylum seekers even less so.