How Women of Color Are Redefining What a Politician Looks Like – The New York Times
Forget pearls, go for the hoops.
Ditch the double-breasted blazer, grab a leather jacket.
Sensible shoes can be stilettos, or sneakers.
And you can never go wrong with a bold lip.
When preparing to make her national prime-time television debut at the Democratic National Convention this past week (tucked amid 16 other "rising stars" of the party) Yvanna Cancela knew which style she would go with: "the reddest of lips and biggest of hoops."
It was an ideological decision as much as a fashion choice.
"I think women in politics should present themselves as they see themselves, and not necessarily how they think they should be seen," said Ms. Cancela, a Nevada State Senator who lives in Las Vegas. "I try to be intentional while also walking the line of not reinforcing stereotypes. If I didn't like it, I wouldn't do it, but I wear my hoops about 90 percent of the time."
"People are much more responsive to authenticity than to conformity," she added.
Many of the most striking onscreen looks at the D.N.C. were departures — some slight, some daring — from anything resembling the uniform look of muted colors, conservative cuts and consultant-approved necklines that women in politics have been encouraged to abide by for years.
There was Keisha Lance Bottoms, the mayor of Atlanta, in a lemon-yellow shirt and chunky beaded necklace. Deb Haaland, one of the first Native American women to be elected to Congress, wore dangling turquoise earrings and a silver pendant, traditional symbols of protection and strength. Michelle Obama's gold vote necklace set off an insta-trend — but many women also noticed her bracelet-size hoop earrings.
As women of color ascend in politics across the country, they are expanding the definition of what it means to look like a politician. On the national stage, Kamala Harris is the first Black woman and person of Indian descent as a major party's vice-presidential nominee.
And from Congress to state legislatures to local offices, women in their 20s and 30s are entering politics equally comfortable talking policy as they are their preferred shade of lipstick. Women in their 40s and 50s say they are freer to express their personal style.
"Politics follows the culture not the other way around, so what you are looking at is an indication of that cultural shift," said Carol Moseley Braun, a former Democratic senator from Illinois who was the second Black woman to seek the presidency. In the 1990s, Ms. Moseley Braun wore her hair in braids — inadvertently becoming a topic of discussion in Washington.
For years, discussing female politicians' wardrobes has been a taboo, as if avoiding all talk about appearance would necessarily mean that women would be taken seriously in a male-dominated environment. (Just under 25 percent of members of Congress are women, a record high.)
Of course, male politicians have their own sartorial dilemmas. But viewing clothing as a form of self-expression has not, traditionally, been an explicit aspect of electoral politics, said Rhonda Garelick, a fashion historian.
Now, she sees women engaging in, and succeeding at, what she calls "pink politics" — reclaiming what has long been considered trivial, or a liability.
"As soon as we acknowledge the importance, it becomes a profoundly feminist act," said Ms. Garelick, a professor and the dean of the School of Art and Design History and Theory at Parsons School of Design. "For decades, women being glamorous meant risking not being taken seriously. But quite brilliantly, we are seeing women who are now unafraid of the arsenal of glamour, making a statement with their style and using it for the politically powerful tool it has always been."
Fashion is a bipartisan political tool, and she sees women in both parties expanding their definition of how a politician should dress. Sometimes, change is very personal.
Before she publicly spoke out about her diagnosis of alopecia in an emotional video revealing her bald head, Representative Ayanna Pressley, Democrat of Massachusetts, said that by wearing her hair in twists she "felt my most authentic and powerful self."
At the time, Ms. Pressley described her own style as "very conservative" and "traditional," adding: "It's only recently that I've been a little bit edgier in my dress." Since then, Ms. Pressley's leather jacket and colorful clothing have drawn their own fans.
Ms. Moseley Braun recalled a conversation years ago with a civil-rights leader who said that some of America's most persistent racism had as much to do with hair as skin color.
"It's a very sensitive issue for Black women," said Ms. Moseley Braun, who has worn dozens of hair styles during her decades-long career as a politician and ambassador.
In 2010, when Ms. Moseley Braun started her failed bid to become the mayor of Chicago, one campaign adviser told her she needed extensions so that she could wear her hair similar to the style that Mrs. Obama wore at the time.
"She insisted that if I didn't get those kinds of extensions then people would think I was out of touch, or that I was saying I was not worthy," Ms. Moseley Braun said. "I fell for the okey doke, it cost a fortune, and I still lost the election."
And for all that has changed, it is easier not to break boundaries. London Breed, the mayor of San Francisco, said that she no longer wears jeans in public, even when she is not on business. And though she has considered wrapping her hair in a scarf, she most often has it straightened.
"The safest thing to do is to go with the same suit," she said. "People do make comments, and women get them more than anyone else. I remember there was a mayor with only three suits and nobody said anything about his clothes."
Ms. Breed has turned to one mentor over the years to ask about image — Ms. Harris.
For her acceptance speech Wednesday, Ms. Harris wore a pantsuit, as she often does. But she is also known for her collection of Converse sneakers and got rave reviews for a rainbow sequin jacket she wore at San Francisco's pride parade.
"I grew up surrounded by people who took their appearance very seriously," Ms. Harris said in a 2011 interview published in Harper's Bazaar. "It was a sign of self-respect." (She also noted the "fabulous" ruching on an otherwise conservative suit she wore.)
When Ms. Haaland arrived in Washington, after winning office in 2018, she knew that many women cut their hair short or pull it back in a professional setting.
"My long dark brown hair is part of my culture," she said. "I have to honor my ancestors also. I wear big long dangly earrings, I wear a lot of bracelets. Sometimes they make a little bit of noise."
A decade ago, she may have felt pressure to leave her jewelry at home.
"But now I just think we're all these women, we all have each other's back," she said.
On Tuesday night at the D.N.C., when the camera turned to Representative Veronica Escobar during the roll call vote, she spoke about the deadly 2019 attack in her El Paso district, wearing all white and large gold hoop earrings. As a candidate, Ms. Escobar campaigned in sneakers, with her hair in a ponytail. There was nothing about her that made her stick out in the district. But when her husband went to visit her in Washington after she became the first Latina congresswoman from Texas, he teased her by remarking "you're easy to spot," referring to the bright clothes she was wearing that day.
"It's not that I want to go against the grain, I just do my thing," she said. Part of that thing is routinely walking through the National Capitol in towering heels. "I am always in tacones," she said, using the word for stilettos in Spanish.
In 2018, when she was 27, Lina Hidalgo ran for chief executive of Harris County, the most powerful office in Houston, and she heard conflicting views of how she should change her look. First, a longtime leader of a nonprofit group suggested during a meeting that she acquire a pearl necklace or two, so that she could look older and more serious. Then, at an event a few days later, two young activists pulled her aside to say that she needed to wear hoops to signal her progressive bona fides.
Ms. Hidalgo politely thanked the well-meaning supporters. Then she ignored them.
And yet, she had a nagging feeling that she was invisible at her own campaign events — that hardly anyone would recognize her as the candidate until someone else introduced her.
"The most common ways I see women using clothing is either as an invisibility cloak or as armor," said Katherine Johnson, an image consultant who volunteers her services to progressive female candidates, including Ms. Hidalgo, who won the election. "When you're playing in what is still a man's world, what I see women do over and over is try to project strength and power. But people also need warmth and connection."
What Ms. Hidalgo learned, she said, was "all the things that work for me and make me feel confident and strong," which she showcased in her own convention appearances.
"Every time one of us runs and wins, we're updating the perception of power," she said.
These days, Ms. Hidalgo's most striking fashion statements come in the form of her face masks — leopard print, elaborate embroidery, bright-green avocado — which she posts frequently on Instagram. In the past several months, she has received hundreds handmade by other women across the country.
Mitch McConnell is the apex predator of U.S. politics – The Washington Post
"I like the evil ones better," McConnell replied, with a thin smile.
No joke. At 78, after a half-century in politics, Addison Mitchell McConnell Jr. now stands at the precipice of what most Republicans only a generation or two ago would have said was impossible: conservative domination of the Supreme Court.
For McConnell, this is a personal triumph worthy of the history books. But history may record it differently. It seems probable that McConnell's epitaph will note instead that no one since the Southern segregationists of the 1940s and 1950s did more to cripple the proper functioning of all three branches of government, not to mention faith in the very idea of one America.
Historian Rick Perlstein has long described this chapter in the American story as "Nixonland," a jagged terrain of White racial fear and populist resentment of the federal authority that began in the mid-1960s. But while GOP presidents from Richard Nixon to Donald Trump have tilled that soil when it suited their purposes, McConnell has been, over the years, its most constant gardener, mixing arcane, cynically hypocritical legislative procedure and judicial appointments to turn emotion into lasting policy.
He has jammed hundreds of conservative judges onto the federal bench, making it younger, Whiter and more male — and far more partisan — in the process. In concert with the Federalist Society, McConnell is transforming the federal judiciary from sometimes-defenders of the poor, immigrants and people of color into the Praetorian Guard of corporations, the wealthy, and those whose cultural and racial privileges make them, at best, oblivious to their collective responsibility to all Americans. At the same time, McConnell is standing in the schoolhouse door of dozens if not hundreds of pieces of needed legislation, rendering the "world's greatest deliberative body" an empty pantomime of itself.
And if he succeeds in forcing another pliable justice onto the Supreme Court, he may prove responsible for undercutting whatever legitimacy a possibly disputed presidential election might have if, as many suspect, it must be settled by that court. One reason to move fast and give the court a 6-3 conservative majority? To take the relatively independent (and therefore unreliable) Chief Justice John G. Roberts Jr. out of the equation.
McConnell has been around so long people think they know him. But they don't, and that is by design. When you are the apex predator of U.S. politics, you don't really care what anyone thinks. In Kentucky, where I worked for six years as McConnell was beginning his rise, he is not so much loved as endured. People talk about him like the rainy Ohio River Valley weather: It's a pain, but it waters the crops. He retains an iron grip on state politics, has been elected statewide six times and is likely to win a seventh term in November. Democrats are pouring millions into defeating him. It's not a great bet.
McConnell, reduced to his essence, is a state party chairman on steroids. His eye for detail, and his feral sense of approaching threats, is total. In the summer of 1968, working for a U.S. Senate candidate that year, he traveled the state from Pikeville to Paducah with another young Republican, Jon Yarmuth, now the Democratic member of the U.S. House representing Louisville. After work, as they hunkered down at yet another rural motel, Yarmuth would suggest that they go out for a drink. Mitch would have none of it. "What he wanted to do was sit in the room," Yarmuth recalled, "and read every report and statistic about the county."
His granular focus on local matters derives in part from the fact that McConnell isn't Kentucky-bred. He was born in North Alabama and spent his childhood there and in Georgia before moving to Louisville as a teen. He and his family lived in the city's South End, where newcomers from the Deep South settled in a city whose moneyed ruling class saw itself as tweed-clad country cousins of the Eastern elite. McConnell absorbed the middle-class resentments of his neighborhood.
From boyhood on, he pursued every title he could find: high school student council president; college student president, law school bar association president, state president of the Ripon Society and so on, up the ziggurat of perches and entitlements, all the way to Senate majority leader.
These days he pitches himself to historians as the heir to the godfather of distributed power, James Madison. McConnell has a point, in one sense. The contrapuntal effect of the federal courts is valuable, even indispensable; a piece of Newtonian balance that the founders knew was important. But McConnell is not interested in balance: He is interested only in total dominance, and in a bulwark against change, whatever the cost to the country.
Why Supreme Court politics in 2020 look way different from 2016 or 2018 – CNN
We don't know what the ultimate effect of any Supreme Court battle will be on the 2020 election. Still, we can look at the playing board. It suggests the 2020 electoral calculus has fundamental differences with the electoral math of 2016 and 2018 when it comes to Supreme Court nominations.
Yesterday, I
noted that more
of former Vice President Joe Biden's supporters have said the Supreme Court was important to their vote than Trump supporters. That's very different from 2016, when Trump backers said the court was more important to their vote than Hillary Clinton backers.
The contrasts go deeper than that, however.
Trump, though, has centered pretty much his entire presidency around appealing to his base. He's done so, oftentimes, at the expense of bringing in more moderate voters to his cause. It's paid off for Trump.
In other words, Trump already has the base behind him in a way he didn't at many times in 2016. Any more gains he could make with them would be very limited.
There are distinctions between the 2018 and 2020 Supreme Court nomination showdown as well.
The Kavanaugh hearing, if anything, rallied the Republican base in red states.
The 2018 House elections tell a similar story. Unlike in the Senate, where a limited number of seats is up every cycle, every House seat was up for election in 2018.
House Republicans were not helped by the Kavanaugh hearings.
The 2020 presidential race will be fought on, if anything, more favorable terrain than the 2018 House elections. Democrats don't need to worry about winning a majority of congressional districts. They only need to win a majority of electoral votes.
The other two best pickup opportunities are in states where Trump is likely either up by a point or two (Iowa) or down by a point or two (North Carolina). In neither state is the Democratic Senate nominee running too far ahead of Biden.
The bottom line is that, while any estimates of what the upcoming Supreme Court fight means for the election are just guesses, 2016 and 2018 are not good road maps to understanding the dynamic in 2020. The situations are quite different.
The wildly unpredictable politics of the SCOTUS opening – CNN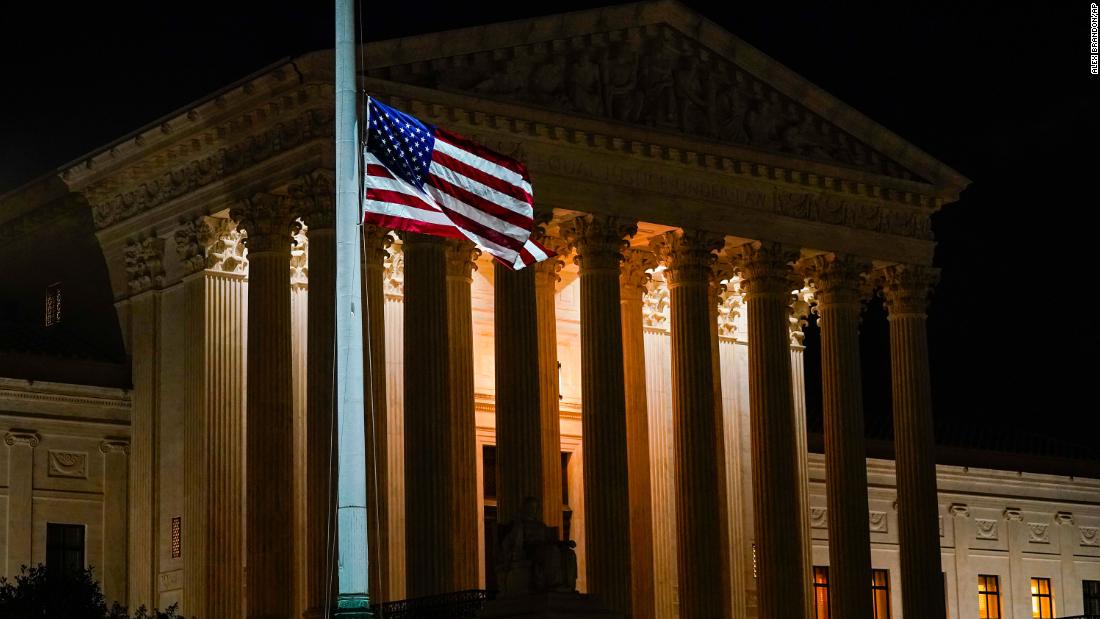 What we know a fight over a court seat will do is rally the Republican base behind Trump. The GOP's hardcore conservatives have generally stuck with Trump almost solely because of the number of federal judges he has appointed and the Senate has confirmed. Many may have wandered a bit amid Trump's demonstrably poor response to the Covid-19 pandemic, but a court fight may be just what the President and his campaign need to bring those lingerers back into the fold.