Huge underground search for mysterious dark matter begins – The Peterborough Examiner
LEAD, S.D. (AP) — In a former gold mine a mile underground, inside a titanium tank filled with a rare liquified gas, scientists have begun the search for what so far has been unfindable: dark matter.
Scientists are pretty sure the invisible stuff makes up most of the universe's mass and say we wouldn't be here without it — but they don't know what it is. The race to solve this enormous mystery has brought one team to the depths under Lead, South Dakota.
The question for scientists is basic, says Kevin Lesko, a physicist at Lawrence Berkeley National Laboratory. "What is this great place I live in? Right now, 95% of it is a mystery."
The idea is that a mile of dirt and rock, a giant tank, a second tank and the purest titanium in the world will block nearly all the cosmic rays and particles that zip around — and through — all of us every day. But dark matter particles, scientists think, can avoid all those obstacles. They hope one will fly into the vat of liquid xenon in the inner tank and smash into a xenon nucleus like two balls in a game of pool, revealing its existence in a flash of light seen by a device called "the time projection chamber."
Scientists announced Thursday that the five-year, $60 million search finally got underway two months ago after a delay caused by the COVID-19 pandemic. So far the device has found … nothing. At least no dark matter.
That's OK, they say. The equipment appears to be working to filter out most of the background radiation they hoped to block. "To search for this very rare type of interaction, job number one is to first get rid of all of the ordinary sources of radiation, which would overwhelm the experiment," said University of Maryland physicist Carter Hall.
And if all their calculations and theories are right, they figure they'll see only a couple fleeting signs of dark matter a year. The team of 250 scientists estimates they'll get 20 times more data over the next couple of years.
By the time the experiment finishes, the chance of finding dark matter with this device is "probably less than 50% but more than 10%," said Hugh Lippincott, a physicist and spokesman for the experiment in a Thursday news conference.
While that's far from a sure thing, "you need a little enthusiasm," Lawrence Berkeley's Lesko said. "You don't go into rare search physics without some hope of finding something."
Two hulking Depression-era hoists run an elevator that brings scientists to what's called the LUX-ZEPLIN experiment in the Sanford Underground Research Facility. A 10-minute descent ends in a tunnel with cool-to-the-touch walls lined with netting. But the old, musty mine soon leads to a high-tech lab where dirt and contamination is the enemy. Helmets are exchanged for new cleaner ones and a double layer of baby blue booties go over steel-toed safety boots.
The heart of the experiment is the giant tank called the cryostat, lead engineer Jeff Cherwinka said in a December 2019 tour before the device was closed and filled. He described it as "like a thermos" made of "perhaps the purest titanium in the world" designed to keep the liquid xenon cold and keep background radiation at a minimum.
Xenon is special, explained experiment physics coordinator Aaron Manalaysay, because it allows researchers to see if a collision is with one of its electrons or with its nucleus. If something hits the nucleus, it is more likely to be the dark matter that everyone is looking for, he said.
These scientists tried a similar, smaller experiment here years ago. After coming up empty, they figured they had to go much bigger. Another large-scale experiment is underway in Italy run by a rival team, but no results have been announced so far.
The scientists are trying to understand why the universe is not what it seems.
One part of the mystery is dark matter, which has by far most of the mass in the cosmos. Astronomers know it's there because when they measure the stars and other regular matter in galaxies, they find that there is not nearly enough gravity to hold these clusters together. If nothing else was out there, galaxies would be "quickly flying apart," Manalaysay said.
"It is essentially impossible to understand our observation of history, of the evolutionary cosmos without dark matter," Manalaysay said.
Lippincott, a University of California, Santa Barbara, physicist, said "we would not be here without dark matter."
So while there's little doubt that dark matter exists, there's lots of doubt about what it is. The leading theory is that it involves things called WIMPs — weakly interacting massive particles.
If that's the case, LUX-ZEPLIN could be able to detect them. We want to find "where the wimps can be hiding," Lippincott said.
___
Follow Seth Borenstein on Twitter at @borenbears.
___
The Associated Press Health and Science Department receives support from the Howard Hughes Medical Institute's Department of Science Education. The AP is solely responsible for all content.
SHARE:
Korea realises its ambitions and already travels to meet the moon – Atalayar
The Republic of Korea has been keen to demonstrate that it is in fact Asia's fourth-largest space power and ranks just behind China, Japan and India in terms of space ambitions and development.
With the launch of its first moon-bound probe, it has made it clear that although it is considered to be the world's tenth largest economy, it is one of the seven nations globally with the greatest interest in outer space. The South Korean scientific spacecraft is called Danuri, which in English means "enjoy the moon", weighs 678 kilos, is cube-shaped, measures 3.18 x 6.3 x 2.67 metres and, according to the Seoul government, cost 182 million dollars.
In a way, Korea has followed in the footsteps of the United Arab Emirates, which relied on Japan and its H-IIA rocket to send its first interplanetary probe, the Al Amal Mars spacecraft, to Mars. In the Korean case, it has chosen its great ally, the United States, and Danuri's liftoff took place late on 4 August from the Cape Canaveral launch complex in Florida. A Falcon 9 vector from US tycoon Elon Musk's SpaceX company was responsible for launching it en route.
The spacecraft took off on the same day that US Congresswoman Nancy Pelosi arrived in Seoul to support the Asian country in maintaining a strong deterrent against North Korea and seeking its denuclearisation. South Korean President Yoon Suk-yeol, who took office on 10 May, had the opportunity to speak to Pelusi by phone, thanking him for his gesture and explaining that Danuri will serve "to boost Korea's space economy and scientific expertise".
If the probe succeeds in reaching lunar orbit, the Republic of Korea will become the seventh nation to explore the Moon in situ, as Russia, the United States, China, India, the European Space Agency and Japan have already done. But the South Korean mission is not an isolated initiative. "The first step of our national space exploration programme is the moon," says Science Minister Lee Jong-ho.
Hyundai and Kia to be on the moon in 2031
The president of the Korea Aerospace Research Institute (KARI), Professor Lee Sang-ryool, has confirmed that "there are technologies we need to improve, but we can travel and land on the moon with our own capabilities". Seoul aims to launch a lunar surface module together with a small rover by 2031.
And they are already working on it. On 27 July, the car manufacturers Hyundai and Kia signed an agreement with six Korean research institutes to develop robotic technologies to equip the country's future space rover. The project is joined by Korea's extensive space business network, which manufactures satellites and even the KSLV-II Nuri launcher, which successfully completed its second successful flight into space from the Naro space centre in southern Korea on 21 October.
Regarding the Danuri probe – also known as the Korea Pathfinder Lunar Orbiter or KPLO – the Korean Ministry of Science and Telecommunications has already verified its proper operational status in orbit and confirmed that "the solar panels are generating sufficient power and all on-board devices are working properly".
It is being monitored throughout the mission by NASA's three Deep Space Network communications stations: the US station at Goldstone, California; the Australian station near Canberra; and the Spanish station located in the municipality of Robledo de Chavela, near Madrid. Korea also maintains partial contact with the probe via the large satellite dish it has built in Yeoju, Gyeonggi Province.
Danuri will reach its long-awaited goal by the end of the year and not in about six days, the time it took the Apollo 11 mission in 1969 to travel nearly 400,000 kilometres. The reason is that the South Korean spacecraft does not follow a direct trajectory, which consumes a lot of energy. Instead, it flies in the direction of the Sun. It follows a so-called "lunar ballistic transfer" trajectory with low energy and fuel consumption, until it reaches the so-called Lagrange Point 1 (L1), located 1.56 million kilometres from our Blue Planet, where the Sun's attraction is balanced by the Earth's attraction. There it will slow down and be re-routed towards the Moon.
135 days to reach lunar orbit
It is a similar path to that followed by the small American probe Capstone. Weighing 25 kilos and launched into orbit by NASA on 28 June from New Zealand, it is scheduled to reach the moon on 13 November, i.e. it will take 136 days to reach the moon.
If the Danuri mission goes according to the calculations of the KARI engineers, the probe will be captured by the Moon on 16 December after 135 days, i.e. four and a half months after the start of its flight. On 31 December, it will be placed in a circular orbit at an altitude of a hundred kilometres above the lunar surface. Once it has stabilised and the six scientific instruments on board have been checked, the spacecraft will begin observing and collecting data in early January.
One of the instruments has been provided by NASA. It is the ShadowCam camera, an evolution of the one on board the US Lunar Reconnaissance Orbiter probe, launched on 18 June 2009, but about 200 times more sensitive. Its task is to map with a resolution of up to 1.7 metres per pixel the ground of the lunar regions at both poles that are always in shadow. The ShadowCam is intended to locate water ice deposits and other resources to help plan future manned missions and build sustainable bases.
ShadowCam and communications are not NASA's only contribution. The Agency is providing technical assistance, navigation technologies and, in collaboration with the Korea Electronics and Telecommunications Research Institute, a kind of interplanetary Internet to prevent disruption of transmissions to Earth.
The other four instruments are a magnetometer (KMAG) to track the magnetic field between the Earth and the Moon; a gamma-ray spectrometer (KGRS) to search for spontaneous gamma-ray bursts produced by massive dying stars; a wide-angle polarimetric camera (PolCam) to analyse the properties of grains deposited on the lunar surface. For the descent mission planned for 2031, it incorporates a high-resolution camera (LUTI), which will provide images for KARI technicians to determine the most suitable landing sites.
Scientist's photo of 'distant star' was actually a slice of chorizo – USA TODAY
A French scientist apologized after tweeting a photo of a slice of chorizo that he claimed was a deep-space image of a "distant star" snapped by the James Webb Space Telescope.
Étienne Klein, a physicist and research director at France's Alternative Energies and Atomic Energy Commission, shared the spicy Spanish sausage shot on social media last week, applauding the "level of detail" it provided.
"Picture of Proxima Centauri, the nearest star to the Sun, located 4.2 light years away from us. It was taken by the James Webb Space Telescope. This level of detail … A new world is unveiled everyday," he posted on Twitter Sunday to more than 91,000 followers.
The first images from the $10 billion telescope – launched Dec. 25, 2021 – went viral throughout July when they were released to the public. The scientific marvel, a joint project involving NASA, the Canadian Space Agency and the European Space Agency, has traveled 1 million miles through space.
A few days after his post, Klein revealed the photo he tweeted was not from the world's most powerful space telescope. He admitted he tweeted a slice of the reddish, speckled meat.
"When it's time for the aperitif, cognitive biases seem to have a field day … beware, then, of them," he played off in further tweets. "According to contemporary cosmology, no object belonging to Spanish charcuterie exists anywhere but on Earth."
New space stamp release: James Webb Space Telescope will take flight as a US postage stamp in September
NASA's new telescope images: NASA releases 'sharpest' images of the universe from James Webb Space Telescope
"I feel compelled to clarify that this tweet showing an alleged snapshot of Proxima Centauri was a form of amusement. Let us learn to be wary of arguments from authority as much as of the spontaneous eloquence of certain images," he wrote, as translated by Google.
Natalie Neysa Alund covers trending news for USA TODAY. Reach her at nalund@usatoday.com and follow her on Twitter @nataliealund.
Top Scientist Admits Webb Telescope Star Photo Was Actually Chorizo – PetaPixel
A prominent French physicist is apologizing after admitting that a viral "distant star" photo he shared on Twitter was not actually captured by the $10 billion James Webb Space Telescope (JWST) but was rather just a slice of chorizo pork sausage.
On July 31st, Etienne Klein, research director of the French Alternative Energies and Atomic Energy Commission, tweeted the photo to his 90,000+ followers on Twitter and claimed that it was a new Webb telescope photo showing the closest star to our Sun.
"Picture of Proxima Centauri, the nearest star to the Sun, located 4.2 light years away from us," Klein wrote in the Tweet (as translated by Google). "It was taken by the James Webb Space Telescope. This level of detail… A new world is unveiled day after day."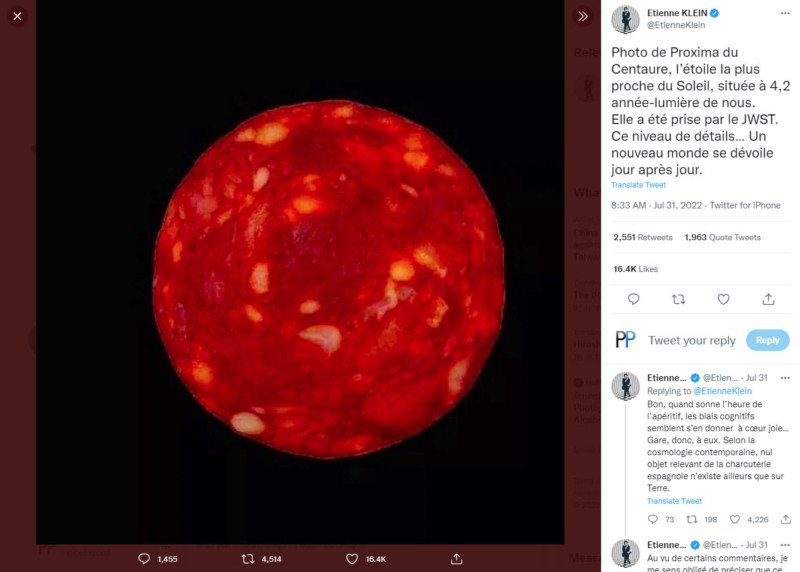 The tweet went viral and was retweeted thousands of times as people marveled at the imaging power of the Webb telescope, which has been wowing the world with never-before-possible space photos, including shots of the oldest galaxies ever observed.
In follow-up tweets, Klein revealed that what he had Tweeted was just a slice of Spanish sausage.
"Well, when it's cocktail hour, cognitive bias seem to find plenty to enjoy… Beware of it," Klein writes. "According to contemporary cosmology, no object related to Spanish charcuterie exists anywhere else other than on Earth.
"In view of some comments, I feel compelled to clarify that this tweet showing an alleged snapshot of Proxima Centauri was a form of amusement. Let us learn to be wary of arguments from authority as much as of the spontaneous eloquence of certain images…"
After receiving angry backlash to his tweet, however, the scientist apologized a few days later for spreading "fake news" that confused quite a number of people, stating that it was just a joke that was intended to warn his followers to be cautious about photos seen online.
"I come to present my apologies to those whom my hoax, which had nothing original about it, may have shocked," he writes. "I simply wanted to urge caution with images that seem eloquent on their own. A scientist's joke."
Klein also tweeted Webb's recent gorgeous photo of the Cartwheel Galaxy, assuring his followers that the photo was "real this time."
"This is the first time I've made a joke when I'm more on this network as a figure of scientific authority," the physicist later told the Paris-based news magazine Le Point. "The good news is that some immediately understood the deception, but it also took two tweets to clarify, "explains the researcher.
"It also illustrates the fact that on this type of social network, fake news is always more successful than real news. I also think that if I hadn't said it was a James-Webb photo, it wouldn't have been so successful."
The James Webb Space Telescope launched in December 2021 and officially began making scientific observations on July 12th, 2022. Now the largest optical telescope in space, it is using its unprecedented imaging capabilities to capture pioneering astronomical and cosmological images, including shots of atmospheres of exoplanets as well as the first stars and galaxies created at the beginning of the universe.