If the labor shortage continues, the US economy won't be able to recover – CNN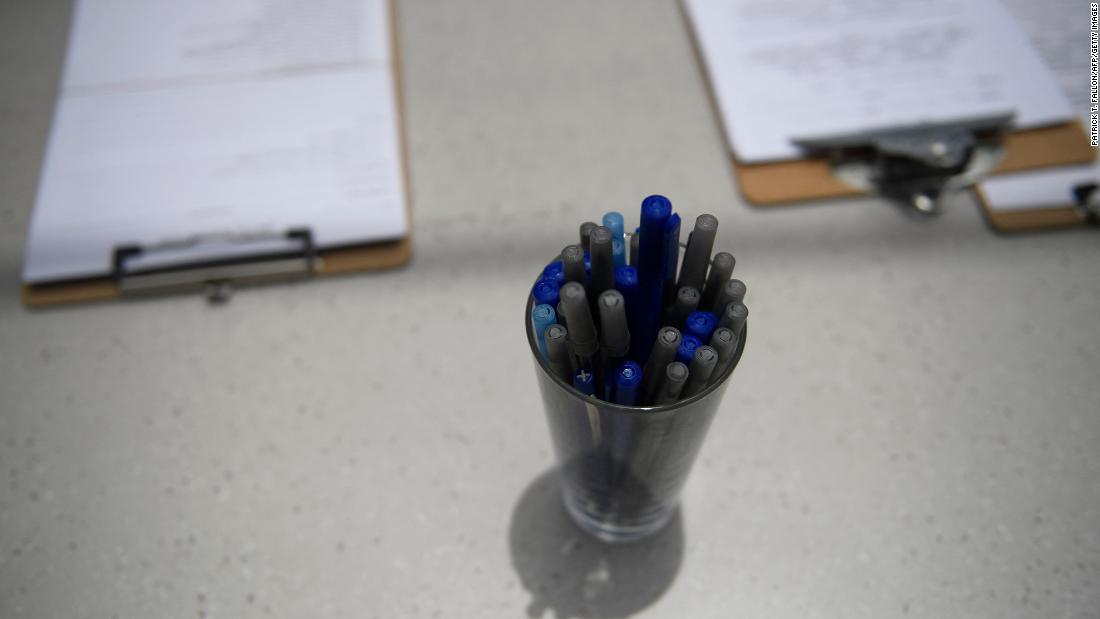 Gad Levanon is head of The Conference Board's Labor Market Institute. The opinions expressed in this commentary are his own.
After enhanced unemployment benefits expired and schools re-opened in person, many expected workers to go back to work and the nation's labor shortage to ease significantly by September. But recent data suggest that, if anything, the shortage is getting more severe. And though the risk of a severe shortage continuing into 2022 is not the most likely scenario, the chances of it are increasing. That means we could see significantly lower economic growth next year.
A majority of small firms (51%) say that they have job openings they are unable to fill, according to a September survey by the
National Federation of Independent Business
. The Conference Board
CEO Confidence survey
revealed that the percentage of firms citing difficulty attracting qualified people jumped from 57% in the second quarter of 2021 to 74% in the third. And the ratio of job openings to hires, a proxy for the average time to fill positions, is at a series high, according to the
Bureau of Labor Statistics
, as is the rate at which workers voluntarily quit their jobs.
A few factors are still limiting the supply of workers. Some people are delaying a return to the labor market because they still fear catching the virus and becoming deathly ill. The
federal mandate
for large private employers to require workers to be vaccinated or tested weekly may be a new drag on labor supply, as some workers will not be willing to get the vaccine. What's more, older Americans' labor participation rate, which measures the share of a population that is either employed or looking for work, significantly declined during the pandemic. And there are no signs of it recovering, either because older workers are at a higher risk of becoming extremely ill from catching the virus, or they feel financially prepared for retirement given the surge in stock and home prices in recent years.
In addition, many working-age Americans have become more selective in terms of the jobs they are willing to consider, or have decided to stop working altogether. Of course, how selective people can be depends on how long they can survive without a paycheck. And in the last 20 months, a significant share of households was able to increase their savings because of reduced spending, enhanced government support and a large increase in home and stock prices. But these savings will not last forever. The most likely scenario is that many Americans will return to the labor market in the coming months, leading to some easing in labor shortages.
That said, there is a significant chance that the dearth of workers will continue into 2022.
When businesses have difficulty recruiting and retaining workers, wage acceleration follows. According to the September jobs report,
average hourly earnings
increased at an annual rate of 6% over the past six months. That is more than double the average rate over the decade prior to the pandemic. Such wage acceleration will take a bite from corporate profits and may lead companies to raise prices.
What's more, not only did labor costs dramatically accelerate in 2021, but the inability to find workers impacted some companies' operations and contributed to lower
profits
. Meeting demand for 3 million to 4 million more workers as the US economy continues to reopen in 2022 will be a major challenge.
The US needs to find ways to raise the number of workers through larger and more economically motivated immigration policies, and higher labor force participation. For example, the federal government can make labor market needs for specific skills a larger consideration in immigration policy. And companies should attempt to hire more workers from demographic groups that typically participate less in the labor force.
If we do not address these issues, a continuing labor shortage would pose a serious risk to the 2022 US inflation and economic growth outlook. First, wages for new hires will continue to rapidly grow. That, on top of an escalating cost of living, will increase wage growth for workers who stay in their jobs. Across the board, higher annual raises and special adjustments to retain workers are likely to further increase companies' overall labor costs.
For the first time in decades, the scenario of a wage-price spiral, where higher prices and rising wages feed each other, leading to faster growth in both, could actually hinder economic growth. In such an environment, the Federal Reserve will be forced to raise interest rates multiple times in 2022 and materially slow GDP growth by more than what is already currently being forecasted.
Without policymakers, business leaders and thought leaders more clearly recognizing the current dangers that labor shortages pose, the US risks not being able to fully recover economically from the pandemic for the next couple of years.
Economy expected to show continued strength, flood recovery poses challenges | BC Gov News – BC Gov News
British Columbia's economic growth is expected to outpace Canada's in 2021 and 2022, according to projections from the Economic Forecast Council (EFC).
However, yet-to-be-determined economic impacts from recent flooding and extreme weather may affect future forecasts.
Each year, B.C.'s finance minister meets with the 13-member council of private-sector forecasters as part of preparation for the next year's budget. This year an additional set of discussions was added, providing an opportunity to consult with a new Environmental, Social, Governance (ESG) Advisory Council to further explore how the provincial government can continue to build resilience and support well-being in British Columbia.
Private-sector forecasters anticipate that, despite the pandemic, the province's economy will grow by 5.3% in 2021 and 4.2% in 2022, which is above the respective national GDP estimates of 4.9% and 4.1%. Although B.C.'s economy contracted in 2020 due to impacts from the COVID-19 pandemic, B.C. was among provincial leaders last year and the economy's 3.4% decline was smaller than originally projected.
"Momentum from our strong recovery and increasing vaccination rates over the last few months has helped put B.C. on a good path for future economic growth," said Selina Robinson, Minister of Finance. "There are more challenges ahead, but forecasts signal the work we have done so far has put us on the right track and provided us with a solid foundation to continue responding to the pandemic and recent flooding and support a strong recovery for British Columbians."
Discussions with the EFC and the ESG Advisory Council focused on current events, issues affecting B.C.'s economy and the environmental, social and governance opportunities and challenges facing the province. Key topics at the meetings:
climate change risks and impacts on people,
housing affordability,
reconciliation with Indigenous Peoples,
trade tensions and supply chain disruptions,
standard of living, poverty and inequality,
diversity and inclusion,
economic resilience and sustainability,
natural resource development, and
policies and measures that build shared prosperity.
"As we look to our recovery, we are aligning our investments with our priorities to ensure that while we grow our economic resilience, we are also making progress on addressing climate change, reducing poverty and inequality, and advancing reconciliation with Indigenous Peoples," Robinson said. "Following the incredible hardship our province has faced with this year's floods and fires during a pandemic, it's never been more important for us to share ideas about building resilience and sustainability."
Several forecasters noted that the provincial government's commitments to addressing climate change, its 10-year housing plan, record levels of capital investment and continued work to diversify the economy, have helped to insulate the province from some economic impacts and position the province well for longer-term sustainable growth.
Forecasts and feedback from the two councils will be used to inform the next provincial budget, which will be released on Feb. 22, 2022. EFC members will also have an opportunity to submit revised forecasts in early January.
Quick Facts:
In the Province's Second Quarterly Report, which does not yet incorporate impacts from the recent extreme weather and flooding, B.C. projected a revised deficit of $1.7 billion for the 2021-22 fiscal year, which is a significant improvement from the deficits previously estimated in Budget 2021 and the First Quarterly Report.
Environmental, social and governance are three main categories often discussed when evaluating sustainability performance, risk mitigation planning and societal well-being.
Canadian dollar hits a 10-week low on rising risk aversion
The Canadian dollar weakened against its U.S. counterpart on Friday as investors took advantage of a jump in the currency after stronger-than-expected domestic jobs data to add to bearish bets, with the loonie extending this week's decline.
The loonie was trading 0.2% lower at 1.2829 to the greenback, or 77.95 U.S. cents, after touching its weakest level since Sept. 21 at 1.2846. For the week, the loonie was down 0.3%.
"We have seen a swift move lower in risk appetite ever since the stock market opened," said Erik Bregar, an independent FX analyst. "The spike higher (in the loonie) this morning, it was a nice move to fade and keep riding the trend down."
Wall Street's major indexes fell as investors grappled with a disappointing U.S. jobs gain and uncertainty around the potential impact of the Omicron coronavirus variant, while the price of oil, one of Canada's major exports, settled 0.4% lower at $66.26 a barrel.
Canada's economy posted a job gain of 154,000 in November, eclipsing estimates for an increase of 35,000, while the jobless rate dropped to a new pandemic low.
Economists say the data is unlikely to change the Bank of Canada's guidance at a policy announcement next week amid worries over the new variant and after massive recent flooding in British Columbia that has hampered trade through Vancouver.
Still, analysts are sticking with bullish forecasts on the Canadian dollar, expecting oil prices to rebound and the Bank of Canada to hike interest rates before the U.S. Federal Reserve, a Reuters poll showed.
Canadian government bond yields were mixed across a flatter curve.
The 2-year rate rose 3.6 basis points to 1.009%, while the 10-year touched its lowest level since Sept. 27 at 1.425% before recovering slightly to 1.433%, down 7.3 basis points on the day.
(Reporting by Fergal Smith; editing by Barbara Lewis and Sandra Maler)
B.C. adds 4,600 jobs in November as economy braces for effects of flood disaster – Business in Vancouver