In coronavirus vaccine drive, Deep South falls behind – Airdrie Today
ATLANTA — The coronavirus vaccines have been rolled out unevenly across the U.S., but four states in the Deep South have had particularly dismal inoculation rates that have alarmed health experts and frustrated residents.
In Alabama, Georgia, Mississippi and South Carolina, less than 2% of the population had received its first dose of a vaccine at the start of the week, according to data from the states and the U.S. Centers for Disease Control and Prevention.
As in other parts of the country, states in the South face a number of challenges: limited vaccine supplies, health care workers who refuse to get inoculated and bureaucratic systems that are not equipped to schedule the huge number of appointments being sought.
But other states have still managed — at their best — to get the vaccines into the arms of more than 5% of their populations.
Though it's not clear why the Deep South is falling behind, public health researchers note that it has typically lagged in funding public health and addressing disparities in care for its big rural population.
"When you combine a large percentage of rural residents who tend to be the hard-to-reach populations and have lower numbers of providers with trying to build a vaccine infrastructure on the fly, that's just a recipe for a not-so-great response," said Sarah McCool, a professor in public health at Georgia State University.
In Georgia, the state's rural health system has been decimated in recent years, with nine hospital closures since 2008, including two last year. Local health departments have become the primary vaccine providers in some locations, as officials work to add sites where doses can be administered.
"If we're the only game in town, this process is going to take a long time," Lawton Davis, director of a large public health district that includes Savannah, said at a news conference on Monday.
Alabama and Mississippi have also been hit hard by rural hospital closures. Seven hospitals have shut down in Alabama since 2009 and six in Mississippi since 2005, according to researchers at the University of North Carolina's Sheps Center. Alabama, Georgia and Mississippi ranked in the bottom five of U.S. states in their access to health care, according to a 2020 report from a not-for-profit foundation connected to insurance giant UnitedHealth.
But overall, experts say it's too early in the vaccine rollout to draw conclusions about the region's shortcomings, and they can't easily be attributed to a particular factor or trend.
"We're sort of building this plane as we're flying, and there are going to be missteps along the way," said Amber Schmidtke, a microbiologist who has been following vaccine dissemination in the South.
Officials in the individual states have cited a number of challenges, but also acknowledged shortcomings.
"We have too many vaccines distributed that are not in arms yet," said Mississippi Gov. Tate Reeves, who noted that some hospitals in the state are not using their vaccine doses. He said that practice "has to stop."
Georgia Gov. Brian Kemp cited a similar challenge and warned providers holding on to vaccines that the state would take their unused doses even if that required "firing up" his pickup truck and doing it himself.
But in South Carolina, hospital officials say it is the state that has moved too slowly to expand access to the vaccinations, leaving them with unused doses. The state recently did offer the vaccine to those 70 and older.
Mississippi's Reeves said one of the biggest weaknesses in the state's vaccination system is the federal partnership with CVS and Walgreens to administer vaccinations in long-term care facilities. The pharmacy chains have been slow in hiring enough people to do the work in Mississippi, the governor said.
CVS Health said in a statement that it has "the appropriate resources to finish the job" at long-term care facilities. Walgreens did not respond to an email.
During an online forum hosted by Jackson State University in Mississippi on Thursday, U.S. Surgeon General Jerome Adams, who is Black, noted the reluctance of many African Americans to be vaccinated. He cited a general mistrust of medical systems stemming back to a now-defunct government study that started in the 1930s and left Black men untreated for syphilis for decades.
So far, only 15% of COVID-19 vaccinations in Mississippi have gone to Black people, who make up about 38% of the population, state health officer Dr. Thomas Dobbs said during the forum.
Officials in all four states also said some health care workers — among the first groups eligible for a vaccine — are choosing not to get inoculated. And some stressed that states were dealing with limited supplies and high demand and implored people to be patient.
"Yes, the phone lines will be busy. Yes, the websites will certainly crash," Kemp said Tuesday. "There are simply vastly more Georgians that want the vaccine than can get it today."
Mississippi officials said the state's website and telephone hotline were overwhelmed after the governor announced Tuesday that vaccinations were available to people 65 or older or people who have underlying medical conditions.
Liz Cleveland, a 67-year-old retired state employee who lives in Jackson, waited hours on the website using her cellphone, computer and tablet only to encounter unknown errors.
"It's like gambling. You may hit or you may bust," Cleveland said.
About 2 a.m. Wednesday, she was finally able to book appointments for herself and her husband next week in Hattiesburg, which is 90 miles (145 kilometres) away. Mississippi officials said Thursday that they will open an additional drive-thru site for vaccinations soon in the state's largest county.
Alabama officials also have been inundated with requests for appointments since announcing the state will begin vaccinations for people over 75 next week. A state hotline received more than a million calls the first day it was open.
Celia O'Kelley of Tuscaloosa said she couldn't get through to anyone to get an appointment for her 95-year-old mother.
"I am scared because Tuscaloosa is a hot spot," she said.
___
Associated Press writers Kim Chandler in Montgomery, Alabama; Emily Wagster Pettus in Jackson, Mississippi; and Michelle Liu in Columbia, South Carolina, contributed to this report.
Sudhin Thanawala, The Associated Press
What you need to know about COVID-19 in Ottawa on Tuesday, March 2 – CBC.ca
Recent developments
What's the latest?
The head of the breast imaging section of The Ottawa Hospital says the department has a backlog of about 20,000 patients who haven't received routine screening during the pandemic.
Quebec health officials, including the head of its vaccination campaign, are holding a news conference at 1 p.m. ET as the rollout expands in the Montreal area.
The CBC's Evan Dyer compares Canada's pandemic experience and statistics to other G7 countries, some where it's been more intense and deadly.
How many cases are there?
As of Monday, 14,770 Ottawa residents have tested positive for COVID-19. There are currently 510 known active cases, 13,820 resolved cases and 440 deaths.
Public health officials have reported more than 26,200 COVID-19 cases across eastern Ontario and western Quebec, including more than 24,600 resolved cases.
Elsewhere in eastern Ontario, 130 people have died of COVID-19, and 160 people have died in western Quebec.
Akwesasne has had more than 240 residents test positive on the Canadian side of the border and seven deaths. It's had nearly 500 cases combined with the southern section.
Kitigan Zibi has had 21 confirmed cases and Tyendinaga Mohawk Territory has had six, with one death.
CBC Ottawa is profiling those who've died of COVID-19. If you'd like to share your loved one's story, please get in touch.
What can I do?
Restaurants, gyms, personal care services, theatres and non-essential businesses are open across eastern Ontario. Most sports can also resume.
Social gatherings can have up to 10 people indoors or 25 people outdoors. Organized events can be larger.
People are asked to only have close contact with people they live with, be masked and distanced for all other in-person contact and only travel for essential reasons, especially between differently coloured zones.
Both Ottawa Public Health and the EOHU are orange under the province's colour-coded pandemic scale.
They have more restrictions than the rest of the region, which is in green, the lowest level. Local health units can also set their own rules.
Renfrew County's health unit has given multiple warnings that private gatherings are a problem and could cause stricter rules.
Western Quebec's gyms and restaurants can open under its orange zone rules, joining non-essential businesses. Outdoor gatherings of up to eight people are now are now allowed.
That area's new curfew hours are 9:30 p.m. until 5 a.m.
The exception is Grenville-sur-la-Rouge and some of the surrounding area, which remains in red.
Like in Ontario, people are asked not to have close contact with anyone they don't live with and travel from one region of Quebec to another is discouraged.
Distancing and isolating
The novel coronavirus primarily spreads through droplets when an infected person speaks, coughs, sneezes, or breathes onto someone or something. These droplets can hang in the air.
People can be contagious without symptoms, even after getting a vaccine. New coronavirus variants can be more contagious.
This means it is important to take precautions now and in the months to come like staying home while symptomatic — and getting help with costs if needed — keeping hands and frequently touched surfaces clean and maintaining distance from anyone you don't live with, even with a mask on.
Masks, preferably ones that fit snugly and have three layers, are mandatory in indoor public settings in Ontario and Quebec.
OPH says residents should also wear masks outside their homes whenever possible.
Anyone with COVID-19 symptoms should self-isolate, as should those who've been ordered to do so by their public health unit. The length varies in Quebec and Ontario; the latter recently updated its rules, including in schools.
Health Canada recommends older adults and people with underlying medical conditions and/or weakened immune systems stay home as much as possible and get help with errands.
People have to show proof of a recent negative COVID-19 test to enter Canada by land without a fine and have to pay for their stay in a quarantine hotel if entering by air.
Symptoms and vaccines
COVID-19 can range from a cold-like illness to a severe lung infection, with common symptoms including fever, a cough, vomiting and loss of taste or smell. Children can develop a rash.
If you have severe symptoms, call 911.
Mental health can also be affected by the pandemic, and resources are available to help.
WATCH | Don't avoid routine medical screening during COVID-19:
Dr. Jean Seely, head of breast imaging at The Ottawa Hospital, says some people are avoiding routine breast cancer screenings due to a fear of COVID-19, leading to the discovery of more advanced cancers when patients do come in. 1:03
Canada's COVID-19 vaccine supply has stabilized and a third vaccine was recently approved.
About 85,400 doses have been given out since mid-December, including about 50,500 doses in Ottawa and 13,300 in western Quebec.
Ontario's first doses generally went to care home residents and health-care workers and it's now expanding into parts of the general public.
The province's campaign will include more priority groups such as people over age 80 starting in mid-March, moving to people as young as age 60 through July, and essential workers in May.
Ontarians who are eligible can book appointments online or over the phone starting March 15. Vaccines are expected to be widely available in August.
Local health units have some flexibility in the larger framework, so check with them for specifics.
For example, Ottawa has chosen to offer shots to certain people in certain areas of the city starting this Friday. Appointments are now available over the phone.
Thank you to people checking their eligibility before calling for a COVID-19 vaccine appointment, since we are starting with people over 80 from specific postal code areas <a href="https://t.co/paoHcxBRX0″>https://t.co/paoHcxBRX0</a> And, thanks to <a href="https://twitter.com/OttawaHealth?ref_src=twsrc%5Etfw">@ottawahealth</a> team members taking calls 7 days a week. <a href="https://t.co/jwWsdaimpq">pic.twitter.com/jwWsdaimpq</a>

&mdash;@VeraEtches
That city believes it can have nearly 700,000 residents vaccinated by August, hitting a groove of nearly 11,000 doses a day by early summer.
Many eastern Ontario vaccine clinic locations are in the same communities as test sites and none are open yet for the general public.
Quebec is giving a single dose to as many people as possible, starting with people in care homes and health-care workers.
It moves to older adults outside care homes starting March 10 in western Quebec's six clinics, then essential workers and finally the general public. People who qualify can make an appointment online or over the phone.
Quebecers should get their second dose within 90 days.
Where to get tested
In eastern Ontario:
Anyone seeking a test should book an appointment.
Ontario recommends only getting tested if you have symptoms, if you've been told to by your health unit or the province, or if you fit certain other criteria.
People without symptoms but who are part of the province's targeted testing strategy can make an appointment at select pharmacies. Travellers who need a test have very few local options to pay for one.
Ottawa has ten regular test sites, with mobile sites wherever demand is particularly high.
The Eastern Ontario Health Unit has sites in Alexandria, Casselman, Cornwall, Hawkesbury, Rockland and Winchester.
People can arrange a test in Picton over the phone or in Bancroft, Belleville and Trenton, where online booking is preferred.
The Leeds, Grenville and Lanark health unit has permanent sites in Almonte, Brockville, Kemptville and Smiths Falls and a mobile clinic.
Kingston's main test site is at the Beechgrove Complex, another is in Napanee.
Renfrew County test clinic locations are posted weekly. Residents can also call their family doctor or 1-844-727-6404 with health questions.
In western Quebec:
Tests are strongly recommended for people with symptoms and their contacts.
Outaouais residents can make an appointment in Gatineau at 135 blvd. Saint-Raymond or 617 ave. Buckingham. They can check the wait time for the Saint-Raymond site.
There are recurring clinics by appointment in communities such as Maniwaki and Petite-Nation.
Call 1-877-644-4545 with questions, including if walk-in testing is available nearby.
First Nations, Inuit and Métis:
Akwesasne has a COVID-19 test site by appointment only and a curfew of 11 p.m. to 5 a.m.
Anyone returning to the community on the Canadian side of the international border who's been farther than 160 kilometres away — or visited Montreal — for non-essential reasons is asked to self-isolate for 14 days.
People in Pikwakanagan can book a COVID-19 test by calling 613-625-2259. Anyone in Tyendinaga who's interested in a test can call 613-967-3603.
Inuit in Ottawa can call the Akausivik Inuit Family Health Team at 613-740-0999 for service, including testing and now vaccines, in Inuktitut or English on weekdays.
For more information
B.C. extends time between COVID-19 vaccine doses to four months – The Globe and Mail
.c-custom-subs#c-site-header-subscribepadding-top:.2725rem;padding-bottom:.2725rem.c-custom-subs#c-site-header-subscribe .c-button__text spanfont-size:15px;display:block@media (max-width:48em)#c-site-header-subscribedisplay:none !important
.c-your-globe__overlaymargin:0 auto;width:100%;max-width:1260px;height:calc(100% – 109px – 20px);top:109px;left:0;right:0;z-index:1051;position:fixed;pointer-events:none.c-your-globe__overlay::before,.c-your-globe__overlay::afterposition:absolute;border:solid transparent;content:" ";width:0;height:0;bottom:auto.c-your-globe__overlay::beforeborder-bottom-color:#595959;border-width:11px;top:-21px;left:83px.c-your-globe__overlay::afterborder-bottom-color:#FFF;border-width:10px;top:-19px;left:84px.c-your-globe__overlay-innerwidth:100%;height:100%;pointer-events:auto.c-your-globe__overlay-contentposition:relative;max-height:100%;background-color:#FFF;border:1px solid #979797;box-shadow:1px 1px 3px #595959;overflow-x:hidden;overflow-y:scroll;-webkit-overflow-scrolling:touch.c-your-globe__overlay-header,.c-your-globe__overlay-footerdisplay:flex;align-items:flex-start;padding:10px 10px 10px 20px.c-your-globe__overlay-headerjustify-content:flex-start;border-bottom:1px solid #979797.c-your-globe__overlay-header–no-borderborder-bottom:0.c-your-globe__overlay-header .c-your-globe__overlay-labelmargin-top:12px.c-your-globe__overlay-header .c-your-globe__overlay-textmargin-bottom:12px.c-your-globe__overlay-header .c-buttonmargin-left:auto.c-your-globe__overlay-footerjustify-content:flex-end.c-your-globe__overlay-bodypadding:0 20px 10px 20px.c-your-globe__overlay-body .c-spinnermargin:20px auto;border-top-color:#E5E5E5;border-right-color:#E5E5E5;border-bottom-color:#E5E5E5;border-left-color:#595959.c-your-globe__triggercursor:pointer;border:none;appearance:none;display:block.c-your-globe–hidden .c-your-globe__triggerbackground-color:#191919.c-your-globe__trigger,.c-your-globe__trigger:hover,.c-your-globe__trigger:focusbackground-color:#000.c-your-globe__trigger–dot::aftercontent:"";width:10px;height:10px;margin-left:3px;border-radius:100%;background-color:#FFF;transform:translateY(-6px);display:inline-block.c-your-globe__trigger–dot–unread::afterbackground-color:#93c393.c-your-globe .c-scroll-menu__arrowdisplay:flex.c-your-globe .c-scroll-menu__nav::before,.c-your-globe .c-scroll-menu__nav::afterdisplay:none.c-your-globe__trigger-containerposition:relative.c-your-globe__maskheight:100%;background-color:#333;position:absolute;top:0;z-index:11.c-your-globe__mask–leftleft:0.c-your-globe__mask–rightright:0.c-your-globe–hiding~.c-your-globe__overlay,.c-your-globe–hiding .c-your-globe__maskanimation-name:c-your-globe-hide;animation-duration:0.25s;animation-timing-function:linear;animation-iteration-count:1;animation-direction:normal;animation-fill-mode:forwards;animation-play-state:running.c-your-globe–revealing~.c-your-globe__overlay,.c-your-globe–revealing .c-your-globe__maskanimation-name:c-your-globe-reveal;animation-duration:0.25s;animation-timing-function:linear;animation-iteration-count:1;animation-direction:normal;animation-fill-mode:forwards;animation-play-state:running@keyframes c-your-globe-hidefromopacity:1toopacity:0@keyframes c-your-globe-revealfromopacity:0toopacity:1@media (min-width:48rem).c-your-globe__overlayheight:calc(100% – 109px – 30px).c-your-globe__overlay-innerwidth:528px.c-your-globe__overlay-footer,.c-your-globe__maskdisplay:none#c-site-header-account-subscribed-button .c-button__icon-pulse,#c-site-header-account-subscribed-dropdown .c-button–dropdown-following .c-button__icon,#arc-follow-topics-info-icon-msg,.js-unread-stories-indicatordisplay:none.c-your-globe__overlay .c-timestamp–updatedmargin-left:10px.c-your-globe__overlay .c-cardborder:none;border-bottom:1px solid #ddd9d7;padding-right:0;padding-left:0.c-your-globe__overlay .c-card:last-childborder-bottom:0.c-your-globe__overlay .c-card__labelmargin-bottom:0.c-your-globe__overlay .c-card__mediawidth:90px.c-your-globe__overlay .c-card__topicsdisplay:flex;align-items:center;margin-bottom:10px.c-your-globe__overlay .c-card__topics__itemfont-family:"GMsanC-Bold",Helvetica,Arial,Verdana,sans-serif;text-transform:uppercase;color:#333;font-size:12px;letter-spacing:1px;line-height:12px;margin-right:10px.c-your-globe__overlay .c-topic-group__body>.c-topic-group__items>.c-topicmargin-top:0.c-your-globe__overlay-labelfont-family:"GMsanC-Bold",Helvetica,Arial,Verdana,sans-serif;color:#191919;font-size:16px;letter-spacing:1px;line-height:20px;margin:16px 0.c-your-globe__overlay-textfont-family:"GMsanC-Regular",Helvetica,Arial,Verdana,sans-serif;margin:16px 0.c-your-globe__overlay-listcolor:#111;font-family:"GMsanC-Regular",Helvetica,Arial,Verdana,sans-serif;font-size:16px;line-height:20px;letter-spacing:0;padding-left:10px;margin:16px 0 0 5px.c-your-globe__overlay-list limargin-top:5px;padding-left:4px.c-your-globe__overlay-list li:first-childmargin-top:0.c-your-globe__overlay-linkcolor:#111;font-size:16px;letter-spacing:0;line-height:20px.c-your-globe__overlay-link:hover,.c-your-globe__overlay-link:focus,.c-your-globe__overlay-link:activecolor:#333@media (min-width:48rem).section-homepage .c-your-globe__overlayheight:calc(100% – 153px – 30px);top:153px.section-homepage .c-your-globe__overlay::beforeleft:127px.section-homepage .c-your-globe__overlay::afterleft:128px.section-homepage .c-your-globe__maskbackground-color:#4c4c4c.section-homepage .c-site-header–sticky~.c-your-globe__overlayheight:calc(100% – 49px – 20px);top:49px.section-homepage .c-site-header–sticky~.c-your-globe__overlay::beforeleft:187px.section-homepage .c-site-header–sticky~.c-your-globe__overlay::afterleft:188px@media (min-width:48rem).section-homepage .c-site-header–sticky~.c-your-globe__overlayheight:calc(100% – 49px – 30px)
.newsletterpromo.c-article-body p:last-child:not(.c-article-media__credit)display:none#newsletterpromoborder:1px solid #eeedea;padding:25px 20px#newsletterpromo .newsletter-headerdisplay:flex;align-items:center;justify-content:center#newsletterpromo .newsletter-header imgwidth:35px;height:auto;padding-bottom:5px#newsletterpromo .newsletter-header spanfont-size:30px;padding-left:10px;line-height:35px;color:#000#newsletterpromo .newsletter-subcontenttext-align:center;font-size:16px#newsletterpromo .l-rowpadding:30px 0 15px;margin:0 auto#newsletterpromo .l-col-equalpadding-bottom:20px !important#newsletterpromo .c-card__content h3font-weight:normal;font-style:normal;font-size:1.625rem;color:#da161f;letter-spacing:0;line-height:1.07692;margin:0#newsletterpromo .c-card__content .c-card–promo__subhedmargin-top:.625rem;margin-bottom:0;color:#595959;letter-spacing:.0625rem;font-size:.75rem;font-weight:normal;font-style:normal;line-height:1.25;text-transform:uppercase#newsletterpromo .newsletter-subcontent acolor:#da161f#newsletterpromo .c-card–promo__bodyfont-size:15px;padding:15px 0;font-weight:normal;font-style:normal;line-height:20px;letter-spacing:0;color:#191919;margin:0#newsletterpromo buttonmin-width:160px#newsletterpromo .c-card–promo__success .c-indicator-icon__artwidth:1.4375rem;height:1.125rem;fill:#1c731c#newsletterpromo .c-card–promo__successcolor:#1c731c#newsletterpromo .l-col-lg-4,#newsletterpromo .l-col-lg-3padding:0@media (min-width:80rem)#newsletterpromo .l-col-lg-4flex:0 0 18rem;max-width:18rem#newsletterpromo .l-col-lg-3flex:0 0 12rem;max-width:12rem@media (min-width:61.25rem)#newsletterpromo .l-col-md-4flex:0 0 17rem;max-width:17rem@media (max-width:61.25rem)#newsletterpromo .l-col-equaltext-align:center;margin:0 auto
Canadian Press NewsAlert: B.C. to offer second dose of COVID vaccine after 4 months – North Shore News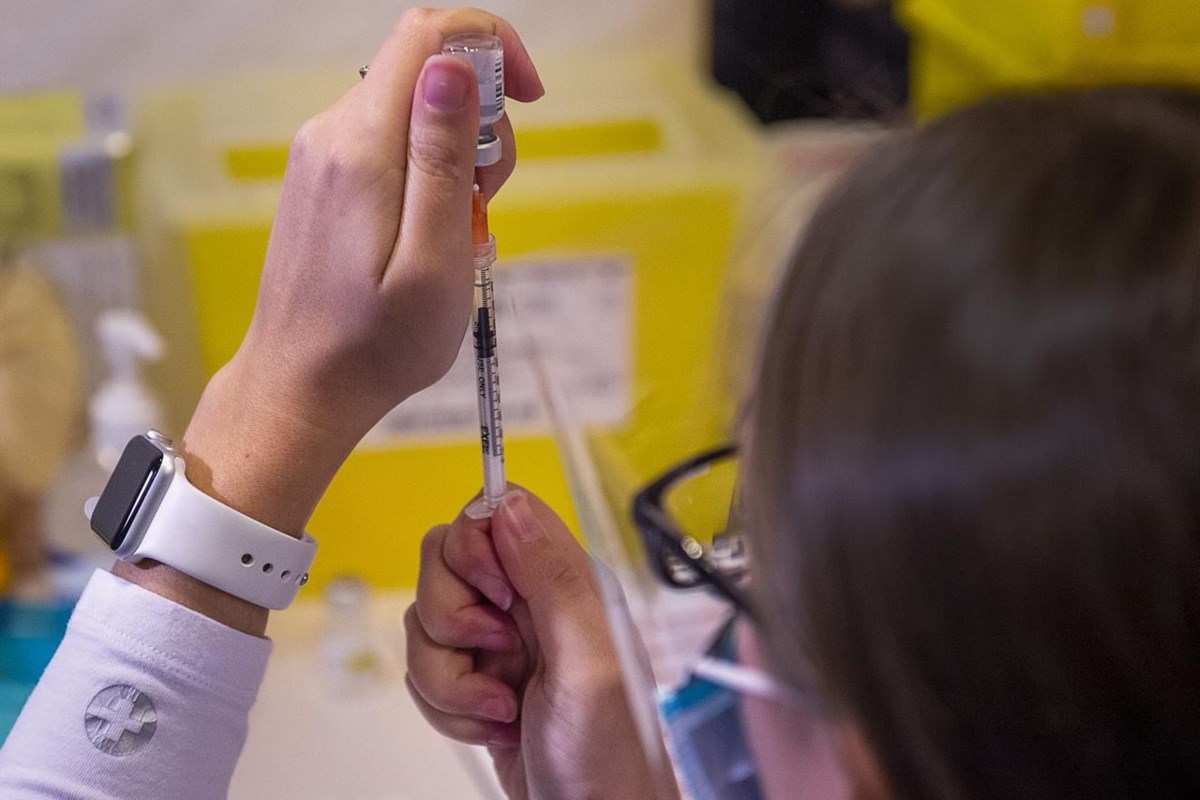 VICTORIA — British Columbia will extend the time between the first and second doses of COVID-19 vaccines to four months as it ramps up its age-based immunization plan to free up doses so all residents could get their initial shot by July.
Provincial health officer Dr. Bonnie Henry said Monday the change is based on the "miraculous" protection of at least 90 per cent from the first dose of the Pfizer-BioNTech and Moderna vaccines.
She said the National Advisory Committee on Immunization is expected to issue a statement to align with B.C.'s decision, which is also based on similar data from Quebec and countries including Israel and the United Kingdom.
Starting Monday, health authorities will contact residents and staff of independent living centres, those living in seniors' supportive housing as well as homecare support clients and staff.
Seniors aged 90 and up can call a central number to make their appointment starting next Monday, followed a week later by those aged 85 and over.
People 80 and up will have a chance to book their time-slot on March 22. Those between 60 and 79 as well as people 16 and up who are medically vulnerable are expected to get their shots starting in mid-April by registering for an appointment online.
Henry said first responders and essential workers, including teachers, may be eligible to get vaccinated starting in April as the province also decides on a strategy for the newly authorized Oxford-AstraZeneca vaccine, with the first shipment expected to arrive in B.C. next week.
"We've had a number of places in communities around the province where we've had outbreaks. We can think about things like poultry workers (and) people who work in some of our mail distribution centres," she said.
While people will be able to choose whether they want the Oxford-AstraZeneca vaccine or wait their turn for the Pfizer-BioNTech or Moderna vaccine, Henry said people should go with what is available first.
Premier John Horgan urged people to continue taking precautions — such as wearing masks, practising physical distancing and staying home when sick — aimed at reducing the spread of COVID-19 as vaccines become available.
"We have months to go and I want British Columbians to take the good news we're hearing today with the joy that it deserves. But we need to remind ourselves not just today, but next week and next month, that we have a long way to go," he said.
Some 275,681 doses of COVID-19 vaccine have been administered in B.C., of which 83,777 were second doses.
Dr. Penny Ballem, who is leading the province's vaccination plan, said about 400,000 more people are expected to be vaccinated by early April but that number could rise because 70,000 more first doses will be available by stretching out the time before second doses are administered.
Ballem said it's important for people to call for an appointment only when it is their turn, or when the person they're calling for is eligible for vaccination in order to prevent call centres from being overwhelmed as has happened in other jurisdictions.
Information that will be required includes a birth date, personal health number and a postal code to connect people to the right health authority, she said, adding that an online booking system will be operating by mid-April.
"That, in and of itself, is a major, major step forward in our vaccination program," she said of the system that will also help track real-time vaccine effectiveness.
B.C. reported 1,428 new COVID-19 cases from Saturday to Monday, for a total of 80,672 cases in the province since the pandemic began.
There are 4,464 people with active cases in B.C., of whom 236 are hospitalized and 65 are in intensive care.
Forty-two new cases are variants of concern, for a total of 158 cases. The majority — 137 cases — are the strain first identified in the United Kingdom, while 21 are the variant first found in South Africa.
There have been eight new deaths linked to COVID-19, for a total of 1,363 fatalities connected to the virus in B.C.
The province reported four new health-care facility outbreaks at Glacier View Lodge, Chilliwack General Hospital, Royal Columbian Hospital and Surrey Memorial Hospital.
Several outbreaks were also declared over, including one at St. Paul's Hospital in downtown Vancouver.
— By Camille Bains in Vancouver
This report by The Canadian Press was first published March 1, 2021.
The Canadian Press