In Defence Of Martín Guzmán, Argentina's Anti-Austerity Economy Minister – Forbes
Everyone knew the International Monetary Fund's projections about the speed of Argentina's recovery after agreeing to bail-out the beleaguered nation with a record US$56-billion loan were unrealistic. They were as much of a fiction as the projections underlying the 2018 Budget passed by the Mauricio Macri administration in late 2017, which hours after passing the legislation through both chambers of Congress decided to tell the Central Bank, then led by Federico Sturzenegger, to abandon inflation targeting, effectively raising expectations about what it had just committed itself to before the Legislature.
While no-one could've predicted the magnitude of the Argentine economic meltdown, it was clear that a quick recovery was highly improbable. Still, the structural program that accompanied the IMF's loan – supposedly put together by technical teams responding to both the Fund and Argentina's then-economy minister Nicolás Dujovne – prescribed tough austerity on both the fiscal and monetary fronts. One could argue there was no alternative, as in Macri's first two years in office the fiscal expansion worsened the deficit, while monetary contraction sought to tackle inflation ineffectively. Once international debt financing dried up, the market took care of the correction Macri was unable to execute. It is clear now that the IMF and Macri's economic team are directly responsible for what has happened since.
The current state of Argentina's economy is perilous. The typical metaphor is that of a ticking time-bomb, the same one that was used when Macri took over the reins from Cristina Fernández de Kirchner.
In charge of the Economy Ministry now is Martín Guzmán, an anti-austerity economist who cut his teeth under Nobel laureate Joseph Stiglitz at the prestigious Columbia University in New York. Quoted by the Financial Times, Stiglitz praises Guzmán thusly: "The thing about Martín is that he is terrific at mathematical models and high theory [of the sort that orthodox economists and markets love] but he's also interested in changing things in the real world." While Stigtlitz is taking a stab at his orthodox colleagues, what he's indicating is that Guzmán is a skilled economist from a theoretical standpoint. His Argentine mentor, economist Daniel Heymann of the Universidad Nacional de la Plata, told Noticias magazine Guzmán is "valuable" and "pragmatic." In December, Guzmán was named chair of the Currency, Credit, and Banks department of that university, replacing Heymann.
While Guzmán's economic plan isn't entirely clear yet, initial signs of moderation have pleased the market. In his first major public address as economy minister a few weeks ago, Guzmán spoke of "macroeconomic consistency" while making it clear that the policy framework his team plans to put in place has the intention of stabilizing the economy. Probably his most important message was that there is no margin for excessive fiscal stimulus, and that the use of the printing press to jumpstart the economy would be "destabilizing." While this appears to be a message aimed at foreign creditors in the context of the coming debt restructuring (which will be the key to his success or failure in the hot seat that is the Economy Ministry) it is a welcome statement given pressure from different segments to rely on monetary expansion in the current context where Argentina is effectively locked out of international markets, over-indebted and still in situation of fiscal deficit.
The contours of the plan are beginning to come into view. Guzmán – along with Matías Kulfas at the Production Ministry, Miguel Ángel Pesce at the Central Bank, and the rest of the related official entities – will look to provide relief to the lower sectors of society, at the expense of the agricultural sector and overall higher taxes on personal wealth. Currency controls will be tightened, with taxes aimed at disincentivizing dollar-denominated consumption and savings, while export taxes will be raised. Along with Alberto Fernández's "Social Solidarity and Productive Activation" Law, the idea is to freeze public service costs for 180 days, while ordaining increases in pension payments and private sector salaries by decree.
There's more to the plan, but the basic idea is that through a "social pact" that includes the major economic and political actors, price increases will be contained while real wages should rise above inflation, therefore aiming at producing a consumption shock that should drag the economy out of recession. This will be financed to a small degree by monetary expansion, by higher taxes on specific sectors (which, by definition, reduces output), and should all happen in the context of a move toward fiscal balance and a trade surplus due to a competitive peso-dollar exchange rate. There is a clear break with the IMF's orthodoxy, and Macri's obsession with fiscal surplus. A Keynesian wink of sorts.
It isn't entirely clear how Argentina will improve its productivity, therefore generating the conditions for a competitive export sector that produces enough dollars to break the eternal vicious cycle that has destroyed the national currency. Yet, it is the first time in a while that there is a plan on the table. And the feeling of security and predictability of actually having a plan, something Guzmán indicated he will put down on paper, has sent positive signs to the market.
Guzmán became a known name in Argentina a few months before Fernández's electoral victory, mainly as a sovereign debt restructuring specialist. "Restoring debt sustainability is a necessary condition for economic recovery. Economic recovery is a necessary condition for restoring debt sustainability," he explained in a recent presentation, in which he argued for a two-year moratorium on debt payments, the rejection of any additional IMF money, and a successful negotiation with creditors that avoids a default and should be concluded by March 2020. He also wants a "convergence to primary fiscal surpluses and trade balance consistent with sustainable reprofiled debt at a speed that does not create destabilising macroeconomic effects."
Austerity, as a general remedy to a public debt crises, does not work. Half of the countries that went through a sovereign debt restructuring with private creditors were forced to default or restructure again within three years, Guzmán argued, noting that only Ireland in 1987 successfully came out of a default through austerity. Why? Its main trading partner was experiencing an economic boom at the time. Without the stroke of good luck, nations are set on a path to more distress and the constant risk of default. The memory of Greece is all too fresh, a nation which lost 25 percent of its GDP from 2007 to 2013 in the context of a series of IMF bailouts and structural austerity programmes.
It is unclear if the social pact that Fernández and his team are looking to introduce will succeed in rooting inflationary momentum and activating the economy. Yet, the rejection of austerity as the only way out of Argentina's crisis, which appears to be Guzmán's main contribution, seems like the right way out of this mess. And, the idea of macreconomic coherence, in particular given the fiscal deficit and the size of the debt pile, gives the rejection of austerity a logical framework. Now, it's time to see if the economist can put his theoretical toolbox to work on the real economy.
This piece was originally published in the Buenos Aires Times, Argentina's only English-language newspaper.
Rural development grants to spark Nicola Valley economy – Global News
The province announced on Friday a series of rural development grants in the Nicola Valley to support economic development and diversification.
This is the next step in the StrongerBC Economic Plan and the ongoing recovery efforts in Merritt following the floods in November last year.
"People in Merritt have been through a lot in the past year, and they know how important business recovery is for community rebuilding," said parliamentary secretary for rural and regional development Roly Russell in a press release.
The provincial government is providing a $1-million rural development grant to the Small-Scale Meat Producers Association to build a community abattoir in the Merritt area.
This will provide meat processing and cut-and-wrap services to local farmers and ranchers.
"This project represents significant job and economic opportunities for the region, while ensuring local ranches, abattoirs and businesses are part of a strong, resilient B.C. food system," said minister of agriculture and food Lana Popham in a press release.
"With the recent changes to B.C.'s meat-licensing system and investments in facilities like the Nicola Valley community abattoir, this revitalization of the small-scale meat industry makes it easier to produce, buy and sell B.C. meat in our rural communities, and helps strengthen our food security and food resiliency."
The abattoir will be a government-inspected licensed facility with a full range of services to process red meat.
According to the province, local producers have been impacted by the lack of processing capacity. Julia Smith who is a pork and beef producer in Merrit is hopeful this new facility will help her business as well as other local producers.
"My partner and I moved to the Nicola Valley in 2016 planning to expand our business to meet the growing demand for well-raised, local meat. But we soon found that the processors we relied upon were not able to keep up with our production and we had to scale the business back instead of growing it."

2:14


More than 900 people still displaced following Merritt flooding last fall



"We were on the verge of giving up. But now we are ready to press on, because this facility will allow us, and other local family farms and ranches, to grow and thrive while providing greater food security for the community."
The province is providing a $1-million rural development grant to the Scw'exmx Tribal Council toward Gateway 286 in Merritt.
"After an unbelievable year of fires, floods, and a pandemic, we welcome the B.C. government's $1-million grant that will bolster our rural community, support good-paying jobs and much-needed economic development," said Spayum Holdings LP director and Scw'exmx Tribal Council Terrence (Lee) Spahan in a press release.
"The Gateway 286 project is a 30-plus-year vision of past and present Nicola Valley Indigenous Chiefs and these monies will take our commercial and tourism development one more step closer to reality. This project will enhance the experience of the [traveling] public by providing much-needed services, and it will provide good-paying jobs and entrepreneurial opportunities for the residents of the Nicola Valley."
Meanwhile, the City of Merritt is receiving a $500,000 grant related to economic recovery for communities that were affected by the flooding. The grant will go towards completing economic development projects and initiatives to support long-term economic recovery.
This is in addition to $329,000 in provincial funding for the City of Merritt to update flood-hazard mapping and develop new flood-mitigation plans.

2:13


Anger grows over Merritt evacuations



China's Economy Contracts Sharply as Covid Zero Cuts Output – BNN
(Bloomberg) — China's economy contracted in April, with Covid outbreaks and lockdowns dragging the industrial and consumer sectors down to the weakest levels since early 2020 as millions of residents were confined to their homes and factories were forced to halt production.
Industrial output fell 2.9% in April from a year ago, worse than the median estimate of a 0.5% increase in a Bloomberg survey of economists. Retail sales contracted 11.1% in the period, weaker than a projected 6.6% drop. The unemployment rate climbed to 6.1%, higher than the forecast of 6%.
China's economy has taken an enormous toll from the government's stringent efforts to keep the virus at bay. Beijing has insisted on sticking with its Covid Zero strategy to curb infections, even though the high transmissibility of omicron puts cities at greater risk of repeatedly locking down and reopening compared to earlier strains.
"Covid outbreaks in April had a big impact on the economy, but the impact is short-term," the National Bureau of Statistics said in a statement. "With progress in Covid controls and policies to stabilize the economy taking effect, the economy is likely to recover gradually."
China's benchmark CSI 300 stock index was down 0.3% as of 10:04 am local time. The onshore yuan was little changed at 6.7917 per dollar. The yield on the 10-year government bonds rose 1 basis point to 2.83%.
Fixed-asset investment increased 6.8% in the first four months of the year, largely in line with projected growth of 7%, likely supported by the government's push to expand infrastructure spending.
The economic shocks from the zero-tolerance policy have pushed China's ambitious full-year growth target of around 5.5% further out of reach, and is weighing on the global growth outlook.
Beijing has signaled that policy makers will step up support for the economy, with Premier Li Keqiang recently urging officials to ensure stability through fiscal and monetary policy.
The People's Bank of China took steps on Sunday to ease a housing crunch by reducing mortgage rates for first-time homebuyers. It left the interest rate on one-year policy loans unchanged on Monday, as inflation pressure and worries about capital outflows reduce the scope for more easing.
Monetary stimulus is proving less effective because of the stringent virus restrictions, with data on Friday showing businesses and consumers had little appetite to borrow in April. Credit growth weakened sharply last month, with new yuan loans sinking to the lowest level since December 2017.
(Updates with comment from statistics office)
©2022 Bloomberg L.P.
Potential of Seaweed on Economy Being Explored in Upcoming Webinar – VOCM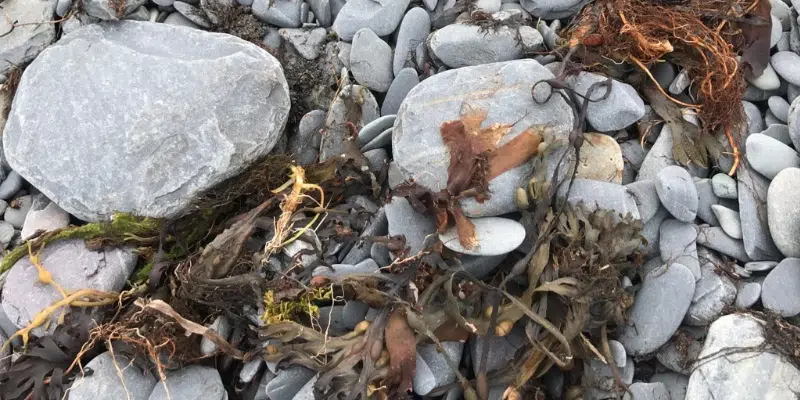 A webinar on the potential of seaweed as an economic driver is coming later this month.
The webinar, put together by The Laurentic Forum Consortium, will look at how coastal communities can use an abundance of seaweed to boost the economy, as seaweed is being used as fertilizer, diet supplements, bioplastics, animal feed, pharmaceutical products, and much more.
Webinar moderator and the executive director of the Canadian Centre for Fisheries Innovation, Keith Hutchings, says seaweed farming could provide opportunities in Newfoundland and Labrador.
He says if utilized correctly, communities and regions can add one more industry to help sustain them.
The webinar is taking place May 19.
The Laurentic Forum consortium invites you to join us on May 19, 2022, to discuss the tremendous opportunity and potential associated with the seaweed industry.

Info/Registration:https://t.co/gyQoIPHuCQ pic.twitter.com/ps1vuDLBvs

— Laurentic Forum (@ForumLaurentic) May 11, 2022