In Nelson's forests, trail building becomes an art – Nelson Star
It was supposed to be a secret, a trail built in his backyard for the joy of a quick blast on a mountain bike.
Behind his home at the foot of Whitewater Road outside Nelson, Andrew Martens set about building a trail. He'd previously built mountain bike paths in Lethbridge and Kimberley, and shortly after moving to the West Kootenay in 2007 decided to make another on his own time.
It took about a year and a half to build the modest kilometre-long trail. Even in a place with nearly 200 mountain bike trails, word spread about Martens' little project.
"Next thing you know I go up there and there's cars parked there, people all at the trailhead and at the bottom. It was really something."
Martens, who now owns his own company Epic Trails, is part of a small community of professional trail builders in the Nelson area.
Every path a hiker walks, every bridge a bike rattles over, was hand-crafted by people who carefully part the forests and maintain a network of trails with the eyes and hands of artisans.
A good trail spreads through a forest naturally, like it had always been there waiting to be walked. In practice, this means working with the landscape instead of against it, using boulders instead of bulldozing through them, watching for where water might erode the path or steering a trail toward what Martens calls positive control points like waterfalls that can turn a hike into a memorable experience.
"Every artist has their own style," he says. "You could take two very experienced trail builders and say find a route to the top of this mountain here. And they probably come up with two very different yet equally as awesome routes."
A labour of love
In the forest behind Nelson, where a web of bike trails weave down an area called Mountain Station, the three-person crew of Atli Bokstrom, Colin Davies and Chris Woikin are at work.
The majority of trails in the Nelson area are made for mountain bikes. The Nelson Cycling Club maintains over 180 trails that in total stretch approximately 270 kilometres. The club currently employs eight builders who set out in the spring and work through the fall clearing debris, rebuilding features like bridges or filling in ruts and potholes.
The work is Davies' dream job. He used to work as a commercial industrial painter who would sometimes remove asbestos and mould from houses.
"This is amazing compared to that. I went from the worst to the absolute best possible situation."
Bokstrom calls it a labour of love. He grew up in New Denver making trails with his brother. Now, at 29-years-old and in his third season working for the club, he gets paid to craft trails for an entire community.
That means being able to, as he describes it, see the ground and decide on a trail's character.
"The vibe of trail is very important, whether it's a downhill specific trail or you're making a harder trail," says Bokstrom. "It's all very, very subjective."
And everyone has their own opinions about how they should be built.
Woikin, a self-proclaimed bike shop nerd, has been working for the club since 2005 and had found his own perfectionism sometimes clashes against the builders that came before.
"Today up there we shoved over one of the old bridges because it's all a rotten. Everybody's like, 'You guys waste too much time, it takes you three days to build the bridge,' but then it lasts that much longer."
There's also a constant push-and-pull within the bike community about how difficult a trail should be. The harder to ride, the thought goes, the more authentic a trail is.
"People always say we're churching things up, making things easier, and taking the jank away and making Nelson soft," says Davies.
But that's by design.
The weird turn pro
Any conversation about bike trails in Nelson always includes at least one nod of respect in Mark Holt's direction.
Holt moved to Nelson in 1992 and loved the landscape, but was confused by how few trails there were. He started building his own at Mountain Station for what he remembers now as a community no bigger than perhaps 30 bikers.
"Ironically as soon as I put the one trail in, holy moly it was popular."
At the time, he says, no one cared if a trail was built on Crown or private land. That's no longer the case.
Cycling club president Deb MacKillop describes the trail network as a vast facility, similar to a soccer field or hockey rink, that requires a close relationship with the Regional District of Central Kootenay, City of Nelson, BC Parks, forestry ministry and private land owners.
Gone are the days of rogue builders scratching out their own trails without permission.
"We've all seen the world change. There's liability, there's rules, everything has become so much more complicated," says MacKillop, who adds this isn't necessarily bad for the sport. "It's neat to see how it's evolved from the thing that you kind of knew was out there into being very mainstream."
No study examining the economic impact of mountain bike trails on Nelson exists. One metric, however, is provided by the club's automated trail counters.
In the summer of 2016, a trail counter at nearby Morning Mountain noted 11,000 bikes accessing the club-managed location. Last year, as people turned to outdoor recreation during the pandemic, the same counter recorded 33,000 users.
The club relies on grants to hire trail crews, but MacKillop wishes governments provided stable funding to manage what she sees as a community asset.
"Can you imagine running the pool if you were allowed to have lifeguards but not a cleaning staff? That's kind where we're at."
As trail building professionalized, so did Holt.
He became the club's first paid employee in 2004, and owns Sacred Ride bike shop in downtown Nelson. In the nearly 30 years since he first arrived in town, Holt says the sport has changed. Bikes are wider now, wheels are bigger, speeds are faster.
That in turn has changed the composition of trails from what he says used to be "weird" up and down paths at slower speeds to new, fast trails that require rounded corners and less obstacles.
"Myself being an old school mountain biker, I like the weird, I like the old, and that's all going away," says Holt. "But that's OK. It's just the evolution of biking."
Under the snow, shovels find rocks
Kat Brinovec and Devon Brook spent the summer looking at a familiar mountain in a new way.
The pair have each worked at Whitewater Ski Resort, located just 20 minutes outside Nelson, for over five years during the snowy seasons.
But this year they were hired to build the beginnings of the resorts' first hiking trails, and found a terrain built on boulders. Brinovec said that's led to compromise and improvisation as they try to follow the planned route.
"You might have a plan when you start and it's completely different by the end because of what we come up to every time we go out."
The Whitewater trails are a partnership between the resort and the Friends of Pulpit Rock Society. The society's secretary-treasurer Guy Woods had the idea for the trails and has helped secure grants to hire builders.
He said the resort, which doesn't have any summer programming, made sense for trails.
"From a tourist point of view someplace like Whitewater with an all-weather road and good parking to me was a very attractive and sellable point to these economic people who are trying to promote tourism in the area and keep people in the area for a little bit longer."
All but a small loop of trails will be restricted to hiking. Whitewater's outdoor operations manager Colby Lehman said that's because local grizzly and black bear population would be impacted by mountain bikes, which move too quickly and too quietly. Slower, louder hikers aren't as likely to startle bears.
The one exception will be a multi-use trail for people with disabilities. Lehman said the trails are designed to be inclusive. Seniors, children and people in wheelchairs, he says, should be able to access Whitewater's new paths.
"If that's the only bike trail I created, that's great. That's success."
The work is nearly finished, and Brook said she's already heard compliments from hikers who in past seasons made their own way around Whitewater.
"The older people who've been hiking up here for years, who I think probably put in some of the little goat trails, definitely seem to be stoked that as they get older the trails get a little easier for them."
Talking with the trail
Derrick Bint prefers to be alone with a trail.
He doesn't listen to music as he works. He just wants the sound of the wind in the background as he tries to solve the puzzle of building on difficult terrain.
Bint talks about his job as though he were in an intimate conversation with the trail. Building a steep section over rocks, for example, requires a gentle negotiation.
"I just asked the rocks for their help and they tell me where they want to be as they're really sensitive. They want to be somewhere where they're going to be comfortable with the rock beside it. I think they communicate like that, and they communicate to me."
Bint was one of the main builders who since last year have been constructing Lyon's Bluff, a new trail on Nelson's North Shore.
In 2019 approximately 48,000 hikers accessed Pulpit Rock, which is arguably the area's most popular hike up to a scenic lookout that offers a wide view of the city below.
The hike to Lyon's Bluff is the same distance from the parking lot at 1.8 kilometres. It's a little more steep in sections, and includes a number of Bint's carefully constructed rocky steps. But the payoff is a view of the city as well as the east side of Kootenay Lake that's more open than Pulpit.
In 2009, Don Lyon had an idea for a new trail that would alleviate traffic from Pulpit Rock. Lyon passed away in 2013, but the idea became a passion for Friends of Pulpit Rock Society president Dave St. Denis.
"Lyon's Bluff to me is really special, because I've seen it from nothing to this beautiful trail that people are praising …," says St. Denis. "So whenever I go up on that trail, it's just glorious, just an uplifting experience every time."
Construction began last year and was taken up by Bint, who helped finish the trail to the bluff before continuing on another path that will take hikers to near the mountain's peak and eventually connect with Pulpit Rock.
Lyon's Bluff was officially opened at a small ceremony Sept. 25, during which Don Lyon's wife Heather and her family cut the ribbon. Even though she is in her 80s, Heather had two hiking poles in hand as she prepared to see the new trail.
"I'm going up a little ways. There's no way I'm not going up it."
Bint was also at the ceremony. When asked if he'd hike the trail he helped build, he said no.
Not unless there was work to be done.
@tyler_harper | tyler.harper@nelsonstar.com
Like us on Facebook and follow us on Twitter.

Want to support local journalism during the pandemic? Make a donation here.
Moose Jaw Art Guild meets to discuss its upcoming MJMAG exhibition – moosejawtoday.com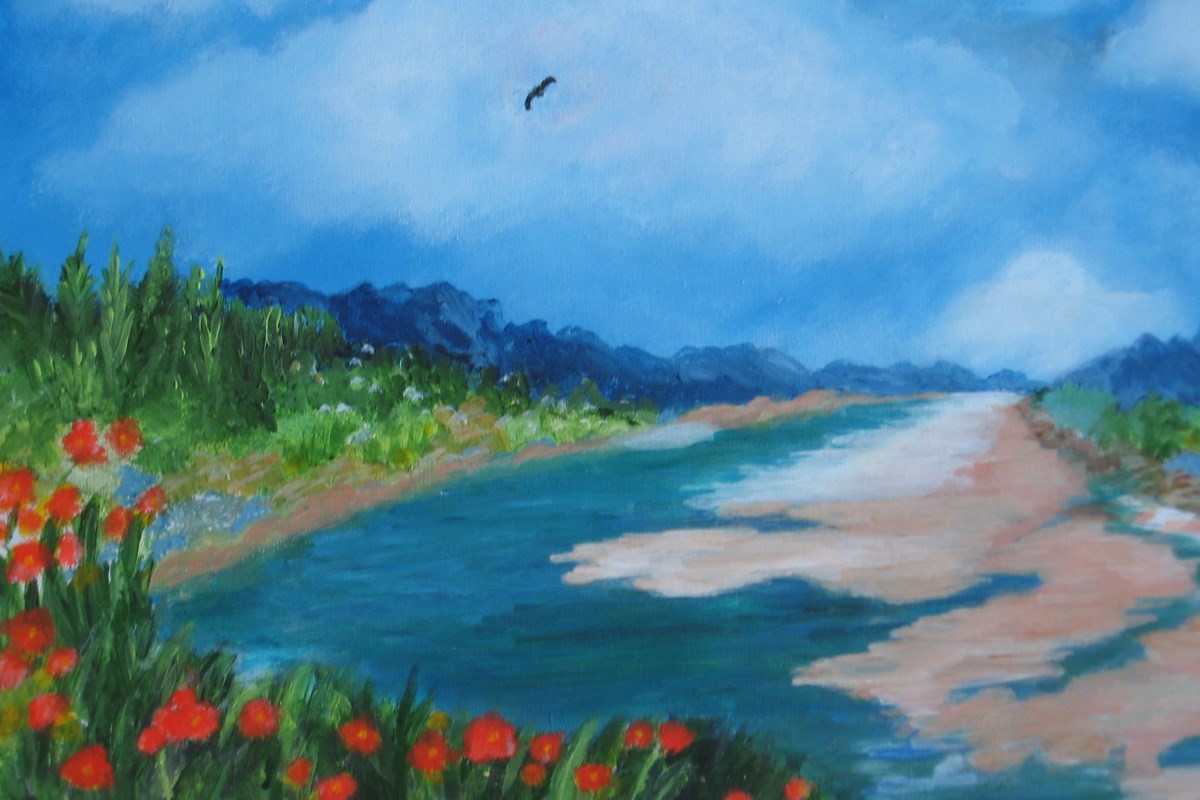 The Moose Jaw Art Guild is excited for their 54th Christmas exhibition at the Museum & Art Gallery
Led by President Karen Walpole, ten members of Moose Jaw's Art Guild gathered for only the second time in 18 months to discuss their upcoming exhibition. The forms necessary for submission were distributed, and everyone chatted about how their works were progressing.
The theme for this year is "Looking Out My Window," to be interpreted by the artist. A variety of mediums are encouraged, including drawings, pastels, watercolours, and sculptures.
Many of the works displayed in MJMAG's lobby will be for sale. The exhibition will open on Nov. 12th, and continue until Jan. 9th of next year.
Karen Walpole noted that she is "always excited" to share some of the Art Guild's venerable history, particularly in regards to its role in the founding of MJMAG. She says that, "Back in 1963, the City of Moose Jaw asked what was then the Moose Jaw Fine Arts Guild to comment on their plan to celebrate Canada's 100th birthday."
The Guild took that chance to strongly endorse and lobby for a "Cultural Centre" in Crescent Park near the Public Library. The Moose Jaw Art Museum opened in 1967, and the Art Guild has had an annual exhibition there ever since.
Jennifer McRorie, MJMAG's current curator and director, confirms that the Art Guild was "instrumental in getting the art museum established." She adds that, "In 2017 we celebrated our 50th anniversary, and so we actually presented an exhibition from our permanent collection that was the result of 50 years of collecting the work of Moose Jaw artists."
The Guild itself was established on a cold February night in 1929, after a presentation by influential Saskatchewan artists Vaughan Grayson and Barbara Barber. That night, the Women's Art Association of Saskatchewan was voted into existence. In 1957 it became the Moose Jaw Fine Art Guild, and in 1984 it achieved its current form as the Moose Jaw Art Guild.
This year's exhibition comes on the heels, obviously, of the enormous disruption of the global pandemic. Nevertheless, the Guild endures, and is always open to new members. Walpole sincerely emphasizes that one purpose of their showings is to, "provide encouragement and an introduction to many of us that want to try our artistic hands, but don't know where to start."
Art is about expression, moving beyond the limitations of language to convey emotion in a subjective, yet direct way. Although it is not possible to control exactly how one's art is perceived, this should not be a barrier. The main thing, Walpole says, is "to have the confidence to at least attempt an art form of some kind."
More information about the Art Guild, its meetings, and how to join can be found on their Facebook page.
Knitting for Guelph's Art Not Shame: 3 things to know about the organization and fundraiser – GuelphMercury.com
So you want my arts job: Art Installer – ArtsHub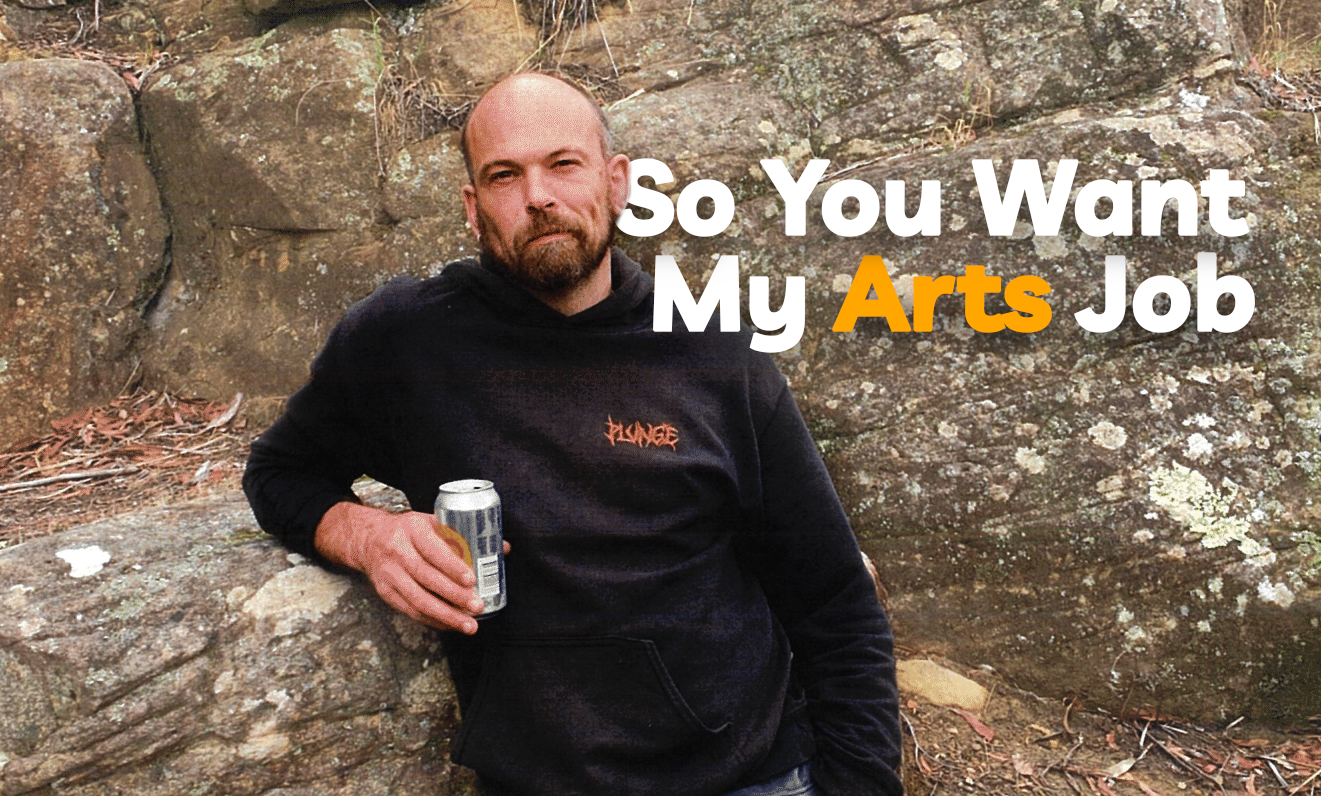 A rare opportunity saw Andrew Hawley join the National Gallery of Victoria (NGV) as a casual art handler after graduating from his BFA in Drawing at RMIT in 2003.
Eighteen years later, he is now the Collection and Exhibition Preparator at Hobart's Museum of Old and New Art (Mona), known for their eccentric and challenging exhibitions, and undoubtedly, one of the most exciting environments in which to work in art installations, storage, and exhibition preparations.
He also holds a Masters in Cultural Materials Conservation from the University of Melbourne, and has worked across ACMI, the Victorian Arts Centre, ExhibitOne, POD Museum and Art services, and the Melbourne Immigration Museum.
From Ron Meuck's 10 metre infant sculpture to Ai Weiwei's White House (2015) in Mona's Siloam, Hawley and his colleagues are the answer to your question: 'But how did they manage to get it there?'
Here, Hawley shares the excitement of working on high-profile exhibitions and discusses the skills you would need to pursue this challenging but rewarding profession.
HOW WOULD YOU DESCRIBE WHAT YOU DO?
In a nutshell; I prepare artwork and other culturally significant material for storage, exhibition and loan, and assist with exhibition/display installation. My role is quite varied but I spend most of my time at our off-site collection store where I design, construct and fit out custom packing units for artworks. These vary from timber crates and travel frames to archival board boxes, archival tubes for rolled works and the occasional solander box. I also ensure artwork is clean and display ready.
I organise and maintain the off-site collection storage area which involves a lot of 3D Tetris. I work closely with colleagues including registrars, a conservator, a mount maker and several other very highly skilled art handler/technicians as well as a wider team of kinetic artwork and time based media technicians.
I assist with exhibition installation/deinstallation and collection changeover at the museum and some external locations during festivals.
I'm also a qualified paper conservator so I undertake some conservation assessments and treatments when required.
Read: So you want my arts job: Museum Program Producer
HOW DID YOU GET STARTED IN YOUR CAREER?
I finished a fine art degree in 2003 and was looking for something outside the hospitality industry and inside the museum/gallery industry. Luckily, a regular customer at one of the venues I worked in (as a chef/cook), let word slip that the National Gallery of Victoria were hiring casual art handlers to prepare to move into the refurbished premises at St Kilda Road. I got the boss' details, wrote an application letter, attended a job interview and somehow was successful, despite no prior experience.
WHAT DO YOU LOOK FORWARD TO THE MOST IN YOUR JOB?
Unique challenges and a reliance on lateral thinking for solutions – something I experience almost every day. I also have great colleagues with whom I liaise about all aspects of the job. We learn from each others' creative perspectives.
I love the excitement of a large or high profile exhibition, including engagement with external or international artists and curators, trying to help realise a vision that may or may not be clear in everybody's mind. I equally love the calm and solitude of a collection store and the fact that I work so closely with museum objects on a daily basis. If I have a bad day, looking at an ancient Egyptian mummified cat or some 2,000 year old bronze knife coins is very soothing.
IN AN INTERVIEW FOR YOUR JOB, WHAT SKILLS AND QUALITIES WOULD YOU LOOK FOR?
Similar institutional experience in a similar capacity (eg. art handling, art packing) would be a must. It takes many years to attune yourself to the level of care required around culturally significant objects and irreplaceable artworks.
Other qualifiers would include:
A strong work ethic
An ability to handle multiple projects with strict deadlines
The ability to delegate fun jobs
The ability to undertake monotonous or tedious jobs
Strong, clear communication
Patience
Physically fit and able
The ability to look outside oneself and one's own experience for solutions. It's a bit of a 'jack of all trades' kind of position and a good Jack should know when they need to call on a master of something.
Someone who prefers order and neatness in their professional life. I'm in no way the neatest person in my private life but organising a storage area that keeps artwork safe and secure requires a high degree of attention to detail.
WHAT IS ONE OF THE MOST MEMORABLE INSTALLATION EXPERIENCES/PROJECTS THAT YOU'VE WORKED ON?
There's been a lot over the years – I've done everything from helping carry and install a 10 metre silicon sculpture of an infant (Ron Mueck) to hanging iconic works from Picasso, Munch or Tom Roberts. From installing 100 tiny neolithic arrow/spear heads in one showcase to helping build a large, imperial Chinese house framework on glass balls (Ai Weiwei), and from installing famous AFL players' jerseys in a sports museum (MCG/Australian Sports Museum) to hanging stills from Kubrick's 2001 Space Odyssey (ACMI).
It's hard to pick one moment from one project. In recent times, it's probably been the preparatory work and final install of big MONA shows like On the Origins of Art, The Museum of Everything and our recent Monanisms 2021 collection based exhibition.
WHAT'S THE BEST THING HAPPENING IN YOUR SECTOR AT THE MOMENT?
We're still operating and I still enjoy my job.
Read: So you want my arts job: Theatre Technician