In The News for Dec. 13: Will Canadian homes be more affordable in 2023?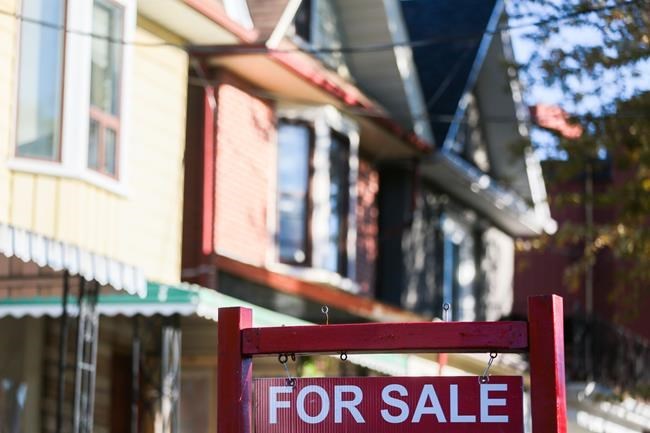 In The News is a roundup of stories from The Canadian Press designed to kickstart your day. Here is what's on the radar of our editors for the morning of Dec. 13 …
What we are watching in Canada …
Royal LePage is forecasting the aggregate price of a home in Canada will drop by one per cent to $765,171 by the fourth quarter of 2023.
The real estate company says it expects prices to flatten in the second quarter and then modestly increase in the second half of the year, ending 2023 on an upward trajectory.
Its calculations show the median price of a single-family detached property will fall by two per cent to $781,256 and condominiums will slide one per cent to $568,933 by the end of next year.
Royal LePage attributes its predictions to declining affordability, which has been exacerbated by rising interest rates, and continued housing supply shortages, which are acting like a floor on home price declines.
It foresees homes in Vancouver remaining the most expensive in 2023, dipping only one per cent next year to more than $1.2 million. Regina will be the most affordable of the places it studied as aggregate home prices will fall 1.5 per cent to $361,495 by the end of 2023.
The Canadian Real Estate Association previously forecast home prices will increase 0.2 per cent in 2023 to $721.814 in 2023.
—
Also this …
Defence Minister Anita Anand is expected to update Canadians today on the military'' efforts to address sexual misconduct in the ranks.
The update was be provided on Monday, but was delayed when the House of Commons adjourned due to the death of former Liberal cabinet minister Jim Carr.
The update is in direct response to a scathing report released by retired Supreme Court justice Louise Arbour earlier this year.
That report laid out dozens of recommendations for addressing inappropriate and criminal sexual behaviour in the military.
That included a call to remove the military's jurisdiction over the investigation and prosecution of sexual crimes.
Arbour's report followed a yearlong study that coincided with explosive allegations of sexual misconduct involving a number of senior military officers.
—
And this too …
Prime Minister Justin Trudeau wants European nations to join Canada in sanctioning Haiti's elites for alleged ties to the violent gangs that have paralyzed that country.
Trudeau also said in a year-end interview with The Canadian Press that Canada must avoid some of its past mistakes, as Haiti's unpopular government calls for a foreign military intervention.
Haiti has not held elections since before the COVID-19 pandemic, and violent gangs have taken control of critical infrastructure and the capital of Port-au-Prince.
The country is facing a cholera outbreak and a humanitarian catastrophe that has the United Nations supporting calls for a foreign military to create corridors for humanitarian aid.
Yet the UN has already led multiple military interventions since a 1991 coup d'état, and Canada's efforts to train Haiti's national police hasn't helped them push back on violent gangs.
Trudeau said that means Canada can't be naive and must try to push Haiti's political players to find a consensus on how outside powers should respond.
—
What we are watching in the U.S. …
WASHINGTON _ President Joe Biden is poised to sign into U.S. law new federal protections for same-sex marriages, a step aimed at defending civil liberties that some fear are in danger because of a conservative Supreme Court.
Biden is expected to sign the Respect for Marriage Act during a ceremony today at the White House.
Congress introduced the bill in July, shortly after a high court decision on abortion that observers say threatens other privacy-based precedents, including same-sex and interracial marriage.
Getting it passed took on new urgency after Republicans won control of the House of Representatives in last month's midterm elections.
Helen Kennedy, executive director of Egale Canada, described the passage of the legislation as a bittersweet moment.
Kennedy says the new law, while important, marks just another step in a never-ending battle for same-sex rights that has been underway for decades.
"It's fantastic for the gay community in the U.S. to know that they have a president that supports them and believes in their right to exist," she said in an interview.
"At the same time, we have to think about the others who don't have those privileges, and there's still a lot of work to do."
—
What we are watching in the rest of the world …
BEIJING _ Some Chinese universities say they will allow students to finish the semester from home in hopes of reducing the potential of a bigger COVID-19 outbreak during the January Lunar New Year travel rush.
It wasn't clear how many schools were taking part, but universities in Shanghai and nearby cities said students would be given the option of either returning home early or staying on campus and undergoing testing every 48 hours. The Lunar New Year, which falls on Jan. 22 this year, is traditionally China's busiest travel season.
Universities have been the scene of frequent lockdowns over the past three years, occasionally leading to clashes between the authorities and students confined to campus or even their dorm rooms.
Tuesday's announcements came as China begins relaxing its strict "zero-COVID" policy, allowing people with mild symptoms to stay home rather than be sent to a quarantine centre, among other changes that followed widespread protests.
Starting from Tuesday, China has stopped tracking some travel, potentially reducing the likelihood people will be forced into quarantine for visiting COVID-19 hot spots. Despite that, China's international borders remain largely shut and there has been no word on when restrictions on inbound travellers and Chinese wishing to go overseas will be eased.
The move follows the government's dramatic announcement last week that it was ending many of the strictest measures, following three years during which it enforced some of the world's tightest virus restrictions.
Last month in Beijing and several other cities, protests over the restrictions grew into calls for leader Xi Jinping and the Communist Party to step down _ a level of public dissent not seen in decades.
China reported 7,451 new infections on Monday, bringing the nation's total to 372,763 _ more than double the level on Oct. 1. It has recorded 5,235 deaths _ compared to 1.1 million in the United States
—
On this day in 1990 …
The Canadian Senate passed the GST by a vote of 55-49.
—
In entertainment …
YEONCHEON, South Korea _ Jin, the oldest member of K-pop supergroup BTS, was set to enter a frontline South Korean boot camp Tuesday to start his 18 months of mandatory military service, as fans gathered near the base to say goodbye to their star.
Six other younger BTS members are to join the military in coming years one after another, meaning that South Korea's most successful music band must take a hiatus, likely for a few years. Their enlistments have prompted a fierce domestic debate over whether it's time to revise the country's conscription system to expand exemptions to include prominent entertainers like BTS, or not to provide such benefits to anyone.
With lawmakers squabbling at Parliament and surveys showing sharply split public opinions over offering exemptions to BTS members, their management agency said in October that all BTS members would perform their compulsory military duties. Big Hit Music said that both the company and the members of BTS "are looking forward to reconvening as a group again around 2025 following their service commitment."
Jin, who turned 30 earlier this month, is to enter the boot camp at Yeoncheon, a town near the tense border with North Korea, for five weeks of basic military training together with other new conscript soldiers. After that training, he would be given a specific role and sent to a certain army unit, a process that all other conscripts go through.
"It's time for a curtain call," Jin wrote Tuesday morning on the online fan platform Weverse. He posted a photo of himself Sunday with a military buzz cut and a message saying, "Ha ha ha. It's cuter than I had expected."
About 20-30 fans showed up near the camp, a small number given Jin's huge popularity. Jin and Bit Hit Music have separately asked fans not to visit the site to prevent any issue caused by a crowding and didn't plan any special events Tuesday involving Jin near the base.
By law, all able-bodied South Korean men must serve in the military for 18-21 months. But the law gives special exemptions to athletes, classical and traditional musicians, and ballet and other dancers if they have won top prizes in certain competitions and enhance national prestige. K-pop stars and other entertainers aren't given such benefits even if they gain worldwide fame and win big international awards.
BTS was created in 2013 and has a legion of global supporters who call themselves the "Army." Its other members are RM, Suga, J-Hope, Jimin, V and Jungkook, who is the youngest at 25. The group expanded its popularity in the West with its 2020 megahit "Dynamite," the band's first all-English song that made BTS the first K-pop act to top Billboard's Hot 100. The band has performed in sold-out arenas around the world and was even invited to speak at United Nations meetings.
—
Did you see this?
OTTAWA _ The Royal Canadian Air Force says two military officers have been handed reprimands and minor suspensions of pay for failing to enforce the military's orders on preventing and addressing sexual misconduct.
The charges and disciplinary actions stem from an informal meeting known as a "call sign review board" on June 22 at one of Canada's two main fighter jet bases, 4 Wing Cold Lake in Alberta.
Former fighter pilots have described such review boards as informal meetings after major training exercises or operations in which pilots assign nicknames, or call signs, to newer members over drinks.
The Air Force says that during the meeting in June, several fighter pilots proposed, discussed and assigned an "inappropriate" call sign for another pilot.
Col. Colin Marks is being deprived of eight days of pay after his guilty verdict at a summary hearing, and Lt.-Col. Corey Mask is losing five days of pay.
The Air Force says in a statement that the decisions did not mark the end of the matter as a broader cultural shift is underway.
A third, more junior officer was also charged with undermining discipline or morale for what the Air Force has said was participating in the assignment of an "inappropriate call sign."
The charge against that officer, whose name has not been released, was later dropped and the officer instead received what the military calls administrative measures.
—
This report by The Canadian Press was first published Dec. 13, 2022.
The Canadian Press
Federal government asking RCMP to ban use of sponge rounds, CS gas for crowd control
OTTAWA — The federal government says it wants the RCMP to ban the use of two crowd-control tools that forces across the country say they have in their arsenals: sponge rounds and CS gas.
Public Safety Minister Marco Mendicino's office confirmed that it wants the measures outlawed, even as the RCMP declines to say whether or not it will comply with that instruction.
The decision to restrict even the use of "less lethal" alternatives to crowd-control tools such as rubber bullets and stronger forms of tear gas has some critics questioning whether the federal Liberals are playing politics with policing.
"Removing less lethal options from our members' available options raises real concerns for public and police officer safety," National Police Union president Brian Sauvé said in a statement.
The confirmation that the federal Liberals want the tools banned comes after The Canadian Press raised questions about a mandate letter Mendicino gave to RCMP Commissioner Brenda Lucki last year.
The letter directed the force to stop using three use-of-force methods: the "carotid control" neck hold, rubber bullets and tear gas.
The RCMP made headlines recently when it confirmed that it still allows officers to use the controversial neck hold despite those instructions and the fact that other police forces have stopped using it.
The force does not use rubber bullets or the more-dangerous chemical compounds referred to as tear gas, which cause irritation to a person's eyes and mucous membranes.
But the minister's office is now clarifying that it wants similar tools banned, too.
Mendicino's office said in a statement that it used the terms "rubber bullets" and "tear gas" in the mandate letter "as they are general language understood by most Canadians."
It confirmed that it considers the milder CS gas and extended-range impact weapons, which fire foam rounds, to be the operational terms for such tools — meaning that it does want the RCMP to stop using them.
That came as news to Sauvé and other experts, who say that the decision is a departure from existing policy, since police forces across the country and around the world have such crowd-control methods in their arsenals.
The RCMP said in a statement that it is "working with partners, stakeholders and bargaining agents" to review the mandate letter — and gave no indication that it intends to follow Mendicino's orders.
"The RCMP continues to report publicly on our use of police intervention options, including the carotid control technique and the 40 millimetre extended range impact weapon that fires sponge-tipped rounds, not rubber bullets, as well as the use of specialty munitions," it said.
It added that its extended range weapons, in use since 2017, "provide an officer with more time and distance from an individual being responded to in order to better enable de-escalation and communication, when tactically feasible."
Public disclosures show that the RCMP used CS gas 102 times in 2021, and it used extended-range impact weapons 86 times.
The public order units of major municipal police forces, including in Vancouver and Toronto, confirmed to The Canadian Press that they also have access to the tools.
In an interview, Western University criminologist Michael Arntfield argued that CS gas is "entirely different" than the compounds typically referred to as tear gas, and sponge rounds are different than rubber bullets.
He said tear and rubber bullets are "very inflammatory terms," bringing up images of coups d'état, or of police attacking people who had been marching for Black civil rights outside Selma, Ala., in 1965.
"I'm not sure why those terms would be used if the government was serious about looking at less lethal alternatives."
Arntfield said he is "genuinely confounded" about why Mendicino would "tack on" a request for the RCMP to stop using police tools that are commonplace across Canada in asking them to stop using the neck hold.
"It looks like political theatre and has absolutely nothing to do with law enforcement operations."
On Parliament Hill this week, Mendicino said broadly that there is a need to reform law enforcement institutions.
"We are closely consulting and collaborating with law enforcement and experts in the area to take an evidence-based approach so that we can keep our community safe, while at the same time making sure that police have the tools they need when it comes to de-escalating," Mendicino said.
But he would not answer questions about why the RCMP seems to be defying his instructions, walking away from reporters when the question was posed.
El Jones, an activist who helped lead a study on defunding police forces, says police are "an unaccountable force in Canada."
The fact that the RCMP is not following political direction shows that impunity, she argued. "I think the police are very much signalling to us, no one can tell us what to do."
The issue of which tools are and aren't available to police is receiving heightened attention following the killing of Tyre Nichols, who died after being beaten by police in Memphis, Tenn., in early January.
The "carotid control" neck hold, which the RCMP reported it used 14 times in 2021, had been widely condemned after George Floyd was killed when a Minneapolis police officer knelt on his neck for more than nine minutes.
Jones said police are not transparent enough about their policies or how much training they provide for officers when it comes to the use of force.
"We don't have good use-of-force study in Canada," she said. "The picture of use of force in Canada, period, by the police, is just not very clear."
This report by The Canadian Press was first published Feb. 4, 2023.
David Fraser, The Canadian Press
Inuit, environmental groups call for stronger measures to reduce underwater noise
Hunters from Pond Inlet, Nvt. — known as Mittimatalik in Inuktitut — have said they're seeing fewer narwhal in areas where they were once abundant, making it harder to feed their families, and that the whales' behaviour is changing.
Lisa Koperqualuk, vice chair of the Inuit Circumpolar Council, says that's because of noise from ships.
"It impacts our culture when marine animals are disturbed and are not in their usual places," she said, adding hunters have to travel further to find narwhal.
Research has found narwhal are sensitive to noise. Aerial surveys indicate their numbers are declining in Eclipse Sound on the northeastern end of Baffin Island during the summer.
A 2020 report by the Fisheries Department suggests that could be due to increasing ship traffic from mining, cruises, ice breaking and development, as well as other factors such as the presence of killer whales or natural movement in the region.
Newly revised international guidelines on reducing underwater noise from ships recognize the unique effects on Inuit, but environmental and Inuit organizations say stronger measures are needed.
The International Maritime Organization's subcommittee on ship design and construction met in London last week, where members agreed on revisions to the 2014 guidelines. They include updated technical knowledge and sample templates for underwater noise management plans.
The draft updated guidelines also reference Indigenous knowledge and Inuit Nunaat, or Inuit homeland in the United States, Canada, Greenland and Russia. There, it states effects from underwater noise on marine life could be greater due to ice breaking, the presence of noise-sensitive species and Indigenous hunting rights.
"That is something ICC is really encouraged about because really we are the first Indigenous organization to have a voice at the IMO," Koperqualuk said.
The council, which represents about 180,000 Inuit worldwide, wanted a separate section included in the guidelines focusing on challenges particular to the Arctic and Inuit Nunaat. For instance, it said noise travels further in cold water and expressed concern about the consequences for marine species Inuit rely on for food, culture and livelihoods.
Koperqualuk said there was interest in specific recommendations for ships operating in these waters, such as using Indigenous knowledge in voyage planning, but the north-specific section was ultimately not included in the guidelines because it's not universally applicable.
Koperqualuk also noted the guidelines are voluntary and there has been little uptake by ship owners.
Andrew Dumbrille with the Clean Arctic Alliance, made up of 20 non-profit organizations, agreed there is a need for mandatory measures.
He pointed to a 2019 study on implementation of the existing guidelines overseen by World Wildlife Fund Canada, the Chamber of Shipping America, World Maritime University and Transport Canada. Several organizations reported they were a low priority as they are not mandatory as well as barriers such as the lack of baseline measurements for underwater noise or reduction targets.
"These new guidelines are more detailed and they have the latest science and latest perspective on not only underwater noise impacts but technology fixes and management solutions," Dumbrille said.
"Unfortunately these guidelines are still voluntary and so that's problematic on a number of levels."
The revised guidelines are to be submitted to the Marine Environmental Protection Commission in July for approval.
A working group tasked with reviewing the guidelines ran out of time last week to finalize a list of suggested next steps, areas needing further research and assessment, and suggestions to increase awareness and uptake of the guidelines. Dumbrille said a correspondence group will continue that work.
"The pathway to regulatory measures is slow," he said. "Some people are saying it's not fast enough to respond to the threat and the urgency and the need around addressing underwater noise because our oceans are getting louder and that's especially true for the Arctic."
The Arctic has some of the lowest underwater sound levels on Earth, but research suggests that could change as new shipping routes open due to sea ice loss.
A study published in the scientific journal Environmental Pollution in October predicts underwater noise emissions from ships could double every 11 and a half years on average without incentives or regulatory steps. A 2021 report by the Arctic Council found noise pollution from ships had doubled in some areas of the Arctic between 2013 and 2019.
Fisheries and Oceans Canada says underwater noise has been linked to a wide range of effects on marine species that rely on sound, including behavioural changes, habitat loss, increased stress levels and permanent injury or death.
Transport Canada saidit's pleased with the revised international guidelines, but acknowledged more work is needed.
In June 2021, Transport Canada announced the Quiet Vessel Initiative with $26 million in funding over five years to test the most promising technologies, vessel designs, retrofits and operational practices to make ships quieter. Ottawa has also been developing an Ocean Noise Strategy which, it expects to launch later this year.
This report by The Canadian Press was first published Feb. 4, 2023.
This story was produced with the financial assistance of the Meta and Canadian Press News Fellowship.
Emily Blake, The Canadian Press
Extreme cold temperatures across Quebec, East Coast expected to linger until Sunday
MONTREAL — Residents from Quebec to Newfoundland and Labrador are waking up this morning to more extreme cold weather.
Emergency officials warned people to seek shelter and monitor for frostbite if they had to be outside overnight, as the temperature across much of Eastern Canada was expected to feel like -40 C to -50 C with the wind chill.
Temperatures in Quebec City were forecast to fall to -30 C overnight — with a wind chill index of -45 — and the arctic weather was expected to last until Sunday.
Extreme cold warnings remain in effect across the East Coast, with temperatures in the Halifax area expected to feel like -39 C through the morning.
Government and private agencies scrambled on Friday to provide shelter for vulnerable people in scores of cities and towns in Quebec and Atlantic Canada, as conditions risked giving exposed skin frostbite in minutes.
The City of Montreal opened two temporary emergency warming centres, each of which can accommodate up to 50 people between 8 p.m. and 9 a.m. The centres are to close on Sunday.
This report by The Canadian Press was first published Feb. 4, 2023.
The Canadian Press