In This Novel, Art Is the Key to Another's Consciousness – The New York Times
WHITE ON WHITE
By Aysegul Savas
How closely can we know the minds of others? In Aysegul Savas's novel "White on White," the narrator, an unnamed graduate student, moves to a European city to study the cathedrals in neighboring towns and plumb the medieval imagination. The narrator is researching depictions of Gothic nudes, an unusual topic, we're told; the figures that decorate cathedrals and illuminate manuscripts are usually clothed, their garments rich with symbolism. But the lack of existing study is a draw. "I wanted to research an ambiguous topic," the narrator says, "whose greatest challenge would be one of consciousness: to view the naked human form as medievals did."
Through this academic interest, Savas sets up the novel's key theme: the knotty business of imaginative sympathy, of discovering how other perspectives might intersect with — and come to influence — our own. "There was no clear course of study for entering another's consciousness, historical or not," the narrator muses. "This was as difficult a task as undoing one's own mind, unraveling each layer of thought with all its prejudices and assumptions."
The narrator finds lodging in an apartment owned by Pascal, a medieval studies professor, and Agnes, a painter, who live in a town some hours away. In contrast to the ambiguity of the narrator, whose appearance and gender are not mentioned in the text, Agnes is sharply defined: "tall and pleasingly thin," "dressed in a crisp white shirt, opening up into an elegant ruffle on one side of her waist." Her tenant is initially enamored with the charming, creative, put-together woman she appears to be, and soon, the two are cohabitating. Instead of joining her husband at their usual home, Agnes decides to stay in the apartment, where she also keeps a painting studio. There, she frequently engages the narrator in exchanges about art that turn into increasingly one-sided monologues detailing Agnes's personal history.
Savas's novel — her second, after "Walking on the Ceiling" — suggests that art reflects the spirit, that even without our knowledge, changes in the way we express ourselves mirror the condition of our souls. Agnes dismisses an early series, depictions of masks stiffly rendered with "formal restraint," as an attempt to be painterly before she trusted her own taste, but finds drawings from her college years to be "honest and alive, entirely different from her controlled paintings." The titular white-on-white painting arrives midway through the novel, revealing the artist on a precipice: shapes carved out by minute differences in hue and texture, a faint image with an aura of incompletion, appearing in "free fall." Art is everywhere in this book. The name Agnes evokes the filmmaker Varda or the painter Martin, her work recalling the white paintings of Rauschenberg or Ryman. But no artists are named, and Savas refrains from making overt references.
In fact, the entire world of "White on White" is selectively outlined. What of it exists exists in crisp, clean prose. Like the narrator, the city is deliberately unnamed — it may be Paris, it may not. The geographic ambiguity floats the narrative out of place, and, in a similar fashion, scenes that might have physical presence — as when Agnes talks to the narrator while stretching a canvas with a staple gun — feel curiously bodiless, stripped down. But this intangibility merely points us to the real site of the novel: the deeply psychological conversations with Agnes. Savas sets all other characters' speech in quotations, but the narrator's dialogue remains unquoted. Meanwhile, the line between Agnes's monologues, as reported by the narrator, and the narrator's own speech and thoughts grows increasingly thin.
Over time, the narrator is drawn into Agnes's mental world, in all of its turmoil, yet, with a strange coolness, resists providing the compassion and reassurance Agnes seems to so desperately seek. The results of this thwarted intimacy move the story inexorably toward a finale that, for a book so invested in visual art, feels surprisingly most like an act of literary revenge.
Art thieves make off with sculptures from Kelowna gallery – CBC.ca
Kelowna RCMP are investigating a brazen early morning art heist at Gallery 421 in the city's South Pandosy district.
Gallery co-owner Ken Moen said two masked men took a crowbar to the front doors just before 2 a.m. Saturday and made off with almost $70,000 of Canadian fine art.
"It was a total of three minutes. They were in, they were out," he said.
"All things considered, we feel fairly lucky because they did zero vandalism. We have paintings on the walls they didn't touch. It was very targeted."
Moen said the criminals immediately ran for the most expensive, heaviest works on display at the back of the gallery: two bronze sculptures by noted Calgary area cowboy artist Vilem Zach, each weighing about 40 kilograms.
The thieves quickly loaded up a vehicle, re-entered and snatched three smaller bronze sculptures cast by Summerland's Michael Hermesh, three glass bowls blown by Jeff Holmwood, and two soapstone bear carvings from Vance Theoret.
"They knew what they were getting," Moen told CBC News.
"I think someone has a shopping list and they sent them here … somebody probably said go grab the most expensive sculptures and get in and get out."
Moen says the bronze has little value smelted down or sold as scrap. Selling the works of art will be difficult at any Canadian galleries or auction houses.
The break and enter was caught on the gallery's security cameras.
The RCMP are seeking information on two male suspects.
"One suspect is described as wearing a red bandana over his face, a grey tuque, grey sweater, black track pants with white pin stripes and white shoes. The second male suspect is described as wearing a mask over his face, a black hoodie, grey sweatpants and with black Adidas shoes," said RCMP Cst. Solana Paré.

Cold comfort: film, music, art and more to combat the winter blues – The Guardian
Letters: Art in the time of COVID – Richmond News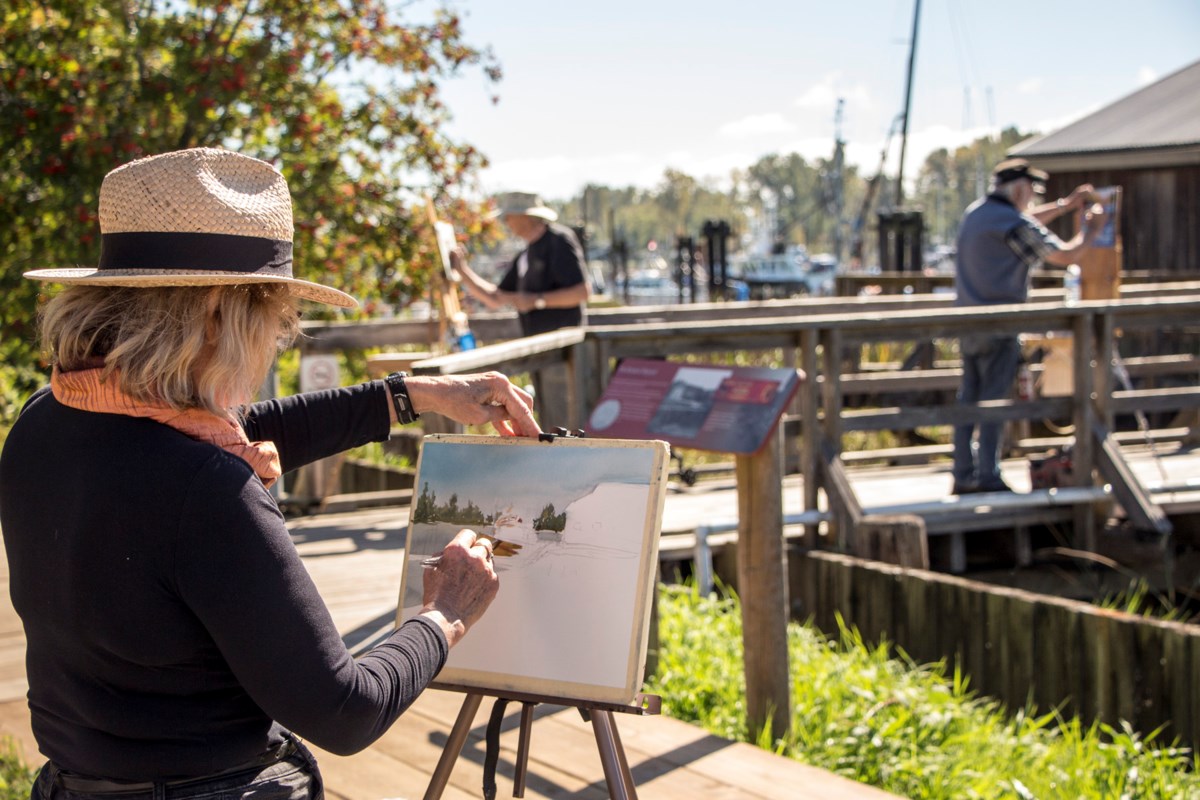 Dear Editor,
During WWII, Britain's Prime Minister Winston Churchill was asked to cut the arts programs to adequately fund the war effort, to which he responded, "Then what are we fighting for?"
Many of us feel as though these past two years have been akin to a war, or at least a battle. If you are like me, it often feels like we take a few steps forward, followed by a few more steps back, particularly as new variants, such as Delta and Omicron, rear their ugly heads.
Two years later, I don't think I am alone in feeling like I have been in the midst of a war zone, trying to keep myself, my family, my friends and my community safe during uncertain and unpredictable times.
While we collectively try to preserve and protect our physical health, we cannot lose sight of our mental wellness. At times during this pandemic, I have felt sad, scared, anxious, depressed, forlorn, hopeless, mad and defeated — often feeling more than one of these emotions at once.
Reflecting on Churchill's quote, I have come to realize that the man was onto something, and art might be a much-needed respite to our ongoing struggle. Will we solve the world's problems with a bit of paint and paper? No. Might art bring us some light and happiness in these dark, cold, Covid-laden days? Yes, I think so, and there is solid evidence to back this conviction.
Last month, I ordered some coloured pencils, crayons, and sketching paper on a whim. I hadn't done much drawing and colouring since I left elementary school, but I thought, "what the heck!"
When it came in the mail, my heart was delighted, and as I started to colour my less than realistic, stick-figured tree, my soul felt lighter and happier.
I am not claiming that art can solve our problems, but it might help keep our spirits lifted and preserve our mental health. We must hold our public officials accountable for protecting us. But we must also work together to protect our physical and mental wellness so that we can emerge from this pandemic strong and ready to continue our pursuit of a better tomorrow.
Jack Trovato (he/his)
RICHMOND