'Incredibly destructive': Canada's Prairies to see devastating impact of climate change – Global News
As the climate continues to warm at an alarming rate, experts warn if dramatic steps to mitigate global warming are not taken, the effects in Canada's Prairie region will be devastating to the country's agriculture sector.
According to Environment and Climate Change Canada, the country is warming, on average, about double the global rate.
Scientists with the National Oceanic and Atmospheric Administration in the U.S. recently found 2020 was earth's second-hottest year on record, with the average land and ocean surface temperature across the globe at 0.98 of a degree C above the 20th-century average.
However, the agency found the northern hemisphere saw its hottest year on record, at 1.28 degrees C above the average.
"(In Canada) we are looking at about 6.4C degrees of warming this century, which isn't much less than one degree per decade, which is just a terrifying rate of warming," Darrin Qualman, the director of climate crisis policy and action at the National Farmer's Union said.
Qualman said there is "massive change coming" to Canada's Prairies, which will be "incredibly destructive."
"It's not going too far to say that if we made that happen, parts of the Prairies wouldn't be farmable anymore," he said.
According to the federal government, in 2018 Canada's agriculture and agri-food system generated $143 billion, accounting for 7.4 per cent of the country's GDP.
The sector employed 2.3 million people in 2018. The majority of the 64.2 million hectares of farmland in Canada is concentrated in the Prairies and in southern Ontario.
The effects of climate change are already being felt on the ground in the Prairies, Qualman said, adding that the NFU has already heard from farmers complaining of "challenging weather."
"People are sharing pictures of flattened crops and buildings, et cetera, that have been damaged," he said. "And we're still at the beginning of this."
Extreme weather events, droughts
A study released earlier this year by Natural Resources Canada (NRC) titled Canada in a Changing Climate: Regional Perspectives Report, found the Prairies and Western Canada have had "the strongest warming to date across Southern Canada, especially in winter."
"Extreme weather events of amplified severity will likely be the most challenging consequences of climate change in the Prairie provinces," the report said. "The impacts of flooding, drought, and wildfire in recent years are unprecedented, and climate models suggest increased risk of these events in the future."
Additional chapters of the report are scheduled to be released on a rolling basis throughout 2021. Each will outline how climate change is projected to affect the different regions of Canada.
So far, the majority of the warming seen in the Prairies has been in the winter months, Danny Blair, a professor in the Department of Geography at the University of Winnipeg who studies climate change told Global News.
"But in all seasons – including the summer – there's a lot of warming still to come," he said.

1:05


Chuck Schumer urges Biden to declare national emergency on climate change



According to Blair, as the climate gets warmer "the probability [or] chance of having excessive heat for a long period of time gets greater."
"And so drought should be really high on people's list about the things to worry about in prairie agriculture in the future," he said.
Canada's food basket
While warmer temperatures may mean a longer growing season in the short-term, Sylvain Charlebois, a professor at Dalhousie University and scientific director at Agri-Food Analytics Lab, said in the long-run climate change will be "quite destructive" to the agriculture sector.
"The problem is that we often see very, very unpredictable weather patterns that can actually be damaging for crops," he explained.
According to the NRC report, in order to receive the "net benefits" from a longer growing season, farmers will have to adapt to "limit the impacts of climate extremes including water availability, and the increased risk of pests, vector-borne diseases and invasive species."
Asked if Canadians need to be worried about potential food shortages due to climate change, Charlebois said: "I think we do."
"I actually would say that the number one threat to agriculture anywhere in the world is climate change for sure because it makes things so unpredictable," he said. "I would say that climate change is to agriculture as the pandemic was to retail."
"It's a tsunami of unpredictable scenarios."
Charlebois said Canadians likely won't go hungry in the near future, but warming temperatures could impact which types of products are readily available at grocery stores in the next several years.
However, Qualman said the availability of certain groceries is the least of our concerns.
"The kind of warming we're on track for goes way beyond what some farmer grows or doesn't grow and what the price of groceries might be – it changes the world," he said.
Mitigation and adaptation
According to Blair as temperatures warm and the growing season extends, water management in the Prairies will become increasingly important.

2:29


The Canadian Ice Service protects ships in winter waters



"The projection is for precipitation to go up overall, but down a little bit in the summertime," he explained. "So just at the time when you need the soil to be replenished with moisture to get those crops growing, the probability is that precipitation is going to go down."
He said this means the agriculture sector is going to have to prepare for times when water is in short supply.
As the climate continues to warm, Blair said adaptation is "essential."
"We need to think about these things and invest in these kinds of adaptations now," he said. "We need to breed crops or be prepared to switch to crops that are more heat-resistant or more drought-tolerant, we need to switch our soil moisture management practices for the purpose of conserving water."
He said investments need to be made in irrigation, and we must ensure Canadian farms are economically stable.
However, Qualman said adaptation "just doesn't make sense" unless we can find a way to "dramatically slash" the amount of warming Canada is on track to see this century.
"The kind of warming that we are on track for, you know, destabilizes entire nations, kills millions and millions of people [and] obliterates cities," he said.
Qualman said in order for adaptation to work, you "have to be aiming at adapting to something reasonable."
"You can probably adapt to moderate climate change," he said. "But we're not facing moderate climate change. We're facing extreme and devastating climate change.
So while it's prudent to made adaptation plans, it's much more critical to really reduce emissions fast."
Qualman said if Canada were to slash its projections in half, "it would start to seem more likely that you could begin to adapt to that."
He said if there are "ambitious emission reduction plans" both nationally and internationally, then adaptation is "prudent and possible."
"So, it's not that adaptation is the wrong thing to do — it's just that adaptation in the current context, won't work," he said.
© 2021 Global News, a division of Corus Entertainment Inc.
The latest news on COVID-19 developments in Canada for March 8 – The Tri-City News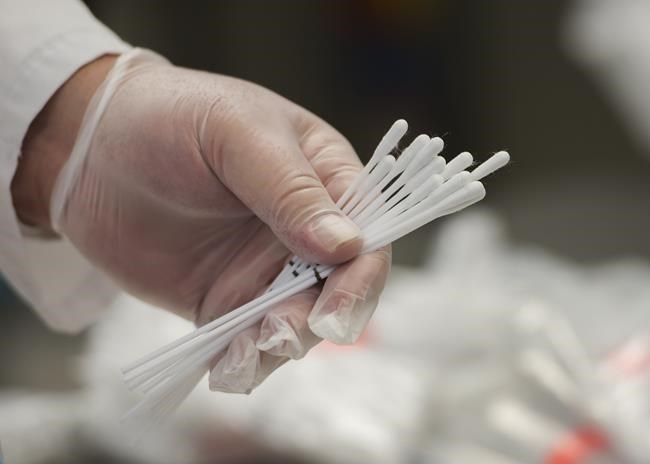 The latest news on COVID-19 developments in Canada (all times Eastern):
6:35 p.m.
Alberta is reporting 278 new cases of COVID-19 and six additional deaths.
The province says six cases of a more contagious variant have also been detected, bringing that total in Alberta to 659.
There are 254 people in hospital, with 36 of them in intensive care.
Health Minister Tyler Shandro says he believes it's safe enough to immediately lift some more public-health restrictions.
—
6:30 p.m.
Alberta is lifting more COVID-19 public-health restrictions, including allowing more people to shop in retail stores and malls.
Health Minister Tyler Shandro says the retail limit is increasing to 25 per cent capacity from 15 per cent.
He says banquet halls, community halls and conference centres can open for meetings, while weddings of up to 10 people and funeral services with a maximum of 20 people are allowed.
Lessons and practices for youth and post-secondary sports can go ahead with a cap of 10 participants.
And there can be rehearsals and performances — without an audience and confined to 10 people — for youth and adult dance, singing and theatre activities.
—
6:15 p.m.
B.C. is reporting 11 more deaths and 1,462 new cases of COVID-19 over the last three days as the death toll in the province nears 1,400.
Provincial health officer Dr. Bonnie Henry says more than 4,800 cases are active, including 240 people hospitalized with the illness.
She says 144 more cases of variants of concern have been detected in B.C. for a total of 394, of which 87 cases are active.
There have been 333,327 doses of COVID-19 vaccine administered in B.C., including nearly 87,000 second doses.
—
4 p.m.
Prince Edward Island is reporting two new cases of COVID-19 today.
Health officials say the new cases involve two men in their 20s.
They say one man recently travelled outside Atlantic Canada and the other is a close contact of a previously reported infection.
P.E.I. has 28 active reported cases of COVID-19.
—
3:05 p.m.
Saskatchewan is reporting 97 new cases of COVID-19 and two more infections caused by a more contagious variant.
Health officials say a provincial lab confirmed two additional cases of the variant first detected in the United Kingdom in the Regina area.
The ministry also confirmed a previously reported presumptive case to be the B.1.1.7 variant.
To date, Saskatchewan has seen nine cases of variants of concern.
—
3 p.m.
Quebec is announcing it will not follow recommendations from Canada's national vaccine expert panel regarding the newly approved Oxford-AstraZeneca vaccine.
The province said today in a news release its provincial vaccine expert committee is recommending that all approved doses be used immediately — particularly for people in their 70s — to reduce death and hospitalizations.
Canada's National Advisory Committee on Immunization has said the AstraZeneca vaccine is not recommended for people aged 65 years and over because of insufficient data.
Quebec says the fact the AstraZeneca vaccine doesn't need to be kept frozen will help officials conduct more mobile vaccinations campaigns and reach patients at home.
—
2 p.m.
Ontario's health minister says people won't be asked to provide proof of their pre-existing health conditions to access a COVID-19 vaccine during the second phase of the rollout.
Christine Elliott says she believes most people will come to the clinics when they are permitted and not take advantage of the honour system.
The vaccine will be offered starting in April to people with specific health conditions like organ transplant recipients, those living with obesity and those receiving treatments that suppress the immune system.
Elliott says local public health units will screen people as they arrive at the clinics and may be able to check with a person's family physician, but that will not be mandatory.
—
1:35 p.m.
New Brunswick is reporting five new cases of COVID-19 today.
Two cases in the Moncton region involve people in their 20s and are travel-related.
The other cases are in the Miramichi area and are linked to a previously reported infection.
There are currently 36 active reported cases in the province and three people in hospital with the disease, including one in intensive care.
—
1:35 p.m.
Manitoba is reporting 63 new COVID-19 cases and one death.
On a per capita basis, the northern part of the province continues to be hardest hit.
—
12:55 p.m.
Manitoba is expanding its vaccination program again.
The minimum age to book an appointment for the general public is being dropped by five years — to 60 and up for First Nations people and 80 and up for all others.
—
12:45 p.m.
Newfoundland and Labrador is reporting three new cases of COVID-19.
Health officials say all three cases involve close contacts of previously reported infections.
The province has 84 active reported cases and three people in hospital with the disease.
Newfoundland and Labrador has reported a total of 1,009 COVID-19 cases and six deaths linked to the virus.
—
12:15 p.m.
Prime Minister Justin Trudeau says March 11 will be a "national day of observance" for the COVID-19 pandemic.
The day is meant to commemorate the 22,000 people in Canada who have died from the disease and to acknowledge all the other ways lives have changed over the past year.
In a statement, Trudeau says that includes kids' missed birthday parties, seniors' increased isolation, lost jobs and failing businesses.
The day is also meant to honour workers in health care and other essential front-line services.
—
12 p.m.
Nova Scotia is reporting no new cases of COVID-19.
Health officials say the province has 24 active reported infections.
Two people in the province are in hospital with the disease, including one in intensive care.
Nova Scotia has reported a total of 1,659 COVID-19 cases and 65 deaths linked to the virus.
—
11:45 a.m.
Ontario is reporting 1,631 new cases of COVID-19 and 10 more deaths today.
The province says the daily case count is higher than expected due to a "data catch-up process" in its system.
No other details about the issue have been provided.
The province has lifted its stay-at-home order in Toronto, Peel Region and North Bay, the last three regions where it was still in effect.
—
11:05 a.m.
Quebec is reporting 579 new cases of COVID-19 as well as nine additional deaths due to the illness.
None of the deaths occurred in the past 24 hours.
Hospitalizations declined by two to 590, with 108 people in intensive care, which is one more than a day earlier.
The province administered 15,249 doses of vaccine Sunday, bringing the total to 564,302.
—
This report by The Canadian Press was first published March 8, 2021
The Canadian Press
Canada set to receive more than 910000 doses of COVID-19 vaccines this week – CTV News
OTTAWA —
Canada is set to receive 910,000 COVID-19 vaccine doses this week as pharmaceutical companies ramp up deliveries to make good on their contractual obligations by the end of the month.
The Public Health Agency of Canada says the country will receive nearly 445,000 shots from Pfizer-BioNTech for the second week running as the companies settle into a rhythm following a lengthy lull in January and much of February.
The remaining 465,000 shots are expected from Moderna, as the pharmaceutical firm steps up its delivery schedule from once every three weeks to once every two.
The influx of new shots comes as the federal government looks for vaccine-makers to finalize delivery of a total of eight million doses by March 31.
That includes 5.5 million from Pfizer-BioNTech — up from the four million originally expected — and two million from Moderna. Canada received 500,000 doses of the AstraZeneca-Oxford vaccine last week.
The federal government is not expecting any new deliveries from AstraZeneca-Oxford, nor does it anticipate receiving shipments of the newly approved vaccine from Johnson & Johnson until next month.
At that point, however, both manufacturers are on tap to deliver millions of shots per month.
That includes more than a million doses per week from Pfizer-BioNTech starting in the last week of March and into the following month.
"In April, we are anticipating a steep increase in vaccine availability," Maj.-Gen. Dany Fortin, the military officer overseeing Canada's inoculation distribution effort, said last week.
"This includes 23 million doses of both Pfizer and Moderna between April and June, and at least 1.5 million doses of the AstraZeneca Serum Institute of India vaccine arriving by mid-May."
Johnson & Johnson, whose single-dose vaccine received Health Canada approval on Friday, is the fourth inoculation to receive the green light from the regulator.
It uses a modified common-cold virus to carry a piece of the SARS-CoV-2 virus that causes COVID-19 to convince the body to mount an immune response to prevent future infections.
Clinical trials found it to be 66 per cent effective against moderate COVID-19-related illness, 85 per cent effective against severe illness, and 100 per cent effective against death.
"We can be really increasingly optimistic in our outlook and that is really great," Dr. Theresa Tam, Canada's chief public health officer, said on Friday.
Procurement Minister Anita Anand said the government has now confirmed total deliveries of 36.5 million vaccine doses by Canada Day which would be more than enough to get a single dose to each adult Canadian by then.
That doesn't include any of the 10 million doses purchased from Johnson & Johnson, and includes none of the 20 million doses coming directly from AstraZeneca.
Every vaccine except Johnson & Johnson's is given in two doses, but provinces are moving to implement new guidance from the National Advisory Committee on Immunization stating those shots should be spaced out up to four months apart rather than three or four weeks.
Provinces are making the move to get more people vaccinated with a first dose, after real-world evidence showed strong data that one dose is highly effective on its own.
Nearly 1.7 million Canadians have now received at least one dose, and the pace of vaccinations has accelerated in the last two weeks. In the past seven days alone, more than 457,000 people were vaccinated, 2 1/2 times as many as in a similar period two weeks before.
This report by The Canadian Press was first published March 8, 2021
PM designates March 11 national day of observance for Canadians who died of COVID-19 – CTV News
OTTAWA —
The federal government is designating March 11—the one-year anniversary of the World Health Organization declaring COVID-19 a global pandemic—a national day of observance to commemorate those who have died due to the virus.
Prime Minister Justin Trudeau announced the new day in a statement on Monday, saying it will also signify a reflection on the "significant impacts" all have felt due to COVID-19, from isolation and unemployment to losing time with friends and family.
"Early last year, our lives, and the lives of everyone around the world, were forever changed by the emergence of COVID-19," Trudeau said. "Today – one year after the first known death of a Canadian to the disease – we now mourn the tragic loss of more than 22,000 parents, siblings, friends, and loved ones."
The government is inviting Canadians to think this week about those who have died and the health-care and other essential workers who have been on the front lines of the fight against the novel coronavirus.
"During this crisis, Canadians have remained resilient. They have helped neighbours, given to organizations, put signs in their windows to support our health care workers, and lent a hand wherever possible," read the statement.