Indian Mart owners living the Canadian dream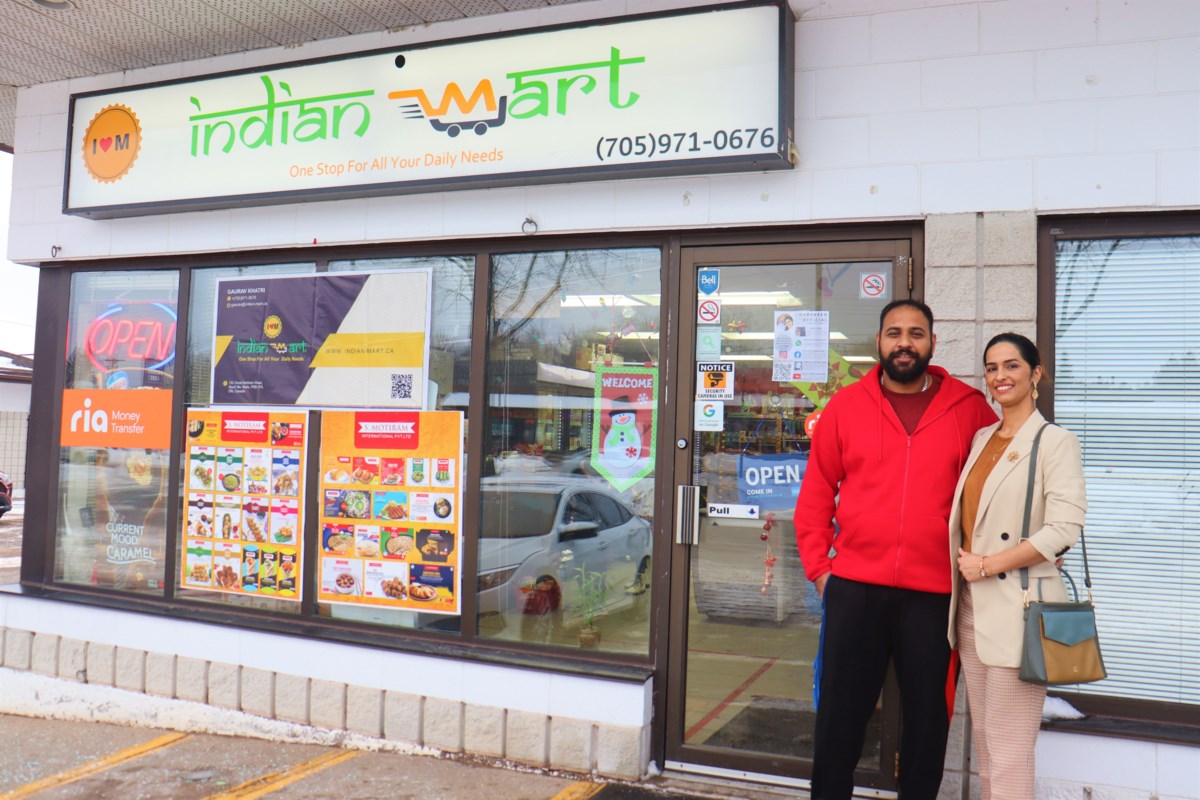 A lot can happen in four years – just ask Guarav Khatri and Neetu Neetu, a married couple from India who are now thriving with their eight-year-old son Hargun in Sault Ste. Marie.
Since July 2022, the two have been proud owners of the Indian Mart on Great Northern Road, which is currently the only Indian grocery store in town.
Khatri recognized a demand in the city when he took over the grocery store from the previous owners when it still went by Indian Bazaar at that time.
"I realized we needed more selection for our customers," he says. "India has a diverse population; everyone has different preferences."
The store has expanded its selection over the months and features a wide assortment of foods, snacks, sweets, spices, drinks, and even hair products from all corners of India.
"We have a lot of items that our customers can't get anywhere else in the Sault," Neetu says.
As the Indian population continues to grow, Neetu explains it's important for people from their culture who live in the Sault to know they can still enjoy the familiar tastes and smells of their upbringings.
"They feel so at home here," she says. "It's a small city, so there aren't as many options for them."
"We have Filipino foods and products as well; we're trying to cover most of the smaller communities in town."
The Indian Mart owners order some of their products all the way from India, while Khatri also makes regular trips to the GTA and picks up orders from several different suppliers.
"We bring products in on customer demand," Neetu says. "We take feedback from customers to see if there's anything else we can do to make their shopping better next time."
Khatri and Neetu say their business has been growing since last summer, particularly in the last several months.
But the young couple's journey to achieving this success wasn't an easy one.
Neetu was the first to arrive in Canada in January 2019 on a study visa, leaving behind her jobs as a registered nurse, midwife, and professor – and for several months, her husband and young son as well.
"Coming to Canada was my dream since I was a child," she says. "I did my studies at Sault College in the healthcare and administration program."
"As a student, I was working towards getting my nursing license. There were a lot of struggles that I did not imagine since I was starting from scratch."
"There was a point where I wondered, 'why even come here?' It was really hard."
Khatri and their son Hargun arrived to the Sault in May 2019, and the father worked a number of different roles, such as a gas station supervisor, Algoma Steel cleaner, bartender, and security attendant.
Sometimes, he would work 20-hour days to ensure the family made ends meet.
"My husband had a dream to buy the grocery store since he moved here," Neetu says.
Neetu got her nursing license in May 2020 and has been working as an RPN in long-term care ever since. She also landed a position as a nursing professor at Sault College and has enjoyed working with students again.
"Because I brought over my previous teaching experience and put it into practice here, I've been really liking it," she says.
The family of three got their permanent residency in September 2021 and decided to buy a home in the P-Patch shortly after.
Khatri had actually worked as a manager for the former Indian Bazaar and felt there was more that could be done with the grocery store.
He decided to take over the lease at the Great Northern Road location and rename it to Indian Mart in July 2022, which was followed by expansion and renovation efforts shortly after.
Today, the proud owners feel their store has become a staple for newcomers and Canadian citizens alike.
"We have something for everyone here," he says.
"We have people from all different backgrounds who shop here," Neetu adds. "It's a good chance to try something new."
While there were moments in the last several years when times seemed dire, the young couple managed to find new ways to overcome a seemingly endless stream of unique challenges.
But they wouldn't have had it any other way.
"With hard work, you can achieve anything," Neetu says. "Nothing is impossible."
"Whatever you put your mind to, you can achieve your goals," Khatri adds. "We worked together and supported each other."
The marital and business partners say their son Hargun has also transitioned very well to Canada, and they feel very fortunate to be living in the Sault.
"Initially, when he started going to school, he didn't like it very much," Neetu says. "The transition was a bit hard for him. But within a week, he was really quick with opening up to that environment. He loves school now."
"The Indian community is really growing here," Khatri adds. "Lots of students and families are coming here because it's quiet and peaceful. People are very nice and helpful around here."
"We wouldn't want to be anywhere else."
"We're very grateful to our families, friends, the Sault College instructors, and the city for making this all possible for us."
Fuel made from Russian oil is being funneled to New York – Markets Insider
[unable to retrieve full-text content]
Indian tycoon Adani hit by more losses, calls for probe
NEW DELHI (AP) – Trading in shares in troubled Adani Enterprises gyrated Friday as the flagship company of India's second-largest conglomerate tumbled 30% and then rebounded after more than a week of heavy losses that have cost it tens of billions of dollars in market value.
The debacle, which led Adani to cancel a share offering meant to raise $2.5 billion, has drawn calls for regulators to investigate after a U.S. short-selling firm, Hindenburg Research, issued a report claiming the group engages in market manipulation and other fraudulent practices. Adani denies the allegations.
Opposition lawmakers blocked Parliament proceedings for a second day Friday, chanting slogans and demanding a probe into the business dealings of coal tycoon Gautam Adani, who is said to enjoy close ties with Prime Minister Narendra Modi.
"We have no connection″ with the Adani controversy, Parliamentary Affairs Minister Pralhad Joshi told reporters outside Parliament on Friday.
In an interview with CNN News 18, Finance Minister Nirmala Sitharaman brushed off concerns that the losses would spook global investors and said India's financial market was "very well regulated."
"As a result, the investors' confidence which existed before shall continue even now," she said, adding that the controversy wasn't "indicative of how well Indian financial markets are governed."
Amit Malviya, the governing Bharatiya Janata Party's information and technology chief, said in a television interview that the opposition was using Adani's crisis to target the Modi government over a private company's shares and their market movements. "Regulators are looking into" what happened, he said.
The market watchdog, the Securities and Exchange Board of India, has not commented. The Economic Times newspaper reported, citing unnamed SEBI sources, that it had asked stock exchanges to check for any unusual activity in Adani stocks.
Shares in Adani Enterprises fell as much as 30%, to 1,017 rupees ($12), on Friday. At the end of trading, the price had recovered to 1,531 rupees ($18.70) but was still down by 2%. The company's share price has plunged more than 50% since Hindenburg released its report last week, when it stood at 3,436 rupees ($41). Stock in six other Adani-listed companies were down 5% to 10% on Friday.
So far there has been no indication that the company's woes might threaten the wider financial sector in India. Its equities market is large enough to sustain the fallout at this moment, said Brian Freitas, a New Zealand-based analyst with Periscope Analytics who has researched the Adani Group.
"Adani stock forms a small part of the equities market and investor concerns right now are restricted to the company, not the whole system or market itself," Freitas said. India's Nifty and Sensex indexes were both higher on Friday.
It could take time for problems to surface, Shilan Shah of Capital Economics said in a report. "From the macro perspective there are few signs of contagion," he said. "But it is too early to sound the all clear."
The S&P Dow Jones indices said Thursday it would remove Adani Enterprises from its sustainability indices beginning Tuesday, following a "media and stakeholder analysis triggered by allegations of stock manipulation and accounting fraud."
That might dent the Adani Group's sustainability credentials and could affect investor sentiment, Freitas said.
Adani, who made a vast fortune mining coal and trading before expanding into construction, power generation, manufacturing and media, was Asia's richest man and the world's third wealthiest before the troubles began with Hindenburg's report.
By Friday, his net worth had halved to $61 billion, according to Bloomberg's Billionaire Index, where he dropped to the 21st spot worldwide.
He has said little publicly since the troubles began, though in a video address after Adani Enterprises canceled its already fully subscribed share offering he promised to repay investors. The company has said it is reviewing its fundraising plans.
Hindenburg's report said it was betting against seven publicly listed Adani companies, judging them to have an "85% downside, purely on a fundamental basis owing to sky-high valuations." Other issues in the report included concerns over debt, alleged use of offshore shell companies to artificially raise share prices and past investigations into fraud.
Adani's speedy, debt-led expansion in recent years caused his net worth to shoot up nearly 2,000%. Even before last week, critics said his ascent was aided by his apparent close ties to Modi and his government. Analysts say he has been successful at aligning his priorities with those of the government by investing in key sectors, but point out that he also has major infrastructure projects in states that are ruled by opposition parties.
"The question now turns to the future of the Adani Group and how they will grow," said Aveek Mitra, founder of Avekset Financial Advisory.
As a company heavily involved in infrastructure — from airports and ports to highways — it needs financing to grow in order to service its debt, which stands at $30 billion, out of which $9 billion is from Indian banks.
Adani may be able to sell some assets and continue its expansion, but at a much slower pace than earlier, Mitra said.
"Banks, financial institutions and investors will think five times before investing now," he added.
Associated Press writer Ashok Sharma contributed to this report.
Ottawa expands price caps to Russian petroleum products to reduce revenues
OTTAWA — The federal Finance Department says Canada is joining its fellow G-7 countries plus Australia to expand caps on Russian oil to include seaborne petroleum products from that country.
The department says the maximum price for seaborne Russian-origin petroleum will be US $100 per barrel for "premium-to-crude" products as of Sunday, and US $45 for "discount-to-crude" products.
It says in a press release the new caps build on a Russian crude oil price limit announced in December, adding both moves will weaken President Vladimir Putin's ability to fund the war against Ukraine.
The Department of Finance says the caps will be enforced by prohibiting buyers who do not abide by the price caps from obtaining services from companies in the G7 or Australia.
It says the price cap mechanism has been designed to reduce Russian revenues while recognizing the importance of stable energy markets and minimizing negative economic effects.
Finance Minister Chrystia Freeland says Russian oil revenues have already declined since the first price cap took effect and the additional price caps "will be another blow to Putin's war chest."
This report by The Canadian Press was first published Feb. 4, 2023.
———
This story was produced with the financial assistance of the Meta and Canadian Press News Fellowship.
The Canadian Press