Indigenous art exhibit: Mother and daughter weave broken bonds
Colourful trade blankets hang on the walls of a Montreal gallery as a striking symbol of beauty emerging from the pain of residential schools and the generations of trauma they inflicted.
They are the work of Ida Baptiste and Lara Kramer, a mother-daughter team behind the exhibit titled Ji zoongde'eyaang (To Have a Strong Heart) showing at MAI, a multi-media cultural space.
Baptiste is an Anishinaabe Oji-Cree artist and Ojibwa language teacher living in Rama, Ont. She was just four years old when she was taken to Brandon Indian Residential School in Manitoba.
She recalls crying as she arrived at the school and the fear she lived with for years.
"The boys who tried to run away were made to carry a hundred-pound bag of potatoes," she says. "And the principal would stand there with a horse whip to use if one of them fell down. I remember seeing that, and the fear I had, thinking 'Why am I here?'"
Those are memories she tried to suppress for years, but that she now shares with her daughter by her side.
The duo first teamed up during the pandemic, in 2021. Kramer, a performer, choreographer and multi-disciplinary artist, was asked to design two public billboards to be exhibited in downtown Montreal. The images feature Kramer cloaked in a trade blanket, the kind used in the fur trade. Through oral tradition, countless stories of their use as fabric of biological warfare to infect Indigenous people with small pox have emerged.
Kramer reached out to her mother for help designing two trade blankets and adorning them with jingles that symbolize healing.
"It was really these notions of healing, grounding ourselves in history and moving forward together that I wanted to explore," says Kramer.
After that project was over, she realized there was much more to be done and came up with the idea of the exhibit. They dedicated hours to the project, working together with Kramer's own children playing around them. In those moments, the two artists thought of the bonds residential school severed across generations.
"I didn't grow up in a real family," says Baptiste. "When I had my own children I was able to give them a foundation when they were little, but when they became adolescents I was fearful and scared, so I ran away from them not fully realizing the impact that would have on my family."
One of their trade blankets now on display is in honour of Baptiste's mother, Kramer's grandmother. All of her 14 children were taken away, either during the Sixties Scoop or to residential school. Another blanket depicts what Baptiste calls her spiritual journey, with lines representing generations past, present and future.
But there is more than the blankets to this exhibit.
As Kramer looked (or "snooped," as she put it) around her mother's home, she uncovered a series of paintings Baptiste completed in the 1990s. She convinced her mother to include those in the project.
"I felt that this is the moment. Maybe 30 years ago, it wasn't time, but in the current climate, and where she is on her journey, it is now time."
The paintings depict children, left without a voice in their schools. One is of a child on a swing on a background filled with numbers.
"We all had numbers," says Baptiste. "Mine was 64."
Ji zoongde'eyaang is on until Nov. 19 at the MAI (Montreal, arts interculturels).
All embedded images show the exhibit at the MAI created by Ida Baptiste and Lara Kramer, and were provided to CTV News.
20,000 people attend Art in the Park
It was a lovely weekend for a stroll in the park and more than 20,000 people had the same idea for this year's Art in the Park at Willistead Park in Windsor, Ont.
The two-day festival features 275 different art vendors, food and ice cream trucks and music from a number of performing artists.
"It's a wonderful thing because we see that our artists and our performers are being supported and that means a lot to us," said Aggie Sarafianos, who hasn't missed a single year of Art in the Park since it started back in 1979.
"The history, the atmosphere, the feeling that you get when you're here is just second to none," she said. "The camaraderie of the neighborhood is here, it's very blatant."
Vendors seemed quite pleased with the turnout, reporting strong sales this weekend.
"We're told that it's the best organized festival that we go to, so we love to hear that," said Allan Kidd, the chair of Art in the Park, indicating they will try to squeeze in 300 vendors next year.
The event is put on by the Rotary Club of Windsor, with proceeds going to restoring Willistead Manor, digging water wells in Africa, and buying wheelchairs for kids in Windsor.
"Everybody that comes in here has a good time but they are all philanthropists because I can't do it without them," said Kidd. "Every dollar is put to good use cause we're all volunteers. We're grateful for the public and I think they love what we do too."
Tomás Saraceno: Web(s) of Life; Tate Britain rehang review – a five-star show that's all generosity, and a reckoning with history
To reveal what happens inside Tomás Saraceno's new show for the Serpentine Gallery is hardly a spoiler. Nothing could lessen the impact. In galleries of pitch darkness, spotlights pick out an unfolding sequence of ethereal silver visions, all of them apparently floating in midair.
One spreads like the Milky Way – points of light gathering in cosmic drifts. Another hovers like spectral morning mist. A third has a gleaming upright disc at its centre, woven of what seems to be the most exiguous gauze of metal threads, held in place by barely visible guy lines.
They appear to be drawings in thin air; and yet they are also sculptures – silk structures so tremulous and fine they shiver in the circumambient air. To learn how they are made (and who made them) is still to know nothing at all of the mysterious workings of the artists themselves – none other than several rare species of spider.
Saraceno is the great spider man of contemporary art. Born in Argentina in 1973, he trained first as an architect, and one senses his profound appreciation of the way spiders create buildings as works of art. So much so that he has not boxed in their structures. There is no glass. Whisper ever so slightly and these webs move with your breath. The wonder they engender is exactly what stops you from reaching out to touch.
These spiders, who create such beauty, have very poor sight. They do not hear as we do either. Visitors can sit in a repurposed confessional box staring closely at a spectacular web that hangs where the priest would usually sit; through the wooden seat run occasional tremors. This is roughly what the spider senses of the world as it works. Saraceno's marvellous installation is a form of synaesthesia as homage: you witness the web while experiencing intermittent vibrations and blinking through a filigree grille.
A riveting film, in another gallery, shows the spider diviners of western Cameroon at work with clay pots and cards made of distinctively incised leaves. These cards are effectively the answers to vital questions asked by local people (or perhaps even by you too, now that Saraceno has built the diviners a website through which you can correspond). The spiders move the cards to give their wisdom. It feels as strange and mythical as the Oracle at Delphi.
By now, having surrendered your mobile phone on entry to some charming artists who return it with a divination card on exit, you will have realised that webs are a metaphor for the way Saraceno works. The spiders have answers that no phone can give; no phone can capture the magical webs. And phones involve batteries that require lithium, subject of another of Saraceno's art campaigns, and of a beautifully shot film screening in the central rotunda.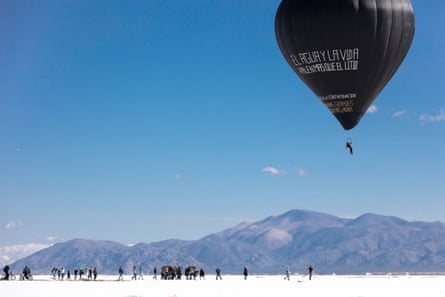 This concerns the Indigenous communities of Jujuy in Argentina who are fighting for the preservation of vital land and water threatened by the relentless mining for lithium to supply our wretched batteries. The narrative of words, images, protests and interviews is deeply absorbing. And, not incidentally, you will also see a flotilla of black balloons (sculptures, too, in their way) that are powered to fly across the sparkling white salt flats of Jujuy using solar energy. These are another of Saraceno's attempts to find a way, as he puts it, "to levitate without any violence to the earth". His flight in 2020 broke 32 records and was then the longest fossil-free flight in history.
One side of the Serpentine Gallery is entirely open to the green landscape outside. Animals of all sorts are welcome (there is a ladder for squirrels, a house for birds, welcoming sculptures of dogs, deer and hedgehogs). Children have their own secret gallery. The roof is laid with solar panels to supply energy. Pedal the bicycles outside and you power up the voices of Jujuy on headphones.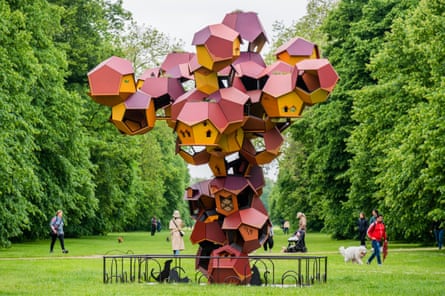 Saraceno's work is as delicate and involving as the webs he displays. Artist, scientist, activist, philosopher, inventor, composer, he is a Renaissance mind for the 21st century. And what is so striking about this captivating exhibition, in all its generosity, is that Saraceno believes that everyone else is as curious and optimistic as he is: that art can have active agency.
It is 10 years since Tate Britain last reorganised its collection, a decade so turbulent even art institutions could not remain heedless. The new rehang embraces many more women and artists of colour, introduces much more historical context about patronage, society, race, class and politics, and stints (mercifully) on Bacon, Hockney, Freud et al, who scarcely need further enlargement. There are sufficient new names, overdue revivals and close-focus galleries – an electrifying William Blake, a fascinating room of one's own devoted to Woolf-era women – as to educate the mind and eye and renew the experience.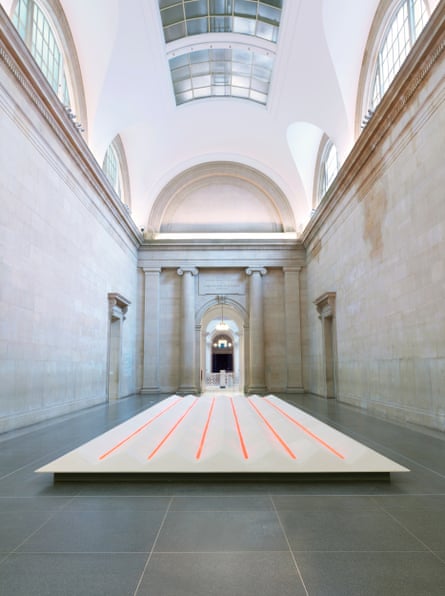 The faults are many and obvious. Above all, this rehang treats artworks as documents. An 18th-century tea party allows for sermonising on tea (imperialism), sugar (slavery) and servants (oppressed), but the picture itself is atrocious. George Stubbs and Samuel Palmer are told off for ignoring rural conditions in their spellbinding harvests and twilights. Annie Swynnerton gets a whole room for her cloyingly awful art because she was a suffragist who painted Millicent Fawcett.
And for a rehang more interested in history than art, it's oddly erratic. Thin on the English civil war, say; Waterloo, the welfare state, LGBTQ+ rights. As for the spelling: Magna Carter?
But the Duveen Galleries are terrific: Vong Phaophanit's 1993 neon rice field in its mysterious glowing dunes; Rachel Whiteread's mind-splitting cast of a double staircase, labyrinthine and vertiginous; Susan Hiller's reprise of the walls of sudden and heroic deaths from London's Postman's Park.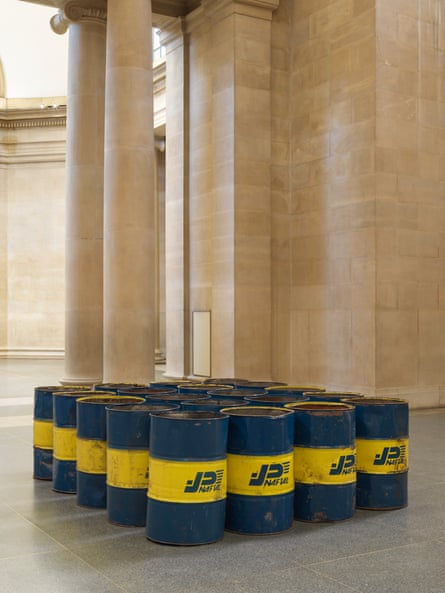 The rooms are jewel-coloured and densely hung. All the old favourites remain – Turner, Gainsborough, Constable, the pre-Raphaelites – alongside sharp recent purchases: the haunting interiors of Iraqi painter Mohammed Sami; Zineb Sedira's superbly wry films (early hit of the last Venice Biennale); Lydia Ourahmane's haunting oil barrel installation – the first artwork legally to leave Algeria since it gained independence in 1962, with its redolent scent and its ghostly inner music, which finally reached here in 2014.
It will all change again – and quite possibly should, in much less than a decade this time. Some of the texts will have dated by then, some of the biases faded. But in the meantime, this rehang opens its arms to the present. The art can hold its own against the preaching any day, after all. Just look more and read less.
Star ratings (out of five)
Tomás Saraceno: Web(s) of Life ★★★★★
What the Art World Doesn't Want You to Know About Yayoi Kusama
I've had a question about Yayoi Kusama's work for a long time and the new survey publication Yayoi Kusama: 1945 to Now (2023) has finally resolved it.
In short, the answer is money, but I'll back up a bit.
The volume features a roundtable discussion between notable curators and museum directors, and quickly, the topic of Kusama's marketability comes up. The argument presented is that the mass production of Kusama merchandise — Kusama coffee cups, Kusama figurine keychains, and so on — has accelerated the democratization of art.
"We couldn't have invented a better artist to be a kind of banner artist for the transnational and the transhistorical, and for improving gender balance," Tate Modern Director Frances Morris says in the featured roundtable.
That is, the commercialization of Kusama herself is not presented as a "necessary evil," but instead as an opportunity for a positive step toward equality. This is an interesting framing that I generally agree with.
But what is left unsaid is that 1945 to Now is itself part of an attempt to "invent a better artist" — a version of Yayoi Kusama who used her art to aid in racial solidarity.
This "Kusama" does not exist. In a 2017 article for Vice News, I pointed out that in her autobiography Infinity Net, originally published in 2002, Kusama consistently wrote about Black people as primitive, hyper-sexualized beings. But the part that most confused me was a blank space on the page.
In her original Japanese edition, Kusama refers to the area in New York where she used to live transforming into a "slum," with real estate prices "falling by $5 a day." She attributes this to "black people shooting each other out front, and homeless people sleeping there."
When the English translation of Infinity Net came out in 2011, this sentence was missing. It was not a mistranslation. The rest of the paragraph was intact; only the sentence about Black and unhoused people was deleted.
At the time, I was unsure what to make of this omission. However, after reading 1945 to Now, I'm starting to think that this was an early sign of a strategy to subtly sanitize Kusama for Western audiences, reinventing her so as to improve her marketability.
In the very first essay of 1945 to Now, we are shown a picture from 1964 of Kusama being physically carried through Washington Square Park in the arms of a bare-chested Black man. Above this, a clip from a Japanese magazine depicts Kusama reading a newspaper, as a Black man angled below her stares blankly at the ground. He is unnamed, and in the original quote from that magazine, Kusama refers to him not as a collaborator, or even as a human being, but instead speaks of "The head of this Negro."
On the page that faces these two images, curator Mika Yoshitake writes that Kusama used her work "as a means of communal healing, to radically connect those who experienced being on the margins of life, especially hippies, gays, and people of colour."
It's not clear whether Kusama is meant to also be a "person of colour" in this construction. But by beginning the book with this framing of Kusama as an artist who was intentionally producing art that would be inclusive of and "healing" for Black people, the authors have papered over a clear pattern of banal racism in Kusama's work.
Instead, in nearly every instance that Black people appear in works referenced by the compilation, they seem to mainly function as tools to provide shock or story development. The Hustler's Grotto of Christopher Street (1984), her most critically acclaimed novel, is brought up throughout the compilation. But nowhere is it mentioned that this book is full of grotesque and voyeuristic depictions of Black characters' smell and genitalia (White characters are not treated this way).
This trend is present even in one of the rare works exclusively available in this compilation: a partial script for a 1971 play titled Tokyo Leee. Most of the characters are described by their personalities, or at most, as "good-looking," or having "blonde hair and blue eyes." But Kusama's one Black character is described as a "WILD-looking, hairy, coal-black savage."
Perhaps it is relevant to mention here that I, the writer of this review, am also Black. I would also like to say, however, that I don't think it's productive to be offended by these works or to refuse to buy or look at them. I only want to say that it is disingenuous to suggest that Kusama has done anything radical in terms of race, especially compared to some of her peers who deserve this recognition.
For example, Ariyoshi Sawako's novel Not Because of Color (非色; 1964, untranslated) made a wholehearted effort at connecting Japanese and Black people, with a much more sympathetic and realistic depiction of Black life in New York. Yoshida Ruiko, a Japanese photojournalist who was living in New York around the same time as Kusama, later published Hot Days in Harlem (ハーレムの暑い日々; 1972, untranslated) which shows, through images and words, Black Harlem in all its complications. We see Harlem's joys and sorrows, and notably, we see Black women. Kusama generally does not speak of or depict Black women, and instead focuses on Black men, their lips and genitals, slyly bragging about the orgies she says she saw in Harlem.
Even her White contemporaries were doing more provocative work. The year before Kusama was releasing photos of herself being carried around in Washington Square, Norman Rockwell painted "The Problem We All Live With" (1963), in which we are brought eye-level with a young Black girl being dutifully escorted into a newly desegregated school by United States Marshals.
In her essay from 1945 to Now, curator Isabella Tam devotes pages to placing Kusama's work in the context of ancient Chinese and Japanese traditions and forms. This is fine as an artistic or intellectual exercise, but it might be more straightforward to recognize that Kusama's use of Black people as props also places her literature as an inheritor of a more disappointing tradition: American racism.
I'm genuinely surprised by the limited critical writing about racism in Kusama's work. How has the art world, which is nothing if not endlessly self-critical, not had a discussion about Kusama's use of Black people? This is especially odd considering that racism in art is a problem that Kusama herself has been vocal about. Near the end of the same 2002 autobiography in which she laments Black people driving down real estate value, she attacks the worship of White artists in her home country: "Just because their eyes are blue and hair is blonde, foreign artists' work is sold at ten times the price of Japanese work. In any other country, this would be unthinkable, but in Japan, it is commonplace. This is ridiculous and we must raise our voices against it."
The closest recent analogue to this discrepancy I can think of is hip-hop's collective shrug over Kanye West. When Kanye began going on increasingly bizarre tirades, culminating in anti-semitic rants so abhorrent that he made Alex Jones squirm, just about every rapper let him slide.
Despite hip-hop being a genre that is founded on artfully attacking others for the slightest perceived offense, not a single coherent diss track from a major artist came out about Kanye (RXK Nephew's bizarrely hilarious "Yeezy Boots" is a rare exception). How can it be that the same genre that brought us "Ether," "Energy," and "The Bridge is over" — songs brought about by such minor infractions as allegations of copycat lyrics, ghostwriting, and swagger-jacking, respectively — has turned the other way when an entire group of people was being attacked?
It's worth considering that perhaps Kanye, and also Kusama, might somehow be off-limits from criticism because of their well-publicized mental illnesses. It's certainly been enough to have put an asterisk on nearly every criticism of Kanye's outbursts. We've been made to ask ourselves: Can someone be mentally ill and bigoted at the same time? Can the former influence the latter? Or is the latter a pre-existing condition, that has nothing to do with the former?
Freddie deBoer, a writer who himself has bipolar disorder, has written about this, arguing: "To say that West's behavior might not be fully under his control is not to say that it's not within his responsibility." He goes on to add that we "have to be willing to both find that someone is guilty of bad things while bearing the complications of mental illness in mind."
It is certainly worth being cautious in our criticism of both artists. But it doesn't explain why there has been no peer criticism in the industries that both Kanye and Kusama occupy.
The only explanation for this I can think of is money.
In hip-hop, as in art, there seems to be a consensus that certain artists are too big to fail. Each of these artists has a cottage industry built around them; there are thousands of people with a direct financial interest in making sure their artistic figurehead remains commercially attractive for brand investment and merchandising. As the book asserts, Kusama is among the highest-selling living female artists in the world.
As Jay-Z said on the remix to Kanye's 2005 "Diamonds from Sierra Leone:" "I'm not a businessman, I'm a business, man!"
The concept of Kusama as consciously anti-racist seems to be a new, and particularly Western-facing, framework. Not all audiences have been treated this way — while the 2022 Spanish edition of her autobiography also deleted the "black people shooting each other" line, the 2021 Chinese edition left it basically intact.
I wish we had been given the same opportunity as Chinese readers: to see Kusama's work as she herself presented it to the world; to appreciate the beautiful without ignoring the ugly.
But in this market, a collective decision seems to have been made that in order to maximize profits, not only must Kusama's occasional racist utterances be scrubbed, but also a more palatable artist needs to be "invented" in her place. This volume is just the latest effort in this exercise.
Yayoi Kusama: 1945 to Now dedicates an entire essay to exploring, and defending Kusama from, charges of "narcissism." It is thoughtful, nuanced, and convincing. I'd have happily read a similar essay that truly engages Kusama's blithely uncreative adoption of American racism. Instead, the book pretends it doesn't exist, and subtly attempts to convince us into seeing something that was never there.