Indigenous artists invited to submit proposals for downtown art project – Lethbridge News Now
The Oki sign at Lethbridge City Hall. (Lethbridge News Now)
By Justin Goulet
Jul 13, 2021 | 10:30 AM
LETHBRIDGE, AB – The City of Lethbridge is seeking Indigenous artists to share their talents.
Through the Reconciliation Lethbridge Advisory Committee (RLAC), Heart of Our City Committee (HOC) and Public Art Committee (PAC), and Telus, Indigenous artists can apply to design artwork that will be temporarily installed and on display in downtown Lethbridge.
The call for Indigenous artists is intended to coincide with the fifth annual Reconciliation Week in Lethbridge, taking place September 20 to 24, 2021. Artwork will be on display for about six months, between September and January of next year.
In a release, the City of Lethbridge stated that, "the installation of temporary artworks in the downtown is an opportunity to showcase Blackfoot and other Indigenous peoples who call Lethbridge home, in the spirit of truth and reconciliation."
Culture camp teaching about world through art – Toronto Star
Habitat of the Arts is open for the summer and with that comes all of their amazing new camps.
A new camp that just started this year is the culture camp
Habitat usually has art camps, even theatre camps, but they felt that they were missing something.
With the unfortunate events of COVID the past year, Jasper hasn't had many of its usual international visitors.
"It may not have much to do with our youth, but the whole community cannot help but feel that void," said Marianne Garrah, director of Habitat for the Arts.
Heritage Canada has come out with some grants to renew and revive the arts.
"Why not make art more visible when our visitors return? How can we do that? How can we include our youth?" Garrah asked.
And with that came the first year of the culture camp.
Habitat noticed a need to engage our youth in art and education and build towards an appreciation for the world that chooses Jasper for their holidays.
Tina Byrd will be running the camp. She has designed the program on what she would have loved to have had access to when she was young.
"Imagine being 10 and being given all the tools and paint and inspiring enthusiastic instructor and the freedom to just do," Garrah said.
Besides running the culture camp, Byrd also works at the elementary school.
The culture camp is all geared towards learning about the world through the power of art.
Jasper relies a lot on its visitors. But how much do youth know about where they come from?
"How do we ensure our youth appreciate the cultures that come here?" Garrah asked.
The culture camp has guests coming to share their real-world experiences with the youth.
A couple of the cultures that the youth will learn about will be Mexico, Indigenous Canada and Africa. Each day, they will also get to try food from the country of the day.
The camp is similarly designed from the multicultural night that Habitat of the Arts ran in previous years.
The camp starts on Aug. 2 and will run up until Aug. 13, ending with a fair in the park, weather permitting.
The kids will be designing their own "fair" throughout the duration of the camp.
"I think we underestimate the potential to consult youth when it comes to community engagement," Garrah said.
The kids will get to make masks, paint like impressionists, create mandalas and learn about colour and even Bhangra dance.
The camp will highlight the need for youth to engage in the arts for diversity and inclusion.
The youth will be distanced for health and safety and making as much art as they can in the nine days.
There are only a few spots left, so contact arts@iotad.ca for details.
Passion for environmentalism, ocean cleanup spurs work of Hull painter Jackie Ranney – The Patriot Ledger
HULL – There are a lot of words that could be used to describe Hull's Jackie Ranney.
She's an interior designer, a sculptor, a painter, a forager, an environmentalist, a wife and a mother, but one adjective seems to stand above all the rest: Jackie Ranney is mindful.
She considers each sentence before she speaks, she answers questions with thoughtfulness and her world seems clear of extraneous words, thoughts or possessions.
Her contemporary Hull home has post-consumer waste flooring and recycled installation, she spends a part of every day picking up trash from the beach and her art is made of all recycled materials down to the "canvases" she paints on.
More: Simple and built to last, Milton father finds niche in handmade leather goods
More: Duxbury artist turns chemistry background into passion for glassblowing
She's purposeful about her home, her life and her art, and steadfast in her passion for the land she stands on and the ocean she lives near.
"It doesn't look like it's in trouble when you just look out and see how beautiful it is," Ranney says of the beach she can see from her kitchen window. "But when you educate people and put it right on their front door, maybe they will step up, see the problem and realize that it takes everyone to really change the tide."
For the last two years, the Massachusetts native has dedicated her art and creative process to advocating for the Earth's oceans. The art she's made since she moved to Hull in 2019 – large, sometimes abstract pieces – are made completely of materials she finds littering the state's beaches.
From bottle caps to plastic bags, beach balls, lobster tags, fishing nets, rubber gloves and more, she takes the waste discarded carelessly in the water and on the shore and transforms it into works of art that highlight the pollution disaster going on just below the surface.
"It can get really depressing the more you hear about what's going on out there and you get to a point where you think, 'What can I do? I'm just one person,' " Ranney said. "But there are these amazing movements and plans out there, and if we remember that, we can keep from getting so discouraged that we give up."
While she wouldn't say she ever gave up on art, Ranney's move to Hull coincided with what she called a "what's the point? moment" in her artistic journey. She was moving halfway across the country, raising a son, designing a home and stuck in a creative rut that left her searching for a purpose.
But then she found the beach trash.
"Creating art that was dual purpose and hopefully making an impact in the world became my purpose," she said.
These days, Ranney, 41, uses an array of unpredictable materials to make her unique paintings. Her studio is filled with things she and her family have found on beaches including bubble wrap, fishing knots, reusable grocery bags, toiletries, shoes, rope and "ghost gear" – giant knots that wash ashore made from wire, tubing, cloth and more.
"They're like giant floating death traps," she said.
Her supply of materials is, for better or for worse, endless. But she says that doesn't make the creative process cut and dried. Ranney doesn't start most paintings with a particular vision in mind, she said, and when she does she still often ends up with something that is a complete departure.
"I go through a process whenever I'm painting of fighting with myself when it isn't going the way I want it to," she said. "You can't always plan with trash like you can with paint or other materials, and I just keep telling myself, 'Go with the flow, go with the flow.'"
There can be up to five layers of paint and materials in her tactile pieces, and she does all of her painting on recycled rigid-foam insulation that would otherwise be thrown away from construction sites.
"I never have a lack of trash, so I just create," Ranney said. "I always have enough, so I don't wait until I have a specific bounty to begin. There is beauty in some of these trash items when they are no longer trash. … When it's not polluting the beach, it becomes something really beautiful."
The ocean is not Ranney's first artistic cause. When she lived in Ireland – where she mostly painted landscapes – she fought against peat bogging in the wetlands and to keep oil rigs from setting up off the coast. When she lived in San Antonio, she focused on conservation of what inspired her works in Texas: wildlife and their habitats.
Currently, Ranney's pieces are for sale privately and she is looking for a space to display a gallery of her work. She is also coordinating with the Woods Hole Oceanographic Institution to set up the organization as a partial benefactor of her sales.
More: Scituate-made sea glass windows bring home the ocean
More: Weymouth artist's Salty Hands create ocean-inspired decor
Ranney said she hopes art collectors are starting to find value in ethical art and creators, and that she hopes more artists will become motivated to create sustainably.
"I take so much from the ocean. I sail, I row, I see it every day from my house, my dogs love it," she said. "I needed to give something back."
About this series
Uniquely Local is a series of stories by Mary Whitfill highlighting the South Shore's farmers, bakers and makers. Have a story idea? Reach Mary at mwhitfill@patriotledger.com.
Thanks to our subscribers, who help make this coverage possible. If you are not a subscriber, please consider supporting quality local journalism with a Patriot Ledger subscription.
The Works: Activated! Managing an art festival during uncertain times – The Gateway Online
After the challenging year and a half that has seen many art events downsized or sent online, The Works: Activated! provided a great public art festival for in-person audiences. Organizers believe that the event, which ran from July 7 to 17, could act as a precursor for other art events in the future.
After Churchill Square was largely empty for the previous year and a half, the festival brought the location alive with activity. The venue was chosen by The Works organizers due to its spacious qualities, and a centralized location. The Works has previously had a strong year in 2018 in terms of artworks and has been a staple since its debut in 1986.
The Works: Activated! was a labour of love for volunteers and artists alike, with the COVID-19 pandemic creating unique challenges for organizers. There were fewer artworks in the main location to allow social distancing and online resources to allow for more access. There were also concerns about opening so close to expanded vaccination rollout for the province.
Amber Rooke, who has been manager of The Works since 2012, said that in each iteration of annual event, the abstract and engagement have been a focus in their main venues, and this year is no different.
"As organizers, we were attempting to plan something earlier on […] it takes time to plan something that would be able to happen even under tight restrictions and that really responds to the needs of a community coming hopefully out of a pandemic," Rooke said. "The call was really to artworks that [are] physically able to manage an outdoor open exhibition space. Specifically, the active portion of it … [is] what activated refers to — activating space in that way."
Why does Rooke, along with other organizers, feel strongly about opening the event this year, so close to changing regulations regarding vaccinations and public space? The Works: Activated! wants to showcase work that inspires energy after a long period of isolation, and invites the public back into public spaces.
"We want to also remain flexible and responsive to the needs of the public and what is healthy and good to be doing at this time," she said.
"So it's really important that we were active this year and that we produce something because we need artists making art. That's something that we need as a society and that's something that The Works is here to help support."
The immersive collection of art on display continues to embody this theme, encouraging participants to consider their own personal relation to space as we begin to emerge from the pandemic.
"We have a range of works… that offer a little bit of an intimate experience. For example, Taryn Walker's [piece] Since We Can't Dance Together, is a greenhouse," Rooke described. "You can't really see or touch the pieces inside and what we have in there is a number of plants as well as beautiful drawings of fingers and insects, dancing around in a certain way with the wind and the light inside there."
"Now, this interaction is happening and it's beautiful and it's organic, but it's also just out of reach. Most of the work that we have right now is looking at what is normal, and sort of [normal] — it takes just a little bit of a step away from what is."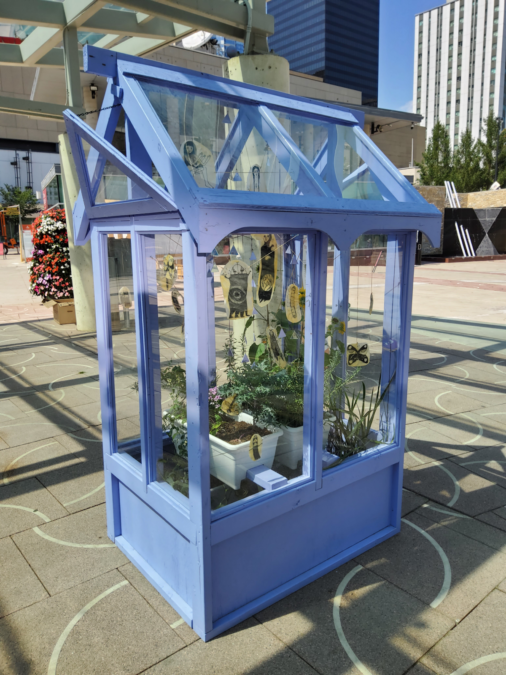 Taking a look at Since We Can't Dance Together from the artist's perspective, Taryn Walker focused on the structure of this multi-media sculpture and its embodiment of intimacy, healing in companionship, and social isolation.
Walker is a queer, Indigenous artist of Salish ancestry. She said that her work presents a joyous and meaningful conversation about the end to the pandemic.
"With the pandemic, I feel like there is kind of this need of collective process, greed, kind of hold ourselves, tenderly, that kind of leads for our community," Walker commented.
"A kind of collective feeling like we're moving — [growing] out of a period of [COVID-19 related] trauma, so I feel… we're moving on about this darker time [to times of] joy, of boldness and playfulness, maybe even humour," she said. "I feel like that is reflected in my installation but also all the other artists' [pieces] as well."
Art has an important place in managing crises. Rooke and Walker both discussed the healing properties art provides.
"Art also has a really important societal role in communicating and concretizing ideas and feelings," Rooke said. "That is something that we all really need right now. We need to, in some ways, look to the artists to describe our experience and to give you words or shape to what it is that we are feeling and experiencing and that will help to process it."
What Rooke would like the general public to take away from the event is to consider it a precursor to events returning after concerns over COVID-19 subside.
"We look forward to a more active festival experience in 2022. Certainly, we recognize that there are some possibilities that will continue to have some health restrictions going forward," Rooke said. "I'm very hopeful that we'll be able to produce an event with many sites, and really have a chance to gather and celebrate with the community."