Indigenous artists panel explores Woodland Style during Thunder Bay Art Gallery's summer celebration – Anishinabek News
By Rick Garrick
THUNDER BAY – A group of Indigenous artists discussed new expressions of Woodland Style during the Thunder Bay Art Gallery's Summer Celebration Opening Party for the Woodland Pop! exhibition on June 24.
"I definitely think it's having a moment, especially with all the young artists making their own versions of the Woodland Style and bringing their own experiences and their own stories," says Fort William artist Ryan Pooman. "It is amazing and it inspired me — the artists have their own stories and their own way of expressing that and you can definitely tell with all the different styles, from the 3D art to sculpture."
Pooman says he created two rabbit art pieces for the Woodland Pop! exhibition, one light and one dark to represent the fall and spring.
"I've been doing art for the past 10 years — I'm a tattoo artist but just recently started doing the Woodland art," Pooman says. "I do all my work digitally and I just wanted a good contrast piece, so light and dark."
Shelby Gagnon, an artist from Aroland, says her mural painting, Matriarchal Flow, which she painted in the front foyer for the Woodland Pop! exhibition, is about how Anishinaabekwe connect to water, to healing, and to the moon and the cycles of life.
"I just wanted to honour the water, especially being here in Thunder Bay surrounded by water all the time and the crazy spring we had with so much water and such strong flow," Gagnon says. "It kind of represented the busy and fast-paced motion that we are all living right now."
Gagnon says her Red Healing painting is a take on the Redbird matches she uses in ceremony and in her art.
"I actually use the match sticks I had previously used for smudging to create effects of smoke, and actually glued the match sticks on [the painting)," Gagnon says. "So kind of looking at a holistic way of how we take care of ourselves, each other in community."
Quinn Hopkins, whose grandmother was from Batchewana First Nation, says he began creating art on the computer after losing his space for painting during the COVID-19 pandemic.
"I'm inspired by the land," Hopkins says. "I spend as much time as I can outdoors but my practice is mostly indoors these days."
Hopkins collaborated with Blake Angeconeb, an artist from Lac Seul, on a digital animation/NFT art piece, Bakwene Makwa, Anishinabemowin for A Smokey Bear.
"I think what is kind of fuelling the revitalizing of Woodland art is the internet," Hopkins says. "For me, sharing and connecting is what art is for and I found a new community of Woodland artists through the internet that is really driving the style into more pop culture. We're sharing the pop culture references that we relate to and it's also showing how we see the world."
The Woodland Pop! exhibition, which runs from June 24-Sept. 25, also features seven other Indigenous artists: Christian Chapman, Michel Dumont, Sharon Goodison, Bree Island, Fallon Simard, Rihkee Strapp, and Jonathan Thunder.
"The exhibition is inspired by artists who are Indigenizing pop culture," says Cynthia Nault, community engagement coordinator at the Thunder Bay Art Gallery and Red Rock Indian Band citizen. "The show features a wide range of mediums including acrylic paintings, digital paintings, there's some NFTs, there's some tattoo art. It's a really great show for people to explore if they wanted to learn more about the Woodland Style because the show is so accessible being that it is so colourful and full of pop culture."
The Summer Celebration Opening Party also featured free tacos in a bag by the Bannock Lady, which is owned by Jeanette Posine, a Pays Plat citizen.
MOCAT hosting community art dialogues ahead of art show on Overdose Awareness Day – Mission City Record
Ahead of International Overdose Awareness Day (IOAD), the Mission Overdose Community Action Team (MOCAT) is hosting a series of community art dialogues throughout August, dubbed Beyond Abstracts: Do You See What I See.
They are inviting Mission residents to join the sessions at the Mission Friendship Centre and other locations, where colourful abstract artwork will be created connected to the topic of B.C.'s toxic drug poisoning health emergency.
Art materials are supplied and no art experience is needed.
"People's thoughts on abstract art can be quite diverse, we all see something different. Much the same with concepts like harm reduction, which can also seem abstract, and are often misunderstood" says Judith Pellerin, co-chair of the MOCAT.
"The sessions are a good way to connect people from different walks of life, learn other perspectives, and discover common ground."
On IOAD on Aug. 31, the artwork will be on display at different businesses along 1st Avene for the Beyond Abstracts Community Art Show. The show is being held with the support of the Mission Downtown Business Association.
Live music, resource tables, refreshments, naloxone training and more dialogue on the topic will also happen at the event, which runs from 4 to 7 p.m.
For more information on the art sessions, contact MOCAT Coordinator Kat Wahamaa at 604-679-4463.
Ontario Artist Only Canadian Selected to Conduct Workshop at Global Art Symposium
Peterborough: Artist Lynda Todd is the solo Canadian artist at the Curious Mondo Art Symposium 2022 that debuts on August 15 – 19, 2022.
Todd, the only Canadian, joins 14 other artists worldwide from the US, UK, Greece, Egypt, United Arab Emirates and more, at the symposium.
Curious Mondo, based in Salt Lake City, Utah, is a known platform for live-stream workshops and courses and has an audience in over 32 countries. Over 10,000 new people watch each day. Each workshop will be available to watch for free during its scheduled broadcast hour. There will be three workshops each day.
Todd explains, "As a visually impaired artist I am used to giving and receiving detailed step-by-step instructions. My goal is to encourage others to embrace their creativity".
Todd will be on a live chat you can join for free at 1 p.m. (MDT) on Tuesday, August 16th, 2022.
Join the LIVE Symposium Kick-Off Event starting at 11 a.m.(EST) on August 15th, 2022. Free registration information here. Todd started her art journey three years as a fluid pour artist and has expanded to resin and sculpted art. She is presently working on a new exhibit of tactile art, opening up opportunities for the visually impaired and blind to enjoy art in a more intimate way.
Todd won the Spirit of the Hills Fine Art Award in 2021 and the life-time achievement Holnbeck award for her volunteer work in the Peterborough community.
Artists who applied to become part of the symposium had to submit their project plans and photos. The Todd submission presented methods for using resin art. Nikolas Kienitz, the instructor liaison for Curious Mondo explains that the project presented in the symposium had to be approachable both for newbies and the more technically advanced participants in resin art.
Curious Mondo student, Ivonne Hugely, describes her experience as "I love the classes and the enthusiasm of both the instructors as well as the hosts. I love the feeling of community in the chats and the camaraderie and friendships that have developed while growing as an artist in both skills and confidence. Thank you, Curious Mondo! I especially love the fact that your courses are free while you're live and filming. It really helps".
Curious Mondo founder, Shahar Boyayan, explains, "We are Mondo Makers. We live and breathe creativity: we find creative solutions to problems, we bring new ideas to fruition and we are committed to empowering self-expression and cultivating resourcefulness in people and communities. We do this through ART. By making it, preserving it, and carrying on the legacy of different art forms!"
Todd describes her workshop, "I will teach how to create a work of art with resin, how to mix resin, what you can use to tint your resin and safety precautions. Participants will learn doming, casting, coating and so much more. Tips and tricks will be offered throughout the class and She will go over techniques and applications for resin. Even if you've never used resin, alcohol inks or acrylic paints, everything you need to know is covered in the class to get you started and 'embrace your creativity.
The public can join the Live classes free of charge or can purchase life-time access for only $97 and get access to all of the workshops, bonus classes and studio tours.
Woodstock Art Gallery to Host Last Summer Drop-In Today – 104.7 Heart FM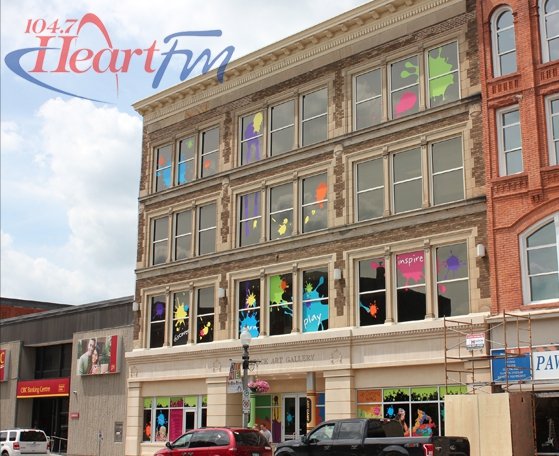 Families will be able to stop by the Woodstock Art Gallery from 11:00 a.m. to 3:00 p.m. today for the last studio drop-in of the summer.
WOODSTOCK – The Woodstock Art Gallery is back with its last studio drop-in of the summer.
From 11:00 a.m. to 3:00 p.m. today you can check out the new free, self-guided interactive art experience for all ages where you can explore, build and keep your art. Children under 16 years old must be accompanied by an adult in order to participate.
Adults and kids are welcome to stop by and have fun, with your memento tied in with current exhibits at the art gallery.