Initial failures of Apple's butterfly keyboard doomed it from the start – AppleInsider
Apple's "bold" butterfly keyboard will not be missed, but it's a bit unfair to scorch the earth behind it —and there's a strong case for buying a 2019 model MacBook Air, or MacBook Pro.

Appel's butterfly keyboard introduced larger key caps
Apple has had more than its fair share of products that are adored, and possibly just about as many that are abhorred. Yet before you dismiss the butterfly keyboard as being a product nobody ever liked, remember where it came from.
The butterfly mechanism keyboard was introduced with the 2015 MacBook —and that was beloved. When Apple discontinued it in 2019, nobody praised them for abandoning a butterfly keyboard machine, they lamented that Apple was abandoning us by taking it away.
But, we're not here to praise the butterfly keyboard. We're definitely not here to praise Tim Cook's initial introduction of it.
"We challenged ourselves to take everything that we had learned in designing iPhone and iPad," he said, "and do something incredibly ambitious and bold."
And we are here, though, to examine how reports of its failings were true, but exaggerated. No question, if that keyboard went wrong for you, it went badly wrong and the machine —MacBook, MacBook Air, or MacBook Pro —became immediately unusable.
And no question, AppleInsider proved that keyboard failures were higher for this early design.
[embedded content]
Then, too, there is no question either that there were an awful lot of news stories about these failures, or that Apple introduced repair programs that launched right alongside the products they were repairing.
And in 2020, writer/director Taika Waititi really summed up a lot of ill-feeling when he lambasted Apple for all its keyboards over recent years.
Failures and quality
Yet over the five years between the launch of the butterfly keyboard and its erasure from Apple's lineup in 2020, most of the heat was about its reliability rather than the feel that Waititi was talking about.
More people said that their keyboards broke than they said they didn't like the feel of them. There were plenty of people who preferred older MacBooks for their keyboards, but plenty enough liked typing on the new one.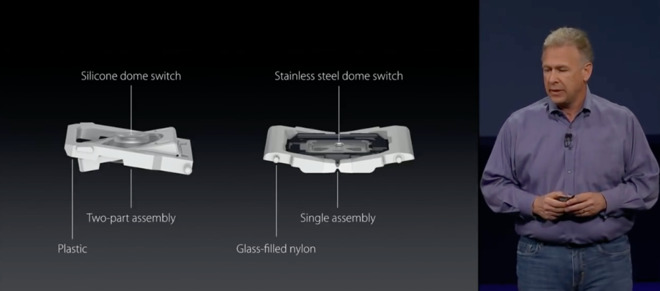 Phil Schiller explaining the difference between the old scissor system and the new butterfly one in 2015
"This butterfly mechanism is built of a single assembly and it's supported by a stainless-steel dome switch," said Phil Schiller at the launch. "And that all adds up to a key that is much more precise and accurate. In fact it's four times more stable than that scissor mechanism."
"Yet it is 40% thinner, allowing us to make a thinner keyboard," he continued. "And we also made the key cap larger, making it even easier to strike and get a beautiful typing experience."
The thinness is true, doubtlessly the greater stability is too. Schiller went on to report that Apple made the key caps 17% bigger, "making it even easier to strike and to get a beautiful typing experience," and we don't doubt him.
With the benefit of hindsight, however, we do question one of his enthused comments. Explaining how the old-style scissor mechanism worked, he said "and there was a time when that was great, but now there's something new."
Magic Keyboard
When the 16-inch MacBook Pro came out in November 2019, Apple returned to that once great scissor mechanism, but managed to find a way to spin it. By now calling it the Magic Keyboard, Apple could talk about bringing the popular desktop Mac keyboard to MacBooks.
Apple could make it sound as if this was something new, instead of it being an about face. Apple could move forward without admitting that the butterfly mechanism hadn't worked. And without announcing to lawyers that for five years it had been selling a keyboard it now called broken.
Regardless of the name or the presentation, though, as soon as that 16-inch MacBook Pro came out, two things happened. Everyone crossed fingers that the new keyboard would come to the rest of the range. And suddenly the noise of the old butterfly mechanism became more discussed.
But still, there is discussion, there is anecdote —and there are the facts.
AppleInsider investigated
Not to be forgotten is the fact that there wasn't just one butterfly keyboard, there were multiple revisions and generations of it. Apple didn't let this go without a fight, and it did make material changes —in every sense of that phrase —throughout its five years of life.
That means it's not possible to make one overall statement about the reliability of the butterfly keyboard, but then AppleInsider didn't try. Instead, we collected service data, actual figures from numbers of repairs, and did so for each year the keyboard was available.
The data comes from both Apple Genius Bars and from Apple-authorized third-party repair shops. These are the people who see and fix, or replace, the butterfly keyboards and do so all the time.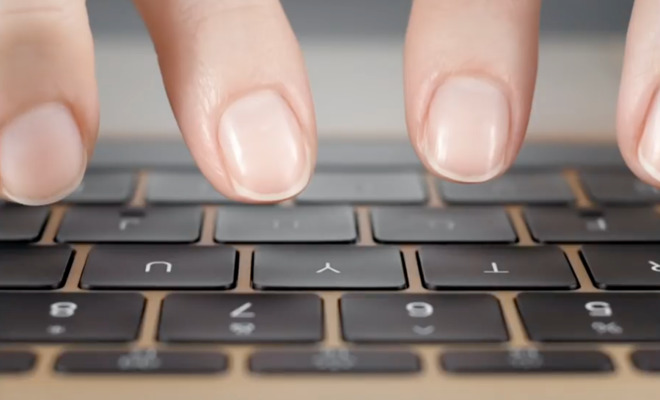 The butterfly keyboard promised a more stable typing experience
For comparison, we took the data for the MacBook Pro models that were on sale in 2014 and 2015, then looked at how many service events they had in their first year. That is, within one year of purchase, the number of machines that had problems which were dealt with by our sources.
Comparing that to the first year of the butterfly keyboard, we saw roughly twice as many keyboard failures. It was still only a small proportion of issues that needed repair, but keyboards were brought back for fixing significantly more than before.
That changed after 2016, though. It changed quite dramatically, with the data we collected over the 2018 and mid-2019 MacBook Pro returning to around the same levels as the vaunted 2012 through 2015 MacBook Pro models.
It's hard to say how that 2016 model is doing now. As the years pass, fewer and fewer come in for service for an assortment of reasons. But, we're not seeing any long-term bad trends on the 2018 or 2019 iterations of the Butterfly keyboard, so if you like the typing experience, don't be afraid to get one.
Apple's Butterfly keyboard failures and futures
So the peak of the butterfly keyboard's failure was right at its start, in the first generation, and Apple went a long way to fixing the problem. Or rather, it went a long way toward fixing the technical problems, because there wasn't a lot they could do besides put a membrane to quiet the noise, given the short key travel.
For multiple reasons, the butterfly keyboard was perceived as problematic, and it never did shake that, and it never will shake it. Apple has a track record in iterating designs until they work, but that failed this time.
And that is interesting, it is a topic worth examining —but we're also not here just to examine the past. For even though Apple no longer sells any new MacBook, MacBook Air, or MacBook Pro models that contain a butterfly keyboard, you can still get them.
You can even get them from Apple, for a little while longer, via its refurbished store. And they will remain in circulation around third-party sellers for some time.
[embedded content]
What's more, their prices will now always be significantly lower than the newer models. This is always true with when Apple releases an update, but we may well see greater price drops specifically because of this perceived failure in the keyboard.
Which means that right now, it could well be worth while buying a 2019 model machine. If you don't need the greater specifications, or the greater storage options, then last year's models are contenders.
Just don't buy a 2016 one.
Keep up with AppleInsider by downloading the AppleInsider app for iOS, and follow us on YouTube, Twitter @appleinsider and Facebook for live, late-breaking coverage. You can also check out our official Instagram account for exclusive photos.
Apple parts supplier Broadcom says 2020 iPhone launch will be delayed – MobileSyrup
While there's no official statement from Apple regarding a possible delay of the tech giant's 2020 iPhone, Bloomberg has reported that Broadcom CEO Hock Tan's comments during the company's recent quarterly earnings call indicate that the Cupertino, California-based tech giant's next smartphone will be pushed back by a few weeks.
Apple typically releases its new iPhone in early September. Delaying the 2020 iPhone's release date by even a few weeks would result in a significant financial impact on Apple and its various parts suppliers.
During the earnings call, Tan referenced that a "large North American mobile phone customer" that normally contributes "double-digit" revenue towards Broadcom's bottom line is not expected to contribute to an "uptick in revenue until our fourth fiscal quarter." Tan indicated during the call that Broadcom is still providing parts for the upcoming iPhone, but stated that the timing of the smartphone's launch is still up in the air.
It's likely that the ongoing COVID-19 pandemic has caused supply line delays for Apple. The fact that travel has been disrupted and many Apple employees are working from home could also contribute to a delay.
Back in late March, a report from Japanese publication Nikkei stated that Apple could delay the release of the iPhone 12 "by months." That said, at the time, Bloomberg also reported that the next iPhone was still on track to release this fall.
The iPhone 12 is expected to feature 5G for the first time — which won't mean much in Canada given the limited availability of the next-generation of network technology — a faster A14 processor and a new 3D camera system similar to the liDAR sensor included in the iPad Pro (2020).
Source: Bloomberg
Poll: Clubhouse Games: 51 Worldwide Classics Is Out Today On Switch, Are You Getting It? – Nintendo Life
Today sees the latest Nintendo-published title, Clubhouse Games: 51 Worldwide Classics (or 51 Worldwide Games as it's known in Europe) launching on Switch, so we thought it'd be nice to see just how many of you lovely lot are thinking of picking it up.
As you may be aware, the game is actually a successor to Clubhouse Games (known as 42 All-Time Classics in Europe) on Nintendo DS. This new entry includes 51 games, obviously, as well as a piano for some reason, all of which are listed below.
In our review, we highlighted the fact that the new game contains such a wide enough variety of board, card and action games that you're sure to find a number that will appeal to you. The presentation is perhaps the icing on the cake, too, going well above and beyond what you'd usually see in what is essentially a minigame compilation-style release.
So, over to you. Are you planning on buying Clubhouse Games: 51 Worldwide Classics?
If you haven't yet ordered your copy, you can grab a physical version of the game below. Feel free to expand upon your answer in the comments!
iPhone 13 design kills the notch and adds USB-C — but don't get too excited – Tom's Guide
A iPhone 13 prototype has supposedly been leaked. But while this 5.5-inch device looks interesting, one prominent leaker has already slapped down the report's accuracy.
The original source is MacOtakara, which published a story about some alleged iPhone 13 3D printed mockups, which allegedly shows what a 2021 iPhone could look like. It's this story that leaker Jon Prosser responded to on Twitter with the fantastically blunt answer: "lol no."
MacOtakara claims that the designs for these 3D prints came from a source at online retailer Alibaba. This particular model has a 5.5-inch display, and is supposedly the successor to this year's smallest iPhone 12 model, which measures 5.4 inches according to leaks.
lol no https://t.co/qXXG2ROhRpJune 5, 2020
The clearest change here is that there is no longer a front camera notch, which has been present from the iPhone X to the iPhone 11, and is likely coming to the iPhone 12, too. MacOtakara suggests that there will be an under-display selfie camera instead, as well as potentially a camera at the bottom of the screen.
We know under-display cameras are on their way, with Samsung, Oppo and Xiaomi all looking into the technology for their 2021 phones. But we'd be surprised if Apple immediately adopted this new tech as well.
If Apple was to move its cameras beneath the display, it would have to factor in how it would affect Face ID. The infrared sensor could be located in the bottom camera previously mentioned, or Apple could decide to go for an under-display fingerprint scanner like many of its rivals. But we definitely don't see Apple abandoning Face ID.
A shot of the mockup phone's bottom shows that the Lightning connector has been swapped for a more standard USB-C one. This is in contradiction to other rumors that have claimed that one iPhone 13 will be Apple's first portless phone, with the company looking to avoid using USB-C on iPhones.
The back of the phone shows a very odd camera bump with five tiny holes. MacOtakara explained that this is likely a modular system to help designers test multiple camera designs more easily. Rumors for the iPhone 13's camera array seem to be split between whether it will have four cameras – like the iPhone 12 Pro is expected to have – or if Apple will try and add more sensors outside of the main square patch.
MacOtakara did say that this is only a prototype model and therefore could be very different from the real iPhone 13, if it does indeed exist. However, the fact this prototype differs so widely from other leaks we've heard makes it hard to believe.
It's still over a year until we'll likely see the iPhone 13 debut in fall 2021. However the iPhone 12 is expected to be revealed around September or October this year.
We know a lot more about the iPhone 12 than next year's model, including its four different models, 5G connectivity, OLED displays (with 120Hz refresh rates on the Pro models), new A14 chipsets and camera arrangements – two rear cameras on the iPhone 12 and 12 Max, and four on the iPhone 12 Pro and 12 Pro Max, including a LiDAR sensor like the one seen on the iPad Pro 2020.