Initial failures of Apple's butterfly keyboard doomed it from the start – AppleInsider
Apple's "bold" butterfly keyboard will not be missed, but it's a bit unfair to scorch the earth behind it —and there's a strong case for buying a 2019 model MacBook Air, or MacBook Pro.

Appel's butterfly keyboard introduced larger key caps
Apple has had more than its fair share of products that are adored, and possibly just about as many that are abhorred. Yet before you dismiss the butterfly keyboard as being a product nobody ever liked, remember where it came from.
The butterfly mechanism keyboard was introduced with the 2015 MacBook —and that was beloved. When Apple discontinued it in 2019, nobody praised them for abandoning a butterfly keyboard machine, they lamented that Apple was abandoning us by taking it away.
But, we're not here to praise the butterfly keyboard. We're definitely not here to praise Tim Cook's initial introduction of it.
"We challenged ourselves to take everything that we had learned in designing iPhone and iPad," he said, "and do something incredibly ambitious and bold."
And we are here, though, to examine how reports of its failings were true, but exaggerated. No question, if that keyboard went wrong for you, it went badly wrong and the machine —MacBook, MacBook Air, or MacBook Pro —became immediately unusable.
And no question, AppleInsider proved that keyboard failures were higher for this early design.
[embedded content]
Then, too, there is no question either that there were an awful lot of news stories about these failures, or that Apple introduced repair programs that launched right alongside the products they were repairing.
And in 2020, writer/director Taika Waititi really summed up a lot of ill-feeling when he lambasted Apple for all its keyboards over recent years.
Failures and quality
Yet over the five years between the launch of the butterfly keyboard and its erasure from Apple's lineup in 2020, most of the heat was about its reliability rather than the feel that Waititi was talking about.
More people said that their keyboards broke than they said they didn't like the feel of them. There were plenty of people who preferred older MacBooks for their keyboards, but plenty enough liked typing on the new one.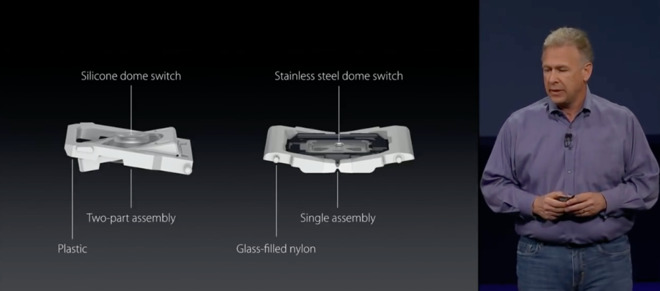 Phil Schiller explaining the difference between the old scissor system and the new butterfly one in 2015
"This butterfly mechanism is built of a single assembly and it's supported by a stainless-steel dome switch," said Phil Schiller at the launch. "And that all adds up to a key that is much more precise and accurate. In fact it's four times more stable than that scissor mechanism."
"Yet it is 40% thinner, allowing us to make a thinner keyboard," he continued. "And we also made the key cap larger, making it even easier to strike and get a beautiful typing experience."
The thinness is true, doubtlessly the greater stability is too. Schiller went on to report that Apple made the key caps 17% bigger, "making it even easier to strike and to get a beautiful typing experience," and we don't doubt him.
With the benefit of hindsight, however, we do question one of his enthused comments. Explaining how the old-style scissor mechanism worked, he said "and there was a time when that was great, but now there's something new."
Magic Keyboard
When the 16-inch MacBook Pro came out in November 2019, Apple returned to that once great scissor mechanism, but managed to find a way to spin it. By now calling it the Magic Keyboard, Apple could talk about bringing the popular desktop Mac keyboard to MacBooks.
Apple could make it sound as if this was something new, instead of it being an about face. Apple could move forward without admitting that the butterfly mechanism hadn't worked. And without announcing to lawyers that for five years it had been selling a keyboard it now called broken.
Regardless of the name or the presentation, though, as soon as that 16-inch MacBook Pro came out, two things happened. Everyone crossed fingers that the new keyboard would come to the rest of the range. And suddenly the noise of the old butterfly mechanism became more discussed.
But still, there is discussion, there is anecdote —and there are the facts.
AppleInsider investigated
Not to be forgotten is the fact that there wasn't just one butterfly keyboard, there were multiple revisions and generations of it. Apple didn't let this go without a fight, and it did make material changes —in every sense of that phrase —throughout its five years of life.
That means it's not possible to make one overall statement about the reliability of the butterfly keyboard, but then AppleInsider didn't try. Instead, we collected service data, actual figures from numbers of repairs, and did so for each year the keyboard was available.
The data comes from both Apple Genius Bars and from Apple-authorized third-party repair shops. These are the people who see and fix, or replace, the butterfly keyboards and do so all the time.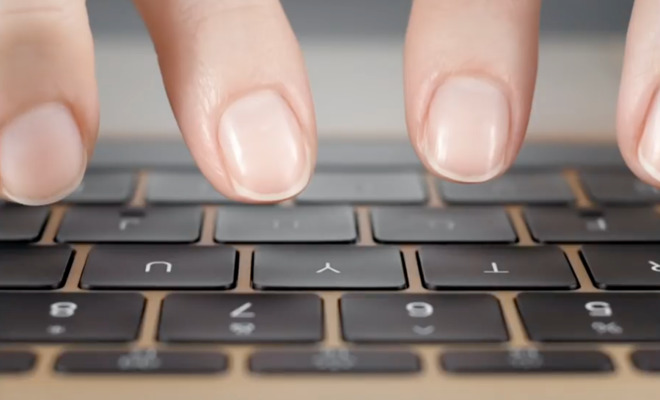 The butterfly keyboard promised a more stable typing experience
For comparison, we took the data for the MacBook Pro models that were on sale in 2014 and 2015, then looked at how many service events they had in their first year. That is, within one year of purchase, the number of machines that had problems which were dealt with by our sources.
Comparing that to the first year of the butterfly keyboard, we saw roughly twice as many keyboard failures. It was still only a small proportion of issues that needed repair, but keyboards were brought back for fixing significantly more than before.
That changed after 2016, though. It changed quite dramatically, with the data we collected over the 2018 and mid-2019 MacBook Pro returning to around the same levels as the vaunted 2012 through 2015 MacBook Pro models.
It's hard to say how that 2016 model is doing now. As the years pass, fewer and fewer come in for service for an assortment of reasons. But, we're not seeing any long-term bad trends on the 2018 or 2019 iterations of the Butterfly keyboard, so if you like the typing experience, don't be afraid to get one.
Apple's Butterfly keyboard failures and futures
So the peak of the butterfly keyboard's failure was right at its start, in the first generation, and Apple went a long way to fixing the problem. Or rather, it went a long way toward fixing the technical problems, because there wasn't a lot they could do besides put a membrane to quiet the noise, given the short key travel.
For multiple reasons, the butterfly keyboard was perceived as problematic, and it never did shake that, and it never will shake it. Apple has a track record in iterating designs until they work, but that failed this time.
And that is interesting, it is a topic worth examining —but we're also not here just to examine the past. For even though Apple no longer sells any new MacBook, MacBook Air, or MacBook Pro models that contain a butterfly keyboard, you can still get them.
You can even get them from Apple, for a little while longer, via its refurbished store. And they will remain in circulation around third-party sellers for some time.
[embedded content]
What's more, their prices will now always be significantly lower than the newer models. This is always true with when Apple releases an update, but we may well see greater price drops specifically because of this perceived failure in the keyboard.
Which means that right now, it could well be worth while buying a 2019 model machine. If you don't need the greater specifications, or the greater storage options, then last year's models are contenders.
Just don't buy a 2016 one.
Keep up with AppleInsider by downloading the AppleInsider app for iOS, and follow us on YouTube, Twitter @appleinsider and Facebook for live, late-breaking coverage. You can also check out our official Instagram account for exclusive photos.
Owner of Ford Mustang says angry neighbour filled his exhaust with foam
The owner of a Ford Mustang in Ohio recently woke up to an angry letter from his neighbour, complaining the exhaust on his vehicle was too loud.
But besides the note, the neighbour also left Aaron Robinson a nasty surprise: when he checked his Mustang's exhaust, he'd found it had been filled with expanding foam.
The note dares Robinson to call the police or install video cameras to try and catch the people responsible, claiming nothing will work and that the only solution is to fix his too-loud muffler.
Robinson himself made some threatening comments toward the perpetrator, but it's understandable why he's angry. His muffler has been destroyed and now he's been forced to fix it, and while the note demands he put the stock mufflers back on, it's likely the system was already stock.
Ford introduced a "Good Neighbor Mode" on the Mustang a short while ago, which allowed the driver to quiet their exhaust on start-up, then turn it back up once they were on the highway or outside of their cul-de-sac.
WE WANT TO KNOW ABOUT YOUR CAR-SHOPPING EXPERIENCE
It seems like Robinson might've neglected to choose or use that option, but that doesn't mean he deserves to have his vehicle ruined.
Hopefully Robinson installs security cameras and files a police report to catch the people responsible. According to his Facebook post, it seems like he has some good friends in the car community who would be more than happy to make a lot more noise in front of the angry neighbour's house.
Edited By Harry Miller
PlayStation Plus' June 2020 lineup includes Call of Duty: WWII, going free this week – MobileSyrup
PlayStation has revealed that Call of Duty: WWII will become free on PlayStation 4 for PlayStation Plus subscribers starting May 26th.
Interestingly, PlayStation says WWII counts as one of June's free PS Plus games, despite it launching in late May. PlayStation promises to share more details on the June PS Plus lineup "later this week."
Traditionally, PS Plus offers two free PlayStation 4 games per month, but given the unique release situation with WWII, it's currently unclear if PlayStation is planning something a little different for the service in June.
PS Plus members: Call of Duty: WWII is part of the monthly games lineup for June, and will be available for download starting May 26.

We'll share additional details of our monthly lineup later this week. Enjoy! pic.twitter.com/ECVwca1cXq

— PlayStation (@PlayStation) May 25, 2020
In the meantime, PS Plus subscribers will be able to download WWII from May 26th to July 6th.
When it released in 2017, WWII marked a return to the Call of Duty series' World War II-era roots. The campaign follows a squad in the U.S.' 1st Infantry Division in the European theatre during the events of Operation Overlord. WWII also features Call of Duty's signature competitive multiplayer and cooperative Zombies modes.
Image credit: Activision
New overdose prevention app available in Interior Health region – iNFOnews
May 25, 2020 – 2:30 PM
The Provincial Health Services Authority has launched a new app aimed at preventing those who use illicit drugs while by themselves from overdosing.
"The launch of this new resource couldn't have come at a better time," Minister of Mental Health and Addictions Judy Darcy said in a news release. "As we face down two public health emergencies – the overdose crisis and the COVID-19 pandemic – we must ensure that people who use drugs have the resources they need, when and where they need them."
"Knowing the majority of people who use drugs use alone in shelters, hotels or at home, in addition to the challenges of physical distancing, the Lifeguard App is a new and innovative approach that can directly link people to emergency responders if an overdose does occur," she said.
The app is activated by the user before they take their dose. After 50 seconds the app will sound an alarm. If the user doesn't hit a button to stop the alarm, indicating they are fine, the alarm grows louder. After 75 seconds a text-to-voice call will go straight to 9-1-1, alerting emergency medical dispatchers of a potential overdose, the ministry said.
Interior Health had the second-highest rate of overdoses deaths out of any health authority in the province in 2020, according to data collected from January to April.
The app is being launched in regional health authorities in a phased approach between now and early June and is available in the Interior Health region as of today, May 25.
READ MORE: Overdoses 'sadly normalized' in British Columbia: addictions minister
The Provincial Health Services Authority, B.C. Emergency Health Services, Vancouver Coastal Health, Overdose Emergency Response Centre and other regional health authorities have been working with Lifeguard Health for the (past two years) to test and pilot the app.
The Lifeguard App can be downloaded at both the App Store here and Google Play here.
---
To contact a reporter for this story, email Carli Berry or call 250-864-7494 or email the editor. You can also submit photos, videos or news tips to the newsroom and be entered to win a monthly prize draw.
We welcome your comments and opinions on our stories but play nice. We won't censor or delete comments unless they contain off-topic statements or links, unnecessary vulgarity, false facts, spam or obviously fake profiles. If you have any concerns about what you see in comments, email the editor in the link above.
News from © iNFOnews, 2020