Inside Paul Allen's Billion-Dollar Art Auction – Forbes
More than 150 masterpieces owned by the late Microsoft cofounder—including works by Botticelli, Cezanne, Seurat, Monet and Hockney—paint a portrait of the billionaire as a passionate collector. Next week they go on the block at Christie's and will break a record for the most expensive sale of all time.
---
Ina crowded Christie's auction room in May 2018, Mexican artist Diego Rivera's 1931 painting The Rivals came to the stage. Commissioned by Abby Aldrich Rockefeller and given as a wedding gift to her son, David, and his new wife, Peggy, in 1941, the work was a small part of the largest auction to date, one that eventually set a record with its $835 million total.
Within a few minutes, The Rivals sold for nearly $9.8 million, a record for a Latin American artist at auction (one eventually shattered by Rivera's wife, Frida Kahlo, in a $35 million sale in 2021). The new owner, however, a phone bidder, remained a mystery.
Four years later, The Rivals is once again up for sale at Christie's, alongside more than 150 rare works of art in another groundbreaking auction that sheds light on one of the world's greatest private collectors: the late Microsoft cofounder—and The Rivals' mysterious phone bidder—Paul Allen.
Visionary: The Paul G. Allen Collection spans 26 years of Allen's collecting and 500 years of art history, from Botticelli to contemporary artist McArthur Binion. When it takes place November 9 and 10, the auction is guaranteed by Christie's to raise at least $1 billion—eclipsing the record set in May by the $922 million Macklowe Collection as the largest sale in auction history.
Allen's impressive art collection also represents a fraction of the $20.3 billion fortune he left behind—five months after purchasing The Rivals, he died at 65, from complications of non-Hodgkins lymphoma—including sports teams (Seattle Seahawks and Portland Trail Blazers), a $278 million superyacht, and a vintage plane collection. Allen's sister, Jody, has been gradually reducing his estate since his death as well as managing the Paul G. Allen Family Foundation, and the record-breaking proceeds from the auction will go to charities that have not been disclosed.
"This sale exhausts superlatives," says Max Carter, a vice chairman of 20th and 21st century art at Christie's who is overseeing the auction. "It's historic in terms of the figures, historic in terms of the philanthropy and historic in terms of the masterpiece quality."
Indeed, Allen's collection seems destined to break records. It's a who's who of the most famous names in art history: In addition to Botticelli and Binion, there's a Monet, a Lichtenstein, two Van Goghs, four Calders, five Picassos, six Jasper Johns and a Seurat that hasn't been seen at auction in 52 years. "The breadth of what he achieved and the amount of beauty that he managed to assemble in 26 years is an achievement I know no parallel to," says Carter.
Adding another record to the tally, Allen's collection contains three works estimated at $100 million or more. The top lot is expected to be Cezanne's La Montagne Sainte-Victoire, which he bought at auction in 2001 for $38.5 million (or $64 million today). It now has a presale estimate of $120 million.
"Mont Sainte-Victoire was one of Cezanne's favorite subjects, but there are not many finished works of the mountain," Margaux Morel, a Christie's expert on Impressionist and Modern Art, says of the work, which is completed. "It's extremely rare. Of the highly finished pieces, there are only about 37—32 of which are in public institutions."
Van Gogh's Verger avec cyprès is another lot expected to break the $100 million barrier: It sold for $15,000 when it last appeared at auction in 1935 (or about $300,000 today).
The third lot collectors are buzzing about is Georges Seurat's Les Poseuses, Ensemble (Petite Version), which sold for $1 million when it was on the block in 1970 ($7.6 million today). Allen bought it from a private collection in 1997 for an unknown sum and according to Carter, it was one of his favorites.
"It is probably the most important 19th-century painting that Christie's has ever sold," Carter continues. Only 19.5 inches wide, Les Poseuses is, essentially, a draft, a smaller version of the 8-foot-wide painting that now hangs at the Barnes Foundation in Philadelphia. But that's the point. "It is entrenched in technical accomplishment," says Carter. "It's probably the finest pointillist painting—full stop."Adds Morel: "Paul Allen was seeking the best of the best. He was looking for masterpieces."
Allen started collecting major works in the early 1990s, nearly a decade after leaving Microsoft and a few years after an impactful trip to the Tate Modern in London that reframed his perception of art.
"When he was a kid, he had posters of different artworks on his walls," says Deborah Gunn, who was associate director of art finance at Allen's investment management company, Vulcan, from 2006 to 2016. "And I think he just had this realization at the Tate where he was like, 'Oh, I too can own amazing artworks.'"
Over the years, Allen spent much of his fortune on his own art institutions—he opened Seattle's Museum of Pop Culture and founded the Seattle Art Fair—while quietly amassing a private collection that was highly personal, and, as a result, wildly diverse.
"Paul was his own person and really defied being put in a box as any specific type of collector." Mireya Lewin, Vulcan's director of art collections since 2016, said in an email. "He acquired according to his passions, interest and personal aesthetic, and he gave special consideration to works that represented the true oeuvre of an artist."
"Allen was always looking towards the future, and he was attracted to artists who saw the world differently."
---
As Allen himself explained to Newsweek in 2012, "The breadth of what interests me sometimes surprises even me. People have said to me before: 'But Paul, you like Lichtenstein and you like Monet,' but to me that's not that unusual."
Still, there are certain themes that unite the collection. Allen was drawn to landscapes, always looking for windows into an artist's mind—fitting for a Microsoft cofounder. He especially treasured paintings of Venice: There are eight coming to auction, the most expensive of which is a Manet with a presale estimate of $65 million.
"You can keep pulling on different threads throughout the collection, and it is so layered and so multifaceted that you really realize what a genius he was," says Johanna Flaum, a Christie's vice chairman of 20th and 21st century art who is also overseeing the sale. "Allen was always looking towards the future, and he was attracted to artists who saw the world differently."
He favored Johns and Seurat for their deconstructed styles, which, to him, were reminiscent of coding. "I'm attracted to things like pointillism or a Jasper Johns 'numbers' work because they come out of breaking something down into its components, like bytes or numbers," Allen said in an interview for his traveling exhibition Seeing Nature in 2016, "but in a different kind of language."
And his fascination with Georgia O'Keeffe—there are four of her paintings in the auction—transcended the canvas: Allen purchased one of her homes in 2000, a 20-acre estate in Santa Fe that's now on the market for $17.5 million. "He loved that place," says Gunn. "O'Keeffe's works really spoke to him, and I think it was a combination of the house and the artist that moved him."
As a collector, Allen was determined—he once won a 14-minute bidding war for one of Monet's haystacks in 2016, paying $81.4 million—but disciplined. "To assemble this almost encyclopedic group of objects is an immense achievement," says Carter. "To do that you have to be both very curious, very disciplined, but also very decisive. And he was very decisive.
"I think the most remarkable thing about him as a collector," Carter continues, "is how quickly he progressed into buying the best masterpieces that can be found on the market. And he made very few mistakes."
As a result, Allen rarely sold works from his collection, preferring instead to live with them. Combined with his under-the-radar shopping habits—Allen often bought from private collections or, as with the Rivera, bid over the phone during auctions—it paints a secretive portrait of the billionaire. But that wasn't his goal.
"He took so much joy in the process of collecting," says Gunn. "Seeing the artwork, discovering it, and then living with the work and learning about it. He had a lot of interests in life, but I think that is what has stuck with me all this time: How much he enjoyed his collection and how much he wanted to share it with others."
And there's plenty left to share. A recent investigation by Artnet found that there is at least $500 million of Allen's art that's not in this auction, and both Carter and Gunn confirm that the $1 billion sale isn't the whole picture. "These are only some highlights," says Gunn.
MORE FROM FORBES
Diplo 'Wins' Art Basel Miami by Topping ATM's Leaderboard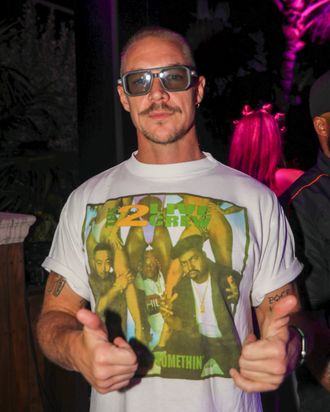 Photo: Thaddaeus McAdams/Getty Images for Ocean Drive
Diplo has about $3 mil in the bank, FYI. The celebrity DJ who once streamed Sophie Turner's wedding to Joe Jonas (remember that?) claimed to have "won" Miami Art Basel this year. One of the most talked-about pieces at the annual art fair is an ATM that posts your picture and bank balance if you use it. The ATM has a leaderboard, which Diplo topped on December 2. At the time he posted his "high score" on social media, Diplo had $3,004,913.06 in his account. So we know his cash assets, but do we know if he's in on the joke? This piece is from Brooklyn art collective MSCHF, who are known for their trolly stunt art. "ATM Leaderboard is an extremely literal distillation of wealth-flaunting impulses," MSCHF co-founder Daniel Greenberg said on NPR. "From its conception, we had mentally earmarked this work for a location like Miami Basel, a place where there is a dense concentration of people renting Lamborghinis and wearing Rolexes." The piece is goofing on ostentatious displays of wealth, Diplo. Having the most ostentatious display isn't the flex you think it is. The ATM was a collab between MSCHF and the gallery Perrotin. They had the banana duct taped to the wall, to give some more context on where everyone involved stands on the art vs. prank spectrum.
Free Press celebrates launch of art exhibit
The Winnipeg Art Gallery has opened its doors to an exhibition focusing on the Winnipeg Free Press and its 150th anniversary.
Headlines: The Art of the News Cycle, which includes works from seven artists from across North America as well as archival material from the Free Press and the gallery's permanent collection, looks at the many changes that have taken place in how the Free Press and other news organizations let their readers know what's going on in the world around them.
The exhibit runs through to May 21, 2023 at the Winnipeg Art Gallery.
— with files from Alan Small
Inuk art scholar makes leap to National Gallery of Canada
The National Gallery of Canada is home to a rich contemporary Indigenous international art collection, as well as important collections of historical and contemporary Canadian and European Art from the 14th to 21st centuries. (Photo by Christine Mastroianni)
Jocelyn Piirainen, from Cambridge Bay, will help the gallery curate its Indigenous and Inuit art collection
Jocelyn Piirainen is bringing an Inuk voice to the way the National Gallery of Canada acquires and exhibits Inuit and Indigenous artwork.
The arts scholar and former Cambridge Bay resident was appointed in early November to the role of associate curator for the gallery.
Piirainen brings experience from her previous role as associate curator of Inuit art at the Winnipeg Art Gallery's Qaumajuq museum, which she has held since March 2019. Qaumajuq is a collection of almost 14,000 contemporary Inuit art pieces, making up the largest collection of its kind in the world.
Curators organize and set up exhibits, said Piirainen in an interview from her home in Winnipeg.
"The curator is really there to allow artists to tell their stories," she said.
"If there's a specific carving that has a story or legend associated with it, you know, you want to tell the public about it."
Piirainen joins the national gallery's recently formed Indigenous Ways and Decolonization department. It has a mandate to amplify the voices of Indigenous artists, curators and scholars.
In an email, Michelle LaVallee, director of the department of Indigenous Ways and Decolonization, recognized Piirainen's skill as a collaborator in her work with arts and culture professionals and Indigenous communities to highlight Inuit artistic and cultural practices.
"I am excited about her lived and professional experience as an Inuk curator which she brings to the national gallery," she said.
Piirainen is joining the gallery as some controversial changes are taking place there. The Globe and Mail and other national media reported last month the departure of four curators from the gallery's Indigenous Ways and Decolonization department. A former senior curator, Greg A. Hill, tweeted he was fired because he disagreed with the "colonial and anti-Indigenous ways" the department was being run, the Globe reported.
Piirainen said the Canadian art world needs more Inuit curators and art professionals. She credits a government-funding initiative, called Inuit Futures, for leading the way in that respect.
Inuit Futures in Arts Leadership: The Pilimmaksarniq/Pijariuqsarniq Project supports Inuit and Inuvialuit by giving them access to the training, mentorship and professional opportunities necessary to find success in the arts industry.
Piirainen was invited to be a mentor in the Inuit Futures program in 2019, where she was paired with mixed-media artist Aghalingiak (Zoe Ohokannoak). Aghalingiak, who identifies as they/them, is in their fifth year of study of fine arts at the Nova Scotia College of Art and Design.
Aghalingiak said in an interview that being a participant in the Inuit Futures program as a research intern and mentee has been both challenging and a confidence boost, accelerating their development as an artist.
In April 2022, they curated their first exhibition at the Winnipeg Art Gallery's Qaumajuq Museum under the mentorship of Piirainen. The exhibition is called Kakiniit Hivonighijotaa: Inuit Embodied Practices & Meanings.
"I didn't think that I would ever be curating exhibitions at this point," Aghalingiak said, reflecting on their recent solo exhibition and their experience with Inuit Futures.
As Piirainen prepares to move to Ottawa in January, she acknowledges that although this appointment provides an opportunity to be part of the national gallery's efforts to ensure Inuit art and culture are appropriately represented, her hiring is not a solution in and of itself.
"There is also a lot of pressure that comes to that, to be kind of representing all Inuit, but I am aware that I can't do that either," she said.