Instead Of Losing Family And Friends Over Politics, Experts Say Communicate – NPR
If you find yourself fighting with a friend over politics, or frustrated and furious with your nearest and dearest over who they're supporting for president, you're hardly alone. A recent survey shows just how much the nation's bitter political divide is causing social splintering and taking a toll on friendships. Even decades-long relationships have been caving under the pressure, giving new meaning to "social distancing."
"I did straight up say 'Dude, I'm done. Lose my number,'" said Shama Davis, from Los Angeles, recalling when he "unfriended" a guy he'd been friends with since high school, 25 years ago.
"I just hung up on my end, and proceeded to just block him in every possible way," said Joni Jenson from New York, still fuming over the guy she felt compelled to dump.
And betraying just a tinge of regret about cutting off his own cousins, Ricardo Deforest, of Tampa, Fla., conceded, "I hate to say it because family is everything," before unabashedly proclaiming "I disowned them. In my mind they're not family anymore."
They are among the many Americans for whom political rifts have deepened. It's one thing to disagree about something such as tax policy, they say. But they see their differences now as ones of basic morality, core values and character, and that cannot be overlooked.
Davis, a 42-year-old consultant who is Black, says he simply could not abide his friend downplaying police brutality, and harping instead on the looting and violence happening amid the mostly peaceful protests.
"I told him 'If this is your attitude, we can't be cool anymore,'" Davis said. "'I don't respect you now. I don't. Because people are really dying.'"
Jensen, a retired professor, also sees it as a moral absolute. As a sexual assault survivor, she says, she couldn't stand it when the guy she'd been close to for 40 years was being cavalier about the allegations against President Trump's then-Supreme Court nominee Brett Kavanaugh.
"He was going off like 'Oh, you drank the Kool-Aid' and 'Kavanaugh didn't do anything,'" she recalled. "It made me sick. If this is his core ethics, I don't want that kind of person in my life."
Conservatives can be just as quick to spurn the liberals in their lives who clash with their core values, such as life and liberty — which is the biggie for Deforest.
"They sold our country out," Deforest, a 61-year-old steel worker, said of those on the left of the political spectrum. "This election is about the soul of what America is. You can't be a free country and be a socialist state at the same time."
He said the acrimony he's feeling from what he calls "hardcore Trump haters" was as much a factor in his decision to cut them off, as their differences that gave rise to it.
"All they can do is say 'Trump is a racist. Orange-man bad! Orange-man racist! They're blowing spittle, and [their] veins popping out of their heads," he said. "Yo soy Latino. But [they assume] I'm some sort of horrible racist because I like Trump. It's ridiculous!"
Jocelyn Kiley, associate director of research at the Pew Research Center says political polarization is more intense now, than at any point in modern history. Nearly 80% of Americans now have "just a few" or no friends at all across the aisle. And the animosity goes both ways.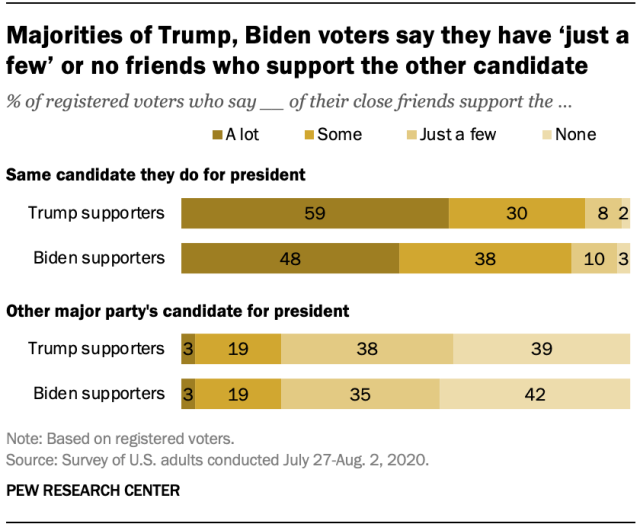 "Democrats are a little bit more likely to say they'd end a friendship" Kiley said. "But Republicans may be less likely to say they have friends on the other side. So it may not be all that differential."
Another recent poll by PRRI shows that 8-in-10 Republicans believe the Democratic Party has been taken over by socialists, while 8-in-10 Democrats believe the Republican Party has been taken over by racists. The report is aptly named titled "Dueling Realities."
Tania Israel, a professor in the Counseling, Clinical, and School Psychology Department at the University of California Santa Barbara, said she's seeing more and more of those kinds of distorted views in the workshops she runs on cross-the-aisle conversations. The rancor is rising, she said, as both sides "tend to view the other as being more extreme than they actually are."
Another thing conservatives and liberals have in common, she said, is that they all suffer from big blind spots when it comes to the morality of their own side. They tend to view themselves as eminently fair and right, and the other side as wholly irrational.
Case in point: explaining his politics, Ricardo Deforest noted, "When I say all these things, I think I sound fairly reasonable," while declaiming the other side, with, "There's something wrong with these people."
Jensen, meantime, is just as certain, upbraiding the guy she was arguing with as "brainwashed."
Israel says a little more listening to understand, a little less trying to convince, and a lot more intellectual humility would do everyone a world of good.
"We're flattening people out in terms of our view of them," she said, "and we're not really seeing the full complexity of people on the other side."
It's exactly what Jon Langford, a 28 year-old Georgia truck driver, says he experienced, when his brother, who is gay, wrongly assumed the worst about him.
"He went off on me saying essentially I'm a racist and a homophobe just because I'm a Trump supporter. No ifs, ands or buts. And he completely cut me out of his life," Langford said. They haven't spoken in years.
Now, Langford says he's determined not to do the same thing to his friends across the aisle, including his best friend, who supports former Vice President Joe Biden. As Langford sees it, no one has a monopoly on morality.
"I could assume that anybody that supports Biden is a firm believer that it's OK to murder a baby," he said. "But I don't."
Another conservative, Judith Margolis Friedman, may be one of the few who can claim that she's managed to not lose any friends over politics. But she says that's because she kept her political views totally secret, for fear of "social suicide."
"I would politely nod and go along to avoid conflict […] with people whose relationships I valued," she said.
Instead, Friedman vented in a secret Facebook group that she says was a "safe space" where she could "commiserate with other people who also feel shut out from their regular life because of their views."
But this month, Friedman couldn't take it anymore, and "came out of the closet," deciding that if people dumped her over her politics, "they weren't real friends after all."
She's hoping friends will give more weight to the person they've known for years, than who she chooses to vote for.
"If someone expresses a more conservative worldview, they're immediately called a Nazi and a racist and a misogynist and a homophobe and everything under the sun," Friedman said. "I'm none of those things. I'm just a normal friggin' person who has a different point of view."
At the other end of the political spectrum, Jeff Marinstein, a business and technology consultant from Connecticut, has also been trying to get past the ever-intensifying invective and insults from "friends."
One, in particular, kept attacking him as a "libtard," among other things. Marinstein no longer talks to that guy. But with another, he's trying a new strategy to save the friendship, suggesting they keep talking, just not about politics. So far, it's proving harder to enforce than he thought.
"I'm still getting this nightly stream of New York Post articles and memes [mocking] Democrats, and I simply respond with a funny line that says 'This post violates our agreement not to talk about politics,' trying to creatively send the message that I just don't want to engage," he said.
Whether the strategy ultimately works or not, Marinstein says, he wonders whether it may ultimately be doing as much harm as good.
"It just feels like the healthiest thing for me to do at the moment to lower the temperature, and to not continue these toxic conversations," he said. "But I suppose the risk is that I'm just retreating into my own information bubble with people who think just like me."
Indeed, experts say it's more conversation — not less — that's needed, if the nation is to heal its blistering divide. But it has to be healthy, productive conversation. And Israel, who runs the workshops on civil discourse, says the first step must be to take it off social media, and talk in person instead.
"The only useful comment that you can make on somebody's social media post is 'Can we find a time to talk about this? I'm interested in hearing more,'" she said.
N.S. health minister to retire from politics after term ends – Global News
Nova Scotia Minister of Health Leo Glavine has announced he is stepping down after his term.
Glavine said in a Thursday cabinet meeting he will not be re-offering in the next election and is choosing to retire from politics.
But, he will carry out his term.
"I certainly plan to put my heart and soul into the next number of months," Glavine said.
"The premier called upon me to fill the role of minister of health which I will certainly do until Feb. 6, and maybe the new premier will ask me to carry on, which I would certainly be honoured to do, as tough as it is."
Glavine, a former educator, has had nearly 18 years of political life. He was first elected MLA for Kings West in 2003.
"It's a great honour to be able to serve my riding first, and then go to government and serve the province," Glavine said.
[ Sign up for our Health IQ newsletter for the latest coronavirus updates ]
Glavine told cabinet it's been an emotional day for him.
"To put the kind of time into an elected office that is required today, certainly my first thanks go to my wife Doris, my family. Probably the biggest reason of all at this stage of my life, to head back to private life and enjoy what the valley has to offer and what our province has to offer."
Glavine said he now hopes to spend more time with his grandchildren.
He said he is grateful for the support of his colleagues.
"I'm reminded that politics is the ultimate in-the-team game," Glavine said.

0:50


McNeil discusses new cabinet appointments



"I've had the good fortune to have a number of people to be my sounding board during my time in office. I've had the good fortune to come into political life with Premier McNeil… We're the only two remaining from the class of 2003, so maybe quite appropriate that as he leaves political office, I leave as well."
Glavine's announcement comes just as Nova Scotia entered the second wave of the COVID-19 pandemic.
He said the Public Health team has put in hard work, which will certainly continue in the new year.
"We've had an exceptional team in public health and the premier to guide our province through what may be one of the most challenging and difficult periods in the 21st century and we'll have to certainly see about that."
Glavine said he's grateful for what politics has thrown at him.
"There are no perfect answers or solutions to all problems, but to get up each day and face what's on the plate of the province… has for me been a joy."
"I have not missed a day of work in my 17 and a half years in political office. So, I've enjoyed the journey and I look forward now to the next stage of my life."
© 2020 Global News, a division of Corus Entertainment Inc.
Families Have Been Torn Apart by Politics. What Happens to Them Now? – The New York Times
Tho Nguyen's parents, who immigrated from Vietnam, were always Republican. They are Catholic and oppose abortion. Four years ago they voted for Donald Trump.
But nothing prepared Ms. Nguyen, 25, a medical student in Kansas, for how much politics would divide her family over the next four years, as her parents became increasingly passionate about the president.
In recent weeks, as the election drew nearer, Ms. Nguyen said she has had screaming fights with her parents — very unusual for her family. Her mother threatened to stop cooking if she and her sisters voted for Mr. Biden. She had to look up the word 'brainwashed' in Vietnamese. But when she used it to describe her parents, her father said it applied to her.
She said her parents did not believe Mr. Biden could have won, and it was hard to convince them otherwise, because that is not what they were hearing from Vietnamese sources on Facebook.
"In my dad's mind, more than half of the votes for Biden were illegal," said Ms. Nguyen, who lives with her parents and was spending Thanksgiving with them. "It's just wild."
The shock of Donald J. Trump's election in 2016, just before the holiday season, tested many American families who had to confront — or avoid altogether — political disagreements over Thanksgiving dinners. Many Democrats said they were angry at family members who voted for him. Republicans rejected the notion that their votes were referendums on whether they were good people.
But four years later, for some families, those differences have mutated into something deeper — a divide over basic facts and visions for America's future. That rift feels even harder to mend after the 2020 election, as Mr. Trump stoked conspiracy theories questioning the legitimacy of Mr. Biden's win.
In interviews during and after the election, Americans talked about the differences that had emerged in their families over politics and how they had changed over the past four years. Some had learned to live with them, and were trying hard to focus on the things they had in common. Others had not spoken since 2016.
Many were in a stressful, messy place in between — trying to manage with loved ones who saw the world differently than they did. Several asked that their last names not be published because they did not want to lose the diminished relationships they still had. In most cases relatives with whom there was conflict — and who may have offered different accounts of the disagreements — were not contacted.
Unlike 2016, when conflicts emerged over political choices, this time they centered on the result itself. Polls since the election have found that large majorities of those who voted for Trump do not believe the election was fair. Large shares also say mail-in ballots were manipulated in favor of Joe Biden. But the situation is fluid, and interviews with voters showed substantial variation among Republicans, many of whom have their own stories of family loss.
"I believe it was all on the up and up," said William Hill, a lawyer in the Midwest, of the election. Mr. Hill voted for Mr. Trump, but said he believed that Mr. Biden "is not a bad guy. He's not going to do something that's going to harm the country. He's just not."
But the election result has not mended the rupture in his family. He said his sister, who lives in Seattle, blew up at him after he voted for Mr. Trump in 2016, and they haven't spoken since. He said he has sent her and her wife a Christmas gift every year — a box of nuts from a local gourmet shop — but he has never heard back. The most recent news of her, he said, was a post on Facebook after the election agreeing with someone who said, "Why would we want to unify with those people?"
"It hurts," said Mr. Hill, who is 50. He said his sister and her wife "are good people," and it still baffles him that political differences could cost a relationship. "My daughter sees things completely differently than I do politically, but she still gives me a hug every night."
The political divisions within families, while widespread, are far from universal. Dr. Joshua Coleman, a psychologist who specializes in estrangement, said that while he now has such cases in his practice, they are still a small share of the business, and, so far, mostly consist of millennials or other younger Americans pulling back from or cutting off their more conservative baby boomer parents.
That was the case in the Ackley family.
Danielle Ackley of North Carolina and her mother have always been different politically. But they agreed to disagree, even after Mr. Trump's 2016 win, which Ms. Ackley said brought her son to tears.
But during a visit last month, they got into a terrible argument over politics. Ms. Ackley, 37, said she got angry when she heard her mother criticize Mr. Biden's character. Then it escalated. It ended with her telling her mother to leave.
"This is not even a political divide, it's a reality divide," said Ms. Ackley, who added that she felt even more distant after seeing her mother comment approvingly on a Facebook post questioning mail-in ballots.
For Debbie Ackley, who is 59, the experience was painful and a shock. She said she remembers staring down at her phone, trying not to cry.She left the next morning, hours earlier than she had planned, and was so upset on the drive that she worried she might crash.
She said she loved her daughter, and though she did not understand her anger, she knew it came from a good place.
"Danielle has got the biggest heart," she said. "She's very sensitive and very loving. She takes things to heart."
She said she was frustrated by what she saw as a growing intolerance in the country.
"It's scary that there's very little tolerance and respect for other people's views and opinions — that's what makes me sad," she said.
As for the election, she said she has no doubt that there was fraud in the mail-in ballots, but whether it was enough to change the outcome, "I really don't know."
In the most extreme cases, what began as a manageable political disagreement in 2016 morphed into something much darker, as people watched family members who voted for Mr. Trump become absorbed by conspiracy theories that the president himself was spreading.
Christine, a real estate agent in Massachusetts, remembers her mother's excitement at Mr. Trump's win in 2016. They were on a family vacation, and no one else was happy about it, but the difference didn't seem to matter very much.
But over the past year, she said she has seen her mother, a 75-year-old waitress, change from an enthusiastic gardener and antiques shopper to someone so obsessed with the QAnon conspiracy theory that she said she could no longer get through to her. Her mother was spending her free time staring at her iPad, and this spring, bought a necklace with a Q on it.
"I feel like I've been in mourning for someone who is still alive, and that's a bizarre thing," said Christine, 34, who shares a last name with her mother and asked that it not be used in order to protect their privacy. "The person she used to be is not here anymore. I miss her so much."
She said this was the first Thanksgiving of her life that she would not be spending with her mother, who had been one of her closest confidants and lives 10 miles away.
For many, the key to preventing estrangement is not talking about politics in the first place. That is how Michelle, a health care worker in Arizona, has tried to manage the situation in her family. She said her sister voted for Mr. Trump, but they agreed long ago never to discuss it, and are best friends who talk every day.
"We're both like, nope, we're not going to do it," she said. "I value her as my sister, we are really close."
But she cried as she described having to block her father, a retired manager for a manufacturing firm, from her email this fall, because of what she said was a constant stream of conspiracy-laden messages that he would not stop sending even after she had asked. She asked that her last name not be used because she feared further damage to her relationship with him.
"I'm just sad," she said, crying softly. "Just because, you know, he's my dad, and he's always helped me if I've ever needed it. He's always been there for me."
Still, she planned to see him on Thanksgiving, outside and masked.
A number of older voters said they grew up around family and friends who didn't always agree with them politically, but those distinctions mattered less to a person's identity then. They didn't pick fights over them, because politics was not who you were.
"I really just don't see alienating my family over this," said Joe Wallace, 75, a retired pipe fitter in the Pocono Mountains of Pennsylvania who voted for Joe Biden. He said that he was baffled by his sisters' strong support for Mr. Trump, but that he never talked about it with them. "It's not worth it."
Will relationships heal now that Mr. Trump is no longer president? Nearly everyone interviewed for this article who had experienced a falling out said they did not think so — at least not immediately. Estelle Moore, a retired flight attendant in East Stroudsburg, Pa., said it was as if we had seen things in each other that we weren't supposed to. But now that we had, we could not un-see them.
"It's like frying chicken," said Ms. Moore, 64, sitting in a lawn chair outside her small brick house. "Once you put it into that hot grease, it becomes something different."
The Ackleys aren't giving up. A week after the election, Danielle Ackley sent her mother a message. She had spent days composing it, sitting on her lunch break at the plant nursery where she works. Her mother wrote back that they had many things to talk about. Politics did not have to one of them.
Debbie Ackley said it reminded her of the time she took her young son to the circus and encountered her daughter, then a high schooler, protesting the treatment of the elephants.
"That's my daughter," she said. "I'm so proud of her. I'm so proud of the person she has become."
Sona Patel contributed reporting.
Here's a cheat sheet for Thanksgiving's inevitable politics talk – CNN