International air travel may not return to normal until 2023: report | Mapped – Daily Hive
Air travel may not recover as quickly as we would like, according to recent analysis shared by the International Air Transport Association (IATA), which outlines that the damage incurred by the COVID-19 global pandemic may extend to 2023. Long-haul travel in particular is likely to be the most significantly impacted.
In a report published by IATA, the organization anticipates that the recovery of the travel industry will be led by domestic endeavours to begin with, with passenger numbers not climbing back to their normal state until at least 2023.
"Global GDP growth is expected to fall by around 5% this year, before rebounding and returning to its 2019 level in 2021," the report explains. "To put this decline into context, it is around 4x larger than that of the global financial crisis, where world GDP fell by 1.3% in 2009."
To place this in a travel-oriented context, the anticipated decrease in the volume of air passengers (measured by Revenue Passenger Kilometres – RPKs) is substantially more severe, with a decline of roughly 50% this year.
To simplify, an RPK is an airline industry measurement that determines the number of kilometres travelled by paying passengers.
"The recovery is such that a return to the level of 2019 does not occur until 2023, taking around two years longer than global GDP," the report states.
It continues that there are several reasons why RPKs are likely to take longer to recover in the broader scope of the global economy. At the forefront, consumer confidence in air travel remains one of the most significant factors.
Given the nature of the coronavirus pandemic, it will likely take time for customers to feel comfortable travelling again, even as governments continue to lift border lockdowns and other health and safety measures.
As well, following a lockdown in the second quarter of the fiscal year, IATA anticipates domestic and short-haul air travel markets to begin recovery over the course of Q3. However, long-haul markets will take more time to recover.
"Domestic RPKs are expected to decline by around 40% this year, while
international RPKs are likely to decline by around 60%," the report explains. "As a consequence, we expect the average trip length will decline sharply this year, by around 8.5%, before gradually recovering thereafter."
Of course, some variables may change, and there is undoubtedly a level of uncertainty surrounding the pandemic and the anticipated recovery metrics and predictions in terms of economic activity and the volume of passengers utilizing air transport.
"The impacts of the crisis on long-haul travel will be much more severe and of a longer duration than what is expected in domestic markets," Alexandre de Juniac, director general and CEO of IATA, said in a press release.
"This makes globally agreed and implemented biosecurity standards for the travel process all the more critical. We have a small window to avoid the consequences of uncoordinated unilateral measures that marked the post-9.11 period. We must act fast."
de Juniac continues that quarantine measures upon arrival in different countries will further facilitate distrust and shaky confidence that passengers feel regarding air travel. In a recent survey conducted by IATA, according to the press release, 69% of travellers disclosed that they would not consider travelling if it meant that they would have to quarantine for 14-days once they arrived.
"To protect aviation's ability to be a catalyst for the economic recovery, we must not make that prognosis worse by making travel impracticable with quarantine measures," de Juniac stated.
"We need a solution for safe travel that addresses two challenges. It must give passengers confidence to travel safely and without undue hassle. And it must give governments confidence that they are protected from importing the virus."
According to de Juniac, IATA proposes a stacking of temporary non-quarantine protocols until a vaccine is developed as well as "immunity passports" or "nearly instant" coronavirus testing available at scale.
The organization believes that a universal "risk-based layered approach" will be crucial for the recovery and reopening of the air travel industry. Measures included in this approach would consist of preventing travel for those who present coronavirus-related symptoms by issuing temperature screenings and other procedures. It would also address the hazards surrounding asymptomatic travellers by having governments institute a "robust system of health declarations and vigorous contact tracing."
Overall, IATA's data shows that challenging times remain ahead for the travel industry with a multitude of factors at the industry as well as global governmental levels that will likely extend beyond this immediate crisis period.
Canada's mortgage insurer tightens rules as it forecasts home-price drop of up to 18% – Financial Post
TORONTO — The government-backed Canada Mortgage and Housing Corp said on Thursday it would tighten rules for offering mortgage insurance from July 1, after forecasting declines of between 9 per cent and 18 per cent in home prices over the next 12 months.
The move would make it harder for riskier borrowers, who offer down payments of less than 20 per cent, to access CMHC's default mortgage insurance.
CMHC is establishing a minimum credit score of 680 instead of the current 600, the group said in an emailed statement.
It will also limit total gross debt servicing ratios to its standard requirement of 35 per cent of annual income, compared with a threshold as high as 39 per cent currently, and total debt servicing to 42 per cent versus as much as 44 per cent now.
The measures will help curtail "excessive demand and unsustainable house price growth," CMHC Chief Executive Evan Siddall said in the statement.
He said COVID-19 has exposed longstanding financial-market vulnerabilities, and "we must act now to protect the economic futures of Canadians."
Some 35 per cent of Canadian banks' mortgages are insured, their financial statements show. CMHC is the top mortgage insurer, while Genworth MI Canada and other private companies also provide similar products.
Despite evaporating activity in the housing market due to the COVID-19 pandemic, prices have continued to rise as listings have fallen off alongside demand.
Home prices across the country rose 1.3 per cent in April from March, and data from Toronto and Vancouver real estate boards showed increases of 3 per cent and 2.9 per cent in May, respectively, from a year earlier.
The CMHC has taken a more bearish view of the housing market than others. Last week, some of Canada's biggest banks forecast maximum price declines of about 7 per cent.
Siddall last week responded to critics of its more dire outlook, saying on Twitter they were "whistling past the graveyard and offering no analysis."
© Thomson Reuters 2020
Canadian Dollar Price Outlook: USD/CAD Grinds Around Big Fig Support – DailyFX
Canadian Dollar, CAD, USD/CAD Price Analysis
This morning brought a Bank of Canada rate decision, this Friday's

economic calendar

brings Canadian jobs numbers to be released at the same time as US Non-Farm Payrolls.

The bank held rates, and given the change in leadership the big question is forward-looking strategy at the bank.

USD/CAD broke down from

a descending triangle formation

, and is now finding support around the 1.3500 big figure. But sellers haven't yet been able to establish any significant trends around that support, leading to the prospect of short-term pullback.
BoC Leaves Rates Flat, USD/CAD Remains Around 1.3500
Earlier this morning we heard from the Bank of Canada as the BoC left rates flat; but the prospect of change in leadership atop the BoC does highlight potential changes in the future after outgoing Bank of Canada Governor Stephen Poloz had previously stated that rates were as low as they could go. Taking over at the bank this week is Tiff Macklem, and as noted by our own Thomas Westwater earlier today, this morning's statement likely had little input from the newly-installed BoC Governor. This does, however, point to the possibility of change on the horizon given how aggressively the coronavirus slowdown has hit global economies.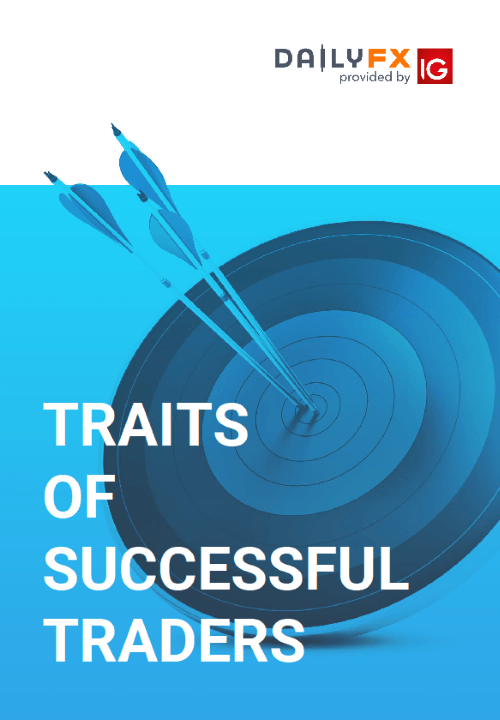 Recommended by James Stanley
Traits of Successful Traders
In USD/CAD, the pair has largely clung on to support around this rate decision, temporarily testing below the big figure of 1.3500 but, so far, failing to establish any continued bearish trends below that level. And this comes on the heels of an earlier-week breakdown, as USD/CAD had built into a descending triangle formation, with a series of lower-highs from late-March into mid-May, combined with horizontal support around the 1.3850 area on the chart.
USD/CAD Four-Hour Price Chart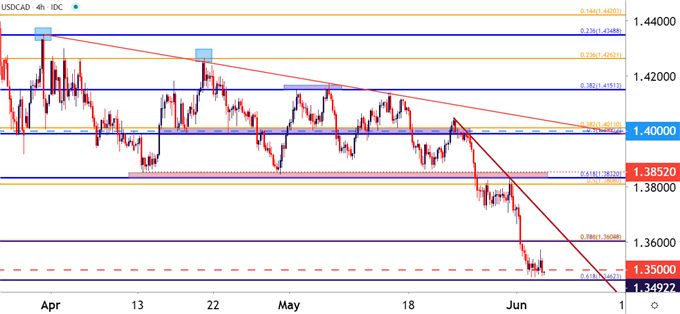 Chart prepared by James Stanley; USDCAD on Tradingview
Can USD/CAD Bears Drive Through Psychological Support?
Of recent, commodity currencies have been on a tear against the US Dollar, USD/CAD included. AUD/USD has been on a similar display of recent and the same can be said for NZD/USD.
The trouble at this point for USD/CAD bears is the fact that the short-side move is already fairly well-developed; and prices are showing continued support around the 1.3500 big figure. Can USD/CAD bring sellers in at sub-1.3500 prices to continue pushing lower? Or, will the pair need a retracement first before continuing that bearish trend?
USD/CAD
BEARISH
Data provided by



of clients are net long.


of clients are net short.
| | | | |
| --- | --- | --- | --- |
| Change in | Longs | Shorts | OI |
| Daily | -2% | -5% | -3% |
| Weekly | -9% | -13% | -10% |
On the chart is a nearby area of interest for resistance potential. As looked at in yesterday's webinar, the space around the 1.3600 area seems especially interesting, as there are two very recent Fibonacci levels within close proximity of each other. This is the 61.8% retracement of the 2020 major move, and the 78.6% retracement of the March major move. At this point, that zone hasn't yet been tested for resistance and a show of sellers here could re-open the door for bearish continuation strategies in the pair.
USD/CAD Hourly Price Chart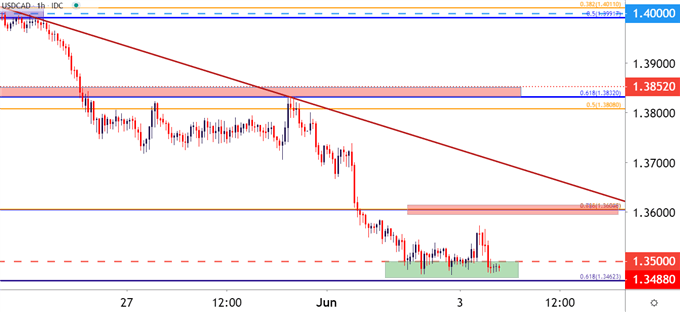 Chart prepared by James Stanley; USDCAD on Tradingview
— Written by James Stanley, Strategist for DailyFX.com
Contact and follow James on Twitter: @JStanleyFX
Canadian trade plummets amid global shutdowns – BNNBloomberg.ca
Canadian exports and imports plunged by the most ever in April amid a shutdown of global trade.
Exports plunged 30 per cent during the month, more than offsetting a 25 per cent drop in imports. The nation's trade deficit widened to $3.3 billion ($2.4 billion), from $1.5 billion in March. The median estimate of economists surveyed by Bloomberg had called for a $3 billion shortfall.
The report illustrates the extent to which global trade has collapsed amid pandemic-related lockdowns and travel restrictions. In Canada's case, the economy is facing a double whammy from the pandemic and tanking oil prices. Combined imports and exports at $68.6 billion were the lowest since 2010.
Energy exports dropped 44 per cent in April, as the value of crude oil shipments fell 55 per cent on lower prices and lower volumes due to weaker global demand.
In volume terms, total exports were down 20 per cent in April, with imports falling 25 per cent.
–-With assistance from Erik Hertzberg.