Investment confidence awaits vaccine boost – REMI Network – Real Estate Management Industry Network
A surging second wave of COVID-19 tempered investment confidence in commercial real estate during the fourth quarter of 2020. Newly released results of the REALPAC/FPL Canadian Real Estate Sentiment Survey finds participating senior executives expressing slightly less optimism in market conditions than exhibited three months earlier. Notably, though, data was collected in October before the confirmation of approved vaccines.
In assessing both survey responses and accompanying insight from interviews with more than 50 influential Canadian players, analysts with FPL Advisory Group conclude that some indicators aren't telling much of a story. In particular, the survey's conventional focus on real estate asset pricing has shifted more to macro-level observations, but there are more details to report on access to capital.
"Transaction volume remains low, resulting in inconclusive asset valuations. Distressed transaction activity has yet to emerge in Canada," the survey summary states. "Lenders remain active. There is an increased level of scrutiny during the due diligence process with many less willing to engage in higher risk investments. Equity capital is available; however, investors are increasingly discerning when evaluating investment track records and leverage ratios."
Analysts also suggest "uncertainty" characterized the October snapshot, but that came with some perspective on a potential stabilizing force. "Many remain hopeful that a vaccine is imminent," they advise.
Survey respondents — representing owners, asset managers and affiliated professional service providers in all property sectors — collectively nudged the overall index score down to 43 on a scale of 100. Confidence ebbed in both current and future market dynamics compared to the third quarter outlook.
Canadian executives were somewhat more positive about current conditions than were their U.S. counterparts — delivering an index score of 28 versus the U.S. consensus at 27. However, Canadian expectations for a future bounce-back were more modest — translating into an index score of 58 compared to the U.S. score of 61.
Nearly one-third of Canadian respondents deemed market conditions in the fourth quarter to be "much worse" than they had been 12 months earlier. That's a significant jump from the 13 per cent expressing that view in Q3. Nevertheless, there was a small gain in respondents who perceived conditions were "much better"— climbing to 14 per cent from 10 per cent in Q3.
A larger share of respondents expected a longer-lasting downturn, with 27 per cent suggesting that market conditions will be somewhat or much worse by Q4 2021 compared to 23 per cent in Q3. Accordingly, fewer respondents foresaw "somewhat better" times ahead, with 47 per cent making that prognosis for 12 months in the future versus 51 per cent in Q3. A steady 18 per cent of respondents in both quarters predicted conditions would be about the same one year hence.
Despite the lack of transactions, 86 per cent of respondents pegged asset values at somewhat or much lower than they had been one year earlier. That's an increase from 72 per cent expressing that view in Q3, which also encompasses a sizeable jump — from 6 to 24 per cent — in the quotient calling values much worse. Looking forward, 35 per cent of respondents expect asset values to drop further during the next 12 months, while 39 per cent of respondents expect "somewhat" improvement. That's also more pessimistic than Q3.
The report's selection of anonymous quotes from leading industry sources reiterate many common themes of 2020, including preference for industrial and multi-residential assets, the pandemic's hard hit on already struggling retail assets and unease about tenants' prolonged absences from office space. Those are consistent trends among lenders and equity investors, as industry sources note that wariness of office and retail assets is serving up competitive jockeying to lend on industrial and multi-residential assets. Alternative lenders are also forging more presence in the market.
Generally, respondents reported more hurdles to secure capital in Q4, with 69 per cent gauging it was somewhat or much more difficult to get debt financing and 67 per cent saying it was more difficult to obtain equity capital than it was in Q4 2019. Looking forward, 56 per cent anticipate that equity capital will be somewhat or much more abundant by Q4 2021, while 45 per cent expect lenders will be somewhat or much more amenable.
Square Payment Volume Disappoints Amid Further Bitcoin Investment – CMC Markets
Square (NYSE: SQ) shares fell after hours as the company's December-quarter financials beat analyst expectations but gross payment volume was slightly below estimates. The company is one of the fastest-growing fintechs in the world and has witnessed the popularity of its Cash App soar during COVID-19. In general, digital payment tech companies have been some of the biggest winners throughout the health crisis as they have made it easier for people and businesses to send and receive payments safely.
This article was originally written by MyWallSt. Read more market-beating insights from the MyWallSt team here.
Square's fourth-quarter earnings
On Tuesday, the San Francisco-based company recorded better-than-expected Q4 results;
Adjusted earnings of $0.32 per share, up 39% year-over-year (YoY), beating the Street's estimate of $0.24.
Revenues of $3.16 billion, up 141% YoY, smashed the consensus forecast of $3.11 billion.
Gross profit of $804 million, up 52% YoY, beating forecasts of $801 million.
Sales for its Seller system, which allows merchants to accept mobile card payments via a plastic dongle that's inserted into a mobile phone, grew to $987 million.
Subscription and services-based income climbed to $449 million, up 60% YoY.
Square's gross payment volume falls short
Shareholders were disappointed with Square's gross payment volume (GPV) of $32 billion for the quarter, which was up 12% YoY but still fell short of Wall Street's prediction of $32.1 billion. Square's GPV provides investors with an overall picture of transaction volumes and is the main gauge of the total dollar amount being transferred through its payment services. The higher the volume of payments tracked by GPV, the more transaction revenue Square can generate.
Square stated that revenue growth was driven by more people using the Cash App to buy and sell Bitcoin. The mobile payments company benefited hugely from the recent Bitcoin rally, helping Square generate $1.76 billion in profit. Excluding Bitcoin, Square's total net revenue increased to $1.4 billion, meaning the company was heavily reliant on cryptocurrency transactions on its platform during the quarter.
During the earnings call, Square also disclosed that it had invested a further $170 million into Bitcoin in addition to its earlier $50 million purchase. This investment could provide the company with further income down the line, yet the worry for investors here is that financial regulators might begin to crack down on Bitcoin.
Square is growing its user base
Square shares have surged over 16% year-to-date as investors largely ignored the threat of small businesses closing during the pandemic and how this could affect the company. Instead, shareholders focused on the growth of the company's Cash App and how the service could help people make payments safely during the pandemic. At the end of 2020, its Cash App had 36 million users, up from 30 million at the end of Q3.
Square's revenue growth is benefiting from the shift to e-commerce and growing popularity for its digital cryptocurrency transaction services offered by its Cash App. Whether investors need to be worried about Square's reliance on Bitcoin is still a concern for many. However, Bitcoin continues to receive legitimacy in the eyes of the financial world as more companies like Tesla invest in it. This might just be a play that could work in the company's favor but is still one that investors are watching closely.
MyWallSt gives you access to over 100 market-beating stock picks and the research to back them up. Our analyst team posts daily insights, subscriber-only podcasts, and the headlines that move the market. Start your free trial now!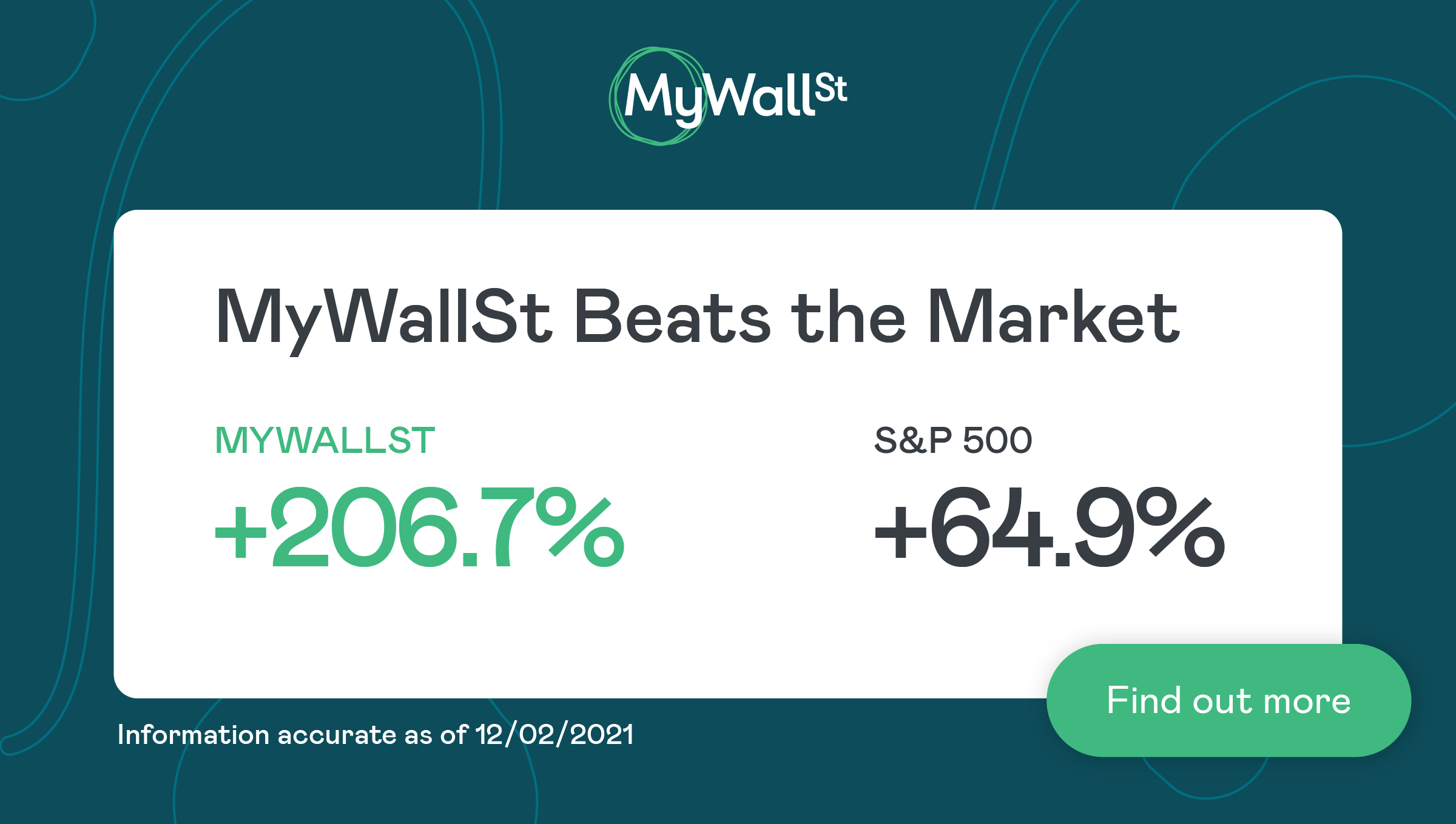 Disclaimer Past performance is not a reliable indicator of future results.
CMC Markets is an execution-only service provider. The material (whether or not it states any opinions) is for general information purposes only, and does not take into account your personal circumstances or objectives. Nothing in this material is (or should be considered to be) financial, investment or other advice on which reliance should be placed. No opinion given in the material constitutes a recommendation by CMC Markets or the author that any particular investment, security, transaction or investment strategy is suitable for any specific person.
The material has not been prepared in accordance with legal requirements designed to promote the independence of investment research. Although we are not specifically prevented from dealing before providing this material, we do not seek to take advantage of the material prior to its dissemination.
CMC Markets does not endorse or offer opinion on the trading strategies used by the author. Their trading strategies do not guarantee any return and CMC Markets shall not be held responsible for any loss that you may incur, either directly or indirectly, arising from any investment based on any information contained herein.
*Tax treatment depends on individual circumstances and can change or may differ in a jurisdiction other than the UK.
Continue reading for FREE
BTV Visits Thriving Companies to Invest In – Investing News Network
On national TV Sat. Feb 27 & Sun. Feb 28, 2021 – From mining to cryptocurrency this episode of BTV-Business Television visits exciting companies for your investment portfolio including:Cannot view this video? Visit: Preview: YouTube BTV Live Premiere 1pm PST today + Meet the Hosts of BTVClick here to set a reminder! Discover Companies to Invest InBIGG Digital Assets Inc. – As cryptocurrency grows in popularity, BTV …
On national TV Sat. Feb 27 & Sun. Feb 28, 2021 – From mining to cryptocurrency this episode of BTV-Business Television visits exciting companies for your investment portfolio including:
Cannot view this video? Visit:
https://b-tv.com/btv-visits-thriving-companies-to-invest-in-ep-355/
Sneak Preview: YouTube BTV Live Premiere 1pm PST today
+ Meet the Hosts of BTV
Click here to set a reminder!
Discover Companies to Invest In
BIGG Digital Assets Inc. (CSE: BIGG) (OTCQB: BBKCF) – As cryptocurrency grows in popularity, BTV finds a company dedicated to creating a safer, more accessible crypto environment. Adelaide Capital's Victoria Rutherford weighs in.
Talisker Resources Ltd. (TSX: TSK) (OTCQX: TSKFF) – BTV discovers how this junior resource company is fast tracking its historic gold mine in B.C. towards production.
Blockchain Foundry Inc. (CSE: BCFN) – A company at the forefront of blockchain technology development. BTV learns about Syscoin, their blockchain protocol.
Moneta Porcupine Mines Inc. (TSX: ME) – Their recent acquisition increased their land position to create one of the largest undeveloped gold projects in North America.
Sernova Corp. (TSXV: SVA) (OTCQB: SEOVF) – A regenerative medicine therapeutics company with a new approach to treating chronic diseases including Type 1 Diabetes.
Outback Goldfields Corp. (CSE: OZ) – This mining exploration company has four key assets in one of Australia's hottest gold exploration districts.
Monarch Mining Corporation (TSX: GBAR) – BTV visits this gold focused company with plans to restart the Beaufor Mine in Quebec's prolific Abitibi Greenstone Belt.
On air for over 20 years, BTV – Business Television, a half-hour investment TV show, features analysts and emerging companies on location. With Hosts, Taylor Thoen and Jessica Katrichak, BTV brings viewers investment opportunities.
TV BROADCAST NETWORKS and TIMES:
CANADA:
BNN Bloomberg – Saturday Feb 27 @ 8:00pm EST, Sunday Feb 28 @ 4:30pm EST
Bell Express Vu – Saturday Feb 27 @ 8:00pm EST, Sunday Feb 28 @ 4:30pm EST
US National TV:
Biz Television Network – Sun Mar 7 @ 8:30am EST
Suggest a Company to Feature!
Contact: (604) 664-7401 x3 info@b-tv.com
To receive news, click here to subscribe.
To view the source version of this press release, please visit https://www.newsfilecorp.com/release/75445
News Provided by Newsfile via QuoteMedia
Temasek Makes Rare Seed Investment in Plant-Based Chicken Maker – BNN
(Bloomberg) — Plant-based chicken maker Next Gen Foods has closed a $10 million seed round co-led by Temasek International, a rare early-stage bet by Singapore's state-owned investor.
The funding round was also backed by family office K3 Ventures, the Economic Development Board of Singapore's New Ventures unit and NX-Food, a startup hub owned by Germany's Metro AG. The investors will help fund a regional expansion as Next Gen prepares to start selling to Singapore restaurants from March 18.
The deal is a sign that Temasek, which manages S$306 billion ($232 billion) and also backs plant-based beef rival Impossible Foods, is ramping up deals in the alternative protein space as Singapore attempts to secure 30% of its food locally by 2030. While the firm's subsidiaries like Vertex Venture Holdings have previously invested in seed funding rounds, the parent company has traditionally backed more mature businesses at the Series A level and beyond.
Next Gen was co-founded by Timo Recker, whose family has long worked in pork production. He wanted to move away from meats and in 2013 used his industrial know-how and some family capital to launch LikeMeat, which sells currywursts, schnitzels and other products made of soy and peas.
Tindle Brand
Recker sold control of that business last year and launched Next Gen in Singapore. It uses suppliers in the Netherlands to produce soy-based chicken pieces with "lipi," a trademarked mix of plant-based ingredients it says imparts a chicken-like taste in the same way heme boosts the realism of Impossible Foods' fake-beef burgers. The product will be sold under the brand name Tindle.
But where Impossible Foods' heme features genetically engineered soy – forcing it to gain regulatory approval before entering some markets – Next Gen uses natural ingredients. For K3 Ventures Chief Executive Officer Meng Xiong Kuok, that was an important factor in making the investment.
"Building up their capabilities based on non-GMO soybeans helps guarantee and set the foundations for their potential entry into the China market," he said.
Singapore is positioning itself as a global hub for alternative protein development and production. It recently became the first country to approve the sale of cell-based chicken via Eat Just Inc. and is home to Shiok Meats – a producer of lab-grown prawn meat.
The backing of institutional investors won't guarantee success, with startups and conglomerates around the world working on plant-based meat products. The segment is expected by UBS Group AG to be worth more than $51 billion by 2025, or about 2.5% of the overall meat market.
Next Gen outsources the manufacturing of its products and will initially sell through restaurants instead of direct to consumers. To prevent partners from replicating their recipe, contractors produce different components before it's assembled into the final product. Its Netherlands-based partner can produce 5,000 tons annually, enough for 9,000 restaurants, and Recker predicts this capacity will be enough to last two to three years.
"We're building now our teams and will then scale the brand globally," he said. "We want to become the undisputed leader for plant-based chicken."
©2021 Bloomberg L.P.