Investors Return to Neglected Canadian Stocks as Economy Rises – Bloomberg

As the global economy picks up speed, investors are dusting off the Canada playbook.
Covid-19 vaccinations are gaining momentum and fiscal support is helping the growth outlook, lifting bond yields. That's a winning set of conditions for the nation's value-oriented and cyclical stock market, which is outrunning its U.S. counterpart in 2021 after years of lagging performance.
"Canada has what you want" in the current landscape, said Mike Archibald, vice president and portfolio manager at AGF Investments, a unit of Toronto-based AGF Management Ltd., which has C$39.8 billion ($31.6 billion) in assets under management.
The S&P/TSX Composite Index has trailed the S&P 500 nine of the past 10 calendar years but is beating the U.S. benchmark in 2021 with a 7.6% gain. That's largely because of banks, which are producing a gusher of profits, and energy and industrial companies that are riding economic tailwinds.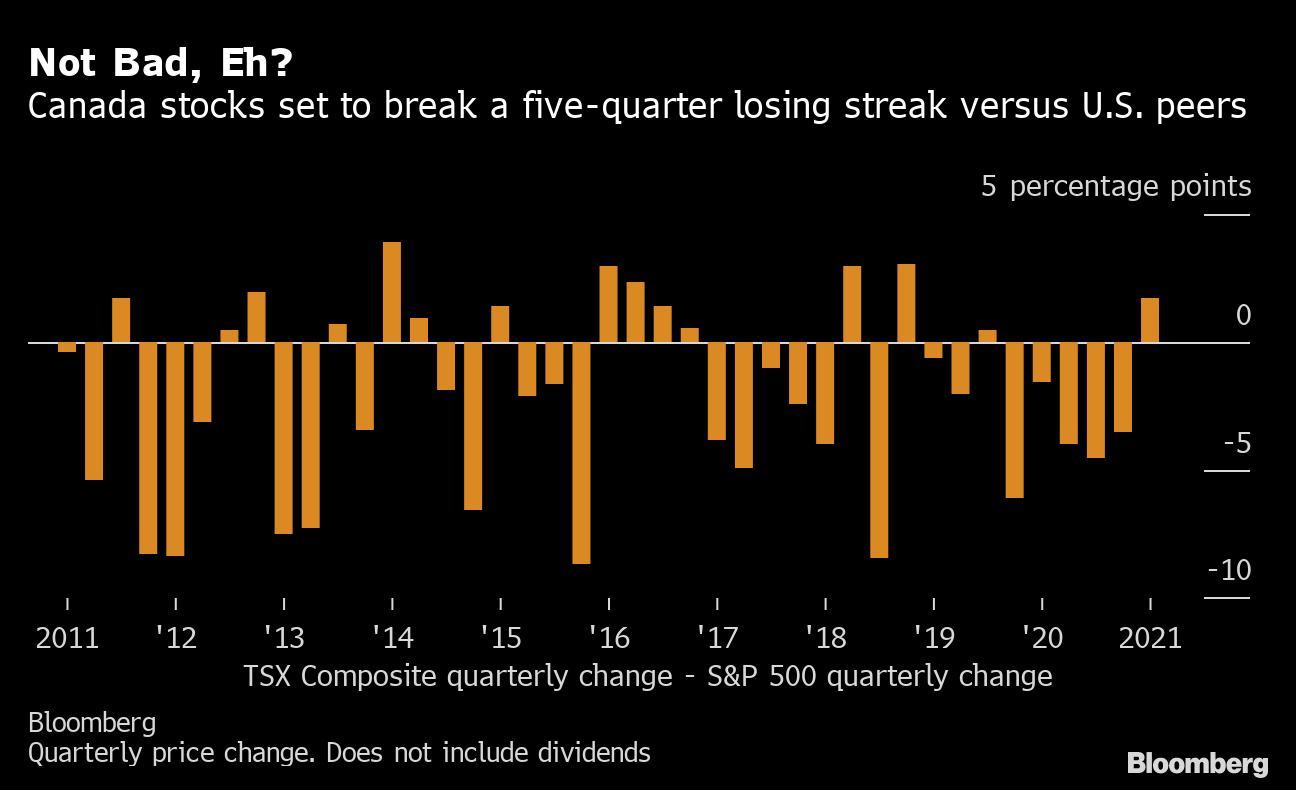 Global investors have overlooked Canada for years in favor of countries with greater choice in high-growth technology stocks, primarily the U.S., but valuations and earnings momentum have become attractive, Archibald said.
Canadian equity exposure is also increasing, according to Bank of Nova Scotia analysts. They say the valuation gap with U.S. stocks is still "extremely wide," with the TSX at a 23% discount on a forward price-to-earnings basis.
"We have started to notice some flows into Canadian-branded equity funds funds/ETFs this year," strategist Hugo Ste-Marie wrote in a note to clients. "The bleeding of the past few years could be over if the macro landscape improves as we expect."
Canadian exchange-traded funds have taken in more than $9 billion in less than three months this year, according to data compiled by Bloomberg Intelligence analyst James Seyffart. That's well ahead of last year's pace, which saw a total of $22.2 billion of flows, or about $1.9 billion a month, and 2019 at about $17.5 billion.
'Re-Rating' Market
"The reflationary environment of robust global growth prospects and unrelenting monetary policy support are likely to embolden sentiment towards the previously-battered value space and prompt a re-rating in the S&P/TSX," Candice Bangsund, vice president and portfolio manager at Montreal-based Fiera Capital Corp., said via email.
Bangsund, whose firm manages about C$180 billion, predicts Toronto's index will beat the S&P 500 this year. Financials are nearly one-third of the benchmark; rising rates and an improving economy help insurers such as Manulife Financial Corp. and Sun Life Financial Inc. as well as banks, which see wider lending margins and reduced loan losses.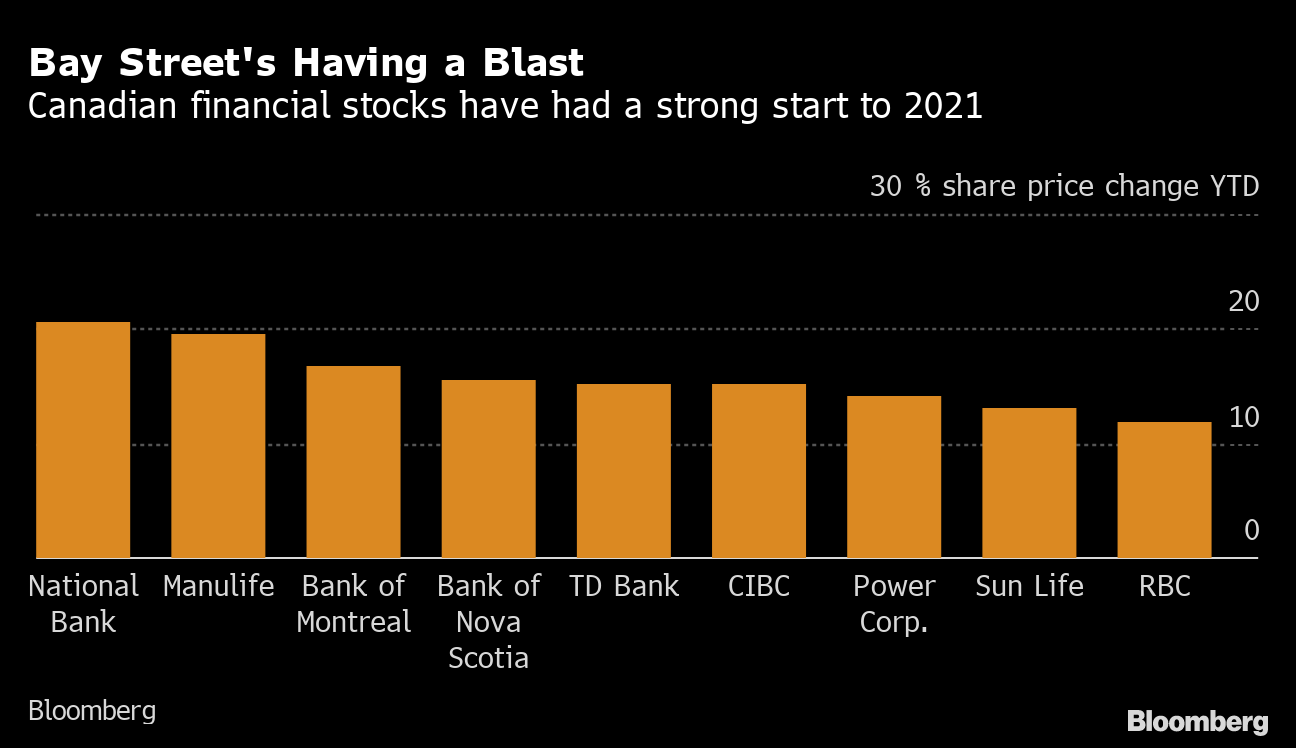 The first decade of this century was better for emerging markets such as Brazil and commodities-driven developed countries including Canada. "It might well be that the next decade lines up well for non-U.S. markets," Craig Basinger, chief investment officer of Richardson Wealth, said in an interview.
On the other hand, hiccups in the effort to reopen economies could lower growth and inflation expectations, hindering Canada's bull case.
"To be clear, we are not suggesting investors should 'buy Canada' at the expense of U.S. stock exposures," but the group is worth a closer look, Archibald said in a note.
"If a sustained cyclical rally moves out of the realm of possibility and becomes a reality, Canadian stocks might, at long last, be something to finally gloat about."
— With assistance by Matt Turner, Divya Balji, and Claire Ballentine
Canada's budget to include pandemic and childcare supports, luxury tax
By Steve Scherer
OTTAWA (Reuters) – Canada will present a budget on Monday with billions of dollars for pandemic recovery measures as COVID-19 infections skyrocket, C$2 billion ($1.6 billion) toward national childcare, and new taxes on luxury goods.
Liberal Prime Minister Justin Trudeau's first budget in two years will also set aside C$12 billion ($9.6 billion) to extend wage and rent subsidy programs to the autumn, the Toronto Star reported on Sunday.
Finance Minister Chrystia Freeland is due to present the budget at about 4 p.m. (2000 GMT).
The document promises in excess of C$2 billion as a "starting point" for a national childcare program, the Canadian Broadcasting Corp said, adding that the 2020-2021 federal deficit had come in under C$400 billion.
In November, the government forecast a deficit of C$381.6 billion, which would be its highest level since World War Two. [https://tmsnrt.rs/3wSJPcm]
The budget will also include a luxury tax effective from 2022 on new cars and private aircraft valued at more than C$100,000 ($79,970), and boats worth over C$250,000, government sources familiar with the document told Reuters.
There will be a sales tax for online platforms and e-commerce warehouses from July, and a digital services tax for Web giants like Alphabet Inc's Google and Facebook Inc from 2022.
Freeland promised in November up to C$100 billion in stimulus over three years to "jump-start" an economic recovery during what is likely to be an election year, and the government so far not backed away from that commitment.
Environment Minister Jonathan Wilkinson, speaking to the CBC, confirmed that the budget would be "ambitious" and that the government would "invest for jobs and growth to rebuild this economy," although he added there would be "fiscal guardrails" to put spending on a "sustainable track."
Amid a spiking third wave of infections, Ontario, Canada's most-populous province, announced new public health restrictions on Friday, including closing the province's borders to non-essential domestic travel.
Canada has been ramping up its vaccination campaign but still has a smaller percentage of its population inoculated than dozens of other countries, including the United States and Britain.
($1 = 1.2514 Canadian dollars)
(Reporting by Steve Scherer; Editing by Nick Zieminski and Peter Cooney)
TSX extends gains as gold prices rise, set to rise for third week
(Reuters) -Canada's main stock index extended its rise on Friday after hitting a record high a day earlier as gold prices advanced, and was set to gain for a third straight week.
* At 9:40 a.m. ET (13:38 GMT), the Toronto Stock Exchange's S&P/TSX composite index was up 24.24 points, or 0.1%, at 19,326.16.
* The Canadian economy is likely to grow at a slower pace in this quarter and the next than previously expected, but tighter lockdown restrictions from another wave of coronavirus were unlikely to derail the economic recovery, a Reuters poll showed.
* The energy sector climbed 0.6% even as U.S. crude prices slipped 0.1% a barrel. Brent crude added 0.1%. [O/R]
* The materials sector, which includes precious and base metals miners and fertilizer companies, added 0.3% as gold futures rose 0.7% to $1,777.9 an ounce. [GOL/] [MET/L]
* The financials sector gained 0.2%. The industrials sector rose 0.1%.
* On the TSX, 117 issues advanced, while 102 issues declined in a 1.15-to-1 ratio favoring gainers, with 14.26 million shares traded.
* The largest percentage gainers on the TSX were Cascades Inc, which jumped 4.2%, and Ballard Power Systems, which rose 2.9%.
* Lghtspeed POS fell 5.6%, the most on the TSX, while the second biggest decliner was goeasy, down 4.9%.
* The most heavily traded shares by volume were Zenabis Global Inc, Bombardier and Royal Bank of Canada.
* The TSX posted 23 new 52-week highs and no new low.
* Across Canadian issues, there were 160 new 52-week highs and 12 new lows, with total volume of 29.68 million shares.
(Reporting by Shashank Nayar in Bengaluru;Editing by Vinay Dwivedi)
Canadian economy likely to slow, but COVID-19 threat to growth low
By Indradip Ghosh and Mumal Rathore
BENGALURU (Reuters) – The Canadian economy is likely to grow at a slower pace this quarter and next than previously expected, but tighter lockdown restrictions from another wave of coronavirus were unlikely to derail the economic recovery, a Reuters poll showed.
Restrictions have been renewed in some provinces as they struggle with a rapid spread of the virus, which has already infected over 1 million people in the country.
After an expected 5.6% growth in the first quarter, the economy was forecast to expand 3.6% this quarter, a sharp downgrade from 6.7% predicted in January.
It was then forecast to grow 6.0% in the third quarter and 5.5% in the fourth, compared with 6.8% and 5.0% forecast previously.
But over three-quarters of economists, or 16 of 21, in response to an additional question said tighter curbs from another COVID-19 wave were unlikely to derail the economic recovery, including one respondent who said "very unlikely".
"Canada is undergoing a third wave of the virus and while case loads are accelerating, the resiliency the economy has shown in the face of the second wave suggests it can ride out the third wave as well, without considerable economic consequences," said Sri Thanabalasingam, senior economist at TD Economics.
The April 12-16 poll of 40 economists forecast the commodity-driven economy would grow on average 5.8% this year, the fastest pace of annual expansion in 13 years and the highest prediction since polling began in April 2019.
For next year, the consensus was upgraded to 4.0% from 3.6% growth predicted in January.
What is likely to help is the promise of a fiscal package by Prime Minister Justin Trudeau late last year, which the Canadian government was expected to outline, at least partly, in its first federal budget in two years, on April 19.
When asked what impact that would have, over half, or 11 of 20 economists, said it would boost the economy significantly. Eight respondents said it would have little impact and one said it would have an adverse impact.
"The economic impact of the federal government's promised C$100 billion fiscal stimulus will depend most importantly on its make up," said Tony Stillo, director of Canada economics at Oxford Economics.
"A stimulus package that enhances the economy's potential could provide a material boost to growth without stoking price pressures."
All but two of 17 economists expected the Bank of Canada to announce a taper to the amount of its weekly bond purchases at its April 21 meeting. The consensus showed interest rates left unchanged at 0.25% until 2023 at least.
"The BoC is set to cut the pace of its asset purchases next week," noted Stephen Brown, senior Canada economist at Capital Economics.
"While it will also upgrade its GDP forecasts, we expect it to make an offsetting change to its estimate of the economy's potential, implying the Bank will not materially alter its assessment of when interest rates need to rise."
(Reporting and polling by Indradip Ghosh and Mumal Rathore; editing by Rahul Karunakar, Larry King)