Iranian-Canadians and supporters mourn at Vancouver Art Gallery plaza – Vancouver Sun
"Little did we know that our world would be turned upside down."
Several hundred Iranian-Canadians and their supporters mourned the 176 people killed on-board Flight PS 752 on Sunday afternoon.
As rain and snow fell, which was followed by sun, people gathered in the north plaza of the Vancouver Art Gallery. Speakers from different communities came together to remember loved ones, friends and community members who died when the Ukraine International Airlines flight was shot down in error by a missile Wednesday morning as it left Tehran destined for Kyiv, the first leg of a popular return flight for many Iranian-Canadians to Canada.
The dead included 57 Iranian-Canadians, 14 of whom were from B.C.
Organizer Nazanin Moghadami recalled how different things were less than two weeks ago when people gathered with friends and family preparing for the countdown to the new year.
"Little did we know that our world would be turned upside down," she told the crowd.
As she prepared for Sunday's gathering, she recalled sitting in a friend's guest room as everyone looked up recipes for halvah and how to prepare dates, traditional foods served at Iranian mourning ceremonies.
She said her friends tried to make sense of what happened by reading and citing numerous news stories, Tweets, books, studies and more.
"I close the door so I can prepare what I am going to talk about today and tears are just running down my face — a feeling that's not unfamiliar for a lot of you today," she said.
The past 10 days, she said, have been full of worry, stress, unease and restlessness. For many Iranian-Canadians it has been a period that has made them fearful and scared that Iran may experience yet another war.
"This horrendous act of terror led to a lot of sleepless nights for a lot of us and an obsessive refreshing of Twitter and news outlets and pages to just find out what is going on," Moghadami said.
She recounted a story of a friend who called in sick to work because she couldn't bear the idea of hearing more news. She also told of a friend's brother who had a panic attack as he scrambled to find a flight for his mother to bring her back to Canada from Iran after the assassination of Iranian Major-Gen. Qasem Soleimani.
"This is our reality," Moghadami said.
Natalie Jatskevich, president of the Ukrainian Canadian Congress B.C. Branch, said she was at the event to support the Iranian-Canadian community. The nine crew members killed aboard Flight PS 752 were Ukrainian.
"It's a tragedy we just could not stay away and wanted to support people who lost loved ones," she said earlier. "Most of all I hope that this event … will give a chance to share their pain, their grieving and find some comfort from each other and support."
Other speakers included Khelsilem Tl'akwasikan, a Squamish Nation councillor, who welcomed everyone in Squamish to the traditional territories of the Squamish, Musqueam and Tsleil-Waututh; Harjit Sajjan, federal defence minister; and Adrian Dix, provincial minister of health.
Secrecy surrounds major new public art piece in downtown Kelowna – The Daily Courier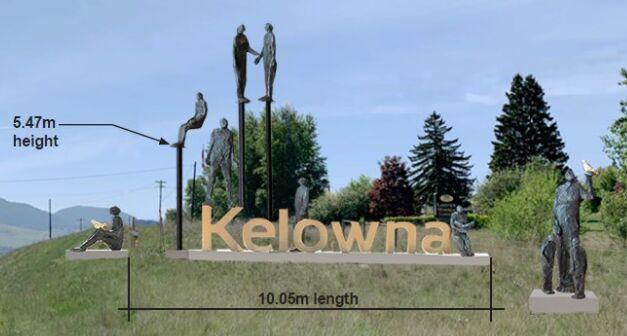 A major piece of public art once planned for Highway 97 North disappeared last year after criticism from city councillors.
One main complaint about the proposed $250,000 sculpture, which featured 10 human figures perched atop tall poles, was that its beauty and grace would be lost by being placed next to the busy highway with all its speeding cars.
Coun. Gail Given suggested last November that artist Ted Fullerton's proposed sculpture should have been located in pedestrian-friendly City Park where people could better relate to its scale and take pictures of themselves beside it.
Fast forward to Wednesday, when much secrecy was woven into a press release issued by the Kelowna Art Gallery about a "large new outdoor public art sculpture" about to be unveiled next to the building on Water Street.
"No announcements will have been made via any Gallery communications before the media preview event," art gallery spokesman Joshua Desnoyers wrote in an email invitation to attend the event.
Feverish media minds, or one of them anyway, wondered if the about-to-unveiled sculpture was a revival of Fullerton's ill-fated piece, which was conceived as a new 'Welcome to Kelowna' sign.
"I can confirm that it is not a sculpture by Ted Fullerton, although that is a very astute guess," Desnoyers wrote in an email.
So media, and all of Kelowna, will have to wait until 9:30 a.m. on Oct. 27 to get a look at the sculpture, described as having been made by "an established artist whose work has been shown throughout North America and who has received major commissions in Canada and the U.S."
Kelowna currently has more than 70 pieces of public art. The newest, whatever it is, will be located between two of the most photographed sculptures, 'Rhapsody', a representation of playful dolphins at the entrance to Waterfront Park, and 'Bear' , a representation of a bear, in Stuart Park.
The look of 'Bear' was such a closely guarded secret before its unveiling in 2010 that it was wrapped in plastic and a security guard was hired to watch over it the night before, lest anyone try to get a sneak peek.
Whatever happened to plans for a new Welcome to Kelowna sign on Highway 97 North also remains a bit of a mystery as calls to relevant authorities at City Hall were unreturned Wednesday.
Del Mar unveils five new pieces of public art – Del Mar Times
The city of Del Mar's temporary outdoor sculpture program has opened with five new works in downtown Del Mar, along a one-mile art stroll.
The Del Mar Foundation is providing approximately $15,000 in funding for the program over the first two years and the pieces will remain on display for up to 23 months.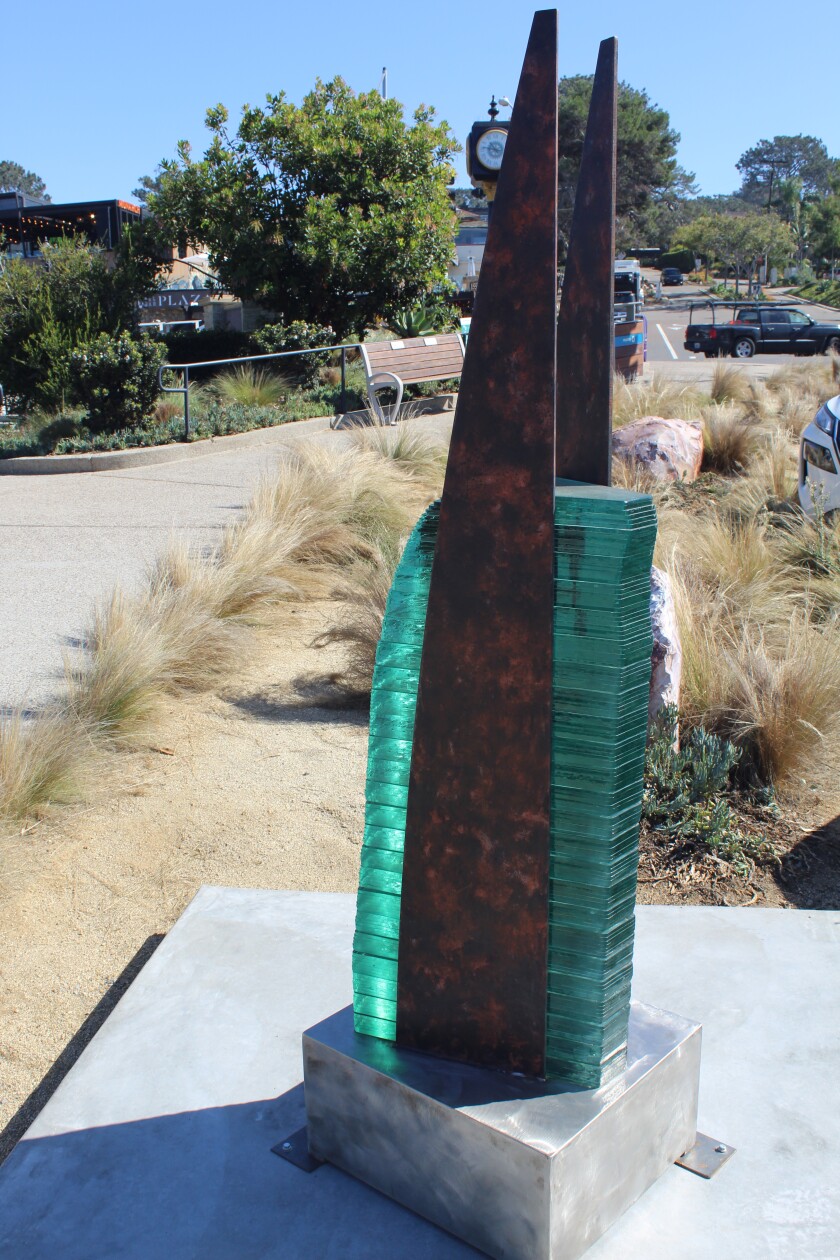 Take the Del Mar art walk:
Hanging Out by Maidy Morhous at 15th Street and Stratford Court
Birds Eye View by Petrello and Graham at the southeast corner of 14th Street and Camino del Mar
Terpsichore by David Beck Brown at the southeast corner of 12th Street and Camino del Mar
Moonshadow by Jeffery Laudenslager and Deanne Sabeck at the northeast corner of 9th Street and Camino del Mar
Pasaje a lo Infinito by Hugo Heredia at 5th Street and Camino del Mar
Before There Were Pockets: A Métis Youth Art Series – Métis Nation of Ontario – Metis Nation of Ontario
Before There Were Pockets
A Métis Youth Art Series
Part 1 – TOBACCO BAG
Thursday, November 18, 6-9 PM ET
Thursday, December 16, 6-9 PM ET
Part 2 – SASH BAG
Thursday, January 13, 6-9 PM ET
Thursday, February 10, 6-9 PM ET
Thursday, March 10, 6-9 PM ET
The Métis Nation of Ontario is excited to be hosting Before There Were Pockets- Métis Youth Arts Series this year across the province virtually through the Zoom platform.
This will be a once a month gathering of youth to learn a variety of traditional arts through the construction of a sash bag and tobacco bag. It is an informal opportunity for youth to connect with each other and work one-on-one with knowledge holders and staff. It will also be an opportunity to bring in special guests to speak about their artwork and journey. These workshops will allow participants to explore different skills and gain a deeper understanding of their Métis heritage. In order to receive the supplies for their session, all forms must be completed and participants are expected to attend all sessions. Access to technology and reliable internet is required to participate in the camp.
Space is limited, so please register and complete the application as soon as possible. Participants can access the Metis Nation of Ontario Application Portal at metisnation.smapply.io/.
Before there were pockets Poster ENG
Before there were pockets Poster FR