Iranian supertanker departing from Venezuela to transport heavy oil
An Iran-flagged supertanker on Saturday was about to set sail from  Venezuelan waters carrying 2 million barrels of heavy crude provided by state-run oil firm PDVSA, according to documents seen by Reuters and vessel tracking services.
The shipment is part of a deal agreed by PDVSA and its counterpart National Iranian Oil Company (NIOC) that exchanges Iranian condensate for Venezuela's Merey crude. The swaps aim to ease an acute shortage of diluents that has cut Venezuela's oil output and exports, Reuters reported last month https://www.reuters.com/business/energy/exclusive-under-us-sanctions-iran-venezuela-strike-oil-export-deal-sources-2021-09-25.
Dino I, a very large crude carrier (VLCC) owned and operated by NIOC's National Iranian Tanker Company (NITC), finished loading the Venezuelan oil at PDVSA's Jose port late Friday, according to the documents, a source and monitoring service TankerTrackers.com.
The bilateral oil trade could be a breach of U.S. sanctions on both nations, the U.S. Treasury Department told Reuters last month, citing government orders that establish the punitive measures.
The vessel arrived in Venezuela in September with its transponder turned off while carrying 2.1 million barrels of Iranian condensate. The light oil fed PDVSA's Petrolera Sinovensa, Petropiar and Petrocedeno projects in the country's Orinoco Belt.
A second condensate cargo of similar size is expected to be delivered to Venezuela in the coming weeks as part of the swap routine, which will be in effect for six months in its first phase.
Venezuela's oil ministry, PDVSA and NIOC did not reply to requests for comment.
PDVSA first launched the exchange last month by sending 1.9 million barrels of Merey heavy crude on the Iran-flagged supertanker Felicity.
The exchange provides the OPEC nation with a stable supply of blending material needed to convert its extra heavy oil into exportable grades. The pact also delivers heavy oil to Iran for blending, refining or marketing to Asian customers.
Iran and Venezuela have strengthened their cooperation in the last year even under the watchful gaze of the United States, which has in recent years reimposed sanctions on Iranian state entities, including NIOC, and in 2019 blacklisted PDVSA.
(Reporting by Marianna Parraga in Houston and Deisy Buitrago in Caracas; Editing by Gary McWilliams and Andrea Ricci)
Toshiba walked away from potential buyout talks and Brookfield offer -sources
Japan's Toshiba Corp walked away from potential private equity buyout offers at a substantial premium, as well as advanced talks for a minority stake from Canada's Brookfield, according to three people familiar with the matter.
Toshiba's decision to not pursue either course – some details of which have not been previously reported – and instead focus on a plan to split itself in three, has widened the gulf between the conglomerate and a number of its hedge fund investors, according to the people, all of whom declined to be identified because of the sensitivity of the issue.
At least one private equity firm told the Toshiba committee tasked with its strategic review that a deal to take it private could be done at 6,000 yen a share or more, according to two people briefed on the review process.
Another private equity firm told the committee a deal could get done at around 5,000 yen a share, according to one of the people briefed on the review and another person.
A price of 6,000 yen would value Toshiba at around 2.6 trillion yen ($23 billion) and represent a 32% premium to its average price over the past 200 days, according to Refinitiv data.
"We are communicating with shareholders explaining the separation plan we announced on Nov. 12 as well as listening to their opinions," Toshiba said in a statement to Reuters. "We will continue our communications with various stakeholders."
Some shareholders have also taken issue with Toshiba's decision not to pursue talks with Canada's Brookfield Asset Management, one of the private equity firms, on a potential minority investment, according to several sources.
That could have seen Brookfield, which successfully turned around the conglomerate's bankrupt nuclear power business Westinghouse, take a minority stake and help overhaul the business, sources said.
Brookfield did not immediate respond to a request for comment.
(Reporting by Makiko Yamazaki; Editing by David Dolan and Lincoln Feast.)
The crypto market had a rough weekend –bitcoin falls through $50,000 – ForexLive
Cryptocurrencies were sold hard this weekend in a painful crash on most fronts.
Bitcoin dropped 14% on the weekend, hitting $42K early Saturday in a $9000 drop inside of an hour. It's now trading at $48,338. It touched the lowest since October 4.
The low coincided with the support from the September bottom, leading to technical buying into the dip. The bottom lasted mere minutes before a quick rebound above $46,000.
One person who bought the dip was El Salvador President Nayib Bukele who tweeted that the country bought another 150 coins at an average of $48,670.
El Salvador just bought the dip! 🇸🇻

150 coins at an average USD price of ~$48,670 🥳#Bitcoin🎄

— Nayib Bukele 🇸🇻 (@nayibbukele) December 4, 2021
The weekend drop touch virtually all major cryptocurrencies but some were hit harder than others. Ether is trading at $4132, which is down from $4600 at Thursday's high but above the November lows near $3900.
Elsewhere there have been deeper falls with cardano down to $1.35 from a high of $1.75 last week. Solana is at $189 compared to the high last week of $242.
The drop underscores the risks to crypto around the broad risk trade. Early in the pandemic, bitcoin crumbled to $4000 before regaining its form and climbing to a record $68,900 in November.
The entire crypto market continues to benefit from more-widespread adoption and institutional interest. Most-recently, the approval of a number of ETFs has added new layers of buying along with ease of access. The bad news is that recent drops take much of the recent retail entrants out of the money. The BITO ETF debuted near $31 and closed Friday at $33.89. Baring a miracle turnaround, it will open much lower to start the new week.
As traders in ETFs sell when stock markets reopen, it could add to downward pressure on crypto on Monday.
Bitcoin slumps nearly 20%; El Salvador buys the dip again – MarketWatch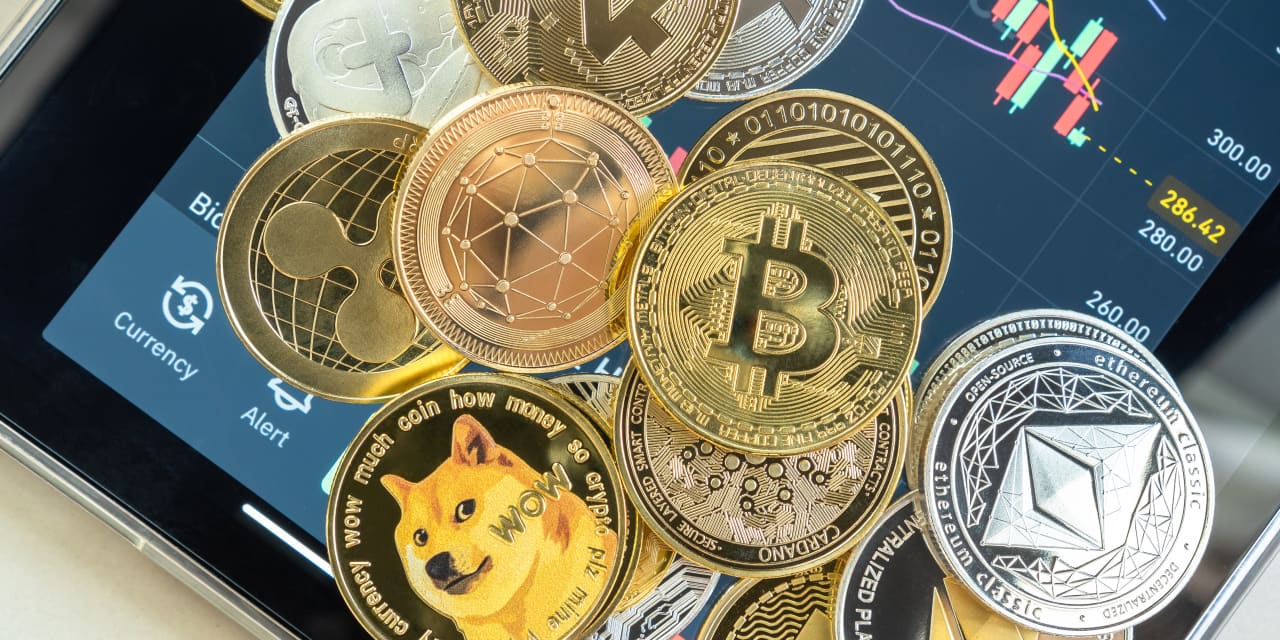 Bitcoin and other cryptocurrencies fell sharply Saturday, another sign that investors were pulling back from riskier bets after this week's stock-market selloff.
Bitcoin
BTCUSD,
-1.75%,
the largest cryptocurrency by market value, was down 18% at $46,571.84 at about 7 a.m. ET, according to data from CoinDesk. It temporarily dipped to $42,000 before bouncing back. Ether
ETHUSD,
-0.64%,
the second-largest cryptocurrency, was down close to 16%.
The declines were widespread across the crypto universe. Other widely traded cryptocurrencies including Solana, Dogecoin
DOGEUSD,
-7.71%
and Shiba Inu
SHIBUSD,
-6.94
coin lost more than a fifth of their value.
Disquiet in the stock market over the new Omicron variant of Covid-19 and the Federal Reserve's response to inflation might have played a role.
Another possible factor accelerating the bitcoin selloff was the unwinding of heavily leveraged crypto derivatives, said Noelle Acheson, head of market insights at cryptolender Genesis Global Trading. She pointed to a large sell order that might have triggered margin calls and liquidations for investors.
The price of bitcoin seesawed later Saturday after El Salvador President Nayib Bukele, whose country adopted bitcoin as a national currency in September, said in a Twitter post that the country had bought 150 coins for an average of $48,670 each. "El Salvador just bought the dip!" he said. He later wrote that the country had "Missed the f***ing bottom by 7 minutes," followed by a laughing emoji.
It isn't the first time El Salvador has jumped into the market after a big price fall. The interventions have turned the tiny impoverished nation into an informal central bank that props up the digital currency, similar to the way mainstream central banks intervene in foreign-exchange markets to keep currencies stable.
The week was a roller-coaster ride for the stock market, with investors uncertain about the course of the pandemic and inflation. The Omicron variant has triggered new restrictions world-wide, just as travel was starting to bounce back.
Fears of another economic slowdown mixed with heightened worry by the Federal Reserve over inflation. Earlier this week, Chairman Jerome Powell said the central bank was prepared to pull back its easy-money policies quicker than previously expected, opening the door to raising interest rates in the first half of next year.
Higher rates make holding speculative assets such as bitcoin less attractive. When the Federal Reserve raised rates in 2017 and 2018, bitcoin prices fell dramatically, referred to among crypto aficionados as a bitcoin winter. The coin took off again during the pandemic. Bitcoin hit an all-time high on Nov. 9 of $67,802.