Is Clubhouse Creating An Equitable Environment For All Its Users? – Forbes
The hottest new platform on the block is the voice-based application Clubhouse. Weeks ago, it was announced that the invite-only app was estimated to have a $1 billion valuation. Clubhouse, which is currently only available for iOS users, is unique in that it allows users to have direct access to influencers, public figures, celebrities and even billionaires in a way that is unlike any other social media platform currently out. The app launched in March, which was an ideal time with so many people home due to the pandemic. With the excitement that has accompanied the new app, some worry that Clubhouse, which is still technically in beta mode, may be stifling voices that need to be heard. "I started noticing that people were getting censored," shares MarQuis Trill, who is an entrepreneur, investor and business consultant who has amassed nearly 30,000 followers on the app. Trill has over 12 million followers across all his social media accounts and has collaborated with tech behemoths like Facebook and Google. Trill sat down with Forbes to share his experiences on Clubhouse and offers suggestions for how the app can create a more equitable and enjoyable environment for all users. "So…you have the original early adopters. You have the people that are young, they just utilizing the app for fun…then you have the multi-millionaires, the people that made millions of dollars from doing e-funnels, and websites and selling .coms…then you're going to have the celebrities that are going to come. They haven't even really got here yet. You have Tiffany Haddish, Kevin Hart, but they make small appearances…from my experiences, there's a lot of conversations between everyone trying to fight for the audience. And [there's] not enough audience on the app, because Clubhouse curates everything. And what I mean by curate is that they put you in a category of what you're speaking about and your titles, and who follows you, and what's your network."
Clubhouse users are encouraged to follow individuals that speak on topics that resonate with them. At any given time during the day, there are rooms on a range of topics from marriage and relationship advice and entrepreneurship, to race relations, holistic health and everything in between. Many users found the app refreshing because of the ability to speak freely about different subjects, especially those deemed more controversial, but the question still remains whether users are actually able to speak freely on the app. "They're monitoring what people are saying and how they're saying things. I know a few people that got their accounts suspended," Trill explains. A constant struggle that the app has faced is ensuring that all users feel safe on the platform. Some have complained about the app's moderation tools, which may not allow for fully controlling large conversations. Claims that the app allows anti-Semitism and racism have found their way into the public conversation. What's noteworthy about Clubhouse is that amidst claims of racism, Black users have curated a distinct culture on the app. "Majority of the people that use the app are Black," Trill indicates. "I think there's about 60%-65% of the users [that] are Black."
Though the app has a lot of potential and could be the next big thing, more must be done to ensure the safety of its users, especially those from marginalized communities. There must also be safeguards to make sure that users can speak freely about and moderate contentious topics. The app makes it too easy to weaponize the block button and use it en masse against any individual that a person doesn't like. "Well, there's definitely censorship, and they're a brand-new app," says Trill. "They haven't been around long. They grew too fast. I'm sure they didn't have more than 15 employees. You know? I got my account deleted…we were curating a room to teach people how to moderate…so, I was the example, but since you have an audience of new people coming in and out of the room, they didn't know that I was the actual creator of the club that they were in and they were watching. So, they reported me…and then within two, three hours, my account was banned… I sent out numerous emails to the support team…never got anything back, even to this day. I'm back on the app due to my large Twitter following and [my followers] tweeting [the founders] over a thousand times…I got my account back that same day. But to the smaller users and the people that haven't got an answer back, that had been waiting for weeks…that is a problem because…we don't know what we can and what we can't say on the application."
When reflecting on the success of the app thus far, Trill goes on to say "Clubhouse was built [by] Black people at the end of the day. When the tech Silicon Valley people were on it, it was not popular. When Oprah was on it, and Gary Vee or whoever, Mark Zuckerberg, whoever was on it, it wasn't popular. Didn't get popular until the music industry jumped on board, didn't get popular until the Black community got on the app. Once we got on the app, Black Twitter got ahold of it, and then it just went viral from there…so the Clubhouse app is built on the backs of Black people. We deserve some seat at the table, at the end of the day. And I can't speak too much on what they're doing, because they might be working with some Black people behind the scenes, but we just don't know…but it's like, they're not working with the right ones because we would know…it would impact the culture and someone could speak about it. Somebody would be on stage in the town halls—we would know. And you need to make that known…it doesn't need to be a secret. You need to let the community know…let the culture know that you're working with people like us so we can feel safe on the platform. We can feel like we're not getting used, or we can feel like somebody is in there that speaks our language. They need to curate the culture while they have it…they need to provide some type of security and some safeness so we can be able to use the app, and be comfortable using the app."
This interview has been lightly edited for brevity and clarity.
Apple's Best iPhone Innovation Is About To Be Radically Upgraded, Report Claims – Forbes
A new rumor claims that a new MagSafe accessory is coming for the iPhone, and it'll add a whole new feature: reverse wireless charging.
In 2020, Apple revived its MagSafe branding. It now refers to the ring of magnets that sits in the back of the iPhone 12 range of phones, and on a complementary wireless charging pad.
If you've ever used wireless charging, you'll know that even a slight mis-alignment of phone to pad when you go to bed, say, can prevent charging from taking place, making for a disappointing start to the next morning.
MagSafe brilliantly solves that problem by clamping the iPhone perfectly in place.
Add the same ring of magnets to an iPhone case and you can even ensure a much easier fitting and removal procedure. There have already been other accessories, like the controversial iPhone leather wallet which clips onto the back of the phone. It raised eyebrows for not attaching firmly enough.
Now, though, it seems something even better is coming, according to Jon Prosser from Front Page Tech. In the Genius Bar podcast this week, Prosser claimed that Apple is working on a wireless charging pack which will clip on to the back of the iPhone.
Actually, there are two being worked on, it seems, which will attach magnetically to the iPhone and even charge it through its case, though it's not clear whether Apple will release both.
The pricier model of the two battery packs will also include reverse charging.
Reverse charging usually refers to a phone, for example, which can not only take in a charge but emit one as well, so you could generously share your phone's charge with your neighbor's phone if they're running on empty.
In this case, it would mean that the wireless charging capability could work from both sides of the battery, so users could place ti on the iPhone and the current would charge the phone. But additionally, placing AirPods Pro, for instance, on top of the pack, would mean the plucky battery pack would charge phone and the earbuds simultaneously. This would be very cool.
Of course, even that's not the whole story of how MagSafe is developing for Apple.
Until last year, MagSafe was a quite different Mac innovation. Nobody had thought of this clever way to prevent your laptop from flying off the desk when someone tripped on the cable until Apple came up with a magnetic connector that harmlessly flew out leaving the MacBook untouched.
That connector was replaced with a USB-C plug on more recent Mac laptops but a recent rumor suggests that MagSafe is coming back for laptops, too. Perhaps this also means that the next Mac laptops will be lighter than ever, to make the most of the magnetic contact.
---
Click here to follow me on Facebook or Instagram: davidphelantech and Twitter: @davidphelan2009
OPPO F19 Pro and F19 Pro+ 5G reportedly launching in India next week – XDA Developers
All eyes are set on OPPO's upcoming Find X3 lineup, which is launching on March 11. But before that, the Chinese company is planning to warm up for the big day by launching two new mid-range smartphones in India: the OPPO F19 Pro and F19 Pro+ 5G. Ahead of their rumored launch next week, both devices have been leaked in their full glory.
The leak comes from Ishan Agarwal, who has revealed key specifications of the OPPO F19 Pro and F19 Pro+ 5G along with their official press renders. As per the leak, OPPO is set to unveil the lineup on March 8. Both phones are said to be pretty much identical in most regards but differ in areas such as chipset and charging speeds.
Both the F19 Pro and F19 Pro+ 5G will sport a flat 6.43-inch Super AMOLED punch-hole display on the front with a rectangular module housing a quad-camera array on the back. On the inside, the F19 Pro will reportedly pack a MediaTek Helio P95 chipset, backed by 8GB RAM and either 128GB or 256GB flash storage. On the camera side, the F19 Pro has a 48MP primary shooter, an 8MP ultra-wide-angle camera, and 2MP depth and macro lenses. It's unclear if the Plus variant will offer different camera hardware or share this aspect with the regular model. But in any case, the 16MP shooter is said to be identical on both models.
Meanwhile, the OPPO F19 Pro+ 5G will be fueled by a more powerful MediaTek Dimensity 800U chipset, paired with 8GB of RAM and 128GB/256 storage. OPPO will be the second OEM to launch a MediaTek Dimensity-powered smartphone in India, the first being Realme with its Realme X7.
In terms of battery, the F19 Pro will pack a 4,310mAh battery with 30W VOOC Flash Charge support. Although the Plus variant's battery capacity is unknown, the leak says it will come with a 50W fast charger. Moreover, both phones will come equipped with an in-display fingerprints scanner, a 3.5mm audio jack, a USB Type C port, and Android 11 with ColorOS 11.1 on top. Finally, the OPPO F19 Pro will come in Black, Silver, and Purple colors, while the F19 Pro+ 5G will be offered in Black and Silver options.
iQOO 7 retains first place in AnTuTu's rankings for February, Snapdragon 870 makes first appearance – GSMArena.com news – GSMArena.com
The iQOO 7 managed to fend off new challengers for the performance crown in AnTuTu's rankings for February 2021. The Snapdragon 888-powered flagship retains first place, despite a slight decline in average points.
The vivo X60 Pro+ mounted a strong challenge and lost by the slimmest of margins – just 14 points. As averages shift, we wouldn't be surprised to see the X60 on top next month. Note that AnTuTu rankings are based on the average of multiple results rather than the best individual score. As more sample points are gathered the average shifts slightly.
Another newcomer, the Redmi K40 Pro, got into third place, just ahead of its sibling, the Xiaomi Mi 11. If you've been keeping score, that's four Snapdragon 888 phones at the front. And it's all Snapdragon down the list with the sole exception of the Kirin 9000-powered Huawei Mate 40 Pro in 5th.
One chipset we've been curious to see is the Snapdragon 870 – a souped up 865. The Redmi K40 rode the 870 to seventh place, ahead of older 865 models, but behind the new 888 ones. This is pretty much where this chipset wants to be, an option for the not quite top of the line flagships.
Moving on to the mid-ranger charts, the Redmi 10X 5G and Redmi 10X Pro 5G retain their leading positions with the vanilla model extending its lead over the Pro. Third place was won by the new vivo S7t. All phones in the Top 3 are powered by the Dimensity 820.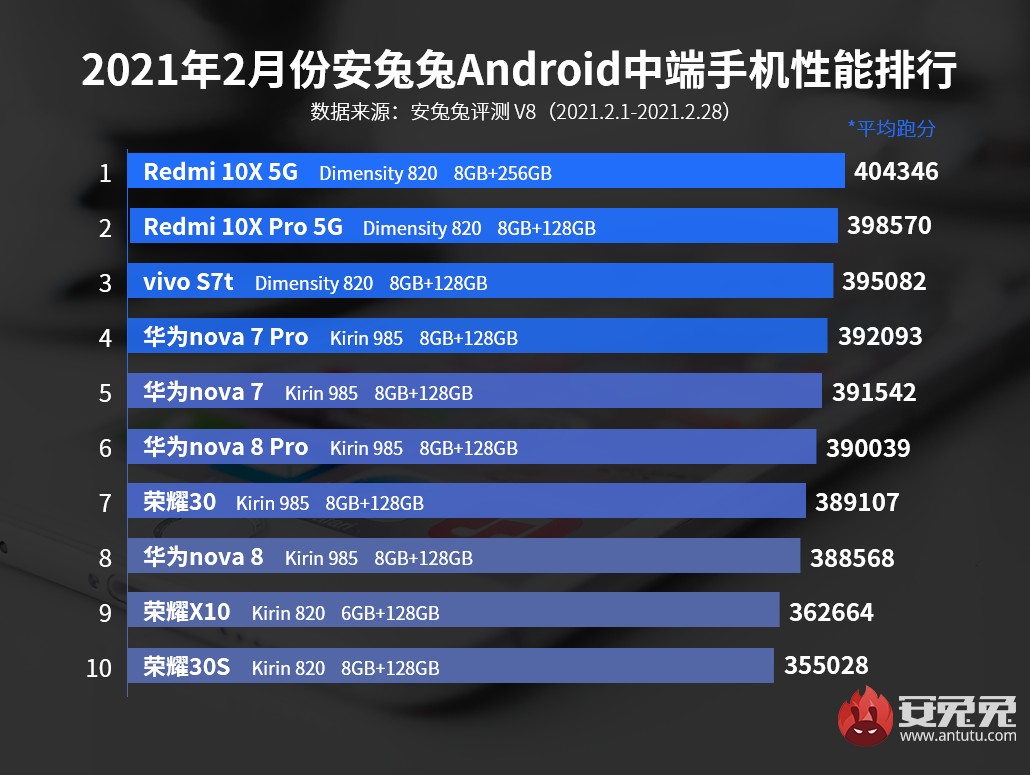 This pushes the Huawei nova 7 5G and nova 7 Pro 5G down a place (the Pro managed to edge out its vanilla sibling, it was behind it last month). Both novas are examples of Kirin 985-powered phones. In fact, the 985 powers the phones down to 8th place where another Kirin shows up in a couple of Honor phones.