Is politics getting in the way of rebuilding a sustainable fishery in Newfoundland? – The Globe and Mail
They're called the sentinel fisheries – a fleet of boats that probe the ocean off Newfoundland and Labrador looking for signs of life from the province's once-iconic cod-fish stocks. And in recent years, they've been returning to the wharf with troubling news.
The sentinel program, created after the cod moratorium in 1992 to monitor fish populations, is run exclusively by the Fish Food & Allied Workers (FFAW-Unifor), the powerful union that represents around 15,000 fishermen, fish plant employees and other workers in the province. The federal department of Fisheries and Oceans Canada (DFO) relies on data from the sentinel fishery to help assess fish stocks, and has paid the union millions to run the program.
The sentinel fishery has been issuing warnings about northern cod since 2014, when the population declined, and it has since plateaued. Sentinel fishermen are reporting more empty nets, while the overall health of the fish is poor, and fewer cod are surviving from juvenile stage to adulthood. Many of those that are caught appear to be starving to death – all bad signs for a fish that some still think could help rebuild Newfoundland's economy.
A historic deal closes and new chapter begins for Indigenous people in Atlantic Canada's fishery
Here's how Canadian leadership can turn the tide on overfishing
The DFO says it's concerned about Newfoundland's cod stocks, and considers them to be in the "critical zone," or well below levels seen in the 1980s, when it was already heavily overfished. Environmental groups argue the current harvest levels are unsustainably high, and risk doing further harm to a stock trying to rebuild.
Yet despite running the sentinel program that highlights the problems with cod, the FFAW is advocating for expanding the commercial fishery and increasing the amount fishermen are allowed to catch. Those lobbying efforts put the union in an unusual spot – playing a critical role in conservation work to monitor fish stocks, while also trying to expand the cod fishery against the recommendations of conservationists.
Nearly 30 years after the collapse of the northern cod fishery, Fisheries and Oceans Canada finally has a road map for rebuilding the critically depleted species. But there's a fierce debate in Newfoundland over who has the best interest of the cod at heart.
The union disagrees that cod stocks are in distress: It says fish populations will fluctuate from year to year. It argues other indicators show the stock is healthy, and says Ottawa's harvesting limits – which the union says comprise between two and three per cent of the total spawning mass – are killing any chance of reviving coastal communities.
"It's extremely restricted, more than any other fishery in the country. The levels of removal are miniscule," said Keith Sullivan, FFAW President. "For anyone to suggest this is an alarming amount of removal, they're not paying any real attention to the facts."
The union blames foreign overfishing in neighbouring waters and an overpopulation of cod-eating seals for much of the challenges with the stock's recovery. But others accuse the FFAW of putting its own agenda ahead of what's best for fishing communities in Newfoundland and Labrador.
"The FFAW and the DFO are cheating the fishermen out of a resource that belongs to the people of Newfoundland," said Jason Bateman, a former enforcement officer with Fisheries and Oceans Canada.
Mr. Bateman understands the tension between conservation and fishery jobs in his province. He grew up in Port aux Basques, a fishing community on the southwestern tip of Newfoundland, and was a fisherman before he joined the federal department. As a DFO enforcement officer between 2007 and 2019, his job was to keep fishermen safe, and help protect the resource they depend on.
But too many times, he says, the lines were blurred between the DFO and the union, and he says the union exerts enormous influence within the federal department. The FFAW plays a significant role in running fisheries research programs for the government, including dockside monitoring and stock management plans, while profiting from the sale of fish caught in the sentinel fisheries and charging administrative fees to fishermen.
Mr. Bateman says he witnessed this conflict first-hand, when he investigated a boat that had exclusive rights to harvest crab as part of a multimillion-dollar offshore quota held then by a company called Offshore Fish Resource Harvesters. The vessel, the Katrina Charlene, was referred to as the "union boat" among DFO officers and fishermen because of the close connection between the company that ran it and the FFAW, he said.
In 2011, the boat was caught illegally fishing undersized crab, and its captain – son of one-time FFAW executive Max Short – was fined $25,000. But Mr. Bateman says his supervisors chose not to publicize the conviction, contrary to department convention – proof in his mind DFO was hesitant to embarrass the FFAW.
"I wanted the public to know there was no favouritism, and we treated everyone the same. But they hid it. They swept it all under the rug," said Mr. Bateman, a Canadian Forces veteran. "It should have been a huge deal. It was a big violation."
The DFO disputes the suggestion the FFAW influences its policy, and points out the union is often unhappy with the harvesting limits it imposes on fishermen. It says it's trying to get the fish to a healthy, productive and sustainable level.
"We must continue to ensure we balance conservation and protection with fostering economically prosperous coastal communities," said Kevin Guest, a department spokesperson. "It is understandable that with so many differing perspectives, not all our decisions are supported by all interests."
Oceana Canada, an international advocacy group dedicated to ocean conservation, says the DFO appears to be trying to appease industry groups instead of outlining concrete steps to rebuild the cod fishery from its collapsed state. And it's ignoring warning signs about the decline in capelin, a key food for northern cod.
In 2019, despite evidence the stock was in crisis, DFO increased the cod quota to 12,350 tonnes – a 30 per cent increase from 2018. It held the quota there for 2020. Some say that's proof of a growing gap between policies intended to help protect fish stocks, and the reality on the water.
"There's no question Fisheries and Oceans is under tremendous pressure on every decision they make in the fishery," said Robert Rangeley, a Halifax-based marine biologist and director of science for Oceana Canada. "And there's probably no louder industry voice in the room in Newfoundland than the fisheries union."
Dr. Rangeley argues the focus should be on quality over quantity, and diversity in the fishery instead of focusing on one iconic fish – part of the reason codfish became overfished in previous decades. The cost of that approach was the loss of more than 30,000 jobs in Newfoundland and an emptying-out of coastal communities that continues to this day, he said.
Ryan Cleary, a former member of Parliament for St. John's-Mount Pearl and an outspoken critic of the FFAW, said the union has found a way to prosper since the collapse of cod by integrating itself into fisheries management, acting almost as a regulator – while becoming a vocal industry voice that contradicts science.
Mr. Cleary, who spent years trying to create an independent fishermen's association that would challenge the FFAW's dominance in Newfoundland, says the FFAW's powerful position in the sector creates many conflicts of interest and problems for conservation.
The FFAW, however, calls the plan to rebuild the cod fishery "unnecessarily restrictive" and a major setback for the development of a sustainable cod fishing sector in rural Newfoundland and Labrador. The union argues fishermen have anecdotal perspectives on the health of cod stocks that need to be factored into harvesting limits.
"We are trying to rebuild an industry," Mr. Sullivan said. "We have long argued for a measured, responsible approach to cod quotas, whereby the harvest rate increases as the stock increases. This [DFO] plan does not allow for meaningful development of our cod fishery. It actually deters investment by harvesters and processors into our cod fishery and our rural communities."
Know what is happening in the halls of power with the day's top political headlines and commentary as selected by Globe editors (subscribers only). Sign up today.
How rape allegations have rocked Australian politics – BBC News
Just a fortnight ago, Australia was shocked by a former political adviser's allegations that she had been raped in the nation's Parliament House.
Brittany Higgins said she'd been attacked by a male colleague – also an adviser for the ruling Liberal Party – in a government minister's office in 2019.
Her story has triggered a flood of other women to come forward with their own experiences of alleged sexual assault and harassment in Australian politics.
The most explosive of these – a 1988 rape allegation – now hangs over an unidentified cabinet minister. The minister denies rape, Prime Minister Scott Morrison said on Monday.
A rape accusation against an opposition MP has also been referred to police.
As the allegations pile up, Mr Morrison's government in particular is facing a public clamour for answers. Here's how events have unfolded so far.
Brittany Higgins speaks out
Ms Higgins said she was 24 and weeks into a new "dream job" when she was taken to parliament by a senior colleague after a night out in March 2019.
Heavily drunk, she had fallen asleep in the minister's office before waking, she said, to find the man sexually assaulting her.
The man was sacked in the days following, not for the alleged assault but for breaching office security with the late-night visit.
Meanwhile Ms Higgins told her boss – then Defence Industry Minister Linda Reynolds – that she had been sexually assaulted. The meeting occurred in the same room where Ms Higgins alleged the attack took place.
Ms Reynolds has said she offered support to her aide to go to the police. Ms Higgins said she felt pressure that doing so would lead to her losing her job.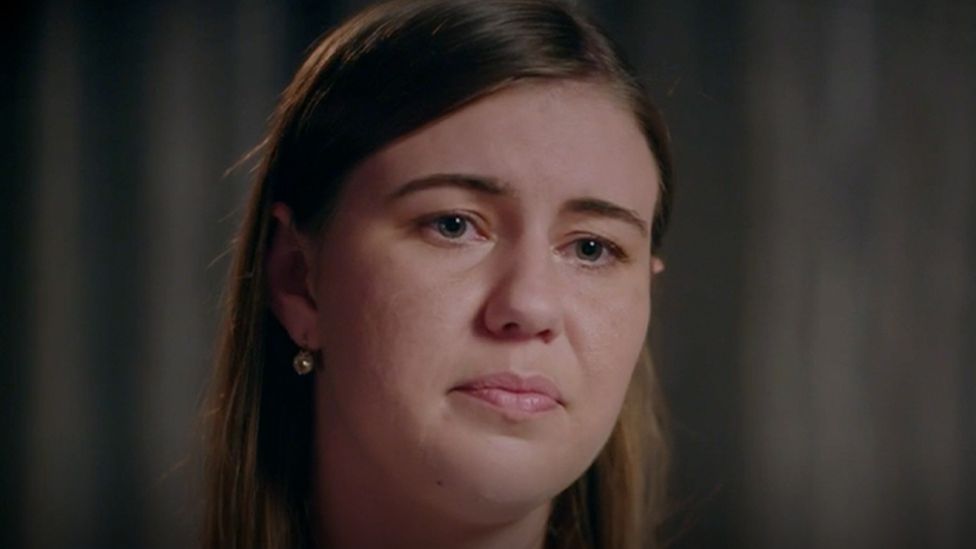 Ms Higgins said she had since felt "silenced" by the Liberal Party, but decided to speak out after seeing a photo of Mr Morrison in January which showed him celebrating the activism of a sexual assault survivor.
"He's standing next to a woman who has campaigned [for survivors' rights]… and yet in my mind his government was complicit in silencing me. It was a betrayal. It was a lie," she told news.com.au.
PM criticised for response
A day after Ms Higgins came forward, Mr Morrison apologised for the way her complaint had been treated by the government two years ago. He also promised inquiries into parliament's work culture and support for political staff.
However, he sparked a public backlash when he appeared to suggest that he'd understood Ms Higgins' experience better after his wife urged him to think of his two daughters.
"She said to me: 'You have to think about this as a father. What would you want to happen if it were our girls?'" he told reporters.
Women in particular condemned Mr Morrison's framing of the issue. Did he need to think of Ms Higgins as someone's daughter, they asked, before he could empathise or take her account seriously?
Critics also used the comment to argue that Mr Morrison wasn't tackling the issue seriously enough.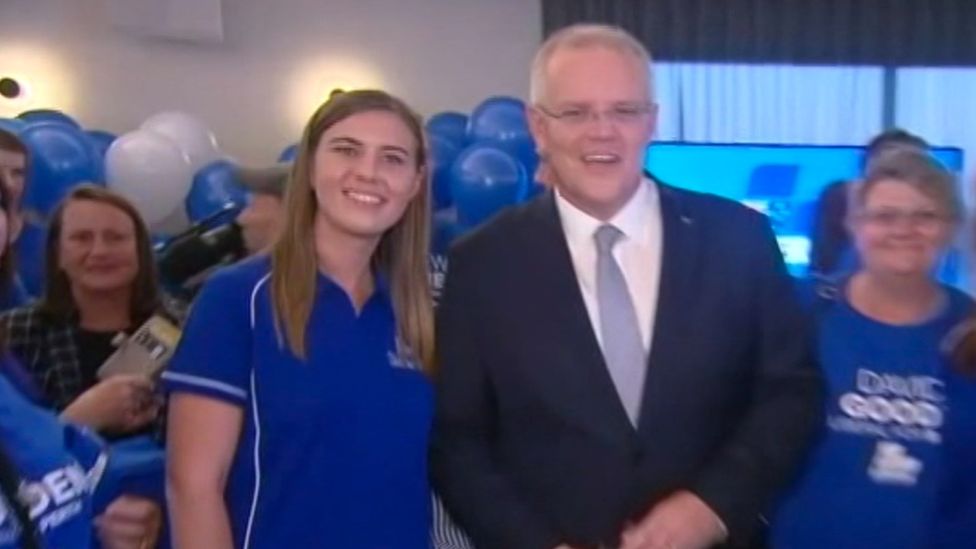 Mr Morrison and his ministers were also accused of skirting questions about who within the government knew what and when, and why they didn't do more.
It has since emerged that several people in Parliament House – including at least three cabinet ministers – knew about the alleged crime.
Mr Morrison maintains he found out about the allegation at the same time as the rest of the nation.
But when he disputed a suggestion by Ms Higgins that one of his advisers had been "checking up" on her – doubting her recollection in that instance – she said: "The continued victim-blaming rhetoric by the prime minister is very distressing to me and countless other survivors."
Other women come forward
Since Ms Higgins' spoke out, four other women have come forward to local media to accuse the same man of sexual assault or harassment.
One woman said she'd been raped by the man in 2020 after drinks and dinner with him. "If this had been properly dealt with by the government in 2019 this would not have happened to me," she told The Australian.
Another woman, an election volunteer, said she was also raped by the man after a night out in 2017.
A third woman said the man had stroked her thigh during a group dinner with colleagues in 2017. She made a report to police after seeing Ms Higgins speak out, the ABC reported.
Last Wednesday, a fourth woman told news.com.au she had felt pressured by the man to have sex in 2014.
Then late last week, amid suggestions that some lawmakers had been reticent to report Ms Higgins' allegations earlier, the Australian Federal Police (AFP) issued a statement to lawmakers. It reminded them to report any criminal allegations they had come across.
Cabinet minister accused of rape
On Friday, two opposition lawmakers – Labor Senator Penny Wong and Greens Senator Sarah Hanson-Young – referred a letter they had received to the AFP.
It alleged that a man who was now a cabinet minister had raped a 16-year-old girl in 1988.
The identity of the minister and the alleged victim have not been reported by Australian media. The woman took her own life last June, aged 49.
Earlier last year, the woman reported the allegation to New South Wales Police, but an investigation was suspended after she died.
Last week, friends of the woman wrote a letter to Mr Morrison and other lawmakers, urging him to establish an independent investigation.
Mr Morrison has declined to do so, insisting that the matter is one for police.
"The individual involved here has vigorously rejected these allegations," he told reporters on Monday.
"And so, it's a matter for the police," he said, adding that "there was nothing immediate considered that was necessary for me to take any action on".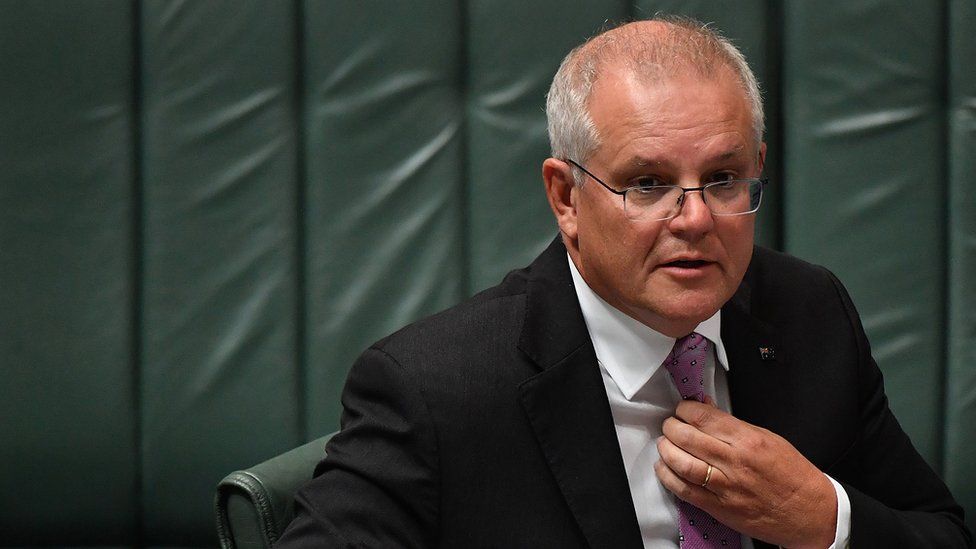 But the letter argues that because the alleged victim is dead, police are unlikely to pursue their own investigation because such cases typically require testimony from a complainant.
"Failure to take parliamentary action because the New South Wales Police cannot take criminal action would feel like a wilful blindness," the letter said.
On Sunday, a government lawmaker referred a rape allegation against a Labor MP to police. No further information about that allegation is yet known.
Public pressure
The allegations of the past fortnight have reignited wider questions about Australian political culture, including long-held debates about sexism and misogyny.
One of the women who alleges she was raped by the political adviser said she had come forward, in part, to "help shine a light on this awful culture".
Last week, Mr Morrison said: "I think we've got a problem in the parliament and the workplace culture that we have to work on."
But calls for more action from the government continue to grow.
Critics argue, for instance, that a cabinet minister accused of a serious crime should be stood aside pending an investigation – a suggestion the government has rejected.
Meanwhile, Ms Higgins says she has now filed a police complaint and is "determined to drive significant reform" in how parliament handles cases such as hers.
"I believe that getting to the bottom of what happened to me and how the system failed me is critical to creating a new framework," she said.
Armenia's political tensions rise amid rival rallies – CTV News
YEREVAN, ARMENIA —
Political tensions in Armenia heightened Monday, with supporters of the embattled prime minister and the opposition each holding massive rallies at separate sites in the capital.
Prime Minister Nikol Pashinyan has faced opposition demands to resign since he signed a peace deal in November that ended six weeks of intense fighting with Azerbaijan over the Nagorno-Karabakh region. The Russia-brokered agreement saw Azerbaijan reclaim control over large parts of Nagorno-Karabakh and surrounding areas that had been held by Armenian forces for more than a quarter-century.
Opposition protests seeking Pashinyan's ouster abated during the winter but intensified last week amid a rift between him and the country's military leaders.
The spat was sparked by Pashinyan firing a deputy chief of the military's General Staff who had laughed off the prime minister's claim that only 10% of Russia-supplied Iskander missiles that Armenia used in the conflict exploded on impact.
The General Staff then demanded Pashinyan's resignation, and he responded by dismissing the General Staff chief, Col. Gen. Onik Gasparyan. The dismissal has yet to be approved by Armenia's largely ceremonial president, Armen Sarkissian, who sent it back to Pashinyan, saying the move was unconstitutional.
Pashinyan quickly resubmitted the demand for the general's ouster, and the prime minister's allies warned that the president could be impeached if he fails to endorse the move.
Sarkissian's office responded with a strongly worded statement condemning "inadmissible speculation" about his move and emphasizing that his decision was "unbiased and driven exclusively by national interests."
Addressing a rally of thousands of his supporters, Pashinyan voiced hope the president would endorse the dismissal of the General Staff's chief for meddling in politics.
He blamed the country's former leader who lost power in the 2018 "velvet revolution" for influencing the military brass and trying to "set the army against the legitimately elected authorities and the people."
The prime minister also suggested calling a constitutional referendum in October to ask voters about expanding presidential powers to avoid future crises, although he didn't spell out specific changes.
After an hour-long speech, Pashinyan led his supporters on a march across Yerevan under the heavy escort of police and security officers.
Amid the escalating tensions earlier in the day, a group of protesters broke into a government building in central Yerevan to press for Pashinyan's resignation, but they left shortly afterward without violence. Later, thousands of opposition supporters attended a demonstration demanding that the prime minister resign.
Pashinyan, a 45-year-old former journalist who came to power after leading large street protests in 2018 that ousted his predecessor, still enjoys broad support despite the country's humiliating defeat in Nagorno-Karabakh and the opposition calls for his resignation.
The prime minister has defended the peace deal as a painful but necessary move to prevent Azerbaijan from overrunning the entire Nagorno-Karabakh region, which lies within Azerbaijan but was under the control of ethnic Armenian forces backed by Armenia since a separatist war there ended in 1994. The fighting with Azerbaijan that erupted in late September and lasted 44 days has left more than 6,000 people dead. Russia has deployed about 2,000 peacekeepers to monitor the Nov. 10 peace deal.
Armenia has relied on Moscow's financial and military support and hosts a Russian military base — ties that will keep the two nations closely allied regardless of the outcome of the political infighting.
Last week, the Russian Defence Ministry rebuked the Armenian leader for criticism of the Iskander missile, a state-of-the-art weapon touted by the military for its accuracy. The Russian military said it was "bewildered" to hear Pashinyan's claim because Armenia hadn't used an Iskander missile in the conflict.
In a bid to repair the damage to Armenia's ties with Moscow, Pashinyan rescinded his claim Monday, acknowledging that he made the statement after being misled.
China says Taiwan pineapple ban not about politics as war of words escalates – TheChronicleHerald.ca
BEIJING (Reuters) – China on Monday denied accusations by Taiwan that a ban on pineapples from the island was about politics, saying it was purely a matter of biosecurity, in an escalating war of words that has added to existing tensions.
China announced the ban last week, citing "harmful creatures" it said could come with the fruit, threatening China's own agriculture.
Taiwan, which China claims as its own territory, says there is nothing wrong with its pineapples and that Beijing is using the fruit as another way to coerce the island.
China's Taiwan Affairs Office said the decision was "totally rational and necessary" and that customs had a responsibility to prevent diseases carried by plants from entering the country.
"The Democratic Progressive Party (DPP) authorities have deliberately misrepresented and maliciously interpreted technical issues, taking the opportunity to attack and discredit the mainland," it said, referring to Taiwan's ruling party.
The DPP has neither the will nor the ability to solve practical problems, and they can only evade their own responsibility by "slandering the mainland", it added.
While Taiwan is best known internationally for exporting semiconductors, the sub-tropical island has a thriving fruit industry developed when it was a Japanese colony, and last year more than 90% of its exported pineapples went to China.
Politicians have rallied behind pineapple farmers, posting pictures of themselves in fields with farmers and tucking into the fruit on their social media pages, encouraging domestic consumers to pick up the slack.
The government has also been asking Taiwanese companies to make bulk purchases, and looking for alternative export markets.
President Tsai Ing-wen on Sunday visited a pineapple farm in southern Taiwan, where the bulk of the fruit is grown and where the DPP traditionally enjoys strong support.
China has ramped up pressure to get Taiwan to accept Chinese sovereignty, including regularly flying fighter jets and bombers near Taiwan or into its air defence identification zone.
(Reporting by Beijing newsroom; Writing and additional reporting by Ben Blanchard in Taipei; Editing by Nick Macfie)