Is Westbrook for Wall a lose-lose deal for all involved? – theScore
In a blockbuster akin to a couple teams rearranging expensive deck chairs on a sinking ship, the Houston Rockets traded Russell Westbrook to the Washington Wizards for John Wall and a future first-round draft pick. Here's what the deal means for the parties involved:
Rockets take another step back
Westbrook's on-court value may not match the monetary value of his contract, and he's two years older than Wall, but Wall arrives in Houston on an equally burdensome deal, and with far more questions to answer about his current standing in the league.
Opening week of the coming season will mark two full years since Wall last appeared in an NBA game. The five-time All-Star underwent left heel surgery in January 2019, which led to an infection. While dealing with that already complicated recovery, a slip and fall at his home resulted in a ruptured Achilles. Wall's also had surgery on both knees in the past, and missed 41 games the season before his heel and Achilles injuries.
It's fair to say no one was lining up to take on the $131.5 million remaining on Wall's contract, which includes a player option worth more than $46.8 million in 2022-23.
Westbrook's contract also has three years and $131.5 million remaining, with the only difference being Wall will make about $200,000 less this season, while Westbrook's 2022-23 player option is $200,000 cheaper. If the Rockets believe they can eventually flip Wall before his option season, then owner Tilman Fertitta – whose earned a reputation for penny-pinching – will save a couple hundred grand in this deal, with Houston also recouping a (protected) first-rounder in the process.
That's fine if you assume this is a precursor to a James Harden trade that will fully launch the Rockets into a rebuild, but if the team remains committed to competing in the short term in order to keep Harden in Houston, which appears the case, this trade makes a lot less sense.
Wall's no more of an off-ball threat than Westbrook was. Of the 263 players in NBA history who've attempted as many 3-pointers as Wall, Westbrook's 3-point percentage of 30.5 ranks 259th. Wall's 32.4% conversion rate ranks 247th. In addition, the last time Wall was healthy, he was logging more time with the ball in his hands than any player besides Harden.
Over a five-year run of All-Star campaigns from 2013 through 2018, Wall averaged roughly 20 points, 10 assists, four rebounds, and two steals, and was a more consistent defensive player than Westbrook's ever been. But expecting a high-usage point guard – whose greatest attribute is his speed – to be the same player at 30 after an Achilles rupture seems like wishful thinking.
Best-case scenario: Wall remains an explosive star who can replace some of what Westbrook brought to the table last season during a three-month stretch when Westbrook got back to being the rim-rampaging guard he was at his peak. If Wall can do that while offering a tiny bit more shooting, more off-ball movement, and a greater defensive focus, this feels like a wash for Houston.
The realistic scenario: The Rockets simply swapped a bad contract (Westbrook) for a terrible contract (Wall), and will still pair Harden with an ill-fitting backcourt mate who's a worse player than Westbrook is. The only win here is the future draft pick.
The sting of that reality is more excruciating when you consider that just last year, Houston surrendered two first-rounders and two more pick swaps to turn Chris Paul – a better player, on a shorter contract, who actually fit beside Harden – into Westbrook.
That's the kind of backwards asset management that turns contenders into pretenders.
Wizards move up a tier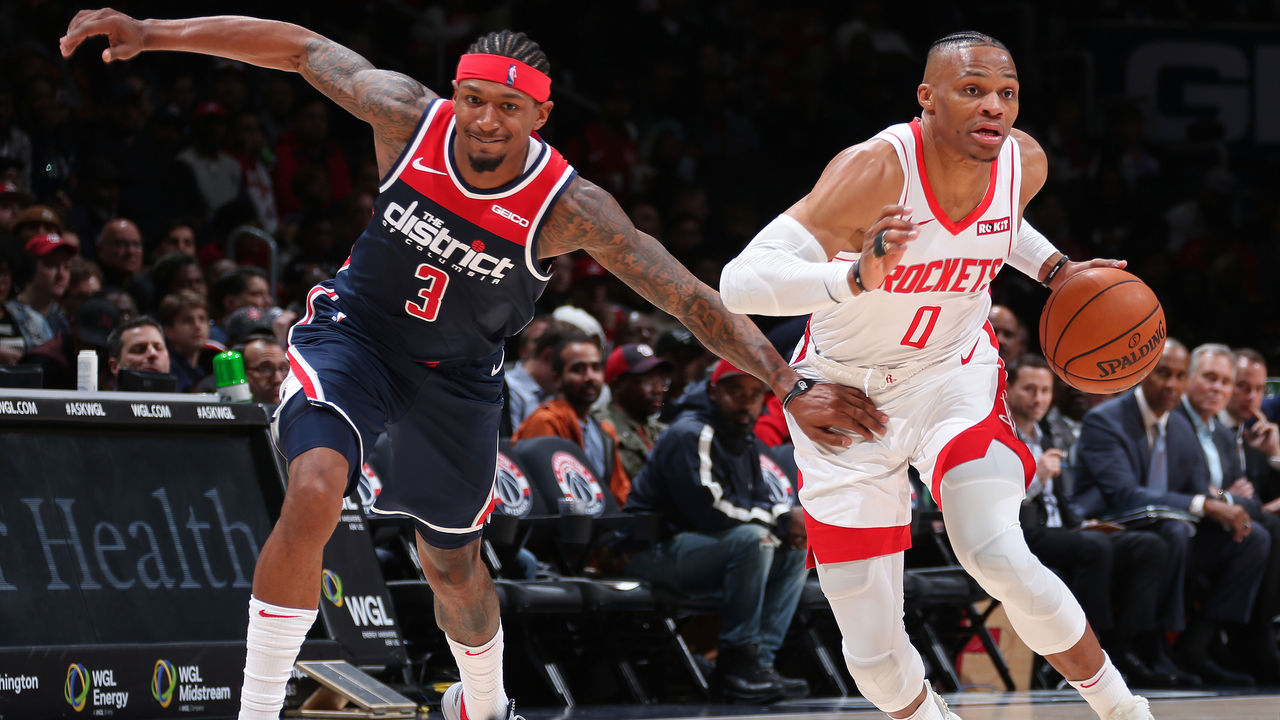 Speaking of asset management: Washington trading Wall means the club got zero games played from its former franchise player since Wall's lucrative extension kicked in last year.
Still, in a deal with no clear winner, the Wizards are certainly the lesser loser.
Westbrook was the better player when both stars were at their peak, and he's certainly the safer bet now that Wall's become such an injured and uncertain commodity.
After contracting COVID and dealing with a quad injury, Westbrook was a shell of himself during the summer restart. But with the Rockets going small and a clearer runway to attack in the paint, Westbrook averaged 30.7 points, eight rebounds, 6.8 assists, and 1.7 steals on nearly 51% shooting over a span of 34 games between early December and early March last season.
While Westbrook's off-ball issues are well documented, and even though his taking the ball out of Bradley Beal's hands will be detrimental for Washington when Westbrook falls in love with his nonexistent jumper, he and Beal will immediately become one of the NBA's most dynamic backcourts should Westbrook play to his strengths, as he did for a sizeable chunk of last season.
Beal, as a better shooter and more willing off-ball threat than Harden, also presents a much more seamless fit for Westbrook. In reuniting with Westbrook, head coach Scott Brooks could stagger his star backcourt's minutes to ensure one of Russ or Beal is on the court at all times (though Brooks has often been criticized for failing to stagger stars).
The Wizards will likely remain a defensive disaster, but with plenty of shooting around Beal and Westbrook, an offense that played at the fifth-fastest pace last season – and one that was surprisingly potent before being besieged by injuries – should be enough to get Washington back in the Eastern Conference playoff mix.
The Wizards should join the revamped Hawks in a two-team tier below the East's top seven, but from a talent perspective, both are closer to the Pacers than they are to a bottom-six group that's likely to include the Magic, Bulls, Hornets, Pistons, Knicks, and Cavaliers. At the very least, Washington should qualify for the 2021 play-in tournament that will involve teams No. 7-10 – a sobering new reality for Westbrook, who's used to playing for Western Conference teams with grander postseason ambitions.
After extending Beal last year, the Wizards have remained hellbent on keeping their other franchise cornerstone happy. Beal, in turn, has at least said the right things about wanting to remain in Washington for the life of his contract. Trading a future first-rounder and swapping one overpaid star for another in order to graduate from futility to mediocrity might seem like a shortsighted play, but the Wizards should be more competitive on a nightly basis, and if that keeps Beal happy and engaged, it's a worthwhile gamble.
New York Rangers get OK to interview Gerard Gallant for coaching job
The New York Rangers plan to interview Gerard Gallant for their head coaching job, TSN reported.
The Vegas Golden Knights, who fired Gallant during the 2019-20 season, reportedly have granted permission.
A first conversation between the Rangers and Gallant was expected to take place quickly, before Gallant heads to Latvia to coach Team Canada at the IIHF World Championship, which runs from May 21-June 6.
Gallant, 57, was the first coach of the expansion Golden Knights and led them to the Stanley Cup Final in their inaugural season in 2017-18. The Washington Capitals won in five games.
He was fired 49 games into his third season when the team was 24-19-6, and he had an overall record of 118-75-20 with Vegas.
He also coached the Columbus Blue Jackets (2003-07) and Florida Panthers (2014-17) and has a career record of 270-216-4-51 in 541 career games as a head coach.
The Rangers are in the midst of an overhaul. They fired head coach David Quinn and three assistant coaches on Wednesday, following the dismissal last week of team president John Davidson and general manager Jeff Gorton.
The Rangers failed to qualify for the playoffs for the fourth straight season after posting a 27-23-6 record in 2020-21. They finished in fifth place in the East Division.
Quinn, 54, compiled a 96-87-25 record during his three seasons as coach of the Rangers after taking over for Alain Vigneault on May 23, 2018.
–Field Level Media
NHL wants answer on Canada border crossing soon
The NHL has asked the Canadian government for a decision by June 1 about U.S. teams crossing the border during the Stanley Cup Playoffs, ESPN reported Friday.
The Canadian teams played only each other during the 2020-21 season in a revamped North Division because of the COVID-19 pandemic, and that will continue during the first two rounds of the playoffs. It's what happens after that — in the semifinals and finals — that is up in the air.
"The conversations are ongoing. We've told them we really do need to know by the end of the first round, and that's around June 1," Steve Mayer, the league's chief content officer, told ESPN. "That's pretty much the date that we've talked to them about, saying we have to know one way or another."
Last season, the playoffs were held in bubbles in Edmonton and Toronto.
Under current rules, American-based teams couldn't play in Canada without mandatory quarantines, which would make travel for home-and-away games impossible under the playoff calendar.
The NHL and government representatives last talked a week ago, and the Canadian officials submitted a variety of questions for the league's response.
In the interim, Mayer said, the league has discussed the possibility of the Canadian team that advances from the North Division being based in the U.S. for the duration of the postseason. Talks have occurred with officials at NHL arenas where teams didn't qualify for the playoffs.
An NHL source told ESPN this week that the league expects "a positive resolution" to the issue, however.
–Field Level Media
Canada to play 2 more home World Cup qualifiers in U.S.
As Canada continues to wrestle with the coronavirus pandemic, the country's national soccer team will play two more of its home World Cup qualifying matches south of the border in June.
Canada will face Aruba in Bradenton, Fla., on June 5, and will take on Suriname in suburban Chicago on June 8, Canada Soccer confirmed Monday.
The games are Canada's last two of four matches in CONCACAF Group B. A March 26 Canadian home match against Bermuda was held in Orlando, Fla., which Canada won 5-1. Also, the Caymen Islands were the host team on March 29, when Canada rolled, 11-0.
Only one national team advances to the next round, and Canada and Suriname top the group and the game against Suriname in Bridgeview, Ill., figures to be the deciding match in both teams' efforts to advance.
Thirty nations from Central and North America are competing in this first round with six group winners advancing to a second round of head-to-head knockout matches for the right to compete in the CONCACAF final round of eight teams competing for four places in the 2022 World Cup. A fifth team from CONCACAF advances to an intercontinental play-in round.
As was executed in Orlando, the match in Chicago will be staged in accordance with the FIFA International Match Protocols supported by the relevant public health requirements.
"We had hoped to play these matches at home with Canadian fans providing the support and momentum to play a tough nation like Suriname in FIFA World Cup Qualifiers," said John Herdman, coach of the Canadian men's national team. "The reality of the global pandemic and the priority to keep our communities in Canada safe means the match will be played at a neutral site in Chicago with no home advantage, but we will embrace that challenge.
"Whatever comes at us, we will take it on and do whatever we need to do to advance to the next round."
-Field Level Media