Italian politics: Matteo Salvini's comeback bid – Financial Times
When Alan Fabbri was growing up near the northern Italian city of Ferrara in the 1990s he engaged in an act of teenage rebellion that surprised his friends: he decided not to become a communist.
As a 19-year-old student he signed up to the rightwing northern separatist party the Northern League, breaking not only with the political mainstream of his staunchly leftwing region of Emilia-Romagna but also going against the traditions of his own family, some of whom had fought as partisans against Nazi Germany.
Last year he ran as the now rebranded League candidate for mayor of Ferrara and won. The result left observers across Italy stunned. A city that had been controlled by Italian left since the end of Benito Mussolini's fascist regime — and for the majority of those 73 years by the Italian Communist party — had fallen to Matteo Salvini's anti-migrant Italian nationalist movement.
"I got my first League membership card when I was 19 . . . I was a black sheep," the bearded and pony-tailed 41-year-old recalls, speaking from his office near Ferrara's 14th century Estense castle. "On my mother's side they were communists. One of my grandfathers was illiterate but on the table he still always had a copy of l'Unità" — the communist paper founded by the Marxist theorist Antonio Gramsci in the 1920s.
"Many here used to believe people could never vote for a rightwing party because of their family traditions, but that has changed. Many ex-communists now vote League as we defend workers. The left has taken this region for granted, they thought they had already won and they were shocked."
Now with regional elections for the legislative assembly taking place this month in Emilia-Romagna, Mr Salvini, who since taking over in 2013 has remodelled the party from its northern separatist roots to become a pan-Italian rightwing party, is aiming to stage a huge upset by seizing control of an area traditionally regarded as the spiritual home of Italian socialism.
Opinion polls are showing the rightwing coalition candidate, the 43-year-old League senator Lucia Borgonzoni, may be able to smash through Italy's red wall. She is neck and neck with the incumbent centre-left Democratic party (PD) president of the region, Stefano Bonaccini.
PD-Five Star pact at risk
Mr Salvini is bullish. "Let it be clear, we are going to win here," he said on the campaign trail last week in Modena. "From the 27th of January the world is going to change . . . Everyone here tells me that they used to vote communist but now they don't any more because they are no longer communists, they are something else now".
Should Ms Borgonzoni triumph, not only would it deal a hammer blow to the PD, it would also probably trigger a crisis in the ruling coalition with the Five Star Movement, which could threaten to bring down the government. With Mr Salvini's party far ahead of its rivals in national polls, new elections could then see the League leader sweep to power as Italy's prime minister.
"If the PD lose in Emilia-Romagna, it 100 per cent has the potential to bring down the national government and set Salvini on course to become prime minister," says Daniele Albertazzi, an academic at the University of Birmingham and expert on the history of the League. "It really is too close to call."
Victory in Emilia-Romagna would underline Mr Salvini's rapid recovery since deciding last summer to launch the biggest political gamble of his career by bringing down his party's then-coalition government from an Italian beach dressed in swimming trunks and with a Mojito in hand.
Soon after declaring that he was ending his alliance with the anti-establishment Five Star Movement, the League leader's bid to force new national elections and become prime minister backfired. His spurned ex-partners struck up an unlikely pact with the PD, forming a new coalition government and banishing Mr Salvini back into opposition.
Since then, the national popularity of League has consolidated, with opinion polls consistently showing it is comfortably the most popular party in Italy. In October a centre right coalition led by the League won the central region of Umbria from the PD, with Mr Salvini immediately setting his sights on the bigger prize of Emilia-Romagna.
A talented and relentless campaigner, Mr Salvini's return to opposition has suited him as he travels up and down Italy attacking the PD-Five Star coalition as it lurches from one political crisis to the next. A League victory in Emilia-Romagna, League politicians hope, should be enough to push Italy's fragile coalition government over the edge.
"This coalition is already so fragile that the only thing gluing it together is their fear of Salvini," says Erik Jones, professor of European studies and international political economy at the School of Advanced International Studies in Bologna. "If they lose it is hard to see how they make it through the spring."
Forgetting the partisans
How did an area that for Italy's entire postwar history has been regarded as the most dyed in the wool regione rosse — with a proud tradition of resistance to far-right politics — reach a point where Mr Salvini's security and anti-migration platform could triumph?
"What we are seeing is a process going on, which is the same in many others parts of Europe, where people are no longer politically loyal to the identity that defined their fathers and grandfathers," Mr Albertazzi says.
Alessio Mare, a 39-year-old bookseller from Ferrara, believes that his generation feels little connection to the experiences of the past, and this has meant many have far fewer qualms with voting for the League than their elders.
"People don't remember any more about the partisans and the war," he says. "Before, many people would never have dreamt of voting for the right, now they have forgotten about all that."
Giovanni Orsina, director of the LUISS School of Government in Rome, says the communism of Emilia-Romagna always had a distinctive regional flavour that was geared more towards small entrepreneurs rather than workers in large factories. This has meant that regional concerns over immigration and the economy are not overshadowed by ideological purity.
"These people were voting communist in the past, but this was because they saw the party as a defender of their local communities and traditions," he says. "It was very pragmatic and not particularly ideological. There is a tradition in the region of very high level of public services. But now many of these shopkeepers and artisans believe that the League will better defend their interests than the Italian left."
Stefano Caliandro, regional co-ordinator of the PD, argues that the party has fallen victim to "anti-politics" that has seen Italian voters move away from traditional parties in favour of the League. "We have to face the rightwing wave that has hit not only Emilia-Romagna but the whole of Europe."
Emilia-Romagna's economy is performing strongly, posting one of Italy's fastest regional growth rates in 2018, according to the region's chamber of commerce, while its unemployment rate is almost half the national average. This, however has not stemmed broader national anger at economic insecurity and immigration, which Mr Salvini has tapped into.
Giorgio Bennetti, a 35-year-old sweets seller with a stall in Ferrara's centre, believes that many voters are willing to switch to the right to express a general political dissatisfaction. Local issues, such as the collapse of the Ferrara savings bank — 130,000 investors lost their savings — have also given voters reason to want to punish the PD, which was in charge both locally and nationally when the rescue happened in 2015.
"This is a protest vote, people don't believe that the left is working for them any more," Mr Bennetti says. "My grandmother used to say that people have no problem changing their shirts from red to black if they need to."
The region also suffers from a sharp divide between the wealthy centre of Bologna, the region's largest city and home to the oldest university in Europe, and poorer and more agricultural peripheral areas where the League has been steadily building support over the past decade.
In the 2019 European elections, the League was the largest party in rural areas of Emilia-Romagna, winning 45 per cent of the vote in locations classed as "ultra periphery", compared with less than 25 per cent for the PD in these areas, according to the Cattaneo Institute. In city centre areas, the League won 30 per cent of the vote — less than its 33.8 per cent total across the region — while the PD took 33.9 per cent, more than its 31.2 per cent regional total.
"This is a real town versus country divide," says Mr Jones. "There used to be a sort of cultural communism, where people voted left because that was the part of society they came from. Now in Emilia-Romagna, as in other parts of Europe, it is not such a big jump for these people to vote for the right."
Mr Fabbri says he thinks the result will hinge on voter turnout, with a higher turnout helping the League and hurting the PD.
"It is difficult to win, but the politics of Emilia-Romagna is that the League gets votes in the rural areas, in the city centres not so much," he says. "If the turnout is high, we win. People who want change, they go out to vote".
Stronghold no more
Whatever the result, the days of Emilia-Romagna as a communist stronghold are long gone. The Italian Communist party had by the 1990s effectively become a social democratic party, eventually being absorbed into the PD while a small rump of hardliners established fringe spin-offs.
Some activists, however, are still fighting on. Pavel Rizzo, 19, is out on a central street in Ferrara with his friend Matteo trying to sell copies of Lotta Communista, a communist newspaper, to passing shoppers. He joined the movement three months ago.
"We are Leninists," he declares with a proud smile, while acknowledging that few of the passers-by are showing much interest in buying his newspaper, which on its front page has a dense essay entitled, "The theoretical-political and social fragility of the liberal order".
Mr Rizzo says he wishes more people would become involved in communist politics like him, but it is an uphill struggle to get them engaged. "The world has changed," he says.
Additional reporting by Davide Ghiglione in Rome
Love in the Time of Trump: How Do You Approach Politics on Dating Apps? – The New York Times
Americans are watching an impeachment trial against their president unfold, just as the country prepares for the Democratic primaries and caucuses. We're living in an era of heightened politics and divisiveness, and, for many, where you stand politically can feel as important a part of your identity as your religion or profession.
Enter dating apps.
With just a few words and an emoji, you can indicate whether you're for or against President Trump, how you'll vote in the next election and what belief system you're looking for in a partner.
Here are a few recent examples my editor and I spotted on Bumble: "Monthly donation to Bernie." "Moderate." "Jesus on my team 🏆." "Just another immigrant in USA." "I'm fond of progressive/lefty politics and social justice."
Likewise, guessing potential matches' political beliefs through clues in their bios — American flag emojis, campaign slogans, religious references — can determine how you swipe.
If you're on the apps, we would like to hear how you convey where you fall on the political spectrum and what signs (positive and negative) you look for when interpreting others' profiles.
And if you're rolling your eyes at all of this, we also want to hear that — tell us if and why you think politics should have nothing to do with dating.
Please fill out the form below. We may publish a selection of the responses in an upcoming article.
Bill de Blasio's bagel gaffe and the fraught politics of food
If New York City Mayor Bill de Blasio hadn't already dropped out of the 2020 presidential race, #bagelgate might have been the nail in the coffin.
His Jan. 15 tweet praising a toasted bagel on National Bagel Day instantly set off hardline bagel devotees-cum-voters. De Blasio quickly amended his tweet to delete the word "toasted." But the damage was already done. Purists scorned the very idea of toasting a bagel, calling into question his bona fides as a New Yorker.
The outrage over bagel protocol may seem silly. But few acts are as personal as eating, and food is closely intertwined with place and culture.
For a politician, food might seem like a low-hanging fruit. Is there an easier way to appeal to the masses? Everyone, after all, eats.
But when politicians wade into local food customs, they do so at their own risk. My research on presidents and first ladies suggests that uninformed assumptions about food often get candidates and elected officials in trouble.
Bill de Blasio isn't the first politician to run afoul of food norms and face the wrath of voters. And he certainly won't be the last.
Culinary campaign calamities
Most political wannabes try hard to bridge the gap between their wealthy backgrounds and the rest of us. It rarely works.
During the 1976 presidential campaign, incumbent president Gerald Ford, before the eyes of bewildered Texans, peeled back the aluminum foil – but not the corn husk – and took a giant bite out of a tamale. Ford never lived it down.
According to former Arkansas Governor Mike Huckabee, "The Great Tamale Incident" sealed Ford's loss to Jimmy Carter in the Lone Star State.
In 2003, Democratic presidential candidate John Kerry unwittingly broke food norms when he ordered Swiss cheese for his Philly cheese steak instead of Cheese Whiz. Nine years later, Republican Mitt Romney asked for a "sub" in Pennsylvania, where, as locals will tell you, they call them hoagies. And Romney again made himself an easy target for mockery in 2019, when the millionaire businessman claimed his favorite type of meat was a hot dog.
Pizza is treacherous terrain: Republicans Donald Trump, Sarah Palin and John Kasich have all faced withering criticism for eating pizza with a fork. Bill de Blasio made the same mistake, too, in what was dubbed "forkgate."
But no food has a greater potential for campaign catastrophe than the corn dog. The optics of state fair corn dog consumption are never good. The web is full of wince-worthy photos of Michele Bachmann, Rick Perry and Bernie Sanders all struggling to maintain their dignity while biting into a battered, oversized wiener popsicle.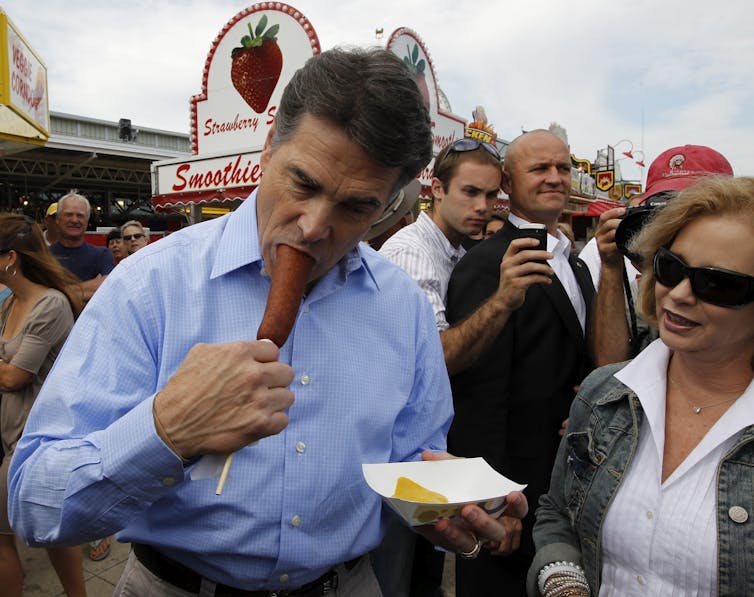 Better to be a vegan like Cory Booker – and avoid them altogether – than be seen on the wrong side of the corn dog. That may be one rule that a majority of voters can agree on.
You're out of touch…
Other politicians are either unaware – or don't care – about their elitism.
In 1972, the beer-swilling, working-class regulars in a Youngstown, Ohio bar cringed when Democratic vice presidential candidate Sargent Shriver hollered, "Make mine a Courvoisier!"
In 1988, Democratic presidential candidate Michael Dukakis suggested to debt-ridden Iowa farmers that they grow Belgian endive, a bitter, leafy green seldom found outside of gourmet restaurants. Almost 20 years later, fellow Democrat Barack Obama told those same farmers that arugula might bring in more profits than corn and soybeans.
Obama also made the mistake of asking for Dijon mustard – and no ketchup – for his cheeseburger. Fox News host Sean Hannity let him have it, calling him "President Poupon."
The producers of an infamous 2004 attack ad damned Democratic presidential aspirant Howard Dean for his elitism. Not surprisingly, food played a role.
Dean, the ad sneered, was a "latte-drinking, sushi-eating, Volvo-driving, New York Times-reading, body-piercing, Hollywood-loving, left-wing freak show."
These gastronomic tales show how the semiotics of what and how we eat matter profoundly to millions of people.
On the one hand, to transgress is to risk looking inauthentic, disrespectful or foolish – none of which is sound politics.
On the other hand, unabashedly embracing the latest health food trends can get a politician ridiculed as elitist and out of touch.
Perhaps the best outcome is simply to win. A president can indulge in guilty gastronomic pleasures. Ronald Reagan loved his jelly beans, George H.W. Bush couldn't put down his pork rinds and Bill Clinton, until his heart surgeries, was irresistibly drawn to McDonald's.
For political candidates, however, a shrewd understanding of American eating habits is the recommended minimum daily requirement on the campaign trail.
Opinion: American Politics Is Messy. But Here's A Little Global Perspective – NPR
American democracy can seem messy in a week like this. Impeachment hearings looming, six-headed debates, people snapping, sniping, and all the costly, time-consuming, and chaotic accouterments of polls, fund-raising and campaign rallies.
It's one way to run a country. But this week might also offer a little perspective from around the world.
Just this week in Russia, Vladimir Putin shifted power in the government so when he leaves that office in 2024, he can continue to rule and enrich himself, as he has for 20 years.
President Xi Jinping ended term limits on China's leaders in 2018. You don't even have to mention Cuba, Iran, North Korea, Saudi Arabia, or any other authoritarian government to see how all over the world, leaders left and right-wing just hold on to power.
Hugo Chavez eliminated Venezuela's presidential term limits in 2009. His successor, Nicolas Maduro, has kept his grip on the government with elections the Venezuelan National Assembly and the Organization of American States call fraudulent, after opposition candidates and electoral observers were excluded.
Turkey's Recep Tayyip Erdogan took power as prime minister in 2003 — was elected president in 2014, then established an "executive presidency" in 2017. He has suppressed a free press, and arrested political opponents and academics.
In Africa, Isaias Afwerki led the Eritrean People's Liberation Front to victory in 1993 — and has been president of Eritrea ever since, a distinction no doubt made easier by outlawing all other political parties and locking up political prisoners.
The Council on Foreign Relations also says at least 17 other African heads of state have tried to change their country's constitutions since 2000 to stay in power.
Viktor Orban is strengthening his hold on Hungary.
Prime Minister Netanyahu wants the Israeli parliament to give him immunity from prosecution on bribery and fraud before Israel's next elections in March.
Today's world abounds with examples authoritarians and autocrats, tightening their grip in chaotic, confusing times.
This week, there may have been a message in all the American messiness.
Elections count.
Legislators have real powers and responsibilities. A free press can break important, critical stories about people in power. Even an imperfect democracy can give dissident voices the chance to be heard and keep open chances for change.