It's a new year but the politics of 2020 isn't going away – CNN
(CNN) It is officially, finally 2021. But while everyone on Earth has had enough of the year that was, Americans need to gird themselves for a bit more 2020, at least to start, as a large portion of Republican lawmakers put their names next to President Donald Trump's effort to overturn the election.
There will be 20 more days of Trump and he will be on fire. The President has brought his drama show back to Washington early, perhaps realizing his time in the White House is down to days and counting. He's also hoping to pressure Republican lawmakers to back his wild and inaccurate claims of fraud when the electoral votes that seal his exit are counted in what's normally an antiquated ceremony.
He will also travel to Georgia for his last political rally as President, when he encourages voters there to show up for the all-important January 5 runoff and protect Republicans' Senate majority. There are, as of this writing, two developing complications for Trump. He's spent months attacking the electoral system as fraudulent, particularly in Georgia, where he lost. And one of the Republican candidates, Sen. David Perdue, will have to quarantine after coming into contact with someone who tested positive for Covid-19.
There will be a show January 6. CNN's Jake Tapper reported Thursday that as many as 140 House Republicans could vote to throw out electoral votes from swing states. That's a strong majority of the Republicans in the House trying to overturn the election and swear fealty to the President.
It's an easier vote in the House, where objections to the election are destined to fall against the larger number of Democrats in that chamber.
Senators who bit their tongues during his presidency will have a chance to find their independence.
There will be calls for sanity. Nebraska Sen. Ben Sasse criticized those who would object to the electoral votes of Pennsylvania, and perhaps other states, when they're counted January 6.
"I have been urging my colleagues also to reject this dangerous ploy," Sasse wrote in a six-part Facebook post, after Sen. Josh Hawley, a Missouri Republican, said he would be the senator who forced votes on the objections.
It'll be an aggravating vote for those Senate Republicans running for reelection in 2022, when the party is defending more Senate seats than Democrats.
There will be a split in the GOP. A vote for the objections Trump wants is a vote for conspiracy theory over fact and against the democratic will of the country.
A vote against the objections is to accept the decision of the people but defy the grassroots of the GOP and fail a fealty test to Trump, likely inviting a primary challenge in the near future.
Few Senate Republicans want to make this choice, which is why party elders had tried to shield themselves from it. But now that Hawley has decided to object, Senate Majority Leader Mitch McConnell has made it clear to lawmakers he's giving them room to vote their conscience, according to a source familiar with a Thursday conference call on which McConnell asked Hawley — who was not in attendance — to explain his rationale.
Still, McConnell went on to tell his colleagues that even with a career as long as his, the vote would mark one of the most significant, perhaps the most significant, he'd ever cast — and that it would mark the same for each senator on the call, two people familiar with the call told CNN.
But this intraparty split will carry over to other questions. As Trump weighs in, unbound by any sort of official responsibility, his sway over the party will be tested.
President Trump's tweets in favor of $2,000 stimulus checks got several GOP senators to endorse the idea, although McConnell effectively killed it.
When former President Trump tweets in favor of something, will Republicans pay attention?
There will be a reckoning over the President's Twitter account. Even after he's left office, the President will have access to his Twitter account. It's been his preferred mode of communication while in office. The problem for the soon-to-be former President is that he may not be given the same deference by social media companies out of office as he's been given as leader of the free world.
Twitter and Facebook have taken to marking as suspect the posts in which he spreads outright falsehoods about his election loss, but it may soon become difficult for those companies to justify allowing him to spread them at all.
Accounts have been suspended for less than what Trump does on a daily basis and the social media companies will come under immediate pressure to censure Trump, perhaps by suspending his account.
The effects of such a move, were it to occur, would be interesting not only to see if his power to influence is clipped without his platform, but also to hasten GOP scrutiny of "Section 230," a provision of telecom law that separates the companies from the content users publish on their sites.
There will be a split among Democrats. It's much easier to be united in pursuit of power than it is to stay united in power. Trump, to his credit, was able to effectively marshal Republicans, often through fear and bullying, during his time in office. As president, it's unlikely Biden will use those same tactics. And he'll have to contend with progressives on the left who want more attention to big problems like climate change and inequality that require systemic change the moderates in his party have less interest in pursuing. A year from now, it will be much easier for Republicans to focus on Biden's policies — and he's likely to be a relatively moderate president — in a way to aggravate and turn off progressives. Vermont Sen. Bernie Sanders won't quietly let Biden take the moderate route. Neither will Massachusetts Sen. Elizabeth Warren, New York Rep. Alexandria Ocasio-Cortez or the Congressional Black Caucus.
The proof of these divides is already evident in the scrutiny Biden has faced from progressives in the selection of his Cabinet.
His ability to navigate the demands of the groups that rallied behind his campaign, and navigate around Republican obstruction, will determine whether he can get anything done in the White House.
There will be a majority in the Senate. We just don't know yet which party will have it. That depends on what happens in Georgia's twin US Senate runoffs Tuesday. If the two Republican incumbents — Sens. David Perdue and Kelly Loeffler — win, Republicans will have 51 votes and control access to the Senate floor. Given McConnell's expertise in obstruction and interest in the 2022 midterms, a 51-seat majority could be Biden's biggest presidential headache. If the Democratic challengers — Jon Ossoff and Raphael Warnock — win, the resulting 50-50 tie won't give Democrats much wiggle room to pass legislation, but it will give them the ability to get measures on the Senate floor with Vice President-elect Kamala Harris able to break ties as president of the Senate.
There will be so much more Covid. The beginning of Biden's presidency will likely be judged more for what he does to kickstart the use of Covid vaccines than for any large policy proposals. The country is at war with the disease and, as he prepares to take office, thousands of Americans are dying each day. He's promised to "move heaven and earth" to get vaccines out to Americans, something more easily said than done as he navigates public skepticism of vaccines.
There will be something new. Think back to the beginning of 2020, when Covid was not yet known to be in the country, and the overriding political story was the historic impeachment of Trump for pressuring foreign governments to help him taint Biden.
One year later, those words seem like something from a different era. Covid rages, impeachment feels like a footnote to history and, rather than suffer Trump's sabotage, Biden will soon be president.
The coming year is sure to include its own twists, and our collective view of this strange and tumultuous period will change as it's stretched through time and perspective.
India's victory against divisive politics will come when everyday Hindus say enough – The Indian Express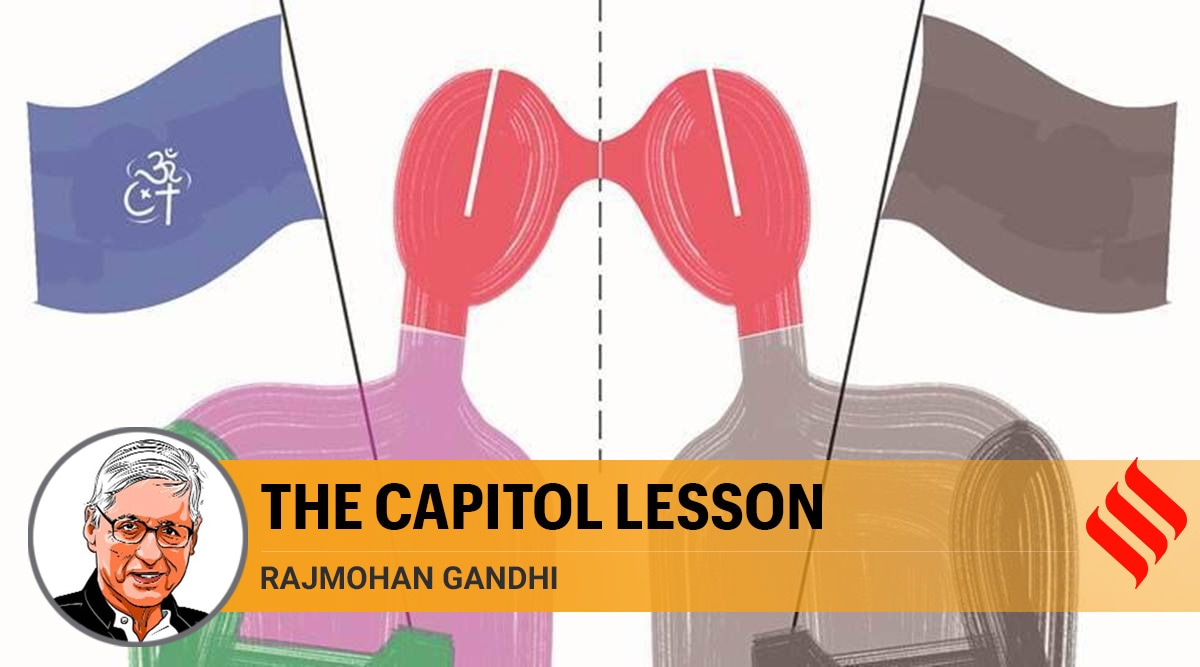 Important American events were pushed off stage by videos of the hideous January 6 bid to prevent the US Congress from certifying Biden's victory. America's response will be watched with interest, but a focus on what was removed from view is also called for.
Only an hour or so before the Trump-incited attack occurred, Democrats had wrested control of the US Senate: Their nominee, Jon Ossoff, was projected as the winner in the final Georgia runoff. Then, a few hours after the attack, top Republicans in the Senate openly broke with Trump. Enlisting most of their party colleagues, they ensured certification.
Both Kentucky's Mitch McConnell, the Senate's veteran leader, and South Carolina's Lindsey Graham, until that moment Trump's most persuasive ally, told the Senate that the Congress was obligated, by law and the facts, to certify Biden's win.
Frontally addressing Trump's repeated falsehood that "thousands of dead men" and "thousands of felons" had voted for Biden, Graham said he had asked to see just 10 Biden votes from dead men or criminals. He hadn't been shown even one.
"Enough is enough," Graham shouted in videos anyone can access, "Joe Biden will be the president and Kamala Harris the vice-president." Possessing no role in auditing the vote, the Senate did not need this assertion. But, bombarded by Trump's falsehoods, everyday Republicans across America required it.
For true believers in Trump's infallibility, men like Graham and McConnell no longer matter. They merely join those who should be "hanged", a list that already includes vice-president Pence. However, frank reiteration of electoral facts helps others who voted Republican to accept the result and move on.
Some Republicans are starting to express another political fact: Their party cannot expect to win future nationwide elections with only the white vote, which in percentage terms is steadily shrinking. In many individual constituencies, on the other hand, as also in several states taken as a whole, white supremacy remains an appealing message, and one which can be conveyed without using precise words.
Like most other states of the American south, Georgia thus far was reliably "Red" (the Republican colour). Currently, the state's electorate is 52 per cent white, 32 per cent Black, 10 percent Latino and 4.4 percent Asian. Jon Ossoff, a Jew, and Rev. Raphael Warnock, a Black preacher, defeated their Republican rivals because a crucial slice of the white vote plus an overwhelming share of the Black vote came to them.
Black percentages are distinctly larger in the American South, which means that their political future should be bright if, while retaining Black support, Democrats can modestly widen their appeal among Whites and Latinos. Such a goal may not be beyond reach for people like Warnock, Ossoff and Stacey Abrams, the remarkable woman who has steadily bolstered Black voting and the Democratic Party in Georgia.
The state has other strengths. For 33 years until his death last July, John Lewis, the civil rights hero possessing numerous white fans, represented a Georgia constituency in Washington. His autobiography reveals that Lewis had closely studied Gandhi and satyagraha in the 1950s and 1960s. Also closely connected to Georgia and its largest city, Atlanta, were Martin Luther King Jr. and his father. In fact, Warnock, the new senator, is the pastor at the Atlanta church where "Daddy" King and his more famous son had both served.
In any long-term contest in the US between white supremacy and what King saw as his "beloved", multiracial America, most observers would pick the latter to win. Still, the attack on the Capitol exposed an ugly reality, which is that some or many of the 74 million who voted for Trump (as against the 81 million for Biden) believe that whites own America.
"This is our house," attackers told the police as they forced their way into the Capitol with Confederate flags, Trump banners, guns, explosives, at least one noose, and "Jesus" placards. Without their permission, Blacks and other non-Whites should not enter or inhabit this house of theirs. Persons like Speaker Nancy Pelosi were trespassers.
In India, Muslims, Dalits and Adivasis, taken together, form the equivalent of America's Blacks. Counting Dalits and Adivasis in the Hindu fold, Hindu radicals reserve their public ire for Muslims. "Hindu consolidation" against Muslims is the political equivalent in India for the American call, open or subtle, for white supremacy.
Who are the Hindu leaders who will speak frankly to India's cow vigilantes or "love jihad" militants the way Pence, McConnell and Graham finally spoke on January 6 to America's Trump backers? If "enough is enough" will not escape the lips of a Narendra Modi, an Amit Shah, an Adityanath or any principal colleague, everyday Hindus must utter the words, in their homes to kith and kin, outside their homes to fellow citizens.
"India belongs as much to her Muslims, Sikhs, Christians, Jains, Buddhists, Parsis, Jews, atheists or others as to her Hindus." With such words, Gandhi, Nehru and Ambedkar inspired free India to commence an impressive journey. Hindus unable or unwilling today to utter these words are India's counterparts of the enablers of the January 6 attack on America's core and constitutional meaning.
But Kamala Harris, Raphael Warnock, Jon Ossoff and Stacey Abrams too have their Indian counterparts: Leaders from minority communities, and weaker castes, who feel connected also to other Indians, including caste Hindus and high-caste Hindus. When their voices ring out without fear, as also the voices of everyday Hindus offended by the coerciveness of Hindu supremacy, Indian Trumpism will find its nemesis.
This article first appeared in the print edition on January 19, 2021, under the title "The Capitol lesson". Gandhi is currently teaching at the University of Illinois at Urbana-Champaign
Navdeep Bains' work to transform Canadian economy unfinished as he leaves politics – National Post
Article content continued
If you look at the last five years, Toronto and Vancouver have recruited more technology workers than San Francisco, and Seattle combined
Asselin applauded Bains' digital charter, a bill currently before Parliament that sets rules on data collection and storage from big companies. He said having clear rules is essential for companies that are going to do more and more work online.
"I give him a lot of credit for tackling this because, obviously, without data, strong data privacy provisions Canadian companies won't be able to use data as other companies are doing in other countries."
Benjamin Bergen, executive director of the Council of Canadian Innovators, said on balance Bains has been good for the economy and he highlighted the immigration push, something he said will have to continue under new minister François-Philippe Champagne.
"Canada has a massive deficit of talent there's about 220,000 positions that are currently not filled in tech, because we just don't have the domestic capacity."
Bergen agrees the government's investments have been good, but there are structural problems around patent protection and intellectual property that can prevent companies going from start-ups to giants. He said the very nature of an innovation agenda is that the work is never done, and constantly has to change.
"Expenditure and support is critical, but making sure that you actually have an infrastructure to capture the wealth and prosperity that comes out of it is equally part of it," he said. "If you have a hole in the bucket and you keep pouring in more water, or in this case more money, but don't actually plug the hole you're gonna lose it."
Politics crash Couche-Tard's US$20B shopping trip to Paris – BNN
Alimentation Couche-Tard Inc. founder Alain Bouchard hoped to salvage a US$20 billion offer for Carrefour SA when he arrived at the French Finance Ministry, whose headquarters juts out over the Seine like a beached aircraft carrier in eastern Paris.
After being kept waiting for a brief audience with Finance Minister Bruno Le Maire, Bouchard got the message: The proposed deal was dead on arrival, torpedoed by French political opposition.
The meeting Friday capped a tumultuous week for Couche-Tard and Carrefour. Bouchard, a self-made billionaire who had transformed an obscure Canadian gas-station operator into an empire of 14,200 retail sites through acquisitions, wanted to take the next step. Buying the French grocer would have turned Couche-Tard into a global retail giant, alongside the likes of Walmart Inc.
However, the overture ended only four days after it came to light, and the companies said they'll seek a looser alliance instead, sending Carrefour shares as much as 7.6 per cent lower on Monday. Couche-Tard shares rose as much as 5.3 per cent in Toronto.
Ceding one of France's biggest supermarket owners to foreign ownership was impossible at a time when COVID-19 lockdowns underlined the strategic importance of the country's food supply, Le Maire said.
A Couche-Tard convenience store in Montreal, Canada. Buying the French grocer Carrefour would have turned Couche-Tard into a global retail giant.
Couche-Tard is not the first foreign acquirer to be stymied by French concerns about economic sovereignty, but it underestimated flag-waving reflexes that have sharpened amid COVID-19. With regional elections looming later this year and a presidential vote set for 2022, allowing the country's biggest private employer to fall into foreign hands could have given nationalist leader Marine Le Pen and leftist Jean-Luc Melenchon a new cause celebre to attack centrist President Emmanuel Macron.
Bad Timing
"It wasn't the moment to do a deal like that," said Fabienne Caron, an analyst at Kepler Cheuvreux. "The government had much more to lose than to win. The real reason is politics."
The companies compounded their miscalculation by blindsiding Le Maire and Macron. The finance minister found out about the talks late Tuesday via a text message from Carrefour Chief Executive Officer Alexandre Bompard, according to a Finance Ministry official who asked not to be named, citing government rules. It came around the time a Bloomberg News report revealed the talks that evening.
This article is based on interviews with people familiar with the discussions and the government's position, who asked not to be identified because of the sensitivity of the matter. Representatives for Carrefour and Couche-Tard declined to comment.
Talks between the two companies began in the autumn, after Couche-Tard failed in an effort to buy Marathon Petroleum Corp.'s Speedway gas station network. Previous acquisitions had built up Couche-Tard from a single store in a Montreal suburb into an operator of convenience outlets spanning from Texas to Hong Kong.
Carrefour, best-known for giant, out-of-town stores that sell everything from baguettes to T-shirts to grass seed, has been challenged by the rise of online shopping and the growth of discounters Lidl and Aldi. Under Bompard, it has scaled back its hypermarkets while investing in convenience stores, e-commerce and organic food, but the shares had fallen by more than one-third over his 3 1/2-year tenure before Tuesday's news broke.
Friendly Talks
Later that evening after the leak, both companies confirmed the discussions, emphasizing that the negotiations were friendly. The next day, Carrefour's stock surged, with Couche-Tard confirming it was weighing a price of 20 euros per share.
In government quarters, however, opposition was welling up. On Wednesday afternoon, Le Maire spoke with Bompard as well as key Carrefour investors such as LVMH Chairman Bernard Arnault, who holds a 5.5 per cent stake. Late in the day, the finance minister went on television to say he opposed the deal.
A representative for Arnault did not respond to a request for comment.
Carrefour's advisers and some analysts saw an element of posturing in Le Maire's hard line, figuring the finance minister would eventually yield. They had reason to believe that this deal might be seen differently from a 2005 approach by PepsiCo Inc. to French yogurt maker Danone SA, which was blocked on grounds of sovereignty.
After all, Macron is a former Rothschild banker who entered office four years ago with a vow to shake up a French economy held back by state interventionism. Couche-Tard hails from Quebec, which shares close linguistic, cultural and business ties. And Carrefour could use a deep-pocketed partner to finance its incomplete turnaround.
In 2019, France led European countries in a ranking of foreign investment projects by accounting firm EY. Its companies have also stepped up overseas expansion, with LVMH recently completing its US$16 billion purchase of Tiffany & Co. Some French champions have stumbled of late, however — notably drugmaker Sanofi, whose Covid vaccine project faces a months-long delay after a dosing problem during tests.
Couche-Tard was ready to respond to French concerns with commitments to pump 3 billion euros (US$3.6 billion) into Carrefour while guaranteeing jobs and pledging to maintain the retailer's headquarters in France, as well as listing the combined companies' shares in both countries.
'Major Difficulty'
Le Maire appeared to open the door slightly at a conference Thursday when he described Carrefour being acquired by a foreign entity as a "major difficulty." By Friday morning, he attempted to clear up any ambiguity, declaring in a morning TV appearance that his position on the Couche-Tard approach was a "clear and definitive no."
On the other side of the Atlantic, the strident French reaction left little room or time for behind-the-scenes lobbying. The effort was led by Quebec, which deepened its economic ties with France last year, when Bombardier Inc. agreed to sell its rail unit to Alstom SA. The province also owns 25 per cent of the A220, the former Bombardier jet project now controlled by Airbus SE, headquartered in Toulouse, France. That's a relationship the French-speaking province expected to go both ways.
Quebec Economy Minister Pierre Fitzgibbon first reached out for information to Roland Lescure, a former top official at Quebec's pension fund who, in his current job as head of the French National Assembly's economic affairs committee, has regular contacts with Macron's and Le Maire's teams. Fitzgibbon also spoke to Bouchard on Thursday evening before the Couche-Tard chairman flew to France, and was about to go on a call with Le Maire when he briefed journalists on Friday morning, Canadian time.
The economy minister said he understood concerns about food security, a recurring topic at home, too. In speaking with Le Maire, he intended to promote Couche-Tard's track record, and to tout the links between France and Quebec, he said. He struck a hopeful tone.
"The dust has to settle a bit," Fitzgibbon said. "Nothing's going to get decided in the next 24 hours."
He was proven wrong a few hours later.
Ministry Visit
Bouchard's visit to the French Finance Ministry was the second of the day by Couche-Tard officials, some of whom had spent part of the week in Paris. Earlier Friday, CEO Brian Hannasch met with Le Maire's chief of staff, Bertrand Dumont.
Between both meetings, the Canadians huddled with their bankers and advisers at Rothschild & Co.'s headquarters on Paris's elegant Avenue de Messine. Bouchard and Bompard strategized that day, working on the best arguments to win over the government, a person familiar with the men's day said.
Their efforts were fruitless, as the finance minister made it clear in the hastily arranged meeting that his opposition was unconditional.
With any hope for a deal dashed, Couche-Tard and Carrefour say they're focusing on the proposed alliance. The companies will consider how to work together on fuel purchases, branding and distribution where their networks overlap.
The Canadians had to return home empty-handed, but things could change after the dust settles on the 2022 election campaign, said Clement Genelot, an analyst at Bryan, Garnier & Co.
"Ongoing discussions surrounding operational collaboration leave the door open to restart merger talks in the future," he said.
–With assistance from Manuel Baigorri.