It's a year since COVID was declared a pandemic. Did WHO act too late? – Euronews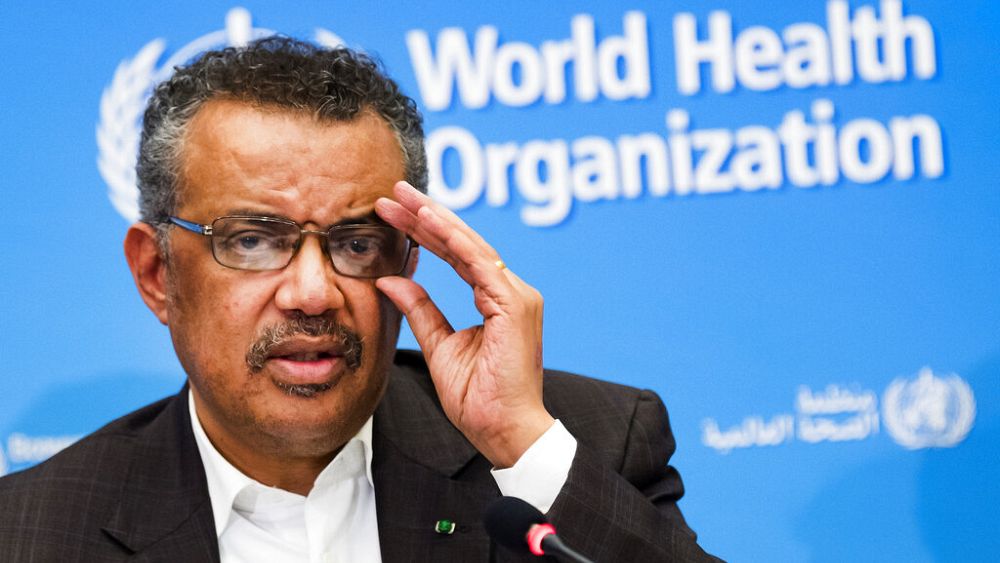 Exactly one year ago, during a cramped media briefing that would look out of place today, the World Health Organization (WHO) declared that COVID-19 was a pandemic.
Some say that declaration came too late, a precursor to the chaos and difficulties that would follow throughout the next year, with half of humanity under virus restrictions a mere month later.
"In early January we knew that this was a pandemic and many of us were saying it publicly," said Michael Mina, an assistant professor of epidemiology at Harvard University's T.H. Chan School of Public Health.
"The moment that we saw that the virus was spreading across all of East Asia, Southeast Asia and into the Middle East all within weeks of it first being discovered, we should have declared it as a pandemic virus. We didn't; the world didn't and that to me was the beginning of inaction as a response," he added.
By the time COVID was declared a pandemic last March, there were more than 118,000 confirmed cases of the virus in 114 countries and more than 4,000 deaths. Many European countries locked down the same week amid rising hospitalisations.
Exactly a year later, there are more than 117 million cases and 2.6 million deaths globally, representing a 99,000% increase in the number of infections.
But the declaration on March 11, 2020, was without fanfare, with the WHO director-general warning that they did not use the word "pandemic" lightly.
"Pandemic is not a word to be used lightly or carelessly," said Dr Tedros Adhanom Ghebreyesus, defending their call because cases had increased 13-fold in two weeks and the number of impacted countries had tripled.
"It's a word that if misused can cause unreasonable fear or unjustified acceptance that the fight is over, leading to unnecessary suffering and death."
Now many experts have said this is likely the worst pandemic in a century, as it has upended people's lives globally and drawn comparisons to the 1918 Spanish influenza pandemic responsible for tens of millions of deaths.
Some experts have decried a global complacency to address COVID-19 as a pandemic from the beginning.
What is a pandemic?
A pandemic is the spread of a new disease globally or the potential of a new disease to spread globally. Past pandemics have often been caused by animal influenza viruses, the WHO says.
The first pandemic of the 21st century was the H1N1 influenza from 2009 to 2010. The virus is estimated to have caused between 100,000 and 400,000 deaths in the first year, according to WHO.
The worst pandemic in the 20th century, meanwhile, was the 1918 Spanish flu pandemic that was estimated to have killed between 20 and 50 million people worldwide.
The virus SARS-CoV-2 which causes COVID-19 is the first coronavirus to cause a pandemic.
Countries unprepared after WHO declaration of a global health emergency
WHO declared a pandemic over a month after declaring COVID-19 a public health emergency of international concern (PHEIC) on January 30, 2020. At the time, there were fewer than 100 cases and no deaths outside China, according to WHO.
Many experts have said that early global mishaps, including a lack of PCR tests and a lack of protective equipment for doctors, contributed to the rapid spread of the virus in several countries during the month of February.
COVID-19 was the sixth epidemic to be declared a PHEIC or global health emergency under the World Health Organization's 2005 International Health Regulations. Previous PHEICs include H1N1, wild-type polio, ebola (in 2014 and 2019) and Zika virus.
"The pandemic declaration isn't part of WHO architecture – it doesn't have a legal meaning such as a PHEIC [global health emergency]," said Clare Wenham, assistant professor of global health policy at the London School of Economics.
So the pandemic declaration was likely a "use of language to try and encourage governments to take seriously the threat when the PHEIC hadn't been as effective as hoped."
A PHEIC is the highest level of alarm under international law, according to WHO and was agreed upon as such by member states that this would trigger collective action.
Indeed, Dr Tedros said in March as he declared a pandemic that WHO officials were alarmed by the level of government "inaction" to stop the spread of COVID-19 and continued to emphasise that it was still possible to curtail the spread of the virus through testing, tracing and isolating cases.
Experts have criticised governments for their lack of preparation following the WHO declaration of COVID-19 as a global health emergency.
Did the pandemic declaration come too late?
Mina said he spoke to major testing companies in early 2020 and they told him they were not sure if they were massively producing COVID-19 tests.
"Had the WHO back in January said this is obviously a pandemic, by definition already, that would have given the companies a couple [of] months head start to start building their testing infrastructure," he said in response to Euronews at a Harvard press conference.
There's also been criticism of WHO for declaring a global health emergency late: a WHO committee met on January 22nd and decided not to declare a PHEIC, but then reversed that decision just a week later as the situation evolved rapidly.
"The PHEIC is designed to be a normative call to arms and to get governments to wake up to the risk and start to prepare," Wenham said.
"For many reasons, this didn't happen as expected in early 2020," she said, citing governments not taking the risk seriously and the waning power of the WHO as some reasons.
But she added there is currently a need for comprehensive data on whether governments take action following WHO health emergency declarations.
On Monday, WHO's emergencies director Dr Mike Ryan said that "maybe we need to shout louder, but maybe some people need hearing aids".
Some say the slow declaration merely foretold of the missteps that would define COVID-19 responses.
"There are major consequences to not looking at the writing on the wall, taking a very fact-based approach and just saying hey this is a pandemic let's let the world know," says Mina. "We're seeing the remnants of that type of thinking continue today."
Mina is currently doing research on rapid testing and says he does not understand why there is hedging on behalf of authorities to let people test themselves at home without a prescription.
"A year into this pandemic after everything we've seen, we're still really talking about whether people need a prescription from a physician to get a COVID test…it's appalling to me at this point," Mina said.
He said looking at the early days brings up "our inability to really rise to the challenge as governing agencies and policymakers to really tackle this virus in the way that it needed".
US will allow Canadians who had mixed doses of COVID-19 vaccines when border crossings resume Nov. 8 – northumberlandnews.com
Are you planning to get a flu shot this year? – Castanet.net
Canada's top doctor warns the country could be heading for its first typical flu season since the pandemic began, even as health systems are still battling the fourth wave of COVID-19.
Last year Canada was spared the brunt of flu season thanks to strict public health measures to protect against COVID-19.
Surveillance data from the Public Health Agency of Canada shows higher rates of infection than expected for some of Canada's most common seasonal viruses, including respiratory syncytial virus, or RSV.
Chief public health officer Dr. Theresa Tam says a heavy flu season could put extra pressure on already fragile health-care systems.
She says this is definitely not the year to have influenza wreak havoc.
That's why public health says it will be more important than ever that people get flu shots to avoid complications like pneumonia and protect hospitals from becoming overloaded.
10,000 in Waterloo region eligible to get 2nd COVID-19 shot right now, official says – CBC.ca
More than 90 per cent of eligible residents in Waterloo region have had their first dose of the COVID-19 vaccine.
People who are 12 and up are eligible to get vaccinated, and able to get the second dose 28 days after the first, the Ontario government's website says.
"To get second doses to 90 per cent, 20,683 second doses must be given. Out of those 20,000 people, approximately 10,000 are eligible now for their second dose and the remaining people will become eligible over the next month," Vickie Murray, the region's vaccine lead, said in a media briefing on Friday.
Murray said regional officials are pleased to see single doses reach the 90 per cent milestone, but they want to see second doses, which are at nearly 86 per cent, get there, too.
"Our goal is to continue to aim for the highest vaccination rates possible to protect our community from the spread of COVID," she said.
As well, the region has given 5,854 third doses, offered to all people living in long-term care in the region.
Murray also announced Friday that as of Oct. 31, the vaccination at the Boardwalk in Waterloo will move to operating only between the hours of 10 a.m. and 6 p.m. because those are the busiest times.
Vaccination bus motors on
The vaccination bus continues to be effective, Murray said. On Wednesday, she said 47 per cent of the doses given were first ones.
The bus will maked scheduled stops:
Saturday from 8:30 a.m. to 12:30 p.m. at the Cambridge Farmer's Market.
Tuesday from 12 p.m. to 4 p.m. at 150 Main St. in Cambridge.
Wednesday from 3 p.m. to 7 p.m. at the Kitchener Public Library.
Thursday from 12 p.m. to 3 p.m. at the Region of Waterloo International Airport in Breslau.
Sunday, Oct. 24 from 3 p.m. to 7 p.m. at the Sunrise Shopping Centre at 1400 Ottawa St. S., Kitchener.
Dr. Hsiu-Li Wang, the region's medical officer of health, said Friday that case rates have been "stable or slowly decreasing trend in the last few weeks."
"We need to continue our efforts to increase our community immunity over the coming weeks and months," she said, adding the highly transmissible delta variant remains a risk in the region and could be easily spread between people, especially the unvaccinated.
Murray encouraged anyone who is eligible to get the second dose to do so as soon as they can.
"That is going to be the best way to ensure that you're fully vaccinated," Murray said.
If regional staff find that a lot of people are delaying the second dose, they will reach out to them directly through emails and phone calls — something staff also did over the summer.