It's a year since COVID was declared a pandemic. Did WHO act too late? – Euronews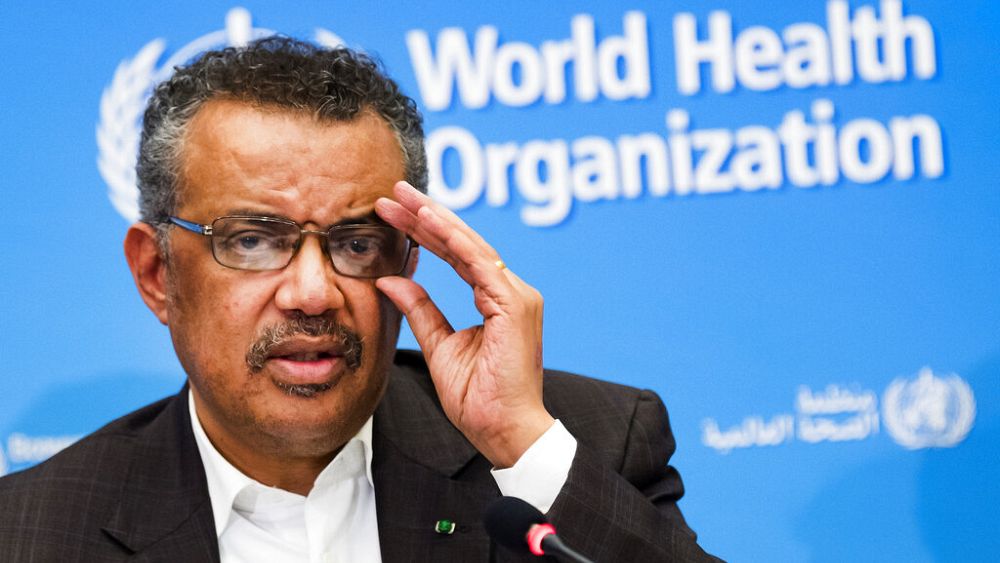 Exactly one year ago, during a cramped media briefing that would look out of place today, the World Health Organization (WHO) declared that COVID-19 was a pandemic.
Some say that declaration came too late, a precursor to the chaos and difficulties that would follow throughout the next year, with half of humanity under virus restrictions a mere month later.
"In early January we knew that this was a pandemic and many of us were saying it publicly," said Michael Mina, an assistant professor of epidemiology at Harvard University's T.H. Chan School of Public Health.
"The moment that we saw that the virus was spreading across all of East Asia, Southeast Asia and into the Middle East all within weeks of it first being discovered, we should have declared it as a pandemic virus. We didn't; the world didn't and that to me was the beginning of inaction as a response," he added.
By the time COVID was declared a pandemic last March, there were more than 118,000 confirmed cases of the virus in 114 countries and more than 4,000 deaths. Many European countries locked down the same week amid rising hospitalisations.
Exactly a year later, there are more than 117 million cases and 2.6 million deaths globally, representing a 99,000% increase in the number of infections.
But the declaration on March 11, 2020, was without fanfare, with the WHO director-general warning that they did not use the word "pandemic" lightly.
"Pandemic is not a word to be used lightly or carelessly," said Dr Tedros Adhanom Ghebreyesus, defending their call because cases had increased 13-fold in two weeks and the number of impacted countries had tripled.
"It's a word that if misused can cause unreasonable fear or unjustified acceptance that the fight is over, leading to unnecessary suffering and death."
Now many experts have said this is likely the worst pandemic in a century, as it has upended people's lives globally and drawn comparisons to the 1918 Spanish influenza pandemic responsible for tens of millions of deaths.
Some experts have decried a global complacency to address COVID-19 as a pandemic from the beginning.
What is a pandemic?
A pandemic is the spread of a new disease globally or the potential of a new disease to spread globally. Past pandemics have often been caused by animal influenza viruses, the WHO says.
The first pandemic of the 21st century was the H1N1 influenza from 2009 to 2010. The virus is estimated to have caused between 100,000 and 400,000 deaths in the first year, according to WHO.
The worst pandemic in the 20th century, meanwhile, was the 1918 Spanish flu pandemic that was estimated to have killed between 20 and 50 million people worldwide.
The virus SARS-CoV-2 which causes COVID-19 is the first coronavirus to cause a pandemic.
Countries unprepared after WHO declaration of a global health emergency
WHO declared a pandemic over a month after declaring COVID-19 a public health emergency of international concern (PHEIC) on January 30, 2020. At the time, there were fewer than 100 cases and no deaths outside China, according to WHO.
Many experts have said that early global mishaps, including a lack of PCR tests and a lack of protective equipment for doctors, contributed to the rapid spread of the virus in several countries during the month of February.
COVID-19 was the sixth epidemic to be declared a PHEIC or global health emergency under the World Health Organization's 2005 International Health Regulations. Previous PHEICs include H1N1, wild-type polio, ebola (in 2014 and 2019) and Zika virus.
"The pandemic declaration isn't part of WHO architecture – it doesn't have a legal meaning such as a PHEIC [global health emergency]," said Clare Wenham, assistant professor of global health policy at the London School of Economics.
So the pandemic declaration was likely a "use of language to try and encourage governments to take seriously the threat when the PHEIC hadn't been as effective as hoped."
A PHEIC is the highest level of alarm under international law, according to WHO and was agreed upon as such by member states that this would trigger collective action.
Indeed, Dr Tedros said in March as he declared a pandemic that WHO officials were alarmed by the level of government "inaction" to stop the spread of COVID-19 and continued to emphasise that it was still possible to curtail the spread of the virus through testing, tracing and isolating cases.
Experts have criticised governments for their lack of preparation following the WHO declaration of COVID-19 as a global health emergency.
Did the pandemic declaration come too late?
Mina said he spoke to major testing companies in early 2020 and they told him they were not sure if they were massively producing COVID-19 tests.
"Had the WHO back in January said this is obviously a pandemic, by definition already, that would have given the companies a couple [of] months head start to start building their testing infrastructure," he said in response to Euronews at a Harvard press conference.
There's also been criticism of WHO for declaring a global health emergency late: a WHO committee met on January 22nd and decided not to declare a PHEIC, but then reversed that decision just a week later as the situation evolved rapidly.
"The PHEIC is designed to be a normative call to arms and to get governments to wake up to the risk and start to prepare," Wenham said.
"For many reasons, this didn't happen as expected in early 2020," she said, citing governments not taking the risk seriously and the waning power of the WHO as some reasons.
But she added there is currently a need for comprehensive data on whether governments take action following WHO health emergency declarations.
On Monday, WHO's emergencies director Dr Mike Ryan said that "maybe we need to shout louder, but maybe some people need hearing aids".
Some say the slow declaration merely foretold of the missteps that would define COVID-19 responses.
"There are major consequences to not looking at the writing on the wall, taking a very fact-based approach and just saying hey this is a pandemic let's let the world know," says Mina. "We're seeing the remnants of that type of thinking continue today."
Mina is currently doing research on rapid testing and says he does not understand why there is hedging on behalf of authorities to let people test themselves at home without a prescription.
"A year into this pandemic after everything we've seen, we're still really talking about whether people need a prescription from a physician to get a COVID test…it's appalling to me at this point," Mina said.
He said looking at the early days brings up "our inability to really rise to the challenge as governing agencies and policymakers to really tackle this virus in the way that it needed".
Australians living with disability have been 'abandoned' in vaccine rollout: Butler – Sky News Australia
Shadow Health Minister Mark Butler has highlighted "shocking evidence" which came to light at the Senate Inquiry into COVID on Tuesday which indicates the majority of vulnerable Australians are not fully vaccinated.
"You'll remember that phase 1a, the vaccination of our most vulnerable members of the community, aged care residents, disability facility residents and their staff were supposed to be completed by Easter, that is what Scott Morrison promised," he said.
Mr Butler said the evidence showed two-thirds of aged care residents still have not been fully vaccinated and "shockingly" more than 99 per cent of residents in disability facilities have not been fully vaccinated.
"Australians living with disability have been abandoned by Scott Morrison in this vaccine rollout."
Specified front-line workers in Manitoba a little more at ease after prioritization for COVID-19 vaccine – CBC.ca
Foodfare employee Jackie Sandul is looking forward to some peace of mind as Manitoba's COVID-19 immunization strategy is slated to expand Friday.
On Wednesday, Manitoba officials released new details for expanding vaccination eligibility to adults living in certain geographic areas with high rates of COVID-19 spread or more severe outcomes.
Certain front-line workers, including grocery store workers like Sandul, will be part of the prioritization.
"It makes me safer. My employees and everybody in general around this area," said Sandul, who is a cashier, supervisor and stockperson at the Foodfare on Portage Avenue in Winnipeg.
"Germs are passed by touch. If you're touching someone's money, what do we do? Touching their cards, touching their groceries. When you're scanning it through the till, you don't know what they've touched or where they've been."
Sandul, a 45-year-old with diabetes, is already eligible for the AstraZeneca-Oxford vaccine. But knowing she'll be prioritized through the province's immunization plan adds a level of comfort because she won't have to worry much longer about picking up the novel coronavirus at work, she said.
Manitoba's vaccine task force has been reviewing public health data from the second wave and so far into Wave 3 to determine which parts of the province have seen high levels of coronavirus transmission and where residents have had more severe outcomes after contracting COVID-19.
They have also been reviewing which professions put people at greatest risk of picking up SARS-CoV-2, the virus that causes COVID-19.
Front-line workers serving hot spot communities at a school, food processing facility, food establishment such as a restaurant and grocery or convenience store will be prioritized.
People working as child-care or daycare providers, food or public health inspectors, or workplace safety and health officers will be prioritized too.
United Food and Commercial Workers Union Local 832 has been pushing for such a shift for grocery store employees for a while now, said president Jeff Traeger.
"We owe a debt of gratitude to these people that have been doing this work, because we all have to eat and we all have to shop to get our food. They've gone to work each and every day throughout the pandemic to make sure that our community keeps running," he said.
"If there's any way that we can reduce the risk, like putting them higher on the vaccine priority list, we should be doing that."
Traeger would have liked to have seen security guards, who often work in places like grocery stores, be added to the priority list too.
The upcoming changes to vaccine eligibility will be a huge boost for morale for school staff, said Chris Goring, principal of Isaac Brock School, a nursery to Grade 9 school in Winnipeg's West End.
"It's going to validate the hard work that staff have been doing in the school, not just teachers — educational assistants, custodians, administrators, clerical staff," said Goring.
"It's going to be peace of mind for them when they go home to their families.… It's going to help us carry through the remainder of the school year and keep our schools safe."
Shaun Jeffrey, CEO of the Manitoba Restaurant and Foodservices Association, appreciated public health officials recognized restaurant employees were at greater risk, he said.
The problem was Jeffrey learned about the changes the same time the general public did.
"Our industry looks to us for guidance and for feedback and education on what's happening in Manitoba. We need to be brought up to speed on what the province's plans are so that we can distribute that and communicate that in an effective manner," he said.
People booking appointments will be asked for proof of employment, such as a workplace ID or letters from employers. In some cases, they may be asked to simply say they work in an eligible industry. They will be asked for proof of employment on the day of the vaccine appointment as well.
More essential workers may be added to the priority list as more vaccine doses become available, said Dr. Joss Reimer, medical lead of Manitoba's vaccine task force, during a Wednesday news conference.
The list of hot spots should be released Friday. Geographic areas are deemed hot spots based on previous COVID-19 transmission rates, population density and socio-economics such as race, average income and housing, said Reimer.
The people CBC News spoke with for this story agreed it makes sense to prioritize people working in communities hardest hit by COVID-19.
But Traeger believes all grocery store workers ought to be prioritized because of the amount of contact those employees have with the public, he said.
Expert says Saskatchewan should consider more targeted vaccine plan as variants surge – moosejawtoday.com
SASKATOON — Nazeem Muhajarine says he feels a sense of relief after receiving his first dose of a COVID-19 vaccine last week at a centre in Saskatoon.
"It was just so well-organized and run. I felt completely safe," Muhajarine said in an interview.
The professor of community health and epidemiology at the University of Saskatchewan said the province is making great strides quickly getting shots into arms, but he's concerned some people are being left behind.
Premier Scott Moe touted during question period Wednesday that Saskatchewan is leading the country when it comes to administering first vaccinations.
"Our way through this pandemic, everyone's plan to get through this pandemic, is to get everyone vaccinated as quickly as possible," Moe said.
More than 365,000 doses of vaccine have been given in Saskatchewan. Health officials say 52 per cent of residents over the age of 40 have received their first shot.
It puts Saskatchewan — with a population of just under 1.18 million — ahead of other provinces when it comes to doses delivered per capita. Data from a COVID-19 vaccination tracker, run by University of Saskatchewan students using federal and provincial data, suggests the province in outpacing Ontario and Quebec.
Moe credits his Saskatchewan Party's "robust vaccination plan," which he says will be augmented in the coming days. Eligibility for all vaccines is being lowered to 44 on Thursday, except for in the north where it will go down to 40. It's expected to drop to 40 for the general population by Wednesday.
Muhajarine said there's much to applaud about the vaccine rollout. The choice, initially, to use age-based eligibility meant it was easy to understand and targeted those who were more likely to experience severe outcomes if infected, he said.
Drive-thru COVID-19 vaccination clinics have also been successful, said Muhajarine. One providing mass immunizations in Regina as the capital has became a hot spot for variants has expecially worked well.
Muhajarine said his own experience shows that organization at larger mass vaccination sites is also commendable.
However, the professor said now that vulnerable senior populations are immunized and there are highly contagious new strains, the province may be missing the mark.
Getting the most vaccinations out fastest is just part of a good public health response, he said, but surging infections and hospitalizations mean the response should now be targeted to those most affected.
"Workplace spreads and outbreaks have been quite prevalent," Muhajarine said. "That's been a huge contributor in Regina and has been a contributor in Saskatoon as well."
There were 231 new cases in Saskatchewan on Wednesday and four more deaths, including a person in their 30s another in their 40s. The others were over 70. There were 185 people in hospital and 49 in intensive care.
Provincial public health orders were tightened recently as officials warned the more transmissible variant strains were becoming dominant.
Muhajarine said the recent deaths of influential Cree teacher Victor Thunderchild, 55, in Prince Albert and well-known chef Warren Montgomery, 42, in Regina are examples of people in high-risk work environments who weren't able to get vaccinations under the age-eligibility plan.
He said Saskatchewan should consider following Ontario and Manitoba, which are pivoting vaccination plans to target neighbourhoods where people have a higher risk of contracting the virus.
It should also consider socio-economic factors, including how many residents are in a household and the type of jobs people have, he added.
One example would be neighbourhoods with multi-generational households and where many people work service jobs facing the public. Congregate living facilities such as shelters and correctional centres would be another, he said.
Muhajarine said teachers and other essential workers should also get priority.
Every region in the country is seeing benefits to targeting areas and occupations where the pandemic's third wave has taken hold, he suggested
"That is not something to be trivialized in this kind of complex and mass undertaking."
This report by The Canadian Press was first published April 21, 2021.
— By Kelly Geraldine Malone in Winnipeg
The Canadian Press