Jazz Media Lab stations test new strategies for cultivating younger audiences – Current
Steve Williams was shocked when he saw the results of a market study of his station, WBGO in Newark, N.J.
"Our awareness level was below 50%," said Williams, president since 2020. "When you consider that this station has been around for 43 years, it's head-turning."
At the same time, Williams saw that gap as a chance for WBGO to improve.
"Even though it was alarming, it was also super encouraging that there's a lot of potential to grow the station's audience," he said. "So we had lots of opportunities to … develop the audience in ways that hadn't been done previously."
The market research was funded by the Jazz Media Lab, an initiative from 8 Bridges Workshop and the Doris Duke Charitable Foundation designed to improve audience development at five public radio jazz stations. The $1.3 million grant-funded project provides at least $225,000 to each station over three years. Participating with WBGO are WRTI in Philadelphia; KMHD in Portland, Ore.; KNKX in Tacoma, Wash.; and KUVO in Denver.
Unlike some grants that stipulate certain deliverables, the Jazz Media Lab grant terms were designed to be more flexible. The Doris Duke Charitable Foundation required that stations spend 2021, the first year of the grant program, discussing ideas. This spring they each received funding to actively pursue audience engagement events, said Maurine Knighton, the foundation's program director for the arts.
A related innovation grant provides another $50,000 for addressing issues such as audience development and digital expansion. Some station leaders, like WRTI GM Bill Johnson, describe the innovation grants as "risk capital."
"There are a lot of things that we don't do because we really don't have the financial resources to take a chance on them because they're not the core operating expenses of running a radio station," Johnson said. "​​Risk capital means: Do something that may or may not pay off. … By and large, a lot of music stations, jazz in particular, aren't resourced to take those kinds of chances."
Each station has its own interpretation of audience development. The Jazz Media Lab projects and innovation grants encompass live concerts, partnerships between jazz masters and young musicians, streaming apps and audits of the stations' websites.
Williams used his initial funds from the Jazz Media Lab grant for a study of just over 700 listeners in the New York City Designated Market Area who were screened for their affinity for jazz and music.
"What we found was that we were not as balanced as we should be," he said. "There was a desire to have the balance between the more contemporary sounds and jazz and the more traditional sound."
Longtime members exhibited more conservative tastes and favored straight-ahead jazz, he said. Focusing solely on that loyal audience at the expense of more casual listeners, who are more open-minded about different genres and represent the most growth potential, was one reason why WBGO lost nearly half of its audience in the last year, he said.
In 2016, the station counted 400,000 listeners in its weekly cume, a high-water mark, Williams said. The most recent Nielsen ratings put the station's weekly cume at 250,000, he added.
"It makes absolutely no sense that a station like WBGO, … in what many would consider to be the epicenter of jazz activity, both locally and globally, [would] have 250,000 listeners in a city with nearly 20 million listeners total," Williams said. "That's troublesome and that indicates a dysfunction somewhere in the programming."
With the retirement of longtime host Michael Bourne and the death of producer Bob Porter, the market research guided WBGO in switching up its program schedule earlier this year. In February, the stationexpanded the broadcast footprint of the weekend show Rhythm Revue. Hosted by Felix Hernandez, the classic R&B and soul program draws WBGO's biggest audiences and raises significantly more money than other shows, Williams said. The research also supported airing what some jazz aficionados might derisively call "smooth jazz," he added.
"There are a lot of people out there who love that music, and it's jazz, too — and we need to represent that," he said. "That's really in keeping not only with what the research tells us, but our mission statement proclaims this necessity for diversity, equity and inclusion." The subgenre, also known as "contemporary jazz," has been integrated into the music mix throughout the broadcast day.
Other stations within the Jazz Media Lab have struggled to expand their content to reflect the diversity of jazz subgenres. Although jazz is often known for a few specific eras, including be bop, big band and swing, it soaks up other types of music "like a sponge," said Carol Handley, director of music programming at KNKX.
"That's jazz's dilemma at the moment, because we have been catering for many, many years to following the audience instead of, 'Here's what's going on in jazz right now' and letting the audience go through it," she said. "So we find ourselves in a place where we need to pivot. The problem is, you cannot blow off where your money is. So you have to say, 'How do we develop a younger audience without completely changing format?'"
KNKX is using its innovation grant to build an on-demand platform that will allow its audience to access an archive of tagged interviews and hear its original local programs through its website, phone app or their own smart speakers. The on-demand service will also function as a testing ground for on-air content. KNKX plans to use analytics of on-demand listening for decisions about its radio lineup and development of new shows, Handley said.
The process requires hours of coding, transcribing, search engine optimization and curation of thousands of digital files.
"There's dollars involved here that we just didn't really have to dedicate to this," she said. "With the innovation grant, it gave us that opportunity to focus."
KMHD is setting up a similar streaming service using its innovation grant. The service will organize shows so that users can navigate by mood. A listener who chooses a calming playlist, for example, will see recommendations for three or four KMHD shows that match that criteria, explained Audience Engagement Director David Stuckey.
"Right now, you go to KMHD or you turn on the radio and you push the streaming service, you're going to get what's on the radio," he said. "A lot of people don't want to hear hip-hop in their jazz. …This is a way that you, the audience member, can be the program director."
He expects that the troves of data gathered through the service will be key to building audiences across the board. If analytics show that listeners are using the digital platform for seven hours on a Saturday, that might be an opportunity to change the time when the newsletter is sent out, he said. Like KNKX's on-demand platform, KMHD's service could help the station experiment with on-air programming.
"If we keep seeing that people are requesting hip-hop or gospel, we don't have a gospel show," he said. "So if they want to hear more gospel jazz, if everybody is clicking on that, but it's only one or two shows that comes up, we might think about, 'Do we need to create a gospel show for broadcast?'"
'New ideas that audiences will enjoy'
WGBO's innovation grant supports a jazz media workshop for youth. The workshop selected four students from Jazz House Kids, a Montclair, N.J.-based nonprofit providing music mentorship to K-12 students, and will teach them how to produce radio programs and podcasts. The first four participants include a 17-year-old trumpet player, a 21-year-old singer, a 17-year-old drummer and a tenor saxophonist.
Each session of the 10-week training will dive into a different lesson, whether it's a technical skill or tips on storytelling, said Doug Doyle, news director at WBGO. Billy Robinson, a veteran radio producer, teaches students digital editing and how to use Audacity, while Operations Assistant Corey Goldberg handles production techniques. Archivist and former producer Becca Pulliam will teach script-writing.The grant also funded the purchase of equipment for the program.
"What we hope is the end product that they have will be extremely interesting and provide new perspectives and new ideas that audiences will enjoy," Doyle said. "I would think that with these four individuals, especially because they're very interested in music, they're going to come up with new and fresh angles on stories. That's always the goal."
The Jazz Media Lab grant has freed up resources for WRTI to pursue projects like the Dangerous Sounds podcast, an eight-part series exploring the history of jazz in Denmark. WRTI partnered with JazzDanmark and the Danish government to launch the series, and the partners hosted an intergenerational concert in March featuring Odean Pope, Kresten Osgood and Immanual Wilkins. The station will use video and audio footage from the event to create content for younger audiences, Johnson said.
WRTI invested some of its innovation grant into a residency program that pairs jazz masters and younger artists. The cross-generational partnership benefits its audience development initiatives in two ways, Johnson said. Collaborations between musicians who work in different genres, such as jazz and hip-hop, allow WRTI listeners to connect with a contemporary form of music. And the audiences that younger artists attract are exposed to jazz music, he added.
"That would give us an opportunity to not only record music, but … to have conversations with those artists and capture it not just for audio, but also visually, and produce a range of content for multiple platforms," Johnson said. "Rather than just getting artists into the studio, recording and putting it on the air, our thought was we want to be able to create content that we think is going to work really well on social media platforms."
One key to audience engagement is to avoid thinking of social media as a monolith, according to Johnson. To better serve audiences and leverage more financial support from their social media followers, stations should develop content that's optimized for each specific platform, whether it's Instagram, TikTok or Twitter, he said.
"We should be stepping into those spaces, even if they're uncomfortable for us," he said. "That's where the opportunity is for growth." Building WRTI's social media presence will allow the station to interact more deeply and in new ways with its current audience, and help to extend its reach to nontraditional audiences who seek music on digital platforms.
In Denver, KUVO is leaning on advice from its younger staff as it produces concerts with funding from the innovation grant. Station managers are branching out of their comfort zone by hosting concerts at clubs and venues that don't typically engage with KUVO, said Tina Cartagena, SVP of radio. KUVO produced a sold-out concert in March at Enigma Bazaar, a cocktail bar that showcases art and live performances, featuring the experimental electronic band Ramakhandra.
KUVO collected a healthy new tranche of email addresses from the concertgoers, according to Cartagena. Attracting those younger listeners is essential for a station with a listenership that's predominantly over age 45, she said.
"They're now in our database and we have created some cultivation paths," Cartagena said, "to go from listener to being part of our core audience to becoming members or business leaders among us."
Cartagena calls the Jazz Media Lab's effect on her station "transformative."
Like other stations in the cohort, KUVO has struggled with limited capacity, she said, but the influx of funds from the grant program has empowered staff members. It also helped focus the station's long-term initiatives, a sentiment echoed by Williams of WBGO.
"I shudder to think where I would be in terms of the strategic goals that I set for this organization a year ago, without that assistance," Williams said. "It's truly a godsend for us."
Female Eye Film Festival Celebrates 20 Years June 9-12, 2002
 Toronto, ON – Returning LIVE, the Female Eye Film Festival (FeFF), founded by Canadian trailblazer Leslie Ann Coles, celebrates its 20th Anniversary June 9 to 12, 2022, at TIFF Bell Lightbox.
FeFF was way ahead of its time at its founding, and the festival's tagline, "Always Honest, Not Always Pretty," says it all. It's an eclectic program of features, documentaries, shorts, and the highly anticipated Late-Night Thrills and Chills – an international program of horror, suspense, and thrillers directed by women – on Friday, June 10, and Saturday, June 11, at 10PM. 
Voted one of the "Top 50 Film Festivals Worth the Entry Fee" by Movie Maker Magazine for a 10th consecutive year (2013–2022), FeFF is a competitive international women's film festival that provides an exclusive showcase for Canadian and foreign women and gender-diverse directors.
FeFF has tackled gender equality and inclusion since its inception. The Indigenous Filmmaker Series launched in 2008 with Indigenous Canadian filmmaker Jules Koostachin at the helm. In 2009, FeFF produced the inaugural Young Filmmaker Development Workshop, a mentorship for debut female filmmakers. To date, FeFF has produced 46 short debut films, 26 by Indigenous filmmakers, and all had their premieres at Female Eye. FeFF continues to provide a dedicated showcase for local directors with the Toronto Filmmaker Series, which held its inaugural event in 2001. The Script Development Program, open to both men and women, celebrates its 15th edition in 2022.
The BEST IN THE BIZ TRIBUTE celebrates 2022Honorary Director Valerie Buhagiar on Saturday, June 11, at 1PM. In Buhagiar's latest feature, "Carmen," based on true events, 50-year-old Carmen finds her voice and her true calling and liberates villagers in a small Maltese town. (Supported by Telefilm Canada's Promotion Program.)
"When I answered Leslie Ann Coles's call about receiving the Honorary Director's Award at this year's Female Eye Film Festival, I felt a warm embrace, along with the accumulation of years sitting at my kitchen table writing, organizing, and envisioning project after project," says Buhagiar. "FeFF has presented four of my films since 2008. This year they are opening the festival with my fourth feature film as writer/director: 'Carmen.' It is communities like FeFF and the WIDC [Women In the Director's Chair] that have propelled me forward to reveal my true voice in cinema. The greatest gift you can give someone is inspiration, and the team at FeFF has done this over and over again. I am truly grateful and honoured. Thank you."
Other notable Canadian features, supported by Telefilm Canada, include "We're All in This Together," a clever adaptation of the novel by Amy Jones written by, directed by, and starring Katie Boland in her debut directorial feature film; "The Kissing Game," a passionate urban fantasy and solo performance that explores love, betrayal, friendship, and identity directed by newcomer Montreal filmmaker Véa; "Be Still," by Elizabeth Lazebnik, an homage to Canadian photographer Hannah Maynard, who was 40 years ahead of the Surrealist movement. FeFF also celebrates Toronto media artist Edie Steiner with a film retrospective and artist talk.
"In this ever-evolving landscape, supporting women in film and uplifting their work continues to be a priority at Telefilm Canada," said Christa Dickenson, Executive Director & CEO, Telefilm Canada. "Increased career development, training for women of colour and Black women at all levels of experience, and enhanced data collection are all integral to supporting more diverse storytellers in Canada. Celebrating 20 years of believing and elevating Canadian talent both nationally and on a global scale, we'd love to thank Female Eye Film Festival for all the work they do in putting talented Canadians in the spotlight."
Foreign film highlights include documentaries "Mama Irene: Healer of the Andes," directed by Elisabeth Möhlmann and Bettina Ehrhardt, a documentary that features a remarkable 84-year-old shaman from Peru who draws upon endangered Indigenous knowledge and traditions (Peru); "Independent Miss Craigie," directed by Lizzie Thynne, which captures the extraordinary life story of Jill Craigie, one of the first women to direct documentaries in the United Kingdom, whose work has long been neglected (UK); "Moonlight Shadow Wall," directed by Shiman Ma, which tells the story of three families who reside at the foot of the ancient city of Xi'an who embrace cultural traditions while trying to embrace a new era (China); and "Forbidden Womanhood," directed by Maryam Zahirirmehr, a poetic and symbolic portrayal of betrayal and loss in which 12-year-old Mahi's mother refuses to tell her how a woman gets pregnant (Iran).
This year's INDUSTRY INITIATIVES, supported by Ontario Creates and ACTRA Fraternal Benefits (AFBS), feature industry panel discussions, script readings, the 10th Annual Live Pitch, the Directors' Roundtable, and a panel dedicated to women in virtual production who hold positions of creative control in this quickly evolving pipeline. This panel will showcase excerpts from their work and explore the topics of democratized storytelling, female authorship, and creative empowerment. The filmmakers will use process videos to demonstrate aspects of the VP workflow as it pertains to pre-visualization, production, and creative collaboration.
"For the past 20 years, in an industry where female filmmakers and screenwriters have been underrepresented, FeFF has brought a female perspective and diversity to the art of screen-based storytelling," said Ron Zammit, President and CEO of AFBS. "AFBS is proud to stand behind FeFF as a long-term supporter."
"WIDC is delighted to co-present the annual Directors' Roundtable at the 20th anniversary of the Female Eye Film Festival. While the festival returns to in-person screenings and festivities, hosting the roundtable online offers an opportunity to enrich and expand the festival's community of women and non-binary screen directors and guests across the globe," says Dr. Carol Whiteman, co-creator and producer of Women In the Director's Chair (WIDC), which recently celebrated its 25th anniversary.
In 2014, Coles began international collaborations with the KIN International Film Festival (Armenia); the Flying Broom International Women's Film Festival (Turkey); FemCine (Chile); the Los Angeles Women's International Film Festival (USA); and Doctober (USA). In 2021, Coles juried films for the Beirut International Women Film Festival (BIWFF; Lebanon) and the Porto Femme International Film Festival (Portugal). FeFF shares a tradition of mentoring young women on their debut films, which premiere at our festivals with Beirut and Women's Voices Now (WVN; USA). FeFF proudly presents a selection of short films directed by female youth produced by BIWFF and WVN. We also look forward to co-presenting a selection of dance-on-film shorts with Dance Camera West (Los Angeles) and shorts culled from Porto Femme.
Special thanks to our sponsors: Telefilm Canada, Ontario Creates, ACTRA Fraternal Benefit Society (AFBS), Cinespace Film Studios, ACTRA National, and Women In the Director's Chair and Encore+.
TIFF tickets are available at ticketmaster.com/tiff3. 
Discounts available for seniors and students and TIFF members.
Follow Female Eye Film Festival:  
Media inquiries: 
Sasha Stoltz Publicity & Management: 
Sasha Stoltz | Sasha@sashastoltzpublicity.com | 416.579.4804 
Sasha Stoltz Publicity:
Sasha Stoltz | Sasha@sashastoltzpublicity.com | 416.579.4804
St. Albert seniors create social media buzz over hockey TikToks – St. Albert TODAY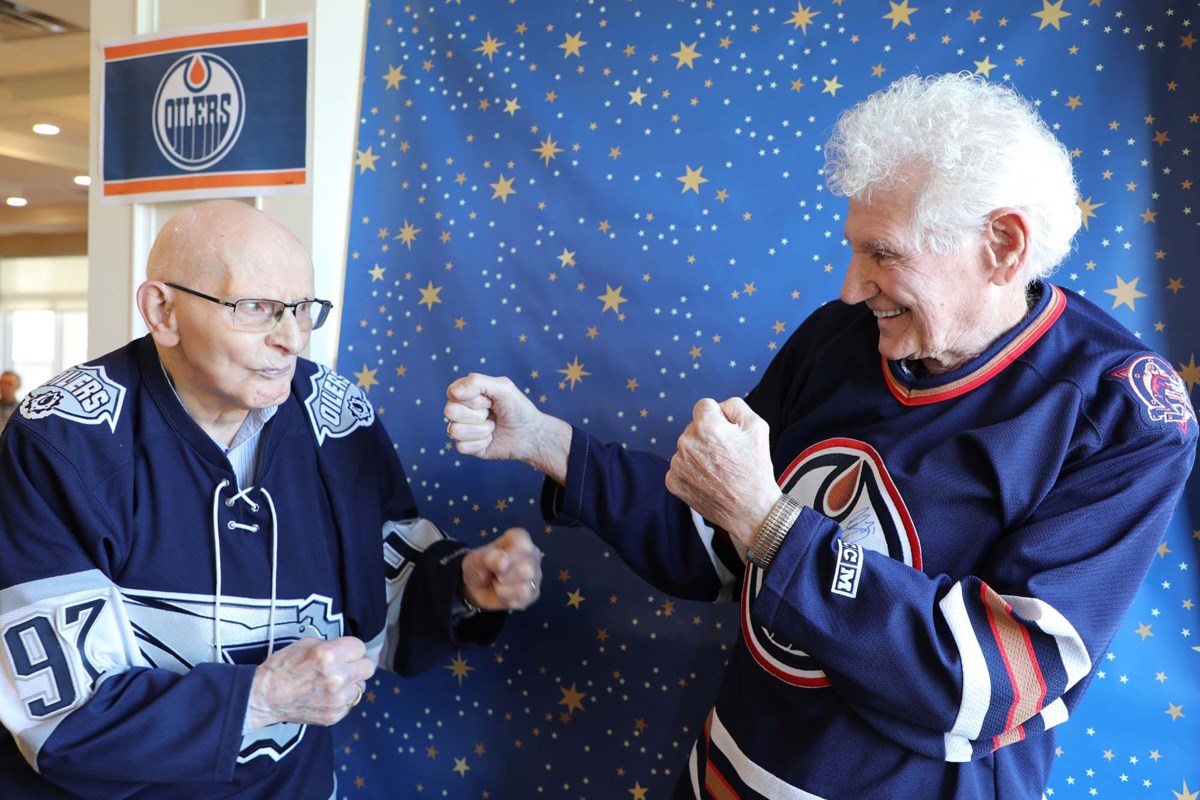 St. Albert seniors Ron Espey and Gib Paradis said TikTok has become quite interesting since they have found social media fame with their viral videos inspired by hockey.
Seniors at the St. Albert Retirement Residence have racked up thousands of likes on videos of them cheering on the Edmonton Oilers as the Oilers make their way through the Stanley Cup playoffs.
Espey said they were quite surprised when a video of him and Paradis wearing Oilers jerseys, dropping gloves, and pulling punches to the tune of You Gotta Fight for Your Right by the Beastie Boys received more than 200,000 likes.
"Oh, gosh. We were really surprised with that. Quite, quite a surprise," said Espey.
"Unbelievable," said Paradis.
Both Paradis and Espey are long-time Oilers fans and who have been enjoying the playoff games.
"We're really interested in the final thing here with Calgary and Edmonton," said Espey.
Paradis thinks the Battle of Alberta will be a busy one.
"But the Oilers have a better team, I think. I'm sure." he said.
Lori Kari is the recreation therapist and the regional director of health and wellness at the St. Albert Retirement Residence. She said staff and residents have been blown away by the number of likes some of their videos have received.
Kari said usually they would be happy to see 100 likes on a video.
"Like, 'Woo! We're doing so awesome,' and, 'That's great families are seeing it — that is so great!' Then all of a sudden, the fighting video had reached 1,000 [likes], and then 2,000. And then it was 100,000. And now I think it's 230,000 likes. It just really blew us away," she said.
Kari said they started the TikTok account in August of 2020 because she was looking for innovative and creative programming that is engaging.
"With the social media, that's kind of what's on trend. And so, if my kids can do TikTok, why can't my seniors do TikTok," she said.
As for what the seniors think of the fame, Kari said they are just having fun with it.
She said they have received lots of calls from family and lots of calls from different media organizations as well.
Paradis said he has even heard from a daughter in Victoria over the TikToks.
Kari and Paradis will soon be featured on the television program Good Morning Toronto.
"Every single time [Paradis is] hilarious. He says, 'You gotta be kidding. You gotta be kidding.' He just can't even believe it either. Because, like I said, for them it's just a fun program," she said.
Kari said she and recreation aide Loida Geralde brainstorm the ideas for the videos. They get inspiration from what is trending.
"A lot of times, it's just impromptu as well. We don't know what they're going to say. We don't develop a script for them. So, they have really no idea [either]. It just kind of falls into place," she said.
Kari said filming the videos also adds a lot of buzz to the building.
"A lot of times, when we film a video, especially if it's in our multi-purpose room, there's 15 other residents that will just come and watch because they find it so funny to watch their table mate or their best friend in these videos," she said.
Kari said there is a lot of excitement for the Battle of Alberta between the Edmonton Oilers and the Calgary Flames, and a future video might feature one of their seniors calling a senior at one of their Calgary sites.
"The Battle of Alberta is going to be happening. And we think that's going to be a funny one," she said.
As for whether everyone in the building is an Oilers' fan, Kari said there are at least two residents who are Flames fans.
"I put little Oiler flags on every table in the dining room just for fun. There was one resident, he took it down. He was like, 'No, no, no, Lori. We need a Flames [flag] at this table.'"
Water World becomes a Reality
Our planet's population is always increasing, and with this uncontrollable momentum ever-present, so too the many problems presented to humanity caused by this increase and climate change.
1. Rising sea levels could devastate coastal cities.
2. How and where will the food needed to feed the population of our planet come from?
Since 1880, the world's average sea level has risen by 8-9 inches, one-third of that increase over the past 25 years.
3. Rising sea levels are eroding the coasts of landmasses at an alarming rate.
4. Rising sea levels are flooding coastlines and contaminating freshwater supplies.
5. An estimated 41% of the world's population lives within 62 miles of the coastline.
6. In addition, cities built on the coastline tend to sink over time.
Regions like New Orleans, Kolkata, Bangkok Ho Chi Min City, Jakarta, London, and New York City face increasing pressure from flooding and saltwater intrusion.
The earth is drying up. Drought has spread throughout our planet, especially in those areas that mass produce/grow our food. whether due to climate change or simply the planet's climate cycle, drought has taken away our precious fertile landmasses giving us dessert in return. The earth's underground aquifers are being depleted at an alarming rate. three-quarters of the planet is covered by water, yet 96.5% of this water is undrinkable. 3.5% of our water is found in the form of ice, in our Polar Regions, but it is melting. What to do?
Do you remember a movie with Kevin Costner as the lead…WaterWorld? The planet was covered in water, and the surviving population lived on boats and artificial floating devices. The possible solution to the world's problems can be found in this movie's premise that we can use the water that surrounds us.
Floating Cities could combat this problem, but no one has ever built such a marvel before. Well off the coast of South Korea such an ambitious project is underway. Known as "Oceanix Bruan, this collaboration between the United Nations, the Port of Busan and the Contract Firm is building such a city. Oceanix was founded in 2018 with the goal of designing and building a prototype sustainable floating city. In 2022 The United Nations unveiled the program to the world.
Neighbourhoods would be interconnected with one another and the mainland via bridges. A living area will be developed, creating living space, lodging platforms, and areas for community activities such as retail and food vendors and recreation. Employment would be centred upon research and development of the project and fulfilling the needs of their neighbourhoods. With a temperature-controlled atrium at its center, the floating city would have its own center for hydroponic agriculture. Each neighbourhood would be secured firmly to the ocean floor with enough slack to take into account the movement of the ocean. Biorock will be used to make the buildings, and surfaces of this city. Biorock is a material that is produced using low electric currents applied to materials that become stronger than concrete yet are buoyant. The floating city is pedestrian-friendly, with no roads. Electric vehicles will be used.
Each neighbourhood will have its own water treatment and recycling plants. Turning saltwater into drinkable water will fulfill the new cities' needs. The first segment of the neighbourhood will be built by 2026, with a cost of approximately 630 million dollars. Estimates of $10,000 per square meter have arisen, but with further development and research, the project will present to the world a far more affordable living option. Imagine a livable, prosperous island, a neighbourhood that is self-supporting in every way. Such imaginative and bold projects will hopefully pave the way to Earth's transformation into an all-inclusive living space.
Steven Kaszab
Bradford, Ontario
skaszab@yahoo.ca
Sourced from United Nations, Smithsonian archives.